V.N.S. - Holland Africa Line - The Fontein Ships
Please Note: Firefox and some other Search Engines may not be suitable
Use Google Chrome for this Web Page to load perfectly!
Click the logo above to reach the ssMaritime FrontPage for News Updates & "Ship of the Month"
With Reuben Goossens
Maritime Historian, Cruise'n'Ship Reviewer, Author & Maritime Lecturer
Please Note: All ssMaritime and other related maritime sites are 100% non-commercial and privately owned, thus ssmaritime is NOT associated with any shipping company or any other organisation! Although the author has worked and been involved in the passenger shipping industry for well over 60 years, but due to his old age and poor health, he was forced to retire. Yet, he has completed well over 1,435 Classic Liners, Passenger-Cargo Liners as well as humble converted C3 converted Migrant Liners, which has transported countless thousands folk to the new world, as well on vacations'. I trust the features online will continue to provide Classic Liner and Ship enthusiasts both the information they are seeking, but more so provide a great deal of pleasure and relive many happy memories!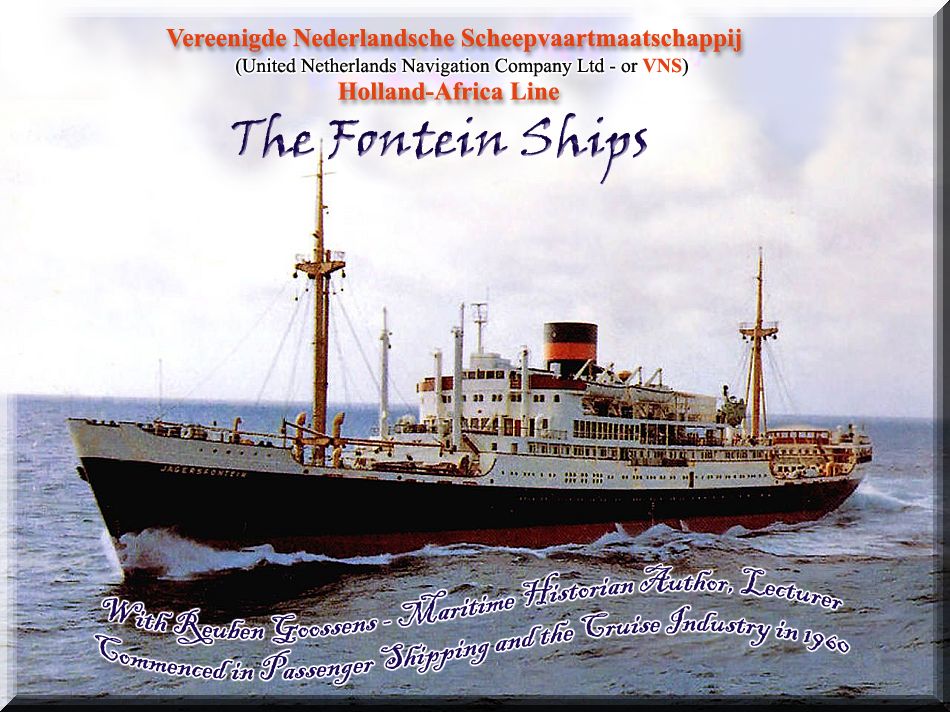 Featuring

M.S. Klipfontein (2), Oranjefontein & Jagersfontein (3)

Also the M.S. Randfontein (2) - in 1971 - renamed M.S. Nieuw Holland

*******************************

Page One
This Page: M.S. Klipfontein (2), Oranjefontein & Jagersfontein (3)
V.N.S. produced this promotional painting prior to the completion of the first of the trio, the Klipfontein in 1939
These prints were then given to Travel Agents, and I have had this one since 1962. The ship is rather overly
streamlined looking, far more that the actual ships were in real life, but that is typical promo, it still happens today!
Please Note: Most photographs and images are from the author's private collection, obtained when working with Royal Dutch Mails or over the past 58 years
Which included V.N.S., other photographs will be as noted - A special thank you to Dutch artist Mr. Fred Boom for his amazing works!
Introduction:
The Company Background: At the conclusion of WWI (1918) for Dutch Shipping Companies it was a time of optimism, mostly because of the demise of German Shipping Companies from the seas and the demand for shipping tonnage was now in great need. Some directors of Dutch Shipping Companies made a decision to commence a new company to fill the gap that was left by the Germans especially by the "German East Africa Line."
Thus on April 30, 1920 the "N.V. Vereenigde Nederlandsche Scheepvaart Maatschappij - (V.N.S.) Den Haag, was founded by ten major Dutch shipping companies with a capital of 200 million Dutch guilders. VNS took over the and soon thereafter the new "Holland West Africa Line" was founded in conjunction with the "Hollandsche Stoomboot Maatschappij" (HSM) and "Koninklijke Hollandsche Lloyd" (KHL).
Due to the building of new ships being extremely expensive after WWI, VNS with permission from Britain, it acquired 17 German ships which had been allocated to the UK as war reparations from Germany and in 1921 when the export of the ships was allowed by the British Government, 14 ships went to the VNS and 3 to the associated KNSM. In 1919 the "Nederlandsche Zuid-Afrikaansche Stoomvaart Maatschappij" (NZASM) was founded with financial support from the Dutch Government for five years, to start a connection to South Africa as the "Holland South Africa Line." In 1924 the NZASM and the VNS combined the Holland-East Asia and the Holland South Africa Line under a new name; the "Holland Africa Line."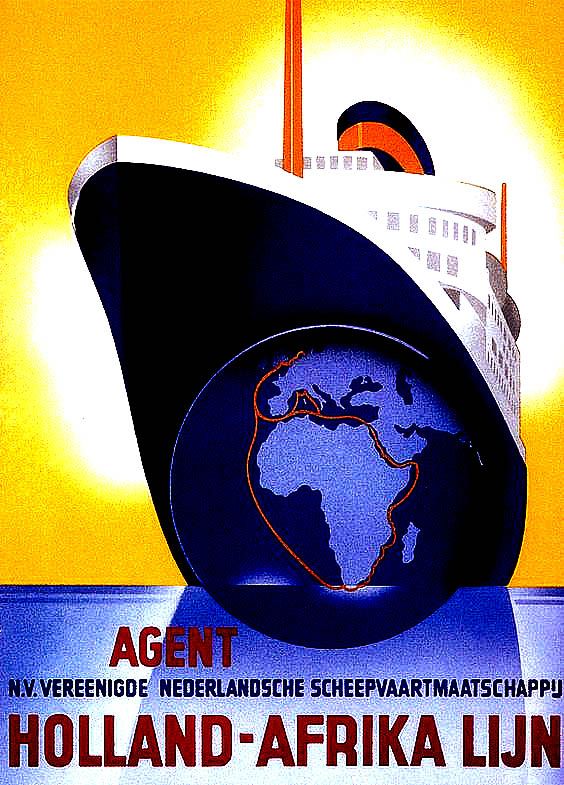 A typical V.N.S. poster placed in Travel Agencies
In 1932 the NZASM went in liquidation and the VNS took over their fleet and goodwill. Three new ships were commenced in construction just prior WW2, but sadly, VNS lost eleven ships during the War. After the war a programme was commenced to build new ships replace their losses. In due course, the once very successful passenger service declined in the sixties due to the arrival to cheaper air fares, and the rapid change in cargo handling with containerisation taking over. On top of all that there were also political problems in some African countries. Due to this, in 1967 this caused the sale of the wonderful M.S. Oranjefontein and Jagersfontein, and replace them with fast all cargo ships due to the change towards containerisation being simply too costly for one company. Then VNS announced in 1969 a merger as the "Nederlandse Scheepvaart Unie" (NSU) and took over all of the Dutch lines within the group and soon they all cane under the one name "Nedlloyd," then later "Koninklijke Nedlloyd Group," "P&O Nedlloyd Container Line," and today it remains the "Maersk Lines."
This multi page feature will cover four of the very last major Passenger-Cargo liners to be built for the famed (VNS) which was also known later as "Holland Africa Line." The first of these ships was a trio of identical 10.500-ton Fontein ships, which were launched in 1939 and 1940 accommodating up to 160 passengers, but each had a very different start to their existence. Whilst the company's next and very last passenger liner of 13.700-ton was floated out of an indoor dock in 1958 accommodated 289 passengers.
Page One will cover the "Klipfontein Trio" history, Page Two, covers a families voyage on the M.S. Jagersfontein to Cape Town. Page Three the history of the 1958 built M.S. Randfontein, VNS very last ever passenger liner, and Page Four is a photo, brochure and a general memorabilia page.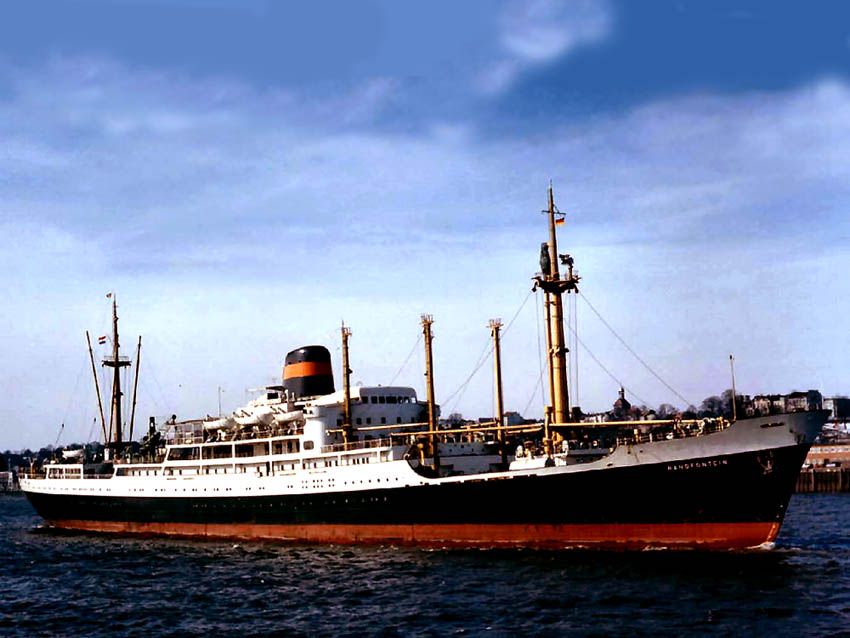 The modern and larger M.S. Randfontein
Enjoy this feature, Reuben Goossens.
First Klipfontein (2) 1922:
The Klipfontein (2) was built by the "Rotterdamsche Droogdok Mij," Rotterdam in 1922, and she was 7.063 GRT (Gross registered Tons). In 1932 she was taken over by V.N.S.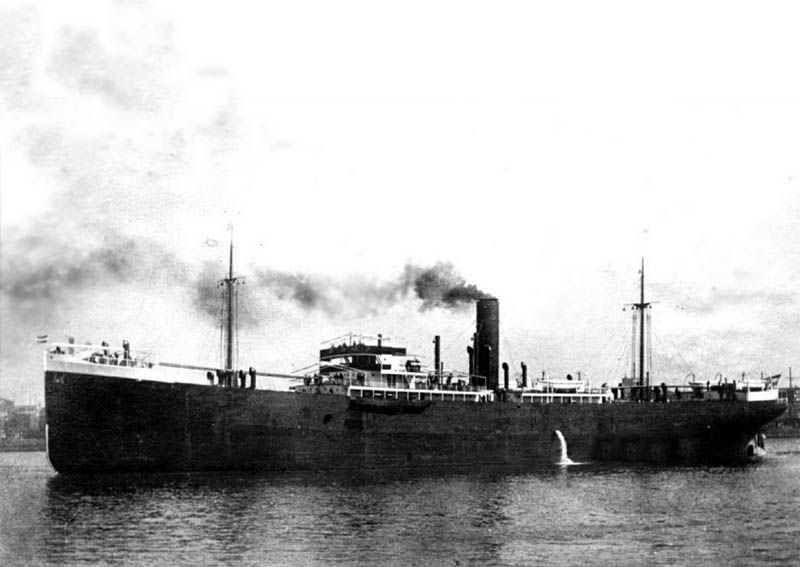 This is the very first, 1922 built SS Klipfontein
Although V.N.S., did not have her for long, for in 1935 she was sold to an Italian company "Rizutto Fratolli" who renamed her "Gloriastar". In 1936 she was renamed once again "Gloriastella", but sadly in 1940 she was targeted by allied warplanes and she sunk in Benghazi harbour. It s not until 1949 that the wreck was raised, and the ex Klipfontein (1) was broken up at La Spezia Italy in 1950.
The Three Fontein Sisters:
The Three Fontein sisters exuded an understated luxury which endeared them to the Dutch, English, European as well as the South African travelling public. In those days, many preferred to sail on smaller passenger liners for many good reasons, mostly due to V.N.S. Company had a long and a reputable reputation, and these fine ships offered comfortable accommodations, a good range of intimate lounges and bars. In addition the Fontein ships were famed for their superb personalised Dutch service and its excellent cuisine. The company had used some of the top interior designers, and therefore the Fontein interiors were likened to many of the larger passenger liners, but what was missing was the crowd.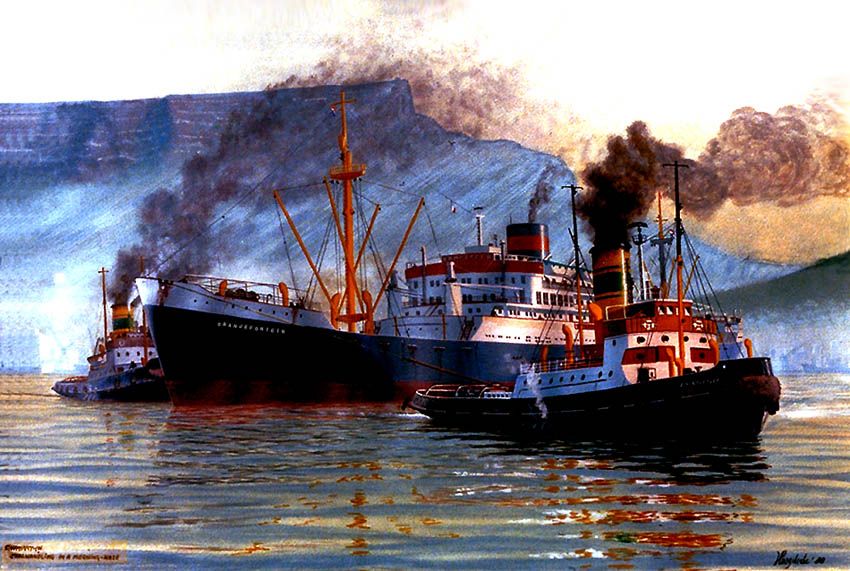 A beautiful painting of the second ship of the trio - M.S. Oranjefontein seen at Cape Town
Thank you Sandra van der Plas for sending it, but I have been unable to discover the painter's details
Please see the Image/Photo details at the bottom of the page, as I believe in giving everyone full credit!
This trio of ships had five passenger decks, accommodating 100 First Class and 60 Tourist (the Klipfontein 104 First – 42 Tourist). First Class was located forward of the superstructure, whilst Tourist Class was located somewhat aft. All First Class lounges including the swimming pool were located on Promenade deck, with Tourist facilities being on lower decks aft. Cabins ranged from singles and twin bedded cabins in First Class, some having an upper Pullman bed. A good 55% of the First Class cabins had private facilities. Tourist Class had a few two-berth cabins, but the majority were four berth cabins, with all having shared facilities. Cargo space was considerable, each ship having four holds, two forward and two aft, including refrigerated space.
As will be read below, the first three Fontein ships featured had interesting beginnings, this being due to World War II.
*******************************
1. Klipfontein (2) 1939 - 1953: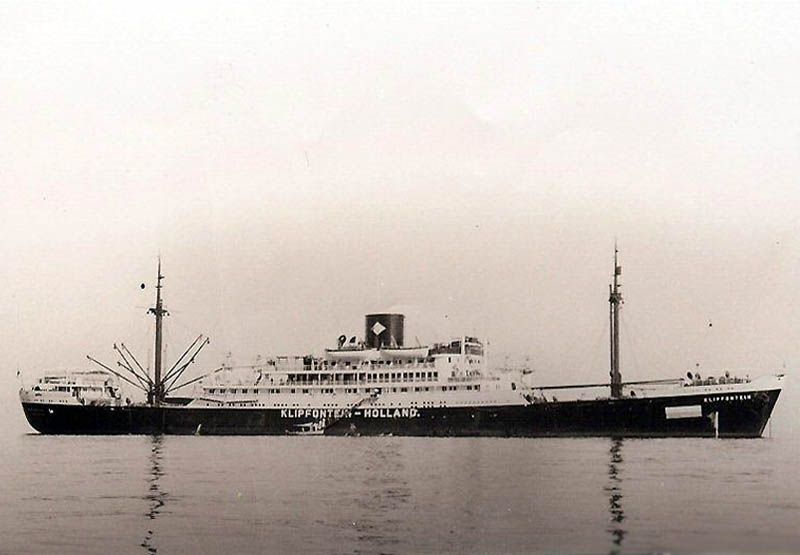 The M.S. Klipfontein (2) is seen here being clearly marked as being a Dutch ship, thus from a Neutral Country.
M.S. Klipfontein (2) was the first of a trio of ships to be built between 1939 and 1940. These were a new class of combination passenger liners, offering new and high standards of passenger comfort.
She was constructed by P. Smit Jr, Rotterdam in Yard 517, and was launched on March 4, 1939 and underwent her speed trials and was completed on July 11, and she was delivered to her owners on July 29, 1939.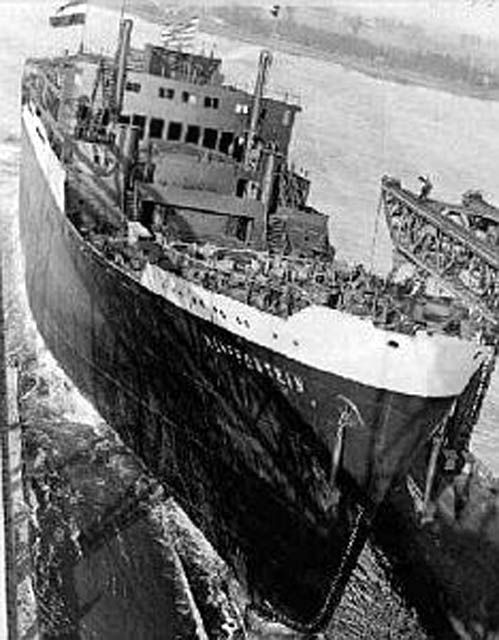 March 4, 1939, Klipfontein is launched
A week later, the Klipfontein departed on her maiden voyage sailing from Amsterdam via Southampton, Cape Town, Port Elizabeth, East London, Durban, to Lourenço Marque (today known as 'Maputo" port city & capital of Mozambique), and return.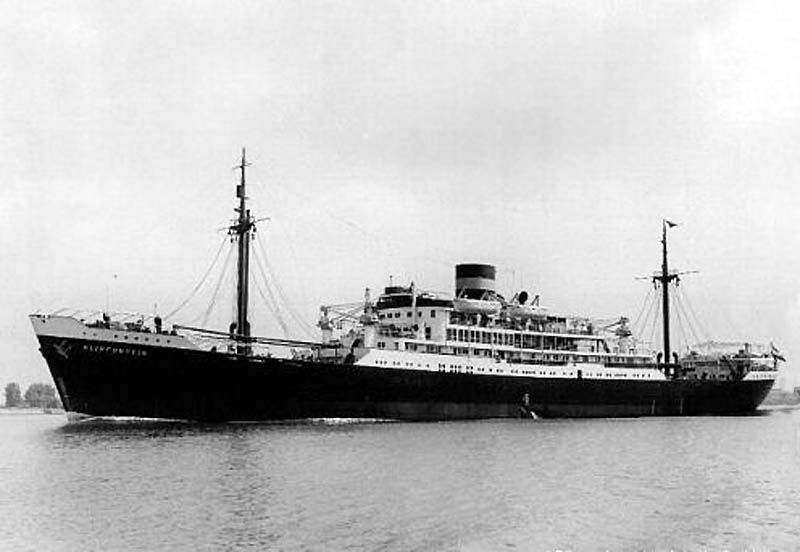 M.S. Klipfontein (2) was the first of pre WW2 trio of V.N.S., passenger-cargo liners to be constructed
However the Klipfontein's career from the Netherlands and South Africa prior to the war was relatively short-lived as it only lasted just under three years, because on February 23, 1942 she was taken over by the US War Shipping Administration (WSA) and she was she was converted to become an American troop ship in May 1942. The agreement with the WSA was with an operating (Dutch crewing) agreement with the Netherlands Ministry of Shipping, which would change on May 23, 1942 to a time-charter agreement that would extend it until February 1, 1946.
Although there is not a great deal of detail available of the U.S.S. Klipfontein's career during WW2, I do know that she was in San Francisco, being the busy Port of Embarkation for the Pacific Theatre. On July 14, 1946 the 1942 created - American "X Corps" joined the U.S.S. Klipfontein and she headed for Asia. The "X Corps" took part in the following campaigns: New Guinea, Leyte, and Southern Philippines. Having become part of the Sixth Army, X Corps took part in the Philippines campaign of 1944 to 1945, beginning with the invasion of Leyte with aid of Filipino soldiers, under the Philippine Commonwealth Army and Philippine Constabulary military units. For its involvement, the X Corps received the Philippine Presidential Unit Citation with a streamer embroidered October 17, 1944 - July 4, 1945. This special force, "X Corps" was deactivated in 1946.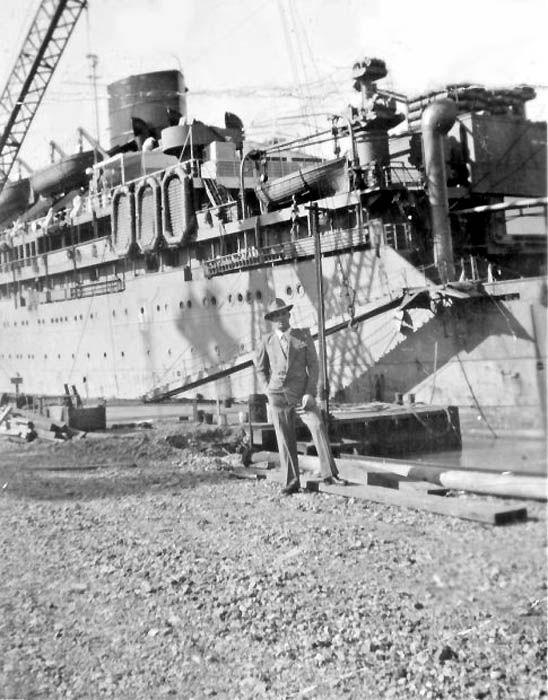 The U.S.S. Klipfontein is seen on in May 1946 in May 1, 1946 at the Long Beach shipyards were they are about to restored her as a passenger ship
The man in the centre of this picture is unknown?
U.S.S. Klipfontein survived the war and she did so with honours, thus when the she was finally decommissioned in May 1946, she was sent to the "Craigh Shipyards & Drydocks" at Long Beach California, U.S.A., as seen above, where her exteriors would be repainted in the traditional V.N.S. company livery, being a black hull with red boot topping, the black funnel with that traditional broad orange band on it. In addition some of her interiors would be restored to passenger conditions, but this required to be completed in the Netherlands later.
Upon completion she was returned to the Netherland's where she arrived in June 1946, and for the next four months, she operated as a Dutch troop ship transporting soldiers to and from the Dutch East Indies (Indonesia).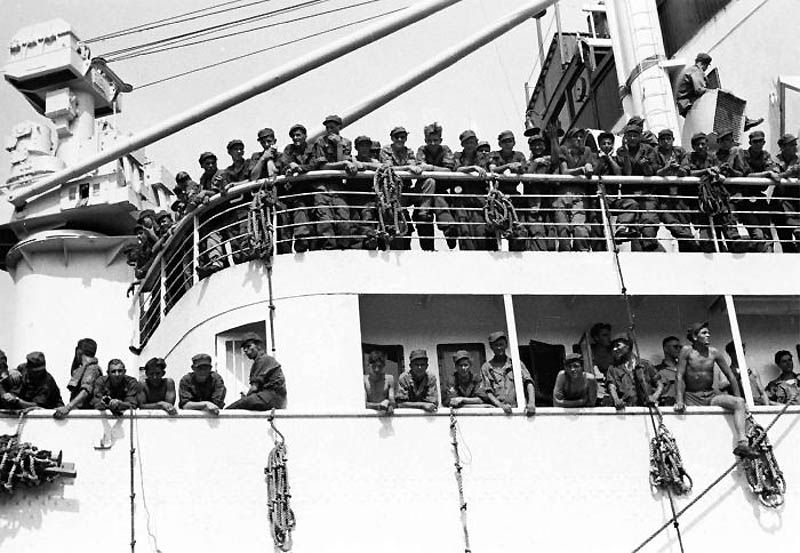 Soldiers seen arriving in the Dutch East Indies (Indonesia) on the M.S. Klipfontein in September 1946
M.S. Klipfontein returns to Passenger service:
In October of that year she was returned to her owners - V.N.S., and she was given a comprehensive internal refit restoring to her original beautiful state and even better! Upon completion the almost as new M.S. Klipfontein re-commenced her Netherlands, Europe & UK to Mozambique schedule.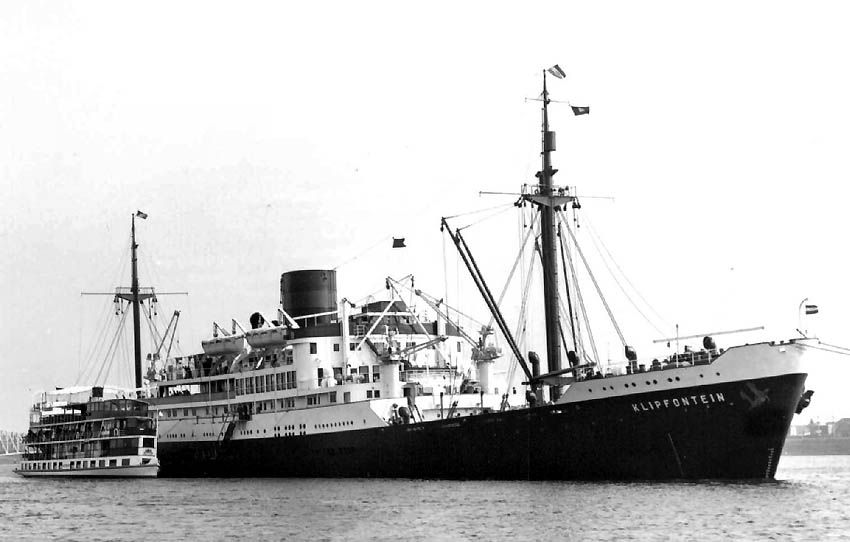 The M.S. Klipfontein is seen here just after her refit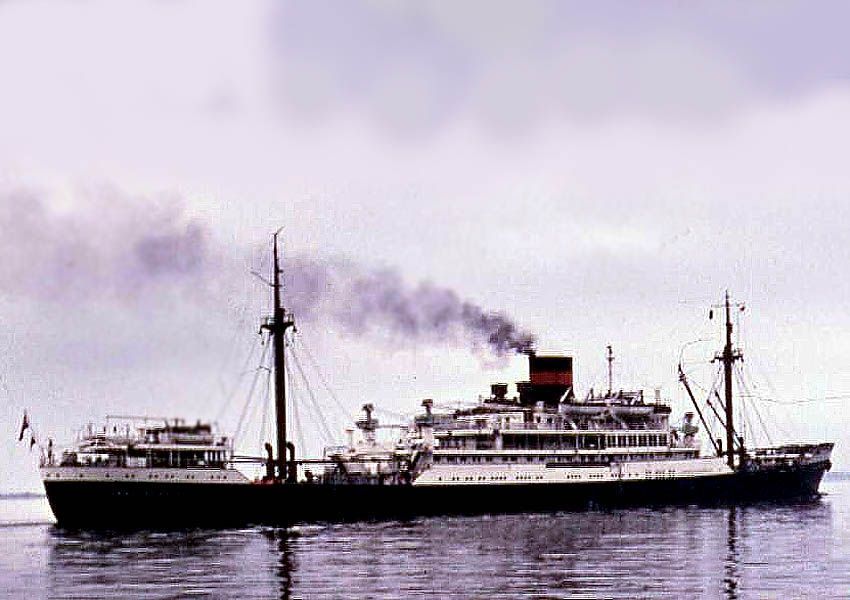 A fine stern view of the post war M.S. Klipfontein
Photograph is by & © Andi Dandi
The Klipfontein continued on her schedule and she gained a very good following and became a popular ship, this continued for the next seven years.
Thursday January 8, 19
53:
It was a beautiful calm and balmy January day at sea, yet it was also the very sad day that the Klipfontein which was under the command of Captain Oosterhuis suddenly struck an unchartered submerged *reef along Inhambane Province of Mozambique, some five nautical miles off Cape Barra. As soon as the ship hit the reef her forward bunker exploded and the Captain knew at that very moment that his ship was so badly damaged and she thus doomed, therefore Captain Oosterhuis radioed for assistance which was received at Beira station as well as the nearby Union Castle liner, the R.M.S. Bloemfontein Castle. He immediately called for the ship to be abandoned, and thankfully all the passengers and crew remained calm and they went about their evacuation stations, and remained calm and collected, which was aided by the calm seas, and the excellent crew's sheer efficiency lowering the lifeboats and assisting everyone aboard. Of course, everyone was aware that the shore was not far away, as well as that the much larger passenger liner could be seen on the horizon heading their way at full speed coming to their aid.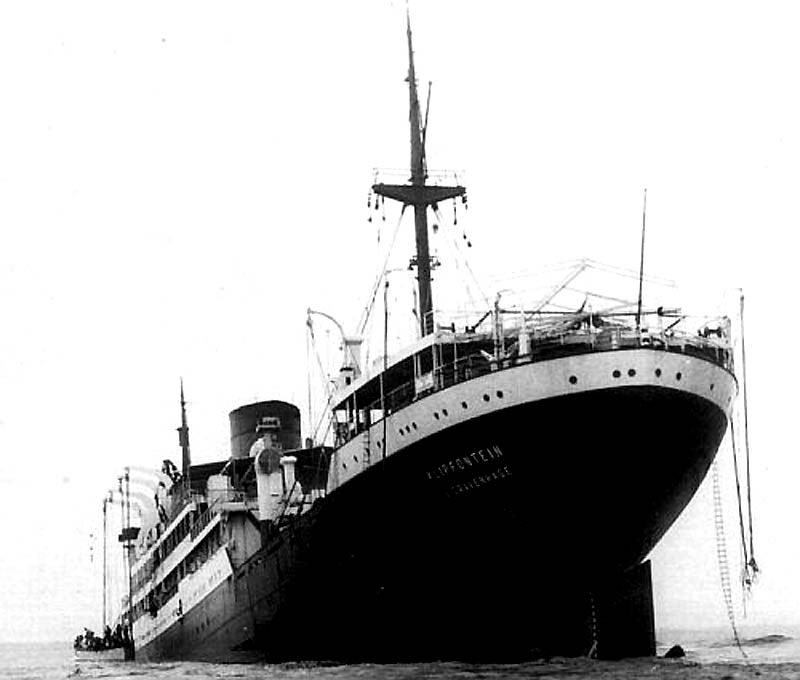 As the klipfontein is sinking with her bow going down first, we see some of the last crew members leaving the ship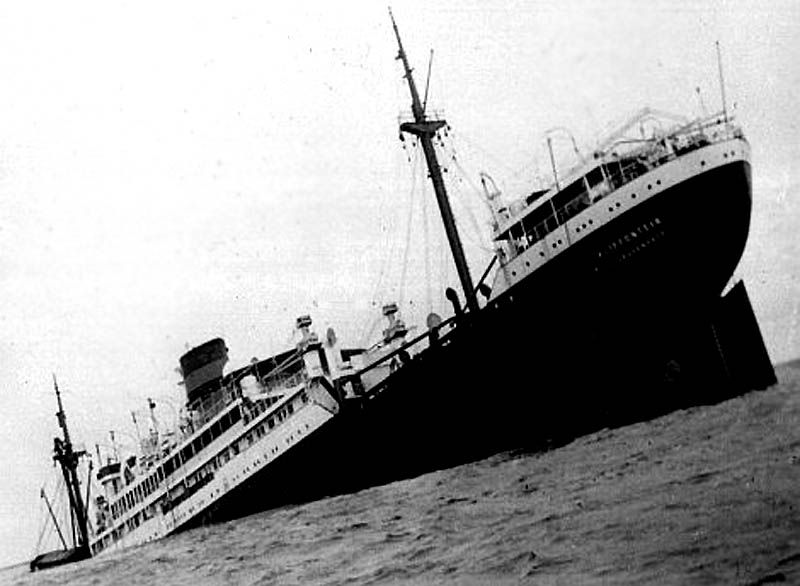 M.S. Klipfontein is seen about to go under
The R.M.S. Bloemfontein Castle Captain J.H.F. Ferguson in command was soon at the scene and she rescued all 234 passengers and crew. The Captain of the Bloemfontein Castle, and his Senior Officers later received commemorative gifts from V.N.S., also known as "Holland-Afrika Line" thanking him for an efficient rescue. The Bloemfontein Castle was later sold to become the exceedingly popular Chandris Lines R.H.M.S. Patris, which transported thousands of European and British immigrants to Australia and New Zealand and tourists on her return voyages. After Darwin (Northern Territory) of Australia was almost destroyed by "Cyclone Tracy" on Christmas Day 1974, the Patris having just arrived in Australia, headed for Darwin and she was anchored in Darwin Harbour for nine months providing emergency accommodation for as many as possible who were left homeless.
The wonderful M.S. Klipfontein sadly sank around forty-five minutes after having struck the *reef. This was a date that her passengers would never forget, for the beautiful Klipfontein went down on Wednesday January 8, 1953.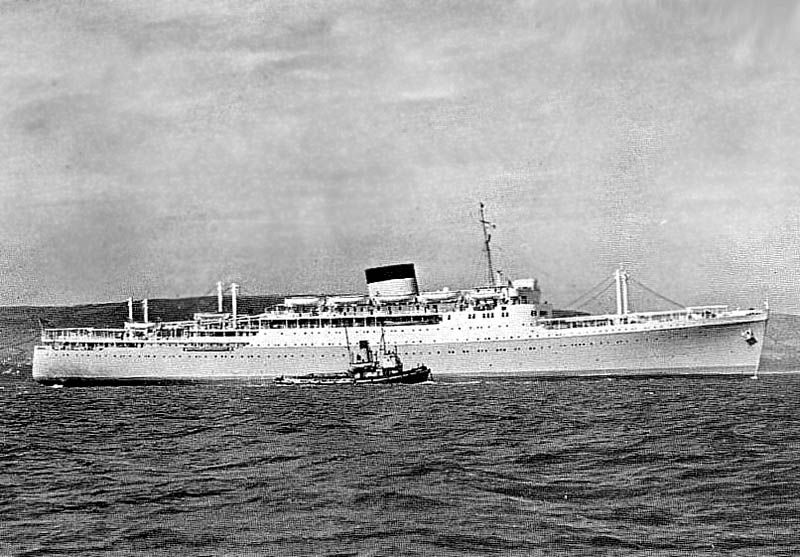 Union Castle's RMS Bloemfontein Castle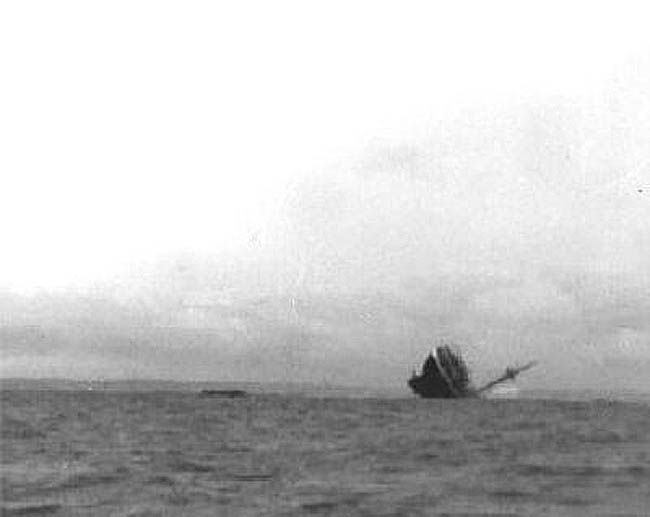 The final view of the M.S. Klipfontein as she dives to the bottom of the ocean
A photograph taken by a crew member from the aft deck of the R.H.M.S Patris
*Note: Newspapers at that time stated that with the navigational equipment that was on the ship that it was highly unlikely that a reef was the actual "object" struck. Locals knew that the region had several sunken ships from WW2. According to reports a German U-boat was torpedoed in the region, in shallow waters, but it was never charted, some did believe that it was located around the very region the accident occurred. For interest, obviously all cargo on board the Klipfontein was lost, and it consisted of 1,000 tons of copper as well as manganese ore, and 100 bales of wool.
Two Delightful Memories of the M.S. Klipfontein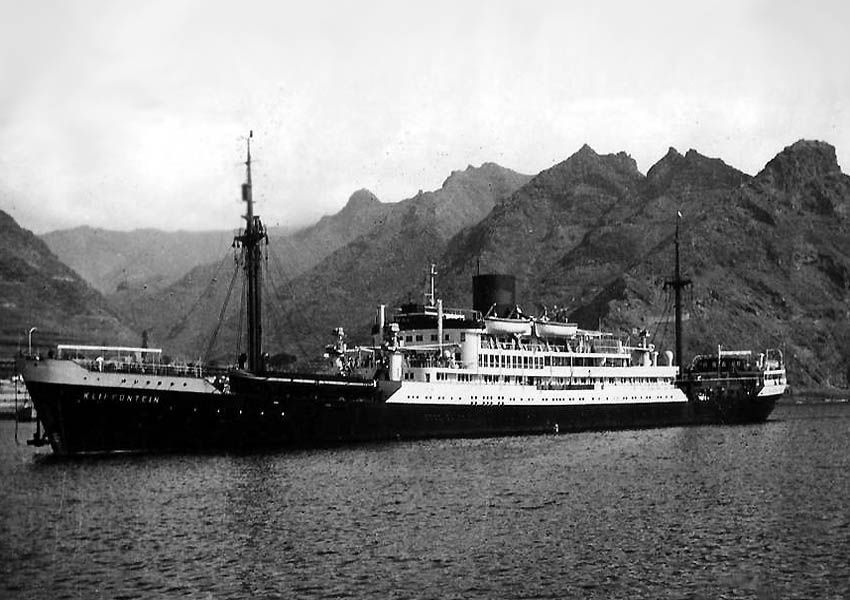 The M.S. Klipfontein is seen at Tenerife around 1949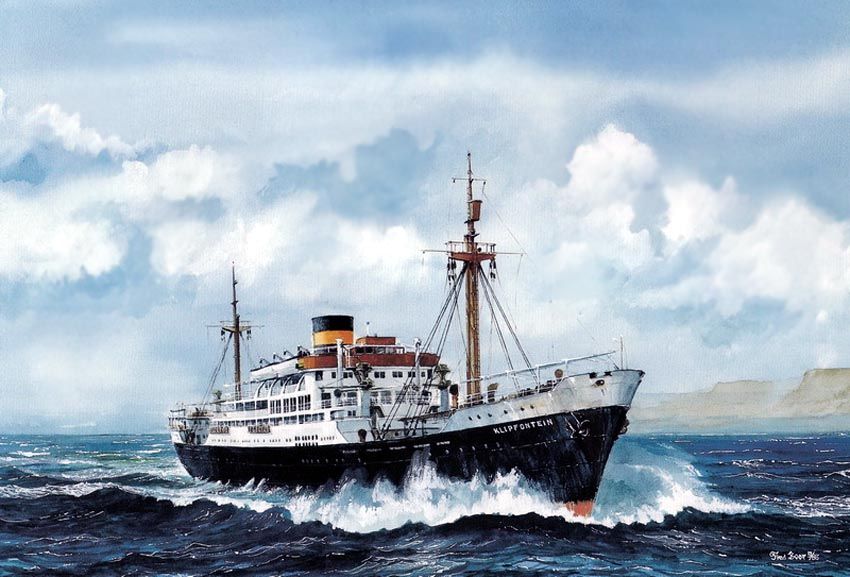 A wonderful painting of the first of the Fontein Trio, which had a tragic end
Painting by & © Fred Boom the Netherlands
*******************************
3. Oranjefontein 1940 - 1967: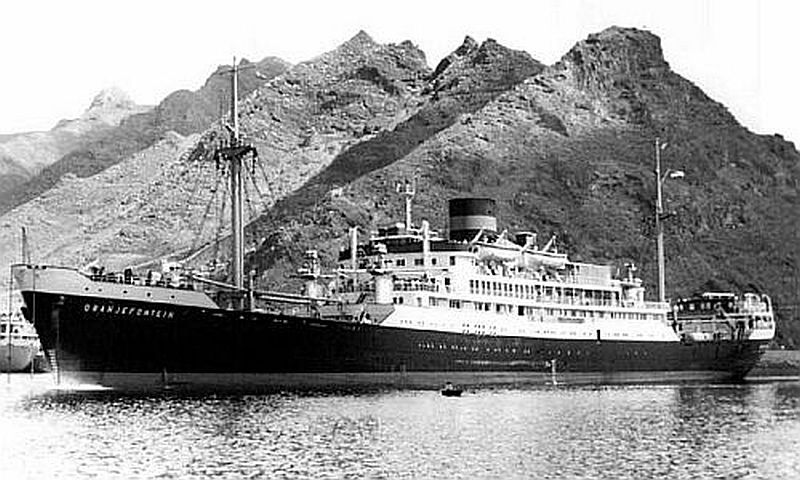 M.S. Oranjefontein
Amazingly this was the company's only ship ever to be named "Oranjefontein" and she was built by the Dutch ship builder, P. Smit Jr of Rotterdam, she was launched on March 21, 1940 and the very next month, for on May 10 the Netherlands would be invaded by the German's, and Rotterdam would be severely bombed on May 14 by the German's to make the Netherlands concede, and they destroyed the entire City Centre and near by areas, but the large passengers liner in construction nearby, such as the magnificent 23.000 ton M.S. Willem Ruys and the smaller M.S. Oranjefontein were thankfully spared. The Oranjefontein was completed and delivered to VNS on December 20, that same year, but she was laid up in the "Waalhaven".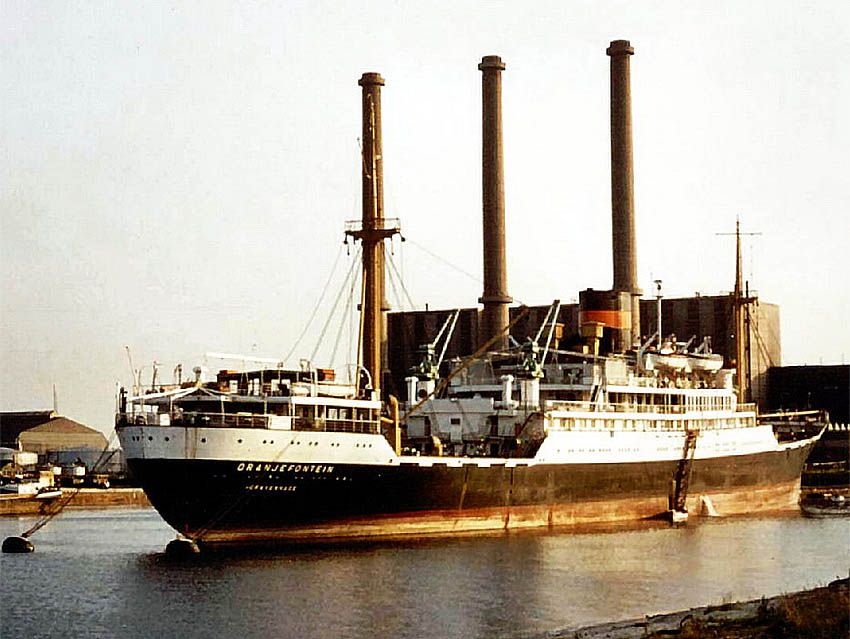 The M.S. Oranjefontein is seen laid up in the Waal Haven (river) early in 1941
On March 17, 1941, she was officially seized by the German Navy, However on July 16, she was damaged during an allied bombing, but things got worse for her. as on August 28, there was another attack, which saw her badly damaged by bombs that fell close by, and she sank to the bottom of the Waalhaven. She was soon raised and she was taken under tow with a new name "Pioneer" to Kiel, where she was repaired and refitted.
Whilst in Kiel she became a recreational ship for Kriegsmarine (Naval) officers and she had been transferred to the renamed "German-Africa Lines" of Hamburg. Then, early in 1945, the M.S. Pioneer participated in the evacuation of Germans from East Prussia and East Germany, however when the British Army captured Kiel in 1945, and the M.S. Pioneer was transferred to Hamburg, where she briefly became a depot ship for the English army.
On July 12, 1945 the Pioneer was finally returned to the Dutch Government, and they sent her to a Newcastle ship yard to be repaired and on September 12, 1945 she departed Newcastle having been completely overhauled and she returned home and she was renamed once again M.S. "Oranjefontein." Although she had been restored to VNS, but for her very first voyage she had chartered by the Dutch Government to undertake an extended voyage to the Dutch East Indies (Indonesia), and then continued to Australia, and back to the East Indies and home to the Netherland's. During this voyage she repatriated many Australian and Dutch soldiers' as well private citizens, taking them home after an evil war fought with the Japanese. Many had been in a Japanese Prison of War, where conditions were much worse then any prison camp in the world! Of course, I am not including those satanic Nazi concentration camps!
Having returned to Holland from the Dutch West Indies and Australian voyage the M.S. Oranjefontein finally commenced the schedule which she was designed for, sailing from the Netherlands, via the United Kingdom, South Africa and to and from Mozambique etc, and like her sister the Jagersfontein, she did so with great success and passengers seemed to have a very special love for her, because of what this ship has gone through during the war.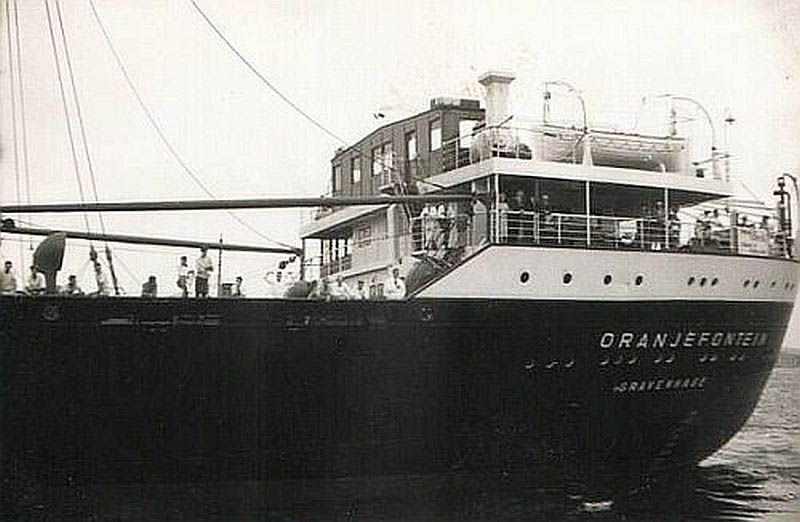 Here is an unusual shot of her aft section revealing a Tourist Class lounge and decks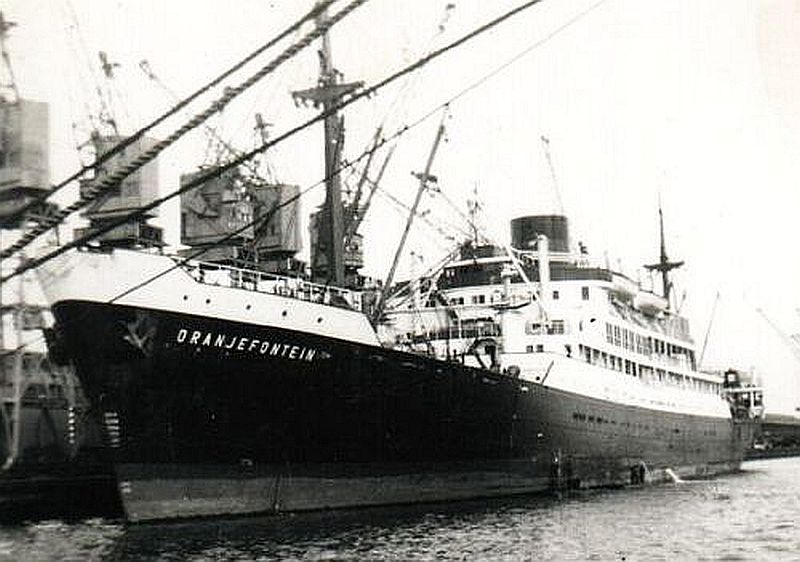 M.S. Oranjefontein is seen whilst in port
Her Final Days:
As with so many ships of her time, slowly passenger loadings commenced to decline, mostly due to cheaper air travel, and also because of dramatic changes with cargo handling with new and modern container systems, and therefore new container ships were being built at a rapid pace, and they were becoming the norm, and the old style Passenger-Cargo ships with their holds, which were slowly going out of date! Therefore, with the drop of incoming revenue, V.N.S., decided to sell the Oranjefontein and she was laid up.
She was sold in 1967, and VNSM sold her to a Spanish breaker who shortened her name to just "Fontein," and she was taken under tow to the Bilbao Bilbao ship breakers yard, where she arrived on August 11, 1967, she was broken up after 27 years of faithful service!
*******************************
3. Jagersfontein (3) 1940 - 1967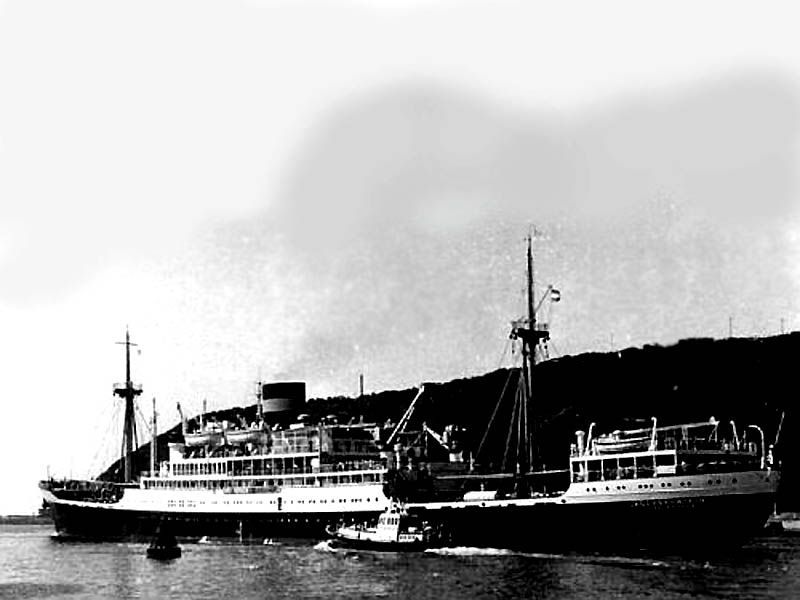 M.S. Jagersfontein (3)
This ship certainly had a very different start to her life at sea to any of the other two, for she was not constructed in the Netherlands, and had an unfortunate Nazi connection, and was used by them during the war, which saw the uncompleted ship sunk in Poland. Thus his is her remarkable story!
The M.S. Jagersfontein (3) was originally laid down as the "Reitfontein" in 1939 at the Schichau Shipyards, Danzig. However before being launched her name was changed to "Elandsfontein", and she was launched on March 30, 1940 for V.N.S., or "Vereenigde Nederlandsche Scheepvaart Maatschappij" Den Haag.
With Germany having invaded the Netherlands the ship was confiscated by the Nazis, and they stopped all work on her, and she was laid up. Although not in use for some strange reason she had been placed under the management of the "Deutsche Afrika Linien." In due course the Germans used her in Poland having been towed there, and on March 14, 1945 during heavy fighting between German's and the Russian's, which saw the Elandsfontein badly damaged due to being shelled by the Russian army, as she had been placed at the mouth of the "Vistula River" as a blockade, and she sank due to the heavy damage she sustained.
The revival of A Fontein Ship:
Early in 1947 the sunken M.S. Elandsfontein was transferred to V.N.S., and she was raised on March 20 and taken to a berth and laid-up. On August 9, she was temporarily patched up in order for her to be made as safe as possible for a voyage to the Netherlands. When safe, she was taken under tow to the "de Schelde Shipyards" at Vlissingen on September 9, 1947 where she would be repaired, and completed to become a fine passenger-cargo liner.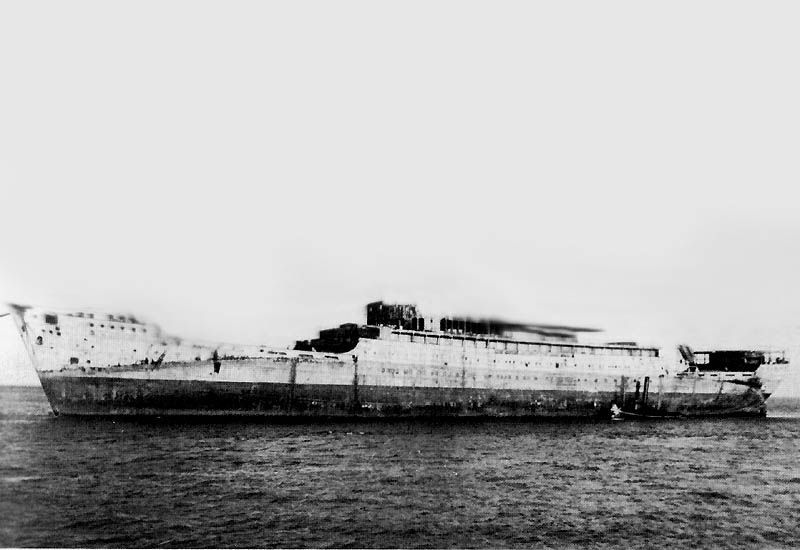 The Elandsfontein is seen under tow in September 1947 bound for Vlissingen in the Netherlands to be completed
In 1948 the Elandsfontein was renamed the "Jagersfontein", and finally a good ten years late, in March 1950 the M.S. Jagersfontein (3) was completed and she had become a beautiful V.N.S., liner indeed.
The M.S. Jagersfontein departed on March 11, 1950 for her maiden voyage, and she commenced a successful career, which continued for a  good sixteen years, having become a much loved ship!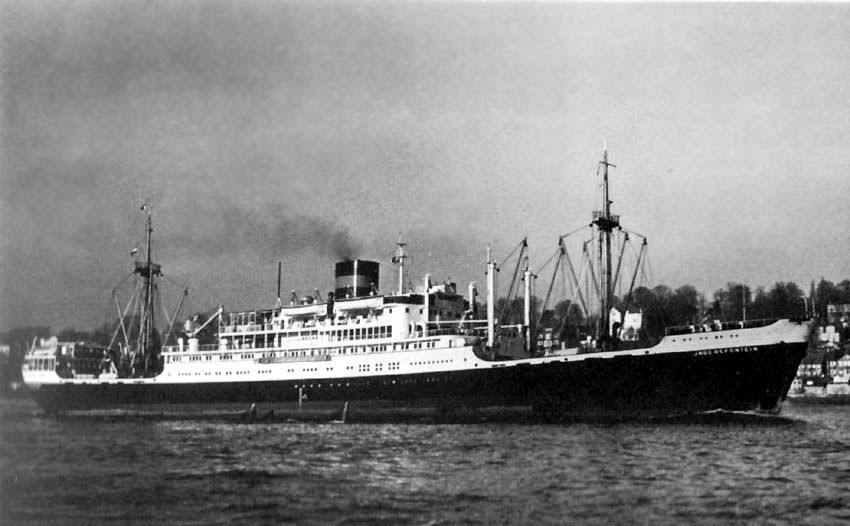 The M.S. Jagersfontein (3) is seen here during her maiden voyage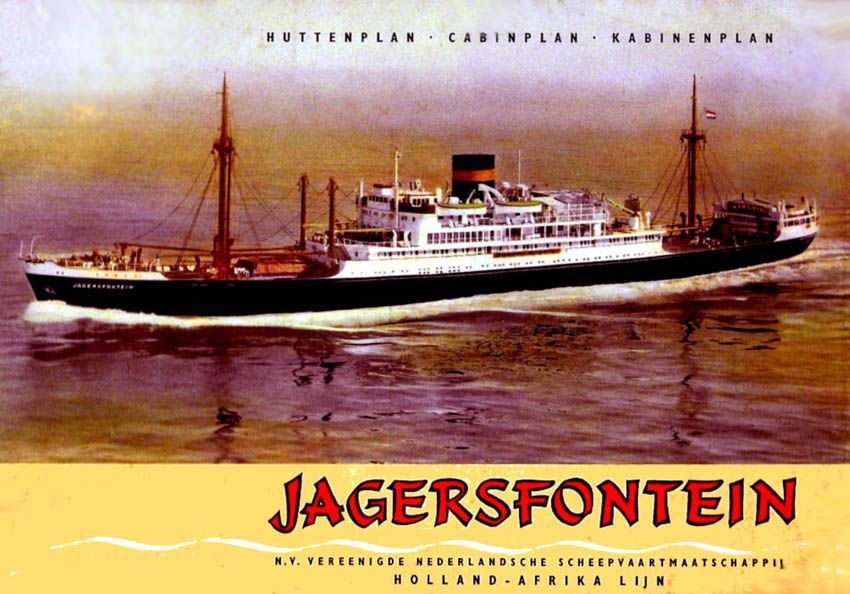 Here we see the cover of a V.N.S., M.S. Jagersfontein Cabin Plan, but sadly to date I do not have the actual plan!
Her final Days:
As with so many ships of her time, passenger loadings were declining, due to cheaper air travel, as well as dramatic changes with cargo handling with new and modern systems, for which container shipping was becoming the norm, and the "old style Cargo holds" were now out of date! With the drop of incoming revenue, V.N.S., decided to sell the Jagersfontein in late 1967.
In November 1967 she was sold to a Embajada Cia Naviera SA, Piraeus, who renamed her "Devon", however they rapidly resold her to a Taiwanese ship breaker for her to be broken up, The M.S. Devon departed her anchorage, and on December 23, 1967 she arrived at Kaohsiung, Taiwan were she was duly broken up.
*******************************
Two Wonderful Memories of the Fontein Trio!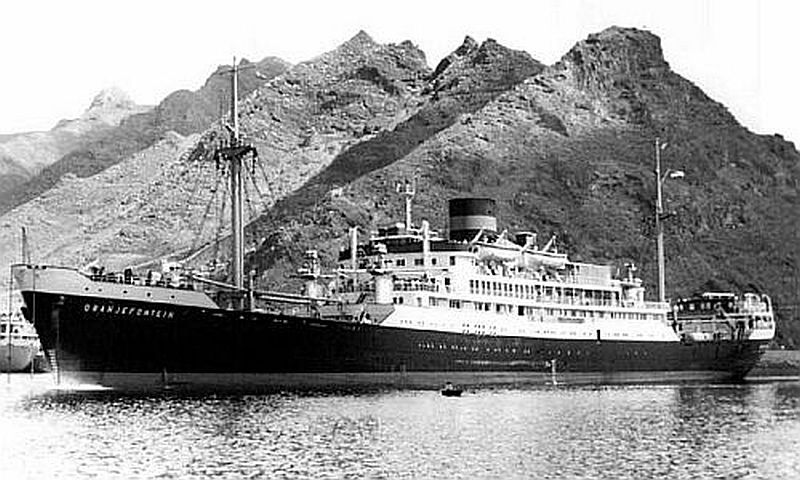 A fine photograph of the M.S. Oranjefontein at Tenerife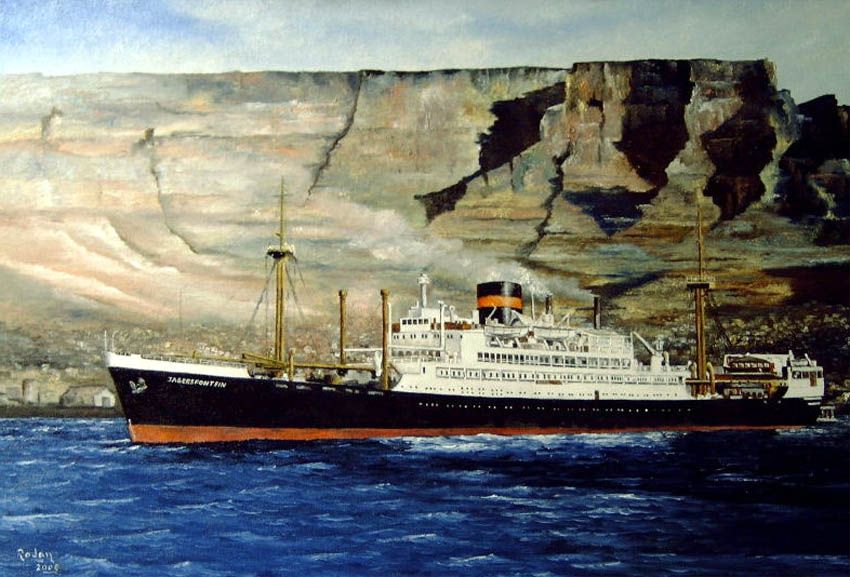 An excellent painting by Fed Boom of M.S. Jagersfontein arriving at Captown
Painting by & © Fred Boom the Netherlands
1
- Klipfontein
2
- Jagersfontein
&
3
- Oranjefontein
- Specifications
:
Numbers are in the order of Launch dates.
Builder:                 1 & 3: P Smit Jr Rotterdam, the Netherlands.
.                          3: Schichau Shipyards Danzig / De Schelde Vlissingen, the Netherlands.
Yards:                   1 & 2: 517 - 532.
Launched:             1: March 4, 1939.
.                          2: March 21, 1940
.                          3: March 30, 1940.
GRT:                    10,574 tons.
Length:                 528 ft - 160.9 m.
Beam:                  62.7 ft - 19.1 m.
Draught:               30.3 ft - 9.2 m.
Engines:                1 & 2: (B&W) - Burmeister & Wain Diesels 11,800 BHP.
                           3: Two Sulzer Type Diesels 1,800 BHP.
Propellers:             Two.
Service Speed:       17.5 knots service speed, 20 knots maximum.
Passenger Decks:   5, Including Boat Deck as a sports deck for First Class.
Passengers:           1: 104 First - 42 Tourists Class.
                           2 & 3: 100 First & 60 Tourist Class.
Crew:                   1: 120.
.                          2 & 3: 110.
Livery:                  Black hull, red boot topping & white superstructure.
.                          Black funnel with a wide orange band.
*******************************
V.N.S. & Fontein Ships Index:
Page One:           The Fontein Trio of Ships history of the M.S. Klipfontein trio of ships
Page Two:           Visser Family Voyage to South Africa on the Jagersfontein in 1965.
Page Three:         M.S. Randfontein (2) of 1958 page.
Page Four:           Fontein ships Photo Page memorabilia and brochures, etc.
Also Read …         V.N.S. Freighters from 4 to 12 passengers.
.                          SS Abbekerk a delightful V.N.S. 8,336-ton passenger-cargo ships.
 "Blue Water Liners sailing to the distant shores.
I watched them come, I watched them go and I watched them die."
****************************
Visit our ssMaritime Main INDEX
Where you will discover over 1,435 Classic Passenger & Passenger-Cargo Liners!
For interest: Sadly an email service to ssMaritime is no longer available, due to the author's old age and chronic illness as well as being disabled, etc. In the past ssMaritime received well over 120 emails per day, but Goossens can no longer handle the same. He sincerely regrets this!
ssMaritime.com & ssMaritime.net
Where the ships of the past make history & the 1914 built MV Doulos Story
The Author has been in Passenger Shipping & the Cruise Industry for well over 60 years
In addition he was the founder of "Save the Classic Liners Campaign" in 1990.
Please Note: ssmaritime and associated sites are 100% non-commercial and the author does not seek funding or favours and never have and never will.
Photographs on ssmaritime and associate pages are either by the author or from the author's private collection. In addition there are some images that have been provided by Shipping Companies or private photographers or collectors. Credit is given to all contributors, however, there are some photographs provided to me without details regarding the photographer or owner concerned. But I have done my best to provide credit at all times.
ssMaritime is owned & © Copyright by Reuben Goossens - All Rights Reserved