V.N.S. - Holland Africa Line - The Fontein Ships
Please Note: Firefox and Google Chrome search engines are not suitable
Use Internet Explorer for this page to load perfectly!
Click the logo above to reach the ssMaritime FrontPage for News Updates & "Ship of the Month"
With Reuben Goossens
Maritime Historian, Cruise'n'Ship Reviewer, Author & Maritime Lecturer
Please Note: All ssMaritime and other related maritime/cruise sites are 100% non-commercial and privately owned. Be assured that I am NOT associated with any shipping or cruise companies or any travel/cruise agencies or any other organisations! Although the author has been in the passenger shipping industry since 1960, although is now retired but having completed over 700 Classic Liners and Cargo-Passengers Ships features I trust these will continue to provide classic ship enthusiasts the information the are seeking, but above all a great deal of pleasure!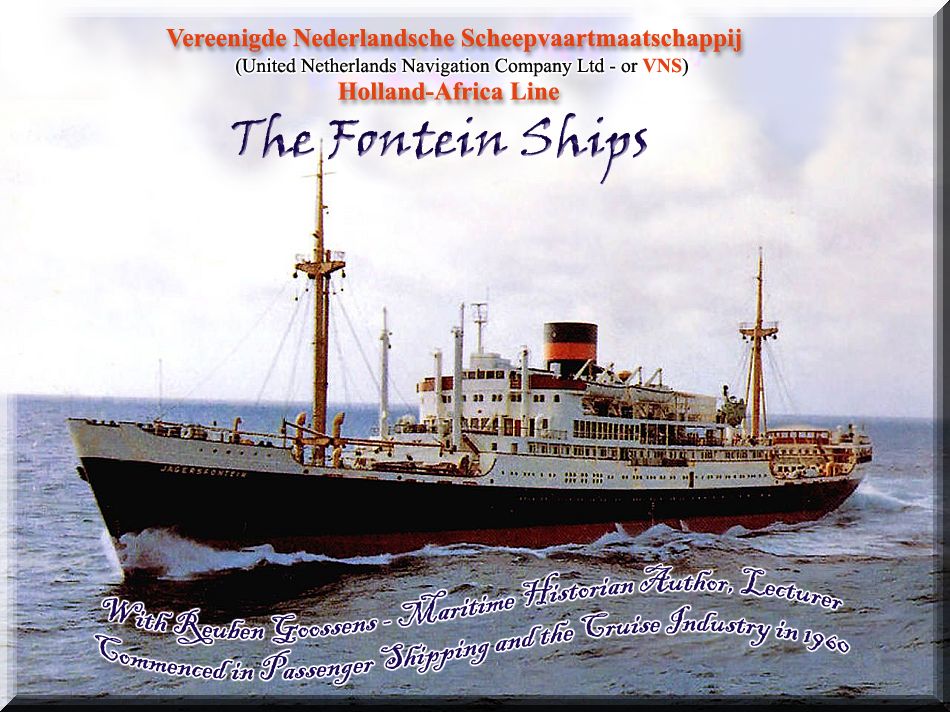 Above we see the M.S. Jagersfontein (3) sailing at full speed ahead, bound for South Africa
*******************************

Page Two
Holland-Africa Line
VNS - Vereenigde Nederlandsche Scheepvaart Maatschappij
The Visser Family Sails to

Cape Town
on the M.S. Jagersfontein in 1965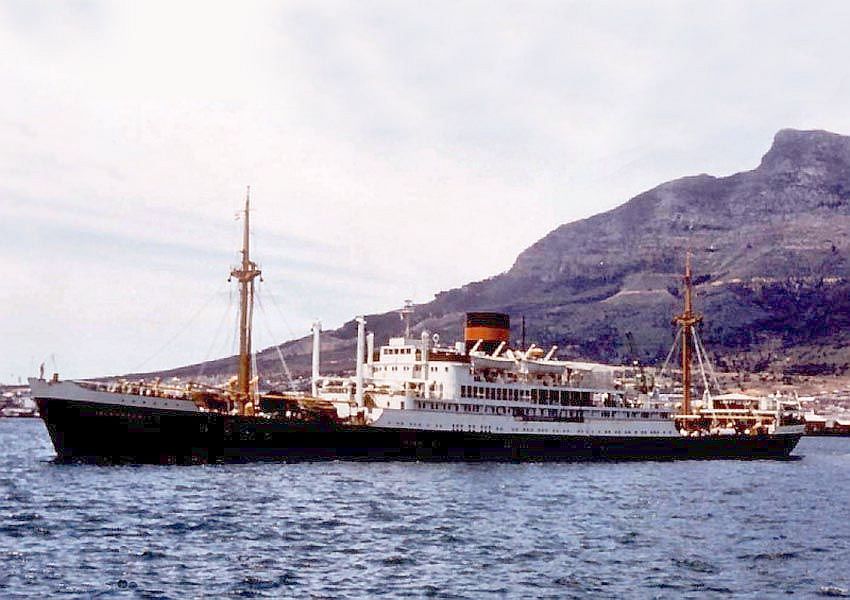 An excellent colour photograph of the M.S. Jagersfontein
From Reuben Goossens' personal collection
Please Note: All Photographs on this page (except for those images marked otherwise) were provided by Mr. Bob Visser and are Copyright ©. These images may not be copied, be it for private use or any other media!
My wife, Tjik and I, as well as my two daughters Cunera (6 years) and Carmen (4 years) as well as son Roland (2 years) boarded the Holland Africa Line ship, MS Jagersfontein in Amsterdam in the afternoon of December 17, 1965, as we were heading for Cape Town South Africa.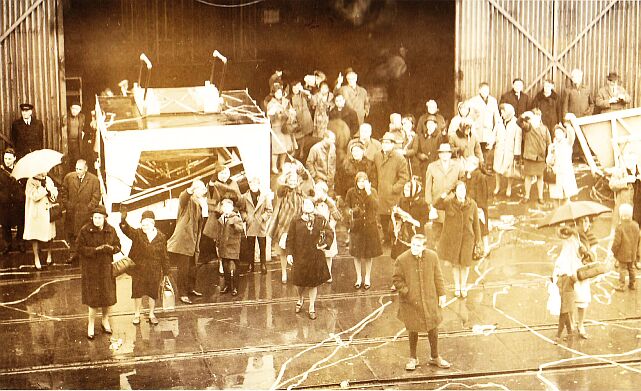 The two ladies, with black coats & one waving, on the front left, are out mothers
My wife's brother is standing closest to the ship in a grey coat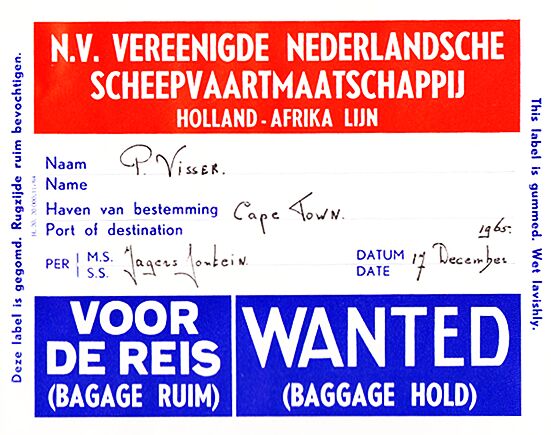 This is one of our Baggage Room labels, but was accessible during the voyage
We were very lucky because we were upgraded to a large First Class cabin, courtesy Mr. Ian Smith of Rhodesia. This gentleman had decided to declare unilateral independence in his British Colony, shortly prior to our departure. This act is well known as Smith's "UDI." This frightened many would be travellers and quite a few cancelled their bookings, to our advantage of course!
I remember as the ship departed Amsterdam we slowly sailed through the North Sea Canal, and whilst we were having supper we reached the Ijmuiden Locks. Then having gone through the locks we finally entered the North Sea being our last contact with Holland, although by then we had already gone to bed and had fallen asleep after a long and tiring day.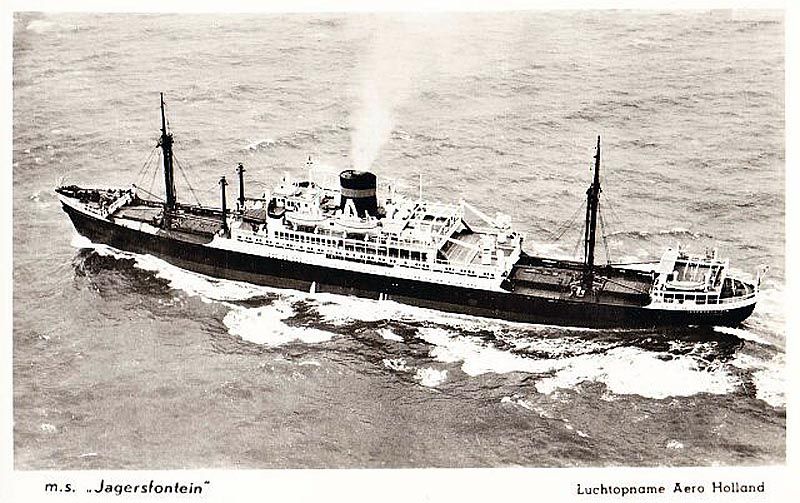 Bob Visser's postcard of the M.S. Jagersfontein obtained on the ship
Early the next morning we arrived in Southampton where a large contingent of Rhodesian civil servants and company representatives boarded the ship. Apparently they had been expelled by the British Government. However, later in the voyage they proved to be excellent companions, for they prepared us admirably for our future life in Southern Africa.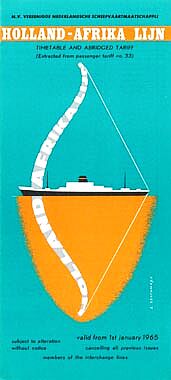 A 1965 Sailing & Fare Schedule
Provided by: timetableimages.com
The next two days were rather miserable for many on board, due to stormy seas on the Gulf of Biscay that caused most of the passengers to be rather seasick, something that thankfully did not affect me or my boy. But the girls did suffer for day or so, just like many others on board. However, once we reached the trade-winds, life certainly became very pleasant indeed.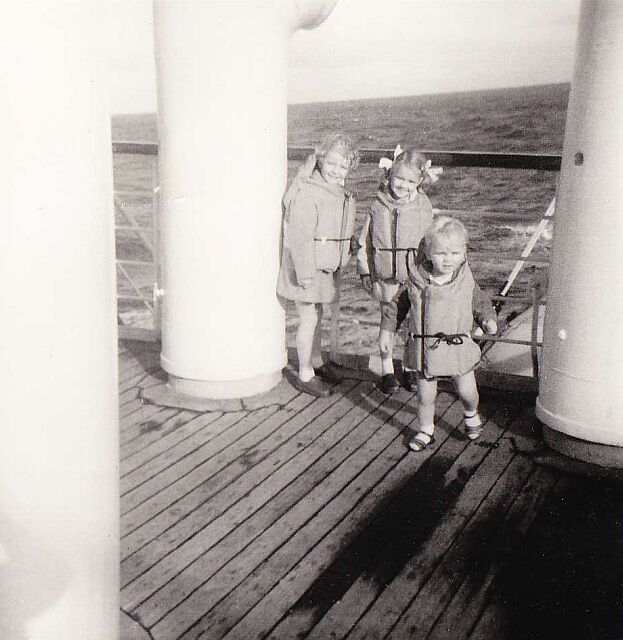 Our children from left to right: Cunera, Carmen and Roland during Boat/Life Drill
Apart from the Rhodesians who I already mentioned before, we made friends with an employee of the Holland Africa Line, being a Mr. George Wustefeld, and his wife Leny and their three daughters who were much the same age as our children. They had spent their 6 months "tropics" leave in The Netherlands and were returning to the HAL offices in the Republic.
Another delightful person we met was a Mr. Troostwijk (I am sure that was his name). He was a retired trader from Amsterdam. Being somewhat elderly and had no company of the same age on board, he frequently joined us, especially early in the morning when I and the children were swimming. He would be waiting for the daily "newspaper" to be published, for his main interest was the stock exchange page, and during the voyage he taught me a little about investing, which proved to be helpful!
Our on board circle of friends was also mage up of the ships doctor, and the wife of a Rhodesian farmer who was travelling alone with her daughter, and these are the special people that I will always remember from this voyage, even though I may not remember all their names.
In the evenings there was a variety of entertainment, including races, which we as passengers partook and it was a lot of fun and laughter. Dancing was always popular, as well just enjoying a drink with your friends in the lounge or bar.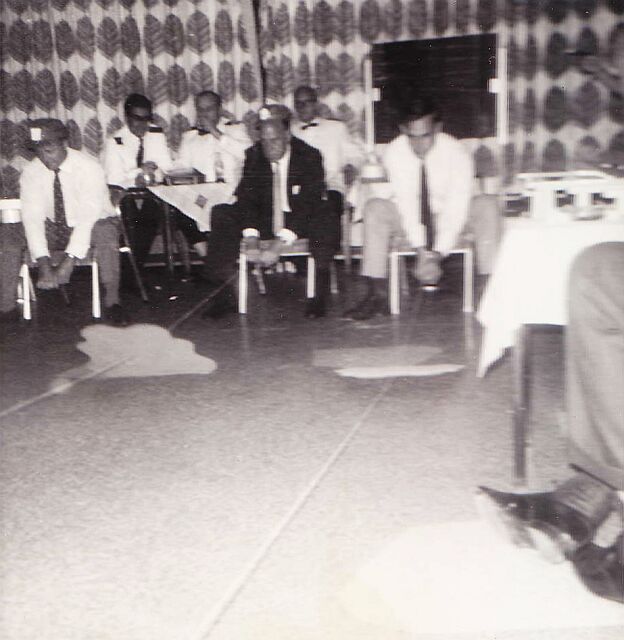 There were always games in the lounge at night, and it was a lot of fun!
Whilst on board we celebrated two festive occasions, Christmas and New Year and if you have never enjoyed such occasions at sea you just have to go on a cruise to experience it, it was a wonderful and such a festive experience!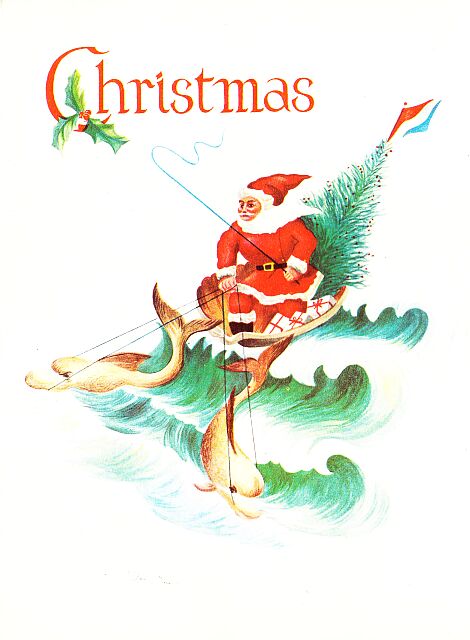 Above and below: Our Christmas menu, containing fellow passengers autographs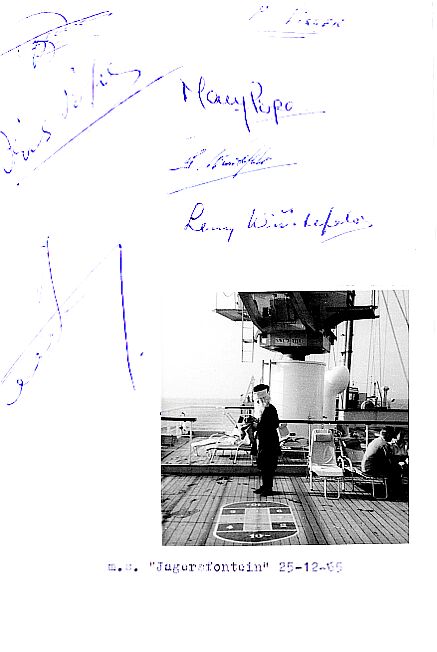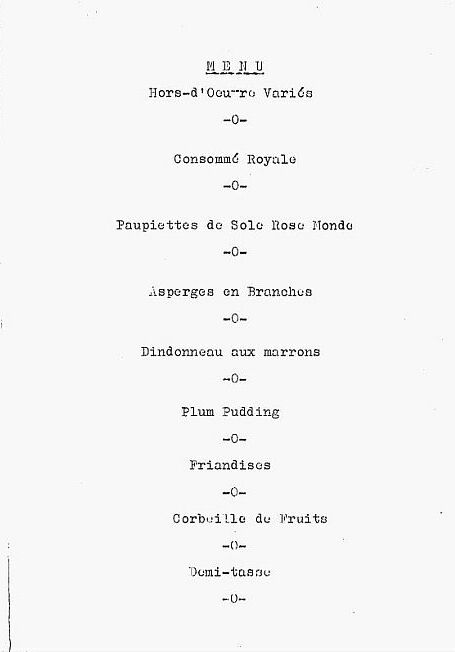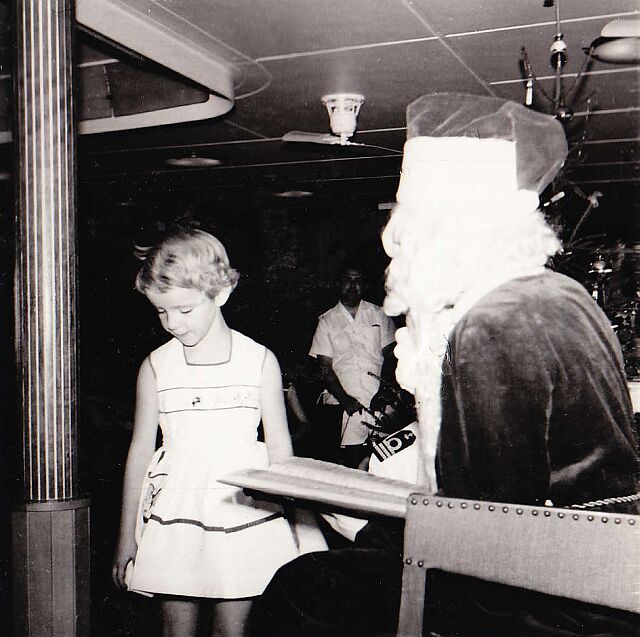 Little Cunera was not overly impressed with Santa
Our next port of call was Las Palmas in the Canary Isles, where we went to town and visited a museum, but our port stay there was not very long, thus soon it was back to the ship.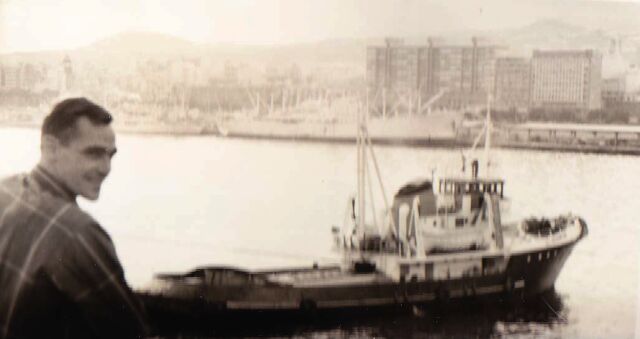 Here am I enjoying our arrival at Las Palmas
From there we sailed south and on the 27th.of December, crossed the Equator when there was a great ceremony with King Neptune and some of those who had never crossed it before received their punishment and were covered with all sorts of slops. But it is a great time and everyone enjoyed it greatly!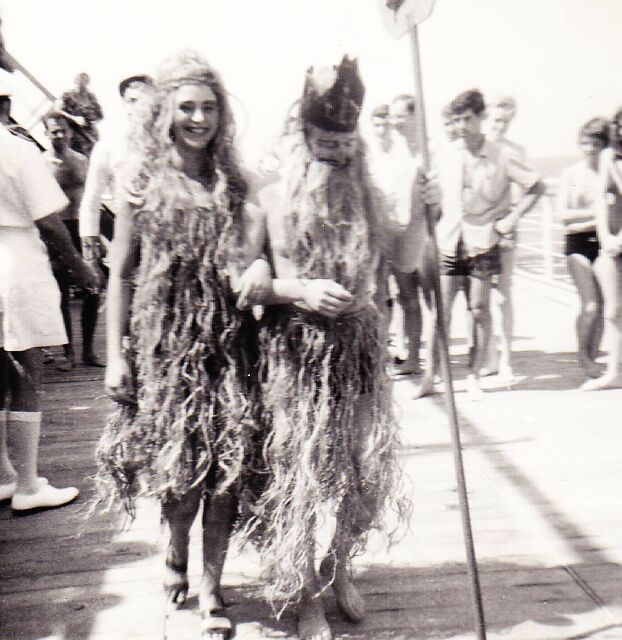 Its time for fun and frivolity at the Crossing of the Equator ceremony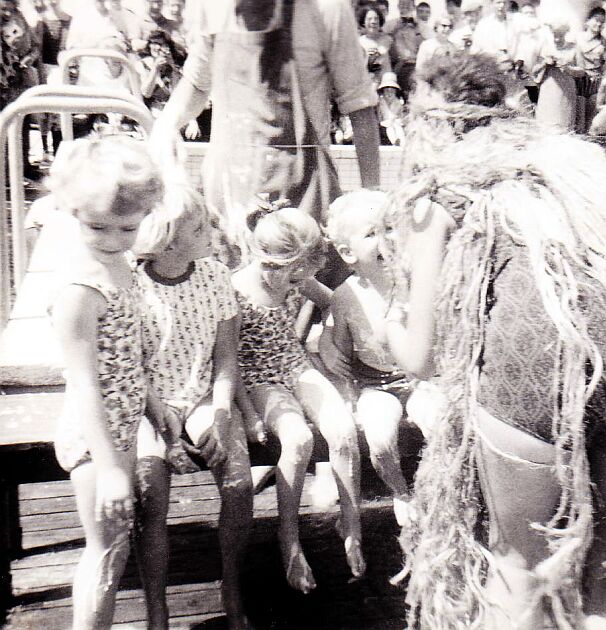 The children on board all enjoyed the fun of the ceremony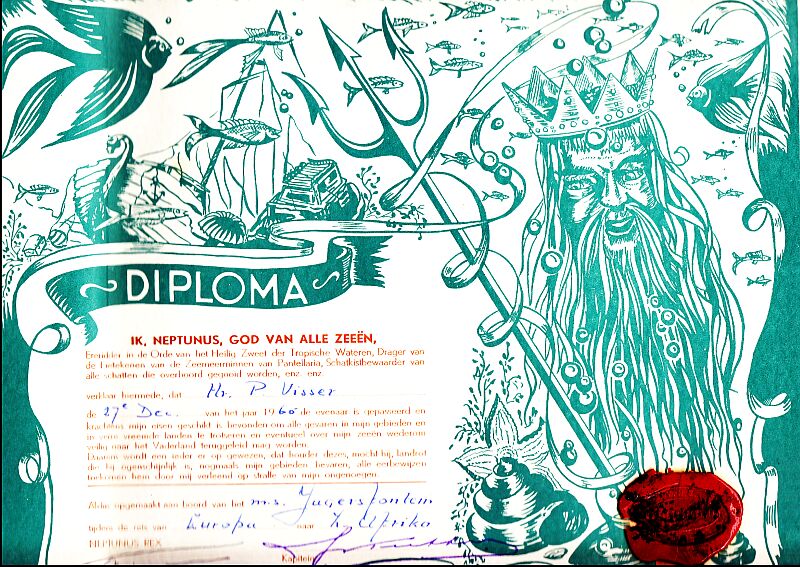 This is part of the certificate presented to myself, written in Dutch of course
Now we were in warmer waters we spent more and more days our on deck enjoying the pool and playing various games. However, the children simply loved the pool and in the morning it was their allocated time in the pool. Most mornings Mr. Troostwijk would also join us, as well as a group as other children.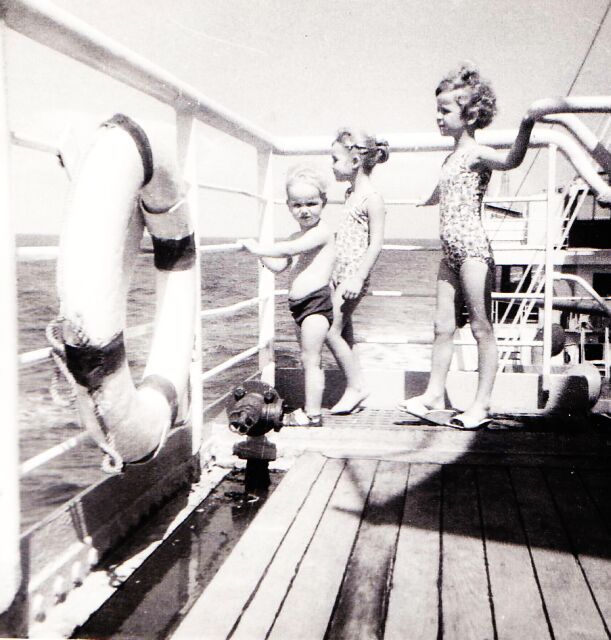 The children enjoying the ocean views and are about to have a swim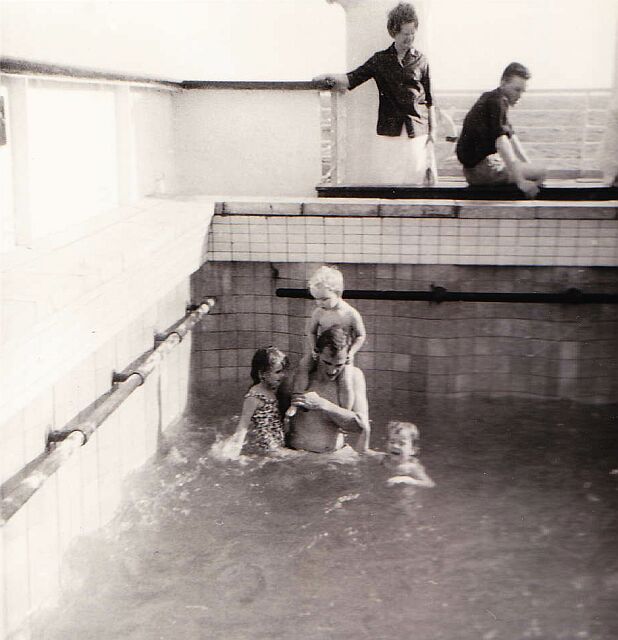 Myself and the children in the pool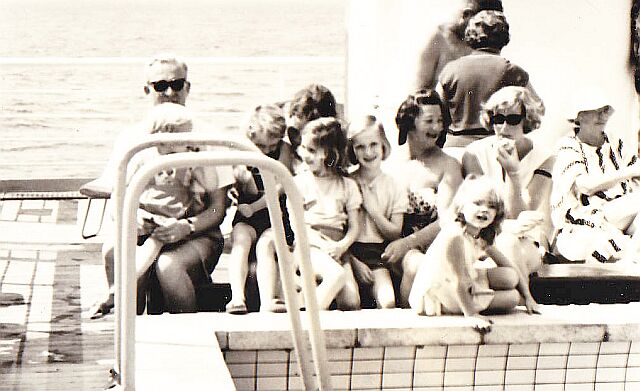 This is Mr. Troostwijk and our as well as some other children, poolside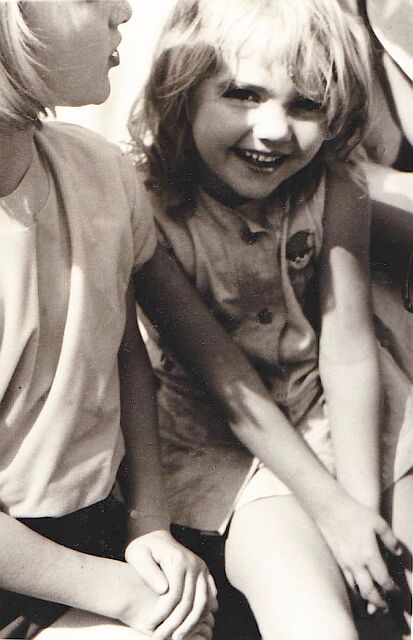 A charming shot of Cunera and Carmen out on deck
As we continued hugging the African coast we soon passing close by Dakar, not seeing land again until entering Table Bay Cape Town on the Sunday morning of January 2, 1966. We were welcomed by the famous "Table Cloth" covering the top of Table Mountain and since then we never looked back and lived in this country.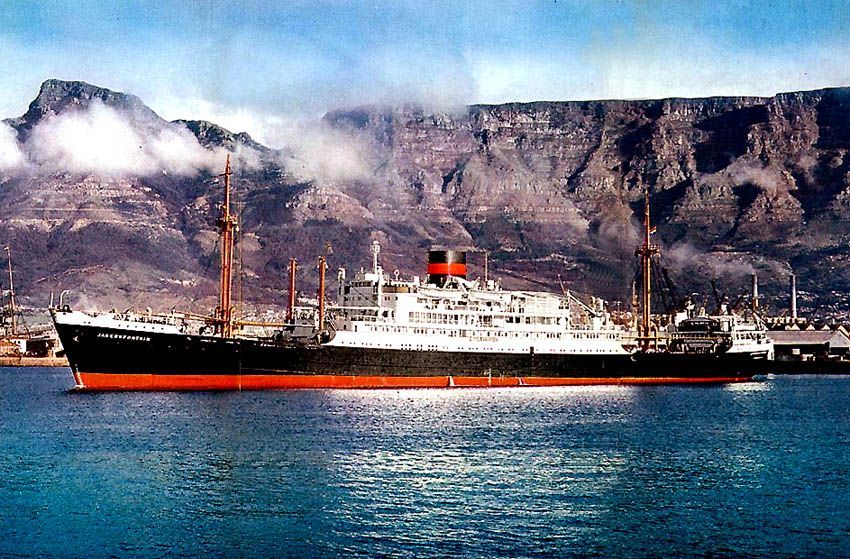 Postcard of the M.S. Jagersfontein seen arriving in Cape Town

From Reuben Goossens' personal collection

We certainly have a most pleasant memory of our voyage on this fine ship and as a result, established a very good relationship with the Holland Africa Line. After living in Cape Town for a couple of months, I was transferred to Durban and whenever a Fontein ship was in port, we would visit. The last such encounter was with the Randfontein, probably in 1971 as I was transferred in 1972 to Johannesburg. The Holland-Africa Line had by then been absorbed by the Royal Inter Ocean Lines (RIL) and it was clear that passenger liners no longer could earn their keep.

Bob Visser.

Johannesburg, South Africa.

*******************************

V.N.S. & Fontein Ships Index:

Page One:           The Fontein Trio of Ships history of the M.S. Klipfontein trio of ships

Page Two:           Visser Family Voyage to South Africa on the Jagersfontein in 1965.

Page Three:         M.S. Randfontein (2) of 1958 page.

Page Four:           Fontein ships Photo Page memorabilia and brochures, etc.

Also Read …         V.N.S. Freighters from 4 to 12 passengers.

.                          SS Abbekerk a delightful V.N.S. 8,336-ton passenger-cargo ships.

 "Blue Water Liners sailing to the distant shores.
I watched them come, I watched them go and I watched them die."

****************************

Visit our ssMaritime Main INDEX

Where you will discover over 750 Classic Passenger & Passenger-Cargo Liners!

ssMaritime.com & ssMaritime.net

Where the ships of the past make history & the 1914 built MV Doulos Story

Please Note: ssmaritime and associated sites are 100% non-commercial and the author does not seek funding or favours and never have and never will.

Photographs on ssmaritime and associate pages are either by the author or from the author's private collection. In addition there are some images and photographs that have been provided by Shipping Companies or private photographers or collectors. Credit is given to all contributors, however, there are some photographs provided to me without details regarding the photographer or owner concerned. Therefore, I hereby invite if owners of these images would be so kind to make them-selves known to me (my email address can be found at the bottom of the page on

www.ssmaritime.com), in order that due credit may be given.

ssMaritime is owned & © Copyright by Reuben Goossens - All Rights Reserved