Please Note: Firefox and Google Chrome search engines are not suitable
Use Internet Explorer or Google for this page to load perfectly!
Click the logo above to reach the ssMaritime FrontPage for News Updates & "Ship of the Month"
With Reuben Goossens
Maritime Historian, Cruise'n'Ship Reviewer, Author & Maritime Lecturer
Please Note: All ssMaritime and other related maritime/cruise sites are 100% non-commercial and privately owned. Be assured that I am NOT associated with any shipping or cruise companies or any travel/cruise agencies or any other organisations! Although the author has been in the passenger shipping industry since 1960, although is now retired but having completed over 700 Classic Liners and Cargo-Passengers Ships features I trust these will continue to provide classic ship enthusiasts the information the are seeking, but above all a great deal of pleasure!
Holland-Africa Line
VNSM - Vereenigde Nederlandsche Scheepvaart Maatschappij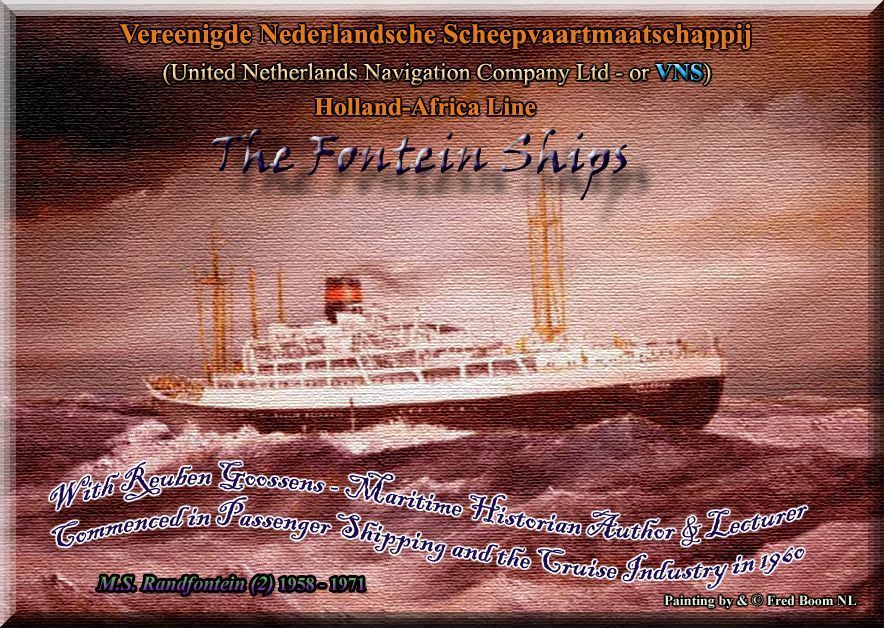 Featuring

MS Klipfontein, Jagersfontein, Oranjefontein & the MS Randfontein

Including Royal Interocean Lines MV Nieuw Holland

*******************************

Klipfontein, Jagersfontein & Oranjefontein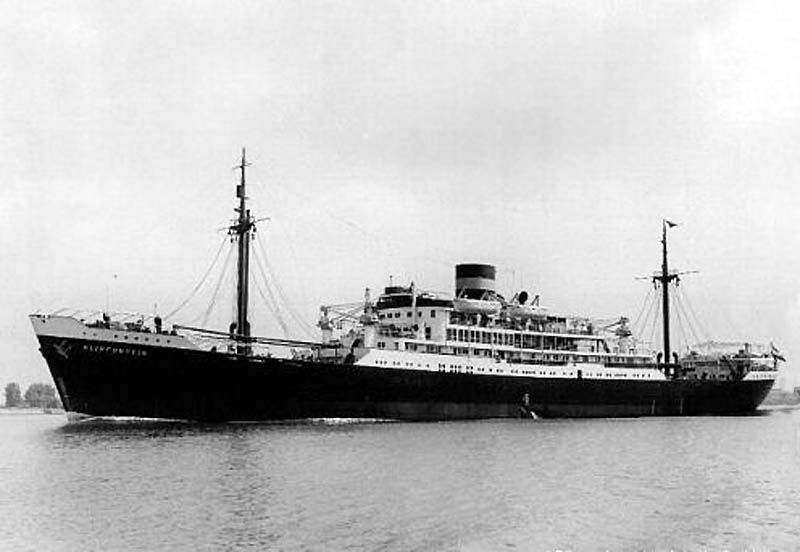 Klipfontein - The first of the four Fontein combination-passenger liners
The Fontein sisters exuded an understated luxury which endeared them to the Dutch, English, and South African travelling public. In those days, many preferred to sail on smaller liners for a good number of reasons. These ships offered comfortable accommodations, and delightfully intimate lounges and bars. Holland-Africa Line and the Fontein ships famed for their superb personalised Dutch service and fine cuisine. The Fontein interiors were likened to the larger passenger liners, but missing the crowd.
This trio of ships had four passenger decks, accommodating 100 First Class and 60 Tourist (Klipfontein 104 First – 42 Tourist). First Class was located amidships, and Tourist aft. All First Class lounges as well as the swimming pool were located on Promenade deck, with Tourist facilities on lower decks aft. Cabins ranged from singles and twin bedded cabins in First Class, some having upper Pullmans. Just over half of the first class cabins had private facilities. Tourist Class had some two-berth cabins, but most were four or six berth cabins, all with shared facilities. Cargo space was considerable, each ship having four holds, two forward and two aft.
As will be read below, the first three Fontein ships featured had interesting beginnings, this being due to World War II.
*******************************
Klipfontein - 1939 - 1953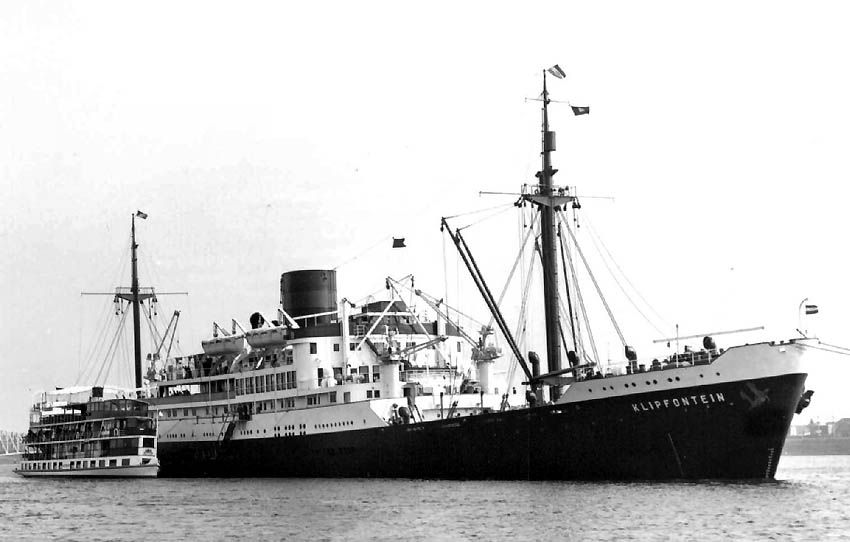 MS Klipfontein

MS Klipfontein was the first of a trio of ships to be built between 1939 and 1940. These were to be a new class of combination passenger liners, offering new standards of comfort.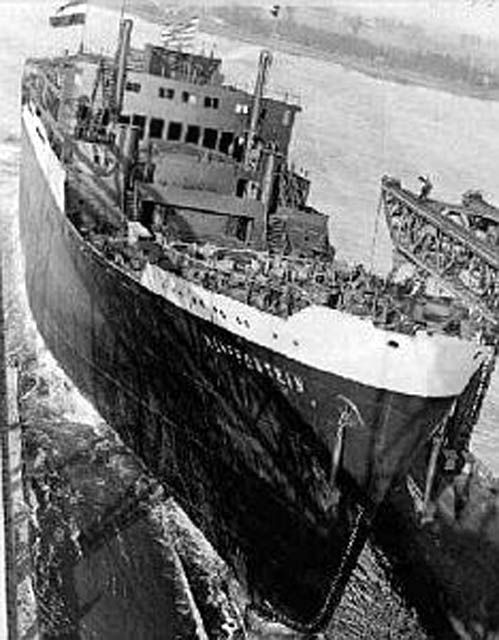 March 4, 1939, Klipfontein is launched
Klipfontein career between from the Netherlands and South Africa prior to the war was short-lived, as in 1942 she was taken over by the US War Shipping Administration to be used as a trooper.

Soldiers seen departing on the Klipfontein on September 3, 1946
She survived the war and after her duties were completed she was returned to VNSM / Holland-Africa Line on February 1, 1946. After a comprehensive refit, she re-commenced her Netherlands, UK, South Africa and Mozambique service, which continued until a dramatic day in 1953.
January 8, 1953, was a calm day at sea, but, it was the day the Klipfontein would strike some submerged rocks off Mozambique, just five nautical miles off Cape Barra. The captain realising the ship was badly damaged and doomed, immediately called for the ship to be abandoned. Passengers and crew remained calm and went about the evacuation with great efficiency, which was aided by the calm seas, and the knowledge they were close to the shore. Klipfontein sank within an hour after the accident.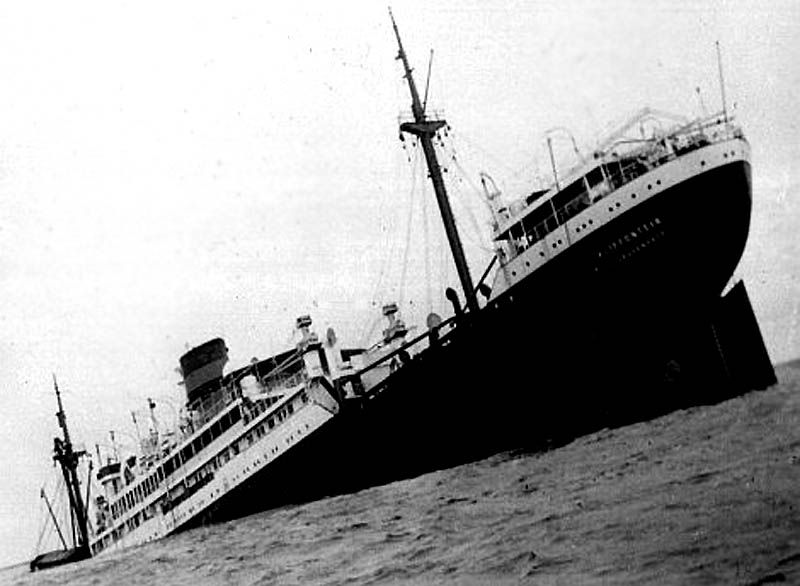 MS Klipfontein goes down
Thankfully, the Union-Castle liner, RMS Bloemfontein Castle was nearby and she rescued all 234 passengers and crew. Captain of the Bloemfontein Castle, Captain J. A. Fergurson and his Senior Officers later received commemorative gifts from Holland-Afrika Line in thanks for an efficient rescue of all Klipfontein's passengers and crew. Bloemfontein Castle was later sold to become the Chandris Lines RHMS Patris, a ship that transported thousands of European and British emigrants to Australia and New Zealand.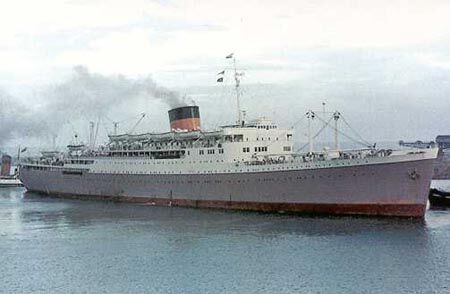 Union Castle's RMS Bloemfontein Castle
*******************************
Jagersfontein - 1940 - 1967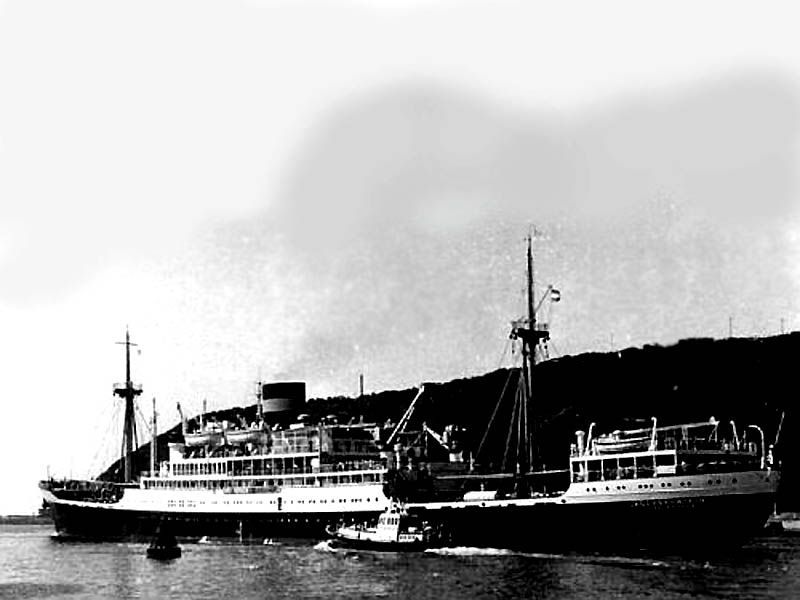 MS Jagersfontein
Jagersfontein was Laid-down as the Rietfontein, but renamed Elandsfontein before her launching on 30 March, 1940. Within weeks the Germans invaded the Netherlands. After the invasion, although unfinished, she was seized by the German Navy, but was laid up, with her decks cluttered with unassembled machinery parts. Still idle and unfinished, on March 14, 1945, she was damaged by artillery fire near Gotehafen, and partially sank at the mouth of the Vistula. She was raised on March 20, 1947. By August, she was sufficiently patched up, and towed to the De Schelde Shipyards in Vlissingen in the Netherlands, where she was fully repaired and completed. During her completion in 1948, she was renamed once again and became Jagersfontein. On March 11, 1950, she was officially returned to Holland-Africa Line and Jagersfontein commenced a successful career.
In 1967 she was sold to Embajada Cia Naviera SA Piraeus Greece, who in turn sold her for scrap. Renamed Devon, she arrived at Kaohsiung on December, 23.
*******************************
Oranjefontein – 1940 - 1967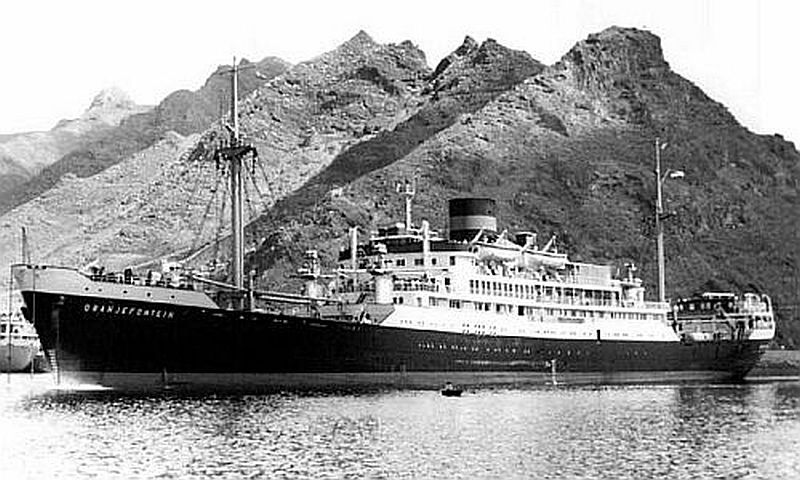 MS Oranjefontein
The Oranjefontein was built by P. Smit Jr, Rotterdam, and was launched on March 21, 1940 and was completed on December 20. On March 17, 1941, she was seized by the German navy. Just five months later she was damaged by bombs that fell nearby. Oranjefontein was transferred to the renamed German-Africa Lines Hamburg, but strangely enough, she at one time was used for target practise by the Luftwaffe and U-Boats, happily she survived.
In 1945, whilst briefly named Pioneer, she was used to transport refugees from the eastern German territories.
On July 12, 1945, Oranjefontein was returned to VNSN - Holland-Africa Line, and was taken to Newcastle in the UK for a comprehensive refit. She departed on September 12, 1945, heading for the Dutch West Indies to repatriate Dutch citizens. Upon her return she commenced the Netherlands, UK, South Africa and Mozambique service.
Like Jagersfontein, she was also sold in 1967, but unlike the Jagersfontein, VNSM sold her to a Spanish breaker. Renamed Fontein she arrived at the Bilbao breakers yard on August 11, 1967.
Klip/Jaegers/Oranjefontein Specifications
Length:                 528ft.
Beam:                   63ft.
Draft:                   30.3ft.
GRT:                    10,574 tons.
Engines:               (Klipfontein) Burmeister & Wain Diesels 11,800 BHP.
                           (Jaegers) 2 Sulzer Type Diesels 1,800 BHP.
                           (Oranje) B&W type Diesels 1,800 BHP.
Propellers:             Two.
Service Speed:       17 knots.
Passenger Decks:   4.
Passengers:       Jaegers/Oranjefontein: 100 First - 60 Tourist Class.
                           Klipfontein: 104 First - 42 Tourist Class.
Crew:                   Klipfontein 120 – Jaegers/Oranjefontein 110.
Livery:                  Black hull, white superstructure. Black funnel with orange band & red boot topping
*******************************
MS Randfontein – 1958 - 1971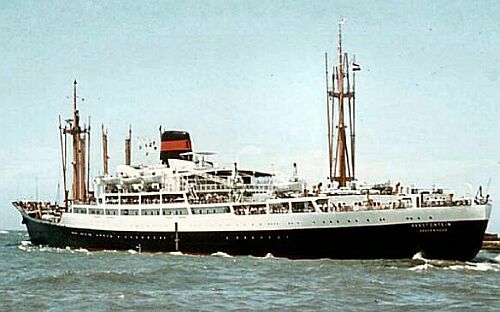 MS Randfontein sets sail for South Africa
To replace the Klipfontein, which has sunk off Mozambique in 1953, VNSM - Holland-Africa Line ordered a larger updated version of the Fontein ships. She would join her two older sisters, the 10,574-ton Jagersfontein and Oranjefontein on the Netherlands, UK, South Africa and Mozambique service.
Built in a graving dock by Wilton-Fijenoord, Schiedam in the Netherlands, the 13,694-ton liner became the largest Holland-Africa Line liner to be built. On June 28, 1958, she was floated out of her graving dock, and was officially named Randfontein. The launching was officiated over by Mrs. Geldenhuys, the wife of the Republic of South Africa's Ambassador to The Hague. When completed, she was handed over on November 24.
Randfontein departed Amsterdam for her maiden voyage to Africa in January 1959, calling at Southampton, Las Palmas, Cape Town, Port Elizabeth, East London, Durban and return, a service she maintained for the next eleven years.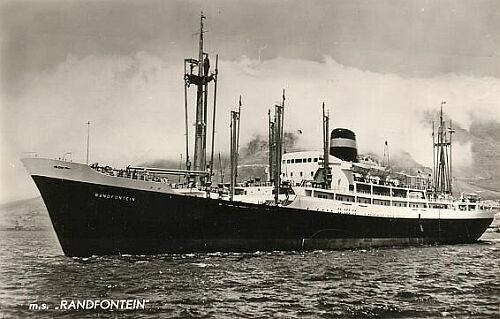 Randfontein was designed to accommodate a larger number of Tourist Class passengers, than the two older Fontein ships. All First Class cabins were located on A Deck, all having private facilities. Most were twin bedded cabins with a number of singles. In addition some cabins also had upper Pullmans. Tourist Class offered two, four or six berth cabins, all with shared facilities. Both classes had a good number of lounges and bars, in addition both classes had their own fully tiled swimming pool, which was virtually unknown those days for ships of this kind.
Like her older sisters Randfontein had a large cargo capacity, including refrigerated ones. Her six holds were distributed, four forward, two aft. She also had deep tanks to transport vegetable oils.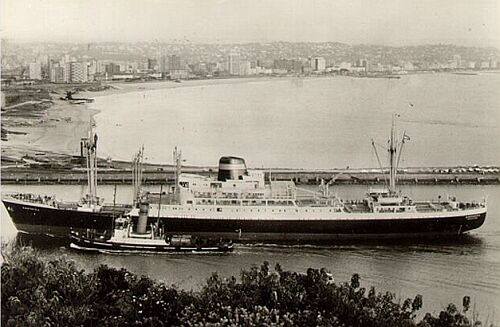 MS Randfontein arrives in port
Having a boutique type atmosphere, Randfontein became a popular ship with the Dutch, English and South Africans, thus she enjoyed excellent passenger loadings, until the late sixties. Then, as air travel became more popular, passenger loadings dropped rapidly and it was decided to terminate her service mid 1971.
Randfontein Specifications:
Length:                 178.3m – 584ft.
Beam:                   21.4 m – 70ft.
Draft:                   30.1ft.
GRT:                    13,694 ton.
Engines:               2 M.A.N. Wilton Diesels (15,400 BHP).
Propellers:             Two.
Service Speed:       18 knots.
Passenger Decks:   5.
Passengers:           289 - 123 First – 166 Tourist Class.
Air-Conditioning:    All cabins and both Dinning Rooms.
Livery:                  Black hull, white superstructure.             
.                          Black funnel with orange band & red boot topping.
*******************************
MS Nieuw Holland 1971 - 1974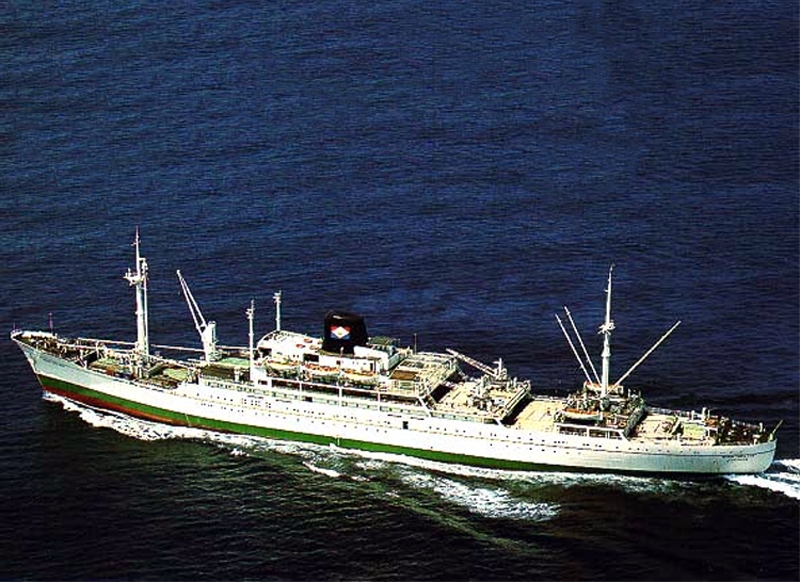 Royal Interocean Lines MS Nieuw Holland

Postcard from the author's private collection

Randfontein

was sold to RIL - Royal Interocean Lines in July 1971, and she was dispatched to Hong Kong where she was given an extensive refit. Notable changes were the removal of a pair of derrick posts forward, being replaced by a large crane. All cabins she would commence her duties between Japan and Australia.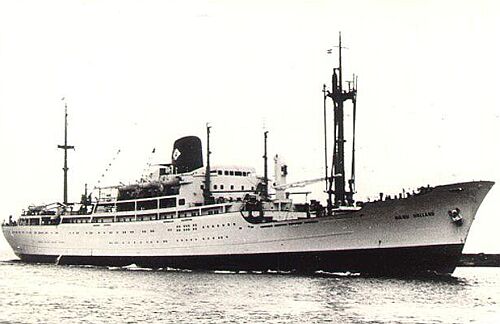 Royal Interocean Lines MS Nieuw Holland

MS Nieuw Holland

would replace the smaller RIL MS Tjiluwah, which was lovingly known as the "Elegant White Yacht" on the Japan Australia service. Finally she departed Hong Kong on Her maiden voyage to Australia on January 21, with just 200 or so passengers, and the idea of using her as a cruise ship was rapidly abandoned, as she was not popular.

With the ever dwindling bookings, the smaller Tjiwangi was also withdrawn from service in 1974 at the same time the Nieuw Holland was placed on a new service departing from Adelaide, sailing to Risdon Tasmania, Sydney, Port Moresby, Bali, Surabaya, Jakarta, Singapore, Penang Belawan, Singapore, and return to Adelaide. However, this service proved to be even more unpopular and it was cancelled after just four return voyages. Sadly time had run out for passenger-Cargo services from Australia to Asia, which was mostly due to cheap charter air fares and cargo containerisation, thus the cargoes had radically changed, and the older style of handling was now out of date.

At the time, P&O's Chitral and Cathay, operated a similar service to RIL, and P&O, just like the Nieuw Holland were also suffering poor passenger loadings, and thus both the delightful Chitral and Cathay were also taken off the market and both were sold. Sadly, the age of combination-passenger liners has finally come to an end. Thus the time had come, that RIL finally decided that having been operating on the Australia-Asian market for much longer than most lines, sadly the time had come they would have to withdraw from this once profitable Australian market, and the MS Nieuw Holland's final voyage from Australia saw her depart Sydney (her final Australian port) without any fanfare whatsoever, on October 22, 1974. This last passenger sailing to Singapore where her final RIL passengers disembarked. Royal Interocean Lines sent the Nieuw Holland to Hong Kong without any passengers and upon arrival she was laid up, and placed on the market and she was within several months.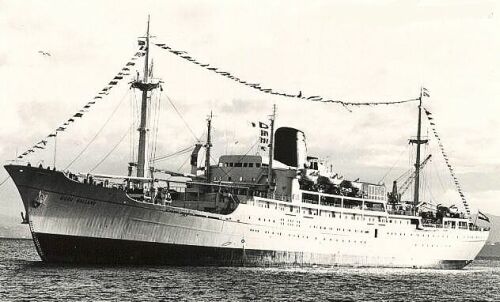 MS Nieuw Holland departs for Japan
*******************************
MS Yu Hua – Hai Xing 1974 - 1996
Several months after her initial arrival in Singapore she was sold to the Peoples Republic of China, who renamed her "Yu Hua." Accommodating 297 passengers and she was registered at 12,191 GRT, and she was placed on the China-Africa service, but was later she was transferred to the Shanghai to Hong Kong service. In 1981, Yu Hua was transferred to the Shanghai-Hai Xing Shipping Company, who renamed her "Hai Xing" and she continued on the Shanghai to Hong Kong service for the next ten years.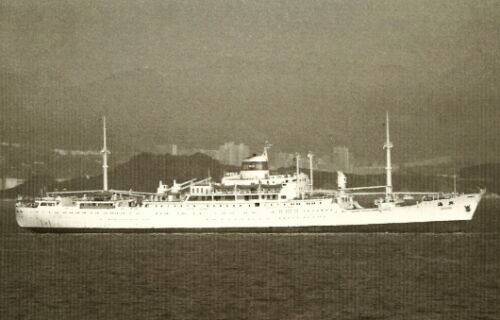 Hai Xing seen here looking very smart in a very rare photograph taken in 1990
During her ten year China-Hong Kong service, I would receive occasional information that she had been seen in either Shanghai or Hong Kong and at that she looked a well maintained ship, which was very pleasing to hear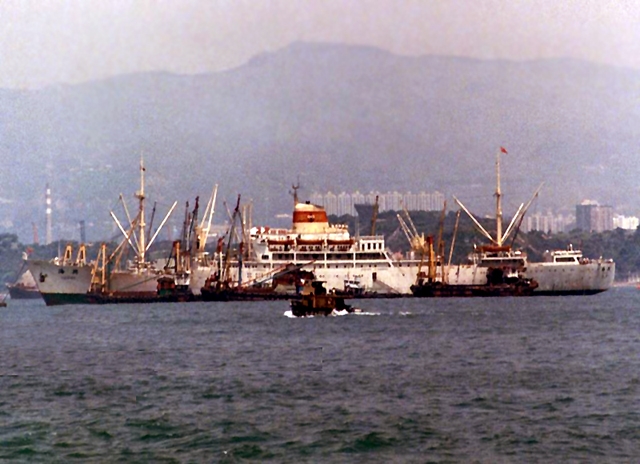 The MS Hai Xing is seen in Hong Kong Harbour
In 1991, the Hai Xing was finally taken out of service and she was laid up at Hong Kong, where she lingered for five years and whilst at anchor, she sadly deteriorated badly.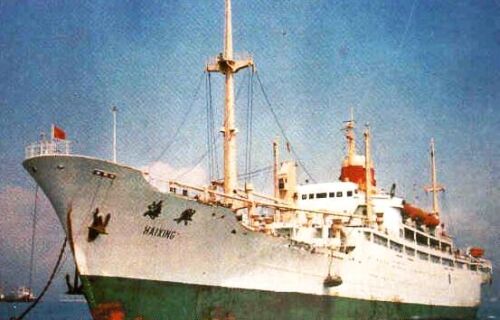 MS Hai Xing is seen here laid up at Hong Kong in the early days in 1991
She was finally sold to Indian breakers in 1996. For her final voyage to India, she was registered in St Vincent and renamed "Herbert." By now, looking very much the worse for wear, the Herbert, ex Hai Xing, Yu Hua, Nieuw Holland, and Randfontein departed Hong Kong undertow on May 28, 1996, and she arrived at Alang, India on June 13, and decommissioned. She was beached four days later and was rapidly demolished.
The MS Randfontein/Nieuw Holland as a ship enjoyed thirty-three years of actual service and five years in her final days in lay-up, before being broken up. She was sadly the last of an excellent series of Fontein Liners.
Enter our Fontein Photo Page
Read the Visser Family Story (voyage to South Africa on MS Jagersfontein in 1965)
 "Blue Water Liners sailing to the distant shores.
I watched them come, I watched them go and I watched them die."
****************************
Visit our ssMaritime Main INDEX
Where you will discover over 750 Classic Passenger & Passenger-Cargo Liners!
ssMaritime.com & ssMaritime.net
Where the ships of the past make history & the 1914 built MV Doulos Story
Please Note: ssmaritime and associated sites are 100% non-commercial and the author does not seek funding or favours and never have and never will.
Photographs on ssmaritime and associate pages are either by the author or from the author's private collection. In addition there are some images and photographs that have been provided by Shipping Companies or private photographers or collectors. Credit is given to all contributors, however, there are some photographs provided to me without details regarding the photographer or owner concerned. Therefore, I hereby invite if owners of these images would be so kind to make them-selves known to me (my email address can be found at the bottom of the page on www.ssmaritime.com), in order that due credit may be given.
ssMaritime is owned & © Copyright by Reuben Goossens - All Rights Reserved