Please Note: Firefox and some iPad's or iPhone's, etc are not suitable
Use Internet Explorer or Google Chrome for this page to load perfectly!

Click the logo above to reach the ssMaritime FrontPage for News, Updates & "Ship of the Month"
With Reuben Goossens
Maritime Historian, Cruise'n'Ship Reviewer, Author and Lecturer
With almost 59 Years in the Passenger Shipping & Cruise Industry!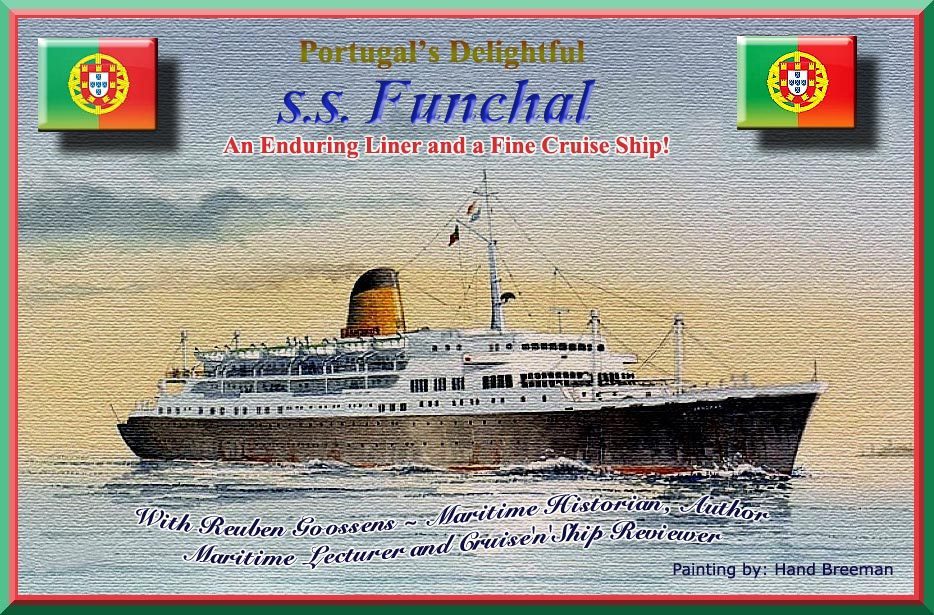 SS Funchal was built for the Lisbon-Azores-Madeira service and was operated by "Empresa Insulana de Navegacao" of Lisbon
All Photographs (except those marked otherwise) are by, or from the author's private collection
<![if !vml]>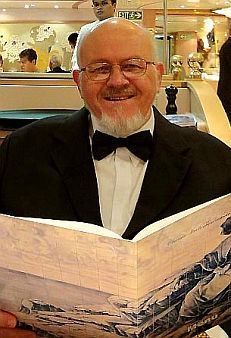 <![endif]>NEWS UPDATE: MV Funchal is one of the most outstanding and greatly loved classic cruise ships left in the world, and although she has been laid up since 2015 as her last owner sadly did not last very long due to total inexperience in the cruise industry, but it now seems that possibly a group of long standing passenger shipping & cruise experts will obtain her and will commence a new classic style cruise operation. Should they be successful I will add an update in the near future on … www.savetheclassicliners.com!
Reuben Goossens.
Maritime Historian, Author, Lecturer and Cruise'n'Ship Reviewer.
The author on aboard the 1948 built, MV Athena in 2012
She is still sailing & scheduled to sail in 2019, named MV Astoria
Introduction to the Remarkable Funchal:
Amazingly after this superbly Danish built liner departed on her maiden voyage in 1961, the greatly loved and cherished SS Funchal is one of a very few superb Classic ex Liners that continues to operate today as a very successful cruise ship. This delightful 10,000 ton Portuguese ship has become a favourite ship for countless of thousands around the world as passengers return again and again to cruise on this intimate yacht-like ship, and in 2013 she had received a massive rebuilding and a refit to commence a new life with Portuguese company, and had many of the very latest and modern instrumentation and equipment and is certificated to continue sailing for up to another twenty years!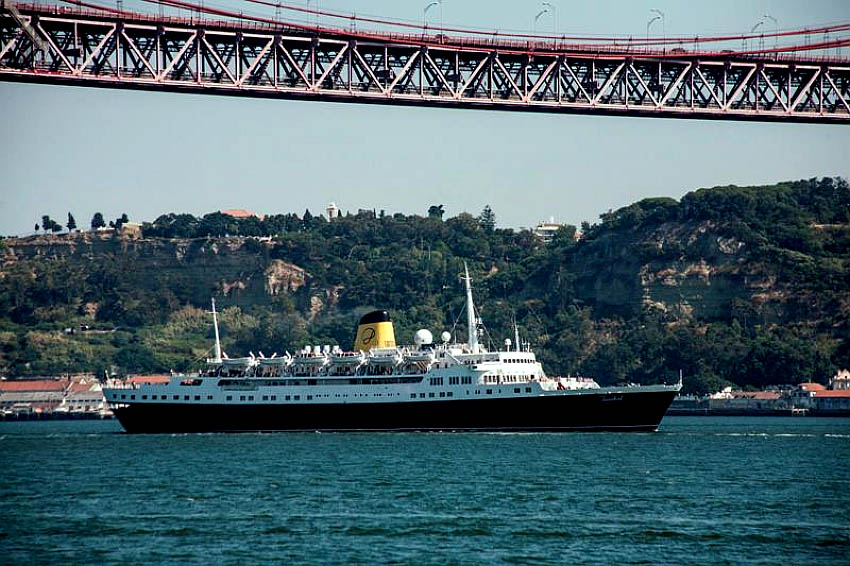 The MV Funchal is seen departing Lisbon for her deep-sea trials on August 15, 2013
for a new cruise company, but due to inexperience they only lasted two years
The Best of the MV Funchal is Yet to Come:
Although over a half a century young, throughout her days t beautifully built "Funchal" has received various refits, partial rebuilds, received brand new engines and the very latest world standard navigation and safety equipment. But more so the MV Funchal has been meticulously maintained and she is a ship in perfect condition and without a doubt as up to date as any modern cruise ship built today.
As the owner, a shipping magnate with a family history I passenger shipping of over 130 years, passed away in may 2012, sadly the company he founded, "Classic International Cruises" (CIC) sadly came to an end by December that year, as his two sons were left to run (CIC) and to say the least they made a mess of the finances
All five if CIC's ships were laid up and placed on the market and in 2013 the Funchal was sold to a new company and she was given one of the most comprehensive multi million Euro refits that included engine works, and so much more! Details regarding this are located at the bottom of the page. All these modifications has hade her into a superbly beautiful classic style ship internally and she was brought back up to date with new, being the latest SOLAS regulations, and she had pass the most stringent safety regulations, which would see her sail long into the future and thus the MV Funchal will continue to strike a fine pose as she enters a harbour somewhere around the world! But let us now go back into her history!
Building SS Funchal the Liner:
This fine ship was designed in Portugal and originally it had been hoped by the Portuguese that this ship would be built in Portugal, however in due course the contract was given to the Danish Shipyard - "Elsinore Shipyards" in Helsingør Denmark for the main reason that they offered to build her for around £2 million (UK Pounds) which was excellent value for the time and this was obviously far better than the Portuguese were able to offer at that time.
Her keel was laid down in July 1960 and she was built up to the highest of maritime standards possible, being so typical of the Danes! However, the entire project came under the strict guidance of the Portuguese naval engineer Rogério d'Oliveira!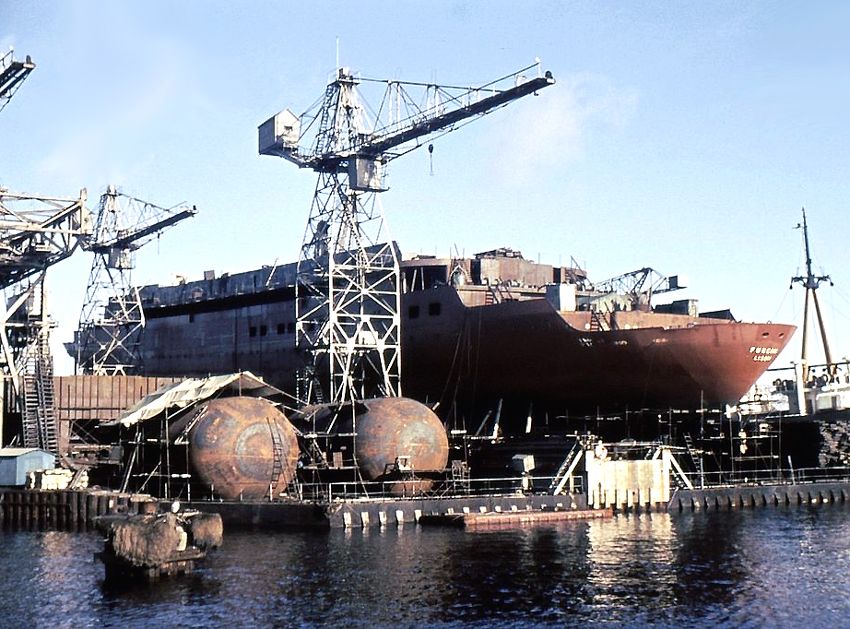 The Funchal is seen in her final stage of construction at Helsingør on..
February 5, 1961 and she was launched just five days later on the 10th.
When ready, she was launched on February 10, 1961 and was moved to her fitting out berth for completion. Considering she was driven by two Parsons Steam Turbines, which were operated at with high and a low-pressure units and were double reduction geared to her twin screws. During her deep sea trials on October 10, 1961 she managed a remarkable top speed of 23 knots, although her service speed was intended to be 20 knots, thus she would have an good speed in reserve should she ever need it.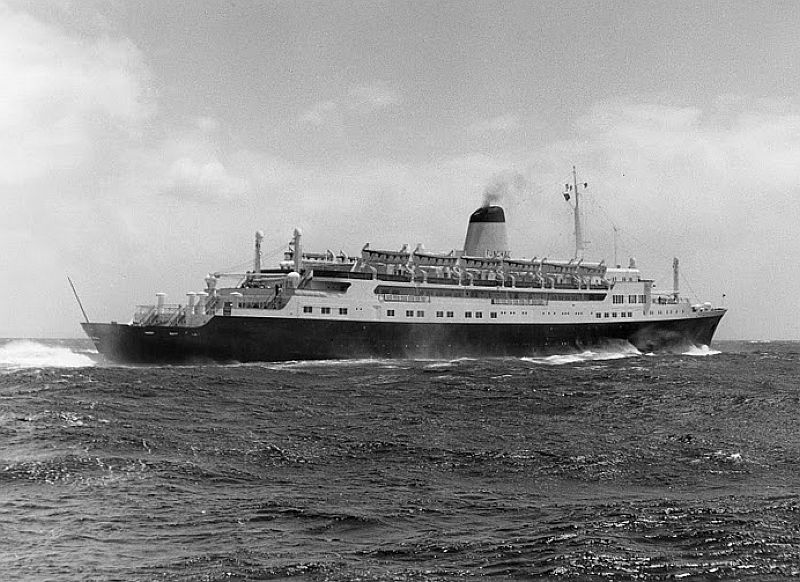 A sleek looking Funchal is seen at full speed sea
However, her boilers did become somewhat of a problem a little later and eventually she was re-engined and became a motor-ship. However, it was interesting that the Funchal was the largest ship to be built at Helsingør and the biggest passenger ship built in Denmark since World War II.
She has a beautiful long and sleek steel riveted hull with a fine raked bow, and her low slung her upper deckhouses were mostly constructed of welded aluminium construction giving her those clean long elegant lines. Like most passenger liners of her days she carried a reasonable amount of cargo, which she did in her three holds, two forward one aft. She could carry cars, fruit, mail and general cargo. In all she had four refrigerated compartments.
Due to her long streamlined design she always tended to look larger than her actual size, and it was said that the Funchal "must surely rank as one of the most attractive small liners built in the post-War period. This was a statement by Lloyds of London. In addition, her accommodations and lounges received great praise!
On Board Comforts:
SS Funchal was designed to accommodate 400 passengers in three classes. 80 First Class, 156 passengers in Tourist A, and 164 passengers Tourist B. All First Class and Tourist A public rooms were located on Promenade Deck, and the Tourist B lounge was down aft on B Deck.
The First Class lounge is located far forward, just ahead of the Library, Writing and Card rooms, which flank the main foyer, with the Smoke Room located just aft. These venues were superbly finished with the lavish use of fine woods in their décor such as rich rosewood in the Main lounge and elegant teak in the Smoke room. In the lobby the stairwell was a feature by itself as it was a magnificent metal, glass, and rosewood spiral staircase. Amidships on Promenade Deck there were eight First Class cabins that separate the First Class public venues from the Tourist A lounges.
She had a magnificent polished metal and glass spiral staircase that was held up by a fine polished timber column rising through four decks. The photograph of this fine structure is seen further down the page.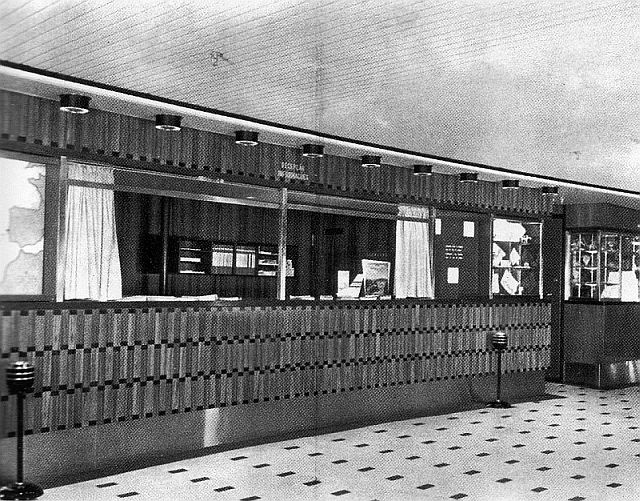 The Pursers Office forward on A Deck with the spiral stairwell just aft
Tourist A Main lounge and the Smoke Room, both aft on Promenade Deck were also very attractive rooms and these venues could be converted into either a chapel or a cinema.
On A Deck forward is the First Class Dinning Room features superb oak panelling and this room was followed by the Galley and the large Tourist Dinning Room, which was partitioned into two sections, having 160 seats on each side with Tourist A passengers dinning on the portside and Tourist B on the starboard side. Further aft on this deck was the very pleasant Tourist B Main Lounge.
Both First Class and Tourist A had single, two and three berth cabins. All First Class accommodation had private facilities. In addition First Class featured four double bedded suites as well as two single suites, whilst Tourist A and B accommodations had shared bathrooms (between two cabins) or communal bathrooms. Tourist B cabins had from two to six berth cabins. Funchal was fully air-conditioned and was equipped with Denny-Brown stabilizers for the passengers comfort.
Her Maiden Voyage and an encounter with the SS Lima: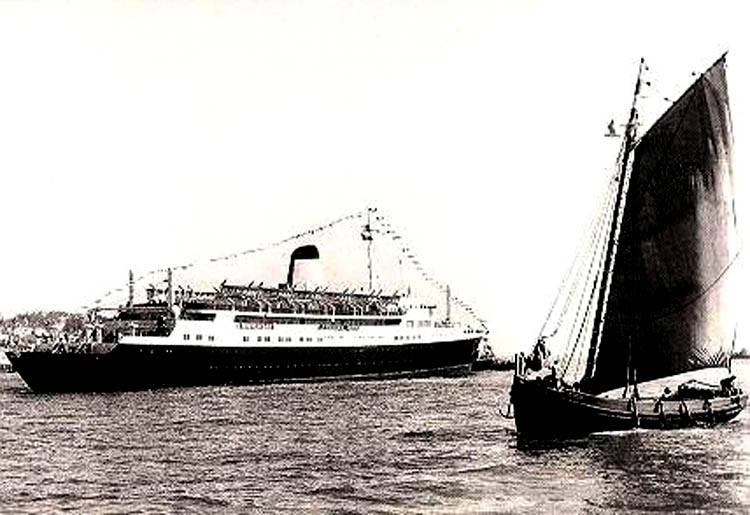 Funchal is seen arriving in Lisbon on October 19, 1961
The beautifully designed 9,824-ton SS Funchal was finally delivered to her owners in Lisbon on October 19, 1961, where she was stocked and manned and made ready for her maiden voyage to Madeira and St Michael's Island, departing Lisbon on November 4, 1961. Whilst in Madeira during this voyage she met the ship she was built to replace the SS Lima.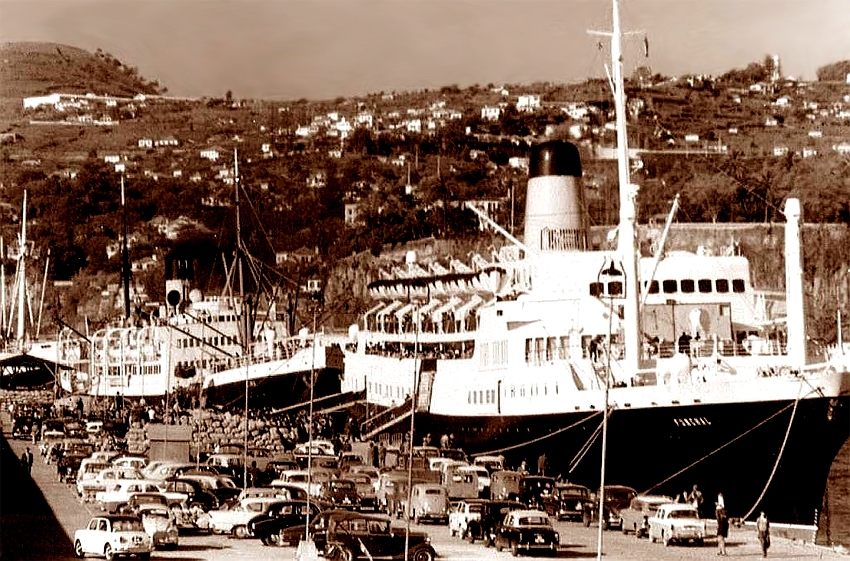 The Funchal and SS Lima aft both busy getting ready for departure in Madeira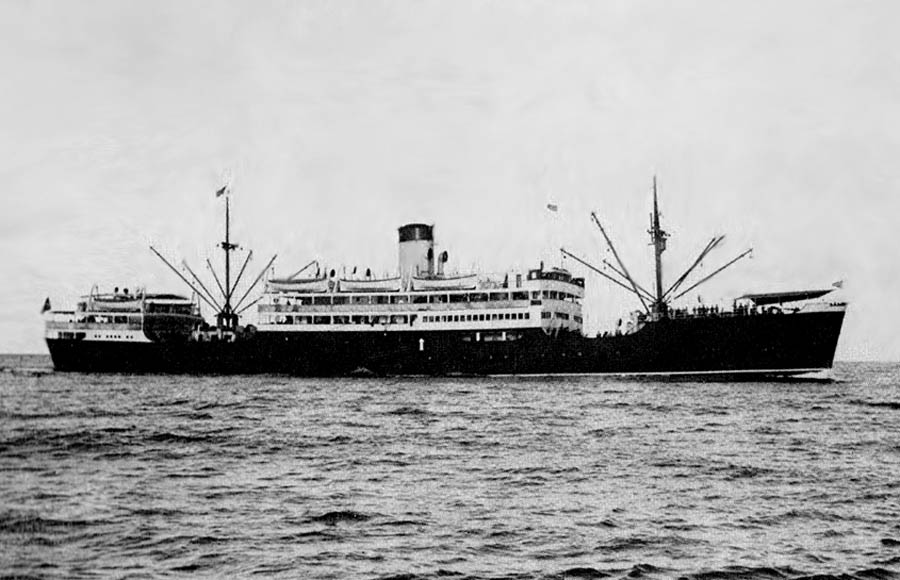 SS Lima
SS Lima: The 4,056 ton ship was built in 1907 by Furness Withy & Co Hartlepool UK, for the North German Lloyd, but she was taken over by Portugal due to WW1 in 1916 and was operated on the Lisbon to Madeira service ever since with 222 passengers in three classes. But being 54 years old, and for ships built in 1907, that was old in those days, she needed to be replaced urgently and the SS Funchal was the perfect ship for the job! However, SS Lima did continue to operate on the Madeira se4rvice, but mainly as a cargo ship, although occasionally she did carry passengers whenever it became necessary. She was finally withdrawn from service seven years later at the good age of 61 years in 1968 and she departed on June 9, 1968 for a special, although short "Farewell Lima Cruise" from Lisbon, and sailed to the Berlengas Islands being a group of small islands around 15 kilometres off the Portuguese coast, west of the town of Peniche. This was officially her 550th voyage!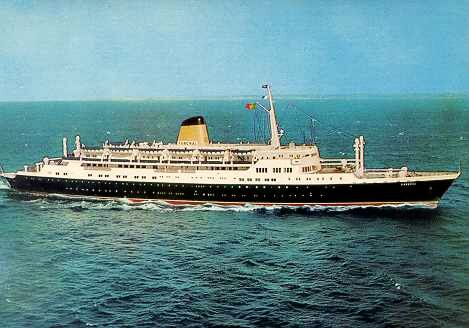 The Funchal seen as built
As she continued her services, she was thought of by some that she was just a small liner, however very soon she achieved a reputation for sheer excellence, as she became famed for the high standard of excellence and that famed Portuguese service! SS Funchal continued her services to Madeira and other relevant destinations when in 1966 "Empresa Insulana" purchased the ex Zim Lines SS Israel, which they refitted and renamed SS Angra Do Heroismo and she entered the same service as the SS Funchal.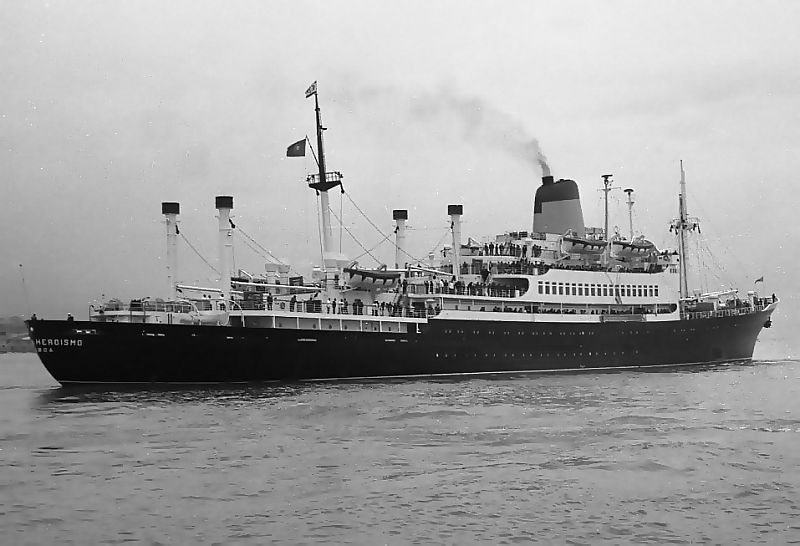 SS Angra Do Heroismo is seen here in 1967
For information: The Angra Do Heroismo was built as the passenger/cargo liner SS Israel by Deutsche Werft in Hamburg in 1955. She was broken up at Castellon on April 14, 1974. Her full story can be found at: www.ssmaritime.com/ZIM-2.htm.
Soon Funchal would extend her voyages to Tenerife and the Canary Islands and she would call into St Michael's Island around every third voyage. This continued until 1969 when she commenced to operate more and more cruises and even undertook several cruises in October and November that year from Southampton to these popular Atlantic Islands. Her cruise success continued and this would be the future of this fine ship.
However, by this time the Funchal had already been suffering various problems with her boilers as far back as 1969 and again in 1969 although these had been fixed each time, but an eventual solution had to be found in due course.
SS Funchal the "Presidential Yacht":
On various occasions the Funchal would be chartered by the State in order for her to serve as the Presidential Yacht such as one she undertook in February 1968 when the President visited the Azores, Madeira, Cape Verde Islands, Guiney and Brazil.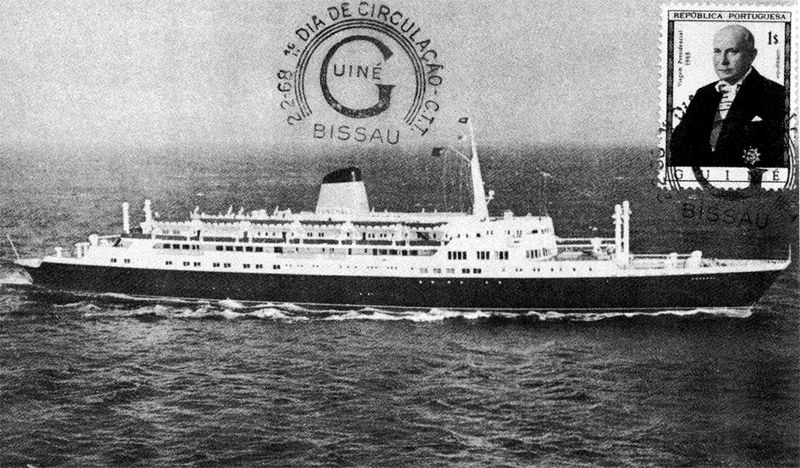 SS Funchal postcard stamped in Guiney from the Presidential voyage inn 1968
In 1972 President Thomas undertook a voyage in order to visit Rio de Janeiro where he was to participate in the 150th.anniversary celebrations of Brazil's independence from Portugal and this was obvious a somewhat touchy visit for the President of a nation that was once the nation's conqueror! Also on board Funchal was a very special item being the Urn that contained the ashes of King Perdro of Portugal who was the very first Emperor of Brazil.
However during the voyage the Funchal again suffered boiler problems, which seemed a repeat of a voyage that occurred fifty earlier, when another Portuguese liner took the then President to Rio for the centenary celebrations and that ship also broke down at sea and although she was fixed she arrived several days too late for the celebrations. However, this time certain repairs were made but Funchal limped in and arrived just on time and further repairs were made whilst she was in port. However, it had become obvious that upon her return to Lisbon action would have to be taken!
SS Funchal Dimensions - 1961 to 1972:
Builder:                                            Helsingør Skibsvog (Elsinore Shipyards) Denmark.
Yard:                                               353.
Launched:                                         February 10, 1961.
Maiden Voyage:                                 November 4, 1961.
Tonnage:                                          9,824 GRT (Gross Registered Tons).
Length:                                            501ft - 153,51m.
Breadth:                                           63ft - 19,05m.
Draught:                                           20.3ft - 6,38m.
Engines:                                           Two Steam Parsons D.R. Geared Turbines - 12,250 S.H.P.
Propellers:                                        Two.
Service speed:                                   20 knots (max).
Lifts:                                                3.
Passengers:                                      80 First, 156 Tourist A &164 Tourist B Class.
Crew:                                               180.
Other:                                              Fully Air-conditioned & Stabilizers.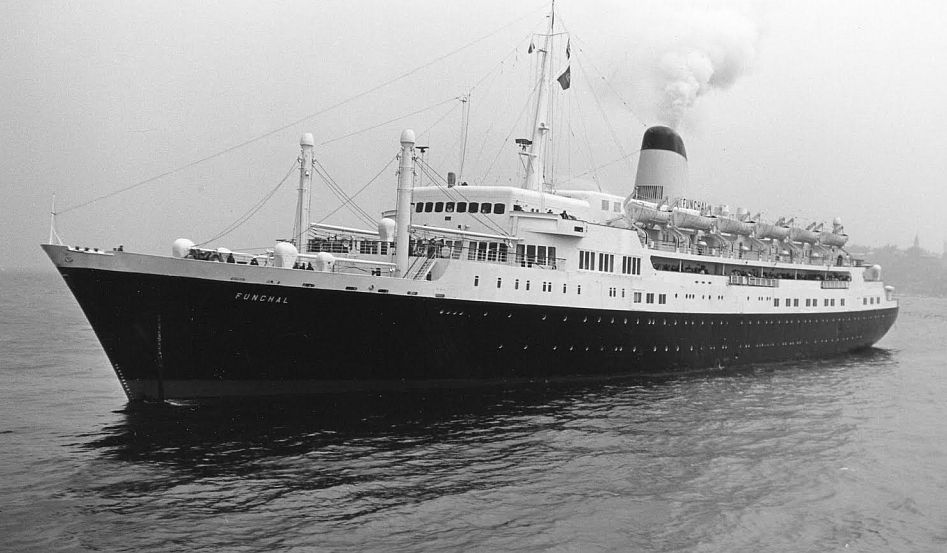 The way many love to recall the SS Funchal for this liner was about to be transformed into a fulltime cruise ship
MS Funchal the Cruise Ship:
As Funchal returned from her Presidential voyage to Rio in 1972, with the repairs that had been undertaken she managed to make several cruises out of Lisbon, but she was then sent to Amsterdam in The Netherlands where her old steam turbines were removed and was given two brand new ultra reliable "Werkspoor" 9-Cylinder Diesel Engines developing 2 x 5,000 BHP. Although these would provide her with a slower speed, but as her future now was as an attractive one class cruise ship and thus there was no need for speed, as it was in the days for an express service of her liners days. Her delightful exterior profile thankfully remained almost unchanged, although a new deck section was added topside located forward of her funnel and her aft decks were slightly extended. Upon completion she reregistered as being 9,563-tons.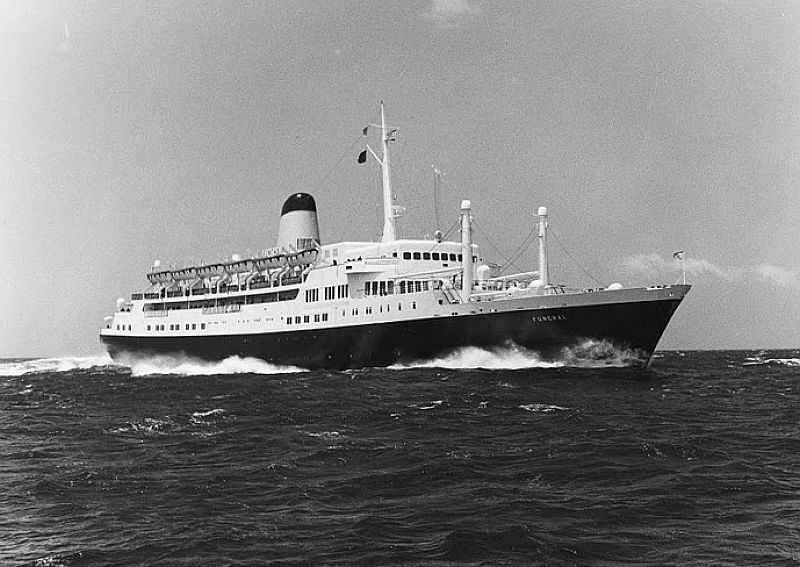 MS Funchal seen in 1974 as cruise ship with a dark hull, just before being painted all white
Note the new topside deck forward of the funnel
At first she commenced sailing, first with a dark hull as seen above, but it was decided very quickly to have her painted all white, but her traditional black topped and yellow funnel remained, however this was soon to change due to the company's financial problems and a merger that would take place.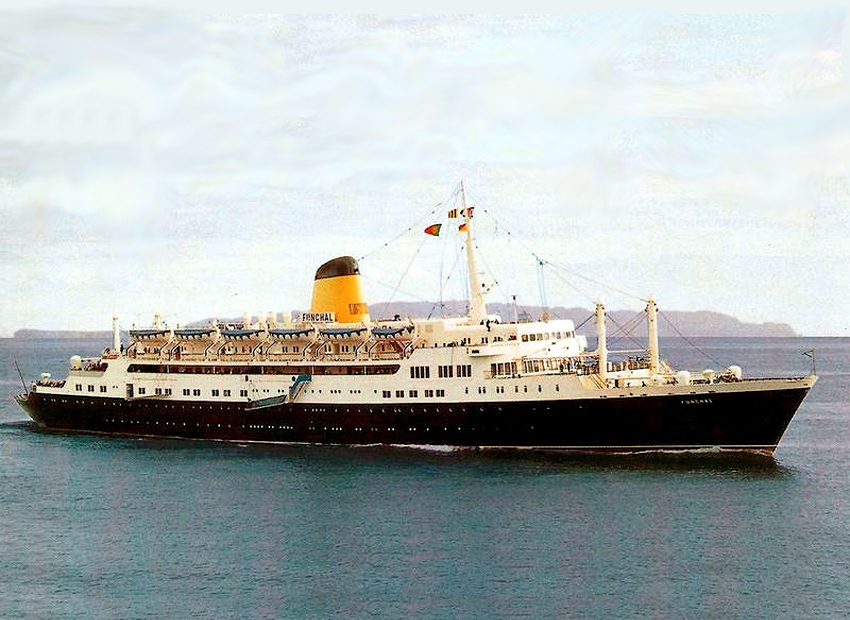 A fine full colour view of the Trans-Atlantic Liner & Presidential Yacht - SS Funchal prior to her 1972/73 refit
With her refit took a good eight months and she was finally ready for her sea trails late in May 1973 and she managed a maximum of 18 knots, with a service speed of 16 knots. She was delivered and in June she undertook a number of cruise from Zeebrugge (Belgium) and Dover (UK) mostly to her popular destinations of Madeira, Tenerife and Cape Verde Islands, etc. After having been painted with her all white livery, she had blue boot topping and a blue ribbon around the hull, her funnel was yellow and a black top.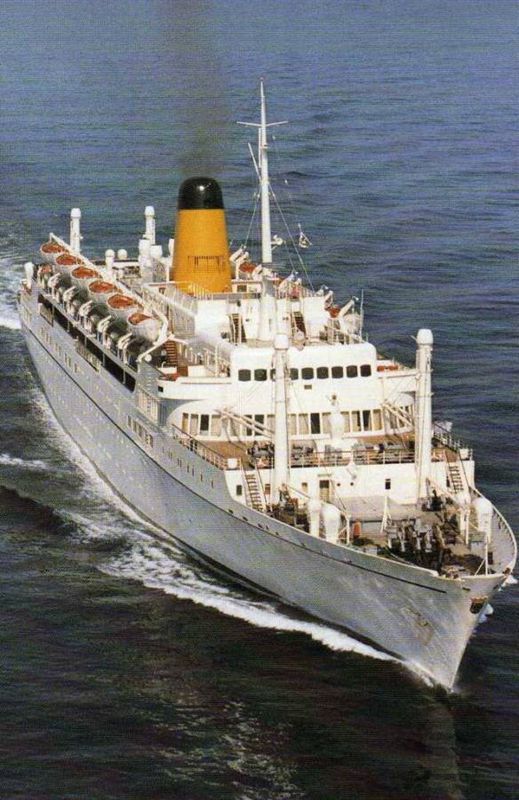 Funchal the cruise ship is seen here having been painted all white, with her yellow and black topped funnel
In December 1973 the Funchal headed for Rio de Janeiro where she would operate a series of cruises along the South American coast, however, by now her owners; "Empresa Insulana" was already beginning to suffer severe financial problems and by February 1974 they merged with Cia. Colonial to form a new company Cia Portuguesa de Transportes Maritimos (CPTM). In order to fall in line with the company livery her funnel livery was changed to a yellow funnel with green and white bands being the same as their other Portuguese liners turned cruise ships, such as the Turbine steam ships of the company TSS Vera Cruz, Santa Maria and Infante Dom Henrique. All these ships are features on ssMaritime, see our main index, a link is at the bottom of the page.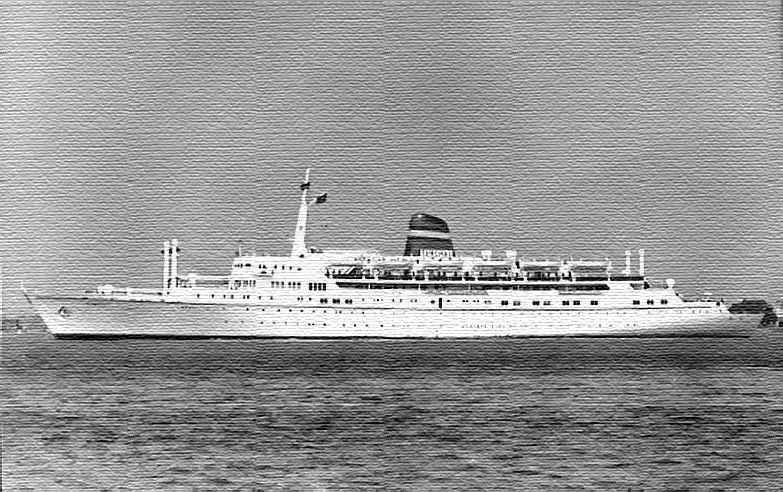 MS Funchal is seen in 1974 with her new livery CPTM livery
Mr. George Petros Potamianos and the MV Funchal:
It would be in 1976 that one of the most famous Greek shipping magnates, Mr. George Potamianos chartered the MV Funchal to operate a series of cruises. Myself knowing the amazing history of the Potamianos family personally, they go back into shipping history to 1850, when they commenced the much loved and world famous Epirotiki Lines, thus it stood to reason that the Funchal charter was going to be very successful indeed! There was no doubt that Mr. Potamianos did not forget this now much loved small ship, for in 1985 he decided buy her outright for his company "Great Warwick Inc" and "Arcalia Shipping Company" But here are the events of how the Funchal came into his hands.
In 1985 Cia Portuguesa de Transportes Maritimos (CPTM) Funchal's original Portuguese owners were liquidated and the MV Funchal was passed into the hands of "Great Warwick Inc" of Panama, a company which was a joint venture between the now Lisbon based Potamianos family and also the Swedish Fritidskryss family.
The Funchal was re registered in Panama, but continued to be manned by Portuguese, as well as some Swedish crew. She was placed in the hands under the management of "Arcalia Shipping Company" and operated by "Classic International Cruises", companies all part of the families! She was given a new funnel livery, all yellow but now with a single thick blue band and a black top she soon she headed off on her new cruise duties.
Having received a refit making her ready for this new venture, it was obvious that once again that the Funchal would prove to be a successful marriage for Mr. Potamianos and his beloved ship! The truth is, the MV Funchal did so well she grew from strength to strength, gaining popularity where ever she went!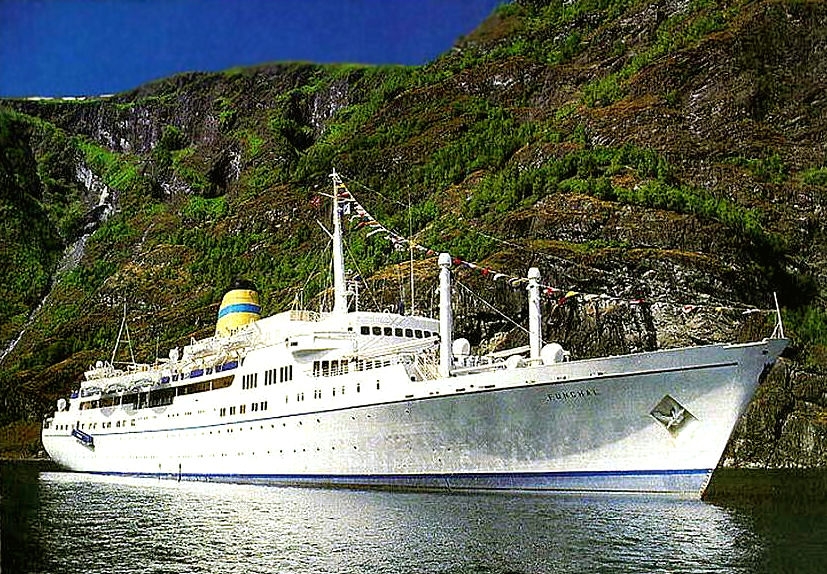 Funchal is seen here in 1986
During the summer months the Funchal cruised around European ports and she was based in Harwich England, whilst during the winter months she would cruise out of Brazilian ports. However, the company ensured that she was kept fully updated and thus she was given regular refits ensuring that she would meet new market needs.
In order to make her more suitable for certain ports where it was necessary for her to anchor, thus it was decided during yet another refit in 1989/90 to add two large fully enclosed tenders, but these were rather awkwardly placed, located far forward on promenade deck and thus they certainly did nothing to enhance her looks. But they were very effective and considering they had a large capacity and the ship having low passenger numbers, all passengers could be taken ashore rapidly!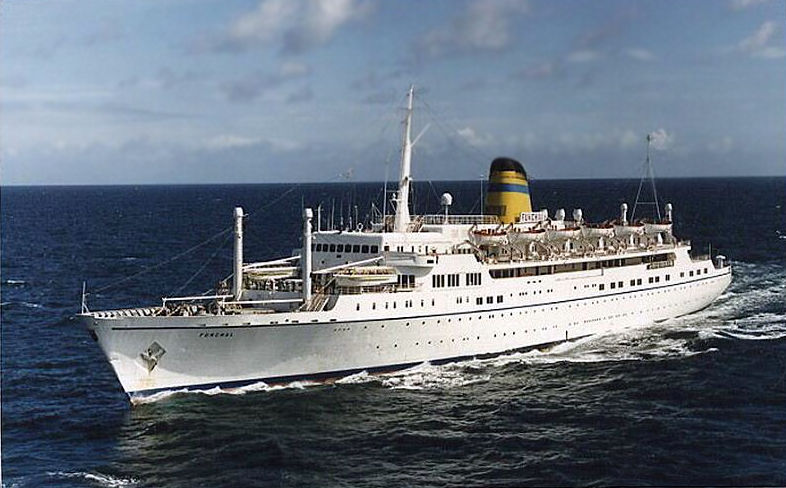 Funchal is seen here in 1990 with her large glass topped tenders located on her forward deck
By 1993 Funchal's Azores deck aft had been extended far aft providing a new spacious Lido Deck as well as ample deck space for sun soaking, whilst Boat deck up the deck had also been extended aft somewhat.
s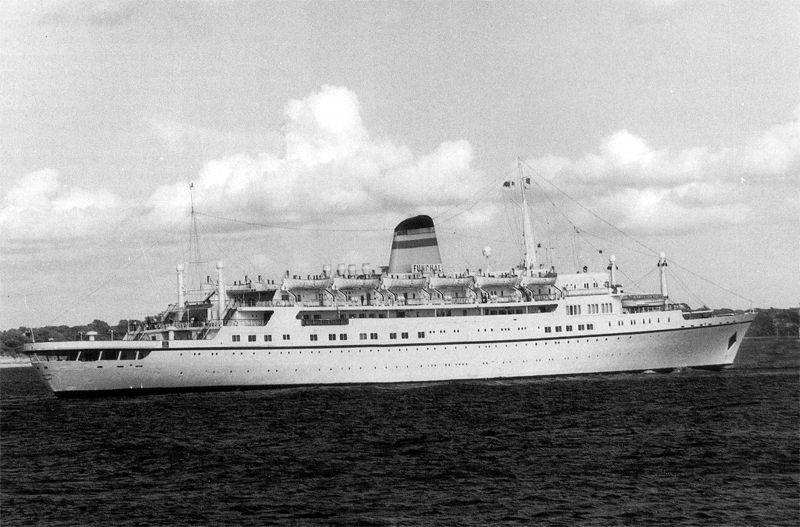 Funchal is seen here in 1993 with her extended lower aft deck and still with her forward tender
By 1996 the Swedish partners had decided to drop out of the Portuguese shipping side and return to Sweden, and this left the Potamianos family to continue to operate this superbly successful company, which they did with great finesse! In fact Mr. George Potamianos did this so well the company eventually grew having a total of five superb ex classic ex liners/ships made up of the MV Athena, ex MS Stockholm (1948), MV Princess Daphne & Princess Danae, ex MS Port Sydney & Port Melbourne (1955), MV Funchal, ex SS Funchal (1961) and the MV Arion, ex MS Istra (1965). All these ships were superbly managed and operated by "Classic International Cruises."
In 1997 the MV Funchal received a major refit in order for her to comply with the 1997 SOLAS regulations, which meant the removal of much of her beautiful timbers and other measures that were required. One of the things that had to be done was the alteration that had to be done was (and I cried) to her magnificent spiral staircase that now had to be partially enclosed. But I must say, it was tastefully done with veneers that were sort of similar to the original timbers and they were separated with mirror panels and it still looked rather grand! She was thankfully reregistered in Madeira, Portugal once again!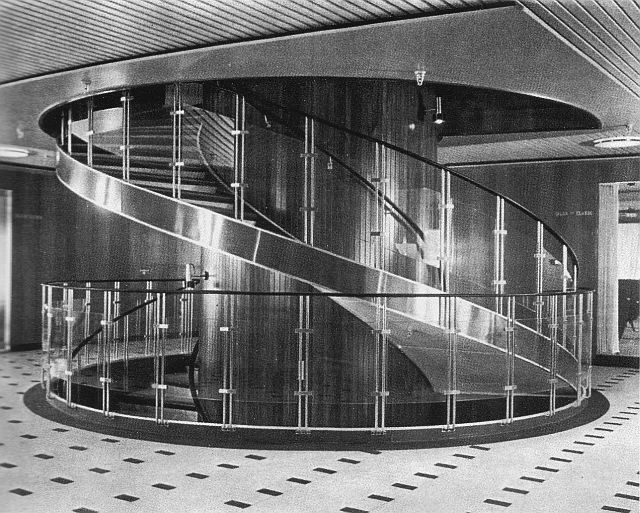 The imposing polished metal spiral staircase was held up by a fine polished timber column rising trough four decks!
It is seen here on A Deck looking aft towards the First Class Dining Room. It remained like this from 1961 to 1997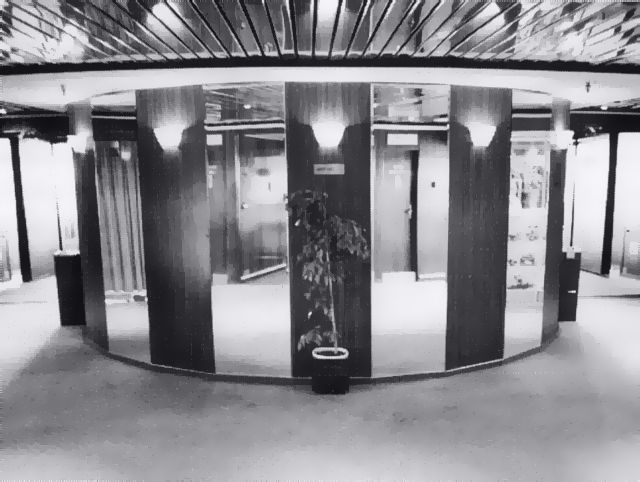 The stairwell seen enclosed after Funchal's 1997 refit, nice, but just not the same!
During Funchal refit she also received the official "Classic International Cruises." Livery being a white with a black top funnel and her CIC logo, being a globe that features the famed Portuguese *Caravelle" and topped by Lisbon's Belem Tower.
*The "Caravelle" class vessel was a square-rigged 50-ton timber design vessel built quite high above the waterline, with two masts, a combination of triangle-shaped lateen and square sails, and a deep hull able to carry cargo. Did you know that Columbus' "Santa Maria" was a Caravelle built in Sagres in Portugal!
Thankfully it was also realised that four lifeboats had to be removed amidships and replaced by suitable tenders making for easier operations when the ship was at anchor.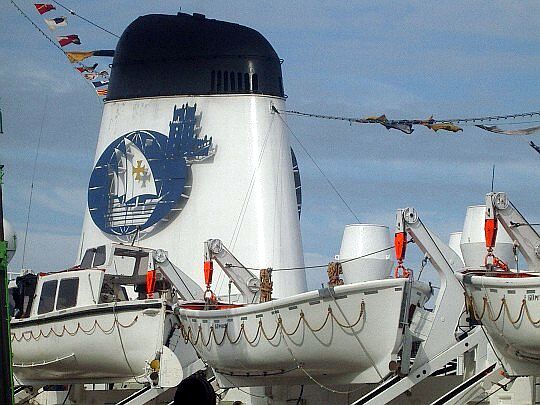 Close-up of her traditional shapely funnel with her new "Classic International Cruises" livery and one of her new tenders can also be seen
Photographer is unknown – *Please see photo notes at the bottom of page
In 2003 Classic International Cruises realised that there was a great need in for a cruise ship during the summer season to be based in Fremantle (Perth) the capital of Western Australia and an office opened in Australia. In 2004 the Funchal made her repositioning voyage from Europe to Fremantle and these voyages to and from the UK/Europe and Australia would prove to be very successful! And she would then cruise from Fremantle on 1. Mini cruises, 2. Australian coastal cruises, 3. Extended Asian cruises. For the rest of the year, she would operate <![if !vml]>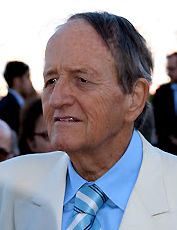 <![endif]>cruises from the UK as well as cruises under charter agreement under various charter and travel companies, all of which were most successful! She continued the Australian service for five years as there was a need for a larger ship with a greater capacity, and the MV Athena, ex Italia Prima, Stockholm 1948, took over from her during the Australian summer of 2008. I was on board Funchal in 2008, whilst she was bound for the UK.
A great man in the world of shipping was my dear friend Mr. George Potamianos seen here in 2011. His family history owning shipping companies goes back to 1850. He is greatly missed!
MV Funchal proved to be a successful ship in every possible way for CIC and she would have continued to do so even to this day, had it not been for the tragic passing of my dear friend Mr. George Potamianos.
Mr. Potamianos and I had organised to meet again aboard his M/V Athena whilst she was in Lisbon on Monday May 21 during my second voyage from Australia to the UK, however I was advised that dear George was rushed to hospital being seriously ill. One of his twin sons was going to come aboard to see me, but as their Dad was to sick, they and his wife remained at his bedside. I have been most fortunate to have corresponded with this remarkable man, who has had a long and respectable history in passenger shipping for Mr. Potamianos was such an enthusiast of Classic Passenger Ships and a solid believer that certain classic ships could continue sailing whilst the world was slowly being filled by ugly "Huge mega box like, theme park cruise ships, and not one of them meet the high standards of a genuine cruise ship!" G.P. Even before we arrived in the UK, sadly dear George had already passed away, as Captain Pinto advised minutes after he received a message from Lisbon advising that; "Dear George has sadly passed away today, May 29, thank you for your kindness and your prayers!" (2012).
Tragically, when Mr. Potamianos passed away, his sons Alexandros and Emilios Potamianos took over the company, and instantly I knew that it would soon be the end of "Classic International Cruises," for these spoiled playboys, who loved to live the highlife, and they had little to no knowledge of the shipping industry! And I was proved right for within five months their ships were under arrests for non-payment of fees and wages of their crew. The big problem was as follows: Dear George was a giant in the shipping industry and banks and financiers knew that no matter what, he could be trusted and indeed he never ever failed! But these boys, their reputation was the complete opposite and thus no one would back them and the company just fell into a heap! It was that bad that one of the boys very early deserted the sinking ship!
Thus, the beautiful MV Funchal was owned by of "Great Warwick Inc"  Arcalia Shipping Company" until towards the end of 2012, but  in due course she was purchased by new owners. But more on that later!
MV Funchal the CIC Cruise Ship - Mini Photo Album: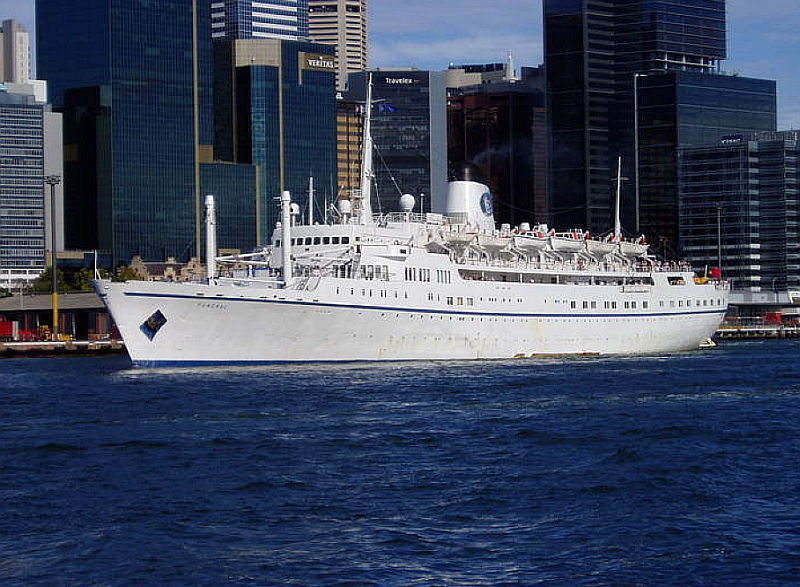 The ever-delightful Classic International - MV Funchal is seen departing Sydney's Darling Harbour Australia on March 4, 2008
Photographer is unknown – *Please see photo notes at the bottom of page
All the Interior and exterior images below are by the author, Reuben Goossens
Taken whilst on board during her voyage from Australia to the UK in March 2008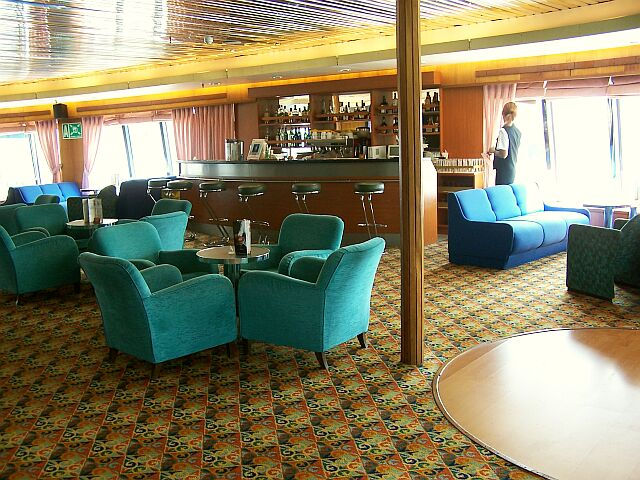 The Gama lounge located far forward on Promenade Deck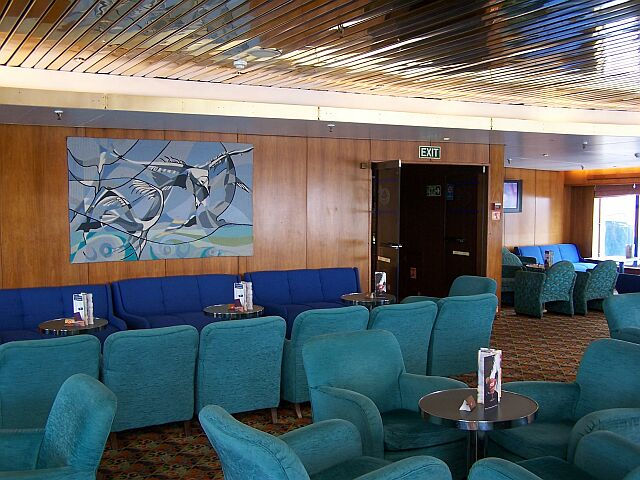 Gama Lounge looking aft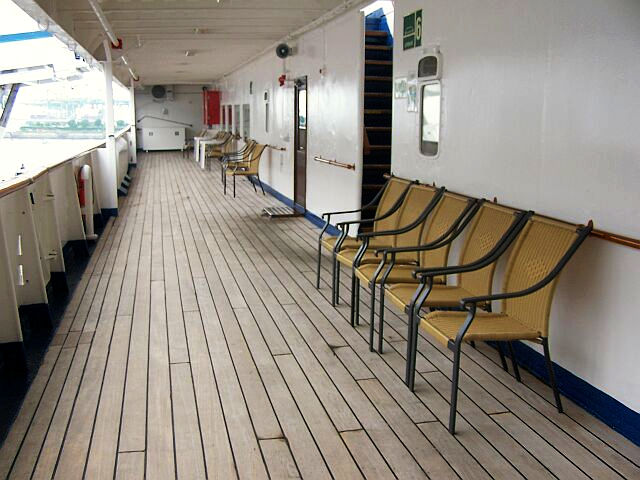 Promenade Deck starboard side looking forward
If you look very closely at any deck, you will never find the smallest spot of rust
or dirt anywhere, that was the kind of perfect maintenance regiment by CIC Cruises
Check any modern cruise ship today and you will find rust & dirt in many places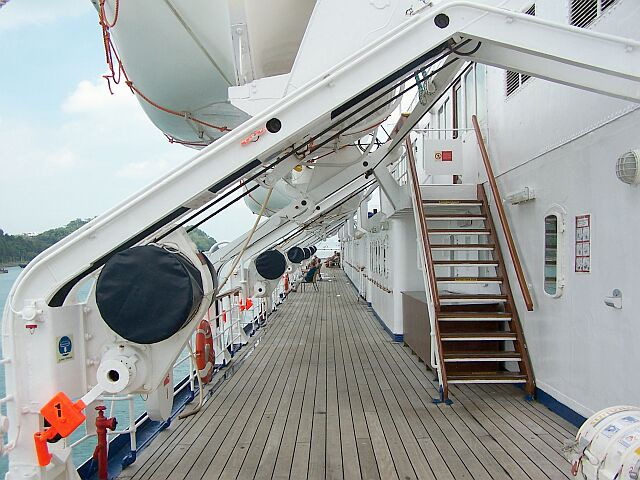 Navigators (Boat) Deck port side looking aft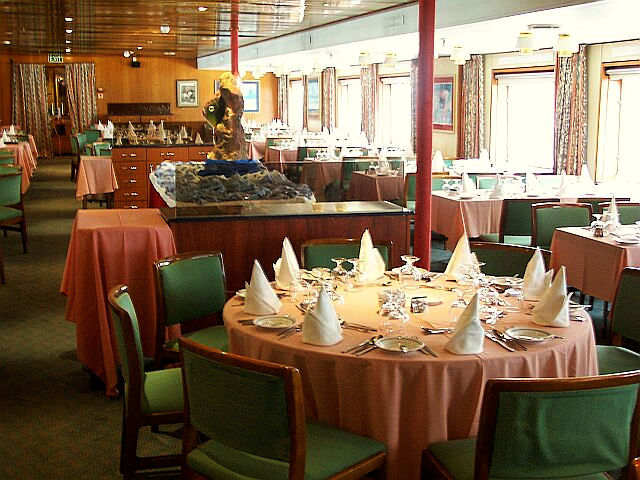 Lisboa Restaurant looking to port & aft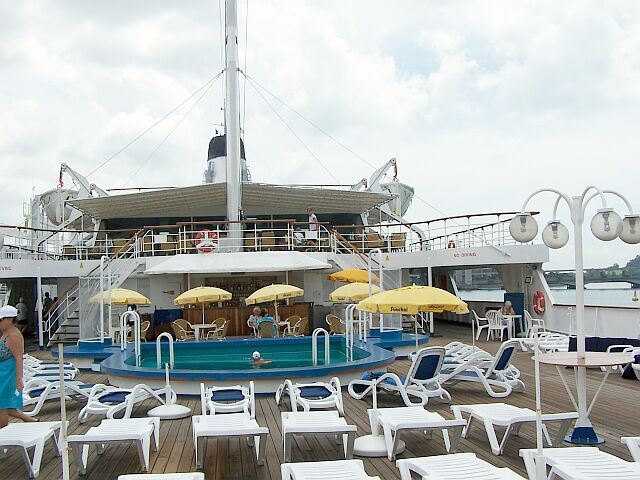 Promenade Deck aft, Pool and Lido Bar, the Buffet is up on Navigators Deck
The Buffet on Navigators Deck
As I already indicated, the Funchal was a massive success in Australia and she made the company operating her, a very popular cruise company, and for this very reason it is proven that well over 58% of the passengers on the majority of cruises were repeat clientele, which is a great achievement. As the author has sailed with the company on a good number of times I can testify that they and these wonderful classic ships offered a certain something that no other cruise ship today simply just is unable can possibly offer, and that is an intimate classic style ship, with a superb personalised service and an atmosphere that can only be found on what is a real ship that has a genuine maritime heritage, just like the Funchal, for Classic International Cruises were famed for operating ex classic liners that were lovingly refurbished and beautifully refitted and updated into finest classic cruise ships!
And as I have already stated earlier, what was so amazing that their ships were maintained so much better than any ship that I have ever been on from any company, and I am including 5 Star luxury cruise ships, where even the balconies have rust everywhere, and I am speaking of the best known company in the World. Look at any of Funchal's photographs, or those I took aboard the Athena and you will never find a spot of rust, and I know that you will not find any, for their cleanliness and maintenance is supreme. Funchal is a ship of the highest possible standard!
Please note: In relation to the ships maintenance, I am only speaking of the time they were with "Classic International Cruises," for I cannot speak for any future company, as obviously I have not sailed with them!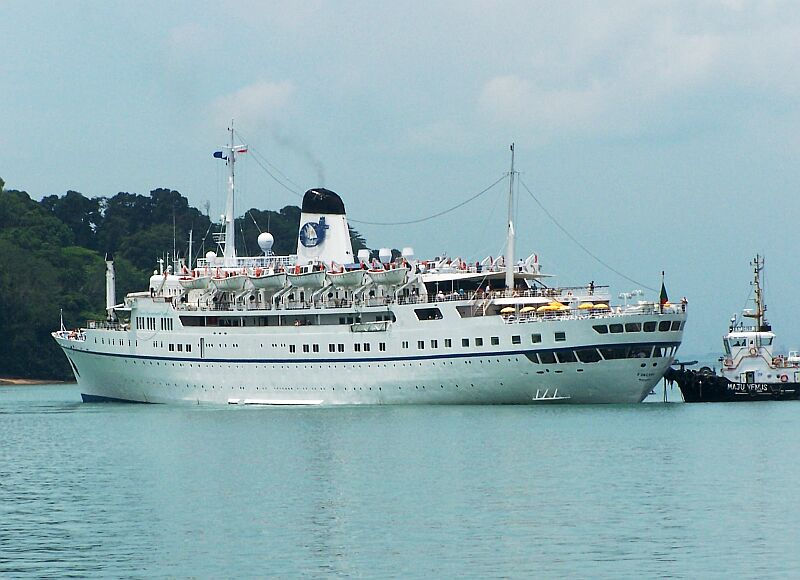 Funchal seen in Singapore March 14, 2008 - moving from the Cruise Terminal
just after lunch to the container wharf as a large Star Cruises ship was due in
Photograph by © 2008 Reuben Goossens
Considering the massive popularity of the Funchal her owners decided after she had departed Fremantle and was on her voyage back to Europe in March 2008 (I was on board to Singapore) that as from the summer of that year they would spoil Australian's by sending their flagship, the larger MV Athena to take over Funchal's Australian duties. However, as the Funchal was due for some extensive work some of which was done in 2009, but most would be done later and she continued cruising around the UK and Europe and her popularity continued!
Making Funchal the Enduring Ship:
2010 Refit: During 2010 Classic International Cruises gave the Funchal an extensive refit, which saw new cabins installed replacing some of her older cabins, as well several cabins removed on Promenade Deck making room for a new Club Lounge, and the Library was relocating, included the Internet and Card rooms. Down one deck the previous Club Lounge was replaced with new cabins. Previously in 2009, the forward derricks and hold #2 on Promenade Deck were removed and the deck space became known as Veranda Deck and open to passengers, being accessible from Gama Lounge, or via two stairs from Boat Deck.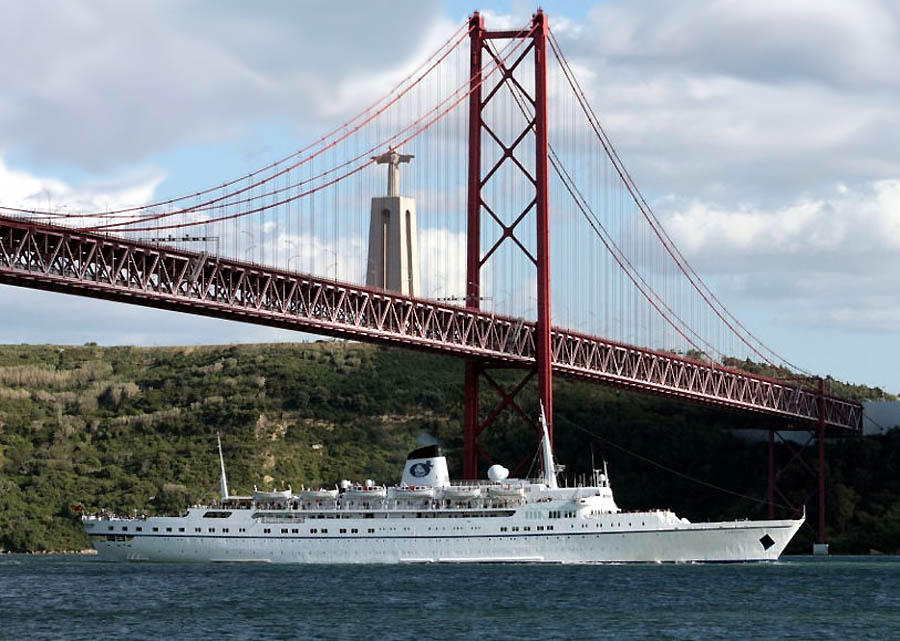 A fine view of the sleek and modern MV Funchal in Lisbon with her forward derricks removed in 2009
SS Funchal Dimensions - 1983 to 2011:
Builder:     Helsingør Skibsvog (Elsinore Shipyards) Denmark.
Launched:     February 10, 1961.
Maiden Voyage:     November 4, 1961.
Tonnage:     9,563 GRT (Gross Registered Tons).
Length:                                       501ft - 153,51m.
Breadth:                                      63ft - 19,05m.
Draught:     20.3ft - 6,38m.
Engines:     Werkspoor" 9-Cylinder Diesel Engines.
Propellers:                                   Two.
Bow Thrusters:                             Two.
Passenger Decks:                          6.
Passengers:                                 465.
Crew:                                          180.
Lifts:                                           3.
Service speed:                             16 knots cruising speed.
                                                  Fully stabilized and Air-Conditioned.
The End of one Era and a New Beginning:
On November 4, 2011 the Funchal had completed 50 years of excellent service and better still she has always served under the same name, but under just two owners, being her original owner being "Empresa Insulana De Navegacao", although there was a merging and a name change to "Cia Portuguesa de Transportes Maritimos," and under her new owner; "Great Warwick Inc", managed by "Arcalia Shipping Company" and operated by "Classic International Cruises," being the Potamianos Group of companies!
Having been such a successful and an extremely popular ship, in 2011 it was decided the Funchal would return to Lisbon and would be receive a massive refit including an internal rebuild ensuring her at least another twenty or more years of service, as she was in such great condition as a ship!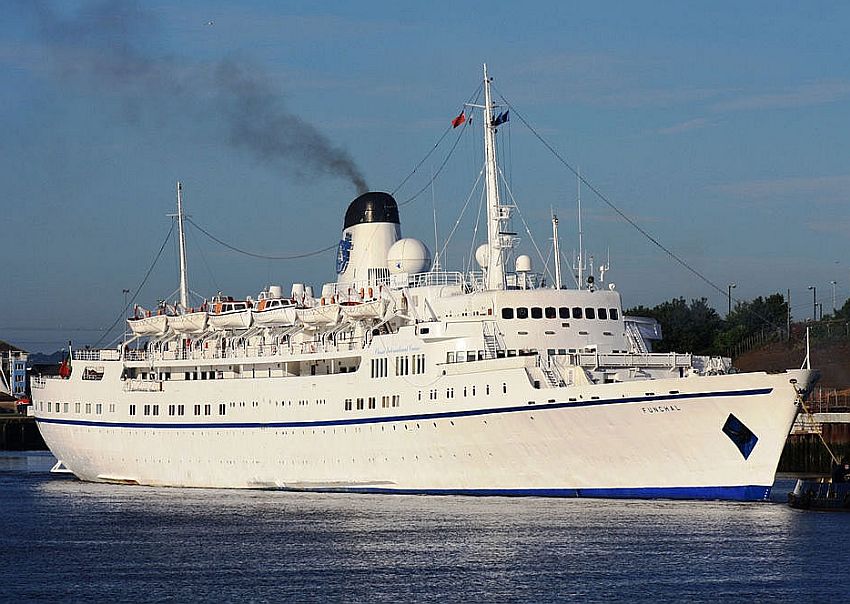 The Funchal is seen as always in perfect condition, as the company maintained their ships to perfection!
However by April 2012 I discovered that all work on board had stopped with less that 10% of the work completed, then as I have already said my dear friend and shipping magnate Mr. George Petros Potamianos had passed away, which very much meant the end of a wonderful and a great empire that goes back to 1950, and his sons were simply incapable to continue the business as the financiers and bankers had no confidence in them whatsoever, thus the company was liquidated in December 2012.
New Company Obtains MV Funchal:
The Funchal was facing the threat of being sold to Indian breakers, but as she was the pride of Portugal and there was an ongoing move to retain her at all costs in the country where had a long and a very proud maritime history! And she was still a good and a worthwhile ship in more ways than one, for she was built to last, by her excellent Danish ship builders!
It was early 2013 a Portuguese hotel and resort entrepreneur Mr. Rui Alegre purchased the MV Funchal as well as three of the other ships the MV Princess Danae renamed Lisboa, MV Arion renamed Porto and MV Athena renamed Azores only the Funchal retained her original name. But, sadly I had no confidence in this company, as I was well aware that they had no knowledge of the shipping/cruise industry whatsoever, and all those in the industry as I have been, know very well that it is a very specialised industry, not just a floating resort operation, come hotel! I stated right from the start when they commenced that "… they will not last any longer than two years the most", and I was proved right!
2013 Refit: With the end of CIC, this new cruise company took over the restoration the Pride of Portugal", being the Funchal and make her ready to comply with the stringent SOLAS regulations. Thus this mammoth internal rebuilding program and refit was done by a Portuguese shipyard in Lisbon and it had to be completed before she could return to cruise duties. Work undertaken means that the many of her cabins (except for those already replaced earlier by CIC in 2010) and all crew cabins were refitted, all cabins were installed with flat screen TV's as well as other updated facilities with crew cabins also greatly updated and were given private, or some a share bathroom between two cabins.
All Lounges were given excellent refits, returning the ship to a more classic look as some of the old timber work had to be removed due to the very stringent fire regulations, but what was replaced was excellent as the new images that I have added below will reveal. However, the Funchal in other areas will feel brighter and thankfully she will be able to sail on long into the future! And that is so much better than for her to be broken up!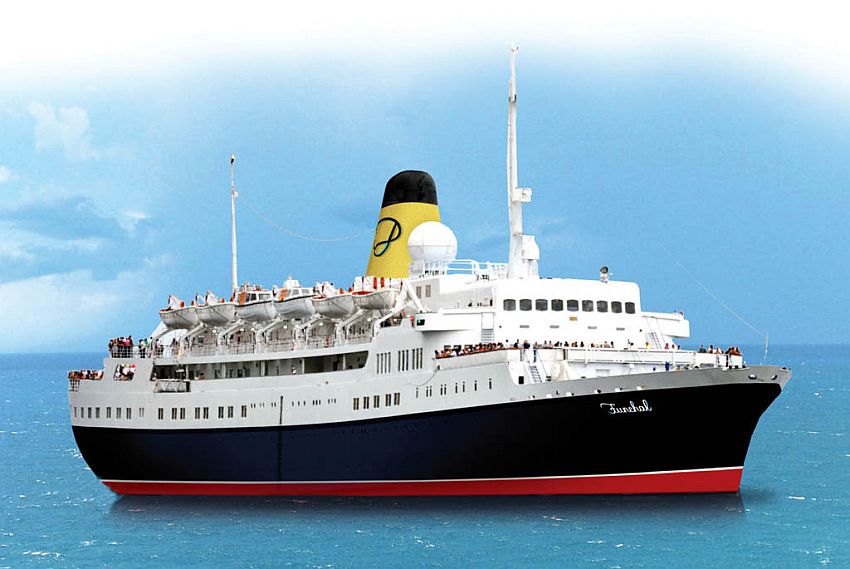 MV Funchal seen under the company's new banner, featuring a "P' of the funnel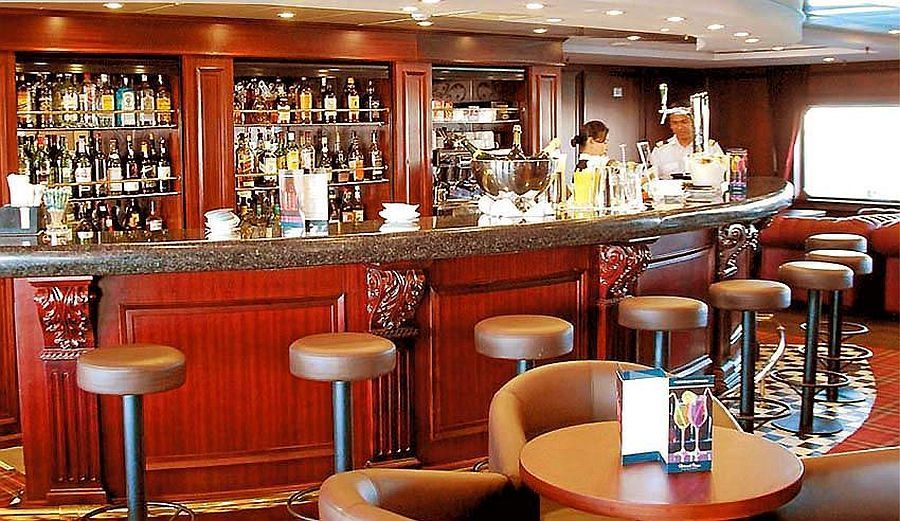 Above and below: The elegant Porto Bar has that beautiful timbered maritime feel
as well as luxuriant leather lounge chairs and comfy sofas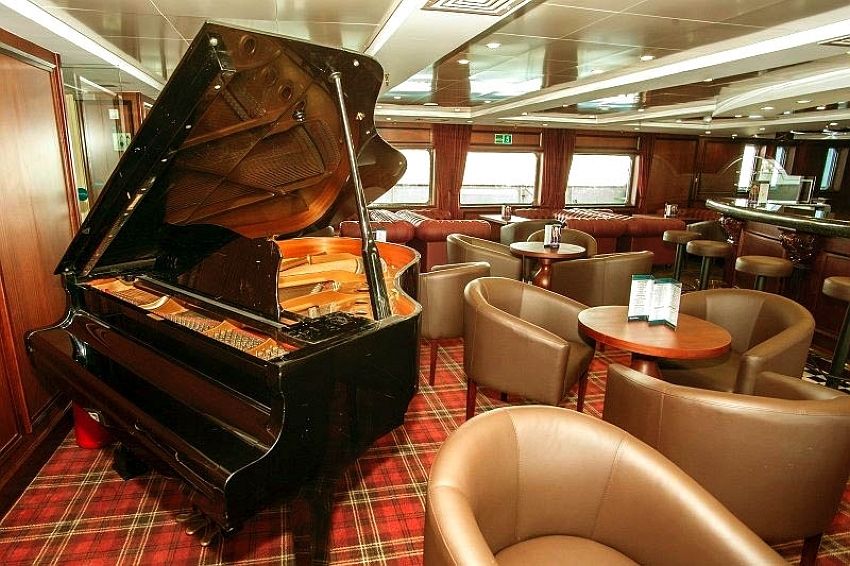 At least the new owners heard the outcry of the people of the land, for all wished to see the ship which was called "the pride of Portugal" to be restored to her original external self, that is with her black hull as built and with her red boot topping with a fine white ribbon separating the red and black, as well as her crowning glory, a yellow and black topped traditional funnel, but they did add a stylised "P" logo being the companies logo! Therefore externally, she looks much like she did when she was built, minus her forward and aft king posts and hold 2 and her new shaply radar mast atop her Bridge! But the end result was; she looked long and sleeker once again!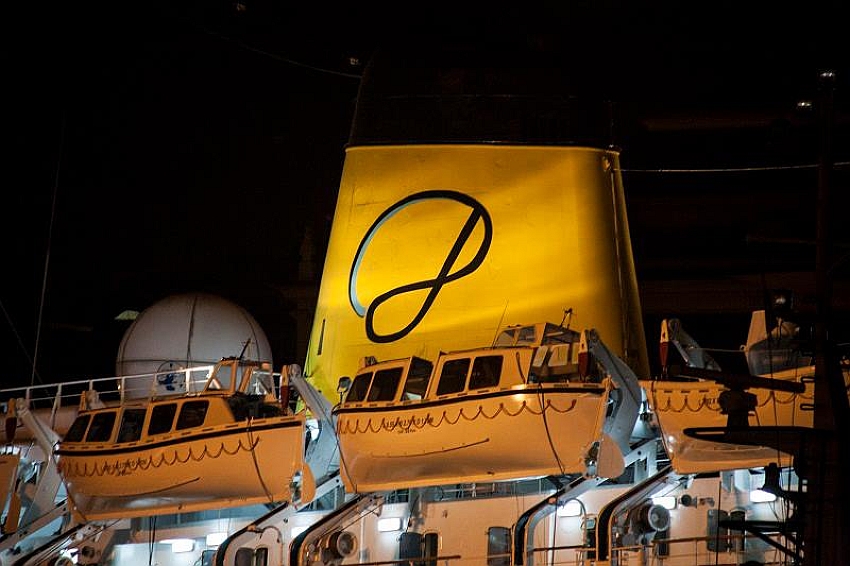 A fine view of her yellow & black funnel as well as two of her tenders
To pass the SOLAS regulation and to obtain her registration, etc, additional work had to be undertaken with her engines requiring an upgrade, new included fitting of an amazing 300 Km of electrical cables, as well as 3 Km of pipes and conducts, and over 500 tons of Steel was replaced on board the ship as well as some 15.000m2 of new ceilings and carpets and newly added furniture throughout the ship, not to forget her brand new bow thrusters. many cabins were updated as well as bathrooms, etc., and her interiors were carefully restyled to enhance her heritage and thus in so many ways honouring her classic days, yet she is delightfully modern! This was a US$13 million refit, which the Funchal deserved, but this company when they placed her on the market, but as I predicted this company, I refuse to name, went broke by December 2014, being faster than my original estimation.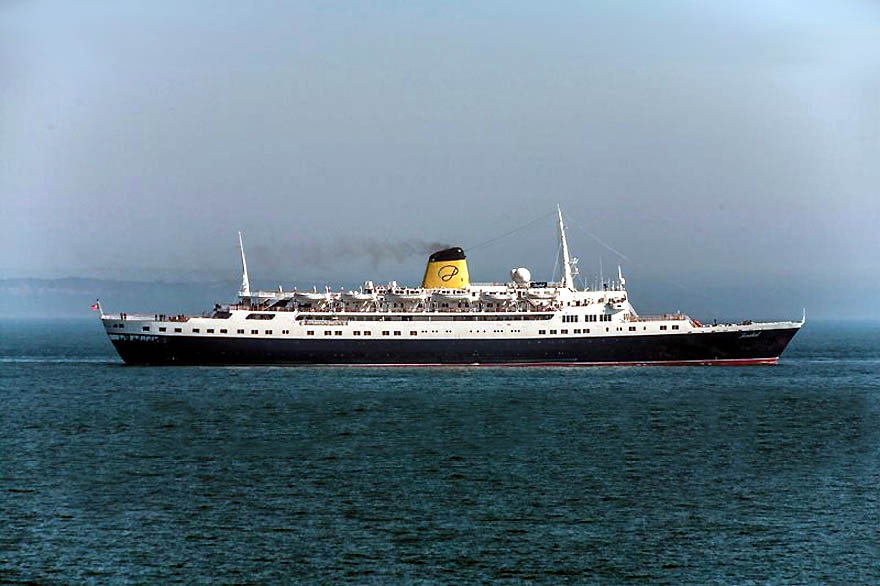 MV Funchal seen during her deep-sea trails on August 15, 2013
Does age really matter? Amazingly late in 2008 I sailed on a ship that was built in two years after the Titanic sank, thus this ship was built in 1914, and believe it or not, she remained sailing with passengers until 2010, and afloat until October 2015 until she became a land locked hotel. Thus she became 100 2014, but when I sailed on her aged an amazing 94 years the MV Doulos (ex Franca C, SS Roma & SS Medina) was in perfect condition. She was built as a humble American freighter served in two World Wars, she was sold to become a humble migrant liner for a brief time, then an Italian Liner, but the company refitted her into a luxury cruise ship the famous Costa Line Franca C.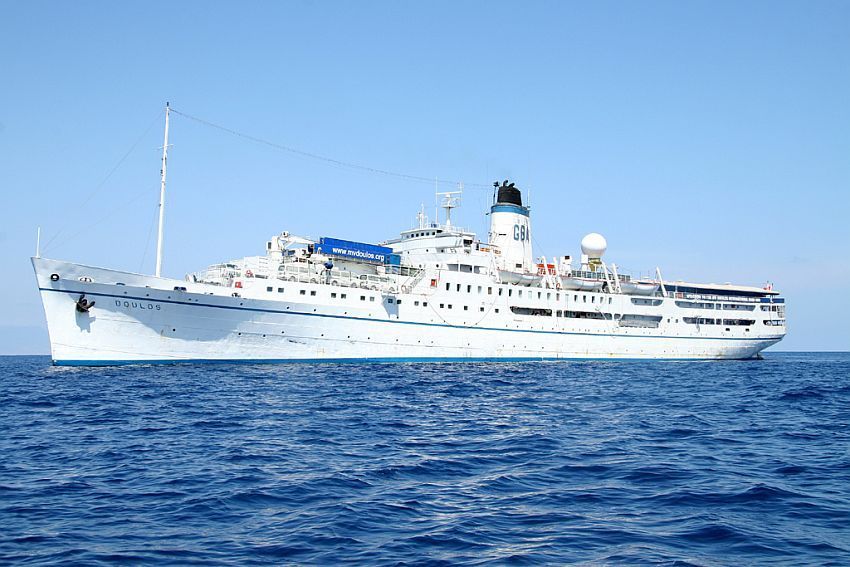 A postcard of the 1914 built MV Doulos seen at sea, I helped to save her but the new owner did
not do what was intended for sadly she is now a sad land locked hotel on an Indonesian Resort Island
She was finally obtained by a missionary organisation and she sailed the globe for countless years as a book ship. But whilst the MV Doulos was in a Singapore dry-dock in 2010, they refused to give her new certification due to her extreame age and she was sold to become a hotel. The author is her official historian, and I have a personal history with this ship since the 1970s visit; ssmaritime.net.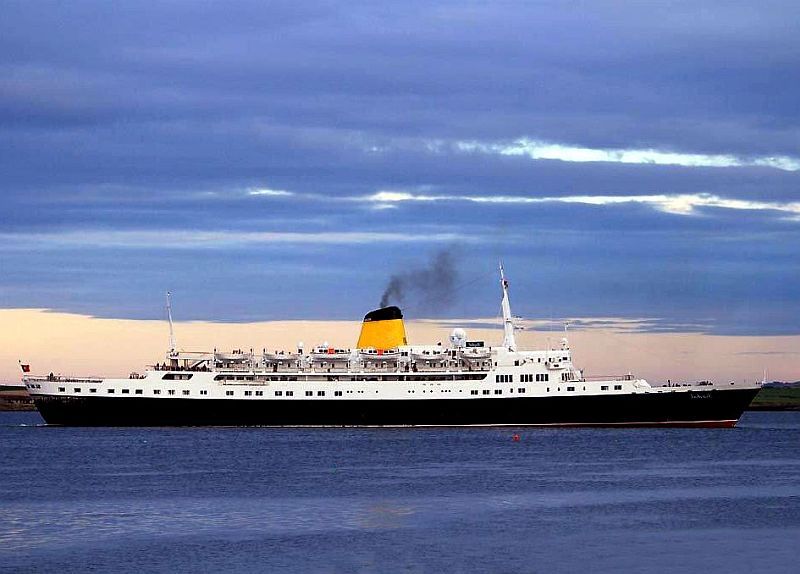 With her black hull restored she once again looks like an elegant small Liner, yet she is a true Cruise Ship!
What is happening with the Funchal in 2018:
MV Funchal is a fine Classic Style Yacht-like Cruise Ship and an absolute delight to sail on. How fortunate we are that it is possible that we may soon will be able to sail on a true Classic Ship again. Thanks to her 2013 rebuilding program and refit we will be able to sail on this remarkable over 57 year young ship for many years to come and when you step on board the very first thing you will feel is that you are on a real ship and not on some big hideous square floating box, like those modern cruise monsters of today.
Just as I have already stated this new company went to the wall within two years, and she was laid up in Lisbon on January 5, 2015, but at the time of writing there is a possible new buyer that has arrived on the and all being well she will continue to sail after the required 2018 and future SOLAS required as well as official paperwork, etc she will receive an overhaul, and after having passed the new SOLAS regulations after the required work has been undertaken, and other intended internal work has been done to improve this amazing ship even further she will be cruising again!
But that is the plan; I will say more on this attempt to obtain this wonderful Classic Style Yacht-like Cruise Ship, should it become a reality - The full story with photographs will appear on Page Two - MV Funchal - A NEW start for this fine ship?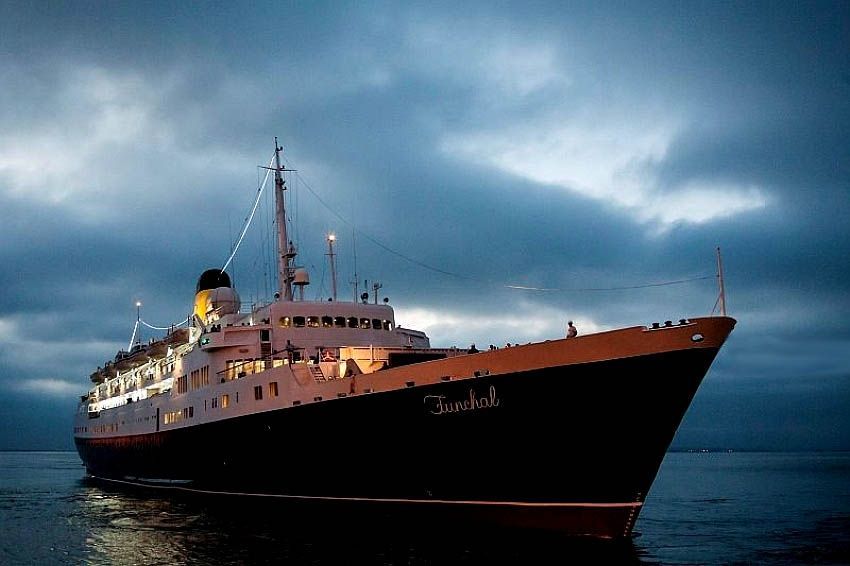 The all new Funchal will soon await you aboard
Thus, all being well take the opportunity and sail on one of the most loved Classic Style Yacht's should she commence cruising again, for she is one of the finest Classic Cruise Ships left in the world, being the evergreen MV Funchal!
SS/MV Funchal - INDEX: Updated June 2018.
Page One …                SS Funchal - Her History from her building in 1960 to this day! (This page).
Page Two …               MV Funchal - A NEW start for this fine ship in 2018?
Page Three …             Deck Plan - Her new Deck Plan.
Page Four …               MV Funchal – My 2008 My Photo Album.
Please Note: Page 2, 3 & 4 are located on the author's "cruise-australia.com" pages
There are features online on ssMaritime.com of the following Portuguese liners:
TS Santa Maria / TS Vera Cruz and the delightful TS Infante Dom Henrique
Use the Back button on your browser or Close this Page and return to the previous page
or visit the ssMaritime.com MAIN INDEX
**********************
ssMaritime.com & ssMaritime.net
Where the ships of the past make history & the 1914 built MV Doulos Story
Featuring over 1,116 Classic Passenger Liners, Passenger-Cargo Liners & Cruise Ships!
Also visit my …
"Save The Classic Liners Campaign"
Photographs on ssmaritime and associate pages are by the author or from the author's private collection. In addition there are some images that have been provided by Shipping Companies and private photographers or collectors. Credit is given to all contributors. However, there are some photographs provided to me without details regarding the photographer/owner concerned. I hereby invite if owners of these images would be so kind to make them-selves known to me, my email address is info@ssmaritime.com in order that due credit may be given.
This notice covers all pages, although, and I have done my best to ensure that all photographs are duly credited and that this notice is displaced on each page, that is, when a page is updated!
ssMaritime is owned and © Copyright by Reuben Goossens - All Rights Reserved