Click the logo above to reach the ssMaritime FrontPage for News Updates & "Ship of the Month"
With Reuben Goossens
Maritime Historian, Cruise'n'Ship Reviewer & Author
Lloyd Triestino Soc. Per Aziono, Trieste
TN Galileo Galilei & TN Guglielmo Marconi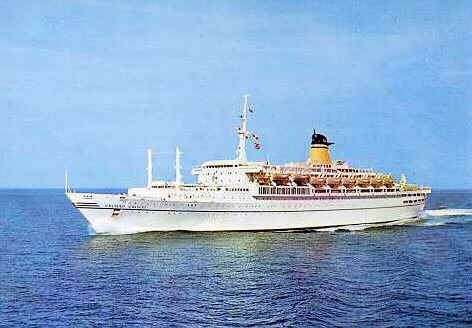 A Lloyd Triestino postcard of the TN Guglielmo Marconi
Please note: All images on this page are from the author's private collection
In 1960 Lloyd Triestino ordered two new 'Galileo class liners' to be built by Cant Riuniti dell Adriatico at Monfalcone. The two new innovative ships were built to replace the three handsome 'Australia class liners', the 13,226 RGT Australia, Neptunia and Oceania. Lloyd Triestino had been operating services to Australia for ten years and the two new ships would make their mark in shipping history as they were revolutionary ships for their day.
The Galileo was launched on 2 July 1961, departing on its maiden voyage from Genoa to Australia on 22 April 1963, arriving in Sydney on the 15 May. Marconi was launched on 24 September 1961 and departed on its maiden voyage on 18 November 1963, arriving in Sydney 11 December. Both ships with their increased speed, reduced a month long voyage to just twenty three days. These two streamlined liners introduced new standards of luxury to immigrant travel.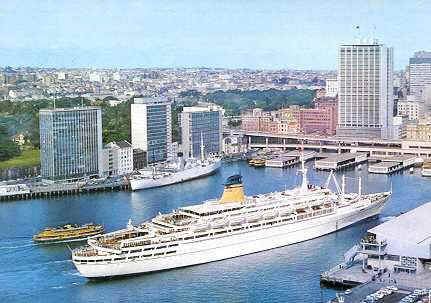 Postcard of the Galileo Galilei seen arriving in Sydney Australia
<![if !vml]>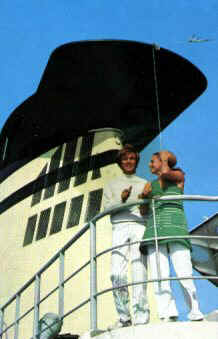 <![endif]>Unique was the bulbous bow, and a shapely funnel with disperser fin, and a telescopic exhaust pipe. Both ships carried essentially tourist class passengers with only one hundred or so first class passengers. Decks were named, Captain's, Lido, A, Promenade, B, C, D, E. First class public rooms were located forward on Promenade Deck, the length of the glass enclosed Wintergarden. Two decks higher, on Lido deck, just aft of the funnel, was the Veranda and lido area. Both dining rooms were located on B deck. The rest of Promenade deck was devoted to spacious and colourful tourist class lounges with the lido aft. First class cabins, all located forward on Boat and B decks, were mainly one or two berth cabins and nine four berth cabins.
Ships Owners, Names and years owned
1… Galileo Galilei
???? ????????? Lloyd Triestino – Galileo Galilei – 1963 to 1983
???? ????????? Chandris Cruises – Galileo – 1983 to 1989
???? ????????? Celebrity Cruises – Meridian - 1989 to 1997
???? ????????? Sun Cruises - Sun Vista – 1997 to1999 (destroyed by fire 21 May 1999)
2… Guglielmo Marconi
???? ????????? Lloyd Triestino - Guglielmo Marconi – 1963 to 1983
???? ????????? Costa Cruises Cruise Ship – Costa Riviera – 1983 to 2001 (scrapped 2002)
Specifications – Galileo & Marconi
Builders: Cant Riuniti dell Adriatico, Monfalcone, Trieste
Launched: Galileo July 2, 1961 – Marconi September 24, 1961
Maiden Voyage: Galileo April 22, 1963 – Marconi November 18, 1963
Tonnage: 27,906 – 27,905 GRT
Length: 702ft, 213.9m
Width: 93.8ft, 28.8m
Draught: 28ft, 8.53m
Engines: Steam, D.R. geared turbines, twin screw.
Service Speed: 24 knots (Max 27.4)
Passengers: 100 first class + 200 interchangeable – 1,400 Tourist
Both ships sailed successfully for over seven years; however the world oil crisis of the 70's had an impact of all shipping. In the early 70's the Galileo would undertake a Christmas cruise, mostly Trans Tasman. With lowering passenger numbers and rising costs, both ships encountered a variety of problems. Galileo was due to go on a cruise in December 1973, but was cancelled and the ship lay idle in Sydney until 3 January 1974. Then on 13 January 1975, Galileo struck a reef off the coast of West Africa and had to be diverted to Monrovia. With substantial damage to the hull plating, Galileo returned to Genoa where she was dry-docked for repairs. She returned to service in March.
Due to the declining numbers and heavy losses incurred, it was decided to withdraw the Marconi from the Australian service. She arrived in Sydney on 20 November 1974 departed from Australia shores for the last time on 23 November. The Galileo carried on the Australian service and was expected to continue until the end of 1977. However, her departure from Genoa on 23 may 1977 was suddenly cancelled, leaving some 1,000 passengers stranded. There would be no send off from Australia for the Galileo. She quietly departed from Sydney on 13 April 1977. After fourteen years of fine service, both Italian maritime favourites left Australian and New Zealand shores forever.
Galileo's Ongoing History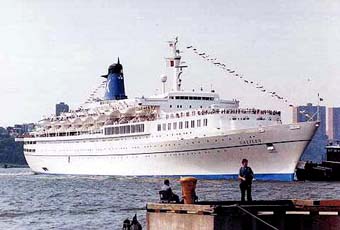 A gleaming Galileo now a Chandris Ship
Note the extension of the Promenade deck.
Chandris Lines purchased the Galileo in 1983, shortening her name from Galileo Galilei to just Galileo. At first she operated with the traditional Chandris funnel marking, bit, in 1989 she was renamed Meridian for Chandris subsidiary Celebrity Cruises. She receives a new stylised =X= on her funnel, and had dark blue marking on the upper part of the hull. She cruised successfully for Celebrity Cruises until 1997, when she became too old, considering the new builds. She was sold to the Singaporean Sun Cruises. best replica watches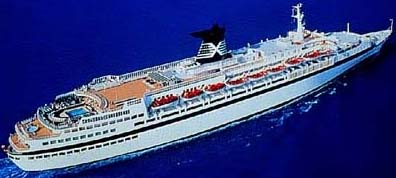 Celebrity (Chandris) Cruises ss Meridian
Sun Cruises renamed her Sun Vista, and operated on the Malaccan Straights. Sadly, the Sun Vista did not succeed in capturing the market, considering the might of Star Cruises, operating their larger and new ships on the same service, the Malaccan Straights.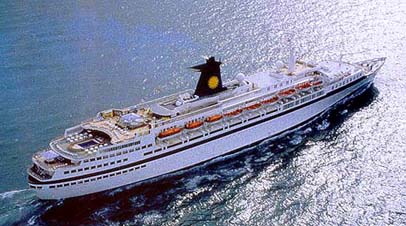 A stunning view of the Sun Vista
Whilst cruising from Phuket to back to Singapore, a fire broke out during the night of 20 May 1999. In the morning,Panerai Replica only a small amount of smoke was seen near the funnel, and passengers were not concerned and happily continued the daily activities. However, later that day the fire had obviously spread, and abandoned ship was called for late afternoon. In spite of the time and questionable circumstances, all 472 passengers and 632 crew were rescued. There was no loss of life.
Sun Vista went down, swallowed up by the sea on 21 May 1999.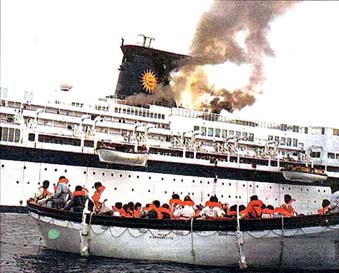 A tragic end for a fine ship that had a long and distinguished career
Marconi's Ongoing History
The Marconi had a successful life after her Liner days. In 1983, she was sold to Costa Lines, and was given a massive rebuild & refit. She was renamed Costa Riviera, and became a very successful cruise ship for Costa Line. She remained with Costa until 2000. As with the Galileo / Meridian, it was decided that she had seen better days, and rather then selling her to another cruise company, she was sold for scrap.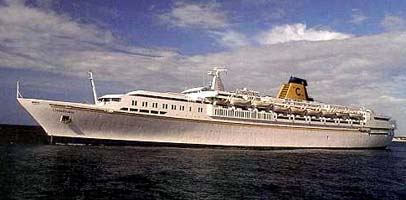 Costa Riviera had her profile greatly altered by Costa Lines
…????????? Galileo & Marconi History Page
Page Two …???????? Photo Page One
Page Three …?????? Photo Page Two
Page Four …???????? Photo Page Three
Page Five …?????????? Sun Line - Sun Vista - Deck Plan
*************************************
Other Lloyd Triestino Liners on ssMaritime:
SS Toscana - MV Africa & Europa
Use the Back button on your browser or Close the Page to return to the previous page
or go to our INDEX
***********************************
Who is the Author of ssMaritime?
Commenced in the passenger Shipping Industry in May 1960
ssMaritime.com & ssMaritime.net
Where the ships of the past make history & the 1914 built MV Doulos Story
Also visit my …
"Save The Classic Liners Campaign" & "Classic Ocean Voyages" pages
Photographs on ssmaritime and associate pages are by the author or from the author's private collection. In addition there are some images that have been provided by Shipping Companies and private photographers or collectors. Credit is given to all contributors. However, there are some photographs provided to me without details regarding the photographer/owner concerned. I hereby invite if owners of these images would be so kind to make them-selves known to me (my email address may be found on www.ssmaritime.com only), in order that due credit may be given. I know what it is like, I have seen a multitude of my own photographs on other sites, yet these individuals either refuse to provide credit or remove them when asked, knowing full well that there is no legal comeback when it comes to the net. However, let us show these charlatans up and do the right thing at all times and give credit where credit is due!
This notice covers all pages, although, and I have done my best to ensure that all photographs are duly credited and that this notice is displaced on each page, that is, when a page is updated!
ssMaritime is owned and ? Copyright by Reuben Goossens - All Rights Reserved