Italia Line's M.S. Giulio Cesare in 1952 to 1974
Please Note: Firefox and some other search engines may not suitable
Please use Google Chrome for this page to load perfectly!

Click the logo above to reach the ssMaritime FrontPage for News Updates
With Reuben Goossens
Maritime Historian, Cruise'n'Ship Reviewer, Author & Lecturer
Please Note: All ssmaritime and my other related ssmaritime sites are 100% non-commercial and privately owned sites. Be assured that I am NOT associated with any cruise or shipping companies or travel/cruise agencies or any other organisations! The author has been in the passenger shipping industry since May 1960 and is now sadly rather old and very ill and completly disabled and was forced to retire!
Page One
"Italia di

Navigazione

S.p.A

."
 "Italia Line"
M.S. Giulio Cesare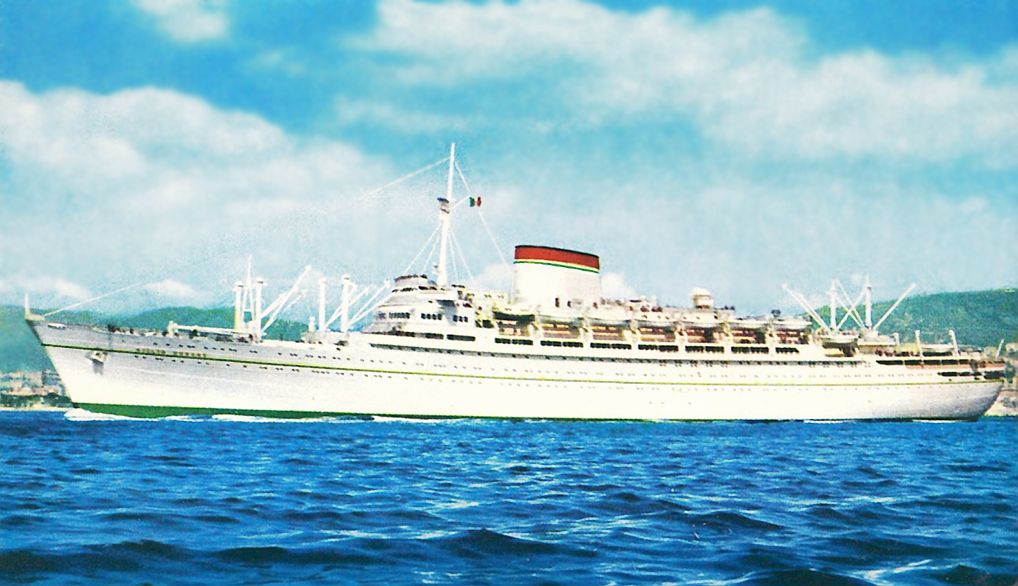 The graceful M.S. Giulio Cesare
Please Note: All images are from the author's private collection, unless stated otherwise.
Most onboard images are from a 1954 brochure and other photos from postcards or other sources
Introduction to two Great Italian Liners:
M.S. Giulio Cesare was the identical sister to the M.S. Augustus, and both were built for "Italia di Navigazione S.p.A." or as they are better known "Italia Line." The Giulio Cesare was the first of the pair to be built and she was completed in October 1951 and she had the distinction of being was the very first large Trans-Atlantic liner to be built in Italy after World War II. Her identical sister, the M.S. Augustus followed seven months later in 1952.
Design wise these ships were without doubt revolutionary and even though they were built as three class liners, amazingly each class had some of the finest passenger facilities to be found at sea of their days. In addition a very rare feature was that each class had their very own swimming pool. It was said that lounges and facilities in Tourist Class, which was the equivalent of third class, was as good as in Cabin Class (second class) on most Trans-Atlantic liners, if not as good as on some First Class ships! Some of the greatest architects and designers were used to create an ambience that was not just elegant, but besides being Italian, there were even touches of Scandinavian influences on board, and all provided an atmosphere that was a delight to the senses in every possible way! These ships were beyond beautiful and both ships offered the ultimate in Ocean going travel with the M.S. Augustus sailing with Italia line for twenty four years before she was sold to an Asian based Company.
Although I originally commenced these pages almost exclusively regarding the M.S. Augustus, but also cover the Giulio Cesare, but very much in a lesser degree, as you can see I have now decided to completely rewrite and update the entire feature, which in reality came about due to the tragic sale of the M.S. Philippines, ex Augustus in September 2011, and her departure under tow bound for Alang, India, thus I felt the need to rewrite this feature as well as that of this superb ship the M.S. Giulio Cesare, for I believe that she should also have a greater role, even though she had a shorter life in comparison to her sister. Thus this page, I trust will rectify my previous short comings and I* trust that on this page you will discover that there will be a complete history as well as many fine interior photographs of this great liner. All these images are from my personal collection and I hope that you will enjoy the new feature more than ever - for there will be so much more for you to enjoy and to relive memories for all those who have had the privilege to sail on the M.S. Giulio Cesare or even just to have had the opportunity to see her in one of the many ports she visited. Enjoy!
Reuben Goossens.
Design, Building and History:
M.S. Giulio Cesare was one of the most luxurious ocean liners to be built for the Italian Line, especially considering she was the very first after World War II. We already know that she would soon be followed by her identical sister the M.S. Augustus, which was launched in the same year but commenced sailing in 1952. The Giulio Cesare was built exclusively for the lucrative South America market like her sister. These two ships' specifications and design were very similar; however their interiors would differ somewhat as artist like to have a free hand in expression!
Tragically during World War II, the Italian Line had lost some of their finest liners, including the grand 51,062 ton SS Rex and the superb 48,502 ton SS Conte di Savoia, thus the Company quickly had to plan to build two revolutionary new 27,000 GRT liners to replace their lost ships, as well as their surviving ships had to be refitted and repaired quickly and returned to passenger service as soon as possible after the war to keep the companies head above water. But, their ships such as the M.S. Saturnia and her sister the M.S. Vulcania and the SS Conte Grande with her sister the SS Conte Biancamano, were only able to carry small passengers numbers. And that was the reason for the urgency for the Italian Line requiring these two new liners for their South American service quickly! They placed an order with Cantieri Riuniti dell' Adriatico to build these two new 27,000 GRT luxury liners, to be named Giulio Cesare and Augustus, and ensured as much publicity as possible, highlighting their luxurious appointments for that was going their big selling point, and we all know from history IT worked!
There was no doubt that during the fifties became a time when it had become what many will call "a new era for the Italian Line," as they built some fine new ships," for not long after the M.S. Augustus entered into service, the TN Andrea Doria on her maiden voyage on January 1954, and her sister the TN Cristoforo Colombo on July 15, 1954. Then in 1958, these ships were followed up followed by SS Leonardo da Vinci. SS Michelangelo and her sister ship SS Raffaello; sadly they would be the last as well as the largest liners for once great Italian Line. Other Italian shipping companies were of course also building new liners and Italian shipping was doing extremely well! Both the Augustus and the Giulio Cesare were powered by Societa Anonima Fiat diesel engines. These engines were the largest and most powerful ever built, and they produced 35,000 HP, driving the twin screws, providing a maximum speed of 23.31 knots, or a service speed of 21 knots, which would prove to make these ships very popular.
M.S. Giulio Cesare was built by the famed Italian shipbuilder at Monfalcone, "Cantieri Riuniti dell' Adriatico," and she was fitted with two "FIAT" of Turin engines, she was launched on May 18, 1950 in the presence of Md. Donna Ida Einaudi, wife of the President of Italy.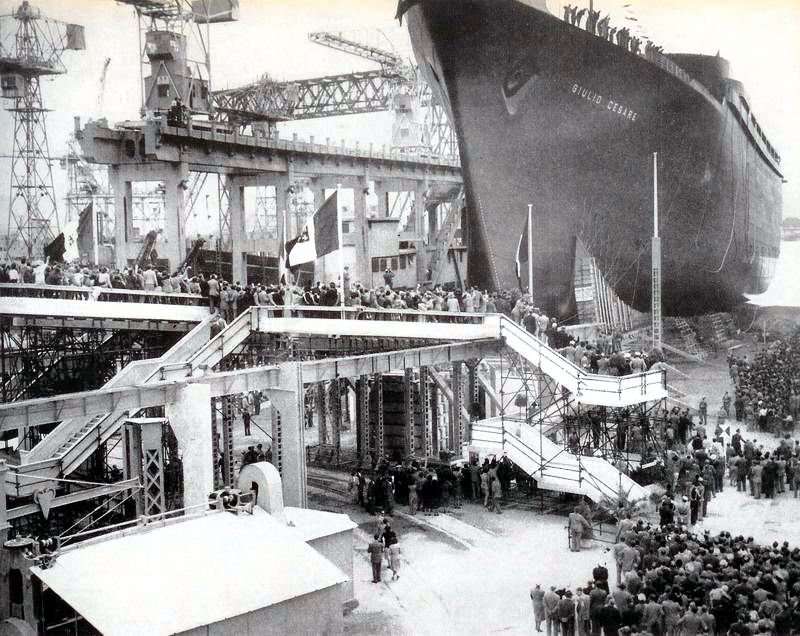 The first of the sisters is ready to be launched May 18,1950
With the M.S. Giulio Cesare having been completed at the builders fit-out berth, and undertook her speed trials, etc, she was completed in September 1951 and made her maiden voyage on October 27, 1951 from Genoa to Naples and then to Buenos Aires.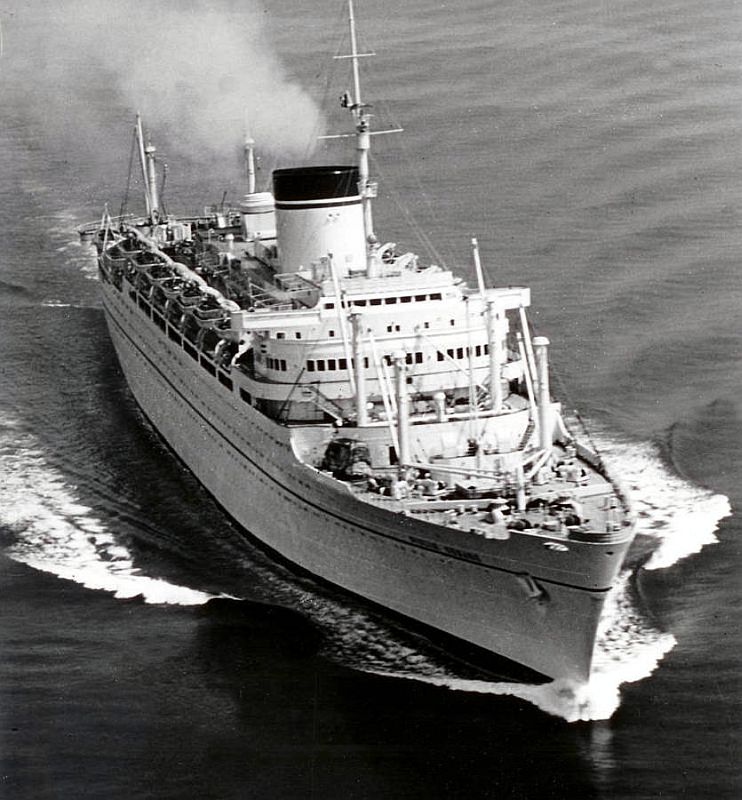 A fine aerial photograph of the M.S. Giulio Cesare, also note her "Robot" "ventilator" located further aft of the funnel
The exterior design of Giulio Cesare and her sister attracted many passengers as the M.S. Giulio Cesare and the Augustus were to become the impression of power and of great beauty, being ships that had superbly rounded bows, beautifully curved superstructures, no mainmasts but just six kingposts and a slender tall radar mast atop their Bridge. In addition there was a rather large stately looking funnel, and a graceful stern. Although there were also a few strange and evocative items, such as the nape the aft of the funnel base, and that strange looking tall trademark "ventilator" located further aft of the funnel, that was given the nickname "Robot" due to its strange shape and the top looked like a robot's head – see the photo above and it is quite clear.
She had a vast range of accommodation available. First Class offered a great deal of passenger space as possible that was well achieved in the ships public rooms as well as her staterooms. She offered four elegant deluxe suites complete with private lounges and spacious bathrooms, each having every possible comfort imaginable. Other accommodations were either single bedded rooms or two bedded all with ocean views, and all having private facilities and a telephone! Cabin Class offered from single, two beds, to four berth cabins. All had private facilities as well as a telephone, and remember phones in cabins were rather new on board ships and a novelty in those days. Whilst Tourist Class offered from two, four to six berth cabins as well as some dormitories for migrants. There were no phones in Tourist cabins and all cabins and dormitories had shared facilities.
Having operated on the South American trade from 1951 to September 1956, the M.S. Giulio Cesare was given a new Trans-Atlantic schedule due to the recent sinking of the great Italia liner Andrea Doria, and thus she was transferred to the Genoa, Cannes, Naples to New York service with her first departure being on June 29 1956. Then after having operated a good 32 round voyages, sailing until 1960, she was returned to her original duties, being the Italy to South America service. But four years later she was due for a refit.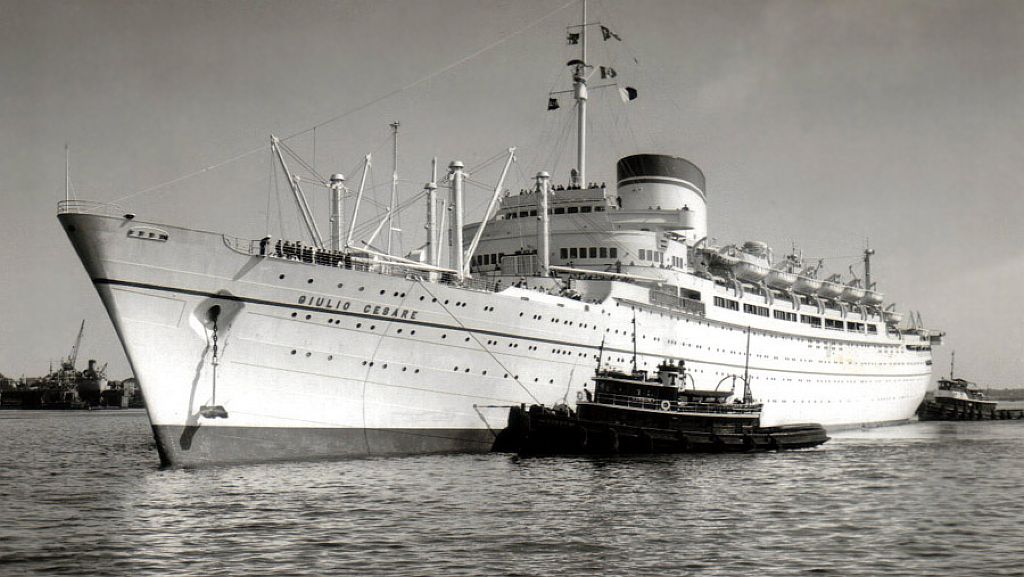 Giulio Cesare is seen in Boston around eight weeks after the sinking of the TN Andrea Doria
Photo Album
First Class: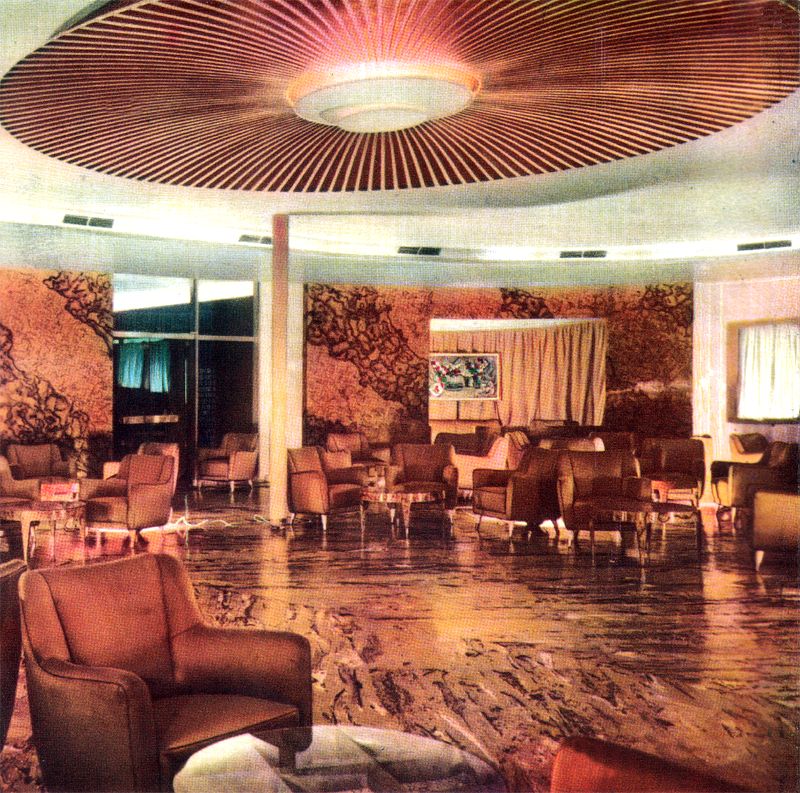 The Social Hall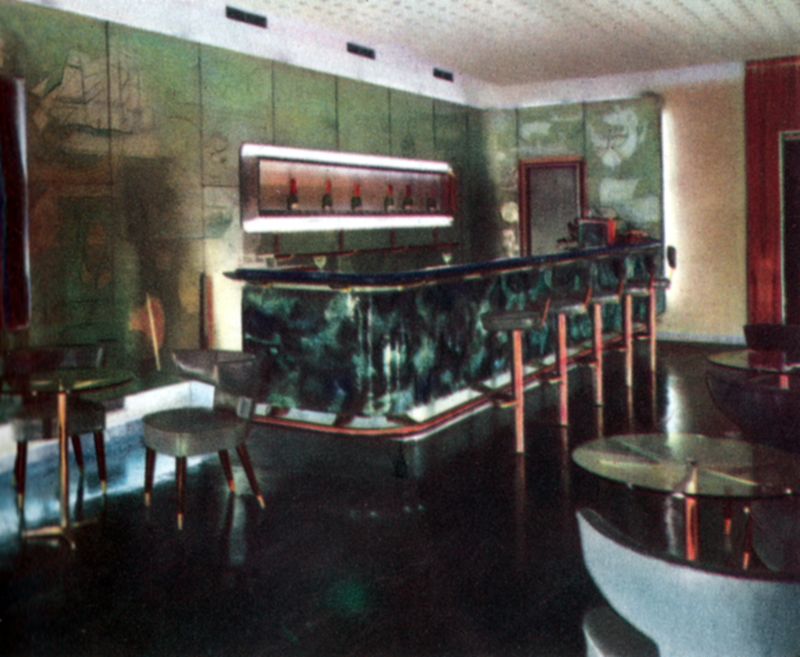 The Bar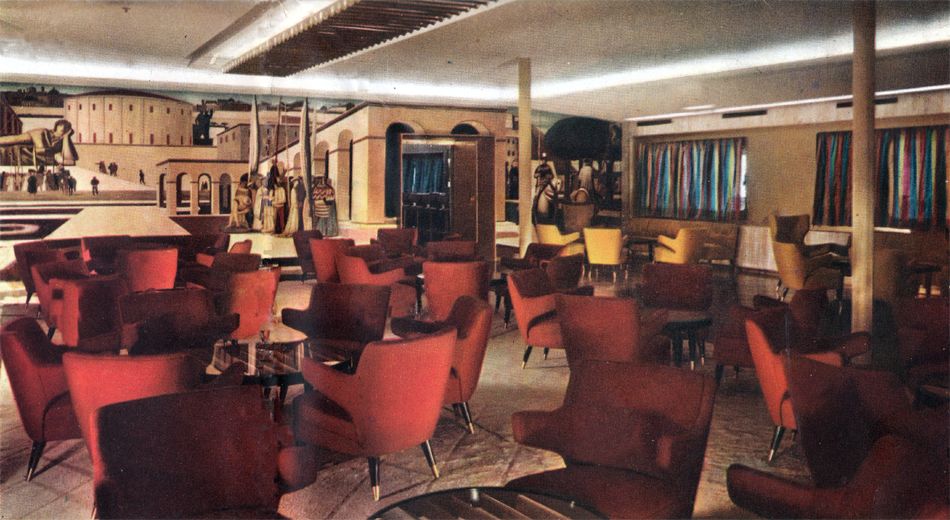 Main Lounge and Ballroom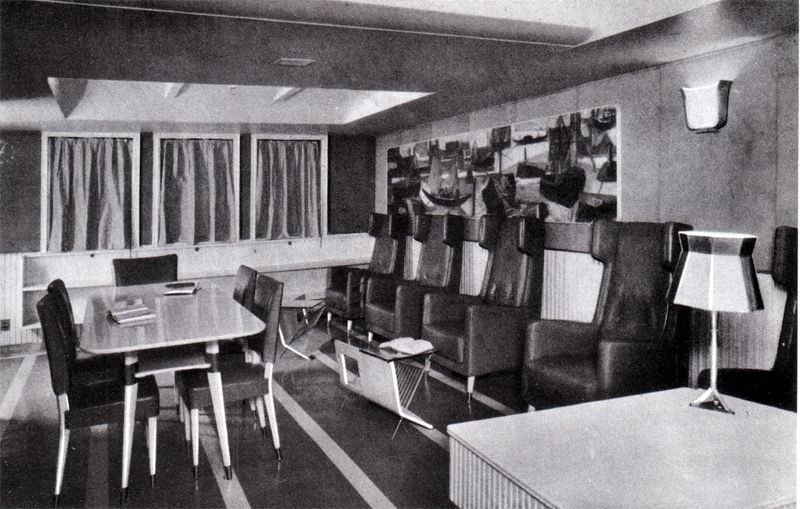 Reading Room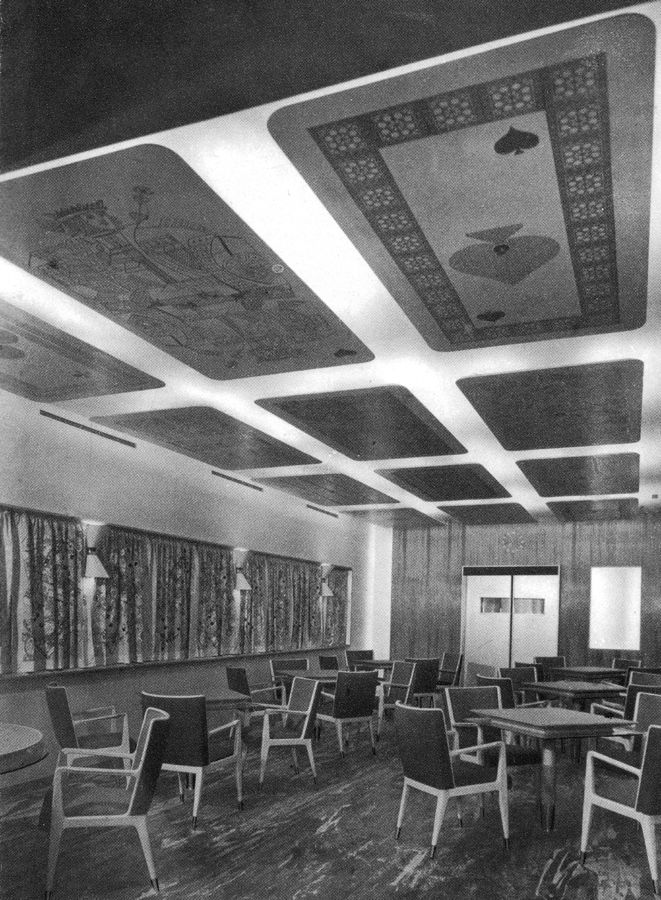 Card and Games Room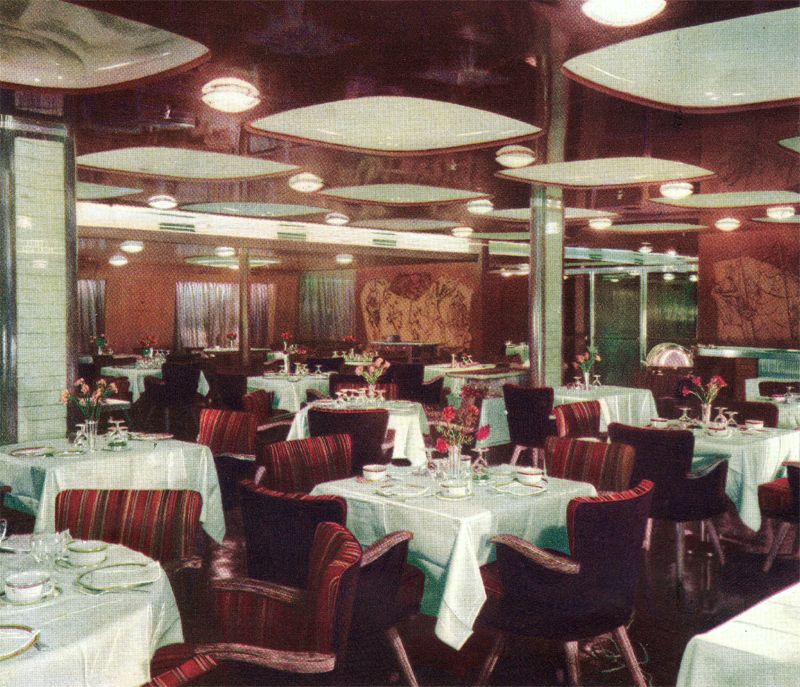 Dining Room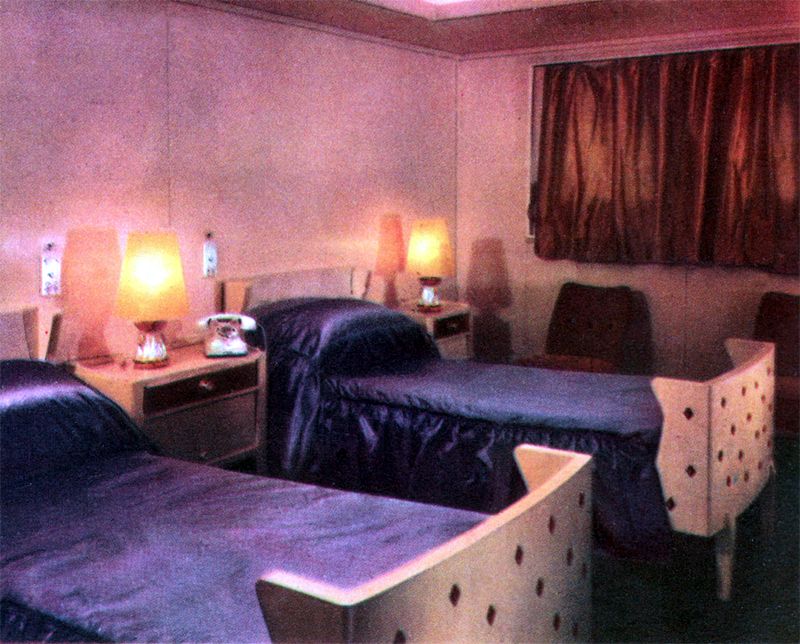 Twin bedded stateroom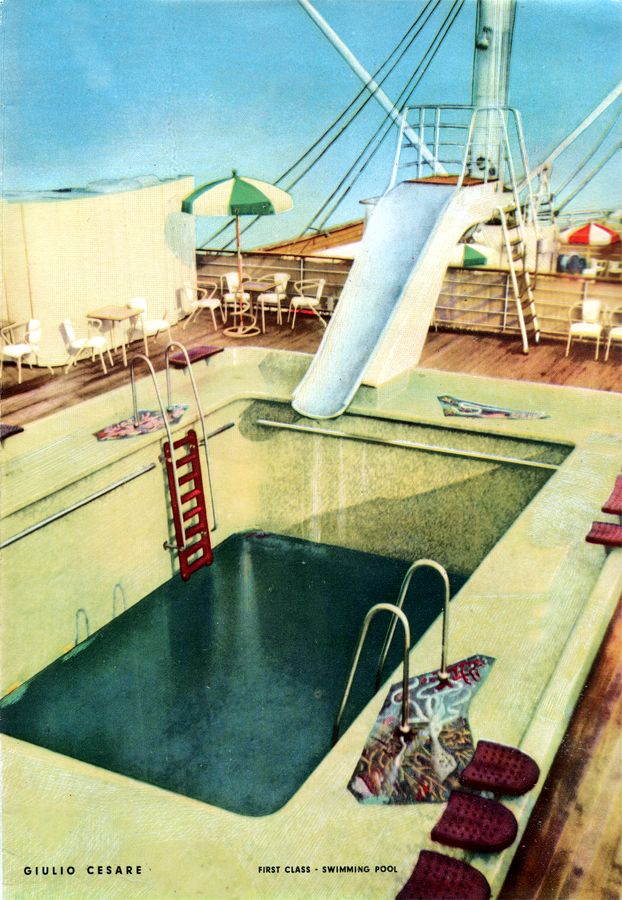 The pool
Cabin Class: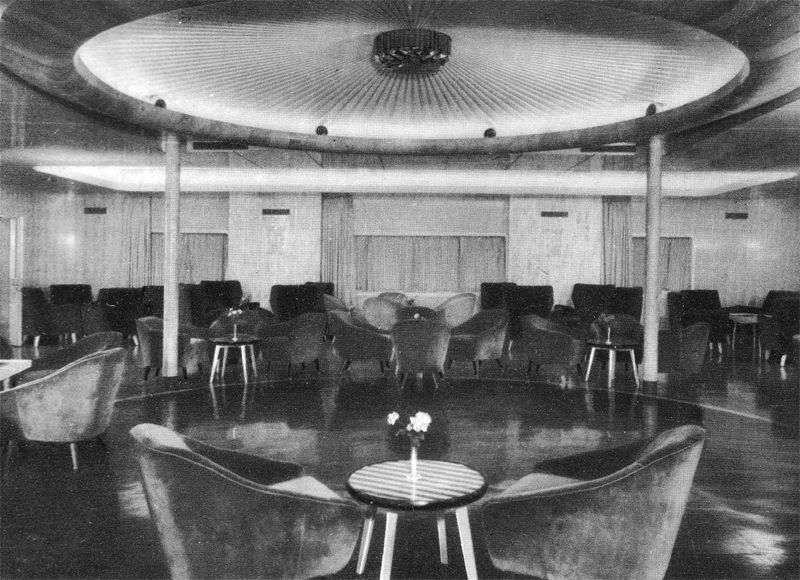 Main Lounge and Ballroom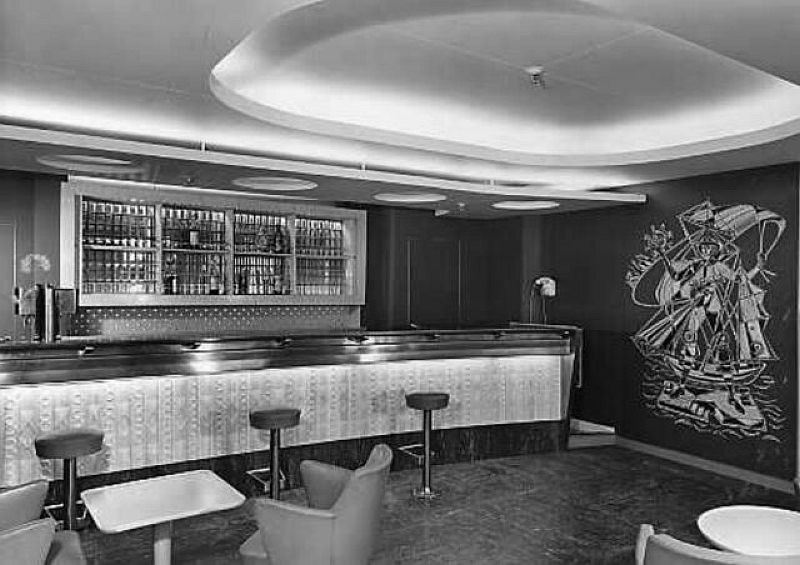 The Bar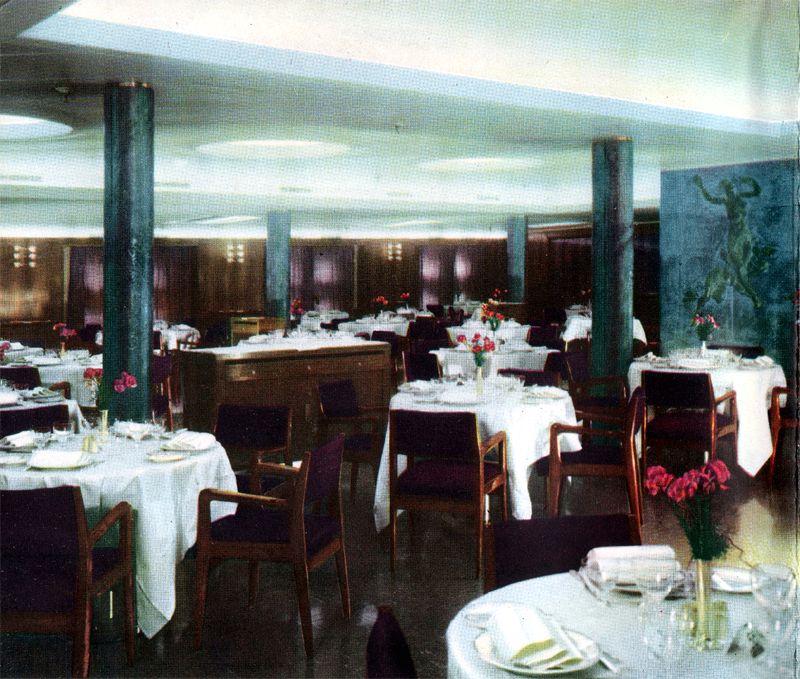 Dining Room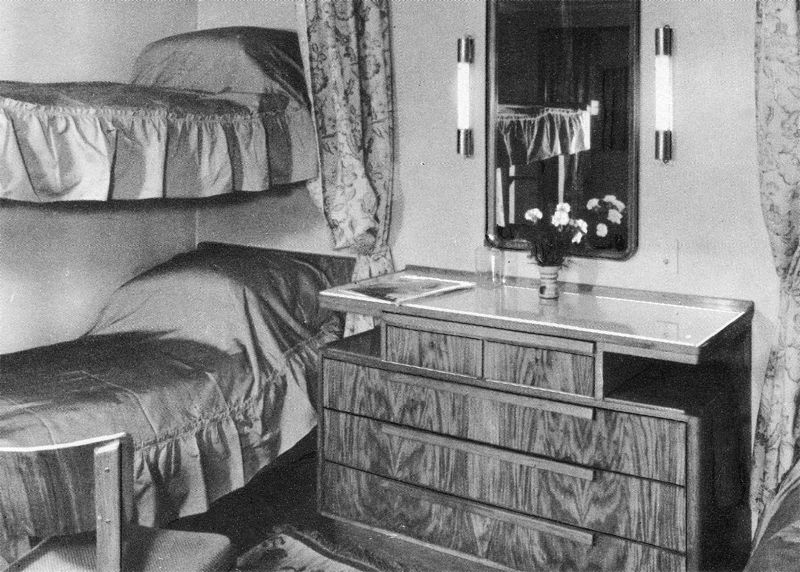 Cabin Class four berth cabin
Tourist Class: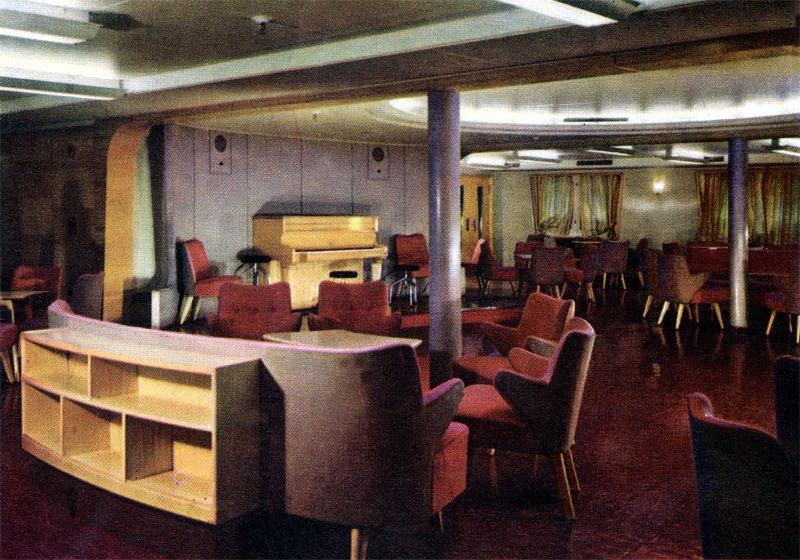 Main Lounge and Ballroom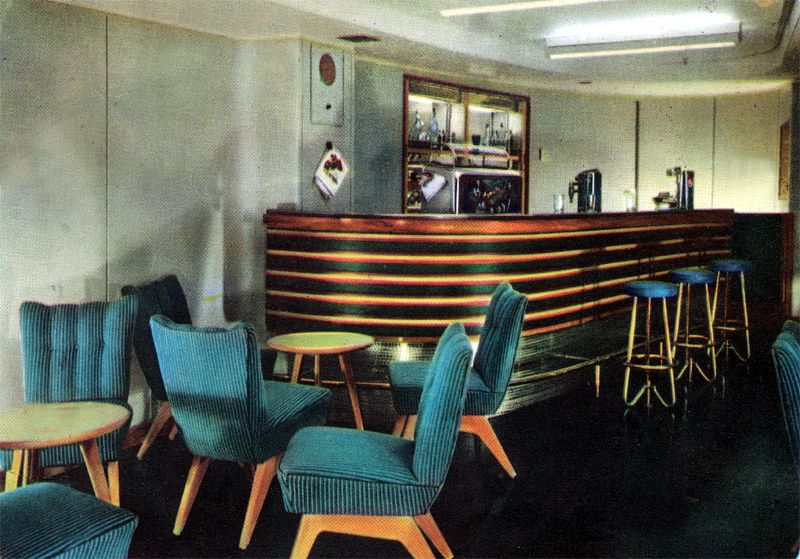 The Bar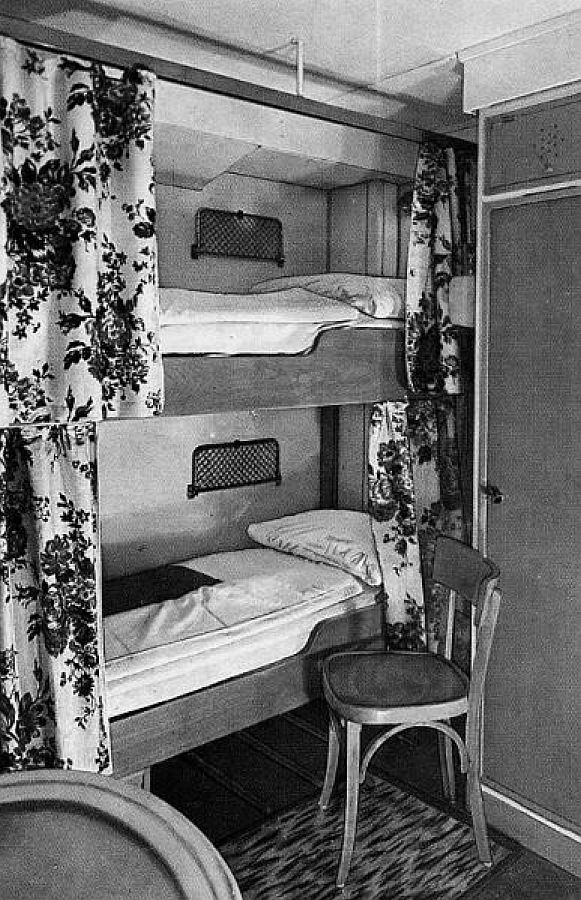 Tourist Class two berth cabin
Refit and her latter years:
She remained on this service for the rest of her working life, being some thirteen years. However in 1964 she received a comprehensive refit. After the refit, sadly the magnificent First Class Social Hall was torn out and replaced by a new auditorium/cinema. In addition she became a two class liner. Therefore they combined her Cabin and the Tourist Class dining rooms, thus now she operated with a First and Tourist Class having a passenger capacity as follows: 325 First and 858 Tourist Class passengers, although many cabins were interchangeable, the size in each class could vary from sailing to sailing. Many new bathrooms were installed into cabins that previously were without and facilities were improved throughout, in order that the old Tourist Class cabins were of a much higher standard! But for some reason passenger numbers for both M.S. Giulio Cesare and the Augustus very rapidly began to decline. However, as we now all know with hindsight this was mostly due to the ever increasing popularity of air travel, but also due to the newer and far more modern ships that had been built in the late fifties, ships such as the superb Italia liners Michelangelo (launched 1962) and Raffaello (launched 1963) or the 1963 Adriatico Lines SS Oceanic, which by the way is still sailing for the Japanese PeaceBoat Organisation. And then there was the 1964 built Costa liner TN Eugenio C. There was a huge onslaught in the trade of ultra modern ships, as well as the heated competition from an unexpected source which was doing extremely well on the South American trade and had become extremely popular with their smaller intimate luxury liners the Portuguese ships.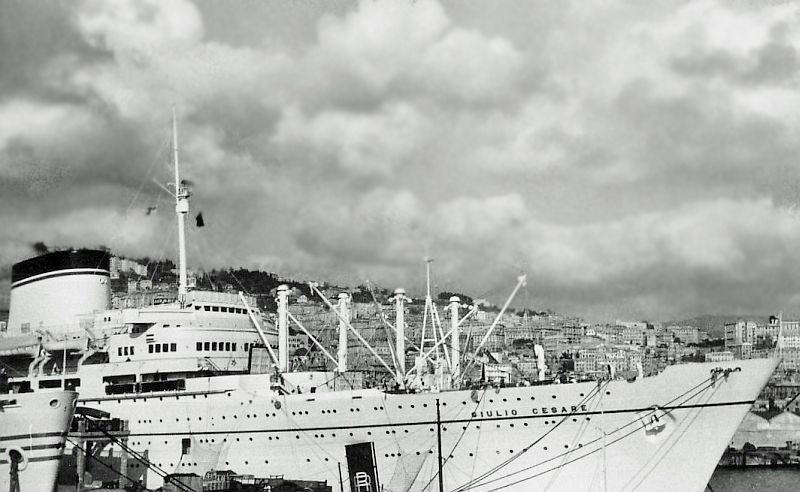 The elegant bow of the M.S. Giulio Cesare is seen in the Bay of Naples
The end is near:
On January 14, 1973, she suddenly developed problems with her rudder and was forced to return to Naples. However, the Italian Line realised that repair costs were going to be to great and thus they sadly decided to sell her to be broken up. She was laid up at Naples, and was rapidly sold and she departed on April 20, for the 'Terrestre Marittima Shipyards, at La Spezia, Italy where she was both built and broken up, This magnificent ship was the first post-war built Italian liner to be scrapped.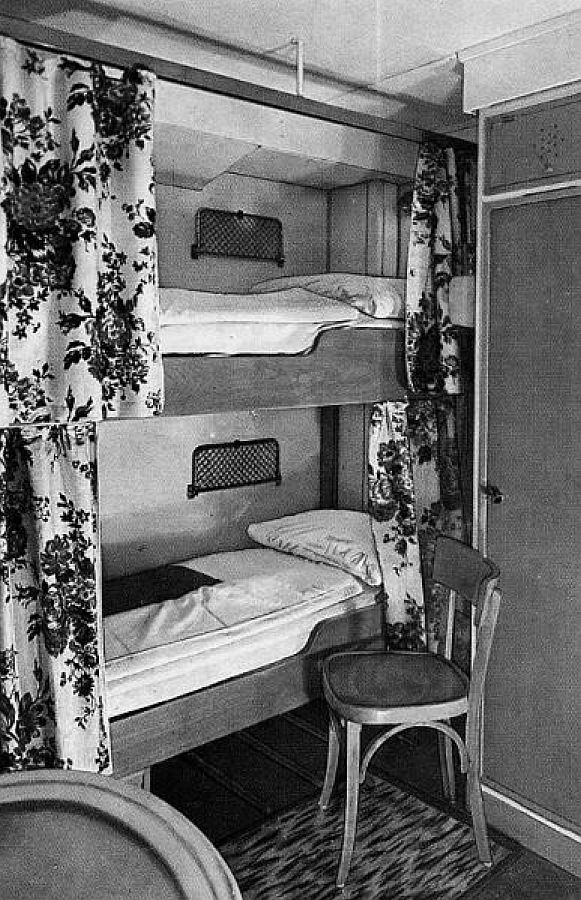 A two berth cabin a section from a 1954 Italia Line brochure
Visit the & M.S. Giulio Cesare & Augustus INDEX:
Name:                  Giulio Cesare - 1952 - 1974          
Built at:                Cantieri Riuniti dell' Adriatico, Trieste, Italy.
Yard Number:        1756.
Owner:                 Italia Line.
Registered at:        Genoa Italy.
Launched:             May 18, 1950.
Maiden Voyage:      October 27, 1951.
Tonnage:              27,078 GRT.
Length:                 681ft - (207m).
Beam:                  87.2ft – (26.6m).
Draught:               28ft – (8.5m).
Engines:                Two 12 cylinder "Societa Anonima Fiat" Diesels 37,000 BHP.
Screws:                Twin.
Speed:                  Service speed 21 knots - max 23.31 knots.
Passengers:           178 First Class, 288, Cabin Class, 714 Tourist Class.
From 1964:           325 First Class and 858 Tourist Class.
Ship is:                 Fully Air-conditioned.
Crew:                   493.
Routes served:       Three Main services.
1 …                      1951 – 1956 – Genoa - Buenos Aires.
2 …                      1956-1960 - Genoa-New York.
3 …                      1960-1973 - Genoa-Buenos Aires.
.                          Departed Naples February 20, 1974, to breakers bound for "Terrestre Marittima Shipyards", La Spezia, Italy.
In Conclusion:
Obviously the M.S. Giulio Cesare did not last the same kind of distance as her sister, which continued until late in 2011, that is a good 59 years in and out of service, but remember, the years that the "Giulio" did serve, she did so with great pride and distinction and she was greatly loved by those who sailed on her, and I know this from the countless emails I have received over the years I have been writing on classic liners, which now account to some 420 ships!
With the recent sale of her sister the Augustus, which seems to be her end, unless a last minute reprieve comes to hand, which I doubt, this will be the end of an end to a great era of a fine chapter of Italian passenger shipping, and we should all be very sad indeed!
Farewell old girl, as we remember both the M.S. Giulio Cesare the M.S. Augustus and her her sister the M.S. Augustus!
Reuben Goossens - originally wrote this article.
Liner with Let us Remember this Fine Liner with Great Fondness!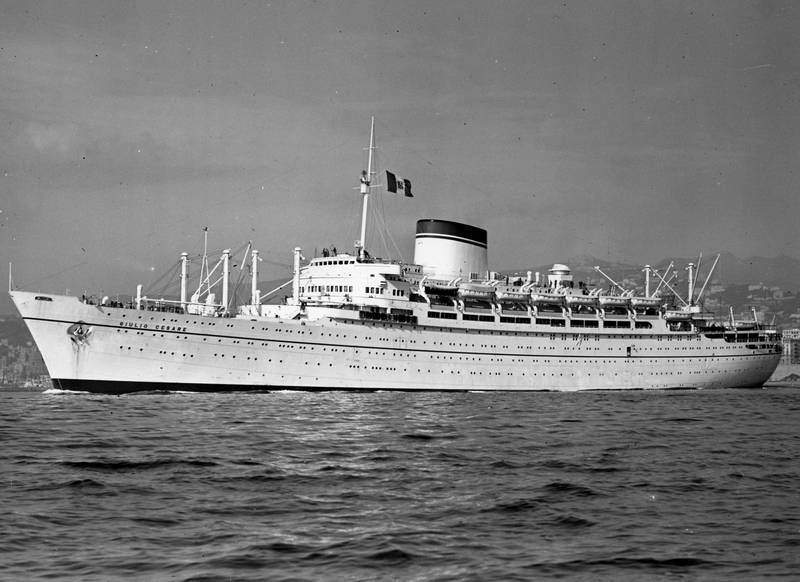 A fine photo of a suburb Italian liner, even if you sailed in Third Class it was as you were sailing of most First Class ships
From the author's private collection
Visit the M.S. Giulio Cesare & Augustus INDEX:
Page One …       M.S. Giulio Cesare.
Page Two …       M.S. Augustus.
Page Three …       M.S. Giulio Cesare & Augustus - Photo Album.
Page Four …       M/S Philippines.      
Page Five …       M/S Philippines – Photographs taken whilst she was for sale.
Also Visit …       S.S. Michelangelo & Raffaello Feature.
***********************************
Email the author: rg@ssmaritime.com
Use the Back button on your browser or Close the Page to return to the previous page
or go to our ssMaritime MAIN NDEX
Amazingly; ssmaritime.com has received 7.57 billion visitors to date
Last update: January 24, 1922
ssMaritime.com & ssMaritime.net offline
Where you will discover over 1,550 Classic Liners & the 1914 built MV Doulos Feature
Photographs on ssmaritime.com, & .net and associate sites are: 1. By the author. 2. From the author's private collection. 3. Or as provided by Shipping Companies and their Publicity Companies as well as by private photographers or collectors. Credit is given to all contributors. However, there are some photographs provided without details regarding the photographer concerned.
ssMaritime is owned and © Copyright - Reuben Goossens - All Rights Reserved