ssMaritime.com - Enter a world of Classic Passenger Liners, as well as Modern Cruise Ships
Please Note: Firefox & some other Search Engines may not be suitable
Use Google Chrome for this Web Page to load perfectly!

With Dr. Reuben Goossens.
Maritime Historian, Cruise'n'Ship Reviewer, Author & Maritime Lecturer
Commenced in Passenger Shipping & the Cruise Industry in 1960.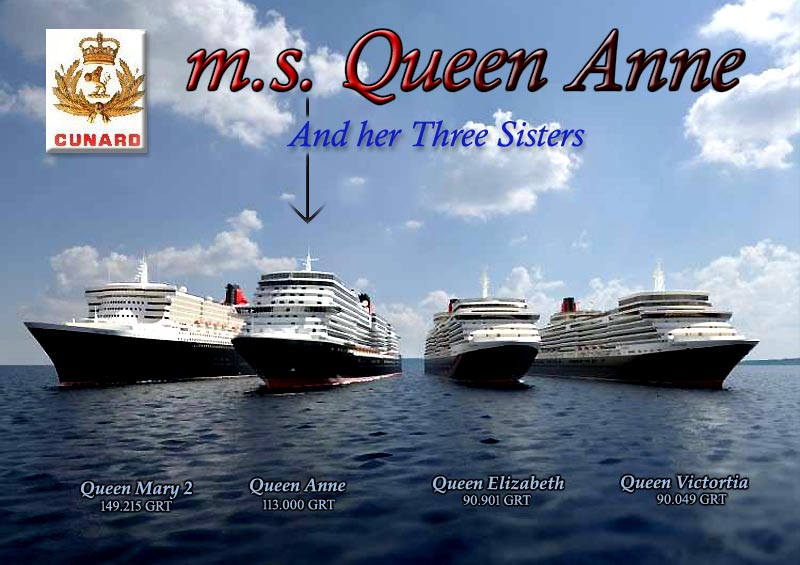 The Four Cunard Ships of 2024. The Modern Cruise Ships are presented as a part of a New World of Cruising! Read the New Feature (Listed with a link below) of the very special Brand CUNARD who will launch a new spectacular Cruise Ship in May Next Year being the amazing; M.S. Queen Anne - CUNARD's second largest ship!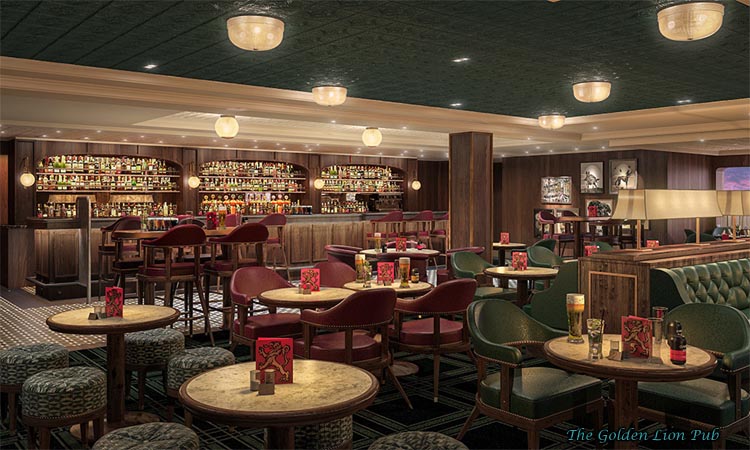 And one of her favourite Bars onboard is the "Golden Lion Pup"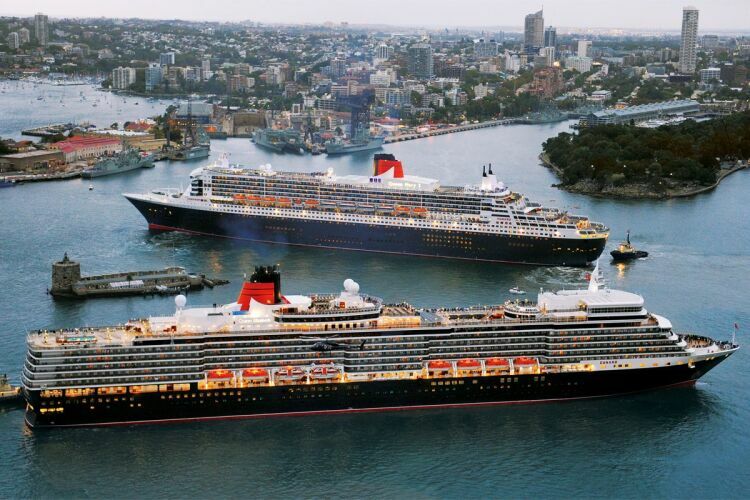 The brand new 113.000 GRT (Gross Registered Tons) Luxury Cruise Ship "Queen Anne", is due to make her 7 night cruise from
Southampton in Early May 2024.
The New M.S. Queen Anne Page is …
Online NOW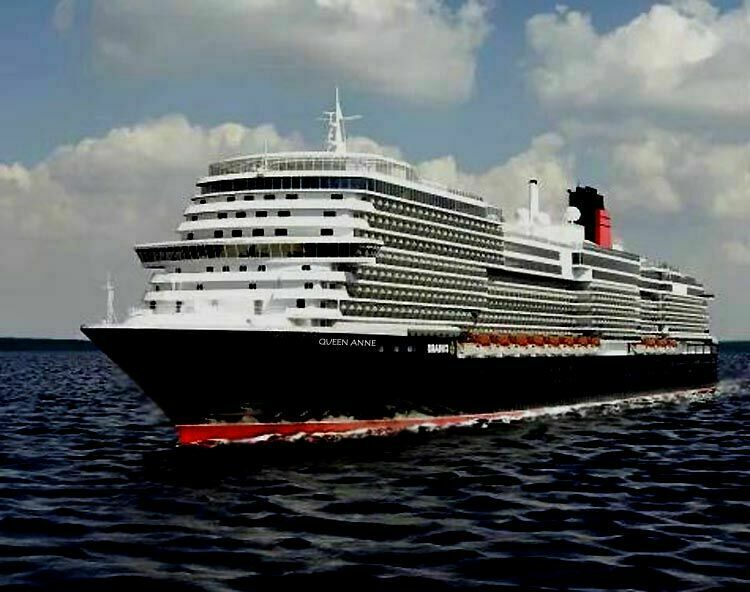 Sadly her exterior is identical to other Carnival ship's and she not look like a Cunard ship externally at all!
Her new lady Captain Inger Klein Thorhaug stated: "The M.S. Queen Anne will be completely devoid of the traditional and classic CUNARD hallmarks that the company is famous for. Thus mostly she will just be another modern cruise ship", however I did note the more traditional "Golden Lion Pup".
**********************
ssmaritime.com features simply countless Old and New Ships of the World. As of recently Modern Cruise Ships are presented as a part of a New World of Cruising! Read the New Feature (Listed Above) on the Brand new CUNARD Cruise Ship M.S. Queen Anne. In the past I operated CruiseAustralia.com for countless years and was a firm supporter of P&O, Princess Cruises, etc, etc. And I cruised with them countless of times, be it on various around world voyages or one way world sailings, etc. Also countless cruises on almost all P&O ships (par the Pacific Sky) But my favourite at that time was the Fairstar, and much later the beauitiful, the best ship ever the P&O fleet the Pacific Aria and I n always sailed in a disabled de-Luxe suite!, but sadly she is now gone and we are stuck with all those damn Princess ships. Who does not give a damn about those with disability, and only offer small cabins, thus I will be forced to down grade. No thank You!
**********************
Regarding

The

Author:
A Special Note, by Reuben's friend Samuel who has known him since 1983:
The long standing world wide and well known world wide ssmaritime.com is and has always been 100% non-commercial and privately owned, thus ssmaritime has NEVER been financially been associated with any shipping company or any other organisation! Although the author does allow, one of his special friend's "Don Leavitt's" Maritime Memorabilia business "Nautiques.net" to be on his page, and I do not charge him or seek any gifts or favours! Don is honest and is very reliable and Dr. Goossens has known him or countless years. The mention of Him is at the bottom of this page. Dr. Reuben has worked and been involved in the passenger shipping industry for now over 63 years, and he has been a Managing Director of a major Shipping Company, as well as an owner of a Cruise Company, and in those days there where those who would come to him for advice from a good number of countries, and he was always happy to assist. But we believe that certain pages may have been invaded with links to advertising, Please do not touch any of these as if you see any of these they may be dangerous!
Although Dr. Goossens is commonly known as Reuben his actual Hebrew (Jewish) name is Reuven, and he is a very close friend of mine (as you have seen above) for a very long time. But sadly Dr. Goossens is now of an old age and in extreme poor health, thus he was forced to retire. Yet, he has by now written well over  than 1,580 Classic Liners, Passenger-Cargo Liners as well as humble converted C3 converted Migrant Liners, yet over 33 years he has written countess histories and stories of so many ships which has been transported via the net countless thousands of folk to the world, as well on countless of Cruise Ships'. But his online counter keeps on counting and will not stop stopped counting until the page will run out in long after he has passed away as he has paid fees for it far ahead! Amazingly; ssmaritime.com has received around 7.57 billion visitors in the past 33 years. Considering this site has been online since the mid 1990's (although he was writing long before the Net ever existed) and countless people have visited his various sites well over hundred's of times. This makes up that huge (to the globe's number population) of visits, thus this is the most visited maritime site on our Globe! P&O's Designer, and several Captain's of the S.S. Oriana, and a Captain as well as countless officers and crew from the S.S. Canberra, and countless others from well known companies such as the "Holland America Line", various German Companies, the "America Line", several Italian and Greek Companies, and Israel's designer of the S.S. Shalom, have all written him. The designer of great P&O S.S. Oriana has given His book on PO and their ships which is amazing. He has countless other books given to him by other Designers, Captains and Shipping Companies, etc. Thus his list of liner's designer's books is simply amazing, as he has always appreciated their kindness and their great appreciation of his work of almost of so long and being a shipping expert! As well as the most famous now late Commodore William E. Warwick of the QE2 has written Reuven on a number of times and they were the best of friends, and they also sailed together on the QE2!
Dr. Reuben has also been contacted by one of what he call the most "appreciated of all contacts", a wonderful contact from the Late Queen Beatrix of the Netherland's, and the now late Prince Philip; but Reuben insisted and said, "I am sorry, I simply am not able to disclose those as well as several other emails or letters mostly for the obvious privacy reasons for as in parts they tend to be somewhat personal!" The Dutch one is regarding the countless Dutch ships I have written on and the British one relates to the Royal Yacht, "RY Gothic" regarding the "Coronation World Tour" in 1954 and 1955.
Just for interest, Dr. Reuven and his Mother were Holocaust survivors in the Netherland's and before the tragic error made in a Hospital in 2022, when he was given the wrong medicine which placed him in a deep Coma for almost a week and came out of that hospital ten days later a completely different man and a total cripple as well as memory loss. But they do every thing to get out of it. Yet prior to that horrific event, he had started a Biography about his life which would have been an amazing story. His first Book published in the Netherlands, was sold out within weeks. It is now only available in Museums in various parts of the world. It is how wonderful Christians saved Jews from the hands of the Nazis trains to the Concentration Camps where 6 Million were slaughtered. These Wonderful people did all that saving lives at the peril of their own lives and sadly far too many died doing so, may they rest in peace!
Dr. Reuven said, "I trust the features online will continue to provide all Classic Liner enthusiast's, crew's, those who have sailed on these Ships, and those who simply love cruising and just sailing on Ships, and those who are Ship enthusiasts and those who are just seeking information. I trust that this site will in one way or another will provide a great deal of pleasure and relive many happy memories! I wish my readers farewell"
Samuel on behalf of …                ..…………….  …       …….     
……………Dr. Reuven Goossens.
Doctorates are as follows:
1. of Literature, 2. of Philosophy, 3. of Ancient Literatur,
4. of Hebrew Studies. 5. of Hebrew (Jewish) Studies.
Maritime Historian, Cruise'n'Ship Reviewer, Author & Maritime Lecturer
Commenced in Passenger Shipping & the Cruise Industry in 1960.
**********************
Also Note: The email service to ssMaritime is sadly no longer available, due to Dr. Goossens' old age and severe chronic illnesses as well as being completely disabled. Since the 1990's ssMaritime has received a Massive number of emails each day at least 120 to 160 per day, but sadly he can no longer handle such massive task and he sincerely regrets this.
Please Note: If there are any photographs, images or copy missing any this page, please refresh the page
**********************
Only one I was given permission to state; As I said over the Years he has been greatly honoured be some of the most famous people on earth, one of these was the late H.R.H. Price Philip, who wrote Dr. Reuben to thank Him for the feature on the R.Y. Gothic on which He and the Queen sailed on from 1954 to 1955. Although he has many of the letters online and they can be found at Dear Dr. Goossens, of course there are certain Royal letters he would not publish for obvious and personal reasons He also received medals, but he never mentions them, although on some cruises he has worn them..
Please Note: Before October 2022 Dr. Goossens was still able to write, he did add a good number of ships online:
Some time ago, Dr. Reuben Goossens discovered a number of ships which he had already started and they were either close to being completed or they needed to be finished, and a few still required quite some work to be done be completed. Of course none of these were listed on the ssmaritime Index. Thus with assistance of an long standing friend of Dr. Goossens, who would do the editing, we managed to complete these ships!.
Recent update: The very last of these ships, happened to be the 16th ship, is another two page feature and it is now online. This is the P&O passenger Liner and Cruise Ship, the much loved S.S. Himalaya (3) of 1949, and I am sure that you will enjoy her story and the countless photographs of her interiors and exteriors, etc. There are even images of Cricketers heading to play the Ashes in the UK, etc! Reuben worked hard on all these and it took a great deal, but we managed to get it done. The Himalaya is of course the second last ship to be added to ssmaritime.com, and Reuben's work on Classic Liners is now completed, although he did sail on the Himalaya a very long time ago! Please enjoy this beautiful Queen's lifetime and allow her to bring countless you to you!
All the 16 ships have now been uploaded, and these ships include …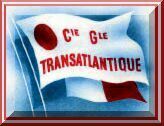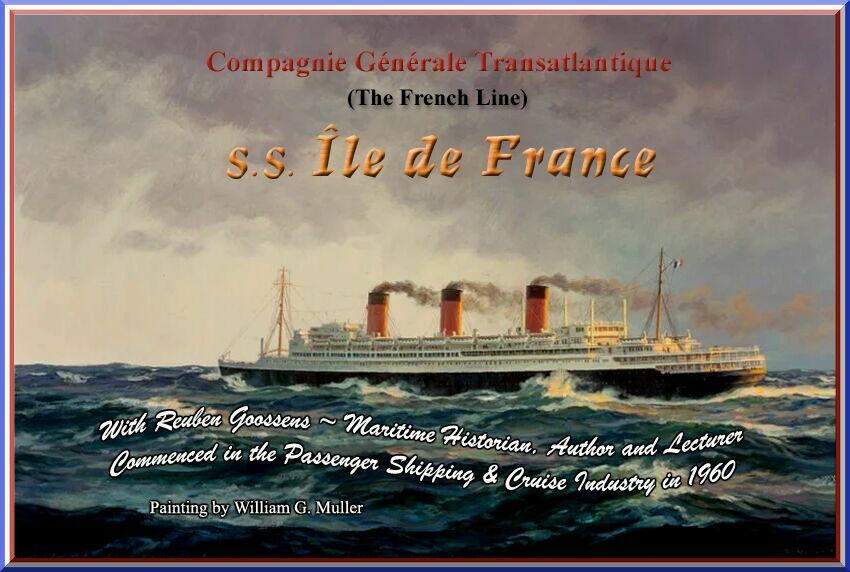 This French Liner was one of the finest Classic French Liners ever built! She was luxury to the extreme!
1.
"S.S. Île de France"
:
From France came one of the most amazing French Passenger Liners ever, it was the S.S. Île de France which was to be built by the "Ateliers et Chantiers de Saint-Nazaire Penhoët" shipyards at Saint-Nazaire, France, yet due to "World War One" her, as well as other ships had their construction halted until the conclusion of that dreadful war, However, she was finally laid down in 1925. There was no doubt about it she was the most magnificent 'First ever spectacular Art Deco' style liner, and the magnificent S.S. Île de France was completed in 1927, she certainly remained the "French Lines" most popular ship ever. Upon completion she left the shipyards and headed off for her official sea and speed trials on May 29, 1927 during which she reached an excellent speed of 25 knots maximum. She was perfectly fitted out offering a wide range of accommodations for 537 passengers in First Class, 603 in Second Class, and 646 in Third Class, all being superbly cared for by an excellent and a highly qualified Crew of both men and women.
She departed on her Maiden voyage on June 22, 1927 and the S.S. Île de France departed from Le Havre for her maiden voyage to New York U.S.A.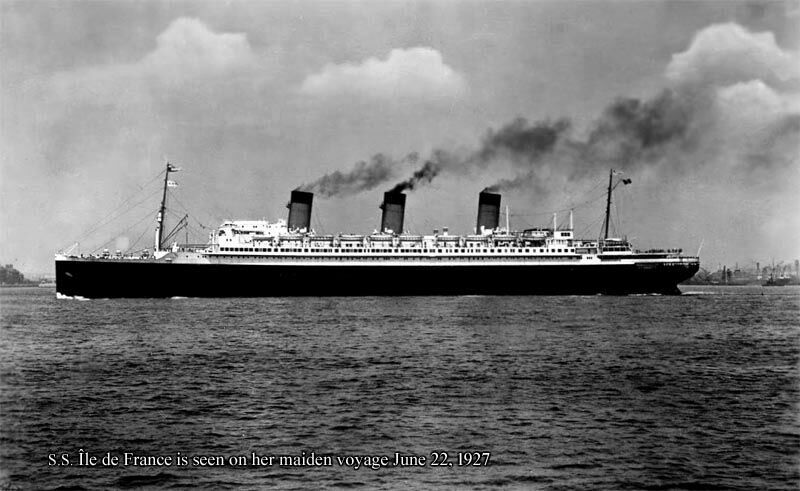 Her arrival in New York turned out to be a huge event as she received massive attention from the American media and countless thousands of people that crowded the docks just to see this amazing new liner!
Although her official accommodation was for a total of 1,786 passengers, but her normal capacity was closer to 1437. With a capacity of just 537 in First Class.
Several First Class Images: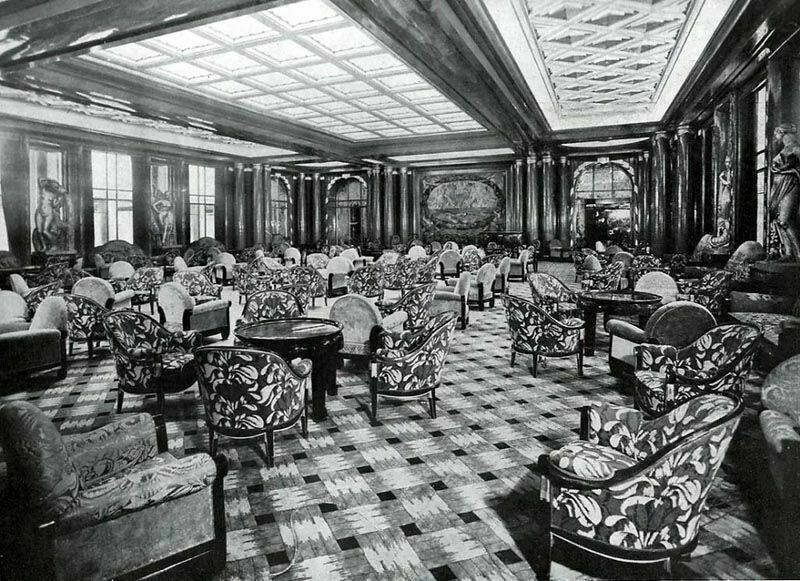 The Grand Salon looking aft reveals statues, and countless dark marble pillars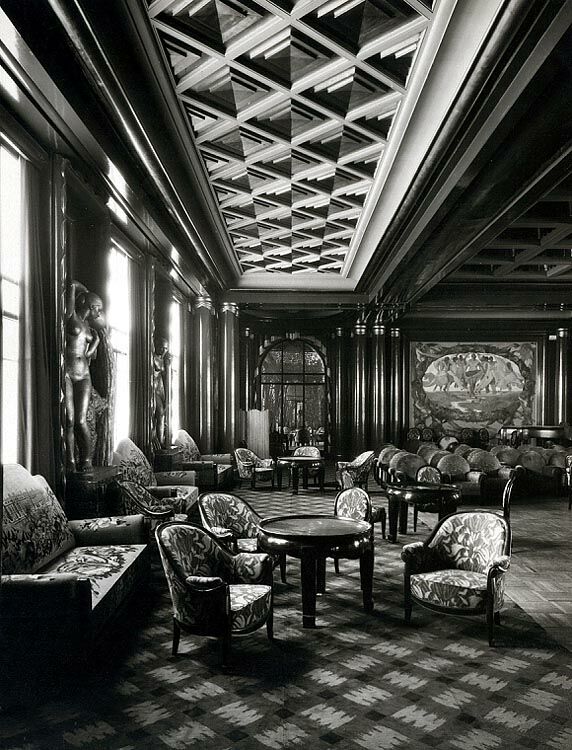 The Grand Salon starboard side looking aft revealing her ultimate in décor!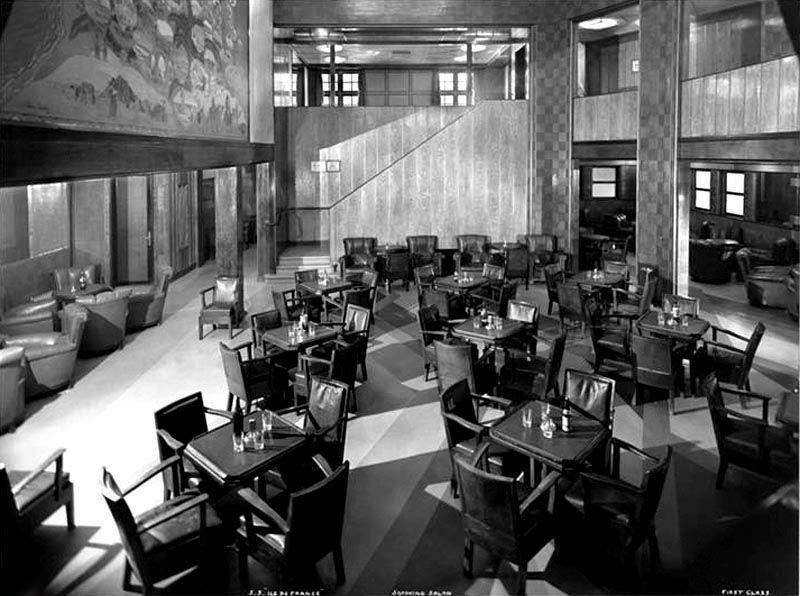 The Multi level Smoking Room looking to Port.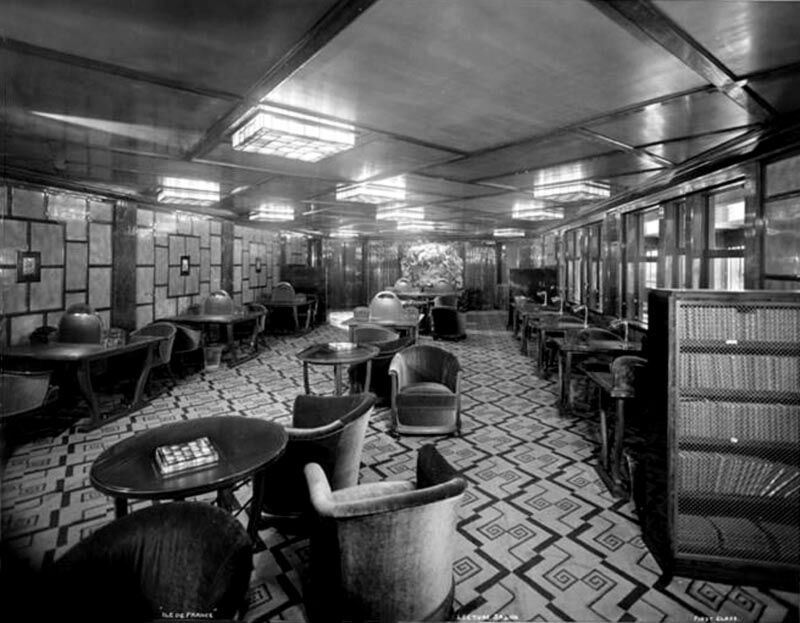 Just aft if the lobby and on the starboard side was the Games Room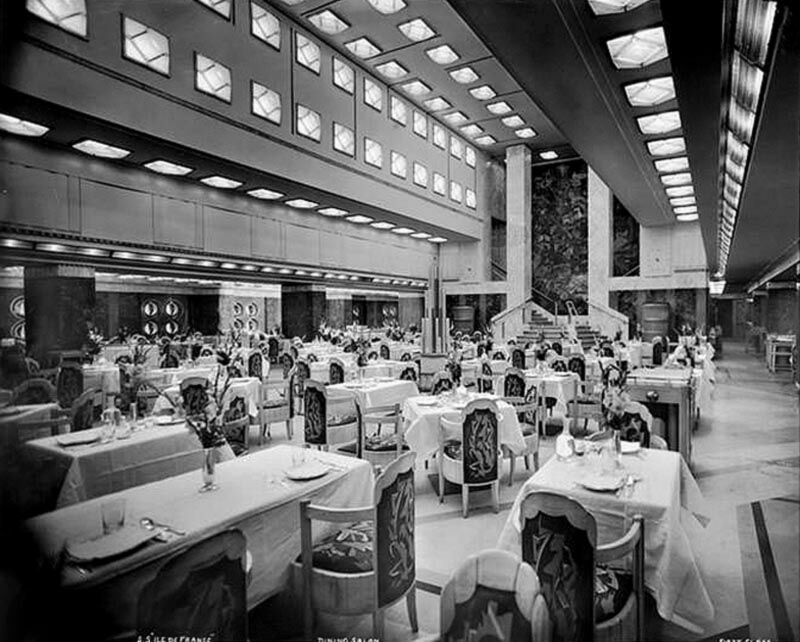 Above & Below: The Elegant Dining Room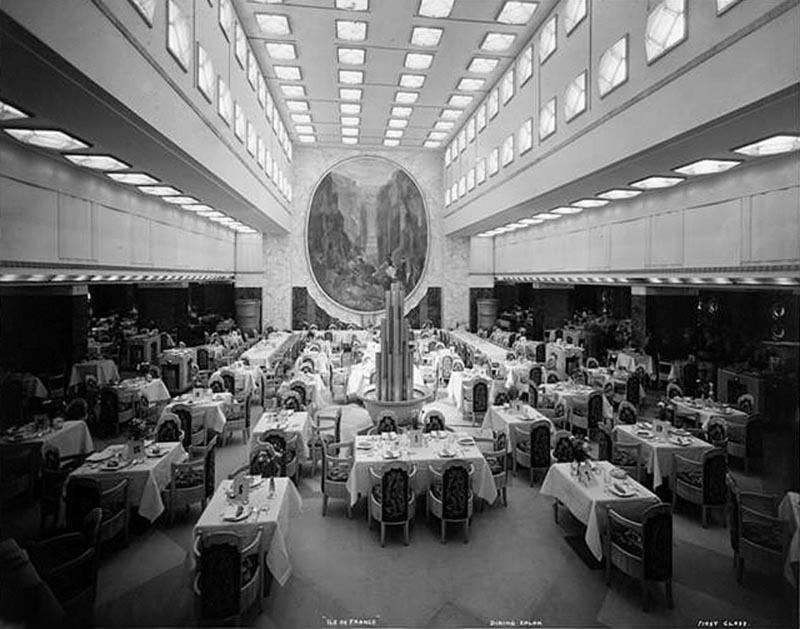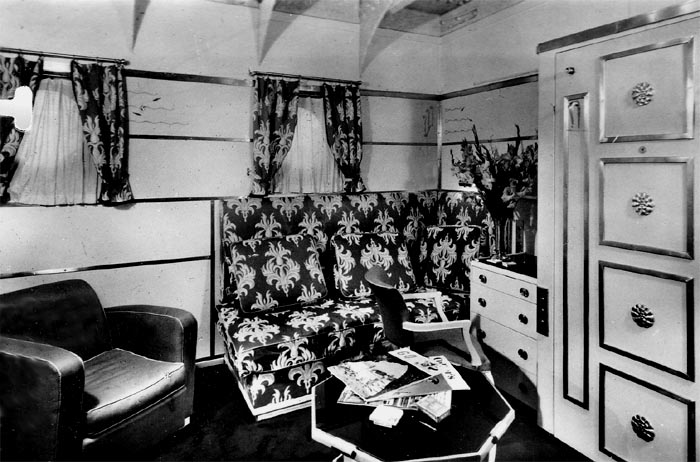 Above & below: Here we see just one the three room De-luxe Suites and each has a different Decor!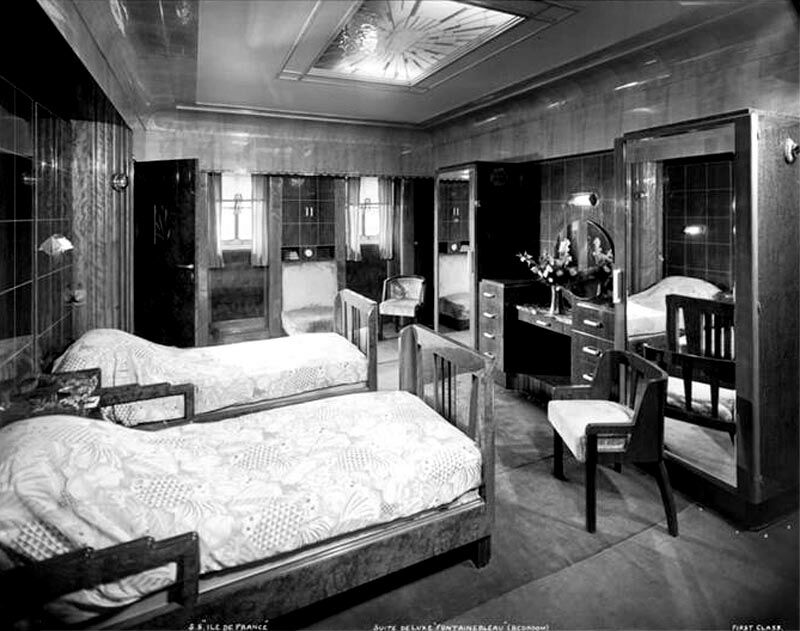 2. the S.S. Normandie of 1935, which was one of the greatest ships, but sadly she was their least successful ships ever. Then there were four simply delightful Dutch liners 3. the S.S. Prinses Amalia of 1874, 4. the S.S. Gelria of 1913.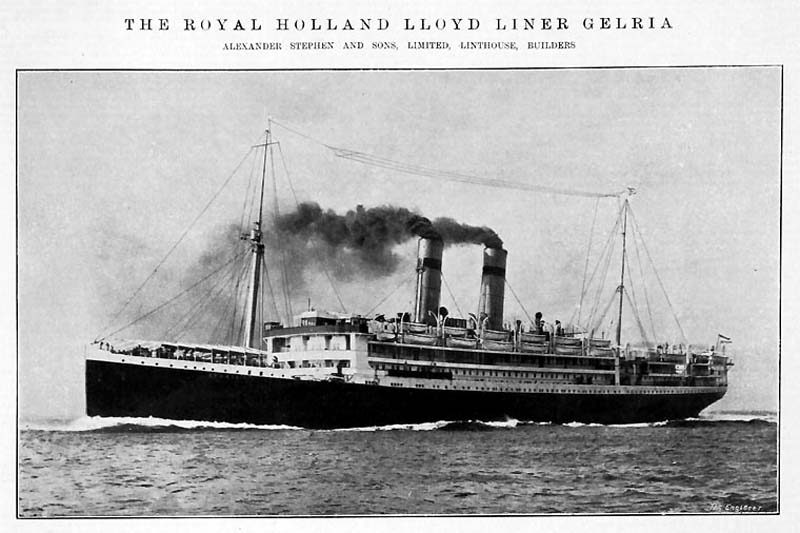 And the delightful intimate Dutch Liner the luxurious S.S. Gelria,
She was so loved by "Agatha Christy".
And 5. the S.S. Jan Pieterszoon Coen of 1915, and 6. the M.S. Colombia of 1930, next is the magnificent Scandinavian super luxury cruise ship 7. the M.Y. Stella Polaris of 1927, and two great Italian liners - 8. the S.S. Conte Grande of 1928, and 9. the S.S. Frederico C of 1958, 10. is the R.M.S. Monarch of Bermuda of 1931, which was sold to become the humble S.S. New Australia and finally she became the Q.S.S. Arkadia, 11. the amazing R.M.S. Aquitania of 1914, and she was such an amazing ship and I know you will enjoy this spectacular feature as well - but she is followed by - 12. The magnificent 31,938 GRT Cunard Liner, R.M.S. Mauretania (1) of 1906 she was considered one of the most elegant liners of her time and this feature will cover her in detail with countless photographs as well as excellent Deck Plans, etc. 13. M.V. Britannic (3) of 1930, 14. and her sister-ship the M.V. Georgic (2) of 1932, two brilliant Motor ships. 15. S.S. Himalaya (3) of 1949. I did find one other ship I had started many years ago, thus I decided to try and finish it. Thus it became Number 16. My very last Classis Liner ever and it was the rather tragic ship, the, S.S. Doric, which sadly due to a bad error was scrapped due a stupid error by management, as she had a minor accident, far less that other ships of the company had in the past and were fixed. But she was a White Star hand-over, thus she was not good enough for Cunard!
These 16 fine ships and countless other ships can all be found on the ssMaritime Index located at the bottom. Sadly there are now no more to come as Dr. Reuben Goossens can no longer write any longer. I have been his friend and an assistant since 1983, yet sadly I do not have much knowledge in regard to the world of shipping, but glad to assist in a small way and finish what he really had already done. Reuben became a good friend of Carnival Australia's director Sture Myrmell almost from when he arrived in Australia from the U.S.A. Since 1958 he have been on so many world voyages, In addition he was also invited on to lecture on several companies, whilst for the majority of cruises he decided to pay for his cruise and still would give lectures as a paying guest. For he enjoyed living in a luxury suite and he need it as he always required to bring a scooter or an electric wheelchair. I have lost count of his countless voyages, it would number close to 300 plus!
*****************************
In Conclusion by Dr. Goossens &

Shmuel.:
My dear Friends, this will be my very last Notice. I hereby whish to say a very special thank you to all my dear ship lovers from all over the world, for I have been simply astounded that there have been so many of you reading ssmaritime over and over again, for the numbers of reader's simply have more than blown me away! There are so many readers who have been reading this site up to a hundred of times for almost 32 years. In fact friends this site has now reached over 7.5 Billion visitor's, that is really the globe's entire population, (and my counter can't be wrong) thus during all those many years you have been reading and reading, I am completely amazed. But more so about the amazing letters and emails I have been receiving over the many years, from Prince Philip, May He Rest In Peace, Lord's and Sirs, but his HRH wrote me regarding my feature, (which I am currently updating) on the Royal Yacht Gothic, on which HRH Queen Elizabeth and He sailed on, as well as their children, in various part's either early or towards the end. The voyage was certainly a joy to them Both! At this point I can reveal that I was awarded a Medal of Honour, but I will not reveal anything else, which the item revealed for obvious reasons, I have letters from Lord's, Sirs etc some who were famous designers of ship's interiors, and Naval Architect's, etc of some of the  world's most famous designers, ect! I and speaking of the S.S. Qriana, S.S. Canberra, and the list just goes on. Some of the most famous interior was designer's such as my dear friend Sir. Hugh Casson, who has not only designed the interior's of the Canberra, but also Buckingham Palace One of my personal favourite features was about the wonderful Luxurious Passenger Cargo Liner, which was chosen to become the Royal Yacht by HRH King George VI, but she was revived in 1954 to become officially HRH Queen Elizabeth II and H.H. Prince Philip's Royal Yacht the R.Y. Gothic for the Queen's "Coronation World Tour" in 1954 and 1955. This updated feature will be covered on a new series of pages as I am currently re writing them with new information in September 2022.
It is simply beyond His belief! ssmaritime.com is the world's largest and most famous and popular website and he has been greatly certainly s very honoured, by captain's who are well known, and they have written me many times, World famous ship designers who have not only contacted me, but given me their book's including the designer of the great S.S. Oriana and many other world famous ships! And please remember, that all Dr. Reuben's maritime & cruise sites have always been and will remain 100% non-commercial, thus ssMaritime will continue to provide wonderful and hopefully joyful memories for past passengers from around the world, and for those who really love passenger liners and older cruise ships! Dr. Goossens said;
"It has been a great joy for me to present these classic liners for the readers of ssMaritime, and it has been a joy to have been able to write for so many years having started back in the very early 90's".
Reuben said;
"Thus please go and enjoy the many more than the 1,550 ships when I stopped counting, as it became far to hard for this old man. But I am sure that there will be countless wonderful maritime memories, and we pray that after a lifetime of sharing his love of these fine ships with you, that they will live long after he is gone, and that this site will give knowledge to future and new of generations and provide wonderful memories to those who remain! I have paid for this site long into the future so that all the ship lovers will be able to enjoy the memories of real ships, rather than, as a World Famous Naval architect told me 'Those hideous death traps these money hungry cruise companies are now building, with up to 20 floors, I just cannot call them decks anymore for they are more like buildings on water. But if anything happens with over with so many precious lives onboard, tell me how they will get off those death traps? Thousands will die', this is precisely what this world famous maritime architect told me!"
As I stated earlier Dr. Reuben Goossens is now retired due to his extreme poor health, being disabled in addition he also has poor eyesight, the last feature he placed online was done with great difficulty, and sadly he is unable to remember which ship that was, But I know it was the "Doric" 1 & 2, the Doric is on the Site Index. Whilst he was in hospital fees were due for Cruise-australia.com, but that name was stolen by a British company that makes its money on doing just that! It contained all of Reuben Cruise reviews on it, and he has been on far more that most in the world and he always paid full fare for His deluxe suite. He would like to put them back online but it might be too hard for him now. He has them all saved but sadly it seems, that companies have changed their ships by now!"
Best wishes - S.E.
Over the years Reuben has received thousands of Dear Dr. Goossens emails of thanks and on this page there are just some of them.
I (Reuben) have been a long time supporter a customer and a Good Friend!
of Don Leavitt's Nautiques.net

Nautiques.net Leavitt operates the world's largest dealership has been online for well over 20 years and Don
of Ocean Liner and Steam Ship Deck Plans, Brochures, China, Silver, Furniture, Posters, Fittings, Postcards,
and so much more. Personally I have found his prices to be excellent and the service is simply outstanding!
I have been one of his clients for countless years and Don's service has been perfection!
Visit: https://nautiques.net/
Please Note: Email service to ssMaritime, is sadly no longer available,
This is due to the author's old age, and His poor illness and being disabled, etc.
*************************
"Blue Water Liners sailing to the distant shores.
I watched them come, I watched them go and I watched them die."
Or ENTER THE SITE's INDEX HERE
Amazingly: ssmaritime.com has received
7,579 Billion reader's over almost 32 years
Last update was on: March 27, 2023
Remember many readers have read different pages & ships hundreds of times
Also certain features have up to 24 pages and that is a great deal of reading!
**************************
Where the ships of the past and the Luxury Cruise Liners of today make history.
The Author has been in Passenger Shipping & the Cruise Industry since 1960.
"Managing Director", and "Owned a Cruise Company"
In addition he was founder of "Save the Classic Liners Campaign" in 1990.
Please Note: ssmaritime and associated sites are 100% non-commercial and the author seeks no funding of any shape or form, never have and never will!
Photographs on ssmaritime and associate pages are by; the author or from the author's private collection. In addition there are some images that have been provided by Shipping Companies and private photographers or collectors. Credit is given to all contributors. However, there are some photographs provided to me without details regarding the photographer/owner concerned, so sorry if this is the case.
This notice covers all pages; although, and I have done my best to ensure that all photographs are duly credited and that this notice is displaced on each page, that is, when a page is updated!
ssMaritime is owned & © Copyright by Reuben Goossens - All Rights Reserved.