ssMaritime.com & ssMaritime.net
With Reuben Goossens
Maritime Historian
T/n Michelangelo and Raffaello
Photographs: We hereby wish to thank Uwe Delfs Jespersen of www.itsfoto.dk and "Project Michelangelo" for the use of their photographs of these two fine Italian liners. Other photographs and postcards are from the private collections of Mr. C. Dorio (Verona Italy), and the author'. We highly recommend a visit to: www.michelangelo-raffaello.com.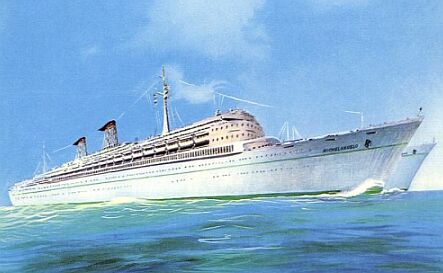 Original postcards with an artist impression of these great liners
Author's Private collection
Italia Line had been a distinguished Italian passenger shipping company with many notable and much loved liners, such as the Conte Grande and the Rex to mention just two of many. Having lost many ships during World War II, Italia Line commenced an extensive rebuilding programme and built seven fine new liners. The first five were the 27,000 GRT T/n Giulio Cesare, built in 1951, which was followed by her sister Augustus in 1952. Then in 1953 the ill fated 29,000 GRT T/n Andrea Doria was built, followed one year later by her sister T/n Christoforo Colombo. Then, in 1960, the 33,000 GRT super liner T/n Leonardo da Vinci was built. Leonardo da Vinci would become Italia Line's last black hulled liner. With the success and the grandeur of Leonardo da Vinci, Italia Line decided to build two even larger more luxurious Trans-Atlantic liners.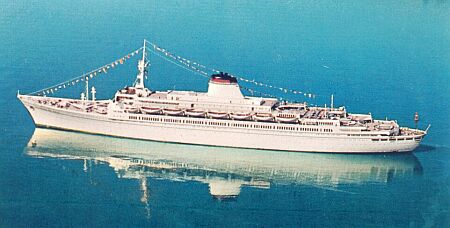 T/n Leonardo da Vinci is seen here now also painted all white whilst cruising in the 1060's
Author's Private collection
Continuing the company's trend of naming their ships after famous historical figures, the two new liners on order were to be named Michelangelo and Raffaello. It was also decided that these two Trans-Atlantic liners would be painted all white, which was something not seen on the Atlantic before. In addition they would have a three-class configuration - First, Cabin and Tourist Class. Michelangelo and Raffaello were the pinnacle of Italian maritime design and shipbuilding, having the most advanced technologically available at the time.
T/n Michelangelo and Raffaello would be the first major passenger liners to be built as a pair, since the German Bremen and Europa of 1929. Other well known ships, such as the RMS Queen Mary and Queen Elizabeth were running mates, but not identical sisters.
Italia Line decided that Michelangelo and Raffaello, with their unique Art-Deco style, would be the most beautiful and luxurious liners on the high seas. They offered nothing less than thirty 30 lounges, a two level cinema, 3 night clubs, 18 lifts, a garage with room for 50 cars, as well as 6 pools that interestingly had infra red heating for the surrounding areas.

A fine cutaway of the ships
Another interesting feature was, all materials used for the ships décor were fireproof, making these ships well ahead of their time, as the SOLAS (Safety OfLife At Sea) regulations came about much later.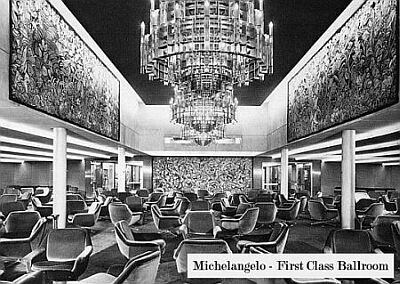 Michelangelo's interiors were designed by three famed marine architects, Nino Zoncada, Vincenzo Monaco and Amedeo Luccichenti. The quality of their work was well established having worked on Italian Line liners. Michelangelo's interiors were more classical in style, whist her sister was quite different. Raffaello was handed over to design architects, Michele and Giancarlo Busiri Vici who had mostly worked on buildings and were known for their unique style of futuristic designs. The magnificent first class restaurant and foyer would stand out as being simply remarkable.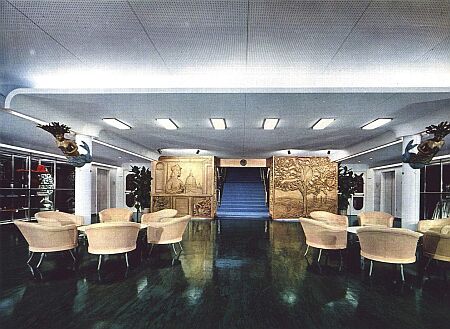 Raffaello's stylish First Class lobby
However, other parts Raffaello's interiors were considered as being a little cold and metallic, rather than the warm feel of Michelangelo. Their ultra modern 45ft high twin funnels were topped with long sweeping wind guides. They were certainly like nothing ever seen before. They were more like exhaust pipes surrounded by decorative lattice work, which created an unusual, but attractive look.
Specifications:                           T/n Michelangelo
Built by:                                      1962 - Ansaldo, Sestri Ponente – Yard no: 1577
Tonnage:                                    45,911 GRT
Length:                                       276.2m – 906ft
Width:                                        30.1m - 98.7ft
Draft:                                          10.4m
Propulsion:                                  Geared turbines from builders 87,000 SHP– Twin screws
Service speed:                             26.5 - max 29 knots
Decks:                                        11
Passengers:                                 535 First Class
                                                  550 Cabin (second) Class
                                                  690 Tourist Class
                                                  1,200 for cruises
Crew:                                          720
                                                  Fully Air-Conditioned
                                                  2 sets of Denny Brown stabilizers
Specifications:                           T/n Raffaello
Built by:                                      1963 CR dell'Adriatico Trieste – Yard no: 1864
Tonnage:                                    45,933 GRT
Length:                                       275.5m – 904ft
Width:                                        30.2m – 99.1ft
Draft:                                          10.4m
Propulsion:                                  Geared turbines from builders 87,000 SHP – Twin screws
Service speed:                             26.5 - max 31.5 knots
Decks:                                        11
Passengers:                                 535 First Class
                                                  550 Cabin Class
                                                  690 Tourist Class
                                                  1,200 for cruises
Crew:                                          720
                                                  Fully Air-Conditioned
                                                  2 sets of Denny Brown stabilizers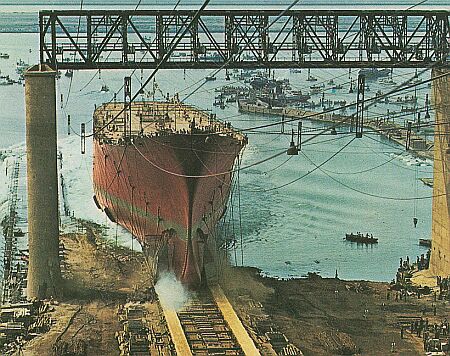 Michelangelo was launched on September 16, 1962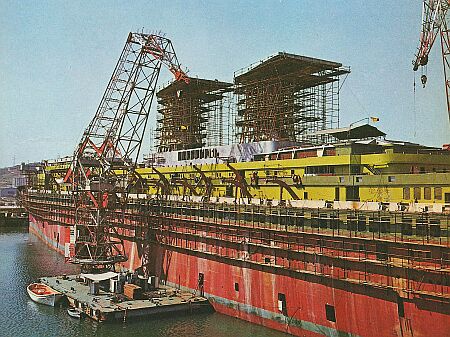 With her funnels in place Michelangelo is seen here whilst being fitted out
Michelangelo was launched on September 16, 1962 but not completed until April 1965. She departed on her maiden voyage from Genoa to New York on May 12, 1965. Raffaello was launched on March 24, 1963 and completed July 1965. Prior to her maiden trans-Atlantic voyage she departed on July 10, 1965 for a Mediterranean Cruise visiting Cannes, Malta, Piraeus and Naples. On July 25, 1965 she departed Genoa for her official maiden voyage to New York.

Now completed and looking splendid, T/n Raffaello and Michelangelo are seen in Genoa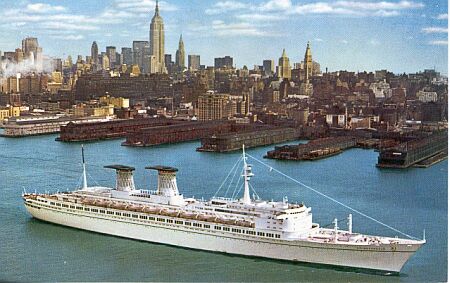 T/n Michelangelo in New York Harbour
Author's Private collection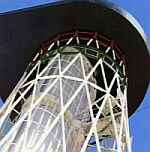 Her unique funnel
Author's Private collection
On October 31, 1965, being just four months after Raffaello's maiden Trans-Atlantic crossing, a fire broke out in her engine room and she limped back to Genoa using one propeller. On April 12, 1966 Michelangelo was hit by a massive stormin the middle of Atlantic, with waves up to 20 meters high, they hit the ship, breaking high over the bridge and washing over the open decks. Then a wave so big, it tore a large hole in the forward superstructure. Sadly, this violent experience saw two passengers and one crew member killed.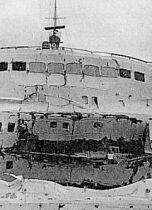 As we can see here the damage was massive
Although grand in every way, sadly Michelangelo and Raffaello had a relatively short 10 year Trans-Atlantic career, which ended due to three factors, the Jet age, the ever increasing running costs, and the Italian Government withdrawing its financial support. As a rescue attempt, in 1974, Italia Line entered both ships on cruise duties with an occasional Trans-Atlantic voyage. But profits continued to decline, which spelled the end of these two remarkable ships. However, their short lived Trans-Atlantic and cruise career, this does not detract of the grandeur of the Michelangelo and Raffaello, for they will always be known as being the pinnacle of Italian shipping. Michelangelo and Raffaello were memorable ships indeed, for who can ever forget those funnels?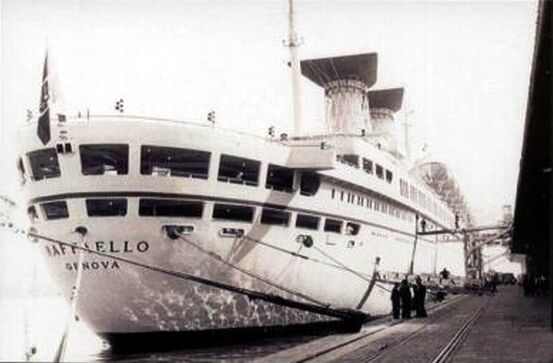 A shapely stern indeed!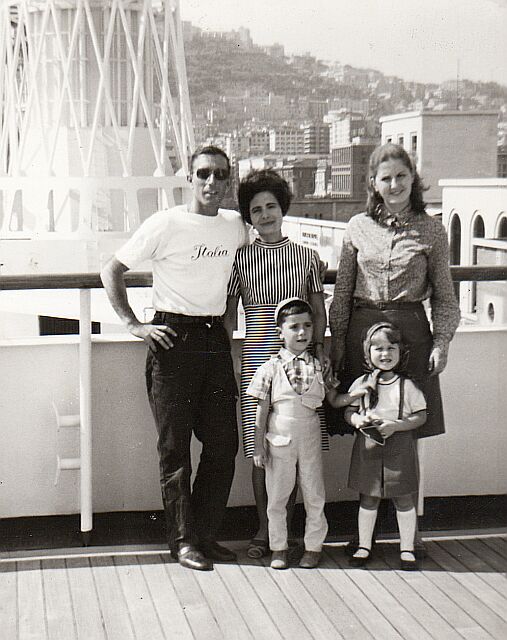 Five year old Emidido Ottaviani with his father & mother on Michelangelo in Naples - September 19, 1968
Provided by Emidido Ottaviani
Although less grand, only one other much loved Italian liner of that era, the 1965 built 39,241 GRT SS Oceanic has survived and is still sailing under her original name with the Spanish Cruise Company, Pullmantur cruises, but sadly both Michelangelo and Raffaello's fate diminished rapidly during the mid seventies.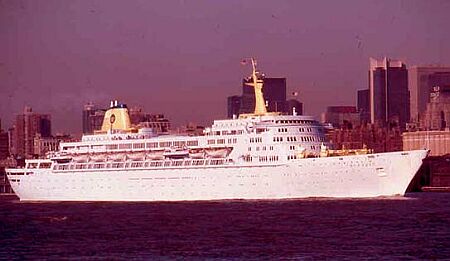 Home Lines SS Oceanic
In 1975 The Italian Government withdrew it financial assistance after which the Raffaello undertook one more Trans-Atlantic voyage, a sailing that was filled with those who loved these two great liners. Amongst them was another fan of the ship, the Duchess of Windsor. Raffaello departed New York on April 21, for her final Atlantic crossing. After disembarking her passengers, she was laid up at La Spezia on June 6. Michelangelo was at first laid up in Genoa on July 5, 1975, but was moved to La Spezia, and moored alongside her sister, on September 15, 1975.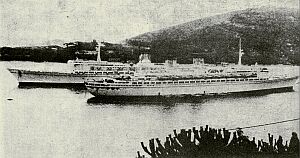 Michelangelo and Raffaello seen laid up in La Spezia
With both ships on the market, Knud Kloster - NCL (who later purchased the SS France, renamed Norway) was the first to inspect them, as did Home Lines, Chandris and Costa Lines. Even the Soviets inspected them, but, all decided against purchasing them, although both ships were in perfect condition.
Then late in 1976, the Shah of Persia (today's Iran) made an offer to buy Michelangelo and Raffaello for the use as barracks for army personnel as well as accommodations for oil workers. Tragically, Italia Line accepted their ridiculous offer, and both ships were sold in February 1977. Although built at a cost of $45 million each, Italia Line sold them for miserly $2 million each. When both ships departed for Persia, their public rooms and lobbies had been stripped of furnishings, art works, as well as all items not required by the Persians.
The final Years
T/n Michelangelo 1977 -1992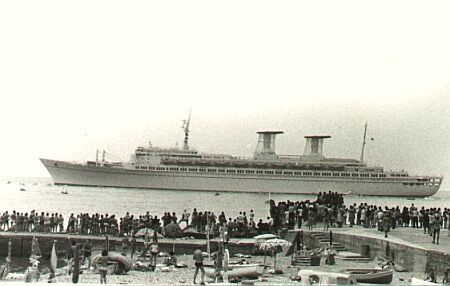 With a crowd watching T/n Michelangelo departs La Spezia for Persia
Michelangelo departed under her own power on July 8, 1977 for Persia, arriving at Bandar Abbas on the 21st. After modifications she was used as military barracks, accommodating 500 officers and 1300 marines from the Persian Navy. The raising of the Persian flag was attended by the Shah of Persia. There had been various rumours that she and Raffaello might be restored as cruise ships, however this never came about. Over the next 13 years, she was badly neglected, which saw the hull and superstructure rusting away and her magnificent teak decks had lifted so badly, she was past the point of repair. Finally in 1991 the Iranians decided that she was too old for any further use, and she was sold to Bangladeshi breakers be broken up. She arrived at the Chittagong breakers yard on June 7, 1991, but she was not scrapped until early 1992.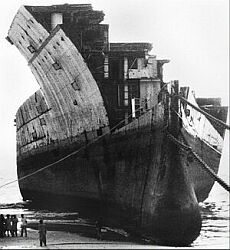 Michelangelo seen beached and partially broken up at Chittagong Bangladesh
T/n Raffaello 1977 - 1983

The once magnificent T/n Raffaello is seen here moored at Bushire Persia/Iran
Raffaello departed for Bushire in Persia. Like her sister she was also modified and was able to accommodate around 1,800 military personnel. However, after a few years she was so badly neglected, she was more popular as home to the local rats and other vermin that Navy personal. To make matters worse, in 1983, during the Iraq/Iran war, Raffaello was targeted by the Iraqi's who relentlessly bombed her until she sank in shallow waters. Some time later the wreck was further damaged as an Iranian cargo ship, the Iran Salam, ploughed into her. This once majestic Trans-Atlantic liner became a total wreck fully submerged in the harbour of Bushire Iran. There has been no further news of her and it is most likely that the wreck will have been removed by now.
Index
1 ...    Italia Line Main Page
2 ...    Michelangelo Photo Album
3 ...    Raffaello Photo Album
4 …     Message in a Bottle – An amazing story of a bottle thrown from Raffaello by Joseph Gulotti
***********************************
Use the Back button on your browser or Close the Page to return to the previous page
or go to our INDEX
***********************************
Who is the Author of ssMaritime?
Commenced in the passenger Shipping Industry in May 1960
ssMaritime.com & ssMaritime.net
Where the ships of the past make history & the 1914 built MV Doulos Story
Also visit my …
"Save The Classic Liners Campaign" & "Classic Ocean Voyages" pages
Photographs on ssmaritime and associate pages are by the author or from the author's private collection. In addition there are some images that have been provided by Shipping Companies and private photographers or collectors. Credit is given to all contributors. However, there are some photographs provided to me without details regarding the photographer/owner concerned. I hereby invite if owners of these images would be so kind to make them-selves known to me (my email address may be found on www.ssmaritime.com only), in order that due credit may be given. I know what it is like, I have seen a multitude of my own photographs on other sites, yet these individuals either refuse to provide credit or remove them when asked, knowing full well that there is no legal comeback when it comes to the net. However, let us show these charlatans up and do the right thing at all times and give credit where credit is due!
This notice covers all pages, although, and I have done my best to ensure that all photographs are duly credited and that this notice is displaced on each page, that is, when a page is updated!
ssMaritime is owned and © Copyright 2010/12 - by Reuben Goossens - All Rights Reserved