M.S. Johan van Oldenbarnevelt, became the T.S.M.S. Lakonia in 1963
Please Note: Firefox & some other search engines may not suitable
Please use Google Chrome for this page to load perfectly!
Click the logo above to reach the ssMaritime FrontPage & the current Featured Ships
With Reuben Goossens
Maritime Historian, Author, Cruise'n'Ship Reviewer and Maritime Lecturer
Please Note: All ssMaritime and related maritime sites are 100% non-commercial and privately owned, thus ssmaritime is NOT associated with any shipping company or any other organisation! Although the author has worked and been involved in the passenger shipping industry for well over 60 years, but due to his old age and poor health, he was forced to retire. Yet, he has completed well over 1,365 Classic Liners, Passenger-Cargo Liners as well as humble converted C3 converted Migrant Liners, which has transported countless thousands of folk to the new world, as well on vacations'. I trust the features online will continue to provide Classic Liner and Ship enthusiasts both the information they are seeking, but more so provide a great deal of pleasure and relive many happy memories!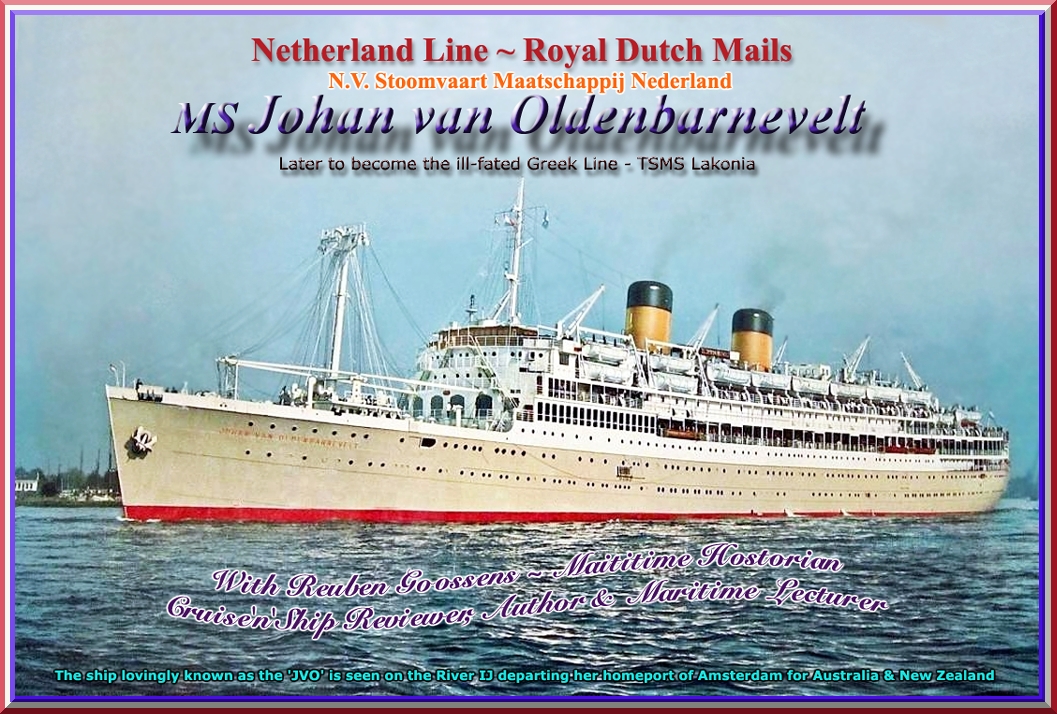 "Memories of the JVO"
MS Johan van Oldenbarnevelt
Please Note
: Chapters with an
*
were recently updated
* Chapter 1 (Part One)   The New Pride of the Netherlands. Her being built and interiors, from Bridge to C Deck.midships.
* Chapter 1 (Part Two)  The New Pride of the Netherlands. Interiors from C Deck to F Deck.
   Chapter 2                  JVO the Trooper. Photographs and details of a number of voyages.
   Chapter 3                  Trooping & Repatriates Services. Including; the Dutch soldier's, Pieter Willem Goldhoorn story!
* Chapter 4                  New Lease of Life. Reborn as a Passenger Liner!
* Chapter 5                  JVO the Cruise Ship. The Author cruises on the JVO in Dec/Jan 1961/62.
* Chapter 6                  Goodbye JVO.
   Chapter 7                  Cruise Ship TSMS Lakonia.
* Chapter 8                  Lakonia's Final Voyage.
   Chapter 9                  The End is Near.
   Chapter 10                Conclusion.
Passenger stories
   Page One                  Boelen Family - The night the JVO almost went down.
   Page Two                  William Hamlyn - 1945 Royal Signalman's voyage home from wartime duties.
   Page Three                Laszlo Pal - A Voyage to Canada.
     Page Four                  Harold Heasman - His service on the JVO from March 1942 to August 1943.
* Running Mates
   Also Read:                MS Oranje / Angelina Lauro - Netherland Line.
      .     "                     MS Sibajak - Royal Rotterdam Lloyd.
   .        "                     MS Willem Ruys / Achille Lauro - Royal Rotterdam Lloyd.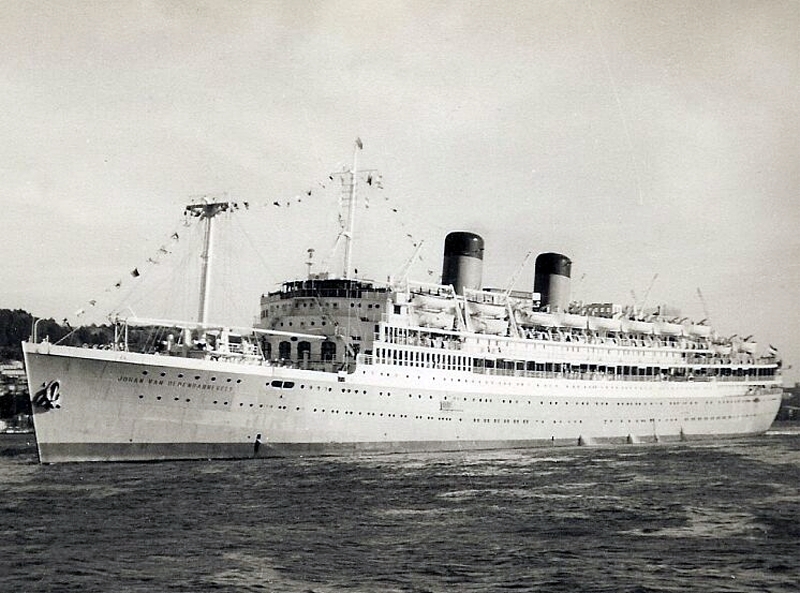 m.s. Johan van Oldenbarnevelt is seen departing Wellington on

her final departure from New Zealand on January 30, 1963

Photograph taken by & © by the author, Reuben Goossens

***************************

 

"Blue Water Liners sailing to the distant shores.
I watched them come, I watched them go and I watched them die."

ENTER OUR … ssMaritime Main INDEX

Where you will discover well over 1,365 Classic Passenger & Passenger-Cargo Liners!

The Author has been in Passenger Shipping & the Cruise Industry for over 60 years!

For interest: Sadly an email service to ssMaritime is no longer available, due to the author's old age and chronic illness as well as being disabled, etc. In the past ssMaritime received well over 140 emails per day, but Goossens can no longer handle same. He sincerely regrets this!

ssMaritime.com & ssMaritime.net

Where the ships of the past make history & the story of the 1914 built MV Doulos

Please Note: ssmaritime and associated sites are 100% non-commercial and the author does not seek funding or favours and never have and never will.

Photographs on ssmaritime and associate pages are either by the author or from the author's private collection. In addition there are some images and photographs that have been provided by Shipping Companies or private photographers or collectors. Credit is given to all contributors, however, there are some photographs provided to me without details regarding the photographer or owner concerned.

ssMaritime is owned & © Copyright by Reuben Goossens - All Rights Reserved