Netherland Line MS Johan van Oldenbarnevelt, sold to become the TSMS Lakonia
Please Note: Firefox & Google Chrome other search engines may not suitable
Please use Internet Explorer - Google for this page to load perfectly!
Click the logo above to reach ssMaritime FrontPage & "Ship of the Month"
With Reuben Goossens
Maritime Historian, Author, Cruise'n'Ship Reviewer and Maritime Lecturer
Please Note: All ssMaritime and other related maritime/cruise sites are 100% non-commercial and privately owned. Be assured that I am NOT associated with any shipping or cruise companies or any travel/cruise agencies or any other organisations! Although the author has been in the passenger shipping industry since 1960, although is now retired but having completed well over 700 Classic Liners and Cargo-Passengers Ships features I trust these will continue to provide classic ship enthusiasts the information they are seeking, but above all a great deal of pleasure!
 "Memories of the JVO"
Introduction Page

and JVO Main Index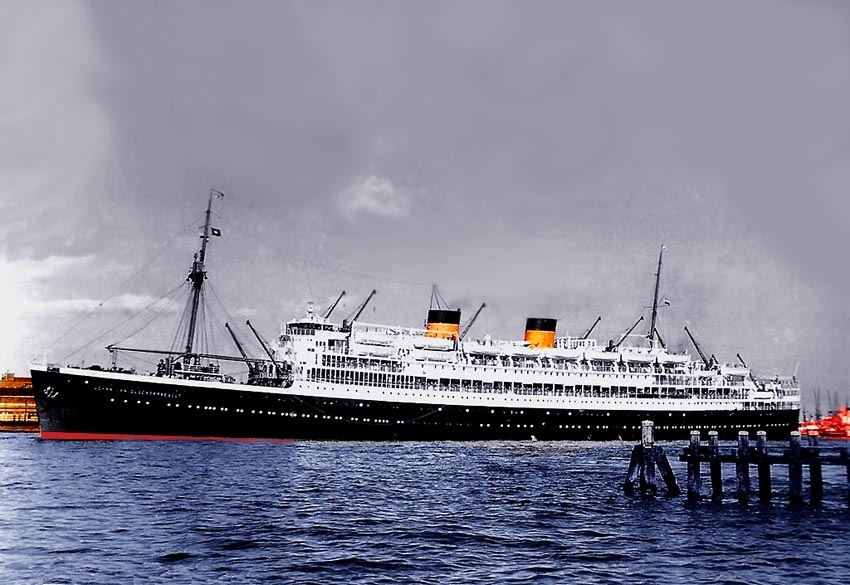 The delightful "JVO" seen looking very much as built in 1952.
The only difference is the additional double stacked lifeboats forward on Boat Deck
From the Author's private collection
Welcome to the special feature covering the Netherland Line passenger liner, which from 1950 so lovingly became known as the "JVO."
Ship enthusiast's worldwide love to delve back to a time when "Ships were really ships," for it was the era when a passenger liner was built as ship first and only then had a Hotel fitted inside them, offering a variety of accommodations. Whilst in these modern days, when they build these massive 100,000 to 200,000 ton apartment blocks (Condo's), which are more like massive glitzy floating resorts, placed on top of a giant barge with a shapely bow. Whilst in the wonderful days of the JVO, ships were built having a sheer, style and so much character and that is why they are so much loved and remembered so many years later. I am amazed when I go on a cruise on a ship that was built around ten to twelve years ago, and there are always passengers that tell me that "she is an old!" What, she is just ten years old, a baby, and her engines have just run in, but that is modern thinking!
This feature is going to deal with a wonderful passenger liner that has proved to be a much-loved ship, especially in the Southern Hemisphere. Personally, I remember the day so well, when I boarded her for the first time, and then sadly I watched my beloved JVO leave our shores for the very last time as she departed Wellington New Zealand on January 30, 1963, and I would never see her ever again, except in the News papers with shocking news later in that same year! She departed Sydney Australia on February 3 for her final voyage, which was unofficially to an undisclosed destination, but it turned out to be Naples.
As we will discover in this work this gracious Dutch liner enjoyed six distinctive lives and several transformations during her long and distinguished career. To this day, she is remembered for her rather long and very difficult name, a name that most people had great difficulty in pronouncing. Of course, I have not as yet officially given her full name as yet, only those three capital letters. Thus what did JVO stand for?
The ship in question is the M.S. Johan van Oldenbarnevelt.
It was more during the thirteen years (February 1950 to February 1963) of regular service and cruises to and from New Zealand and Australia that this Grand Dame of the Sea became so greatly loved, that both the Kiwis and Australians alike lovingly called her the JVO, which was certainly easier to pronounce! At the end of her service with the "Netherlands Line" or "Royal Dutch Mails" as the service had become known. At a good age of thirty-three, she was sold to become the Greek Line' new cruise ship, the TSMS Lakonia, which tragically caught fire during a Christmas Cruise, in December 1963 and subsequently she sank later in December with the tragic loss of 128 lives, with many others injured. For the many that sailed on the JVO and ship lovers around the world, her loss was a time of great sadness. Sadness for the lives lost, and sadness for the demise of a greatly loved ship. The tragic events relating to the burning and sinking of the Lakonia assured her a place in maritime history.
However, it will be the memory of the Fine Dutch liner combined with the excellent service offered onboard the JVO that will remain in the hearts of all who have known and sailed on her, especially for the people of Australia and New Zealand. Although there is no doubt that she had also been a regular visitor to the United States and Canada as well as she was under special charter on a number of occasions to operate seasons to North America, thus there were many who mourned her passing!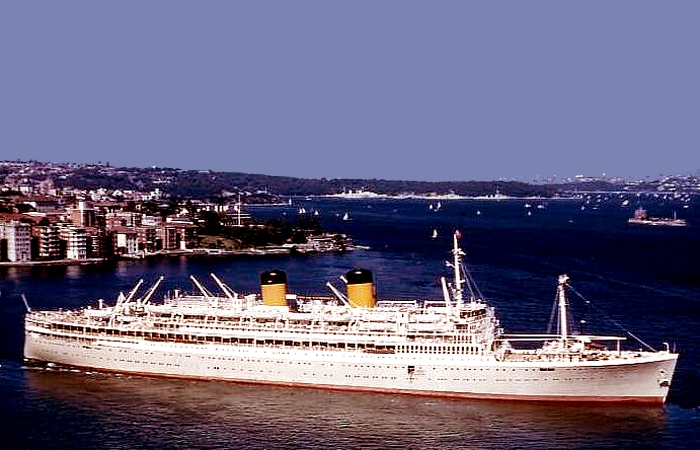 The JVO seen departing Sydney Harbour in January 1962
Photograph from the author's private collection
Thus, I am very proud to present this story, a story of a ship that so proudly carried the Dutch flag from her stern and mast with great pride around the world for a good 33 years. And it covers over 15 WebPages as well as links to her running mates, her newer Netherland Line, MS Oranje, later to become the Angelina Lauro, The older Royal Rotterdam Lloyd liner MS Sibajak as well as the newer MS Willem Ruys, which became the Achille Lauro.
Although I have written on countless British, American, Greek, Italian and other nation's companies, but the Dutch Shipping Companies have certainly plied the globe and made a massive impact on passenger shipping. This includes the famous "Holland America Line," with such famous Liners as the SS Nieuw Amsterdam, which is also online!
But for now enjoy the MS Johan van Oldenbarnevelt, and the very tragic story of the 1963 Greek cruise ship the TSMS Lakonia!
Reuben Goossens.
Maritime Historian, Author, Lecturer, & Cruise & Ship Reviewer.
Commenced in the Passenger Shipping Industry in 1960.
**************************************************
Please Note
: Chapters with an
*
were recently updated:
* Chapter 1 (Part One)   The New Pride of the Netherlands. Her being built and interiors, from Bridge to C Deck.midships.
* Chapter 1 (Part Two)  The New Pride of the Netherlands. Interiors from C Deck to F Deck.
   Chapter 2                  JVO the Trooper. Photographs and details of a number of voyages.
   Chapter 3                  Trooping & Repatriates Services. Including; the Dutch soldier's, Pieter Willem Goldhoorn story!
* Chapter 4                  New Lease of Life. Reborn as a Passenger Liner!
* Chapter 5                  JVO the Cruise Ship. The Author cruises on the JVO in Dec/Jan 1961/62.
* Chapter 6                  Goodbye JVO.
   Chapter 7                  Cruise Ship TSMS Lakonia.
* Chapter 8                  Lakonia's Final Voyage.
   Chapter 9                  The End is Near.
   Chapter 10                Conclusion.
Passenger stories
   Page One                  Boelen Family - The night the JVO almost went down.
   Page Two                  William Hamlyn - 1945 Royal Signalman's voyage home from wartime duties.
   Page Three                Laszlo Pal - A Voyage to Canada.
     Page Four                  Harold Heasman - His service on the JVO from March 1942 to August 1943.
* Running Mates
   Also Read:                MS Oranje / Angelina Lauro - Netherland Line.
      .     "                     MS Sibajak - Royal Rotterdam Lloyd.
   .        "                     MS Willem Ruys - Royal Rotterdam Lloyd.
Holland America Line:    SS Nieuw Amsterdam.
**************************************************
"Blue Water Liners sailing to the distant shores.
I watched them come, I watched them go and I watched them die."
ENTER OUR … ssMaritime Main INDEX
Where you will discover well over 700 Classic Passenger & Passenger-Cargo Liners!
ssMaritime.com

& ssMaritime.net
Where the ships of the past make history & the story of the 1914 built MV Doulos
If requesting Passenger or Crew Lists or Sailing Schedules, I am sorry your email will be Deleted!
I receive hundreds of requests and I simply do not have any lists or schedules available.
Please Note: ssmaritime and associated sites are 100% non-commercial and the author does not seek funding or favours and never have and never will.
Photographs on ssmaritime and associate pages are either by the author or from the author's private collection. In addition there are some images and photographs that have been provided by Shipping Companies or private photographers or collectors. Credit is given to all contributors, however, there are some photographs provided to me without details regarding the photographer or owner concerned. Therefore, I hereby invite if owners of these images would be so kind to make them-selves known to me; my email address can be only be found at www.ssmaritime.com in order that due credit may be given.
ssMaritime is owned & © Copyright by Reuben Goossens - All Rights Reserved