M.S. Kota Singapura & Kota Bali previously the - M.S. Tjiwangi & Tjiluwah
Please Note: Firefox and some other Search Engines may not be suitable
Use Google Chrome for this Web Page to load perfectly!

Please Note: All ssMaritime and other related maritime sites are 100% non-commercial and privately owned, thus ssmaritime is NOT associated with any shipping company or any other organisation! Although the author has worked and been involved in the passenger shipping industry for well over 60 years, but due to his old age and poor health, he was forced to retire. Yet, he has completed well over 1,435 Classic Liners, Passenger-Cargo Liners as well as humble converted C3 converted Migrant Liners, which has transported countless thousands of folk to the new world, as well on vacations'. Amazingly, ssmaritime.com has received 573.4 million visitors to date I trust the features online will continue to provide Classic Liner and Ship enthusiasts both the information they are seeking, but more so provide a great deal of pleasure and relive many happy memories!
M.S. Tjiwangi & Tjiluwah
Sold to become … "Pacific International Lines" (PIL)
M.S. Kota Singapura & Kota Bali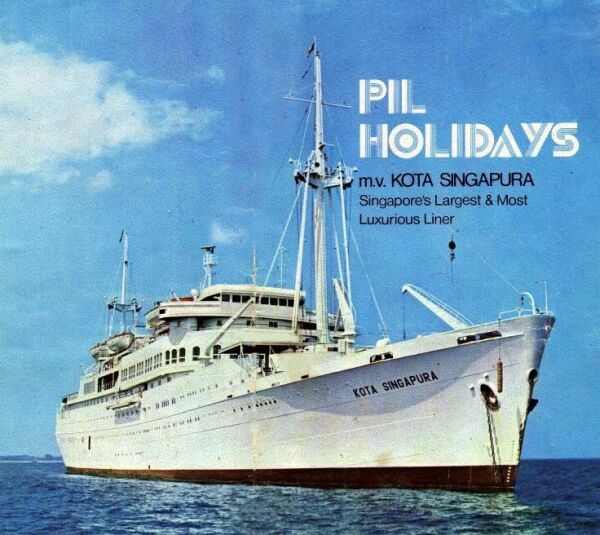 M.S. Kota Singapura still looking a fine yacht like liner
Having been purchased by 'Pacific International Lines' of Singapore, the Tjiluwah was delivered to her new owners in January 1972 and was renamed M.S. Kota Singapura.  Whilst the Tjiwangi was renamed M.S. Kota Bali and she arrived in Singapore some time later. Both ships were placed on the Singapore / Fremantle and Singapore / Malaysia services. Having received interior renovations, although their outward appearance remained unaltered. Two new public venues were added on C deck just aft of the main Dinning Room; 1: The Dragon Chinese Restaurant. 2. The Hibiscus Lounge and Bar.
Many Australians enjoyed cruising on them, whilst others undertook one way voyage combined with a flight to or from the UK. One such passenger was Sharon Lambert who with her family sailed on Kota Singapura from Singapore on April 9, 1972 to Fremantle. She recalls being excited of going on an ocean voyage. The ship was a delight and during the voyage she, her Mother and younger sister enjoyed the crew's hospitality and remember with fondness Mr. Tang Hong Tay one of the ships officers. Their cabin was located on C Deck and at times sailing in heavy swells along the West Australian coast the family suffered from some seasickness.
All images on this page (except where marked otherwise) were kindly provided by Sharon and we are very grateful!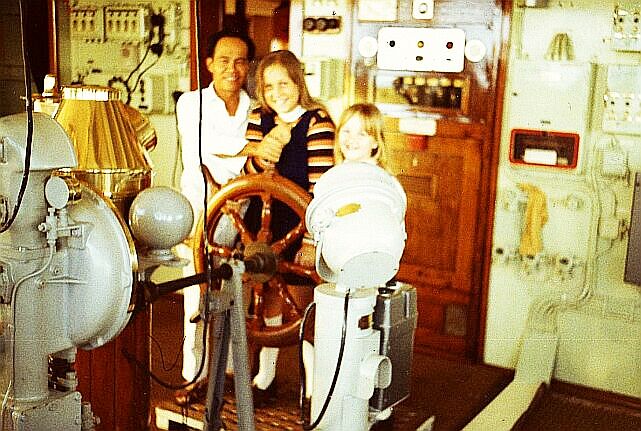 10 year old Sharon (in stripped blouse) and her 7 year old sister seen on the Bridge seen with a Bridge crew member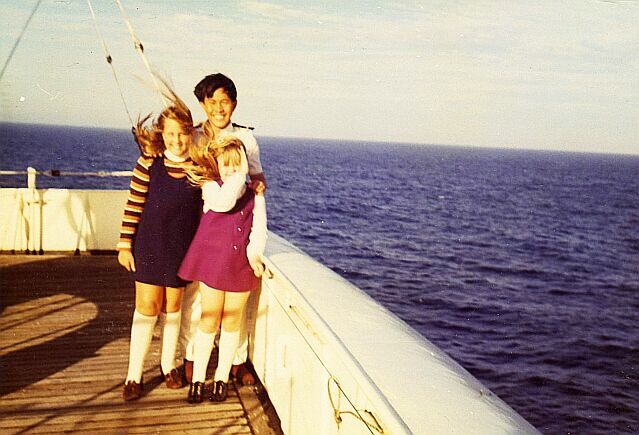 Sharon, sister and Tang Hong Tay seen on a windy day out on deck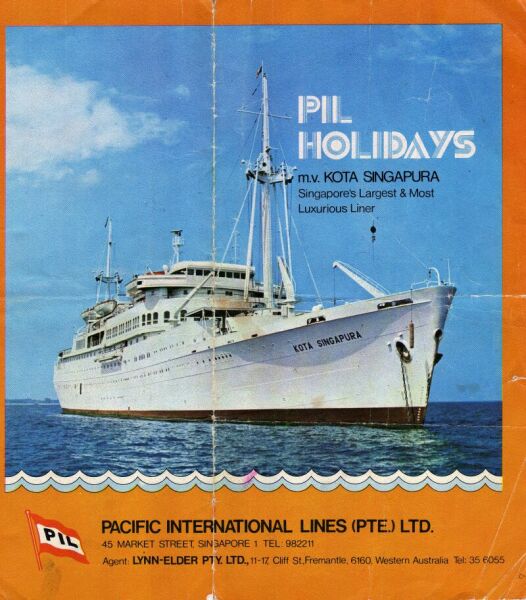 Front cover of a PIL brochure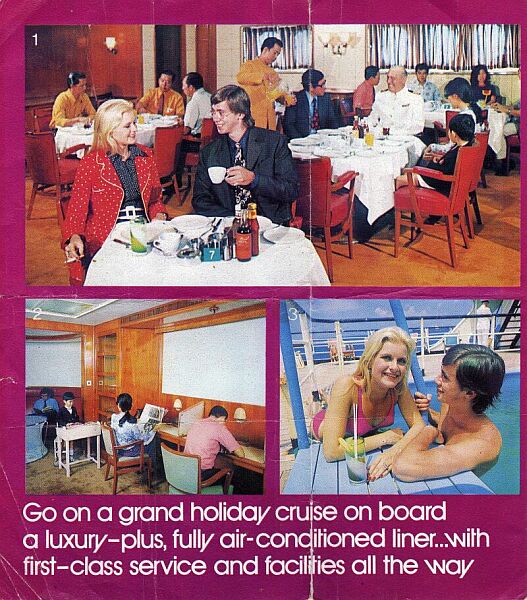 Above and below: The brochure shows the ships interiors as well as the main pool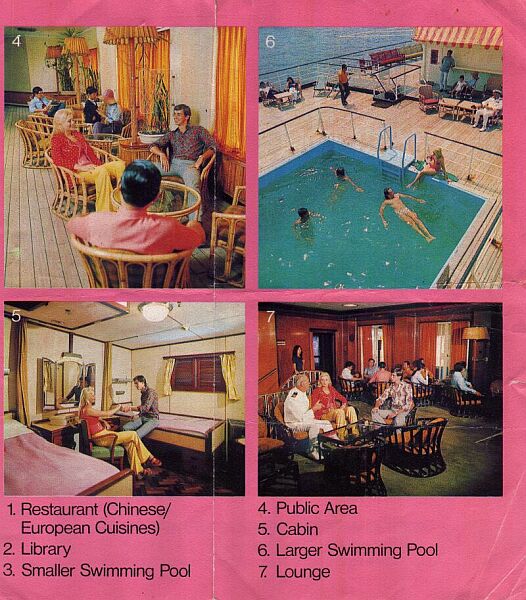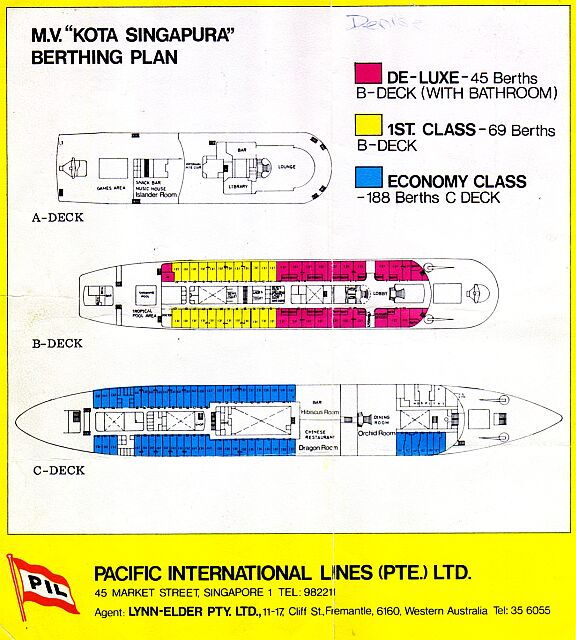 The cabin plan shows the three main passenger deck's. Topside there was boat (sports) deck, which is not shown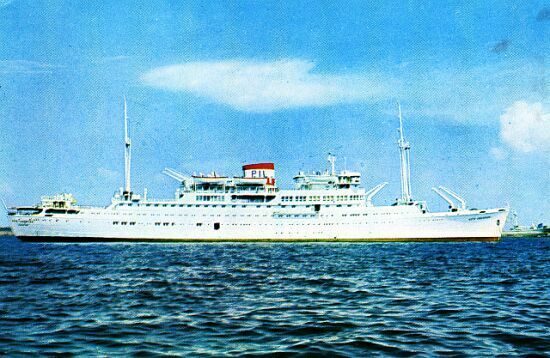 Above and below: A postcard from crew member Tang Hong Tay to Sharon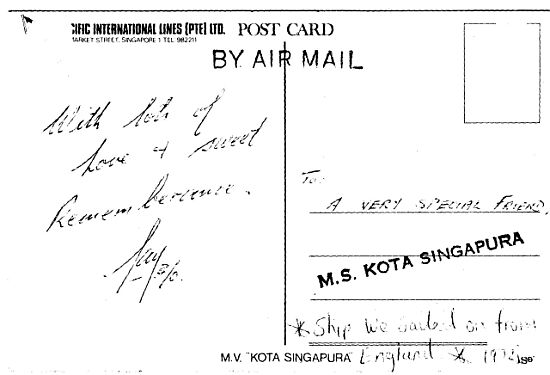 Specifications:
Built by:                       Van Der Giessen & Zonen. Krimpen, Netherlands.
Tonnage:                     9,020 GRT.
Length:                        479 ft – 146m.
Beam:                         63 ft – 19.2m.
Draught:                      23.7 ft – 7m.
Power:                         Werkspoor diesels.
Screws:                       two.
Speed:                         16 knots.
Passengers:                  230 One Class.
Passenger Decks:          Four.
Crew:                          200.
Livery:                         White Superstructure, Black Funnel with red boot-topping.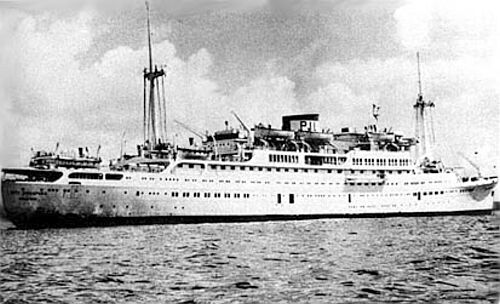 Although aging, Kota Singapura still looked an attractive ship
From the authors private collection
In 1979, Kota Singapura was withdrawn, sold, and broken up in Taiwan early 1980, whilst Kota Bali was sold to Malaysia and was broken up in Shanghai China in April 1984.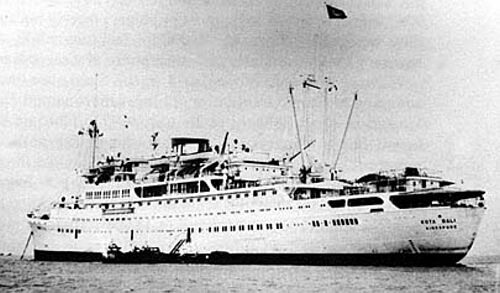 Kota Bali also seen towards the end of her career with PIC
From the authors private collection
I trust that you have enjoyed this article on these two remarkable small and elegant ships, and that is just what ssmaritime is all about, bringing back happy memories!
As Built the M.S. Tjiwangi and Tjiluwah will always be
… remembered as the "Elegant White Yachts"
Page One:     Tjiluwah – Tjiwangi History Page.
Deck Plan:    Tjiluwah – Tjiwangi.
Page Two:    Kota Singapura, ex Tjiluwah - Kota Bali, ex Tjiwangi (This Page).
Page Three:  RIL Memorabilia – A host of RIL memorabilia items.
"Blue Water Liners sailing to the distant shores.
I watched them come, I watched them go and I watched them die."

Featuring over 1,435 Classic Passenger Liners, Passenger-Cargo Liners & Classic Cruise Ships!
Or ENTER HERE
For interest: Sadly an email service to ssMaritime is no longer available, due to the author's old age and chronic illness as well as being disabled, etc. In the past ssMaritime received well over 120 emails per day, but Mr. Goossens can no longer handle same. He sincerely regrets this!
*********************
ssMaritime.com & ssMaritime.net
Where the ships of the past make history & the 1914 built M.S. Doulos Story.
The Author has been in Passenger Shipping & the Cruise Industry for well over 60 years
In addition he was the founder of "Save the Classic Liners Campaign" in 1990.
Please Note: ssmaritime and associated sites are 100% non-commercial and the author seeks no funding or favours of any shape or form, never have and never will!
Photographs on ssmaritime and associate pages are by; the author or from the author's private collection. In addition there are some images that have been provided by Shipping Companies and private photographers or collectors. Credit is given to all contributors. However, there are some photographs provided to me without details regarding the photographer/owner concerned.
This notice covers all pages; although, and I have done my best to ensure that all photographs are duly credited and that this notice is displaced on each page, that is, when a page is updated!
ssMaritime is owned & © Copyright by Reuben Goossens - All Rights Reserved