ssMaritime
Photographs now loading
If there is an empty box, wait it will load
MS Kungsholm III
Europa, Columbus C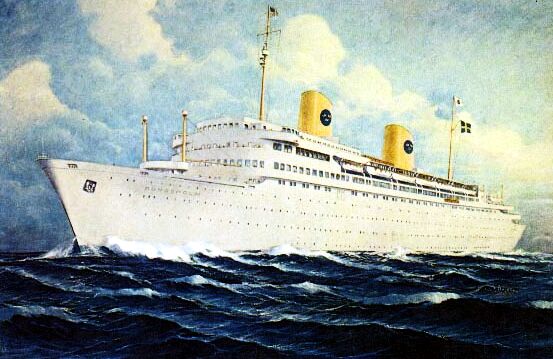 An original Swedish America Line postcard
Author's collection
Swedish America Line (SAL) decided to build the third Kungsholm, which become lovingly known as the first of the "White Vikings." On April 1, 1950 an order was placed with the Dutch De Schelde Shipyards in Vlissingen to build her. Kungsholm was a remarkable ship for SAL as she was the first of three two-funnelled "White Vikings" to be built. However, many are not aware, but the forward funnel was for effect and it was a dummy funnel. The reason for it was very simple, it made the Kungsholm and her two later sisters extremely attractive looking ships.
Kungsholm was designed to be both a Trans Atlantic Liner as well as a cruise ship, and she proved to be popular in both these roles. She was laid down on January 20, 1951 At 21,141 GRT (gross registered tons), launched by the Swedish Princess, Sybill on October 18, 1952, but she was not delivered to SAL until September 30, 1953.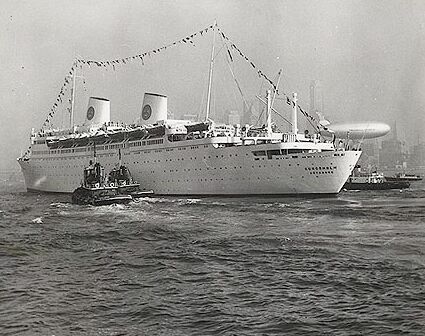 Kungsholm arrives in New York on her maiden voyage
Simplon - Visit www.simplonpc.co.uk
On November 24, she departed Gothenburg for New York. Between 1953 and 1965 she operated line-voyages and cruises successfully.
On Atlantic line voyages, she had a relatively small passenger capacity of just 802 berths, 176 first class and 626 tourist class passengers. She had a crew of 418. All cabins (including crew accommodations) were outside, fully air-conditioned and all passenger accommodations had private facilities, this was a first on the Atlantic run.
Kungsholm operated the Atlantic run during the northern summer, and operated luxury cruises between autumn and spring to exotic ports of call as well as a around the world voyage, during which I had the honour to visit and dine on her in Wellington New Zealand. Amazingly she only carried 400 passengers on long cruising, obviously offering the fines cruise experience possible, unlike the over crowded cruise ships of today. Her cruises proved to be so successful SAL decided to end her line voyages of the Atlantic and place her on permanent cruise duties.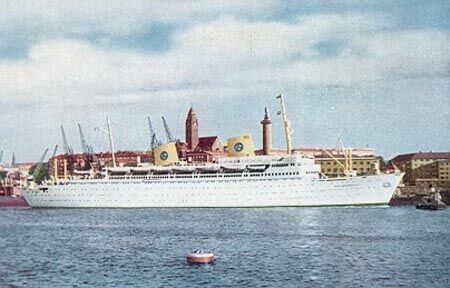 Simplon - Visit www.simplonpc.co.uk
To keep her standards high she was refitted and given stabilizers in 1961, costing around $1 million. To today's standards, it may not seem much, but it was a great deal of money in 1961.
Kungsholm III was so successful, SAL decided to build a new, larger (26,678 GRT) even more luxurious ship the Kungsholm IV. She was ordered to be built by the famous Scottish shipyard, John Brown & Company at Clydebank.
Kungsholm IV
Photographer Unknown
As the new Kungsholm IV was about to be delivered, on June 12, 1964, SAL announced that Kungsholm III had been sold to the Norddeutscher Lloyd (NDL) for $8.6 million. However, Kungsholm remained in service until her final voyage, which was a Trans Atlantic sailing on August 21, 1965, and was delivered to NDL on October 15, 1956.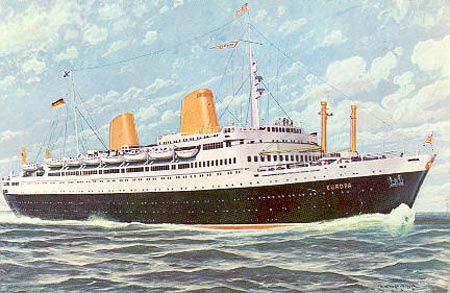 An artist's impression - Norddeutscher Lloyd's first post card of the Europa
Author's collection
Renamed Europa, NDL sent her to Bremerhaven for a comprehensive, which would see her passenger capacity changed to 122 first class, and 721 tourist class. She was repainted in the NDL colours, a black hull and yellow funnels. She departed on her maiden voyage from Bremerhaven to New York on January 9, 1966. Her service mirrored the original SAL schedule, the Atlantic run during the summer months and cruises between autumn and spring. Europa was without a doubt the most successful cruise ship in her day setting high standards, which the Germans are famous for.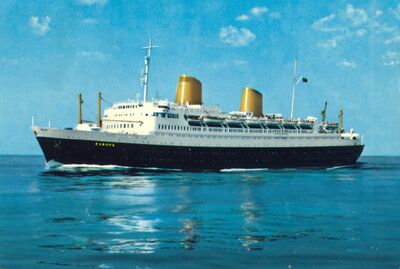 MS Europa strikes an elegant pose as a NDL liner
Simplon - Visit www.simplonpc.co.uk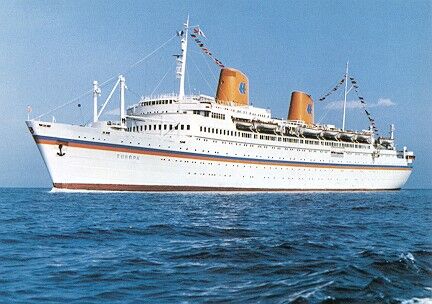 The all white Europa, with green & yellow band and new Hapag-Lloyd logo's on her funnels
Author's collection
In 1970 she was transferred to Hapag-Lloyd, and was painted white in May 1971. She continued cruising successfully for the next ten years.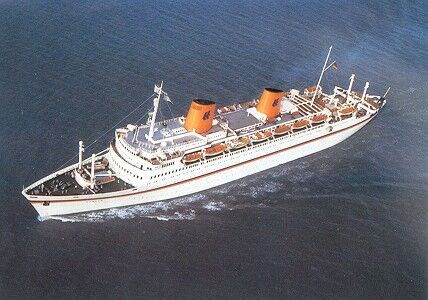 A fine aerial shot of the Europa
Simplon Visit www.simplonpc.co.uk
However, with new ships on order, Hapag-Lloyd decided to sell the Europa to Costa Armatoru (Costa C Cruises) in July 1981 for 15 million Marks.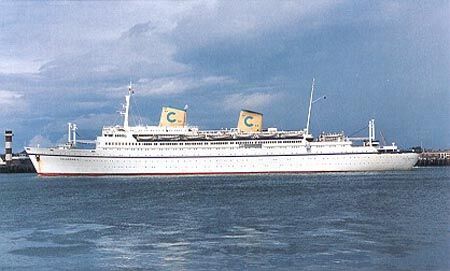 Even as the ill-fated Colombia C. she retained that elegant streamlined look
Simplon Visit www.simplonpc.co.uk
She entered service as the Colombia C in 1981. However, sadly her days were close to an end, for she rammed a breakwater in Cadiz Spain on July 29, 1984. Although her keel was badly damaged, she was still able to reach her berth, but soon sank alongside her berth. She was refloated on November 1, 1984
, and was laid up until sold to Mirak SA Spain to be scrapped. She arrived at the breakers yard in Barcelona on April 4, 1985. It was end for one of the greatest liners and cruise ships of her day, having been in service for 32 successful years.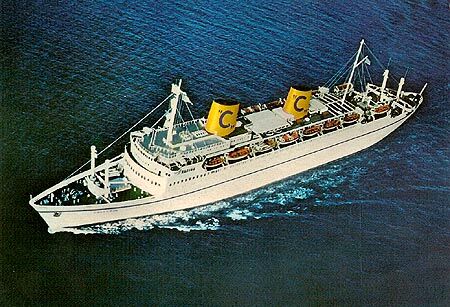 Farewell Old Girl!
Author's collection
Thank you Ian Boyle of "Simplon Postcards" for the use of images used on this page - www.simplonpc.co.uk
Page Two – One Kungsholm brochure & other images
For the latest Classic Liner News, visit one of the following pages
Use the Back button on your browser or Close the Page to return to the previous page
or go to our INDEX
***************************************************
Who is the Author of ssMaritime?
Visit the …
This excellent site is produced and maintained by Alex Naughton in the UK.
Alex covers many great classic liners; those that remain today, and those that have now long gone
To find the ship you are looking for, use our Search engine below
Please name the ship you are commenting on
PLEASE NOTE: I receive hundreds of requests for Passenger Lists and Sailing Schedules. I hereby wish to advise that I am unable to assist due to time restrains and as most shipping companies have long gone these lists/schedules are no longer available. I regret to advise that any request for these will no longer be answered.
ssMaritime
--Our Cruise Pages are located at--
e-CruiseWorld.com - Cruise-Australia.net
Discover Cruising at its Best
PO Box 2039 Runcorn Qld 4113 Brisbane Australia
Photographs on ssMaritime and associated cruise sites are 1. By the author. 2. From the author's private collection. 3. As provided by Shipping Companies and private photographers. Credit is given to all contributors. However, there are some photographs sent to us without details of the photographer/owners concerned. We would therefore appreciate if owners of these photographs would make themselves known to me, that due credit may be given.
© Copyright 2007 – Reuben Goossens - All Rights Reserved