Click the logo above to reach the ssMaritime FrontPage for News Updates & "Ship of the Month"
With Reuben Goossens
Maritime Historian, Cruise'n'Ship Reviewer & Author
Lloyd Triestino Line
M/V Africa – Europa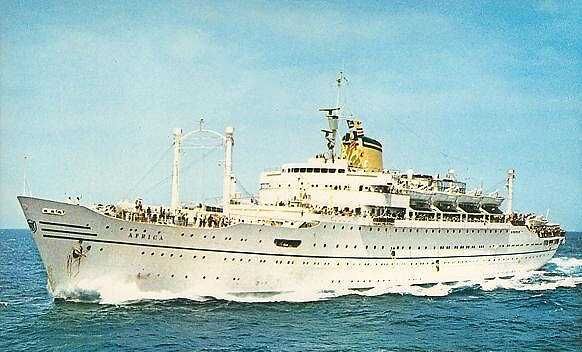 M/V Africa was the first of this pair to be built
Postcard from the author's private collection
The Africa and Europa were unique and some of the most handsome small passenger liver built in the fifties and they were part of a series of seven almost identical ships built in the following order:
<![if !supportLists]>1. <![endif]>M/V Australia, Oceania and Neptunia were all built in 1951 and operated the Australian service.
<![if !supportLists]>2. <![endif]>M/V Africa and the Europa were built in 1952 and operated on the African service.
<![if !supportLists]>3. <![endif]>M/V Asia and Victoria were built in 1953 and served on the Asian service.
Lloyd Triestino decided to build two more of the Australia series of ship to be used on the company's Express African service. Prior to the war this service was operated by the Duilio and the Giulio Cesare.
The Africa was built by Cant. Riuniti dell' Adriactio Ship Yards, Monfalcone Yard # 1763, and was launched on January 24, 1951. She was completed and departed on her maiden voyage from Genoa to Cape Town in February 1952.
The Europa was built by the Ansaldo Ship Yards La Spezia, Yard #319, and was launched on October 21, 1951. She was completed and departed on her maiden voyage from Trieste to Cape Town in October 1952.
As built they were three class liners, but in 1960 they became two class ships, which we will deal with here. Each class had a series of attractive public rooms and each had their own swimming pool, which was unique on smaller liners of their time. First Class public rooms were located on Promenade Deck, with the Lido deck and Pool above. The Tourist Class main deck space was below on upper Deck, whilst all main public rooms were located aft on a Deck. Just forward of the Tourist Class lounges were the Tourist Class Dinning room, the Galley, and the First Class dinning Room located amidships. Each ship had one twin bedded First Class suite with its own sitting room and space for a third passenger. All twin and three berth First Class cabins had private facilities with a shower, whilst some of the single cabins had a bath. Tourist accommodations offered 2, 3 and 4 berth cabins some having a "semi-private shower. Both ships had 5 holds, the 5th being the Tourist Class swimming pool.
Specifications:
Africa - Europa
Tonnage:                           11,427 GRT – 11,430 GRT
Length:                             159.3m – 523ft
Width:                              20.8m – 68.2ft
Engines:                            Sulzer Diesels from the builder – FIAT Diesels from the builder
Screws:                             Two – 16,800 BHP
Service speed:                    19.5 knots
Maximum speed:                21.5 knots
Passengers:                       148 First Class – 252 Cabin Class – 84 Tourist Class (1962 to 1960)
                                        148 First Class – 298 Tourist Class (1960)
Crew:                                215 (1960)
Ports of Call: Genoa/Trieste, Venice, Brindisi, Port Said, Aden, Mogadishu, (Mombasa), Dar-es-Salaam, Beira, Durban, Cape Town, Port Elizabeth East London, Durban – Return to Italy. Departures were based on 3-4 weekly intervals. In 1967 both ships sailed from Trieste to Cape Town with Mombassa added to the schedule.
In 1976, it became obvious that with air travel taking an effect on sea travel these ships were no longer viable thus Lloyd Triestino decided to take M/V Africa off the route, and she was laid up in Trieste on January 31. M/V Europa continued for another seven months, but was sold in September to Ahmed Mohamed Baaboud of Saudia Arabia. She was renamed M/V Blue Sea and was to be used as a pilgrim and accommodation ship. Sadly, just two months later, whilst at Jeddah she caught fire, gladly, all passengers disembarked safely, but, the ship sank at her anchorage during the night of November14, 1976.
M/V Africa remained laid up, but was renamed M/V Protea in December of 1976, and was broken up in 1980.
Photo Album
Photographs below are from a 1958 Lloyd Triestino brochure
and were kindly provided by timetableimages.com/maritime
Except those marked otherwise
Part One
M/V Africa
First Class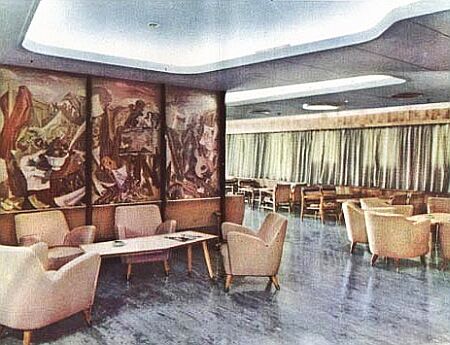 Main Lounge & Smoking Room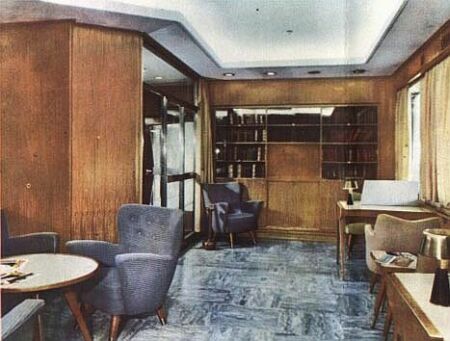 Library & Writing Room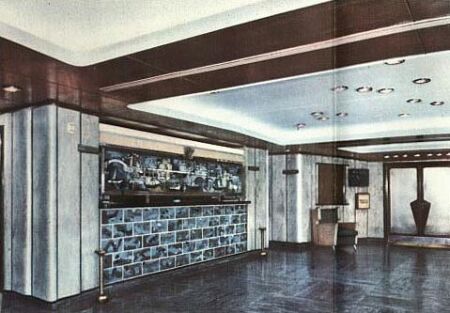 Main Lobby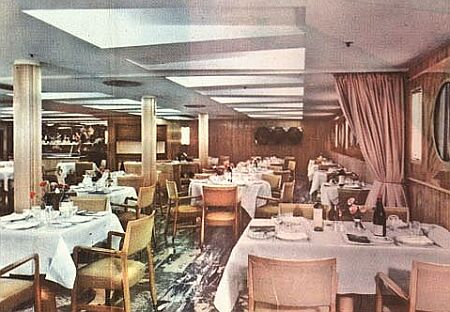 Dinning Room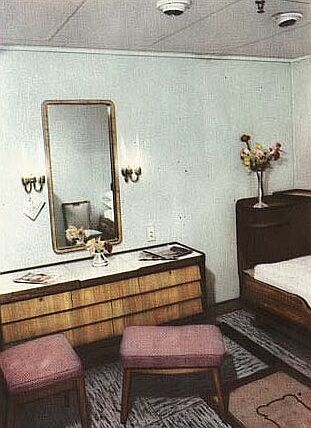 Twin bedded cabin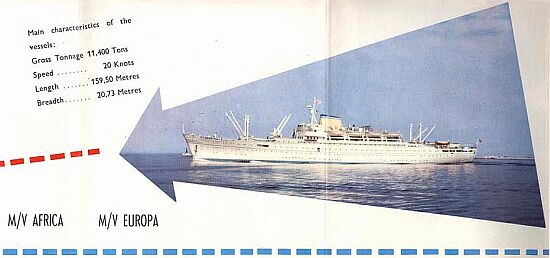 Inside - 1958 brochure
Tourist Class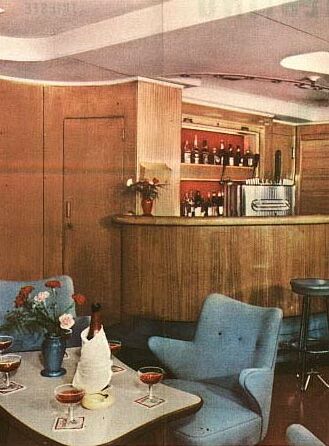 Main Lounge & Bar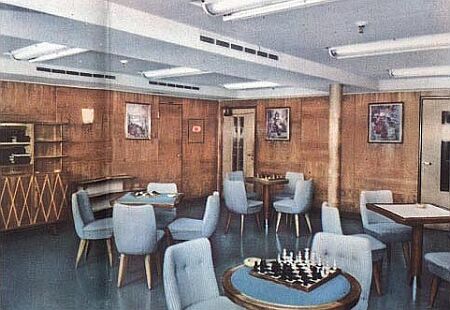 Card Room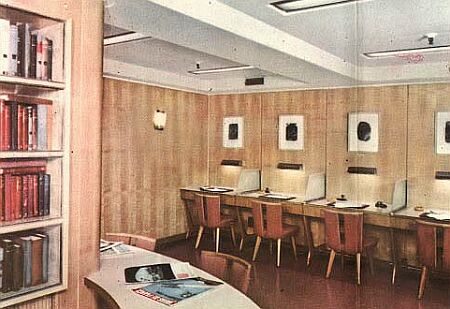 Library & Writing Room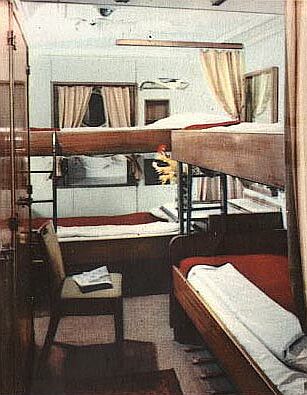 Four berth cabin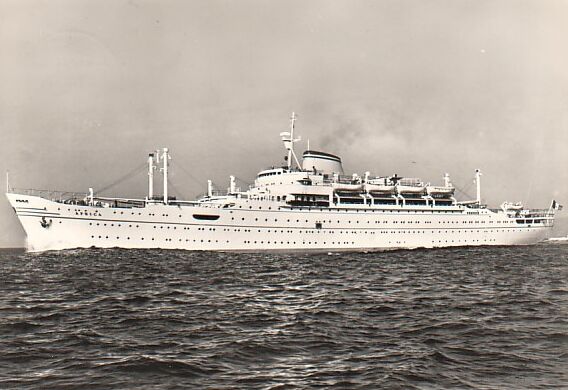 M/V Africa, like her sisters were sleek and Yacht like looking ships
Postcard from the author's private collection
Part Two
M/V Europa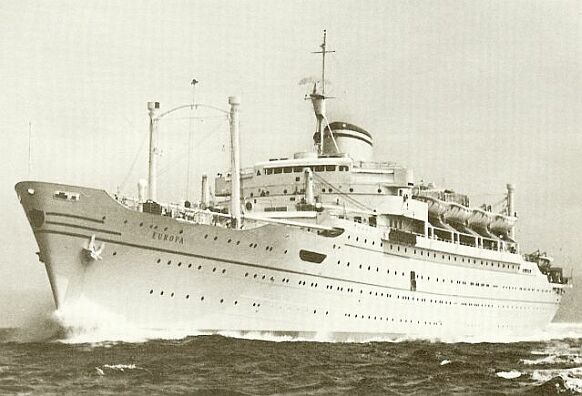 M/V Europa
Postcard from the author's private collection
First Class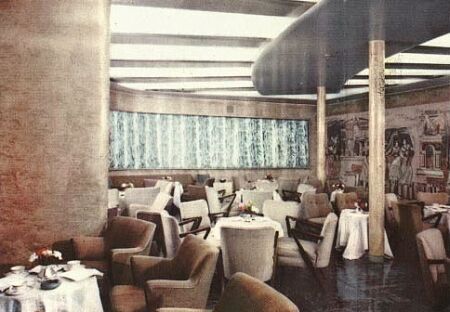 Main Lounge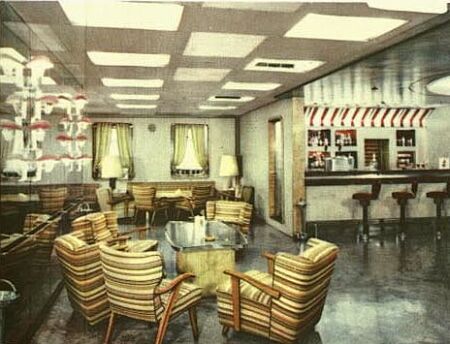 Verandah & Bar
Tourist Class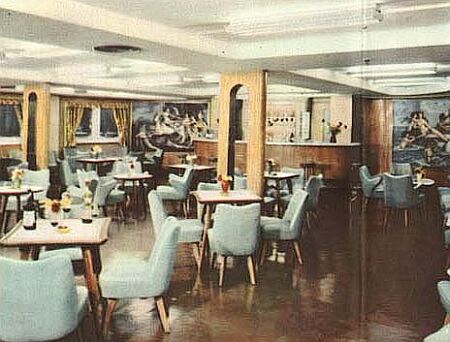 Main Lounge & Bar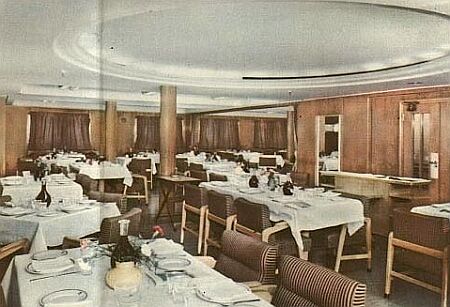 Dinning Room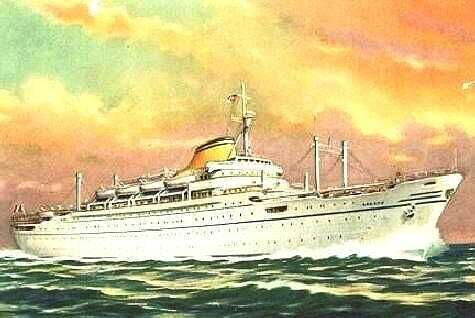 Postcard with an Artist impression of the Europa
Postcard from the author's private collection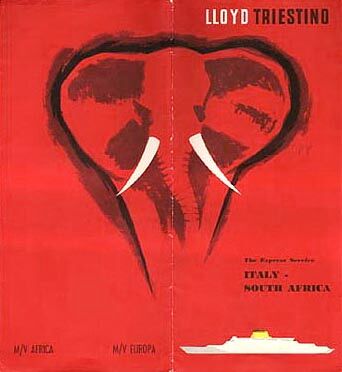 1958 brochure cover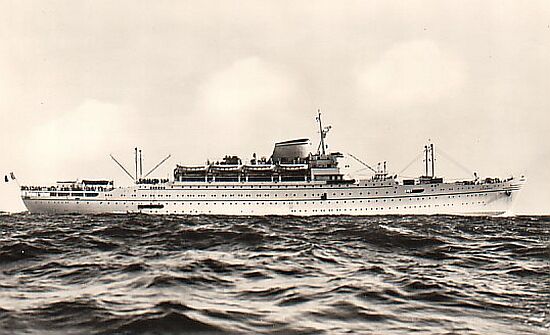 M/V Europa

Postcard from the author's private collection

*************************************

Other Lloyd Triestino Ships on ssMaritime:

MS Australia and Oceania & Neptunia

TN Galileo & Marconi &  SS Toscana

Use the Back button on your browser or Close the Page to return to the previous page
or go to our INDEX

***********************************

Who is the Author of ssMaritime?

Commenced in the passenger Shipping Industry in May 1960

ssMaritime.com & ssMaritime.net

Where the ships of the past make history & the 1914 built MV Doulos Story

Also visit my …

"Save The Classic Liners Campaign"

Photographs on ssmaritime and associate pages are by the author or from the author's private collection. In addition there are some images that have been provided by Shipping Companies and private photographers or collectors. Credit is given to all contributors. However, there are some photographs provided to me without details regarding the photographer/owner concerned. I hereby invite if owners of these images would be so kind to make them-selves known to me (my email address may be found on www.ssmaritime.com only), in order that due credit may be given. I know what it is like, I have seen a multitude of my own photographs on other sites, yet these individuals either refuse to provide credit or remove them when asked, knowing full well that there is no legal comeback when it comes to the net. However, let us show these charlatans up and do the right thing at all times and give credit where credit is due!

This notice covers all pages, although, and I have done my best to ensure that all photographs are duly credited and that this notice is displaced on each page, that is, when a page is updated!

ssMaritime is owned and © Copyright by Reuben Goossens - All Rights Reserved