S.S. Toscana the Fam. Shelling Story
Please Note: Firefox and some other Search Engines may not be suitable
Use Google Chrome for this Web Page to load perfectly!

Please Note: All ssMaritime and other related maritime sites are 100% non-commercial and privately owned, thus ssmaritime is NOT associated with any shipping company or any other organisation! Although the author has worked and been involved in the passenger shipping industry for well over 60 years, but due to his old age and poor health, he was forced to retire. Yet, he has completed well over 1,365 Classic Liners, Passenger-Cargo Liners as well as humble converted C3 converted Migrant Liners, which has transported countless thousands folk to the new world, as well on vacations'. I trust the features online will continue to provide Classic Liner and Ship enthusiasts both the information they are seeking, but more so provide a great deal of pleasure and relive many happy memories!
Please Note: Postcards, photographs & other images are either from the author's private collection, unless stated otherwise. A special thank you to ssmaritime supporters who have sent in various photographs.
With Reuben Goossens
Maritime Historian, Cruise'n'Ship Reviewer, Author and Lecturer
Commenced in the Passenger Shipping & Cruise Industry in 1960
Lloyd Triestino Line
S.S. Toscana
Page two
The Family Shelling story
Sailing on Toscana's Maiden Voyage from Genoa to Sydney - October 19, 1948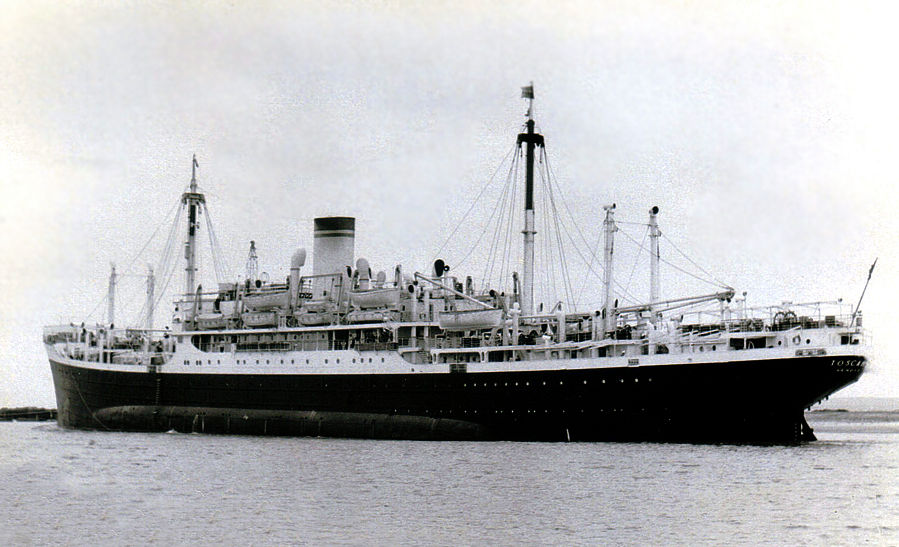 S.S. Toscana is seen arriving in port, note the amidships sponsoon, which is never shown on a Lloyd Triestino postcard!

Photograph above is by J.Y. Freeman - from the Rich Turnwald collection

Please Note: All Photographs and Images shown below are by, or provided by

Mabel & her son, Assoc Prof. Andrew Shelling.

On February 18, 2014 I received an email from New Zealand's Professor Andrew Shelling related to how his family came to Australia on the S.S. Toscana. Amazingly at that very same time, I was updating this feature, as I was doing many of the pages that required looking at and I am going slowly through them. But his email came as an appropriate time.

He wrote "I had heard stories of my parent's trip from England to Australia after the war on the S.S. Toscana. (And) when I recently visited mum, she is 88, and reasonably healthy, but she has a remarkable memory, she was telling me more stories, and she was always wondering about the ship and what happened to her. It just struck me to do a Google search, and we magically came up with your page. She was overwhelmed, and has taken enormous pleasure in reading about the ship. I think she was surprised that anything so useful was on the internet."

Attached to the email was a long and a neatly hand written story by Mrs Shelling about her and her late husband and 14 month baby girl Anne experiences on the ship, and believe me it makes for amazing reading, for Mabel Shelling tells it just as it was and she certainly does not dress it up!

I trust that you will enjoy reading this tale, of a mother who did find her voyage with her little girl in a large dormitory difficult, and I know that so many women had to suffer in the same way on so many other ships, for men and women were separated as soon as they were boarded, and usually they were not told until they were on the ship, thus it came as quite a shock!
Introduction:
I hereby wish to thank Associate Professor Andrew Shelling, the son of the late Willem (later better known as William) and the now wonderful 88-year-old Mrs. Mabel Shelling who is the heart of this feature, more-so than the ship. The truth is, it is dear Mabel who is telling her story of her voyage and it is one that should be heard for migrating with a little 14 month little girl is not that easy, especially when you discover that you are in on of the holds of the ship that have been hastily converted into dormitories, with women on one side and the men on the other.
We need to remember, that she had just completed her services from Africa, and now she was about to commence her maiden voyage for her new service to Australia, sailing from Genoa, via Naples, Port Said, Suez, Aden, Colombo, Fremantle (Perth), Melbourne to Sydney and return.
Reuben Goossens.
Family details -
Part One
:
Mr William Shelling was born as Willem Schellingerhout on May 28, 1924 in Zwijndrect, the Netherlands. He at the age of 12 and his family left the Netherlands before the war and settled in Hull, Yorkshire, being the home of Mabel Ethel Barker who was born in 1926. In due course as a young man, William met the love of his life, Mabel and of course they married. A year or so later, as it happens in a happy marriage Mabel gave birth to a darling little girl Anne who was unaware that she would become quite a world traveller!
The above information was provided by the son; Professor Andrew Shelling.
Travel and voyage details by –
Mrs. Mabel Shelling
:
I was just 22 years old at the time that we sailed on the S.S. Toscana in October 1948, and at the time of writing this, I am now 88 years old. In 1948, my husband was 24, and my daughter, Anne was just 14 months old.
In 1948, my husband, who was by then better known as William, and myself had decided to immigrate to Australia from Yorkshire, England. And because of so many ships had been sunk during the war, there was a shortage of passenger ships, and we heard of Italian ships being used. We booked our passages on the Lloyd Triestino liner S.S. Toscana, not really knowing anything at all about this ship.
Below is the brochure that we had been provided, it covered the Toscana nicely and it looked quite nice, but it obviously it did not cover the section that we were travelling in, for the cabins it showed, that seemed to be the bottom class, being the third class looked so nice! It also contained the complete schedule of our voyage. The brochure is followed by our Passage Ticket, that was rewritten just a month before our departure and we were given new berths.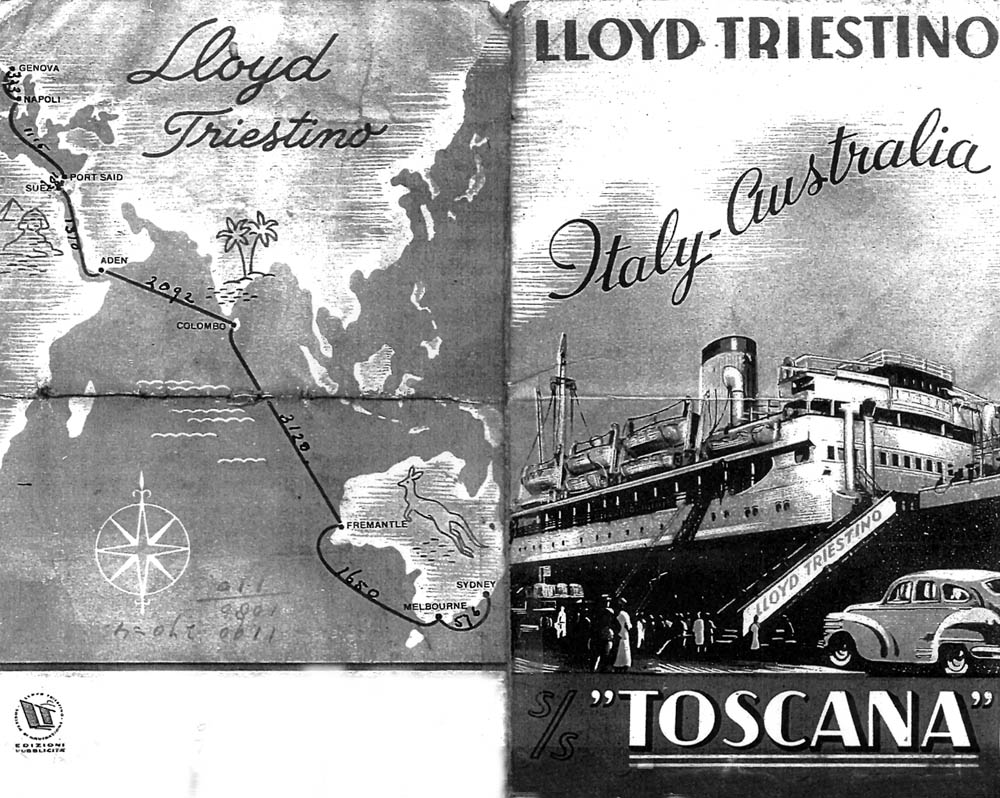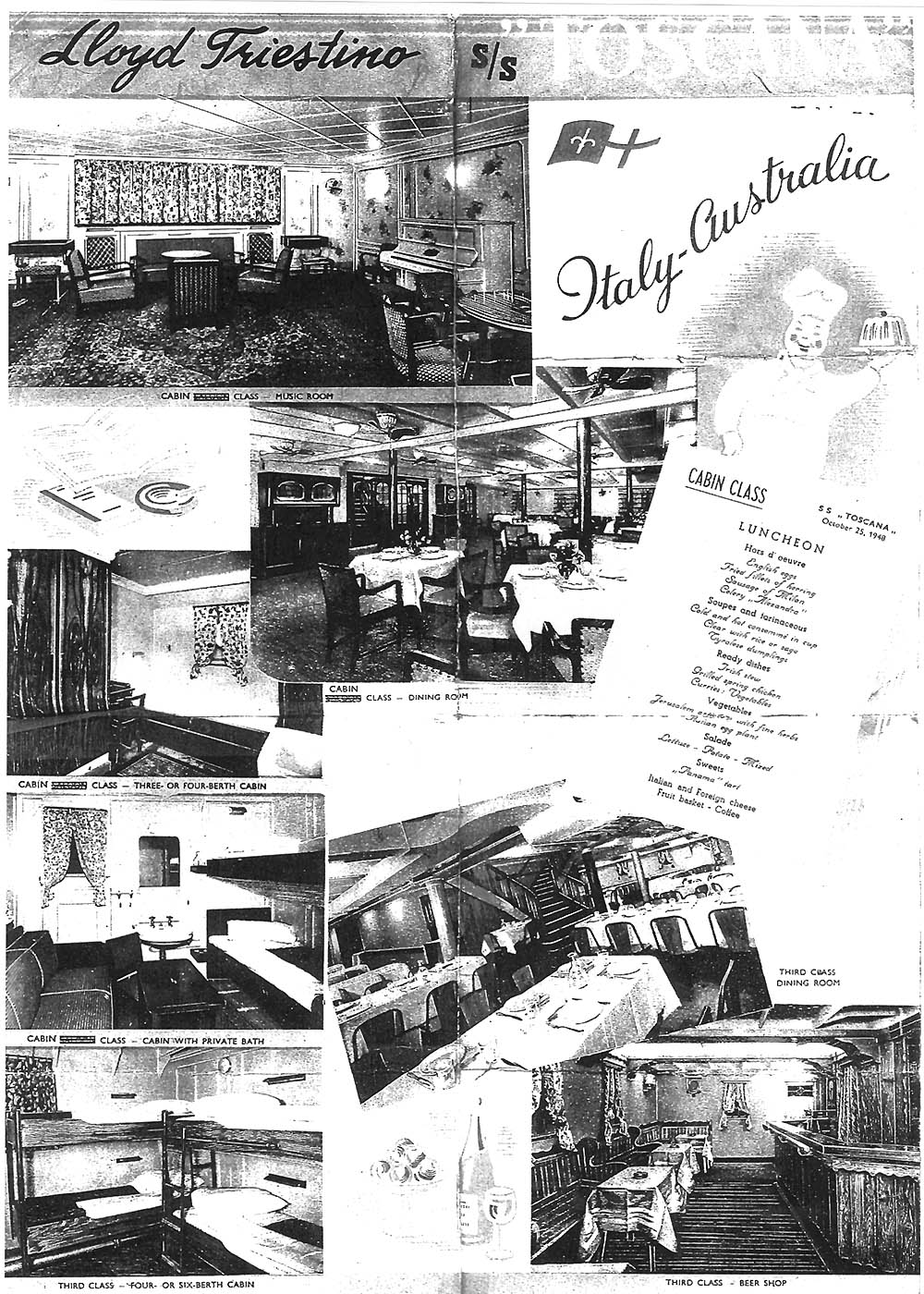 Cabin Class was more like First Class, and we sort of shared the Third Class facilities, but it was very crowded, thus
we spent more time out on the decks, as cabin passengers who had paid more, did not like the dormitory people much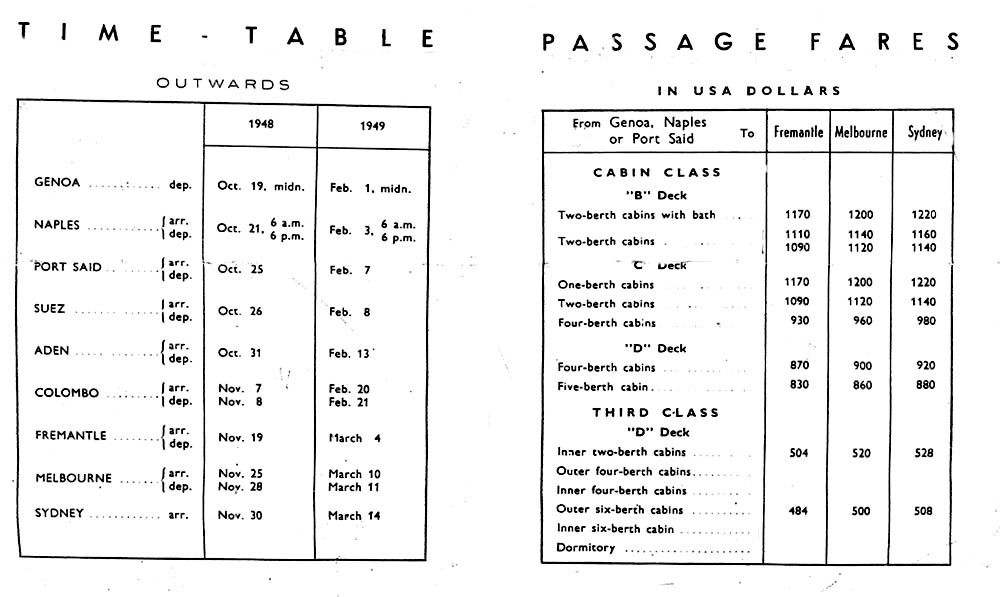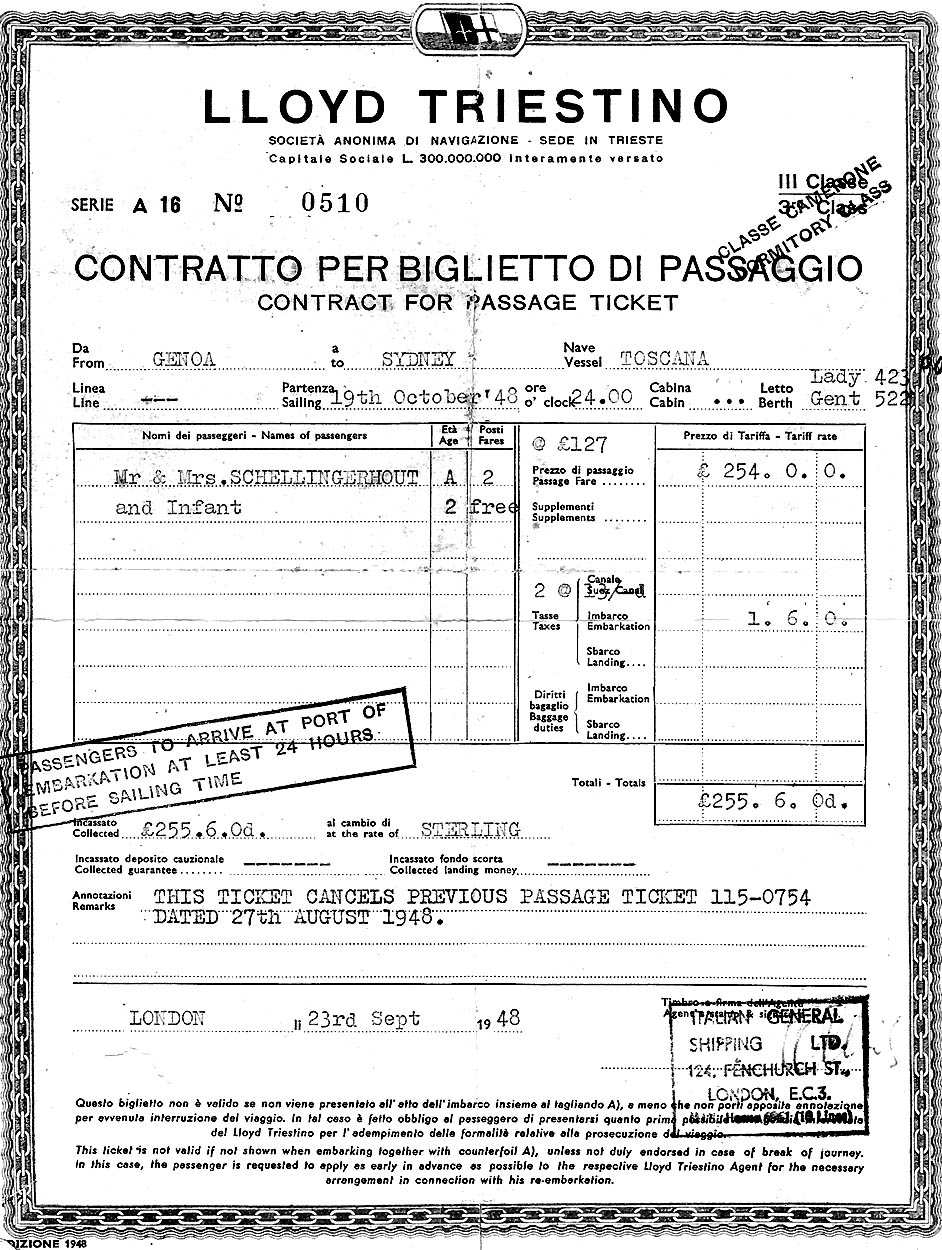 We travelled to Newhaven in the south of England and then took the ferry over the English Channel to Dieppe in France. Next we had to take the train through France, Switzerland to Genoa in Italy.
Considering we had our 14-month daughter with us, this long journey was certainly not easy, for the train was packed to capacity, and worse still there were no sleeping berths available. In addition the train was frequently stopped, in order to check passports and identity papers.
Eventually we arrived at Genoa and boarded the Toscana. But upon boarding reality hit us, for we were dismayed we came to realise that we are actually berthed in dormitory accommodations where the men were separated from the women, we would have liked a cabin.
Authors Note: A two-berth cabin would have cost £185.25 per adult, the baby is free, thus a total of £370.00. Thus, this is a good £116.50 more that what was paid, excluding taxes, and remember that was back in 1948, on which the conversion rates between the US$ and the Sterling £ Pound has been based, and that was a great deal of money at that time!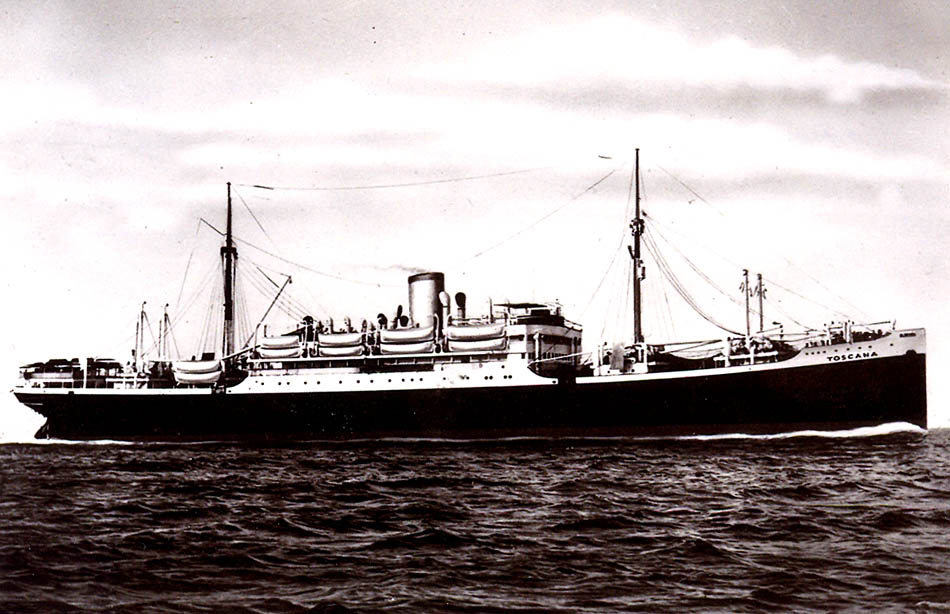 We purchased this postcard of the S.S. Toscana whilst we were onboard
The dormitories are located in what were the ships holds both forwards and aft, and they were very basic. Beds were placed in rows of four and they were very narrow bunks that were stacked. There was only a metal pipe separating you from a complete stranger. I had to have my little girl sleeping with me, as it was unsafe for her to be in her carrycot on the concrete floor, and that was because of the rats. And I do mean - huge rats. The other women insisted on having the lights on all night, because of the rats. Often there were screams during the night, when a rat was spotted! A number of complaints were made over the six weeks, while we were on the ship, but all that happened was that a steward would come round from time to time and he sprayed some fly spray, fine for flies and mosquitoes, but what good was this going to do with our rats?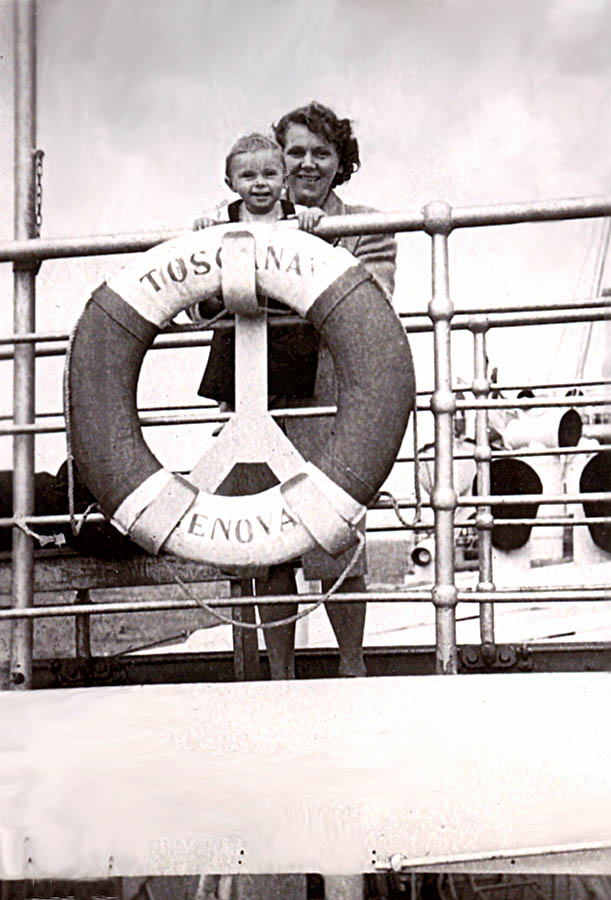 Mabel and baby Anne are seen at the railing onboard the Toscana, whilst in port
When we were in port, Naples, Port Said, Aden, etc, we had to stand next to our beds to guard our possessions from the men working just a few feet away, loading and unloading. We had no wardrobes or drawers, for the only place we had to put our things was under the bottom bunks and remember that was where the rats roamed.
We were warned not to drink the water, for the water too dangerous to drink! Only safe drink was to be found on the tables and that was some horrible cheap wine. To have a cup of tea or a cold drink, you had to go pay for it at the Cafeteria. Personally, I used to go down to the engine room, every day, in order to get some boiled water for my little darling girl.
Most of the babies onboard were so ill, with diarrhoea, including my darling, even when I had been so very, very careful. There were about 80 English people on the ship and the rest were people from a good number of nationalities, including Italians of course! For some reason, the English and Dutch babies seemed to get sick before the others and they were so much worse. Is it possible that we live in more hygienic conditions than other countries?
One lovely healthy English baby boy, just six-month-old tragically died and he was the first child of a professional couple from the south of England. They had loved and cared for the baby meticulously and had done everything in their power to keep him well. They placed all of the baby's clothes and toys, into his carrycot, and the next morning at dawn, all the English people gathered together out on deck for a short emotional service. Then, the carrycot was placed at the end of a plank which was slowly lowered into the sea. I have never forgotten it; the whole thing was so emotional.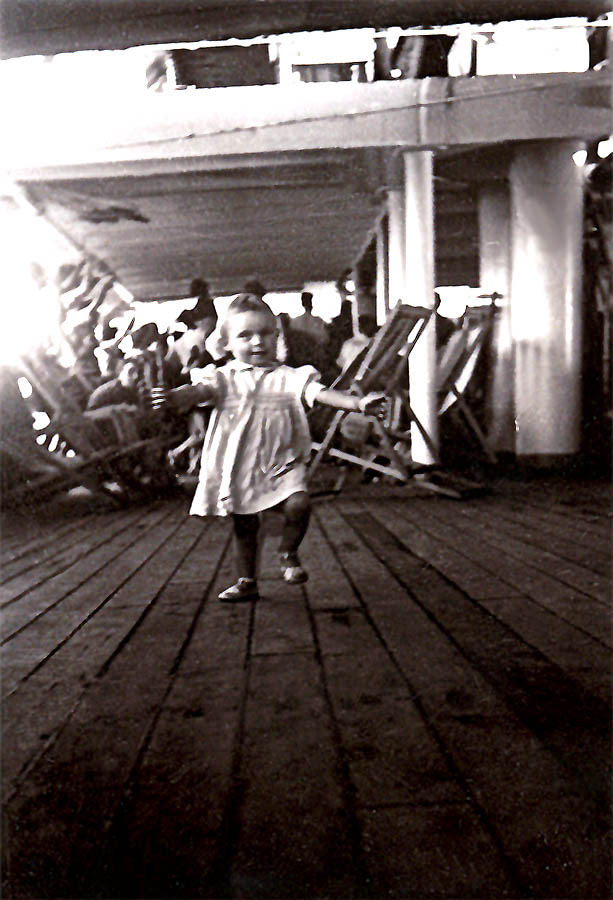 Little Anne learning to walk for the first time onboard the Toscana
Our little girl Anne, at 14 months old was not quite walking as yet when we left England and she actually learnt to walk on the Toscana's deck. All the weeks whilst we were on the Indian Ocean, the sea was very calm, which was great for the children running around the deck. But as we came closer to Australia, it was a very different story, for the seas became heavy and passengers and crew alike became quite seasick. All accept my little girl; she was 16 months old by this time. She still ran round, laughing and enjoying the rolling of the ship, yet we could hardly stand up straight.
When we arrived at Sydney we gathered all our possessions, the carrycot, the pushchair and we were very glad to have arrived at our destination. Our little girl, she was so excited and she ran down the gangway, but as she arrived on Sydney's wharf, she seemed to jus fall over. We hurried to reach her, with all our things in arms and hand to see her. She was crawling on the ground, but unhurt; the thing was that she just could not walk on dry land. It took a few days for her to get her land legs.
Not too long after we had arrived in Australia, my husband decided to change our surname from "Schellingerhout" to "Shelling" in Sydney. We did this because it was a difficult name to spell and we were in a new country where no one knew us. Also, there were thousands of displaced persons (DP) flocking to Australia at that time after the war and anyone with a foreign name was classed as a DP. And for some reason, they were hated and even blamed for the shortage of jobs and housing. My husband was just 12 years of age when his family left Holland for England in 1936. And well before we left England my husband became a naturalized British citizen.
The Conclusion:
The Shelling's lived in Australia from 1948 through to 1961, they decided to move to New Zealand, arriving in their new homeland on March 11, 1961 and made their home in Nelson.
Andrew was born on January 16, 1963 but in total there were eight children. Andrew tells me that he visited his fathers childhood home, "Zwijndrect a few years ago and found the house that he lived in. It seems a far different place to what I imagined, and where they eventually ended up living, in rural Nelson. My sister Anne lives in Wanganui, New Zealand and she is now 66."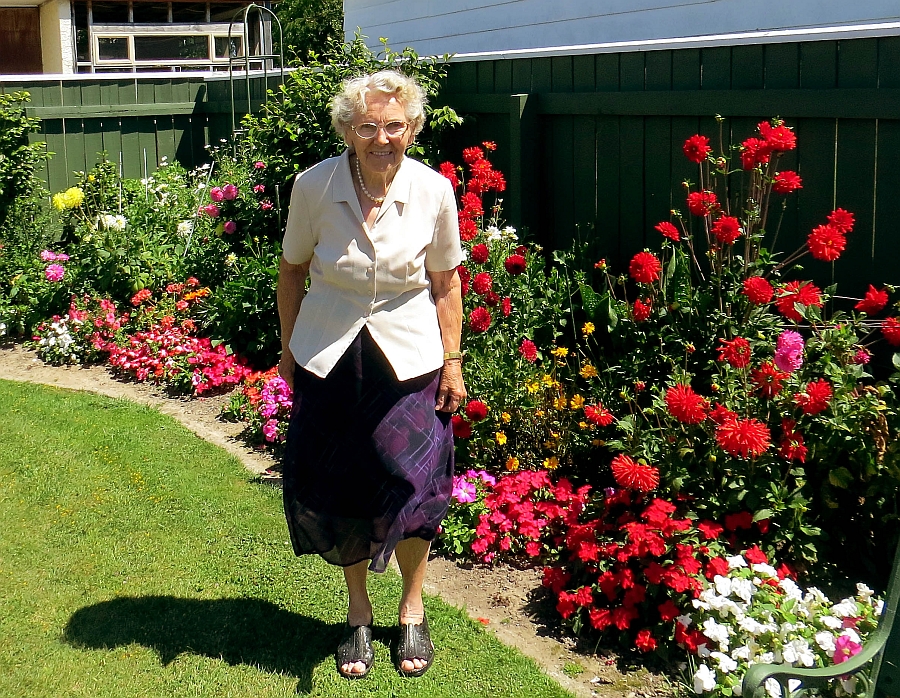 Mabel Shelling seen at home in Nelson New Zealand in 2014, aged just 88 years young!

The delightful Mabel continues steadily and she loves her beautiful garden, but sadly

as she told us, "My husband William passed away 11 years ago on June 15, 2002."

As we have learned, these ships certainly did not offer any luxuries or any nourishing meals, thus they were not cruise ships. But they certainly improved rapidly and in due course Lloyd Triestino provided immigrants a very high standard of travel, but their early days were not too great!

S.S. Toscana INDEX:

Page One S.S. Toscana History.

Page Two Family Shelling sailed on Toscana's maiden voyage to Australia in 1948.

Page Three S.S. Toscana "The Rip" Tragedy - February 17, 1960.

*************************************

Other Lloyd Triestino Liners on ssMaritime:

MS Australia and Oceania & Neptunia

TN Galileo & Marconi & MV Africa & Europa

*************************

"Blue Water Liners sailing to the distant shores.

I watched them come, I watched them go and I watched them die."

Featuring over 1,365 Classic Passenger Liners, Passenger-Cargo Liners & Classic Cruise Ships!
Or ENTER HERE
For interest: Sadly an email service to ssMaritime is no longer available, due to the author's old age and chronic illness as well as being disabled, etc. In the past ssMaritime received well over 120 emails per day, but Goossens can no longer handle same. He sincerely regrets this!
*************************
ssMaritime.com & ssMaritime.net
Where the ships of the past make history & the 1914 built M.S. Doulos Story.
The Author has been in Passenger Shipping & the Cruise Industry for well over 60 years
In addition he was the founder of "Save the Classic Liners Campaign" in 1990.
Please Note: ssmaritime and associated sites are 100% non-commercial and the author seeks no funding or favours of any shape or form, never have and never will!
Photographs on ssmaritime and associate pages are by; the author or from the author's private collection. In addition there are some images that have been provided by Shipping Companies and private photographers or collectors. Credit is given to all contributors. However, there are some photographs provided to me without details regarding the photographer/owner concerned.
This notice covers all pages; although, and I have done my best to ensure that all photographs are duly credited and that this notice is displaced on each page, that is, when a page is updated!
ssMaritime is owned & © Copyright by Reuben Goossens - All Rights Reserved