SS Toscana and the untold story of "The Rip" Tragedy on February 17, 1960
Please Note: Firefox and some other Search Engines may not be suitable
Use Google Chrome for this Web Page to load perfectly!

Please Note: All ssMaritime and other related maritime sites are 100% non-commercial and privately owned, thus ssmaritime is NOT associated with any shipping company or any other organisation! Although the author has worked and been involved in the passenger shipping industry for well over 60 years, but due to his old age and poor health, he was forced to retire. Yet, he has completed well over 1,365 Classic Liners, Passenger-Cargo Liners as well as humble converted C3 converted Migrant Liners, which has transported countless thousands folk to the new world, as well on vacations'. I trust the features online will continue to provide Classic Liner and Ship enthusiasts both the information they are seeking, but more so provide a great deal of pleasure and relive many happy memories!
Please Note: Postcards, photographs & other images are either from the author's private collection, unless stated otherwise. A special thank you to ssmaritime supporters who have sent in various photographs.
With Reuben Goossens
Maritime Historian, Cruise'n'Ship Reviewer, Author and Lecturer
Commenced in the Passenger Shipping & Cruise Industry in 1960
Lloyd Triestino Line
S.S. Toscana
The Remarkable Untold Story of "The Rip" Tragedy in 1960-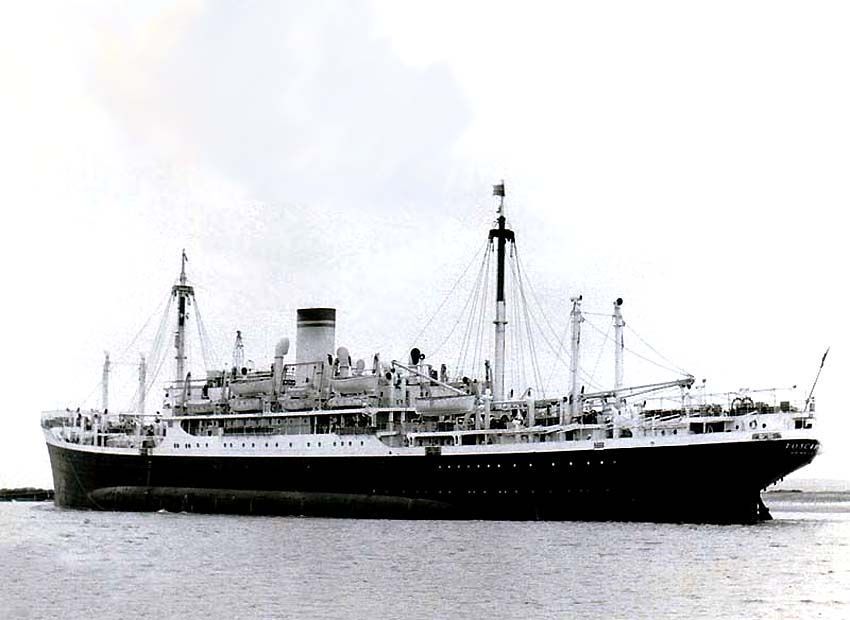 SS Toscana seen heading toward the entrance of Port Phillip Bay and is bound for Adelaide in 1960
Photograph by J.Y. Freeman
Please Note: "The Rip" is also known as "The Heads", which is a dangerous stretch of water connecting Port Phillip Bay and Bass Strait. This is the only entrance for all shipping into Port Phillip Bay and to and from the Port of Melbourne, Victoria, Australia.
SS Toscana & "The Rip" Incident in 1960:
On February 17, 1960 the SS Toscana whilst in Melbourne boarded new passengers who were mostly bound for Italy. Later in the afternoon she left Station Pier and commenced her voyage sailing via Adelaide, Fremantle, Colombo, Aden, Suez, and Port Said to Genoa. However, unknown to all onboard as the Toscana reached the Heads suddenly the weather changed and the seas grew monstrously wild and a tragedy was about to take place, which the Toscana was about to play a part in. This event has become known as "The Rip" Tragedy, which sadly has received very little exposure!
From the time of writing (2018) Fifty Eight years ago the Defence Force's suffered a major peacetime disaster, and yet for some reason there are hardly any Australians, or others around the world who have ever heard about this remarkable and sadly tragic as well an heroic story!
Who were the Men Involved:
Some 75 young men of "2 Commando Company" and the "Amphibious Platoon", being the 1960s equivalent of the today's "Special Forces" serving today in Afghanistan, headed out to sea on a regular night exercise using inflatable Zodiacs and two-man kayaks as they had done in the past. They were volunteer members of the "Citizen Military Forces", today they are known as the "Army Reserve". Like many young men in those days, they had already done "Compulsory National Military Service" but unlike the majority, these men were prepared to continue serving their country in their own time.
These men were extremely keen and they were very fit, as they had been engaged for many weeks of training and ongoing military exercises. Swan Island was their usual base, and it remains the base where special military forces continue to train today.
Details of the Mission on that Special Night:
Their special mission for that night of February 17, 1960 was to head across "The Rip" which will be covered next.
On Sunday February 17, 1960 it was a calm and balmy evening on Port Phillip Bay, when a group of 75 commandos set off from Queenscliff on a planned mock amphibious raid on the "Officer Cadet School" at Portsea.
The group included members of the "Army Reserve detachment", which were integrated into the professional commandos.
As can happen in the Bay, there was a sudden change in the weather, which saw conditions become perilous beyond belief, with powerful seas and massive waves of around metres.
Suddenly the raiding craft, including the two men kayaks, zodiacs and amphibious jeeps, were swamped, and men were rapidly washed into the turbulent sea and the horrors of the night commenced.
SS Toscana & Hero Private Roger Wood:
In this turmoil, a zodiac with ten men aboard was swept out through the Heads known as the infamous "The Rip" especially during wild weather. These ten men were left hopelessly adrift for four hours when they suddenly spotted a large ocean liner come along using their searchlights. This passing passenger liner was the SS Toscana, which was only alerted to their plight when the Army Reserve member Private Joe Lamb, despite his fingers being numbed with the extreme cold, had the presence of mind to fire his point.303 loaded with blanks and fire off the international distress call 'SOS'.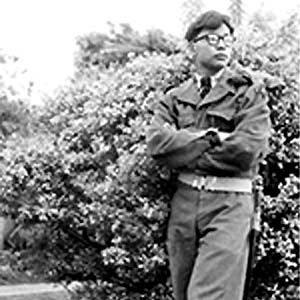 Private Joe Lamb, thankfully the Hong Kong born Australian survived and became a fine and a successful Australian
Photograph with thanks to: www.haileybury.com.au/125years/125-years-of-stories/joe-lamb-and-the-rip-tragedy
Due to the massive waves, the Toscana was unusually heaving violently in the black turbulent seas, and apparently whilst in the bottom of a wave, the commandos clinging tight to their zodiac could see Toscana's propellers exposed above sea level, and then whilst on they were on the crest of a wave they drew level with the deck of the liner, proving how wild the seas were.
Toscana's crew placed a rope boarding ladder and a number of rope lines along the sides of aft part of the ship. One of the commandos, Private Roger Wood, selflessly decided that he would take on the job of assisting his fellow commandos up a rope ladder to safety. He did this by holding onto the zodiac with one hand, and the rope ladder with the other, trying to keep it as steady as possible for his fellow companions to climb up to safety! Thus he desperately clung to the wildly moving Zodiac with one hand and the rope ladder with the other as one man at a time slowly scrambled up the ladder onto the deck of the Toscana. But with the stationary Toscana continuing to roll wildly in the huge seas, and when the eight men from his Zodiac were finally safely on the liner Roger was now just a few meters from safety.
Tragically Private Roger Wood who was the last of the group to attempt to board the ship, but as he let the zodiac go, his hand as well as the one holding the rope ladder, were extremely painful. As he attempted to climb up the ladder, with his weakened hands he was fighting the brute force of the elements it was so much harder for him than it had been for the others for the was no-one holding the ladder and the zodiac steady. An Italian crew member came down to assist Roger, but suddenly sea sprung up even bigger again, and both of then were smashed wildly against the hull which saw both Roger and the Italian sailor were flung with brute force off the ladder by a huge wave. Somehow the crew member managed just to keep hold of the end of the ladder and came back onboard, but Roger was thrown far beyond the furious wild "The Rip" and sadly Private Roger Wood was never seen again.
There is no doubt in my mind that Roger Wood was a hero, although I am unable to locate anything whatsoever that he ever received a posthumous recognition for his amazing bravery, for he only thought of his mates on the Zodiac, and he gave his life by saving them. What is wrong with the Australian Government and the Army who denies a Reserve Member complete disregard of recognizing a Reserve member for amazing Heroism!
Two Other men Died that Night:
Two other men also tragically died as they were swept out to sea during this violent storm; they were Warrant Officer George "Taffy" Drakopoulos and Eddie Meyer driver of the DUKW, sadly both drowned before they were able to be rescued. The aforementioned as well as Roger Wood all served their Country and they all lived in the Melbourne region, and as far as I know they were all around 20 years of age, and they are greatly missed by all.
Other Craft on the Exercise & Rescue:
Some of the other craft were thankfully not caught in "The Rip" but the storm was made the waves huge no matter where you were, and most vessels, kayaks and other craft capsized. Many of the desperate men were picked up by their accompanying Duck amphibious safety craft, only to then have a big landing craft swamped and sunk. And so the unending night wore on.
Through impossible visibility, a Queenscliff rescue craft including the pilot boats battled the conditions for hours, searching for men who were near death after treading water for hours in the maelstrom. In incredible conditions that risked their own craft and their crews, the local heroes picked up as many exhausted men as they could find. Pilot George Simpson of the Akuna, was to be awarded an MBE for his outstanding seamanship on that terrible night.
On Monday February 18, aircraft and boats went out at first light for a long, final, but sadly a futile search.
Amazingly the military continue to operate special night exercises round around the same area regardless the sea conditions.
In Conclusion:
With the Italian liner SS Toscana having picked up the eight men from the Roger's zodiac and a number of other men, she in due course continued to Adelaide, South Australia, where they disembarked and returned to Melbourne from there. The ship then continued as per usual to Genoa Italy. She made her final voyage to Australia in October in 1960, after which she was laid up, and she was broken up in 1962.
As it was stated; there was nothing to see this catastrophe coming and thus no one was blamed. An army court of inquiry later deemed it being a "misadventure". Amazingly the military continues to operate special night exercises around the same area and "The Rip" regardless the sea conditions
Memorial reads as follows;
There is a small "Commando Monument" which commemorates the three soldiers who were caught in a "The Rip" and died during tragic commando training exercise in 1960.
The Monument is located at "Shortland Bluff", Queenscliff (Melbourne, Victoria), close by the Heads, commemorating the three who died that fateful night during a commando training exercise on February 17, 1960.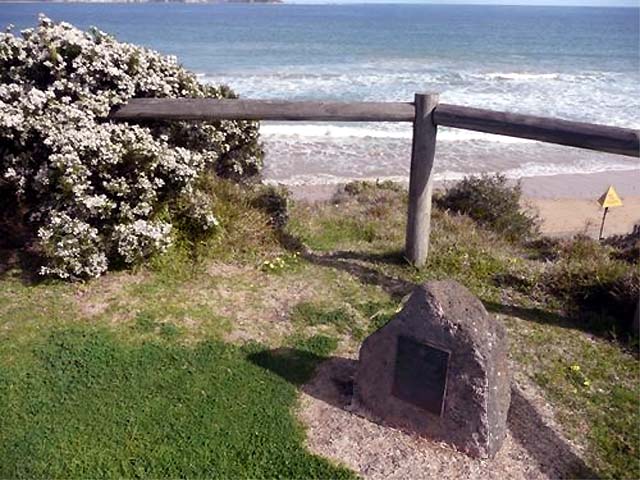 If you were not looking for it, you would only stump your foot on it, for sadly it is rather small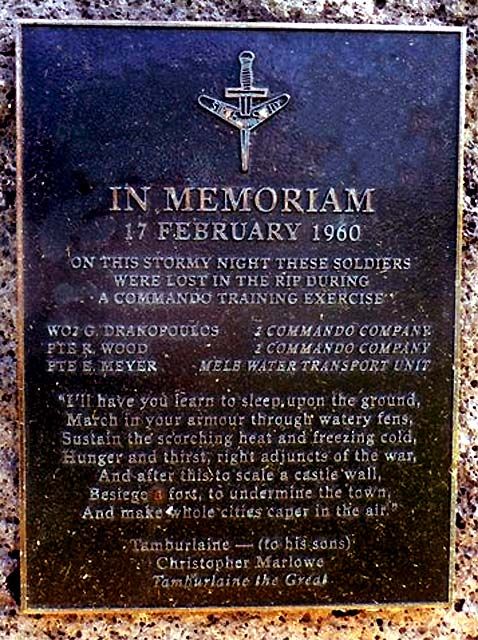 The Plague: See below what it says …
IN MEMORIAM.
17 FEBRUARY 1960.
ON THIS STORMY NIGHT THESE SOLDIERS
WERE LOST IN THE RIP DURING
A COMMANDO TRAINING EXERCISE.
WO2 G. Drakopoulos - 2 Commando Company
PTE R. Wood - 2 Commando Company
PTE E. Meyer - Melb Water Transport Unit
"I'll have you learn to sleep upon the ground,
March in your armour through watery fews,
Sustain scorching heat and freezing cold,
Hunger and thirst, right adjuncts of the war,
And after this to scale a castle wall,
Besiege a fort, to undermine the town,
And make whole cities caper in the air"
Tamburlaine - (to his sons).
Christopher Marlowe
Tamburlaine the Great.
************************
IN MEMORIAM.
February 17, 1960.
Warrant Officer Class Two George Drakopoulos - 1 Commando Company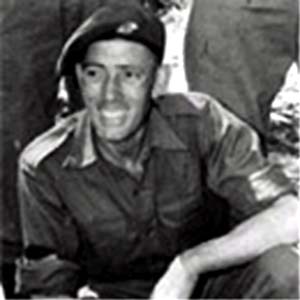 ************************
Private Roger Wood - 1 Commando Company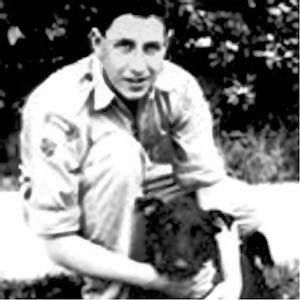 ************************
Private Eddie Meyer - Water Transport Unit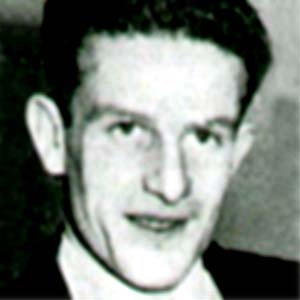 The three photographs above have been obtained from www.commandotrust.com/honour-roll
Please Support the "Commando Welfare Trust" via ABN: 17 860 403 129
**********************
S.S. Toscana INDEX:
Page One S.S. Toscana History.
Page Two Family Shelling sailed on Toscana's maiden voyage to Australia in 1948.
Page Three S.S. Toscana "The Rip" Tragedy - February 17, 1960.
*************************************
Other Lloyd Triestino Liners on ssMaritime:
MS Australia and Oceania & Neptunia
TN Galileo & Marconi & MV Africa & Europa
*************************
"Blue Water Liners sailing to the distant shores.
I watched them come, I watched them go and I watched them die."

Featuring over 1,365 Classic Passenger Liners, Passenger-Cargo Liners & Classic Cruise Ships!
Or ENTER HERE
For interest: Sadly an email service to ssMaritime is no longer available, due to the author's old age and chronic illness as well as being disabled, etc. In the past ssMaritime received well over 120 emails per day, but Goossens can no longer handle same. He sincerely regrets this!
*************************
ssMaritime.com & ssMaritime.net
Where the ships of the past make history & the 1914 built M.S. Doulos Story.
The Author has been in Passenger Shipping & the Cruise Industry for well over 60 years
In addition he was the founder of "Save the Classic Liners Campaign" in 1990.
Please Note: ssmaritime and associated sites are 100% non-commercial and the author seeks no funding or favours of any shape or form, never have and never will!
Photographs on ssmaritime and associate pages are by; the author or from the author's private collection. In addition there are some images that have been provided by Shipping Companies and private photographers or collectors. Credit is given to all contributors. However, there are some photographs provided to me without details regarding the photographer/owner concerned.
This notice covers all pages; although, and I have done my best to ensure that all photographs are duly credited and that this notice is displaced on each page, that is, when a page is updated!
ssMaritime is owned & © Copyright by Reuben Goossens - All Rights Reserved