S.S. Toscana of the Lloyd Triestino Line
Please Note: Firefox and some other Search Engines may not be suitable
Use Google Chrome for this Web Page to load perfectly!

Please Note: All ssMaritime and other related maritime sites are 100% non-commercial and privately owned, thus ssmaritime is NOT associated with any shipping company or any other organisation! Although the author has worked and been involved in the passenger shipping industry for well over 60 years, but due to his old age and poor health, he was forced to retire. Yet, he has completed well over 1,365 Classic Liners, Passenger-Cargo Liners as well as humble converted C3 converted Migrant Liners, which has transported countless thousands folk to the new world, as well on vacations'. I trust the features online will continue to provide Classic Liner and Ship enthusiasts both the information they are seeking, but more so provide a great deal of pleasure and relive many happy memories!
Please Note: Postcards, photographs & other images are either from the author's private collection, unless stated otherwise. A special thank you to ssmaritime supporters who have sent in various photographs.
With Reuben Goossens
Maritime Historian, Cruise'n'Ship Reviewer, Author and Lecturer
Commenced in the Passenger Shipping & Cruise Industry in 1960
Lloyd Triestino Line
SS Toscana
Built as the North German Lloyd SS Saarbrücken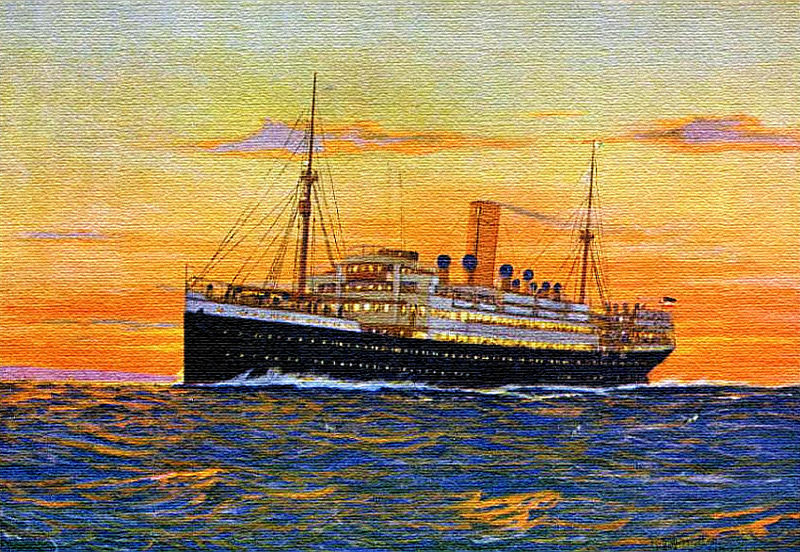 A painting of the German built liner SS Saarbrüchen, being the ship that became the SS Toscana
Page One
The Ships History Page
SS Toscana was originally built as part of a series of new German ships known as the "Weser Class" of ships and she and a sister were built for the Norddeutscher Lloyd named the Coblenz and Saarbrücken in 1923. As built, both ships had accommodations for 98 First Class and 142 Second Class passengers. When completed they were registered as being 9,429 GRT (Gross Registered Tons) and they were placed on the rather glamorous Bremen to the Far East service. However, in 1935 Norddeutscher Lloyd had built three new 18,000-ton liners to operate on this service and they were capable of an excellent service speed of 21 knots, rather than the slow 12.5 knots of the older ships. Thus the decision was made that these twelve-year old liners would be placed on the market and were soon sold. The SS Saarbrüchen was obtained by the Italian Lloyd Triestino Lines.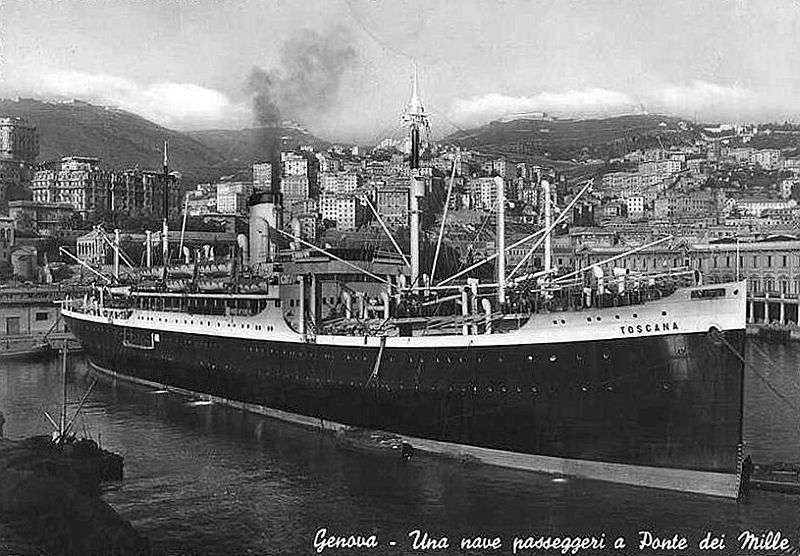 This postcard of Toscana certainly made her look much more attractive than she really was
It is quite obvious that the hull ribbing and the sponsoon had been blacked out
Author's private collection
Although it is not shown in most of the postcard or photographs of the ship, as they were touched up by the company's artist, as can be seen above and reality, but one of the most notable things about this ship (and her sister) was her ugly hull. Indeed her original profile may have been a standard two-master, with an all white superstructure, thus a neat looking passenger cargo liner with a tall slender funnel, but it was her hull that stood out for being ugly! Her hull was corrugated from below the white top of her hull, all the way down and to the water line where there was a massive amidships sponsoon running along each side of the ship. These were designed to reduce the rolling of the ship to a degree. In other words, it was the forerunner to the modern stabilisers. However, there has never been an image produced of the Saarbrücken that actually shows the sponsoon's or a Lloyd Triestino postcard in her earlier days, for they blocked it out of all their photographs and postcards in order to make the ship more likable and to attract passengers!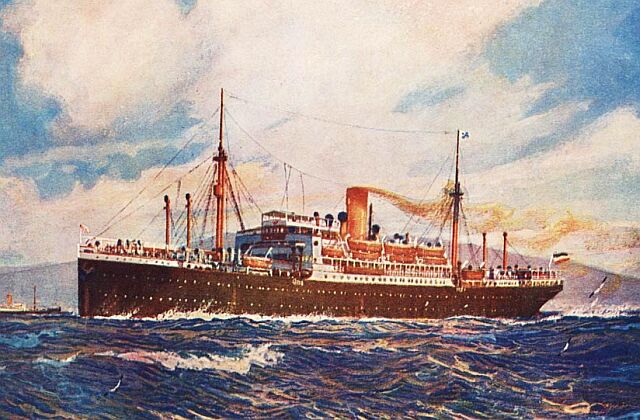 A postcard of then luxurious Norddeutscher Lloyd SS Saarbrücken, but again no sight of the corrugations or sponsoon
Author's private collection
Specifications:
Built:                                  1924 AG Weser, Bremen, Germany.
Sister ships:                        Weser, Werra, Coblenz II, Trier II, Fulda II.
Engines:                             Triple Expansion Turbines by the builder.
Screws:                              Twin.
Speed:                               12.5 knots.
Length:                               480ft - 146m.
Beam:                                146.3ft - 17.6m.
Tonnage:                            9,429 GRT as built / Toscana 1962; 9,584 GRT.
Passengers:                         98 First - 142 Second / from 1951 - 890 One Class.
Late in 1935 both ships were sold to the Italia Government and placed them under the management of "Italia Flotte Riunite" - the Italia Line. The SS Coblenz was named Sicilia and SS Saarbrücken became the Toscana. At first both operated as troop transports for one year and they were transferred in 1937 to Lloyd Triestino Line who gave them a refit into the most humble migrant transport ships. The Toscana was able to accommodate some 2,000 passengers in the most austere conditions, some in cabins, but the vast majority of these were berthed in dormitories located in the tween decks (holds), including where there once had been cargo space. SS Toscana was placed on the Italy to South America service and later on the East and South Africa service.
In 1940 the Toscana and her sister were converted into Italian flagged Hospital ships hey received an all white livery. Although she still had the standard German profile and she now looked like an all white passenger cargo ship and amazingly, out of the two ships, only the Toscana survived the conflict and she was just one of a few of the Italian ships to survive the WWII in one piece!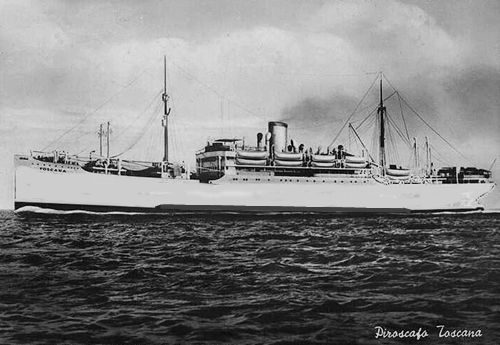 SS Toscana seen here touched up with a white hull and the sponsoon added in grey,
as the original image was in black without the sponsoon
Author's private collection
In September 1943 the SS Toscana was taken over by the Allied forces, but she was returned to the Italian's in 1945, and she was handed over to Lloyd Triestino in 1947, who gave her a much-required refit.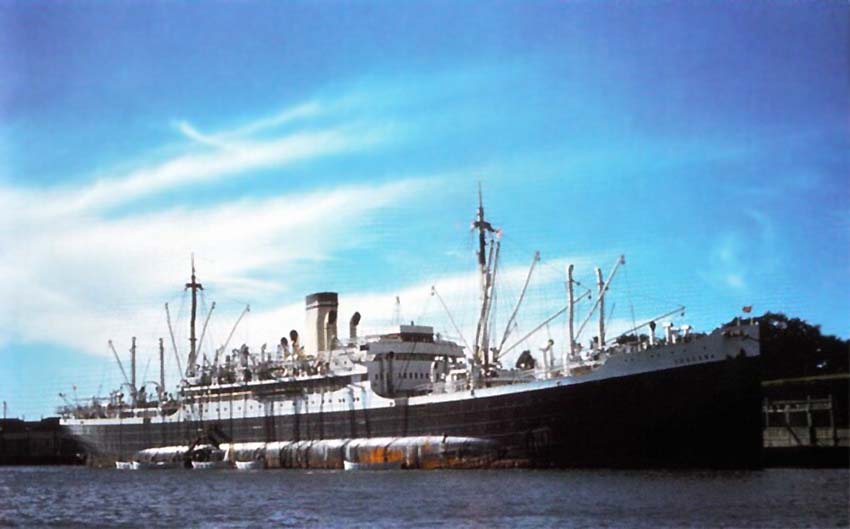 Lloyd Triestino's Passenger Cargo Liner SS Toscana is seen after her post war refit
Here we see that hideous Sponsoon along both sides of her hull
Photograph sent in by a supporter
Toscana's refit would see her change dramatically internally as well as externally with bulbous sponsoon's added to aid her stability. Her hull was thankfully repainted black again in addition her funnel was lengthened. She now offered accommodation for 136 passenger in Saloon Class and 690 in Third Class, thus she was not as crowded. Saloon Class offered mostly two and four berth cabins with comfortable and very attractive Lounges, bars and a spacious dinning room. Whilst Third Class was a little more basic having six berth cabins as well as some large dormitories down in the holds for the migrant trade. In addition her lounges were more modest, but quite pleasant. Upon completion she returned to service operating voyages between Italy, Egypt and South Africa.
The Gerald Buttigieg Story:
I received an email from Gerald Buttigieg, whose Father sailed on the QSMV Dominion Monarch from Port Said to Durban 1947. He also told me about his Mother's voyage accompanied by his nine-year old sister and himself on the S.S. Toscana from Port Said to Durban on August 10, 1948, and a later he sent the following as well as the ticket and relevant newspaper clippings related to his rather interesting story.
"We departed Port Said on the iconic S.S. Toscana, from what I gather was a ship that took countless of immigrants from Italy and Egypt to Australia via Durban in the early 50 and 60's. I understand she was originally the German liner Saarbrücken. My mother, sister and I left Port Said on August 10, 1948, and we sailed "Dormitory Class." My mother saved the ticket which I still have. We arrived in Durban on September 3, 1948 and upon arrival the ship was quarantined outside Durban Harbour due to an outbreak of typhoid on board the ship. Apparently there were some deaths en route and apparently there had been some burials at sea. At the time I was only five years of age at the time. But I did manage to obtain some newspaper clippings going back to the Toscana's arrival in Durban that confirms the quarantine and its actual arrival. In my research I also found a diary of a passenger who boarded in Venice and wrote up a day-by-day diary. He sadly contracted typhoid and was gravely ill on arrival in Durban and sadly he died three days later.
Gerald Buttigieg. South Africa."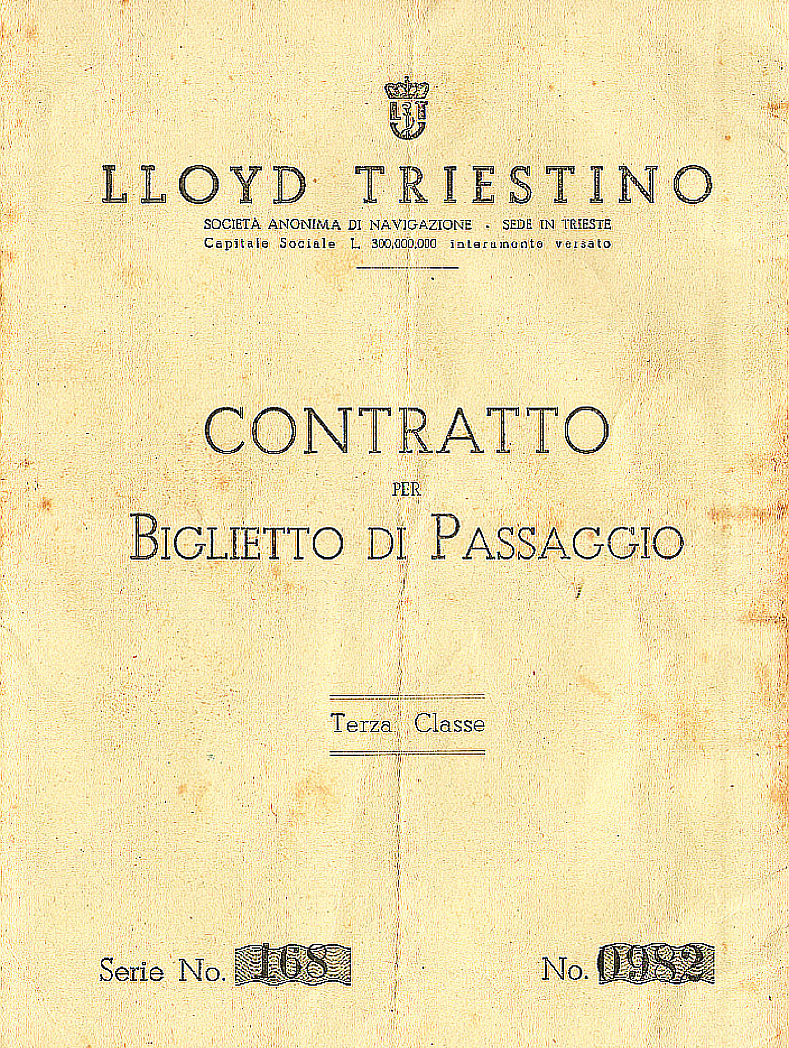 Lloyd Triestino ticket cover
Provided by Gerald Buttigieg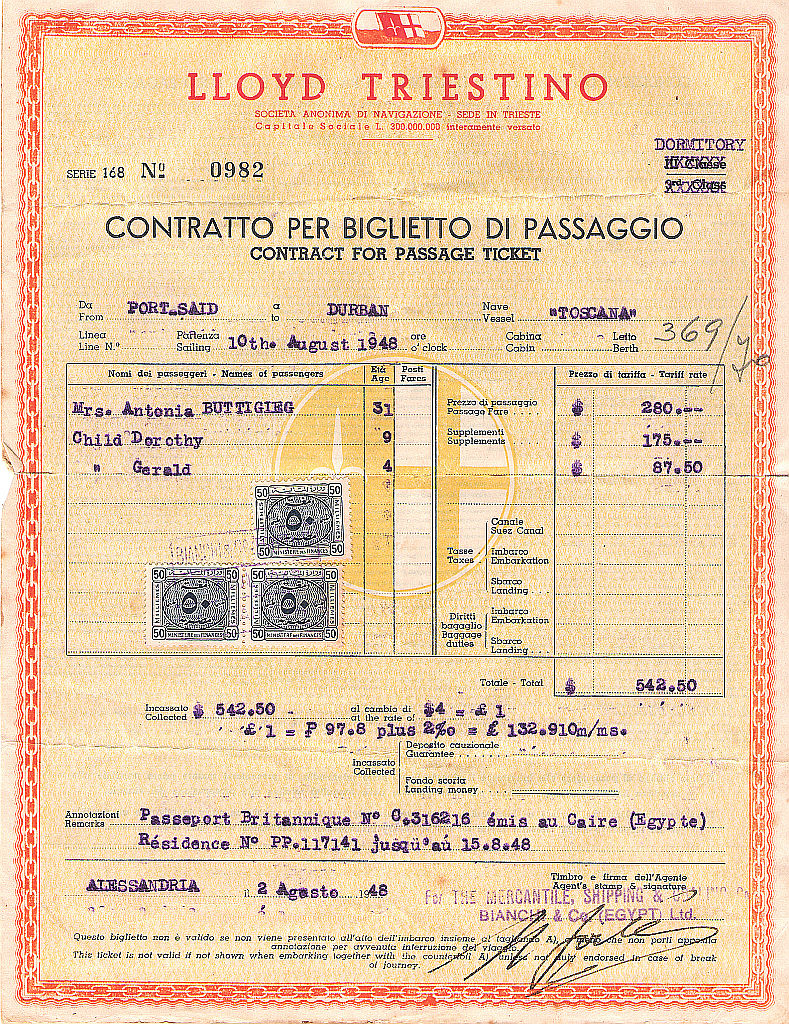 The Buttigieg family ticket on the Toscana
Provided by Gerald Buttigieg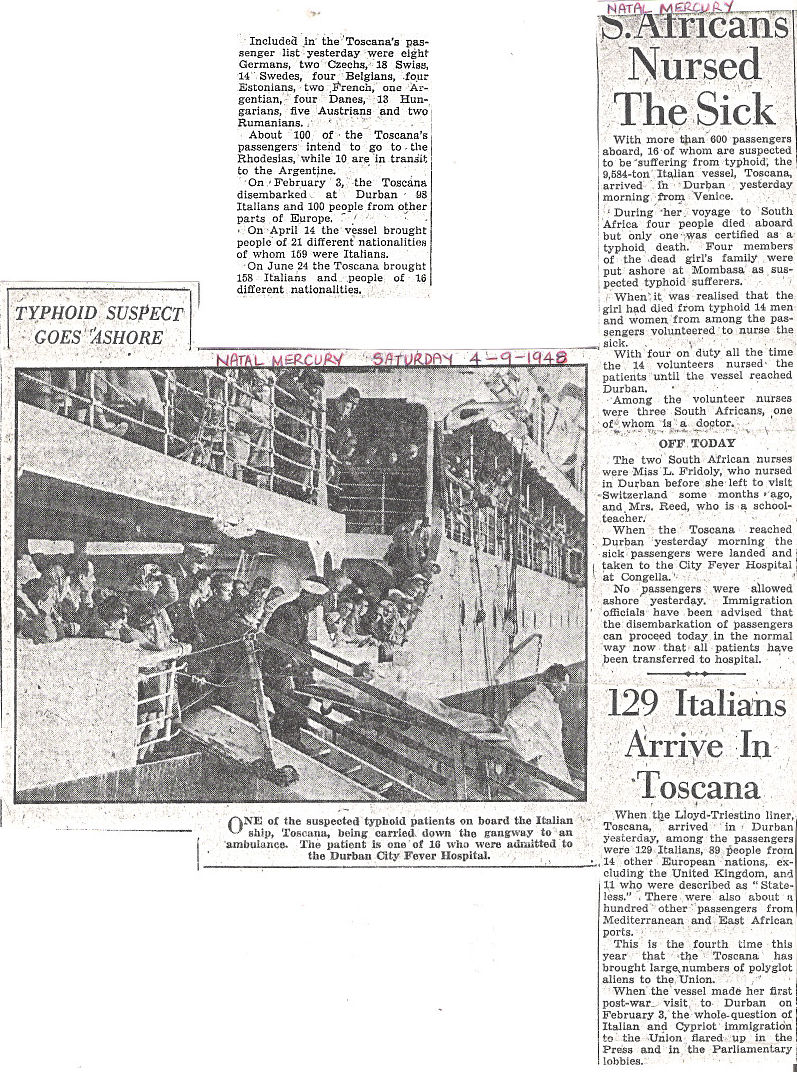 Articles in the Natas Mercury regarding the typhoid on board the Toscana
Provided by Gerald Buttigieg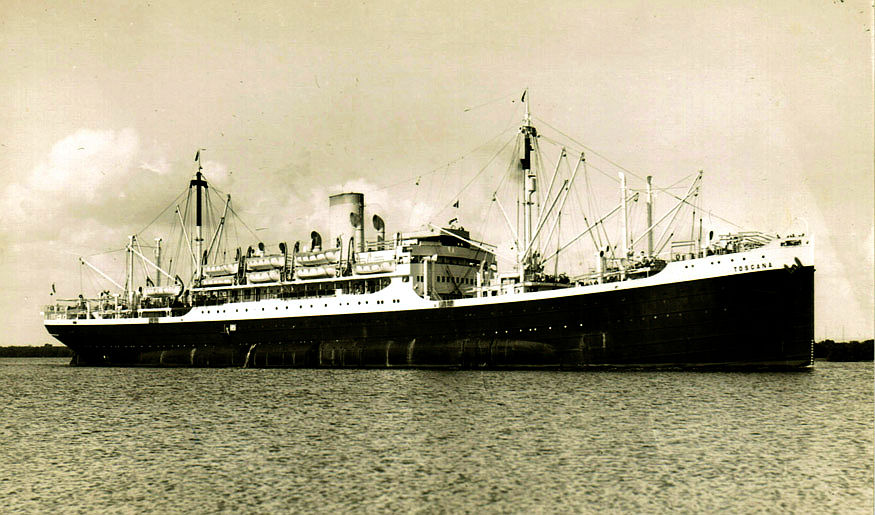 A fine view of the ship
Author's private collection
Having operated her on the South Africa service it would be on October 19, 1948, when Toscana commenced her new career as she departed Genoa on her first voyage to Australia, arriving in Melbourne on November 30, and Sydney on December 2.
On this maiden voyage to Australia was the then 22 year-old Mabel Shelling, her husband and their 14 months old daughter Anne, bound for Sydney. You can read their full story and photographs, as well as a brochure and passage ticket on Page Two.
Gallery - S.S. Toscana Departure from Genoa: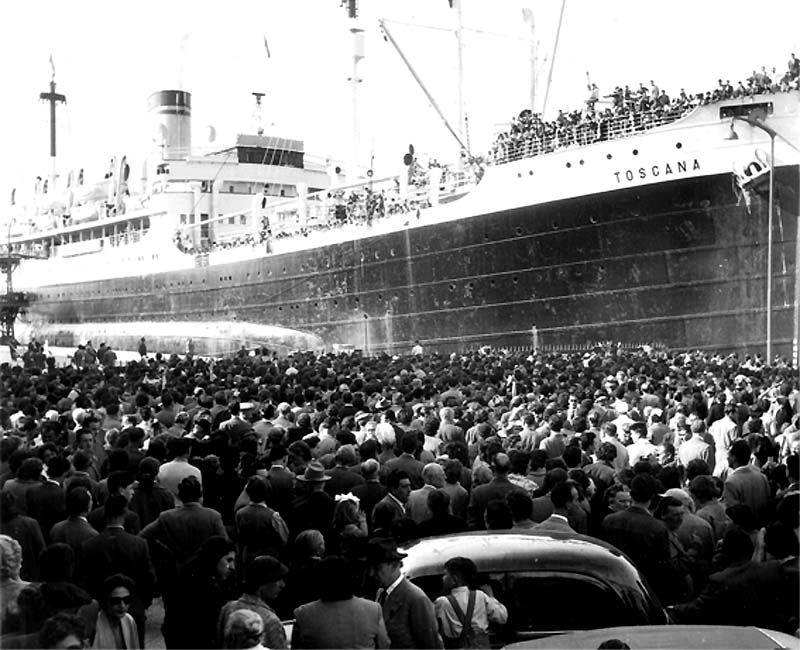 Passengers have boarded and the Toscana is awaiting clearance to depart
Note her ribbed hull, which is quite visible in this photograph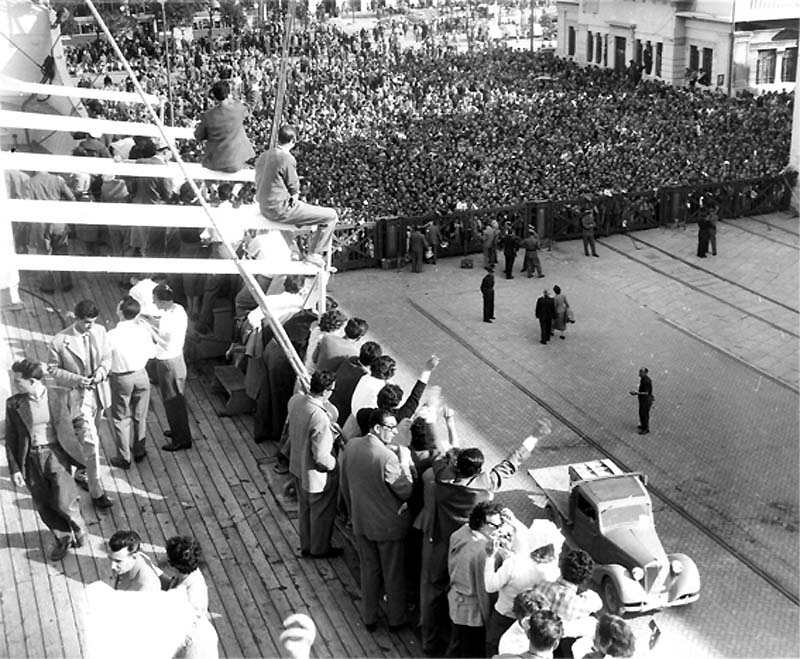 Dormitory Class passengers are seen on the aft deck-waving goodbye to whoever was able to come to the port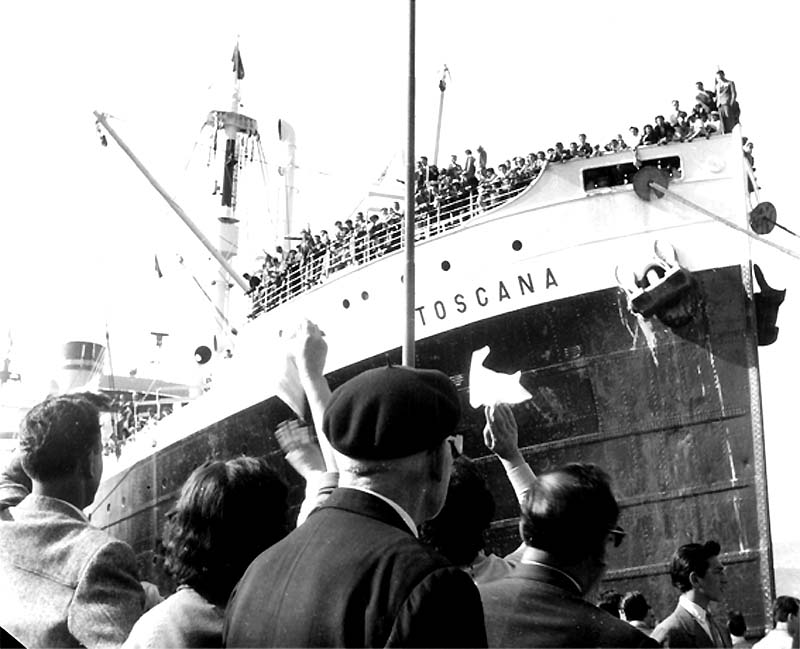 The Toscana is pulling from the wharf and the long voyage to Australia has commenced!
It was during this time many Europeans refugees would come to Australia in Dormitory Class on various ships including the S.S. Toscana. Many came from Slovenia and other East European countries one of these was a young girl named Anita, who wrote the following;
"I sailed to Australia on the liner S.S. Toscana. The voyage took around 42 days. My accommodation was in a top bunk in what was rather primitive dormitory catering for 100 women, whilst another dormitory catered for the men. Yet, there were cabins available for families of four or six. Sadly, I was left without any supervision, but I do remember that one of the crew paid me some extra attention, and he was getting far to close into my personal space. As a naïve teenager, I began to feel intimidated and uncomfortable. My instinct told me this was not normal, therefore I began to avoid him. Only years later did I become aware of dangers that I could have been exposed to, had I not followed my gut feelings.
The most memorable events on my trip were seeing for the first time all those black people in Port Said and travelling through Suez Canal, and then there were all those half-starved cows staring at us as the ship slowly passed by. To a naïve thirteen years old, all this was all very intriguing."
For a girl so young, this must have been a perilous voyage for it appears she was travelling alone and without any supervision and as her writings prove, tragically there will always be evil inclinations in some men, and the may attempt to take advantage of a young person like her, but thankfully, she was wise! Out of all the crews of the world there are two nations that have proven to be the worst when it came to such matters, although they did happen just occasionally, but even that is far too much!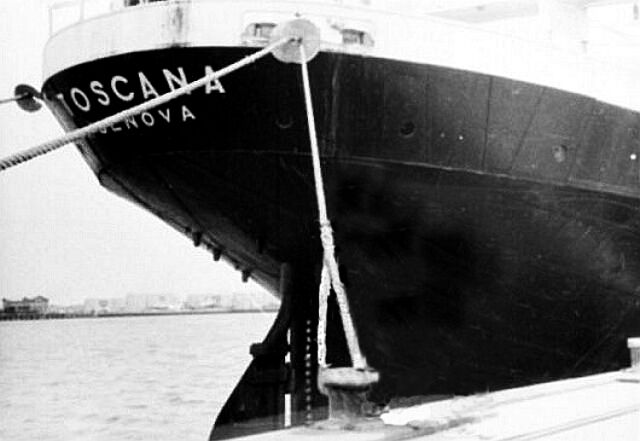 She did have a wonderful counter style stern!
Author's private collection
In 1949 she was joined by several other Lloyd Triestino ship, such as the Sebastiano Cabato and Ugolino Vivaldi and together these three ships maintained the Lloyd Triestino presence in Australia.
However, with passenger number being healthy Lloyd Triestino had built three modern new sleek passenger-cargo liners with the finest and most modern facilities, including excellent Tourist Call public venues and accommodations! These ships commenced in 1951 and were named the MS Australia, Neptunia and Oceania. With these three new liners on the scene they replaced the S.S. Sebastiano Cabato and Ugolino Vivaldi, whilst the S.S. Toscana would receive yet another refit in Italy.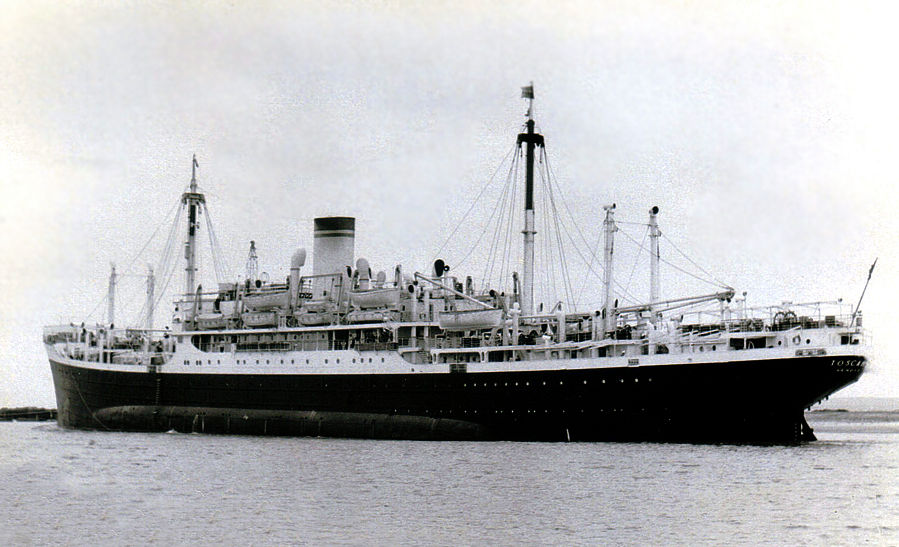 Toscana certainly looked somewhat better from astern
Photograph by J.Y. Freeman - from the Rich Turnwald collection
Late in 1951, the Toscana received a rapid refit in order for her to become a One Class liner catering for just 819 passengers, thus giving all her passengers the run of the ship, being able what were the First/Cabin Class luxurious Lounges, Bars, spacious decks and Dining Room. At last the passengers had wonderful spaces to explore, for the truth was that she was indeed a high quality ship, but these new parts had always been for the privileged few. Although things would be very different then it had been previously, for she would sail from Italy to Australia filled to capacity with migrants, however on her homeward voyage she would mostly operate as a cargo ship with her six holds full of cargo and without any passengers, however, there were occasions, during high traffic times that the Toscana would take fare paying guests on board whilst sailing from Australia to Italy.
*************************************
S.S. Toscana collision at Port Suez
By the late John Hallam.
"On February 5, 1953, the day after my wife Lorraine and I were married, we boarded the S.S. Toscana at the port of Fremantle on the west coast of Australia. Her destination was Brindisi on the east coast of Italy. However sadly she never reached her destination.
The "Toscana" was carrying cargo and passengers and many of them were Italian and Maltese migrants being deported because they had rioted in Sydney after as they claimed the Australian Government having failed to provide them with the jobs they had been promised. During her voyage we called in at Singapore, Colombo and then it was off to Aden, but our Captain suddenly received instructions to divert to Massawa in Eretria in order to collect some unscheduled cargo.
Once we departed Massawa the "Toscana" headed for the Suez Canal, but when she was approaching the port of Suez there were several ships converging in haste towards the entrance of the canal for their last opportunity to join the convoy that was about to enter the Canal.
And considering the rather dim light of dusk, the American "Transport Oiler", the U.S.N.S. "Cowanesque" (T-AOT-79) collided with the "Toscana" opening up a three deck high gaping hole in her side.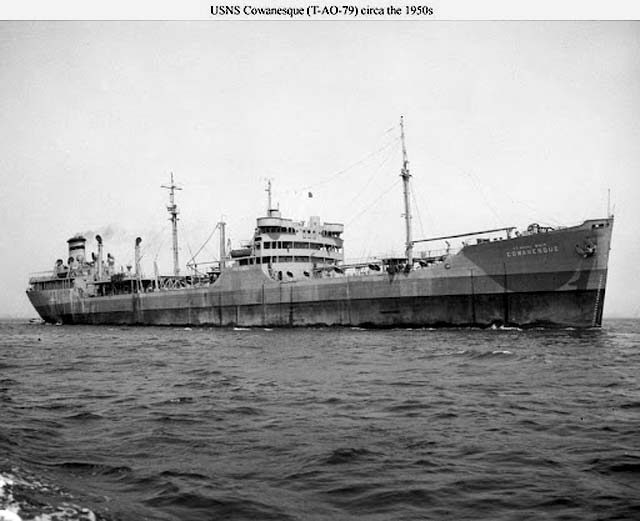 U.S.N.S. "Cowanesque" (T-AOT-79)
Authors private collection
Several massive holes opened up near a cargo hold, as well as an outside cabin and the dining room which passengers had vacated only 30 minutes earlier. However, there was also considerable damage done to her Bridge.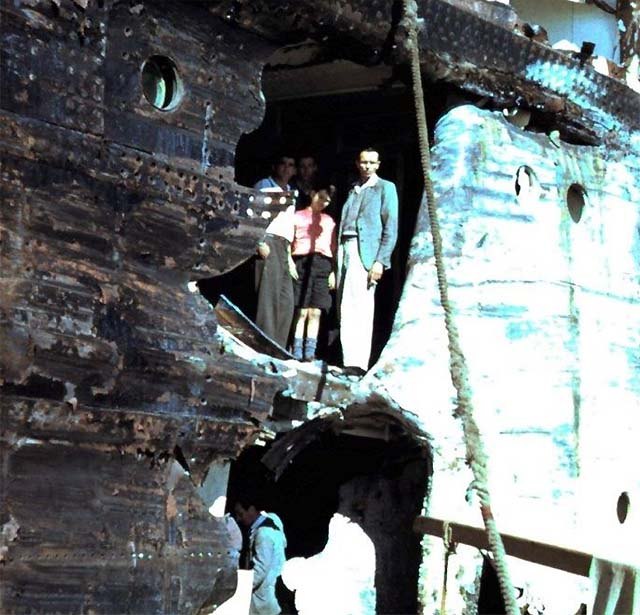 Above & below: Two photographs of the damage caused to her hull and the Bridge
Photographs by John Hallam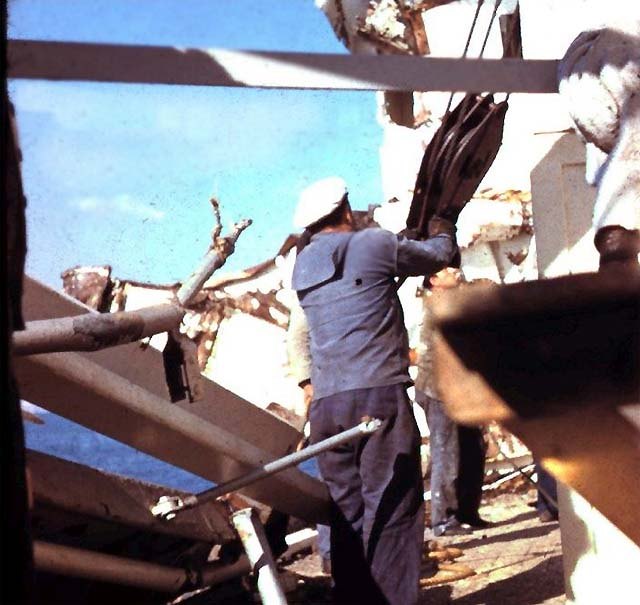 At the time of the collision, waiters who were polishing silverware at the back of the dining room were in a state of shock and were the first on deck. I was outside my cabin desperately asking fleeing passengers where they were finding their life jackets. They had learned that they were under their bunks during an emergency drill that was strangely practiced only between Sydney and Fremantle, thus we missed out. One of the passengers on an upper bunk, hearing the Cowanesque's warning horn and seeing her through a porthole as she approached, jumped to the other side of the cabin and he survived. The Maltese passenger lying on the bottom bunk was unfortunately killed.
The bottom deck was below the water line thus she was taking in water fast. But bags of wheat in the cargo hold, we were told, helped to stem the flow of water, thus this together with the pumps they managed to keep the ship afloat. After a week in stifling heat and in our now non air-conditioned cabins, most of the passengers were finally sent by train to Port Alexandria on the Mediterranean coast where we boarded the superior and more modern liner the S.S. Esperia.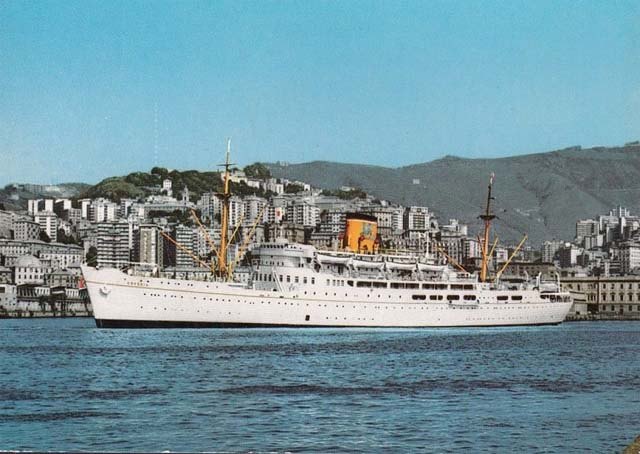 Adriatica Line's S.S. Esperia
Authors private collection
We sailed via Beirut, Bari, Brindisi, Venice, Trieste disembarked at Naples and we continued our journey to London by train. However, the troublesome rioters were sent on a non-stop voyage to Italy on a ship named "Diana" sailing through the Suez Canal".
John Hallam.
Please Note: The above excellent story written by Hallam was slightly edited by the author of ssMaritime, for clarity reasons.
*************************************
Harry's Experience:
I received an email from a passenger who sailed on the Toscana in 1955 being a young 7 year-old boy who with his parents sailed from Fremantle to Genoa; sailing via Colombo, Aden, Port Suez, and Port Said, being a five week voyage.
"I was a frightened 7 year-old when I boarded in Fremantle for the six-week journey to Italy. I well remember the sponsoon's and my father telling me they were to stop the ship rolling on high seas. I can remember there were a lot of other people on board and we enjoyed the food. Crossing the equator was scary as they had Captain Neptune sitting in judgement and punishing passengers for trumped up charges by splattering them with eggs and rubbish from the kitchen then ordering them thrown in the swimming pool. The swimming pool was a large wooden crate and around 6 m x 10 m x at least a metre deep. It was lined with a huge canvas tarpaulin. The ship anchored in the ports we visited, and I still have coins from some of these ports. In December 1955 we returned to Fremantle (the port for the city of Perth) on the P&O liner S.S. Stratheden, which was a much larger and a faster ship, and we departed from Tilbury and sailed via the Suez Canal to Fremantle. Being a faster ship she reached Fremantle in around a month."
Harry Pearson, Western Australia.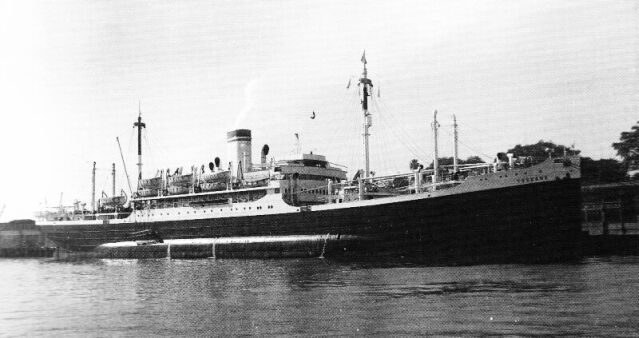 She is seen here late in 1959
Photograph sent in by a supporter
Toscana operated on her new schedules, being a one-way passenger liner to Australia and an all cargo ship to Genoa, however by the 1960's she was taking paid passengers back to Italy from Australian ports.
S.S. Toscana & "The Rip" Tragedy in February 1960:
There was one departure from Melbourne in the afternoon on February 17, 1960 being a warm, calm and a pleasant day that would place the Toscana in history as she was involved in a remarkable rescue of commandos whilst they were on an evening exercise near the Port Phillip Bay Heads in two men kayaks and inflatable zodiacs. During the exercise suddenly a massive storm took everyone by surprise and many were swept into the sea and even into the treacherous The Bay entrance's "Heads" also known as "The Rip" where two men quickly died. Later another also died, a commando who helped eight men to board the Toscana who came to the rescue being nearby and its crew had thrown a ladder and ropes down the side of the ship, and this one man aided his eight companions up the wildly moving ladder, whilst holding zodiac and the ladder steady as much as possible with both his hands, whilst both the ship and the zodiac was heaving wilding in eight meter waves, but sadly at the end he was thrown of the ladder into the sea well past the wild "Rip" when he attempted to board the Toscana and the ladder smashed against the hull and went out and twisted and sadly he was never seen again, thus this hero died saving his mates! The full story can be found on the Index at the bottom of this page; Page Three: S.S. Toscana "The Rip" Tragedy.
Her Final Days:
After the February voyage S.S. Toscana continued her voyages to Australia, but her very last Australian voyage saw her arrive in Fremantle (port for Perth Western Australia) on October 17, 1960. She would have continued as far as Sydney, therefore she would have returned home to Italy later in October for her final voyage from Australia. She operated some further voyages for Lloyd Triestino, but she was taken out of service late in 1961, and she was laid waiting to be sold to a ship breaker. She was soon sold to a local breakers yard, located in Genoa and she arrived at their yard on February 21, 1962 and was rapidly broken up.
In Conclusion:                 
The S.S. Toscana, ex Saarbrücken had given 39 years of faithful service to both Germany and Italy. She may not have been a luxury liner, far from it for she certainly did not offer the migrants on board any kind of luxury in their accommodations, which were less than desirable in many ways, although fare paying passengers did have reasonably good accommodations and pleasant facilities.
The Toscana was far from the best-looking ship around, with her ribbed hull and those hideous sponsoon's along both sides of her hull, but one thing was definite, she was one of the most reliable ships sailing the seas!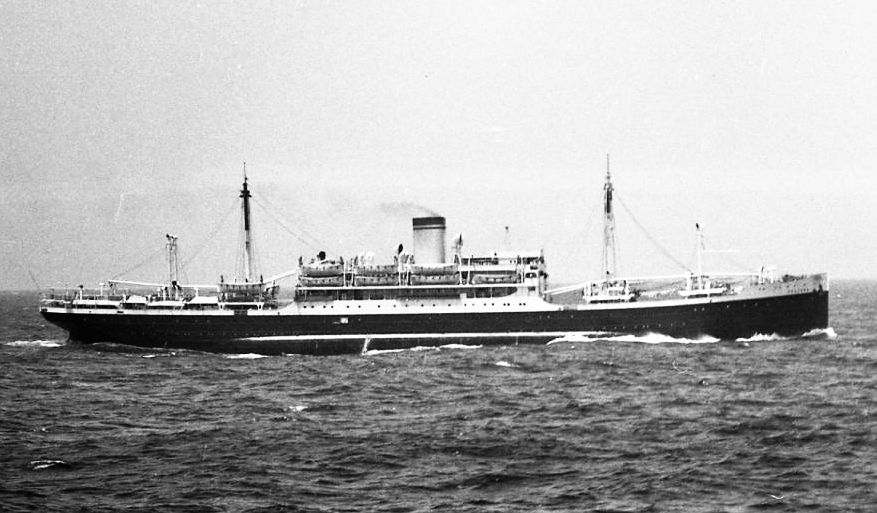 S.S. Toscana seen during her final voyage back to Italy on the Indian Ocean in 1960
Author's private collection
Regardless of the Toscana's shortcomings she provided thousands of migrants and passengers many fond memories of their voyage, even though she was an extremely humble ship and far from a luxury liner, but, she plied the seas and brought countless Italians and Europeans and others to various destinations, a new land be it as migrants or tourists. So many people commenced a new life in their new found home. I have received many emails over the years and there are those who speak fondly of the old Toscana, and yes, she may have been rough on the edges and I have received countless seasick stories, but the majority tend to say that she had a character of her own, and as I have been told, the food was always very good.
But there were some negatives due to illnesses and even deaths as can be read above in Gerald Buttigieg's story. There may even have some rat's on board and they do come on whilst a ship is in port of course, but that is a curse and it will cause many problems, especially for passengers who are berthed in the tween (the ships hold's) dormitories! But over all, most of the stories I have received are relatively positive for what was one of the most humble migrant - passenger ships!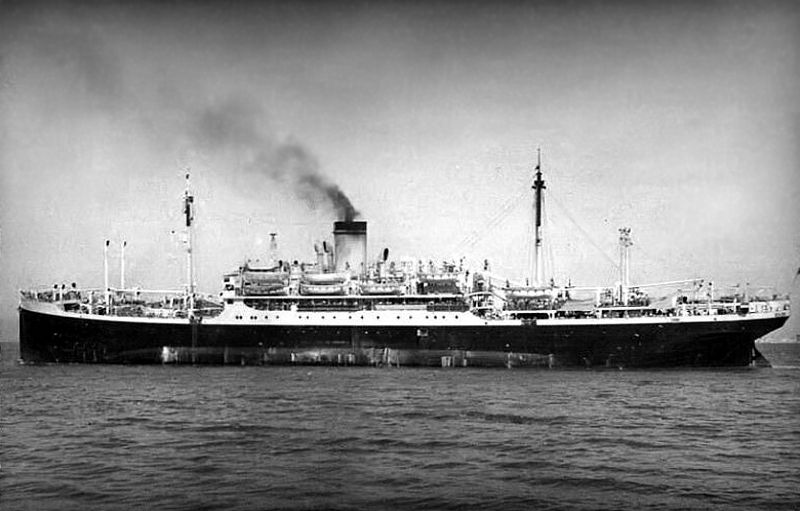 Toscana is seen her during her final days
Author's private collection
S.S. Toscana INDEX:
Page One         S.S. Toscana History.
Page Two         Family Shelling sailed on Toscana's maiden voyage to Australia in 1948.
Page Three      S.S. Toscana "The Rip" Tragedy - February 17, 1960.
*************************************
Other Lloyd Triestino Liners on ssMaritime:
MS Australia and Oceania & Neptunia
TN Galileo & Marconi &  MV Africa & Europa
*************************
"Blue Water Liners sailing to the distant shores.
I watched them come, I watched them go and I watched them die."

Featuring over 1,365 Classic Passenger Liners, Passenger-Cargo Liners & Classic Cruise Ships!
Or ENTER HERE
For interest: Sadly an email service to ssMaritime is no longer available, due to the author's old age and chronic illness as well as being disabled, etc. In the past ssMaritime received well over 120 emails per day, but Goossens can no longer handle same. He sincerely regrets this!
*************************
ssMaritime.com & ssMaritime.net
Where the ships of the past make history & the 1914 built M.S. Doulos Story.
The Author has been in Passenger Shipping & the Cruise Industry for well over 60 years
In addition he was the founder of "Save the Classic Liners Campaign" in 1990.
Please Note: ssmaritime and associated sites are 100% non-commercial and the author seeks no funding or favours of any shape or form, never have and never will!
Photographs on ssmaritime and associate pages are by; the author or from the author's private collection. In addition there are some images that have been provided by Shipping Companies and private photographers or collectors. Credit is given to all contributors. However, there are some photographs provided to me without details regarding the photographer/owner concerned.
This notice covers all pages; although, and I have done my best to ensure that all photographs are duly credited and that this notice is displaced on each page, that is, when a page is updated!
ssMaritime is owned & © Copyright by Reuben Goossens - All Rights Reserved