- 1948 Home Lines SS Atlantic - 1955 Chandris Lines RHMS Queen Frederica Matson Lines 1928 SS Malolo - 1938 SS Matsonia
Please Note: Firefox and some other search engines are not suitable
Use Google Chrome for this page to load perfectly!

Click the logo above to reach the ssMaritime FrontPage for News Updates & "Ship of the Month"
With Reuben Goossens
Maritime Historian, Cruise'n'Ship Reviewer, Author & Maritime Lecturer
Please Note: All ssMaritime and other related maritime/cruise sites are 100% non-commercial and privately owned. Be assured that I am NOT associated with any shipping or cruise companies or any travel/cruise agencies or any other organisations! Although the author has been in the passenger shipping industry since 1960, although is now retired but having completed over 700 Classic Liners and Cargo-Passengers Ships features I trust these will continue to provide classic ship enthusiasts the information the are seeking, but above all a great deal of pleasure! Reuben Goossens.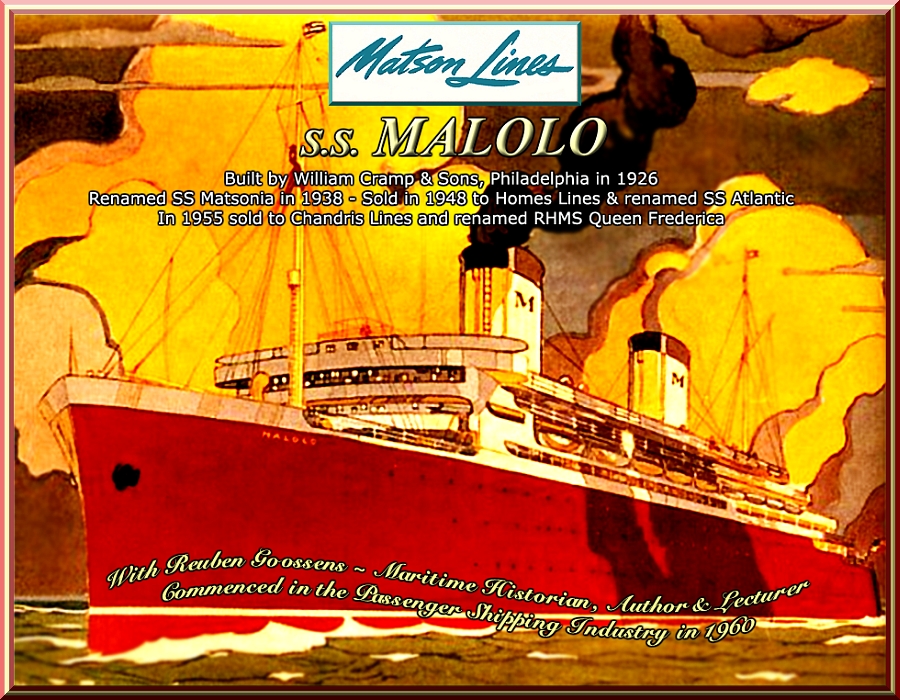 SS Malolo first visited Australia in October of 1929 - She later became the much loved Chandris Liner Queen Frederica
Please Note: Photographs and images on this page are from the author's collection unless otherwise stated.
Part One
SS

Malolo

&

Matsonia
SS

Malolo

:
The Malolo was the first of a number of ships designed by the great William Francis Gibbs for Matson Line. Due to her advanced design she was built by W. Cramp & Sons, Philadelphia in 1926.
SS Malolo was launched on June 26, 1926. Completed in May 1927, she departed on the 24th.for her sea trails. However the next day, whilst experiencing thick fog, she was located near the Nantucket Lightship a Norwegian vessel, SS Jacob Christensen collided with Malolo causing her high standard of safety features, such as having a double bottom and watertight bulkheads, she was kept afloat and was towed to New York where she entered dry-dock and was repaired and completed.
Finally she was completed and delivered to Matson Lines in October 1927, and on November 16, the ship with a reddish brown hull departed San Francisco for her maiden voyage to Honolulu.
When built the Malolo was the largest and the most technically advanced liner of her time, and she was considered the most luxurious liner to have been built in the United States.
As the Malolo departed Honolulu during her maiden return voyage, Matson initiated the custom of passengers throwing their leis into the sea as the ship passed Diamond Head. The lei floating away would signify that the passenger would return again to the shores of Hawaii in the future.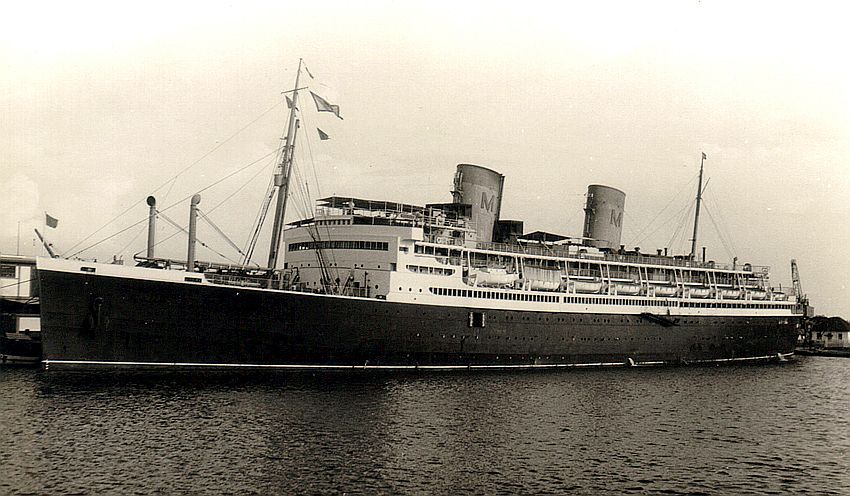 Here we see the just completed SS Malolo
The following few photographs that come out of a deluxe, 36 page Matson S.S. Malolo Brochure that was released around the time of her 1927 Maiden Voyage. Matson boasted that "She is of sea-craft royalty, this ruler of the Pacific, the Malolo flagship of the Matson Line."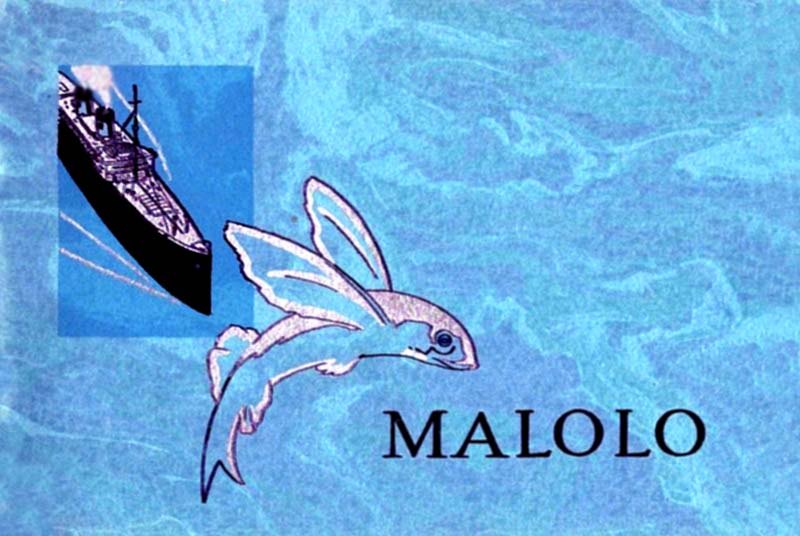 The 1927 introduction brochure to the SS Malolo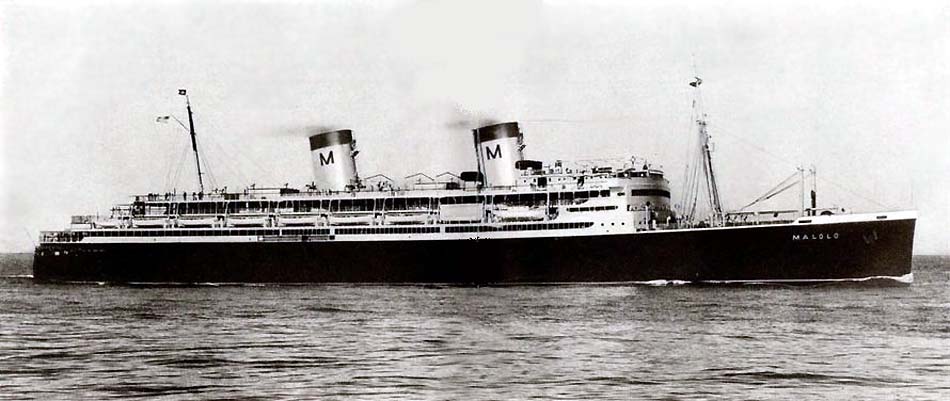 Another photo of the Malolo seen as built
Photos below show traditional interiors that would make any ocean traveller feel perfectly at home. Views show the Purser's Lobby, the Smoking Room and the Dining Room as well as many others, but these are just a small sample.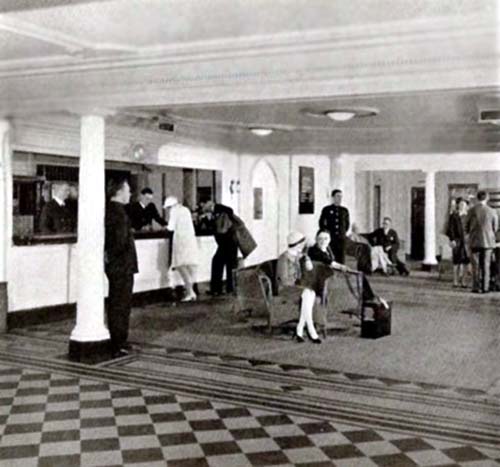 The Main Lobby with the Pursers Office
This luxury liner accommodated 457 First Class & 163 Cabin Class passengers in the ultimate comfort and style. Although not a large ship, she was spacious considering the passenger ratio. Public rooms in both classes were elegant with walls lined with fine timbers combined with subdued colours and luxuriously furnished. Malolo would be one of the first liners to have an indoor swimming pool, which became a popular and much spoken of feature of the ship. Accommodations were mostly outside, with just a few inside cabins. The vast majority had private facilities.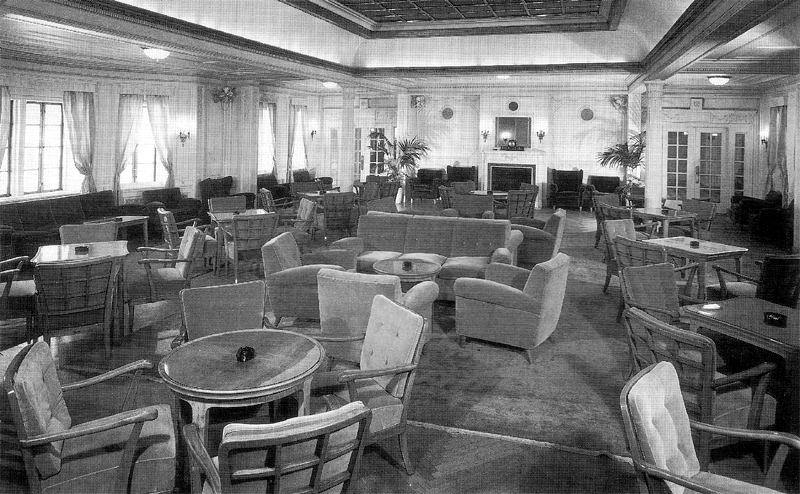 The First Class Main Lounge was a bright and certainly a most spacious room! Besides being beautifully furnished and carpeted, its walls were painted in beige tones with fireplaces and huge bay windows at both sides. The ceilings were given the feel of added height by a central dome as well as what appeared to be domes on both sides of the lounge, but were in fact more like deep frames, which was a very clever idea and it worked well!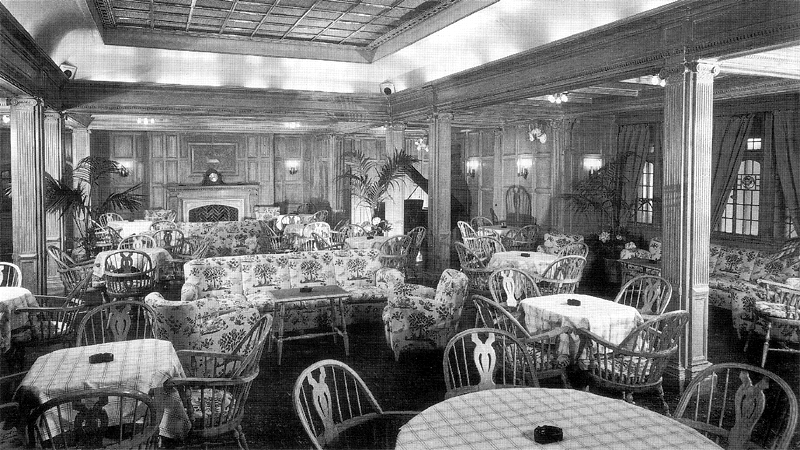 Above & below: The Smoking Room and a close up of the rooms Fireplace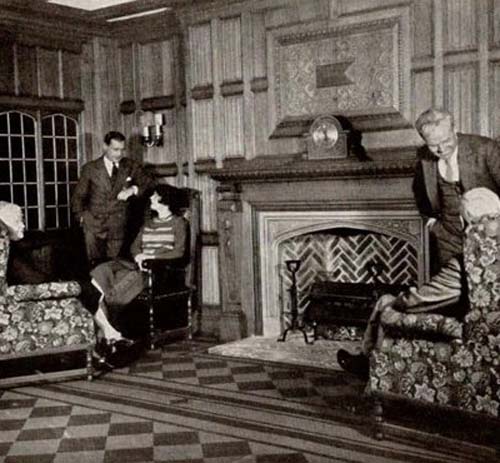 The Smoking Room on the other hand was a very different story altogether as it was very much more a traditional style of venue and it had that rather British feel. Beautifully timber clad walls as well as an elegant fireplace with a mantle clock above. Once again it featured a central domed ceiling above with a timber feature and grand pillars dividing the room into sections. However, the furnishings are more casual with sofas and lounge chairs having light coloured floral patterned upholstery, tables with chequered tablecloths, and quaint timber chairs. Along all the walls there were wall light fittings that were delightful, as well as the ceiling lighting. And as is so typical of all Matson ships palms featured in all public venues!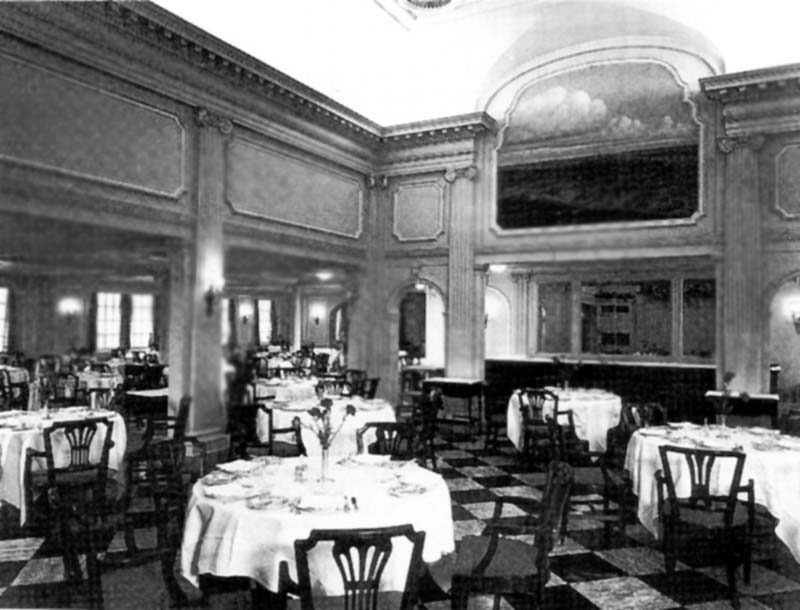 Obviously the Main Restaurant is always one of the finest and highest venues of the First Class, as it tends to be on most Liners, and the Malolo would certainly not disappoint! The Restaurant was spacious, and it looked even more so, due to the heart of the venue was two decks high, with its grand dome featuring a superb light fitting in the middle as well as a large mural on one end and a bandstand at the other. The all-marble black and white/grey floor looked rather spectacular, combined with the fine and elegant dark timber chairs. You can just imagine the superbly set tables with the best silver and fine porcelain and crystal glasses ready for a sublime evening meal!
Externally the Malolo was what we might consider an average looking ship, having the traditional Matson reddish brown hull, white superstructure, with two masts, two tall yellow, black topped funnels with the traditional "M" Matson logos on them. However, what was extraordinary was that her lifeboats were slung low on her superstructure, something that would be changed 10 years later when she was greatly modernised.
The all White SS

Malolo

:
With the three new liners soon due, the Mariposa, Monterey the Lurline, all would be have an all white tropical livery, it was decided in 1928 to repaint the Malolo all white, making her more suited for the tropics considering she had already operated Circle Pacific Voyages to Asia and Australia as did again in her new livery in 1929 and this was repeated over the next years due to the great success of these voyages. However, her "tropification" also extended to some of her interiors, and she was now a much better ship.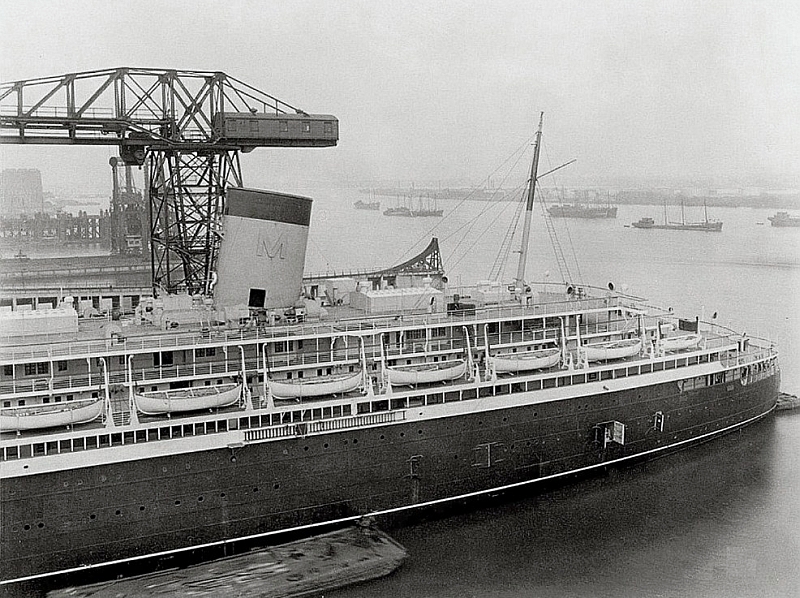 The Malolo is seen undergoing her "tropification" and will soon be an all white ship with plain yellow funnels with the blue "M" for Matson!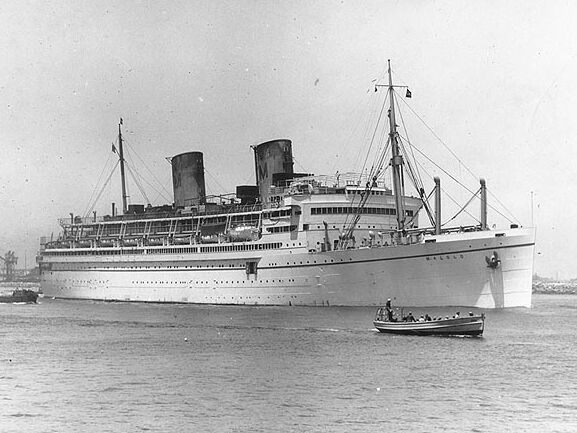 Above, we see the S.S. Malolo in her new all white livery and she is ready for her ongoing role cruising the Pacific as well as Asia and Australia.
Although the Malolo continued her West Coast to Hawaii service she would undertake her annual extended voyages departing San Francisco and heading across the Pacific visiting Japan, Hong Kong, the Philippines, Singapore and Thailand then down to Australia, visiting Fremantle (Perth), Melbourne and Sydney. She then crossed the Tasman Sea to Auckland New Zealand, she then return to San Francisco via Fiji, American Samoa and Hawaii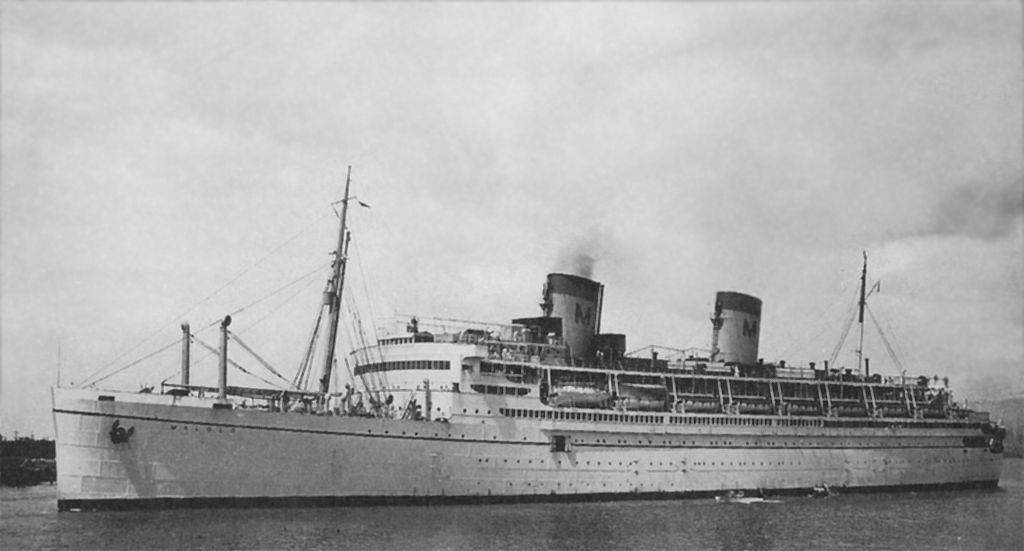 Here we see the Malolo in Sydney, Australia during her Annual Circle Pacific Voyage
The menu shown below came from the estate of the famed silent screen star Billie Dove, whom apparently sailed to Hawaii with her husband Bob Kenestan. These menus are part of Paul Melzer's collection and he kindly emailed these to me.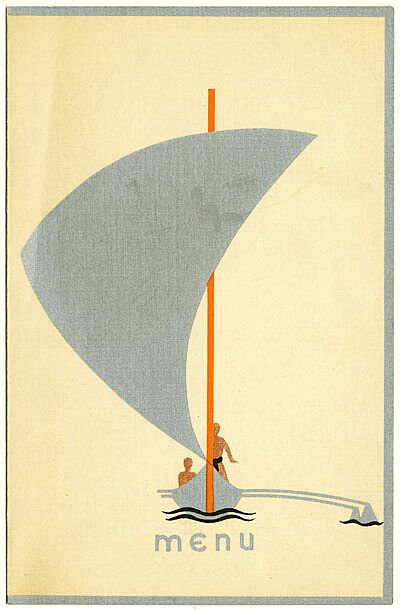 From the Paul Melzer's collection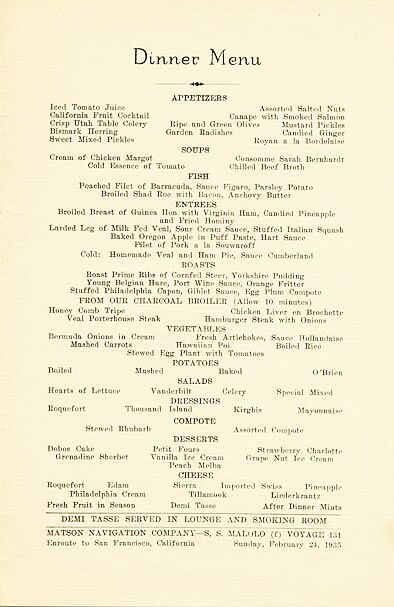 From the Paul Melzer's collection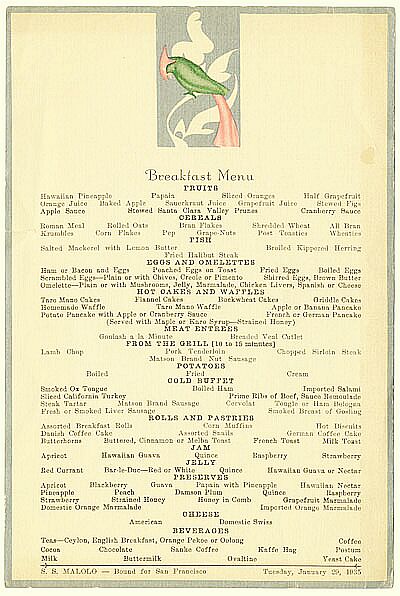 From the Paul Melzer's collection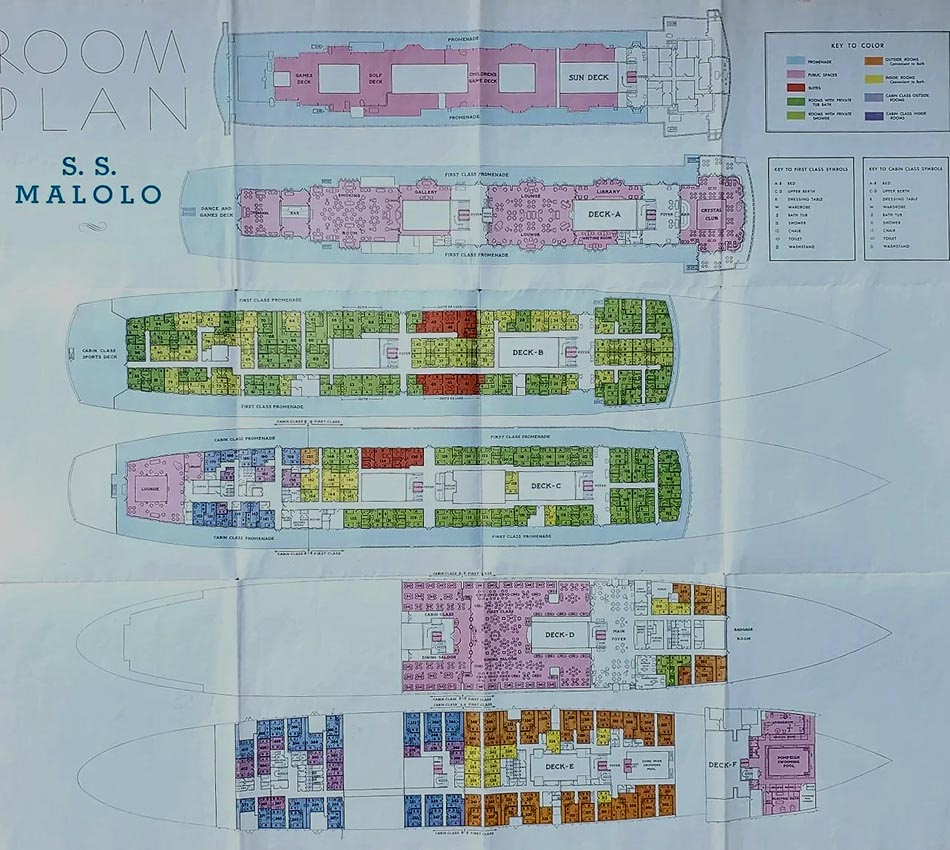 For a large sized deck plan click HERE
When the plan opens it will be small, just click on it and it will enlarge,
when finished just use the return arrow at the top to return to this page
Specifications - SS Malolo as built in 1927 & rebuilt SS Matsonia 1937:
Built by: W. Cramp & Sons, Philadelphia 1927.
Yard #: 509.
Tonnage: 17,232 GRT / 1937: 17,226 GRT.
Length: 582ft - 177.3m.
Width: 83ft - 25.4m.
Engines: Steam; Geared Turbines by the builders – 25,000 SHP.
Screws: Twin.
Service peed: 21 knots.
Passengers: 457 First Class & 163 Cabin Class.
1937:………… 693 First Class only.
SS

Matsonia

:
With the departure of an earlier Matson liner, the Matsonia, in 1937 Matson Lines decided to substantially rebuild the Malolo and rename her Matsonia. The work undertaken would greatly alter her overall appearance, as her life boats were relocated two decks higher. The deck where the lifeboats had been was fully enclosed, providing additional cabins including a number of the famed Matson "Lanai Suites." The new boat deck included a much sought after promenade, popular in the warmer climates. In addition her older accommodations were vastly improved. Upon completion she looked stunning and had the appearance of a much larger ship, although she now registered at 17,226 GRT. SS Matsonia looking much like a new ship continued to sail between San Francisco and Honolulu until 1941.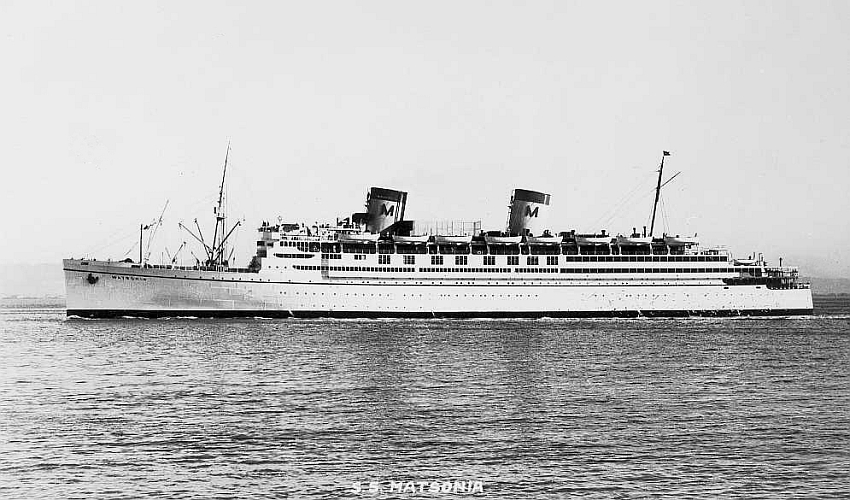 A postcard of the SS Matsonia released just after her 1937 rebuilding
USS

Matsonia

:
On November 21, 1941, Matsonia was requisitioned by US Navy to be deployed as a troop transport ship. She received a hurried transformation in order to transport up to 3,000 troops and departed San Francisco on December 5 bound for the Philippines with troops. However, due to the attack on Pearl Harbour Matsonia was turned back "and zigzagged home to San Francisco" according Sam Fox who was on board. There she was loaded with weaponry and other needs for the war zone, as well as some 3,280 troops.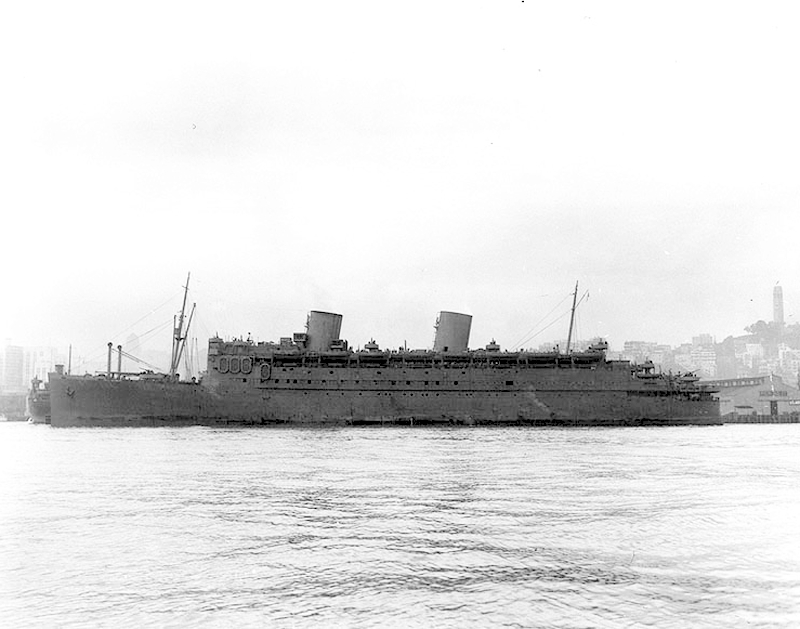 The USS Matsonia is seen here ready to depart from San Francisco in 1943
Source: U.S. Naval Historical Center Photograph – NH 89859
She departed San Francisco once again with her hurried refit as a trooper being completed on December 16, 1941 and headed for Honolulu in convoy that included her two newer sisters, the Monterey and the Lurline. For the duration of the war she transported troops around the Pacific and also made a good number of calls to Australia.
Stories of those who sailed during the War years:
A Voyage to Brisbane Australia:
Mr. W. F. Beseler wrote me and told me his story:
"I sailed on the Matsonia on my last trip as a USMMCC Cadet to and from Brisbane Australia with some retuning servicemen and also some war brides. She was a vast change from my previous ship, the Grace Line Santa Elisa, but comparing the two would be apples and rice! Capt. Frank Johnson was the master, and a gentleman by the name of Borthen was chief officer, and a Schurz (sp) was first mate.
I was told that the Hawaiians were snubbed by the name "Malolo" meaning "flying Fish" and had put a curse on her resulting in the mishap and the loss of some of her fantail, I do not know if this tale is true!
Later on they had lifted her lifeboats up on "Lanai (Boat) Deck," which some claim gave her a little less stability in weather and some dubbed her "rollolo." I can attest to her roll, she took a pretty good roll and then just momentarily hung there; it seemed like a long time! Cadets did not have a lot to do on Matsonia, polishing brass and the like. On 12 to 4 watch my job was to wind all the bulkhead clocks, and then one of the cooks, who had been a pastry chef in one of the big hotels, would make me a sumptuous breakfast!
We stopped at Pago Pago on both tracks to Brisbane, all went ashore for souvenirs. On the return we ran into a bad storm in the trough you could just see the next wave at eye level, too young and dumb to be scared! A stevedore strike in San Francisco made us detour to Seattle, so we journeyed up the Strait of Juan de Fuca, I'm not sure that we had a pilot, but Capt. Johnson had good control of her, and we spent about a month there. Since the war was over, some of us cadets decided to call sea life a day and left her at that time. She was a great ship and especially good food always. Excellent officers! W. F. Beseler."
Tony Prince was just six years old when he sailed on the Matsonia from San Francisco departing on October 6, 1945, arriving in Brisbane Australia on October 22. He said;
"I was on this voyage with my father to join family in Australia. I understand it was not a scheduled voyage however I have a copy of the passenger list to substantiate it. I well remember sailors tossing ammunition overboard during the trip. Gun tubs were still in place along the decks and the ship still wore her wartime grey colour scheme. After all, the Pacific War had only been over for a very short time and she was still under US Navy command."
In 1946, she was decommissioned and it is estimated that she transported over 176,000 persons that is troops, war brides as well as other civilians.
Returned to Matson and a Refit:
The Matsonia was returned to Matson in April 1946 and was given a massive refit returning her to her old beautiful self in order that she could resume her passenger services. She departed San Francisco on May 22, 1946 and remained on the Hawaii service at first.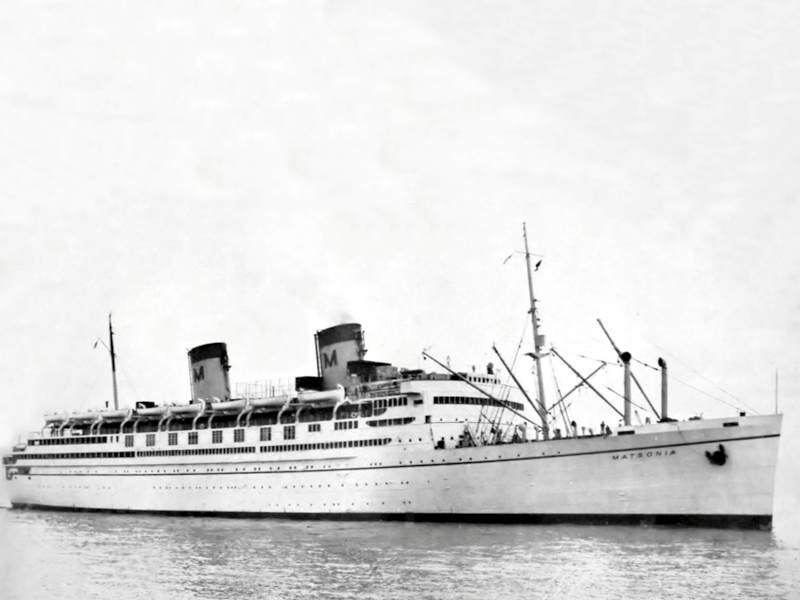 Here is another fine photo of the Matsonia whilst at sea
Marshall Earl Wilcox and his wife Gladys Olivia boarded the SS Matsonia in December 1946 for a cruise, which according to their daughter Dawn was greatly enjoyed. From the cruise they collected a series of superb menus that survive to this day and we are pleased to present scans that their daughter Dawn Sandner has kindly sent me.
Below: Four superb menu covers from Mr & Mrs Wilcox's cruise on the Matsonia in 1946
This set of images was kindly provided to us by Dawn Sandner (USA), daughter of Mr & Mrs Wilcox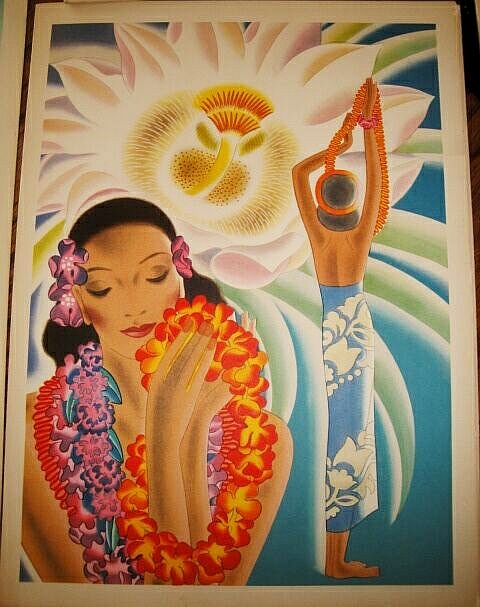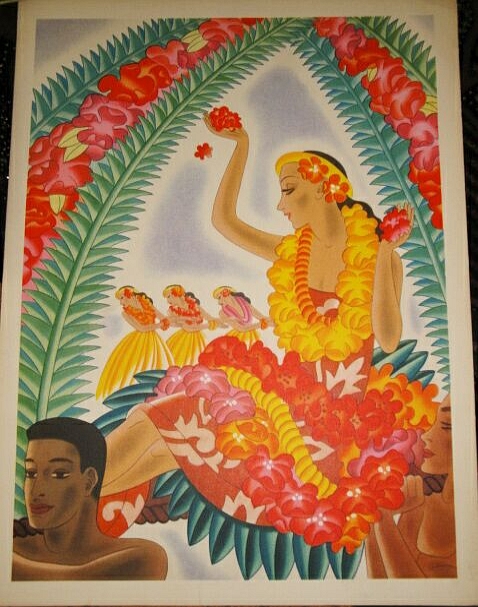 As you can see from all four covers, the colours are vivid and the artwork is superb!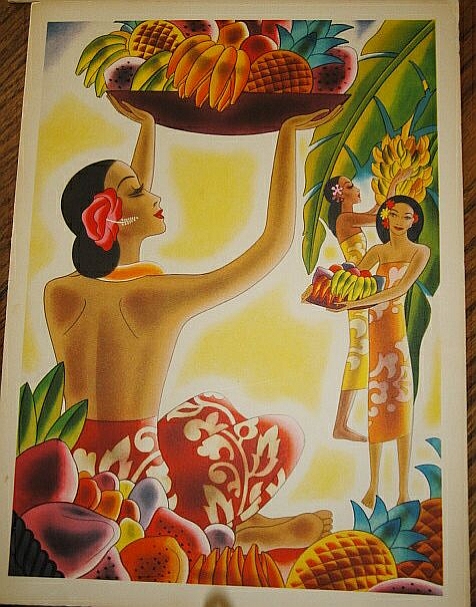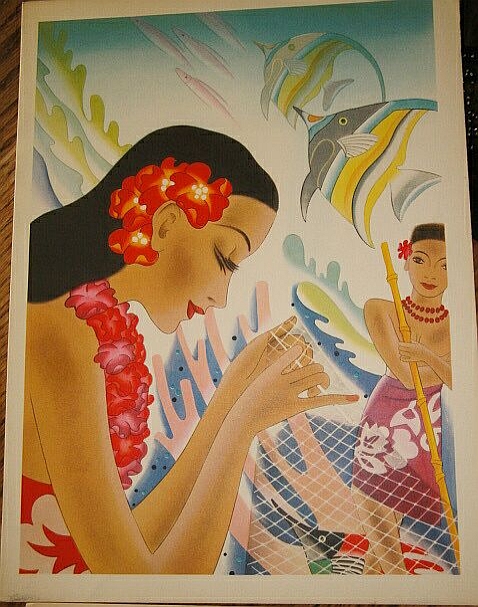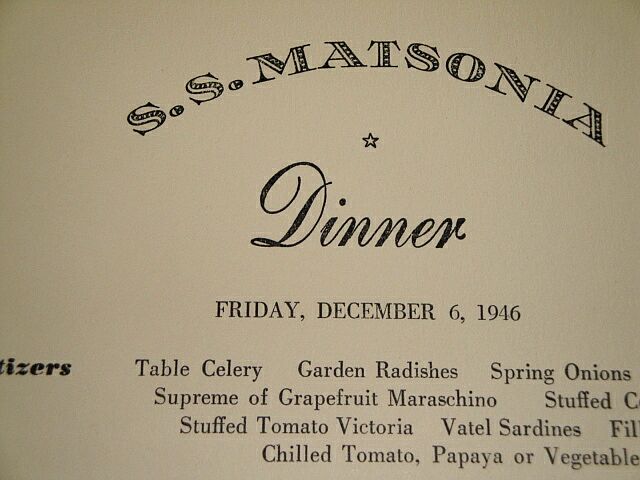 A View of the interior of one of the menus
I received an email in 2016 fro Mt. David Stroup, regarding his two Aunts' who undertook a cruise on the delightful SS Matsonia from Honolulu, to San Francisco to Los Angeles in June 1947. He was kind enough to send the cover of one of the menus he has as it was not shown on this feature of the ship.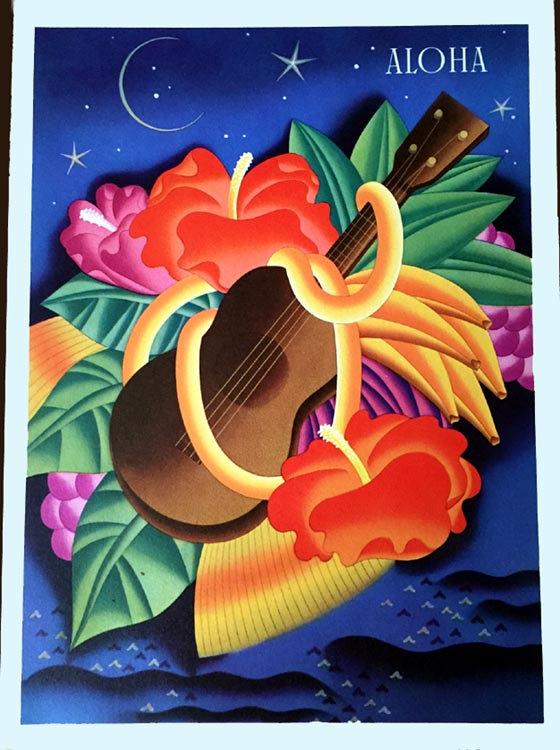 Matson Line was famed for their amazingly beautiful colourful Polynesian Artwork on their Menu covers!
This fine Menu cover image was kindly provided by Mr. David Stroup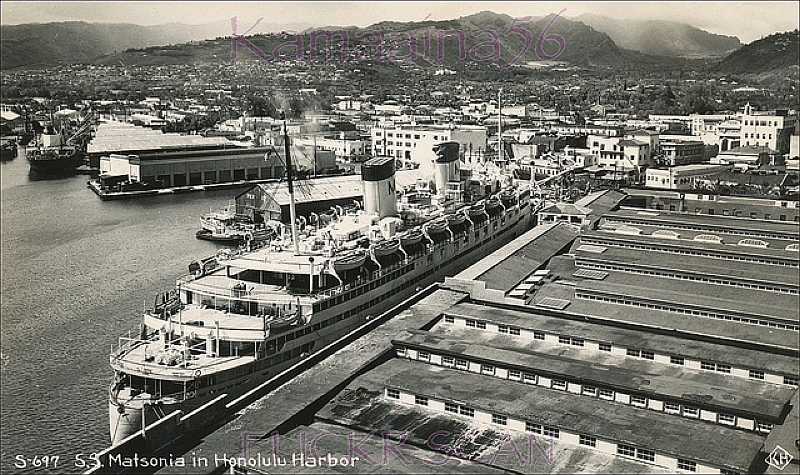 A postcard of the Matsonia seen berthed at Pier 10 at Honolulu around 1946/47
Finally it was decided by Matson to sell the SS Matsonia and she was soon sold in April 1948 to the Italian Home Line (but registered under Mediterranean Lines). When Home Limes took possession of the Matsonia she was renamed "Atlantic," and then she became the greatly loved "Queen Frederica" for both Home Lines and their subsidiary operators, and later Chandris Lines!
Note: The next time that a Matson Line ship would be named "Matsonia" was the 1932 built SS Monterey and in 1956 she was renamed "Matsonia" as this name remained so popular with Matson passengers! Although later in 1963 this ship, which looked very similar to the wonderful Malolo was renamed once again, but this time she became the "Lurline". She was finally sold in 1970 to become a much loved Chandris Liner RHMS Britanis, a ship that had a very long life, both as a liner to Australia, and as a cruise ship!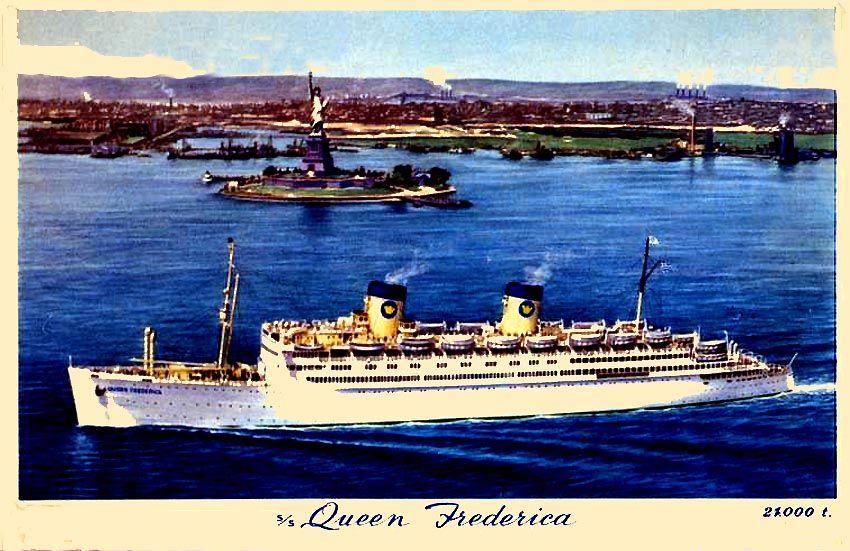 A Home Lines postcard of their new liner the SS Queen Frederica
************************
INDEX:
Part One … SS Malolo – SS Matsonia.
Part Two … SS Atlantis - RHMS Queen Frederica.
Part Three … SS Queen Frederica 1961 Brochure.
For interest: Sadly an email service to ssMaritime is no longer available, due to the author's old age and chronic illness as well as being disabled, etc. In the past ssMaritime received well over 120 emails per day, but Goossens can no longer handle same. He sincerely regrets this!
************************
"Blue Water Liners sailing to the distant shores.
I watched them come, I watched them go, and I watched them die."
************************
ENTER OUR ssMaritime Main Index
Where you will discover over 1,358 Classic Passenger & Passenger-Cargo Liners!
ssMaritime.com & ssMaritime.net
Where the ships of the past make history & the 1914 built MV Doulos Story
The Author has been in Passenger Shipping & the Cruise Industry for well over 60 years
In addition he was the founder of "Save the Classic Liners Campaign" in 1990.
Photographs on ssmaritime and associate pages are by the author or from the author's private collection. In addition there are some images that have been provided by Shipping Companies and private photographers or collectors. Credit is given to all contributors. However, there are some photographs provided to me without details regarding the photographer/owner concerned.
This notice covers all pages, although, and I have done my best to ensure that all photographs are duly credited and that this notice is displaced on each page, that is, when a page is updated!
ssMaritime is owned & © Copyright by Reuben Goossens - All Rights Reserved