Home Lines SS Atlantic & SS Queen Frederica - 1948 to 1965
Please Note: Firefox and some other search engines are not suitable
Use Google Chrome for this page to load perfectly!

Click the logo above to reach the ssMaritime FrontPage for News Updates & "Ship of the Month"
With Reuben Goossens
Maritime Historian, Cruise'n'Ship Reviewer, Author & Maritime Lecturer
Please Note: All ssMaritime and other related maritime/cruise sites are 100% non-commercial and privately owned. Be assured that I am NOT associated with any shipping or cruise companies or any travel/cruise agencies or any other organisations! Although the author has been in the passenger shipping industry since 1960, although is now retired but having completed over 700 Classic Liners and Cargo-Passengers Ships features I trust these will continue to provide classic ship enthusiasts the information the are seeking, but above all a great deal of pleasure! Reuben Goossens.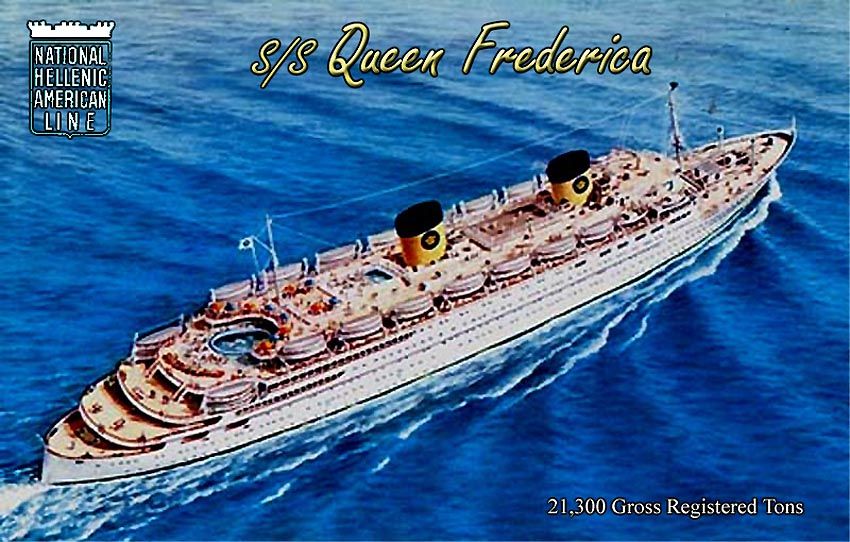 Part Three
SS Queen Frederica Interiors & Exteriors
Please Note: In 1960 SS Queen Frederica was given an extensive refit in Piraeus Greece, and all images on this page are pages from a 1961 brochure the author has in his collection.
Late in 1960, the Queen Frederica received her refit, which saw her lower glazed-in Promenade Deck completely plated in by steel, which added a good number of additional new cabins. In addition her superstructure was also extended somewhat further aft.
Upon completion, there was one big change, being that she had finally dropped her past three classes and she was now a magnificent two class liner accommodating; 174 First Class and 1,005 Tourist Class passengers. Both classes offered luxurious public venues and accommodations for both classes! She was now officially registered as being 21,239 GRT (Gross Registered Tons).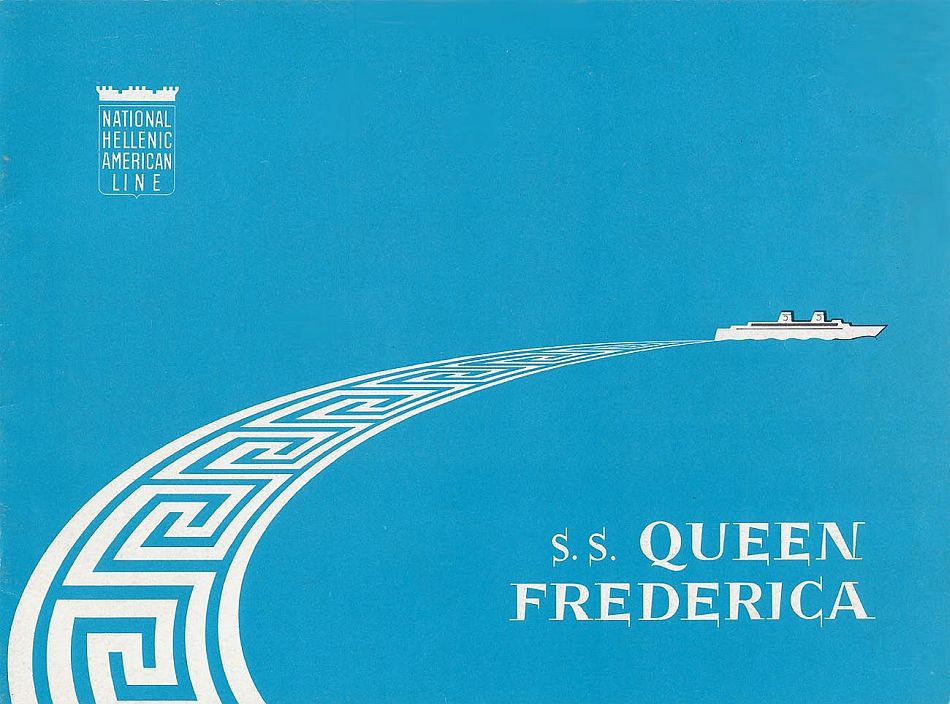 Front Cover of the new 1961 brochure covering the new Two Class Liner - SS Queen Frederica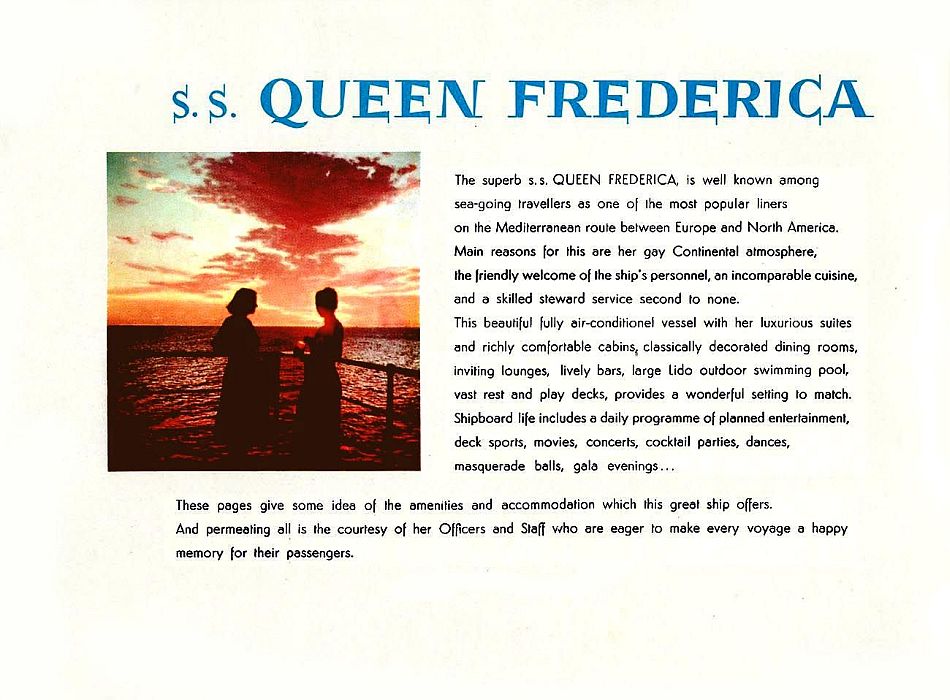 Page One, covering the introduction to the Queen Frederica
First Class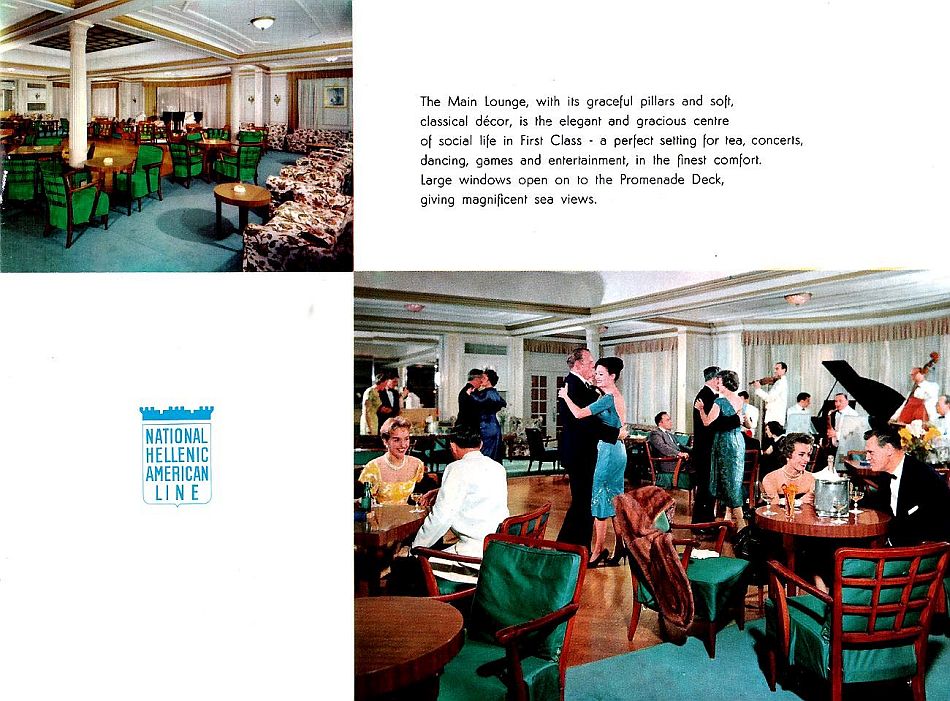 Page Two covers the elegant Main Lounge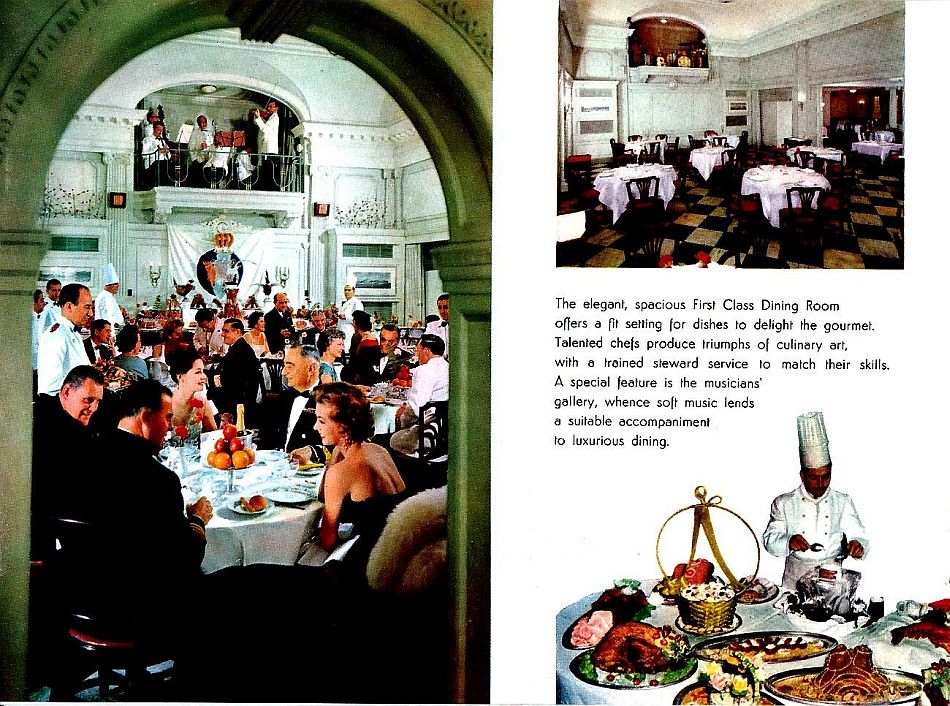 Page Three reveals the spectacular Dinning Room with its high domed ceiling and the bandstand one deck up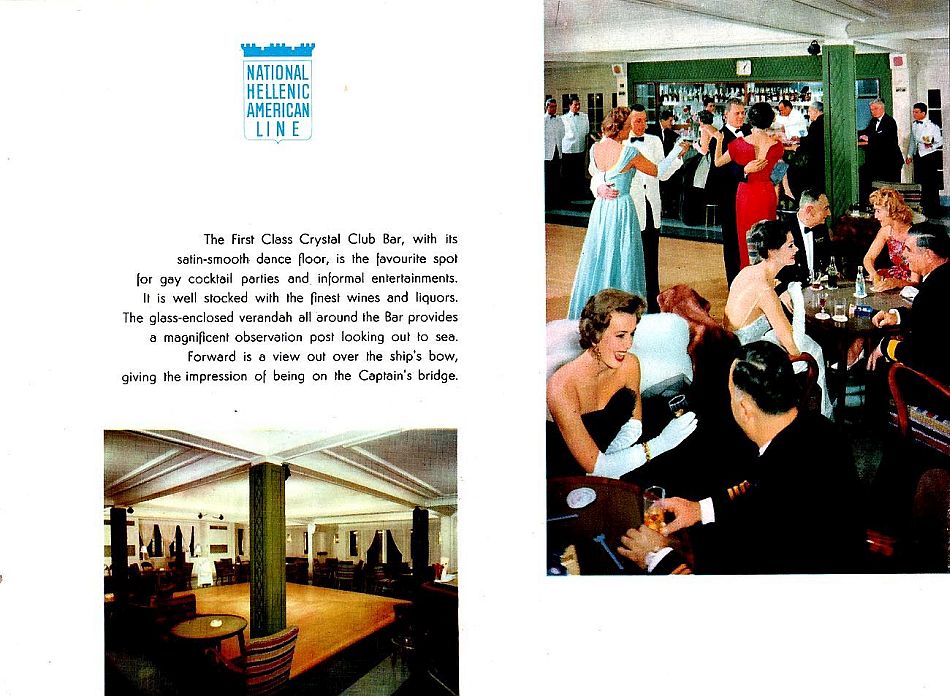 Page Four reveals the Crystal Club and its Bar, and speaks about the surrounding "glass-enclosed verandah"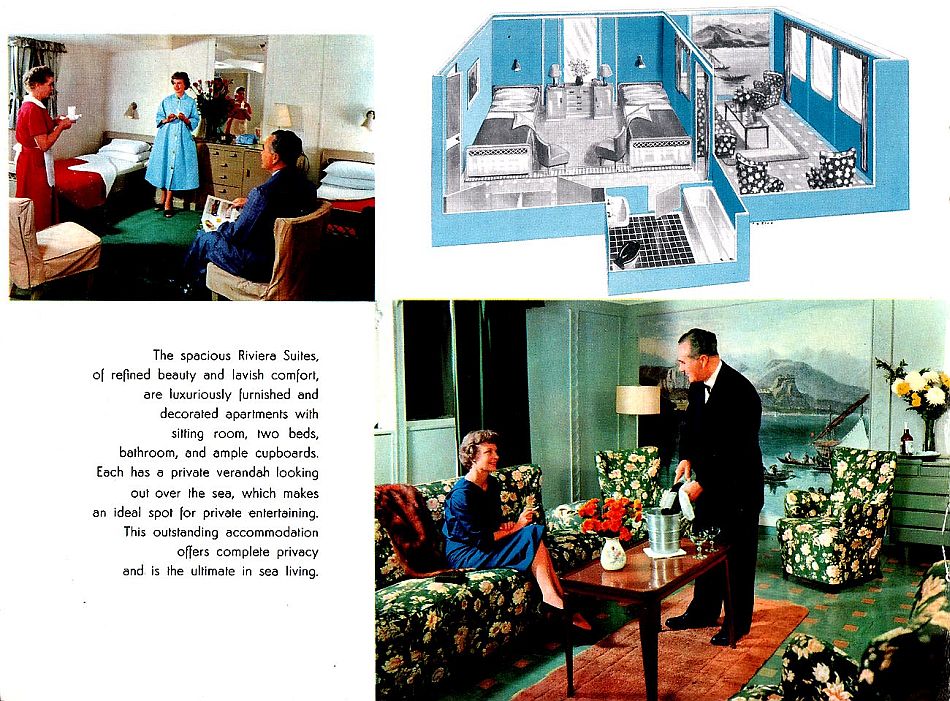 Page Five reveals one of the ships magnificent Suites, complete with a Private veranda, that had three very large windows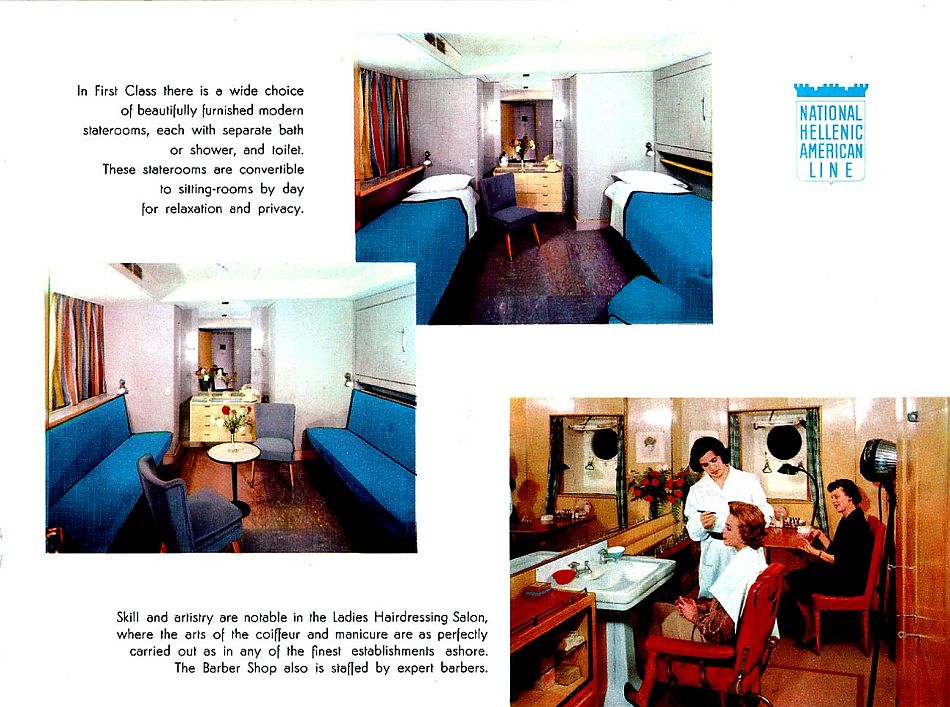 Page Six show several cabins that become lounges during the day, as well as the hairdressers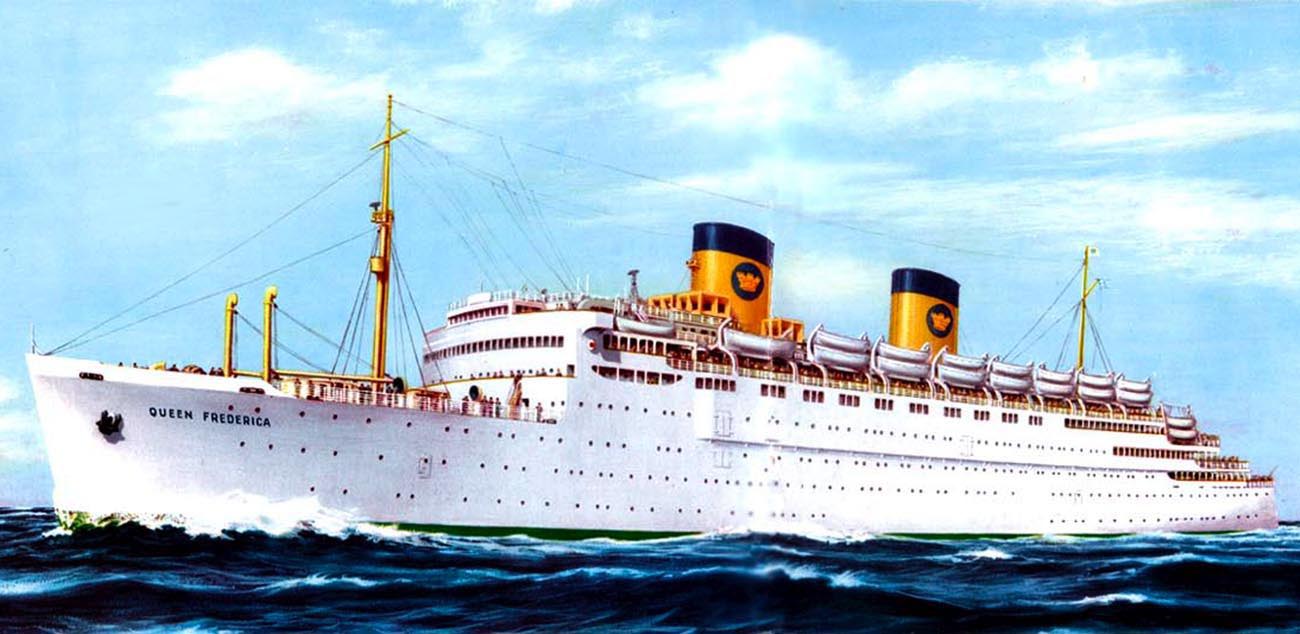 Pages Seven & Eight you find this fine centrefold of the ship, but the strip that was on the right is seen below
The complete version can be found at the bottom of the page in a reduced size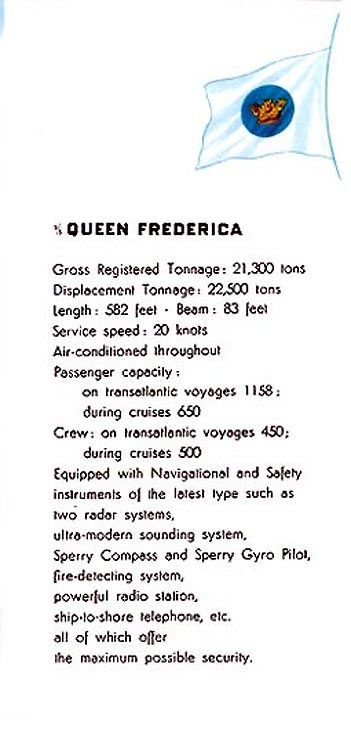 The specification and information strip that in the centrefold of the brochure appeared beside the above image of the ship, I felt would have reduced the image of the ship too much, thus I decided to add it separately below.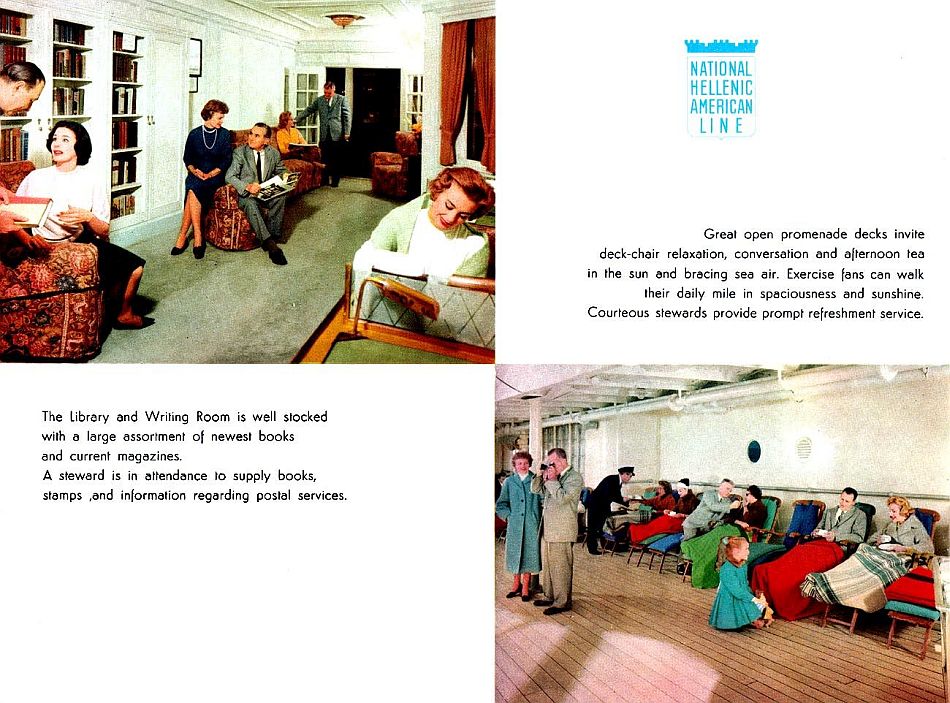 Page Nine reveals the Library and Writing Room the wide glass-enclosed Promenade Deck with ample deckchairs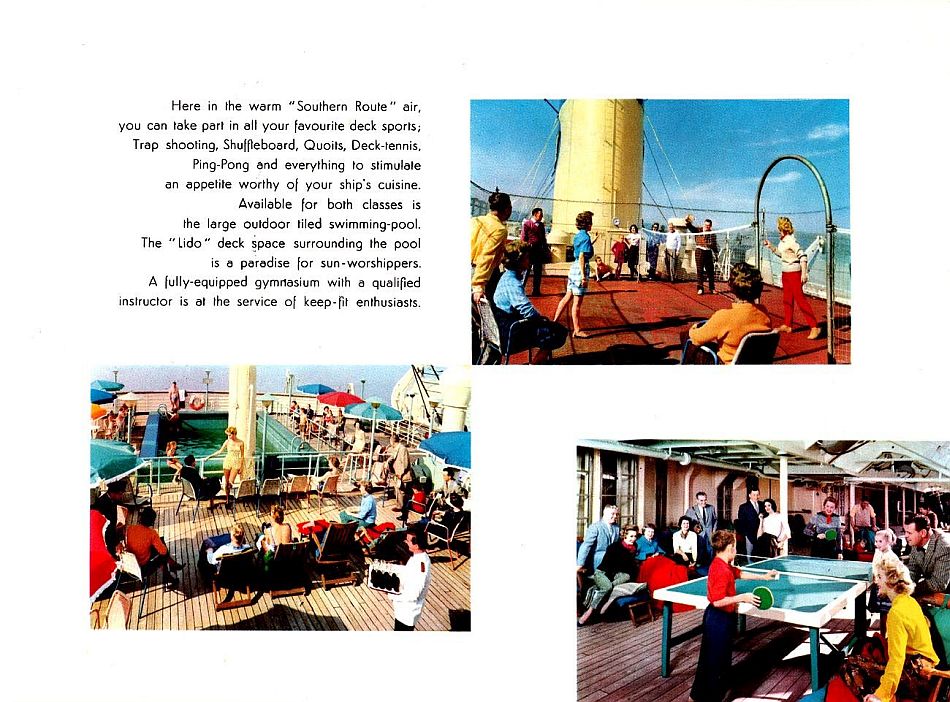 Page Ten shows the many sports facilities available, the swimming pool is available to both classes
Tourist Class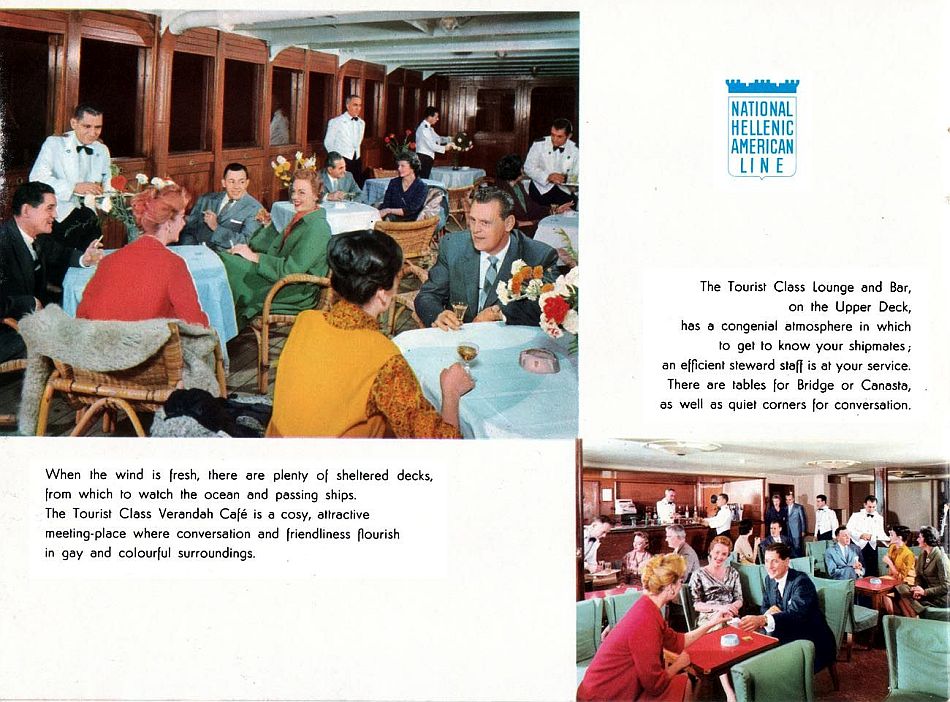 Page Eleven Here we see the Tourist Class Verandah and the Main Lounge and Bar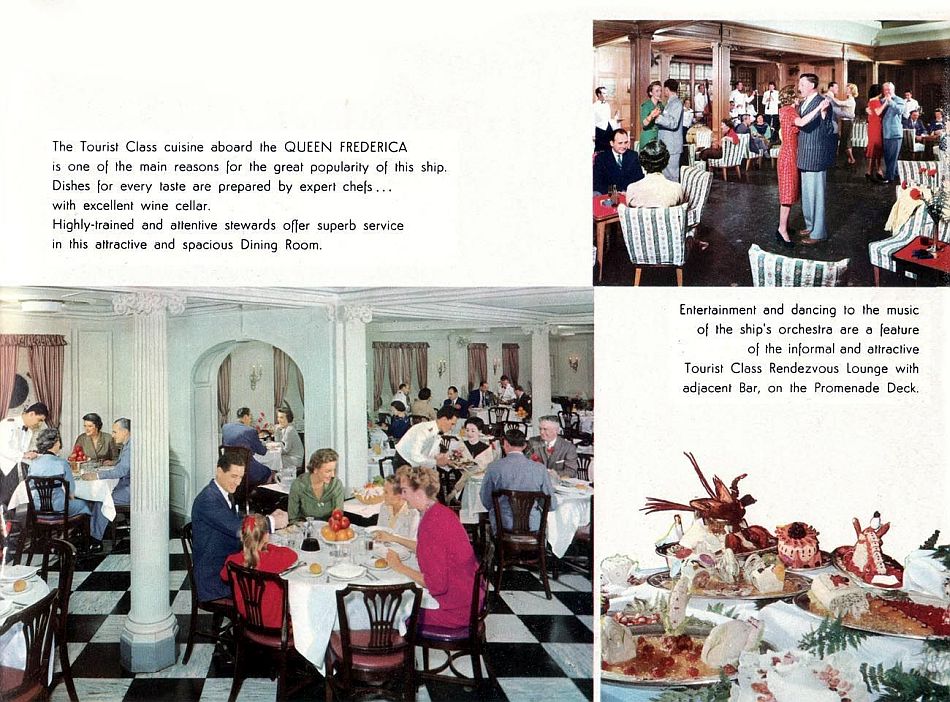 Page Thirteen Just like First Class this Dinning Room is stunning with elegant fluted pillars and graceful arches
Also shown is the Rendezvous Lounge, the perfect place for dancing the night away, well in the days of classic cruising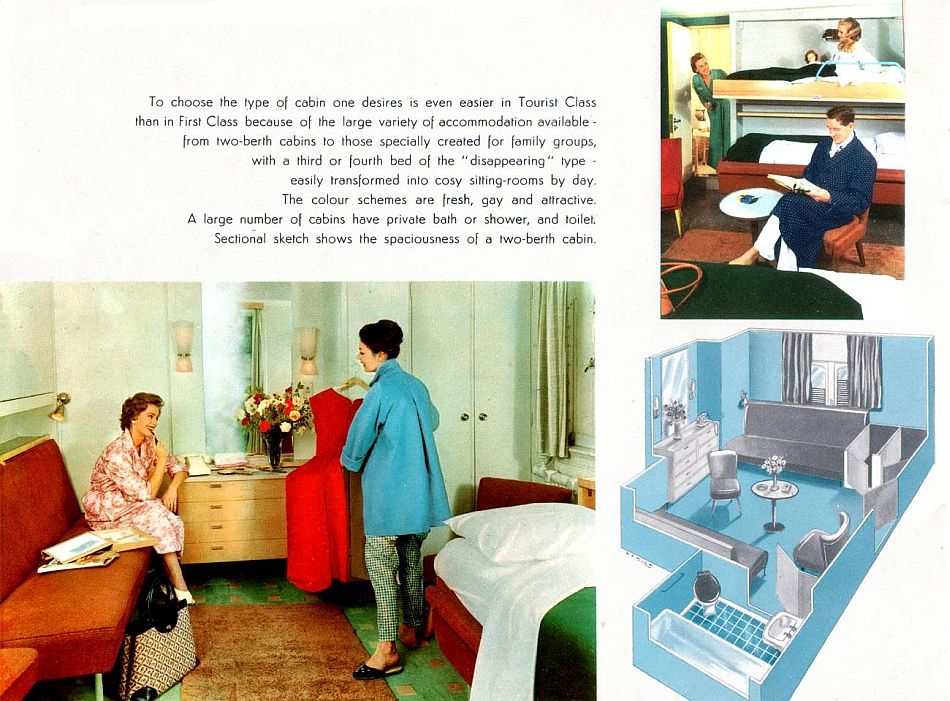 Page Fourteen Cabins were much the same as in First Class, with beds becoming sofas during the day, & upper berths fold away in the wall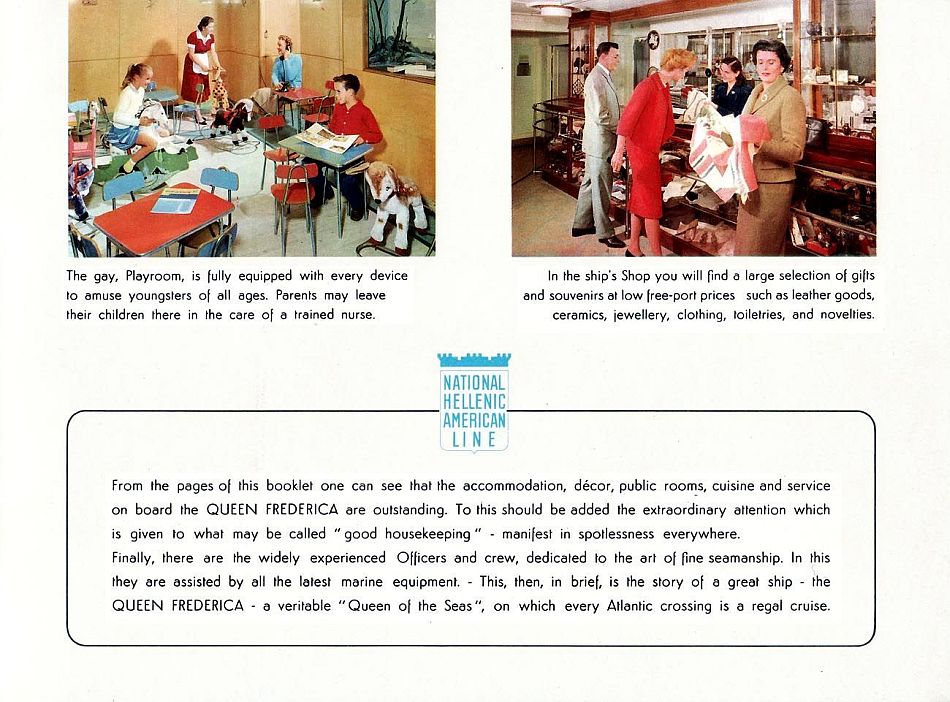 Page Fifteen shows the children's play room and the ships shop and the conclusion to this brochure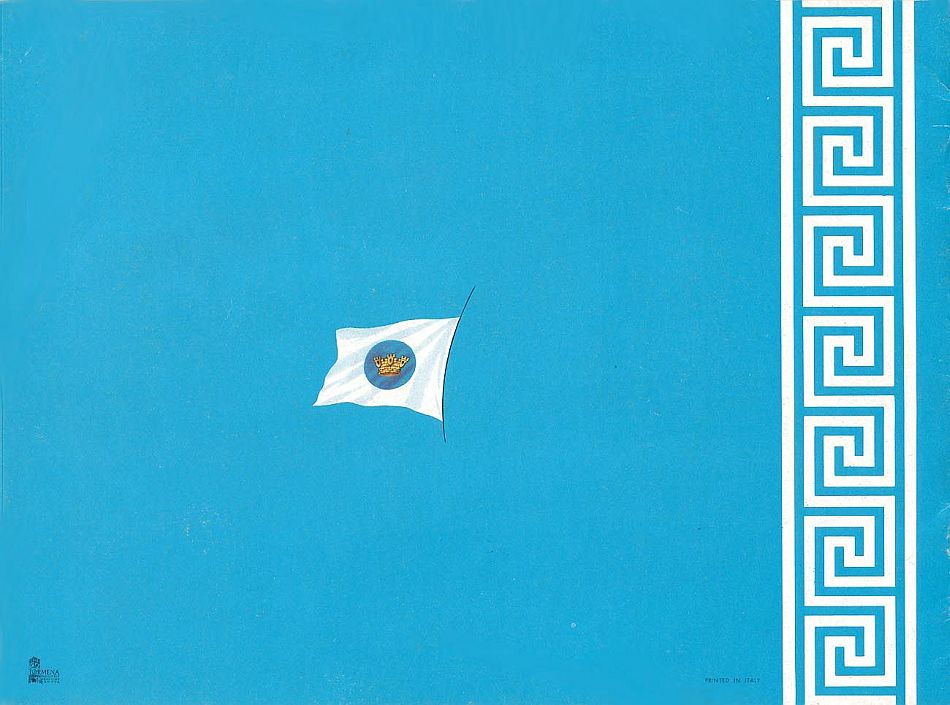 Back cover of an amazing brochure, I trust that you will have enjoyed this rare item of classical promotion

Here we the centrefold in full, with staple markings removed and cleaned up!
This brochure is very rare and is the property thus all images are © ssmaritime.com
Reuben Goossens.
************************
INDEX:
Part One … SS Malolo – SS Matsonia.
Part Two … SS Atlantis - RHMS Queen Frederica.
Part Three … SS Queen Frederica 1961 Brochure.
For interest: Sadly an email service to ssMaritime is no longer available, due to the author's old age and chronic illness as well as being disabled, etc. In the past ssMaritime received well over 120 emails per day, but Goossens can no longer handle same. He sincerely regrets this!
************************
"Blue Water Liners sailing to the distant shores.
I watched them come, I watched them go, and I watched them die."
************************
ENTER OUR ssMaritime Main Index
Where you will discover over 1,358 Classic Passenger & Passenger-Cargo Liners!
ssMaritime.com & ssMaritime.net
Where the ships of the past make history & the 1914 built MV Doulos Story
The Author has been in Passenger Shipping & the Cruise Industry for well over 60 years
In addition he was the founder of "Save the Classic Liners Campaign" in 1990.
Photographs on ssmaritime and associate pages are by the author or from the author's private collection. In addition there are some images that have been provided by Shipping Companies and private photographers or collectors. Credit is given to all contributors. However, there are some photographs provided to me without details regarding the photographer/owner concerned.
This notice covers all pages, although, and I have done my best to ensure that all photographs are duly credited and that this notice is displaced on each page, that is, when a page is updated!
ssMaritime is owned & © Copyright by Reuben Goossens - All Rights Reserved