Home Lines SS Atlantic & SS Queen Frederica - 1948 to 1965
Please Note: Firefox and some other search engines are not suitable
Use Google Chrome for this page to load perfectly!

Click the logo above to reach the ssMaritime FrontPage for News Updates & "Ship of the Month"
With Reuben Goossens
Maritime Historian, Cruise'n'Ship Reviewer, Author & Maritime Lecturer
Please Note: All ssMaritime and other related maritime/cruise sites are 100% non-commercial and privately owned. Be assured that I am NOT associated with any shipping or cruise companies or any travel/cruise agencies or any other organisations! Although the author has been in the passenger shipping industry since 1960, although is now retired but having completed over 700 Classic Liners and Cargo-Passengers Ships features I trust these will continue to provide classic ship enthusiasts the information the are seeking, but above all a great deal of pleasure! Reuben Goossens.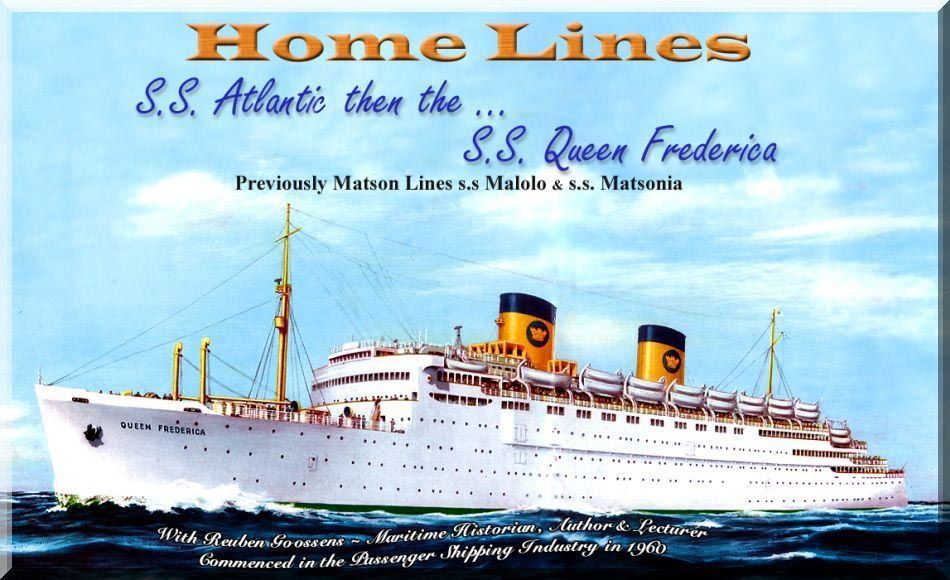 SS Malolo first visited Australia in October of 1929 - She later became the much loved Chandris Liner Queen Frederica
Part Two
SS Atlantic & Queen Frederica
The Ships Background:
Having been built as the luxurious Matson Liner SS Malolo in 1926, and renamed the Matsonia in 1938, she operated to and from the West Coat of the USA to Hawaii as well as trans-Pacific voyages to Pacific Islands, New Zealand and Australia. Then in 1948 she was sold to a subsidiary of the remarkable and popular Italian company Home Lines.
SS Atlantic:
With the SS Matsonia now owned by the Mediterranean Line, being the Panamanian flagged subsidiary of Home Lines and she was renamed "Atlantic." She was sent to the Ansaldo shipyards in Genoa where she received a comprehensive refit.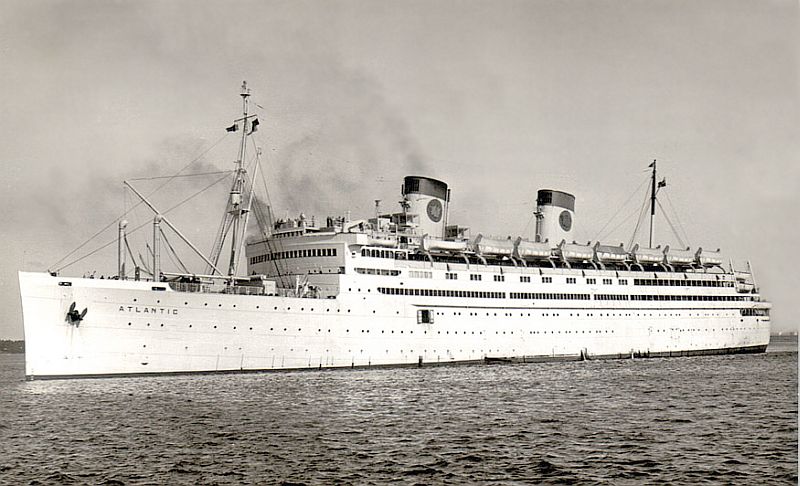 She is seen here as the Home Lines - SS Atlantic
When completed she was registered at 20.553 GRT (Gross Registered Tons) and now she accommodated 283 First Class, 224 Cabin Class and 735 Tourist Class passengers. Except for the double stacking sixteen of her twenty lifeboats, and the Home Line logo on her yellow funnels, externally there was very little change.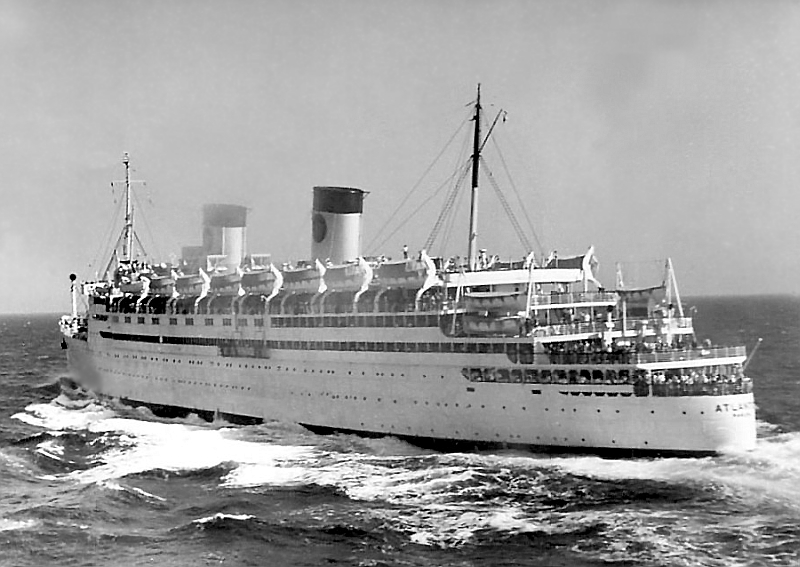 Here is a fine view of the SS Atlantic stern
SS Atlantic Departed Genoa on May 14, 1949, on her maiden voyage to New York, sailing via Naples and Barcelona, and she continued on this service for almost three years. Then on April 21, 1952 she commenced on a new service, being the Southampton to Canada service also sailing via Le Havre. During the winter months, like many other great Trans-Atlantic liners, she operated cruises from New York to the Caribbean. The Atlantic was transferred back to Home Lines in 1953, and she continued on the Canadian service until late 1954.
RHMS Queen Frederica:
On December 23, 1954 the Atlantic was transferred to the recently formed "National Hellenic American Line," being another subsidiary of Home Lines and she was renamed SS Vasilissa Friederiki, being Greek for Queen Frederica. However, only the English version of the name was ever used on her bow; however the Greek lettering did appear on her stern.
A Home Lines preview of the Queen Frederica side view of her interiors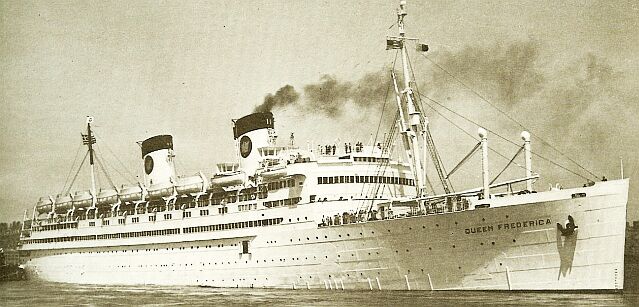 SS Vasilissa Friederiki she was now part of the National Hellenic American Line fleet
This photograph was taken prior to her refit
During a minor refit her new accommodations were saw some changes, and loading was now as follows; 132 First Class, 116 Cabin Class as well as 931 Tourist Class passengers. Although always known as the "Queen Frederica" she was now registered at Piraeus under the name "Vasilissa Friederiki". Having been completed, she departed Piraeus on January 29, 1955 for bound for Naples, Palermo, Halifax and New York and she remained on this service with minor variations.
Towards the end of 1960, National Hellenic American Line decided to give this fine ship another extensive refit, which saw her lower glazed-in Promenade Deck fully plated in by steel, which added further space for a good number of additional cabins. In addition her superstructure was extended slightly further aft. Upon completion she was registered at 21,239 GRT, and she now was a two class ship accommodating; 174 First Class and 1,005 Tourist Class passengers. A magnificent full colour brochure was released, covering her interiors and her deck spaces, with ample commentary, and you will find this brochure in full on Part Three, as the author has one of these very rare treasures in his collection!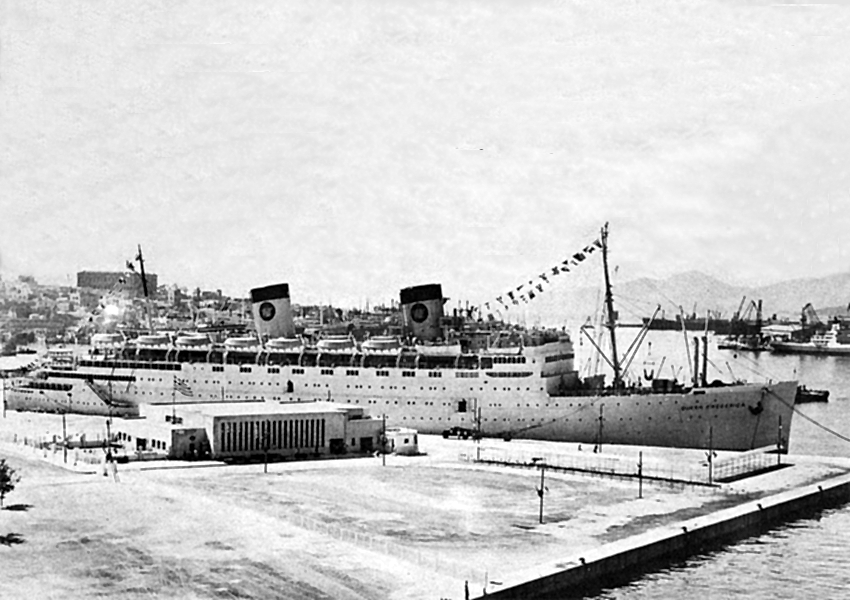 The SS Queen Frederica is seen after just her refit in Piraeus 1961
From early 1961 she commenced her service from Cuxhaven Germany, Southampton, Le Havre, and Plymouth to Halifax Canada, and return. Although later that year it would return to a more inclusive service from Piraeus to New York, as I was told by the Deck Hand below.
Canadian John Tee sailed on the Queen Frederica as a deck hand from November 1961 through to March 1962. He told me the following;
"They sailed the usual Piraeus, Naples, Messina, Palermo, Gibraltar, Halifax, New York and returning to Piraeus, whilst in February 1962 we operated four round cruises, New York, Nassau, Bahamas and return."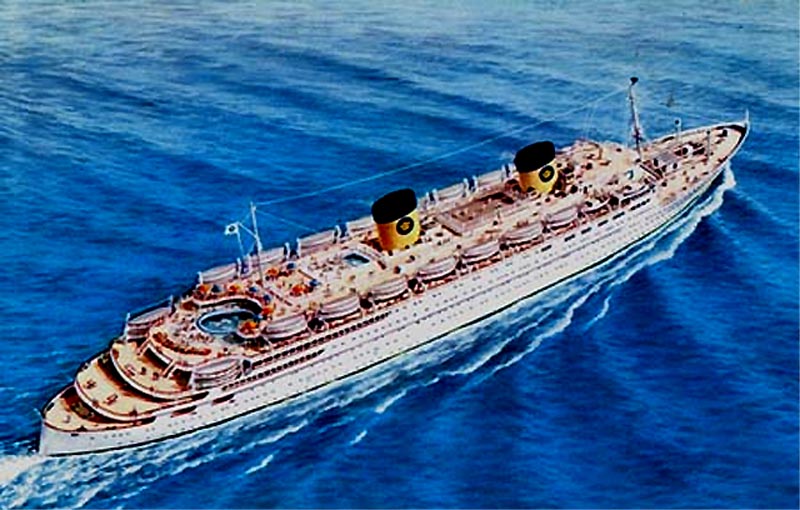 National Hellenic American Line postcard of the refitted SS Queen Frederica
Thereafter she commenced and remained on the Cuxhaven, Canada service until November 1965.
Chandris Lines:
However, in November 1965 she was sold to Dimitri Chandris Piraeus or Chandris Lines, but was registered for Themistocles Nav, S.A. and she headed for Piraeus where she would receive a refit.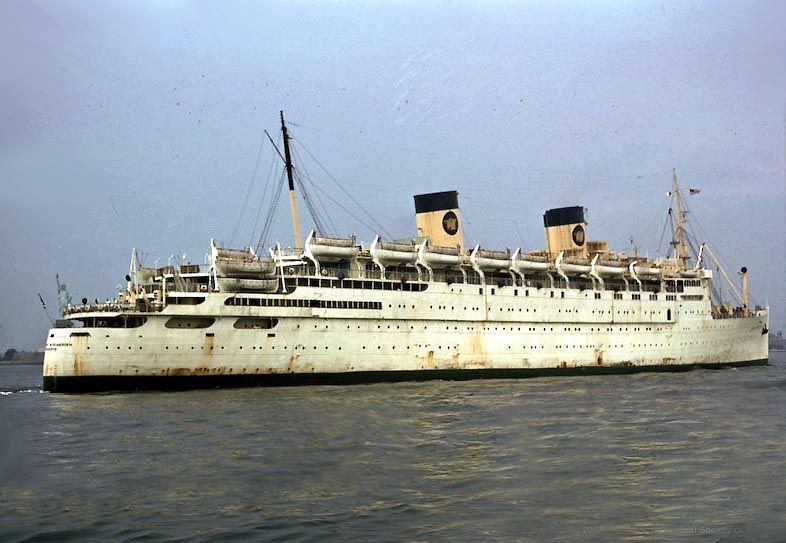 The now Chandris owned RHMS Queen Frederica is seen looking rather shabby, having suffered some wild storms
And here she is on her way to Greece to be refitted for her new role as a fine new looking Chandris liner
The Queen Frederica would be given the much loved traditional Chandris blue and black topped funnel with a large white -X- as the company's logo, being Greek for "CH" which simply stood for "Chandris."
Having been completed, the superbly looking RHMS Queen Frederica departed Piraeus on December 10, 1961 bound for Australia.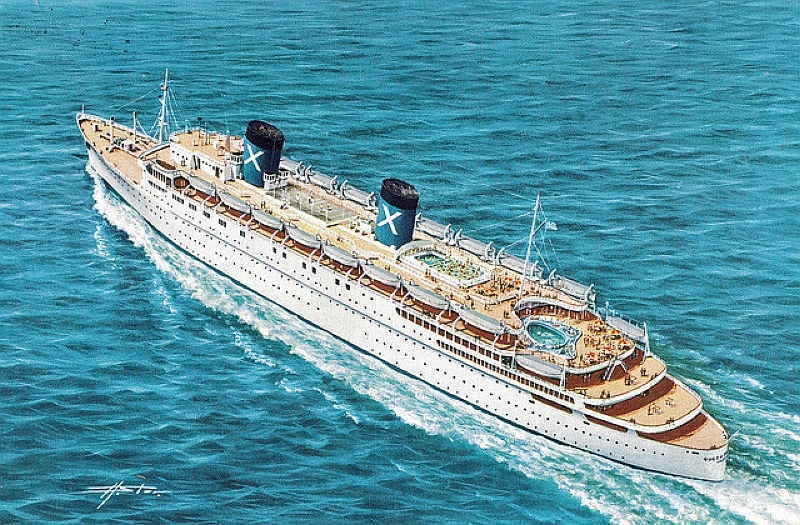 A newly produced postcard of the Chandris Lines RHMS Queen Frederica after her first refit
Upon her return to Greece, instead of continuing on the Australia service Chandris decided to place her on the Piraeus to New York service, and operating cruises during the winter months from New York, but it would not be until 1966 the "Queen Fred" would return to Australia!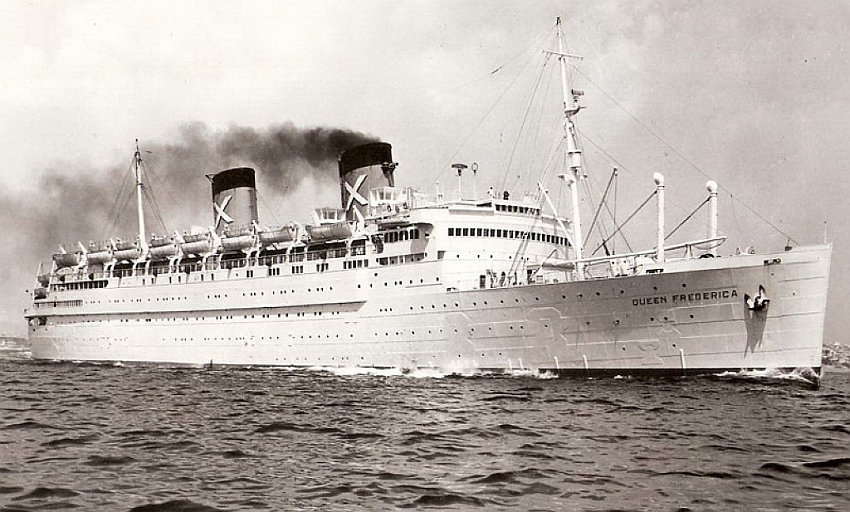 The graceful RHMS Queen Frederica is seen departing Sydney
The graceful RHMS Queen Frederica is seen departing Sydney In December 2015 I received two images from a Mr. Craig Hart whose Father had enjoyed a cruise to New Zealand from Melbourne on the delightful RHMS Queen Frederica in 1966. The first one contains a host of brochures, postcard of the ship and other paper items retained from the voyage, whilst the second image has a partial Deck Plan. I am sure for all those who have sailed on her, or with Chandris at some stage, these will be very familiar!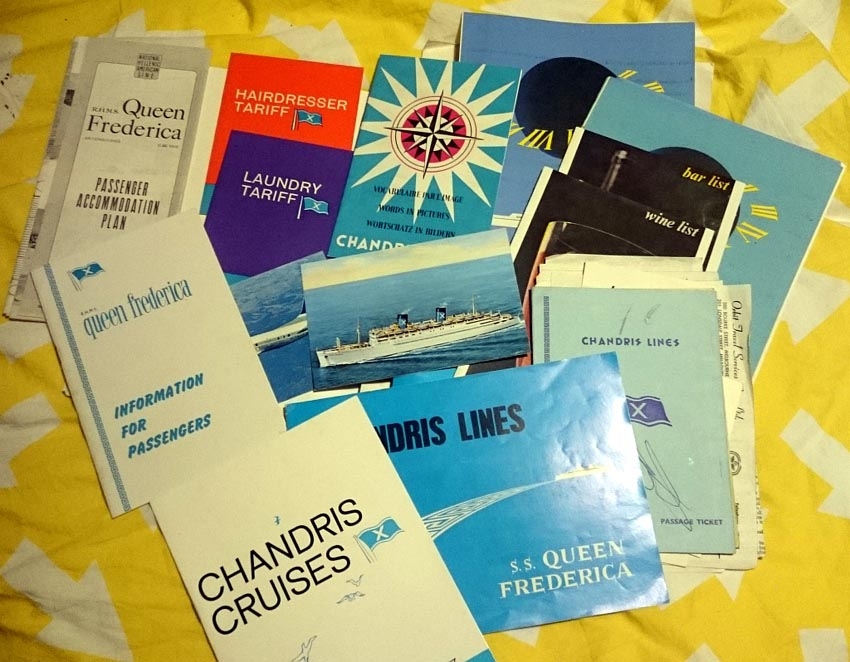 Above and below: A selection of R.H.M.S. Queen Frederica Memorabilia & Deck Plan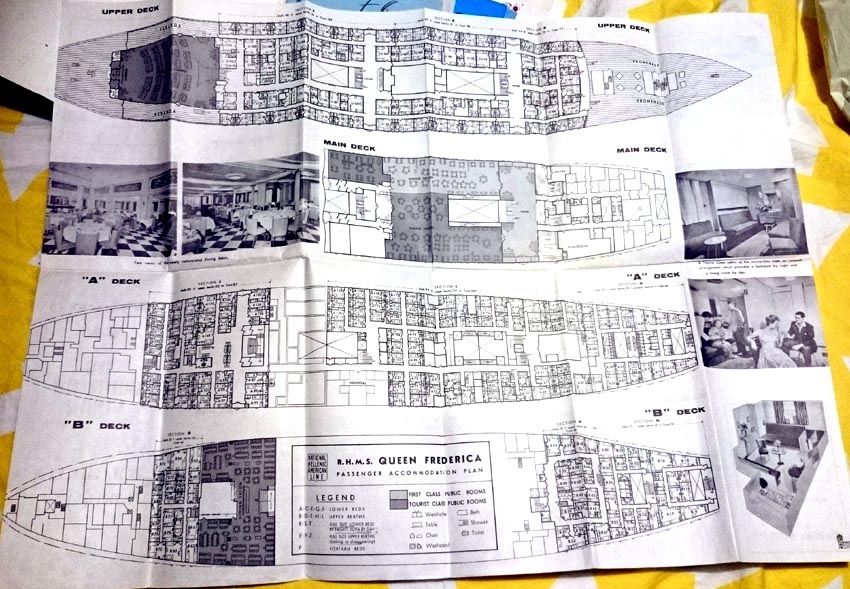 A large size 3,000 pixels wide version of the plan is online - to reach it just click the image above or HERE.
When the Deck Plan opens, it will reduce in size, just click on it to expand!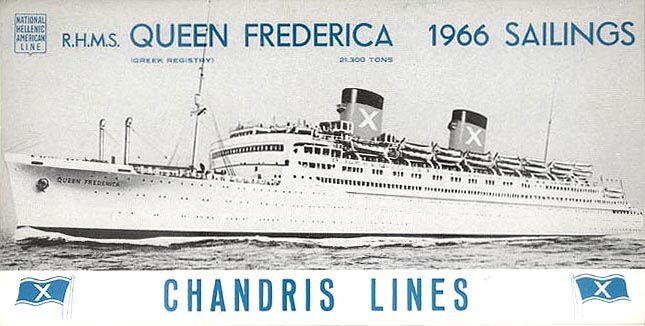 1966 Sailing schedule & Deck Plan (although this was an old pre 1960 photograph from her Home Line
days, she is shown with Chandris Funnels, note the glazed in Promenade deck, which was plated in 1960
Queen Frederica departed Southampton October 22, 1966 and headed for Australia arriving in November, having arrived she continued to make a number of cruises before she returned to Europe from where she cruise to America and the Caribbean. These cruises proved to be popular and they were repeated in 1968, until the new SOLAS regulations came into effect, and she departed Boston and headed for Rotterdam, the Netherlands that same year, and she then was sent to Australia.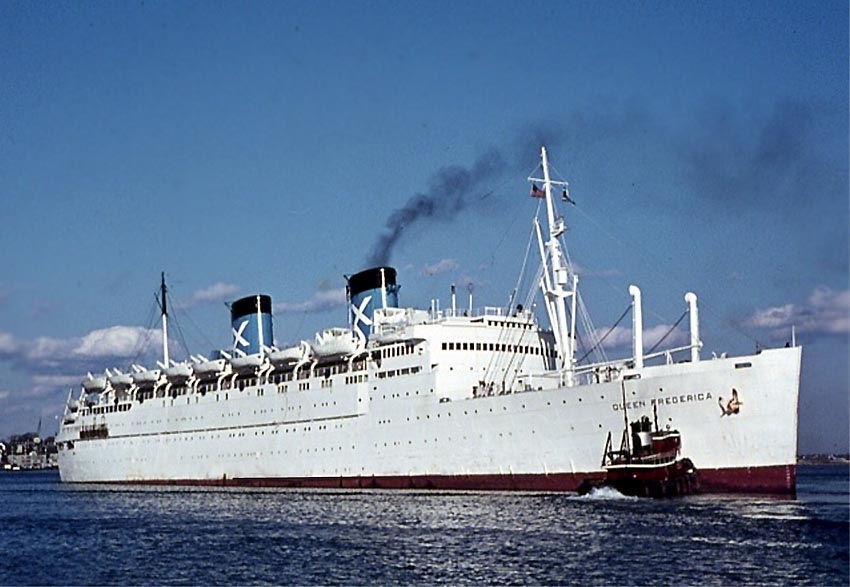 RHMS Queen Frederica is seen departing Boston in 1968, for the final time, as well as her last visit to the USA

This excellent photograph was taken upon this fine ship's final departure from Boston by & © Mr.

Richard L. MacGregory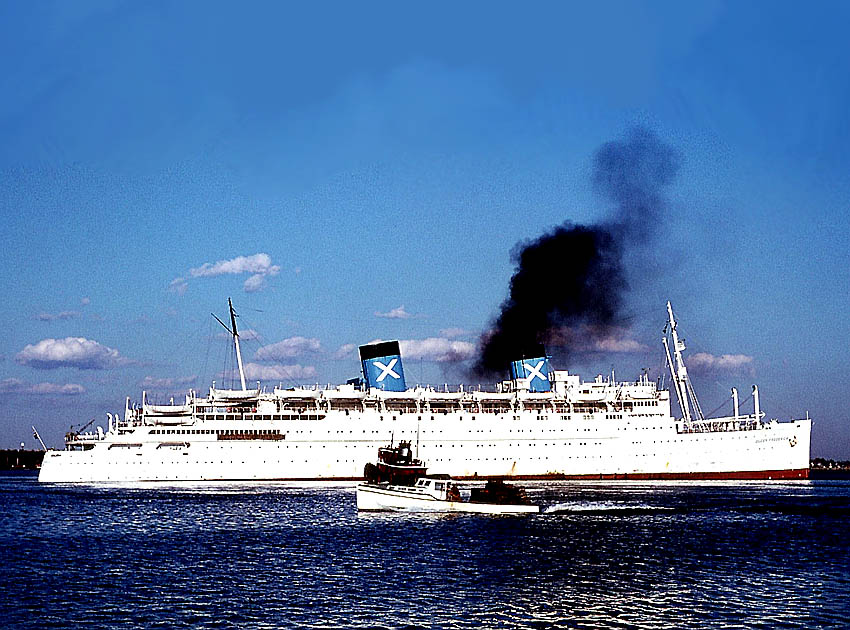 Sadly SOLAS regulations (Safety Of Life At Sea) drove this amazing American built liner from American shores
Yet she continued cruising in complete safety with happy passengers in Australia and around Europe until 1973
This superb photograph was taken as the Queen Frederica departed from Boston by & © Mr. Richard L. MacGregory
However during the Southern Hemisphere summer months she returned to Australia and New Zealand in 1967, and again in 1968 as her cruises continued to prove to be popular, but sadly she departed Australian waters for the very last time in March 1969.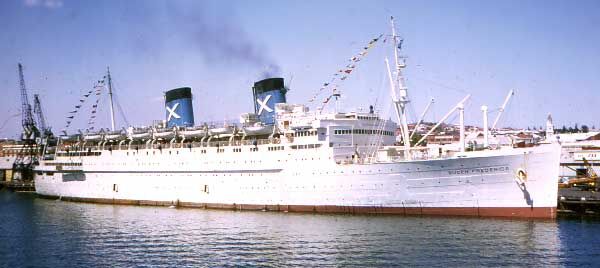 Queen Frederica is seen here berthed in Fremantle (Perth) in 1967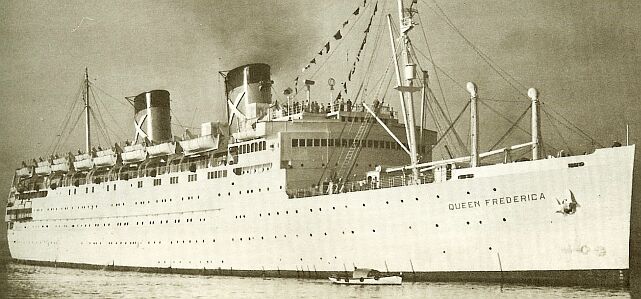 The ship became so loved in Australia and New Zealand she became lovingly known as the, "Queen Fred"
Sovereign Cruises:
Upon her return to Europe late April 1969, she operated cruises around the Mediterranean.  However, in June an U.K. organisation named Sovereign Cruises signed a contract to operate a yearlong series of Mediterranean cruises to commence in September that year, which would conclude September 1971.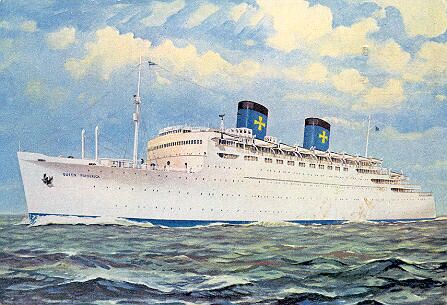 A postcard of her under Sovereign Cruises livery
At the conclusion of the charter on September 22, Chandris with much regret decided that the faithful old liner would be laid up on the River Dart. Then in June 1972 the Queen Frederica sailed under her own power to Piraeus where she was again laid up, but then it was suddenly decided to give her yet another refit, she was chartered by Blue Seas Cruises who operated her for another popular series of Mediterranean cruises out of Palma de Mallorca during the warmer months from April trough to November 1973.
However, the conclusion of the Blue Seas Cruises charter, she was again laid up at Piraeus and sadly there was now there little to no hope of any work available for this once great classic liner, and she remained there idle until 1977.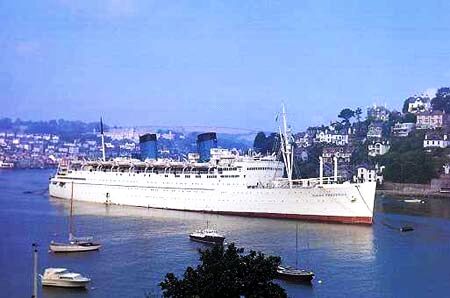 Still looking splendid, the old girl the Queen Frederica is seen here in lay up
Finally fifty years after being delivered to Matson Line the superb ex SS Malolo, SS Matsonia, SS Atlantic and RHMS Queen Frederica was sold to Greek breakers in July 1977 and because she had been shut down some years earlier, thus having been a "dead ship" she had to be towed to the Eleusis breaker yards. During the breaking up process in February 1978, whilst her interiors were being demolished due to a spark from a workers torch she was totally gutted by fire and obviously all work was halted. Three years later her ravaged hull could still be seen amongst the other ships at the breakers yard.
In conclusion:
This superb ship that had served under various flags, yet she was the perfect example of great American ship building design, engineering, and she revealed the optimal quality of American shipbuilding. A class of shipbuilding that concluded in the United States when the great SS United States was completed, but sadly it soon ended, as it has in Great Britain, for now shipbuilding has gone offshore to European builders, Germany, France, Scandinavia and Italy! But, to this day the Great SS United States thankfully survives, as does the ex Holland America Lines SS Rotterdam, which is now, located back in her homeport Rotterdam Holland as a fine Hotel!
This was one of the Fine Liners, as well as being a …
 Great Cruise Ship and she is Worthy to be Remembered!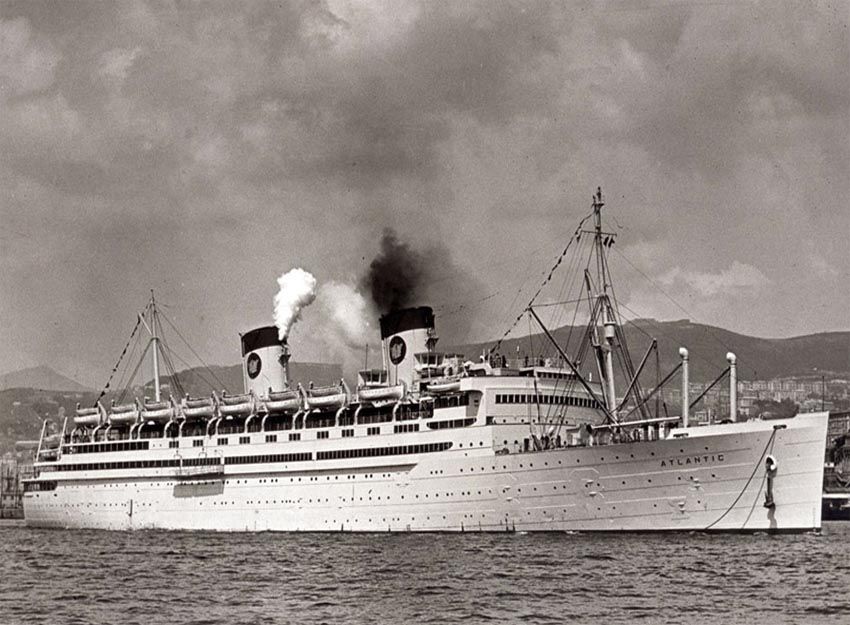 Here we see her as the SS Atlantic in 1955 photographed from the passing running mate the SS Italia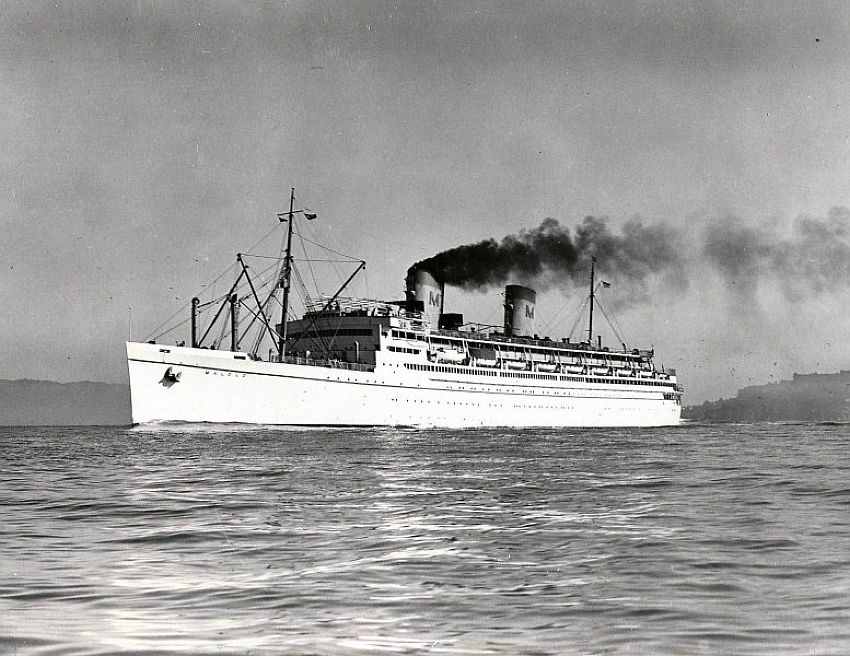 Remembering the delightful Matson SS Malolo, Matsonia: Home Lines Atlantic & their & Chandris' Queen Frederica
************************
INDEX:
Part One … SS Malolo – SS Matsonia.
Part Two … SS Atlantis - RHMS Queen Frederica.
Part Three … SS Queen Frederica 1961 Brochure.
For interest: Sadly an email service to ssMaritime is no longer available, due to the author's old age and chronic illness as well as being disabled, etc. In the past ssMaritime received well over 120 emails per day, but Goossens can no longer handle same. He sincerely regrets this!
************************
"Blue Water Liners sailing to the distant shores.
I watched them come, I watched them go, and I watched them die."
************************
ENTER OUR ssMaritime Main Index
Where you will discover over 1,358 Classic Passenger & Passenger-Cargo Liners!
ssMaritime.com & ssMaritime.net
Where the ships of the past make history & the 1914 built MV Doulos Story
The Author has been in Passenger Shipping & the Cruise Industry for well over 60 years
In addition he was the founder of "Save the Classic Liners Campaign" in 1990.
Photographs on ssmaritime and associate pages are by the author or from the author's private collection. In addition there are some images that have been provided by Shipping Companies and private photographers or collectors. Credit is given to all contributors. However, there are some photographs provided to me without details regarding the photographer/owner concerned.
This notice covers all pages, although, and I have done my best to ensure that all photographs are duly credited and that this notice is displaced on each page, that is, when a page is updated!
ssMaritime is owned & © Copyright by Reuben Goossens - All Rights Reserved