ssMaritime.com & ssMaritime.net
With Reuben Goossens
Maritime Historian
--Odysseus--
Ex Aquamarine, Marco Polo, Princesa Isabel
Please Note: new photographs and information is added at the bottom of the page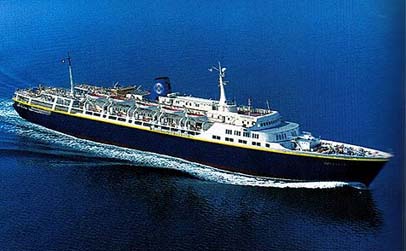 Odysseus in her Royal Olympia Colours
In 1961, Soc. Espanola de Construccion Naval, Bilbao, constructed two coastal passenger ships for the Brazilian shipping Company, Cia. Nacional of Nav. Costeira. These two ships were named Princesa Isabel and Princesa Leopoldina. Each ship was built at a cost five million dollars.
The 9.696 GRT Princesa Isabel was launched on January 18, 1961, and was delivered to her owners in August 1962. During speed trials, she attained 17.5 knots. The sister ships had soft flowing lines, with a soft nosed bow, a well-balanced superstructure and an elegant radar mast above the bridge. Her two forward cargo holds had a capacity of 72,500 cu. ft.

Princesa Isabel as built
Dimensions: Length - 483 ft/ 147.30m, Beam - 61 ft/18.67m, Draught – 24.1 ft/ 7.35m, Machinery - B & W type Diesels, Twin Screws. Accommodation: First Class, 200 passengers – 29 double and 46 three-berth cabins. Tourist Class, 250 passengers – a small number of two/three berth cabins, but mostly four berth cabins. Some cabins were interchangeable. She is fully air-conditioned and fitted with Denny-Brown stabilisers.
Due to poor loadings, Princesa Isabel was laid up in Rio de Janeiro early 1968, and placed on the market. During this time, machinery parts were removed, being used on her sister Princesa Leopoldina. After an 18-month lay-up, Dominion Far East Line, a joint venture with John Swire and H.C.Sleigh, purchased her in 1969. She was towed from Rio de Janeiro to the River Clyde were she received a seven month refit. The transformation saw her change from being an all white ship to a smart looking cruise ship with a blue hull, white superstructure and a red, black-topped funnel. Her interiors received contemporary and modern décor. Upon completion, her passenger capacity had reduced to 375 giving her a spacious atmosphere compared to other ships of her size. She departed the Clyde under a British flag, renamed Marco Polo, and was delivered to Melbourne Australia in June 1970. Upon arrival, she commenced her cruise programme of the South Pacific and Asia.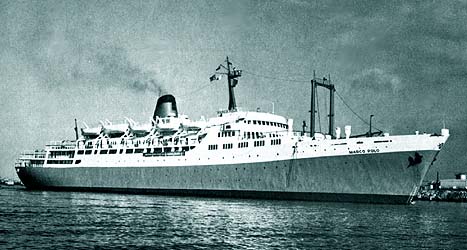 Dominion Lines Marco Polo
In the mid seventies, the larger P&O, Sitmar and CTC cruise ships competed in the same market and soon the Marco Polo was too small to compete with these ships. After an eight years service, Dominion Line announced the sale of the Marco Polo May 1978. She had been purchased by a Greek owned Hong Kong Company, known as Aquamarine International. Marco Polo's final Asian cruise departed Sydney on June 7. This cruise became one passengers would not soon forget. Her itinerary included ports in Japan, then onto Hong Kong, Singapore and Bali. However, in the China Sea, between Nagasaki to Hong Kong, Marco Polo was caught in the grip of a typhoon and suffered a battering for five days, resulting in a number of injuries amongst her 192 passengers. Upon reaching Hong Kong, repairs were needed before she could return to Sydney, were she was de-commissioned.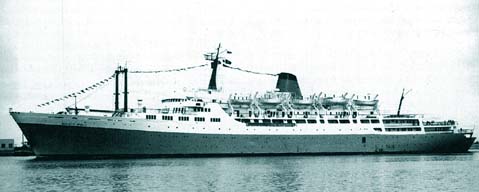 Marco Polo seen in 1977
Aquamarine
After an extensive refit in Greece, which included her forward superstructure extended, she was renamed Aquamarine and received another refit. She returned to Hong Kong and commenced 14-day Asian cruises on April 16, 1979, under a Greek flag. Her new cruise schedule, Hong Kong to Japan and China, competed directly with her sister ship, Coral Princess, ex Princesa Leopoldina, which had been obtained by the Hong Kong based Swire Group China Navigation in 1970. A number of Australians flew to Hong Kong to cruise on their much-loved Marco Polo.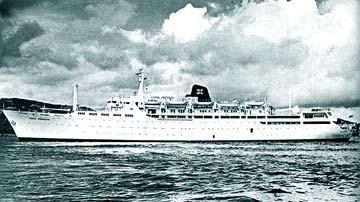 Marco Polo's identical sister, Coral Princess
Odysseus
However, after her first season it became obvious that loadings were poor and she was laid up in Hong Kong. On April 27, 1980, she was arrested and was soon auctioned to pay her debts. She was bought by the Commercial Bank of Greece. There were attempts to either charter or sell her, but this did not eventuate. Finally, she departed Hong Kong on July 24, <![if !vml]>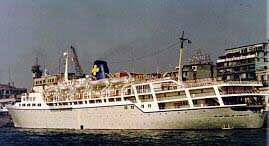 <![endif]>1981 bound for Piraeus, were she was laid up until 1988, when she was sold to the Greek Epirotiki Steamship Co, renamed Odysseus, she was refitted in Perama. This time her aft superstructure was extended toward the stern, as well as new cabins being added between the radar mast and the funnel.
Odysseus, after her stern extensions
--
Her interiors were greatly modernised with her décor being designed by the famed Arminio Lozzi. Accommodation was increased to 454 two bedded basis, 496 all beds, now having a crew of 194. Her 226 cabins became bright and airy. Upon completion, she was 12,000 tonne.
In April 1989, Odysseus commenced 3, 4 with the option of 7 day summer Aegean cruises. Later she undertook occasional cruises in South America and the Caribbean. Odysseus was also chartered for an occasional school cruise.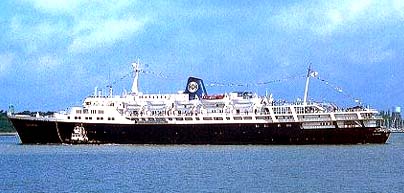 After the Epirotiki and Sun Line merger, Odysseus hull was painted in Royal Olympic colours
In December 1995, merger took place between Epirotiki and Sun Line, giving birth to the new Royal Olympic Cruises. At the time, Odysseus became the flagship of the fleet. Her exteriors took on a new look as her hull and funnel were painted dark blue. She was placed on her previous cruise program. Later she undertook a number of Scandinavia cruises during the summer.
Photo Album
<![if !vml]>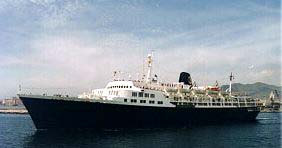 <![endif]><![if !vml]>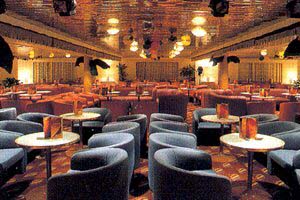 <![endif]>
--The Main Lounge & Showroom
<![if !vml]>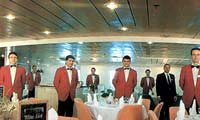 <![endif]><![if !vml]>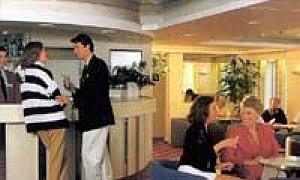 <![endif]>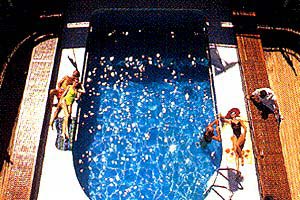 Above Left: Bar - Centre: Pool – Right: Restaurant
<![if !vml]>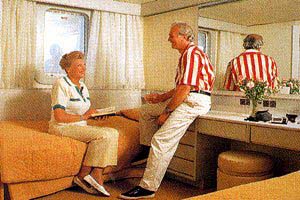 <![endif]><![if !vml]>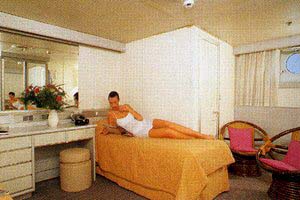 <![endif]>
Accommodations feature pastel colours, making cabins bright and airy
Odysseus Review
Odysseus in her dark blue hull is an attractive ship with a balanced profile and classic lines. She has a vast deck space, open air for the sun lovers. She has two spacious teak-decked Promenade walking areas, which includes a covered jogging track below the promenade.
A warm and pleasing Mediterranean décor is featured throughout the ship. In addition Odysseus also features an excellent collection of art. Most lounges are located on Promenade Deck. Two decks down the popular Marine Club and covered deck is located just aft of the Dinning Room.
Odysseus is a delightful smaller cruise ship that offers a traditional environment. The minute you step onboard Odysseus, you know that you have arrived in a unique world that only a true ocean-going liner can provide. She oozes a maritime atmosphere, with her covered promenades and delightful interiors.
The Dinning Room has the kind of ambience you expect of a cruise liner. The ship carries around 450 passengers, thus with two sittings, the Dinning Room is never crowded like on many ships which will seat up to 600. Buffets for breakfast and lunch can be enjoyed in the Marine Club, which is adjoined to the Restaurant.
Accommodation is attractive and roomy compared to the newer cruise ships. Many outside cabins have convertible sofabeds. Thus, during the day, it provides a pleasant lounge area, and at night, it becomes a bed. Most cabins are twin bedded, whilst there are a several double-bedded cabins. In addition, a small number of cabins have upper berths fitted. However, all cabins have ample wardrobe and drawer space, adorned with tasteful wood trim features. All cabins have bathrooms, although these, like on most ships, are relatively small, but adequate.
Berlitz has given Odysseus a three star rating. Undoubtedly she offers good value cruising, yet in comfort and style.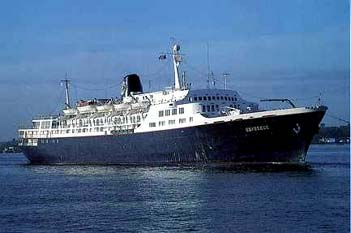 The reliable Odysseus
Lucky Star
When it became apparent that Royal Olympic Cruises was heading for financial troubles, the attractive Odysseus, as well as several other ships of the fleet, was laid up in 2003. Then, Odysseus re entered service for a short time, but was soon laid up again. She was sold by auction and was purchased by Mantovana Holdings Ltd a V-Ships subsidiary, and has been leased to Everis Capital Holdings for casino cruises out of Singapore. Below are two photographs of her, which were taken during her refit as a casino ship in Greece. It is sad to see such a delightful ship end up as a casino. However, it is assumed that in 2010 she will be scrapped due to the new SOLAS regulations, unless they can find her a mooring somewhere.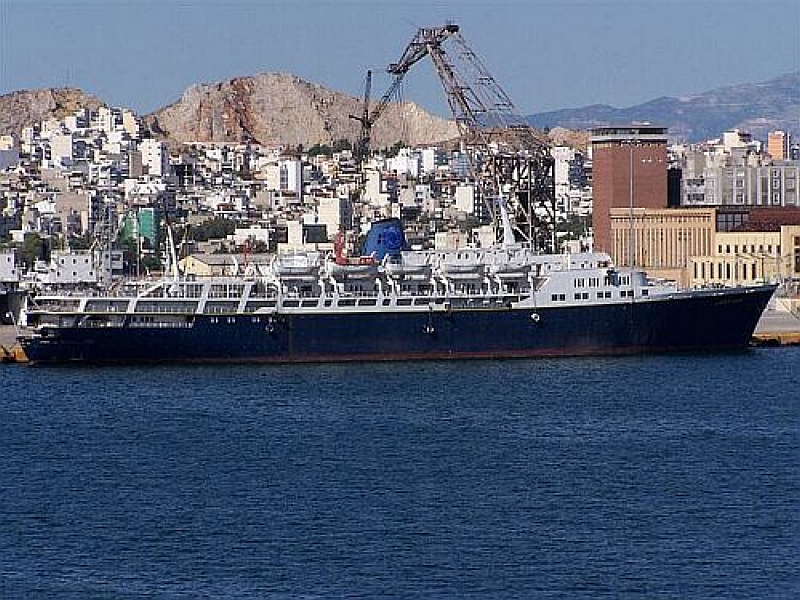 Lucky Star being refitted as a Casino cruise ship in Greece
Photograph used with thanks - www.faktaomfartyg.com
April 2008 Update: Lucky Star, the once superb; ex Odysseus, Aquamarine, Marco Polo, Princesa Isabel was sold to be broken up and has been beached at Alang India. For her final voyage she was renamed Lucky. There is a photo of her in India at: www.maritimematters.com/shipnewspics.html.
Four photographs sent in by two readers of ssMaritime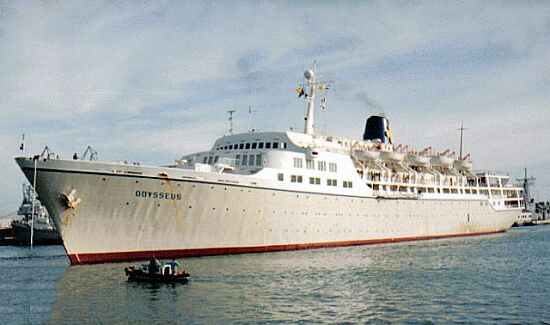 Photo by Mike Goddin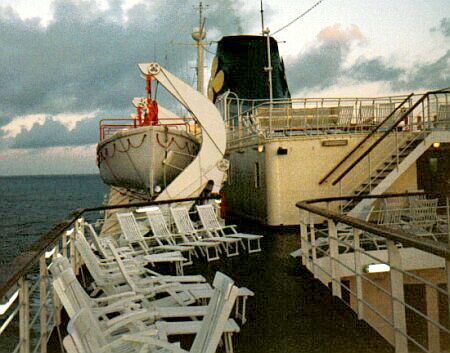 Unfortunately, I have lost the name of the photographs above and below
If the owner will please contact me in order that I can give full credit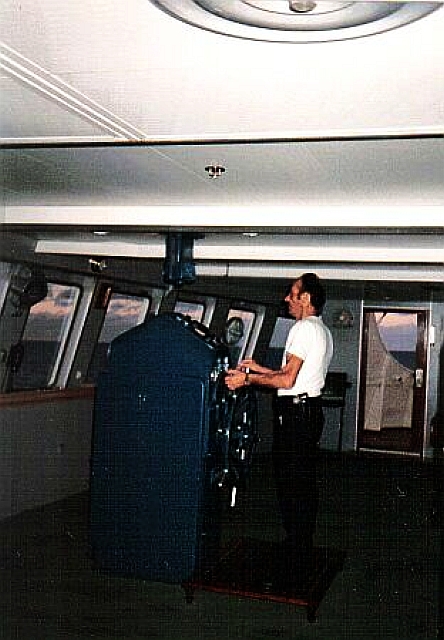 View the Cabin Plan
**************************************
Use the Back button on your browser or Close the Page to return to the previous page
or go to our INDEX
Who is the Author of ssMaritime?
Commenced in the passenger Shipping Industry in May 1960
ssMaritime.com & ssMaritime.net
Where the ships of the past make history & the 1914 built MV Doulos Story
Also visit my …
"Save The Classic Liners Campaign" & "Classic Ocean Voyages" pages
Photographs on ssmaritime and associate pages are by the author or from the author's private collection. In addition there are some images that have been provided by Shipping Companies and private photographers or collectors. Credit is given to all contributors. However, there are some photographs provided to me without details regarding the photographer/owner concerned. I hereby invite if owners of these images would be so kind to make them-selves known to me (my email address may be found on www.ssmaritime.com only), in order that due credit may be given. I know what it is like, I have seen a multitude of my own photographs on other sites, yet these individuals either refuse to provide credit or remove them when asked, knowing full well that there is no legal comeback when it comes to the net. However, let us show these charlatans up and do the right thing at all times and give credit where credit is due!
This notice covers all pages, although, and I have done my best to ensure that all photographs are duly credited and that this notice is displaced on each page, that is, when a page is updated!
ssMaritime is owned and © Copyright 2010/12 - by Reuben Goossens - All Rights Reserved