Links to other maritime sites
Note:

iPhones

,

iPads

,
Firefox
& some other

Search Engines

may not be suitable
Use
Google Chrome
for this Web Page to load perfectly!
Click the logo above to reach the ssMaritime FrontPage for News Updates & "Ship of the Month"
With Reuben Goossens
Maritime Historian, Author, Lecturer & Cruise'n'Ship Reviewer
Please Note: All ssmaritime as well as my other related maritime & cruise sites are 100% non-commercial and privately owned sites. Be assured that I am NOT associated with any shipping or cruise companies or agencies or any other organisations! The author has been in the passenger shipping industry since May 1960, but although retired and unwell, I occasionally attempt to write an article now and then, in order to bring enjoyment and pleasure to ship enthusiasts past passengers and crew.
Maritime Links
This page contains some of the best maritime/cruise sites on the net, all of which specialise in maritime history, memorabilia, and those that offer the latest news of what is happening in the world of shipping/cruising.
Links are arranged in the following order:
Part 1 … Maritime & Cruise Sites
Part 2 … Maritime Memorabilia, Video's, Postcards & Photos
Part 3 … Maritime Art – Discover some of the greatest maritime artists on earth, right here on ssMaritime!
Part 4 … Maritime Specialty Sites.
If you have a link that would suit this page, then you are welcome to Email me via the link at the bottom of the page. Upon receipt your site will be checked to see if it fits our criteria. There is no offence meant if we are unable to place a requested link.
 Please Note: We ONLY take maritime and cruise based sites, sites that provide information, news, photographs and maritime memorabilia, etc, thus material that is directly related to ships. We do NOT except hotel reservation & shore excursion operators etc. Thus, please DO NOT WASTE MY TIME as I have received hundreds of applications over the years which fall in the latter category!
Should you find that a link has become inoperative, will you please send me an email naming the link.
Reuben Goossens
Maritime Historian and lecturer
**********************************
Part 1 …
Maritime & Cruise Sites
The Author's own Cruise Site
…

Although this site is aimed at Australian and New Zealand readers, it does cover all cruise companies, as well as luxury cruise companies from around the world,
**********************************

Click the Logo above to enter the Queensland Maritime Museum Website
or: http://www.maritimemuseum.com.au/index
The Queensland Maritime Museum is without a doubt one of the maritime museums finest in Australia for it covers all facets of our wonderful maritime history, especially our vital links with the great days of the passengers ships and those many migrant ships that brought out countless thousand of new settles to Australia from all over Europe and Great Britain!
The Museum is located on the Brisbane River at the southern end of fames South Bank Parklands and it is open to visitors every day of the year, except from December24 to 26 as well as Good Friday and there is reduced trading hours on Anzac Day.
The Queensland Maritime Museum has so much to offer, both inside and outdoors, there are superb ship models to be viewed and there are actual ships to be explored and even cruises can be had at certain times. But there is so much more and you will discover all that when you visit this amazing Museum.
When you arrive you will find that friendly volunteer members will welcome you and provide you with guide brochures and they will endeavour to make your visit both an educational and entertaining experience!
See you soon at the Queensland Maritime Museum!
Reuben Goossens.
**********************************
New

- A Timeline to the Worlds Largest Passenger Ships

Or enter … https://www.hmy.com/timeline-worlds-largest-passenger-ships/
View and compare the size of passenger ships from 1831 to today! This page includes pictures of the real ships from then to today!
**********************************
Harm Brink Presents
Too many pages to mention, but the "Fleet List," with photographs is our favourite!
**********************************
The Maritime Society that covers the World
WSC is a worldwide Society; why not discover some of
the benefits of membership - Enter Here
**********************************
Last Ocean Liners

I am sure you will enjoy this remarkable site that including transatlantic liners, as well as ships that sailed to Africa, Asia, New Zealand & Australia, as well as liners that sailed the world! Enjoy! www.lastoceanliners.com
**********************************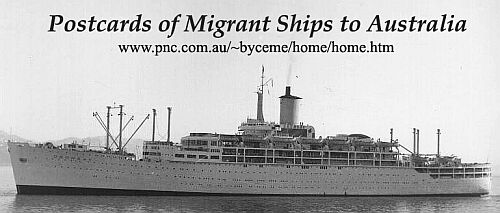 A Magnificent site to explore!
**********************************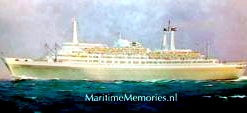 This site tells the tale of Fred's life as a crewmember and a passenger on board many liners and cruise ships. He shares with us his "Maritime Memories," both in text, images, as well as excellent videos.
**********************************
When in the USA make sure you go and visit and stay
Overnight Onboard that Great Liner in California, the ex …
RMS Queen Mary

She is now a Magnificent Hotel and Entertainment Centre

To enter "The Queen Mary" site - click the logo above or visit
**********************************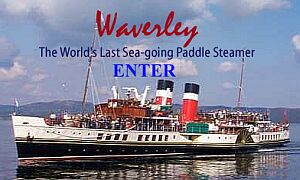 Built on the Clyde in 1947 - to replace the original Waverley that sunk off Dunkirk in 1940, the Waverley was originally built to sail only between Craigendorran & Arrochar in West Scotland. Fully restored, she now sails right round Britain offering regular trips on the Clyde, the Thames, South Coast of England and the Bristol Channel with other calls at various ports & piers throughout the UK.
**********************************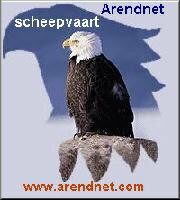 The following is genuinely a brilliant Dutch language shipping site, which is presented by Willem van Arendnet. It contains a multitude of ships. It also contains work by other will known contributors, making this a highly recommended site for our Dutch readers around the world!
**********************************
Part 2 …
Maritime
Memorabilia, Video's &

Doco's

, Postcards & Photos
Maritime Memorabilia
Nautiques.net was founded in 1984, and they have one of the finest collections of maritime items available, be it from brochures, deck plans, labels, postcards, crockery to furniture. Best still, prices are extremely affordable, and often they are far better than what is available on eBay, mind you, I have found that they have items that just do not show up on eBay! Nautiques.net is operated by Don Leavitt and he has more than 3,000 items of ocean liner and steamship antiques and collectibles spanning the last century available at any one time! I have used his services for countless years and a great deal of my collection has come from Nautiques.
On the top left of the Nautiques Homepage you can click on the Catalogue in order to search shipping companies or relevant items on their site. They have the shipping lines listed from all around the world. If you are looking for a rare item you can also contact Mr. Don Leavitt direct at dml@nautiques.net. Nautiques will ship worldwide - www.nautiques.net.
**********************************
Ocean Liner Row

Ian Robertson has a vast collection of maritime memorabilia available, thus if you have not found the item you are after as yet, contact Ocean Liner Memorabilia.com!
**********************************
View thousands of ship postcards/photographs at…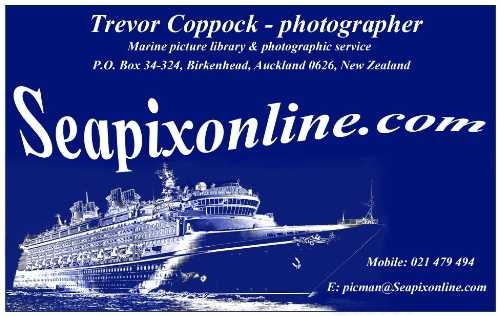 Postcards and photographs are available at a reasonable cost
Also visit http://seapixonline.com/ for an excellent range of Photographs by Trevor
**********************************
Postcards for Sale
Click the image above to enter the site!
**********************************
Ocean Liner Memorabilia from Travel's Golden Age

**********************************
Part 3
…
Maritime Art
Paintings by Maritime Artists
I am proud to support Maritime Artists from around the world, including four artists from The Netherlands, Australia, New Zealand and the United States. Paintings have a unique texture and life of its own. Obviously, these fine canvases are painted by men who have a genuine love of Ocean-going liners, cargo ships or tramp steamers! In the near future, I hope to add further artists to this page thus I suggest that you return often and see what's new on the ssMaritime Art Page!
Remember, if you have a favourite ship you can contact one of these fine artists (except for the last entry) and commission them to paint the ship of choice!
Please note: Images in some cases do not denote the actual quality or beauty of the painting as they have been greatly reduced in size and thus lose clarity.
Reuben Goossens.
**********************************
Maritime Art by Dutch Artist Willem Johan Hoendervanger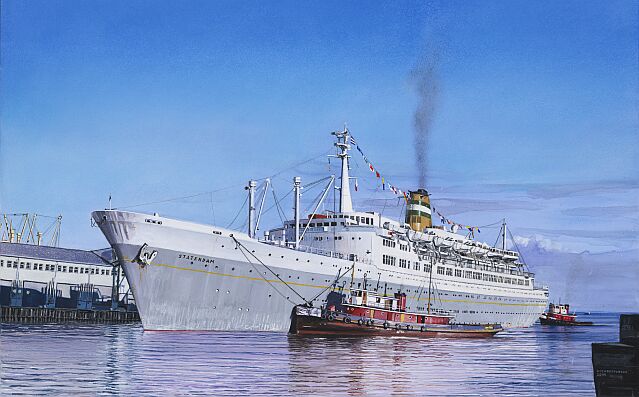 November 2009: This is Willem Johan's very latest painting:
Holland America Line's last major Trans Atlantic passenger liner built for them - the SS Statendam
Willem has also painted many passenger liners - you can view these on Willem's site
As a young artist, Willem Johan Hoendervanger graduated from the Academy of Art at Breda in the Netherlands in 2005. He said that "These years at college were very instructive and educational." After his graduation he decided to fully commit himself to the field of maritime art. Apart from other work interests, he paints regularly for (former) seamen, maritime companies or anyone who has a love of ships and the sea. There is no doubt that Willem Johan has that very special quality and nautical touch, thus I decided to add him to the ssMaritime Art pages and his painting would be a great investment to any collection and a valuable addition to any maritime museum! Contact details are located below.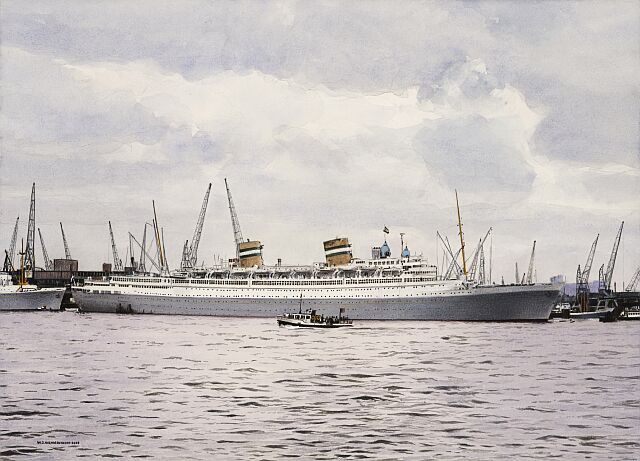 This is the ship that for long has been regarded as one of the world's most beautiful liners ever built
The SS Nieuw Amsterdam seen in her home port of Rotterdam – This painting in full size is superb!
Is there a ship you really love? Why not commission Willem to paint it for you. Email him at: hoendervanger.willemjohan@gmail.com.
Or visit his two websites at www.wjmaritiem.nl, also www.oceanlinerart.com/
**********************************
NEW Artist
New Zealand Maritime Artist - Wallace Trickett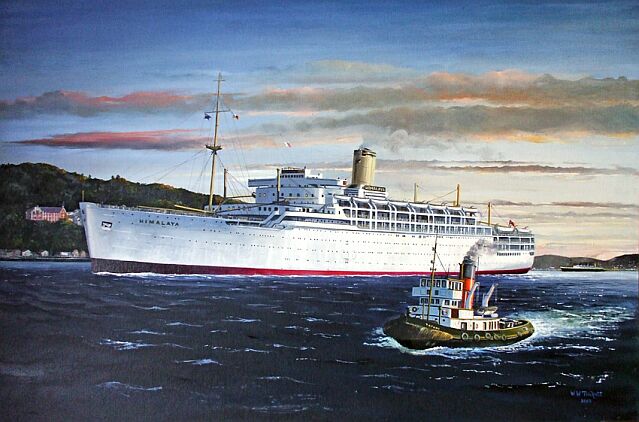 P&O's magnificent liner - SS Himalaya painted by Wallace Trickett
Wallace Trickett has this superb talent and loves to paint all kinds of vintage transport, but he excels in painting ships be it the great liners or the lesser known ones as well as a variety freighters. I highly recommend that you check out his work as they are simply superb. At the bottom of the page use the links to view the various paintings. Although most have been sold, you can commission your most loved ship and these are at reasonable rates and can be shipped worldwide. As you view the website you will note that he has a special love for Blue Funnel ships and he has painted dozens of them. Enjoy his work!
Enter the website HERE – Email: wallace.t@paradise.net.nz
**********************************
Markant
Gallery
–
Dutch Artist -
Frans
Daniel
Romeijnsen
A painting of the Holland Amerika Lijn SS Rotterdam & SS Nieuw Amsterdam
Frans Daniel Romeijnsen was born in Terneuzen, The Netherlands in 1944, and his father was also an artist. As a child he started to become interested in drawing. Then, his father decided that Frans was obviously more than interested in art, thus he took him under his wing and began teaching him various techniques, pastel, pencil and aquarelle. Later in life, after military service Frans dedicated himself to painting with oils. Ever since, he has been painting portraits, landscapes, still life, but mostly sea and harbour scenes. Frans is a member of the association of the Holland America Line and his paintings of the great Dutch liners can be found on the websites of the Royal Rotterdam Lloyd Museum and the Royal Dutch Steamship Association. In addition to painting Frans teaches up to 40 students in his Gallery.
Please Note: As the site is in Dutch and could be difficult to navigate for some, I have placed an Index of pages below with ships from a variety of companies for you to visit and view. Enjoy the great work of a great artist!
ships - 1 – Various
ships - 2 - Holland West Africa Line (HWA)
ships - 3 - Holland America Line (HAL)
ships - 4 - Royal Interocean Lines (KJCPM)
ships - 5 - Royal Interocean Lines (KPM)
ships - 6 - Royal Netherlands Steamship Co (KNSM)
ships - 7 - Royal Rotterdam Lloyd (KRL)
ships - 8 - Nederland Line (NSM)
ships - 9 - (NIGOCO)
Markant Gallery Frans Romeijnsen
Kruiseind 16D. 5421 ND Gemert The Netherlands
Phone: 06-54611307 - Email: frha@xladsl.nl
**********************************
Works by Dutch Artist Hans Breeman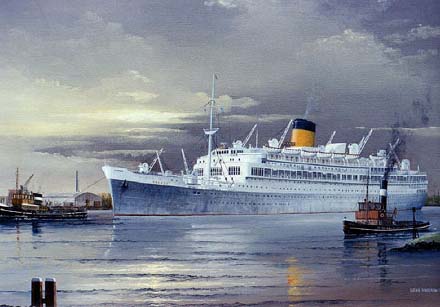 Netherland Line Oranje, which became the Angelina Lauro
Painted by Dutch Artist Hans Breeman
ENTER his website
**********************************
Australia's top Maritime Artist - Don Braben
A fine painting of the Bulolo arriving in Brisbane, by Don Braben
Don Braben is a long established artist and has painted many ships either for the love of it or on commission. He is highly regarded by Art Galleries here and has regular showings with great success! Don also paints by commission: Email him at: dbraben@ozemail.com.au.
ENTER his website
**********************************
Paintings by US Artist - Chris Butler
The Queen Mary "Into the Sea" by Chris Butler
**********************************
The late Mr. Veldhuis - Maritime Collection
ssMaritime in association with Harm Brink of the Netherlands, is honoured to present one of the most magnificent collections of Maritime Art ever presented! The Veldhuis Collection features a multitude of fine paintings covering great Passenger Liners, and other fine ships of the past. Enter the collection and enjoy!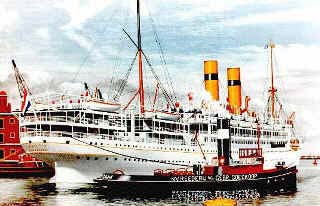 SS Gelria by the late Mr. Sjouke Jan Veldhuis 1918/1997
Presented by The Dutch Cruise Site
(a site by Harm Brink - in Dutch and English)
**********************************
Part 4
… Maritime Specialty Sites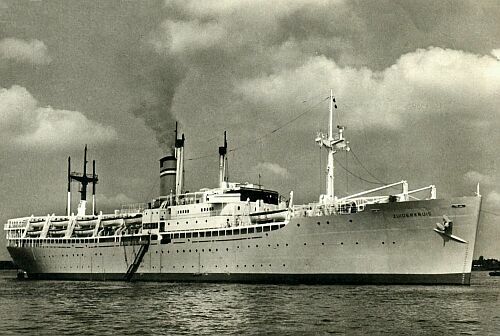 SS Zuiderkruis
On www.ssmaritime.com/DutchVictoryTrio-3.htm you will discover the story of Theo Kroon who sailed from The Netherlands to New Zealand on the SS Zuiderkruis in 1956. His page will take you on a photographic journey of that voyage, however it also details how Theo worked hard having settled down in his country of choice!
In due course Theo created a successful and an award winning business, "Crown Embroidery," a Worldwide Custom Digitizing Service for Embroiderers and one of Theo's most famed pieces was produced at the request of the Dutch Ambassador in Wellington being the Royal Coat of Arms of "The House of Oranje Nassau." This piece was entered into the "International Embroidery Competition" in America it won both the 1st price in its category and the Grand overall prize. Having won these prizes the Ambassador requested for extra copies to be made and they were presented to Her Majesty Queen Beatrix and Crown Prince Willem Alexander. Today, copies hang in Dutch Clubs and Dutch Retirement Villages. Below is a photo of this embroidery piece, however I have a High Res copy of the photograph and the detail is just superb!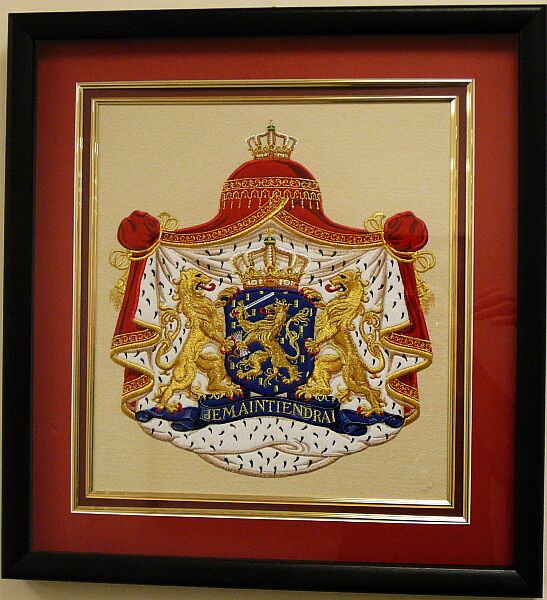 The framed dimensions are 500 x 470 mm (unframed 310 x 280 mm)
Photo by & © 2009 Theo Kroon
The good news is that there may still be a very limited number of this very special award winning embroidery available. Email Theo for details: crownembroidery@ihug.co.nz. Also visit his website at: www.crownembroidery.co.nz. Theo posts worldwide.
***********************************
"Blue Water Liners sailing to the distant shores.




I watched them come, I watched them go and I watched them die.

"
Return to the ssMaritime MAIN INDEX

ssMaritime.com & ssMaritime.net

Where you will discover over 1,435 Classic Liners & the 1914 built MV Doulos Story

The Author has been in Passenger Shipping & the Cruise Industry for some 60 years!

For interest

: Sadly an email service to ssMaritime is no longer available, due to the author's old age and chronic illness as well as being disabled, etc. In the past ssMaritime received well over 120 emails per day, but Goossens can no longer handle the same. He sincerely regrets this!

Please Note: ssmaritime and associated sites are 100% non-commercial and the author seeks no funding or favours of any shape or form, never have and never will!

Photographs on ssmaritime and associate pages are by; the author or from the author's private collection. In addition there are some images that have been provided by Shipping Companies and private photographers or collectors. Credit is given to all contributors. This notice covers all pages; although, and I have done my best to ensure that all photographs are duly credited and that this notice is displaced on each page, that is, when a page is updated!

ssMaritime is owned & © Copyright by Reuben Goossens

- All Rights Reserved