Please Note: Firefox and some other search engines are not suitable – Use "Internet Explorer" for this page to load perfectly!
Click the logo above to reach the ssMaritime FrontPage for News Updates & "Ship of the Month"

Having been laid up since 1977, SS Monterey was purchased and towed to Portland Oregon in 1987 to be transformed into a full time cruise ship for Aloha Pacific Cruises at a cost of $40 million. However, she was registered to American Maritime Holdings. She was transferred to a Tacoma, Washington shipyard in order to commence work as required to allow her to remain under American registry. However, with the approval of the Maritime Administration, she was sent off to the Wartsila's shipyard in Turku Finland, to have most of her interior work completed. Upon her completion, many who loved this fine ship felt that she had been disfigured with the addition of a huge aircraft carrier style lido platform above her stern, in addition, Promenade deck was extended far forward of the bridge, cutting off most of her foredeck. Both the stern and forward additions added a considerable number of new cabins.
After re rebuilding she undertook a 46-night maiden cruise from Copenhagen on July 31, 1988 from Copenhagen to San Francisco. This was followed by a disastrous 26-night cruise from New York to San Francisco for the FDA condemned her for sanitary and safety violations, which continued to plague the ship and was the cause for her eventual lay-up! But, the Monterey commenced her seven-day Hawaiian cruise duties from Honolulu in September.

SS Monterey's seen completed as the Aloha Pacific Cruise ship, with her blue funnel
featuring a gold "M" for Monterey, being surrounded by gold laurels
Author's private collection
As I indicated earlier the new company their galley proved to be very costly as the voyage to Hawaii was beset with countless problems, mostly brought on by the FDA, being the "Food and Drug Administration" who inspects all U.S. flag passenger liners! I have the complete report available on the previous Aloha Pacific Cruises page, that also shows the companies demise with a year. Please see the link at the bottom of the page.
With American Pacific Cruises having filed for bankruptcy in April 1989 and the Monterey having been laid up in Honolulu in May 1998, she remained there sold in 1989 to "Coral Cruises" but she was resold to "PANOCEAN NAVIERA" of Panama, which was connected with the Italian Flotta Lauro lines then operating as Star Lauro Cruises. But Star Lauro did not buy her, but instead decided to charter her from PANOCEAN NAVIERA on a bareboat charter basis!
Thus she found a new home with the excellent Star Lauro, being the successor to Italy's esteemed Flotta Lauro lines and the Monterey was relocated to the Mediterranean and made her home in Naples. Having received a comprehensive refit with the ships galley and safety training and equipment upon completion being listed as A1, the Monterey made ready to commence her cruise duties, and obviously she became an immediate success with the travelling public!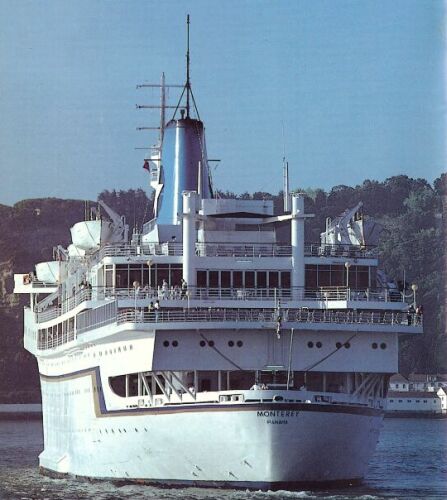 This stern photograph clearly shows the massive aft extension and she is seen
with the Star Lauro funnel, being a dark blue with a white star
Photograph © Luis Miguel Correia - http://lmcshipsandthesea.blogspot.com
Star Lauro decided to purchase her outright, knowing she would make a valuable addition to their fleet. However, it was not longs that the Star Lauro name was replaced by their new name that remains to this very day MSC Cruises or "Mediterranean Shipping Cruises."
In spite of her new exteriors, many who have sailed on her in the past were pleased to discover that her original pastel colours and ambience had been retained when she was rebuilt, and the new Monterey became one of the most popular cruise ships operating in the Mediterranean and she enjoyed a long service with MSC Cruises.
Below we see her various funnel markings 1. Star Lauro ship. 2. Early MSC. 3. The best known funnel. 4. Her final livery. As a MSC ship she featured flowing ribbons painted on her bow.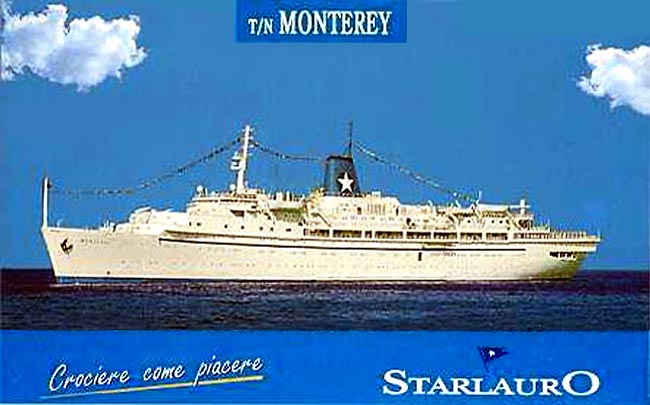 A Starlauro postcard
Author's private collection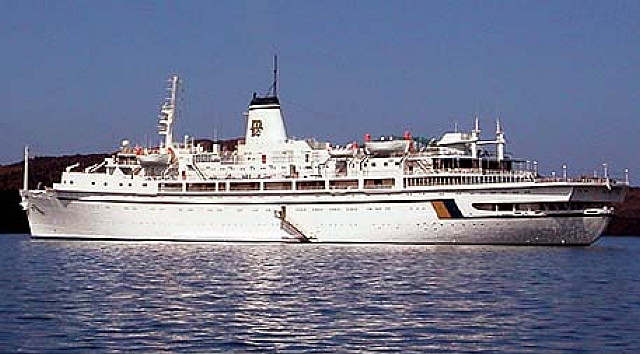 Monterey with the MSC funnel
Photograph by & © Copyright Johan Coeman - Belgium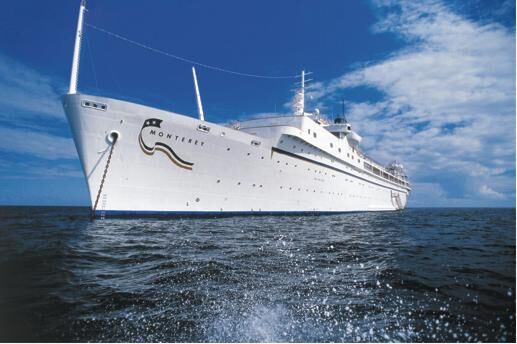 Monterey at anchor
Author's private collection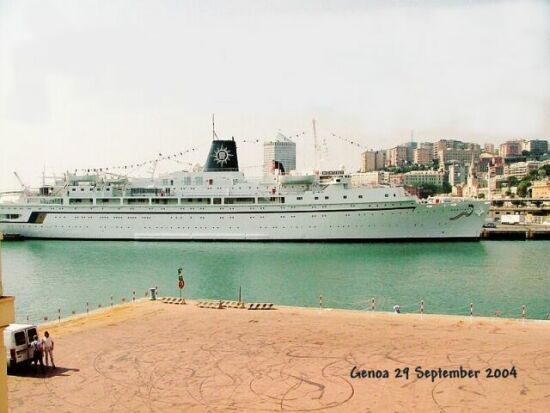 Photograph by Mike Holtham
Monterey has a stylish sophistication, which sets the tone on this intimate and friendly cruise ship. She has luxuriant deep pile carpets, gleaming brass rails, polished mirrors, and tropical greenery. From the casual elegance of the Cafe de Paris and the galleried art deco Show Lounge to the superb split-level Restaurant, and a delightful Polynesian inspired Cinema; there is no doubts that the Monterey's emphasis is sheer elegance!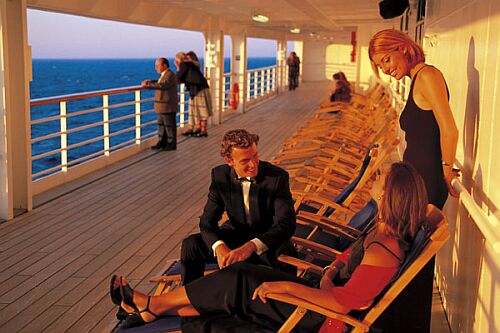 Promenade Deck
<![if !vml]>
<![endif]>
<![if !vml]>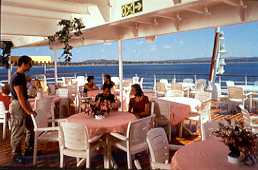 <![endif]>
Above & Below: Café de Paris on Boat Deck aft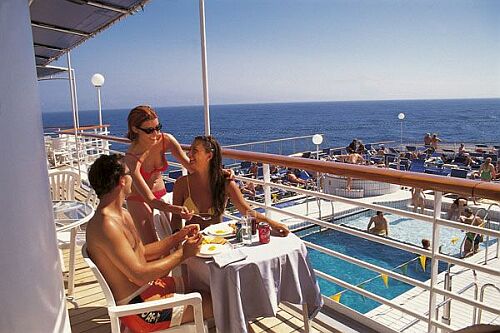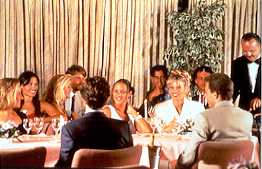 Dining Room
<![if !vml]>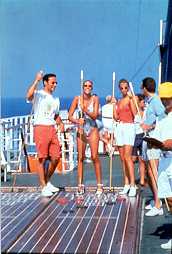 <![endif]><![if !vml]>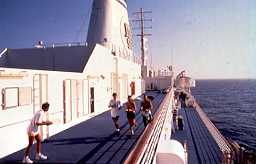 <![endif]>
                                   Left & Right: Sports Decks
<![if !vml]>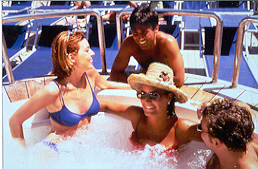 <![endif]><![if !vml]>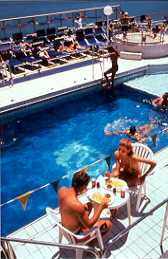 <![endif]>
Left & Right: The Jacuzzi and the Pool on Promenade deck
Cabin decor is light and airy with soft carpets and ample wardrobe and drawer space. She has massive deck spaces, both covered and open. It has been said, "As night falls the Monterey assumes an air of quiet refinement."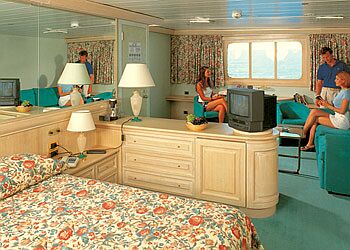 Royal Suite
<![if !vml]>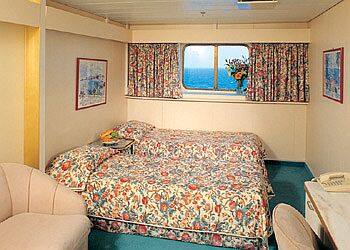 <![endif]><![if !vml]>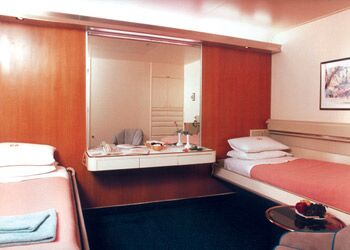 <![endif]>
Above Left
: Outside Twin/Double –
Right
: Inside Twin bedded Stateroom
Images above from Author's brochure collection
MSC announced that the Monterey was to be transferred to Durban in May 2007 and cruise under the Starlight Cruises banner. However, in August 2006, sadly Monterey suffered a boiler malfunction and she was taken out of service and laid up in Genoa. There was much conjecture if she was to be repaired or not. However, it soon became clear when MSC removed their logo from her funnel, and she was renamed Monte. The author soon discovered that she had been reregistered in a tiny South Pacific Island nation of Tuvalu being an obvious sign that she had already been sold to an Indian breakers yard.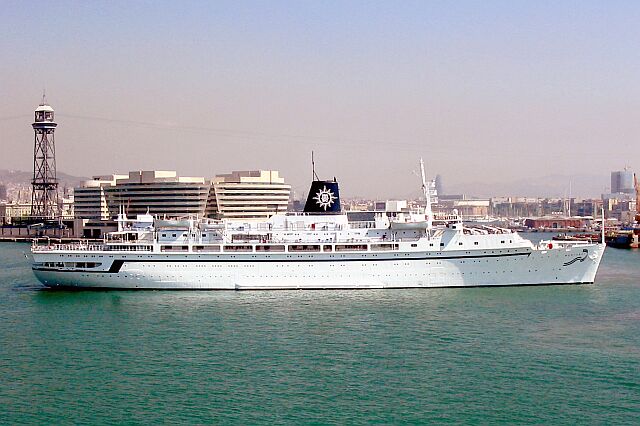 Seen in 2005 – still looking the picture of perfection
Photographer unknown – see photo notes below!
The end of the last of a great Matson Liner
What was so tragic, except for her boiler, internally and externally the Monterey was in perfect condition, and as she was originally built to the highest degree of fireproofing, it would not have cost a great deal to have made her SOLAS 2010 compliant. Thus, had she had been re-engined she could have sailed on for many more years yet.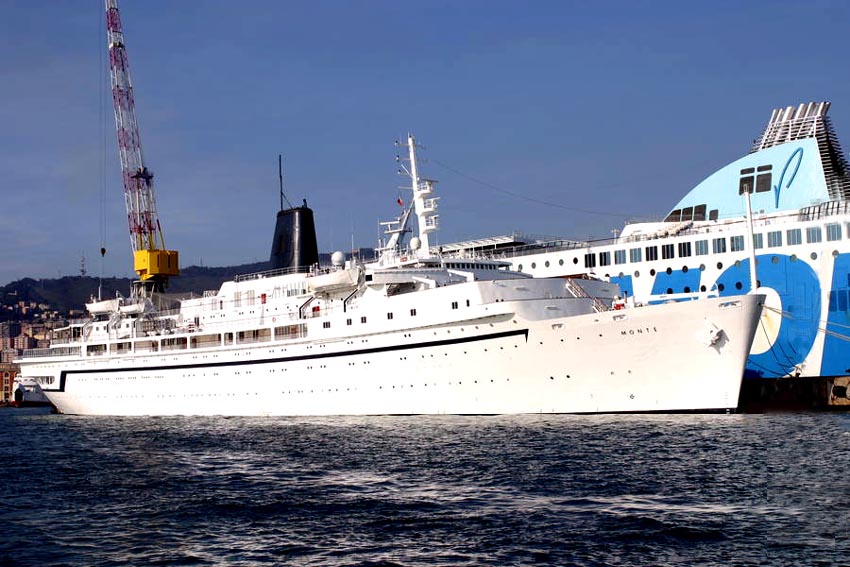 The exMonterey is seen here in Genoa in October 2006 just prior her voyage to India
As you can see her name had been shortened to just "Monte"
Photograph by & © 2006 Antonio Reguero
However, MSC decided to sell a ship that was in perfect shape internally, except for her boiler problems, which would have not cost a great deal to correct, but, the Italians had big plans, and were about to build their BIG apartment block style of ships, and thus the reliable classic SS Monterey just would not fit in with MSC's new look! Thus, she was sold to the Alang, scrappers in India in 2006, she departed Italy and headed for India undertow and SS Monterey was beached at Alang on Wednesday November 8, 2006 and this magnificent ship was duly broken up!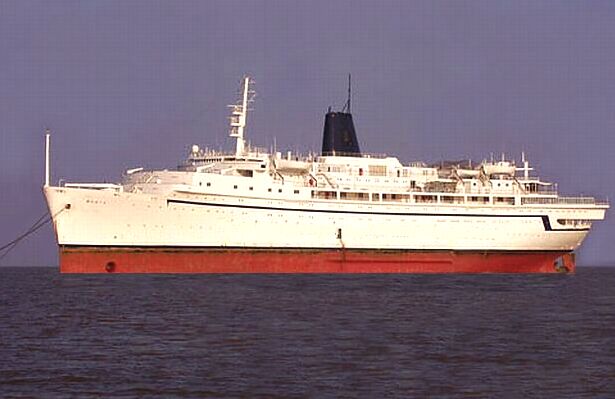 A tragic sight of the "Monte" for all who love classic liners, even though she been so heavily rebuilt
She is seen sitting on the mud with her lines firmly anchored on the beach at Alang and at various high tides they bring her
closer to the beach until they are ready to commence to unload her furnishings and fittings & start cutting her up
Photograph © 2006 MaritimeMatters
SS Monterey is a great loss to all who sailed on this fine American liner and no matter how much she was rebuilt in and externally; for somehow, she retained her original internal charm! Today, there are just one American built passenger liner left, the great liner, the SS United States for the SS Independence and the Santa Rose that was the Emerald at the end have sadly now been scrapped. We need to remember that the SS United ship holds to this day the Blue Riband and she is now owned by the United States Conservancy who has wonderful plans for her! However, they do need your assistanve, and I do not mean just for Americans, as a ship is something for every single shiplover, for one day you will be able to stay onboard the Hotel United Staes in America and that will be something very special indeed!
Thus it is vital for everyone who love classic ships to support the …
To make all this become a reality support the …
ssMaritime.com & savetheclassicliners.com fully supports the SS United States Conservancy
And we ask that you donate TODAY and be PART in saving this great American Liner the SS United States.
Visit … http://ssunitedstatesconservancy.org.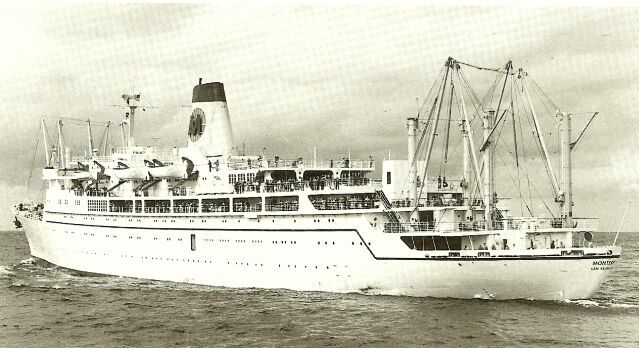 A delightful stern view of the very last of the Matson Grand Pacific Liner!
Author's private collection
Memories of the Very Last Luxury Matson Passenger Liner, the…
S.S. Monterey
I trust that this original Matson image of the SS Monterey the very last Matson liner to be built, will have us
reliving the glamorous years of her and her sister, the SS Mariposa superb Trans-Pacific voyages!
Personally, I will never forget my voyages on the Monterey!
Author's private collection
Farewell my dearest Ocean Going Friend!
****************************************
INDEX
Page One …         SS Monterey & Mariposa, the Matson Lines / Pacific Far East Line (PFEL) Liners.
Page Two …         Matson / PFEL Photo Album.
Page Three …       Matson / PFEL Cabin Plan.
APC Cruises …      Aloha Pacific Cruises' Monterey 1987 to 1988.
APC Cruises 2 …   SS Monterey maiden voyage brochure, Deck Plan of the rebuilt ship & details re the companies end!
Page Four …         Monterey as a Star Lauro / MSC Cruises cruise ship.
Page Five …         Monterey - MSC- photographs from various sources.
Page Six …           Monterey - MSC - an excellent series of photographs by Johan Coeman.
Page Seven …      Monterey - MSC - Cabin Plan.
****************************************
Use the Back button on your browser or Close the Page to return to the previous page
or go to our
INDEX
Who is the Author of ssMaritime?
Commenced in the Passenger Shipping Industry in May 1960
ssMaritime.com

& ssMaritime.net
Where the ships of the past make history & the 1914 built MV Doulos Story
Also visit my …
Photographs

on ssmaritime and associate pages are by the author or from the author's private collection. In addition there are some images that have been provided by Shipping Companies and private photographers or collectors. Credit is given to all contributors. However, there are some photographs provided to me without details regarding the photographer/owner concerned. I hereby invite if owners of these images would be so kind to make them-selves known to me (my email address may be found on www.ssmaritime.com only), in order that due credit may be given.
This notice covers all pages, although, and I have done my best to ensure that all photographs are duly credited and that this notice is displaced on each page, that is, when a page is updated!
ssMaritime is owned and © Copyright by Reuben Goossens - All Rights Reserved