Please Note: Firefox and some other search engines are not suitable – Use "Internet Explorer" for this page to load perfectly!

Click the logo above to reach the ssMaritime FrontPage for News Updates & "Ship of the Month"
With Reuben Goossens
Maritime Historian, Cruise'n'Ship Reviewer, Author & Lecturer
Please Note: All ssMaritime and my other related ssMaritime sites are 100% non-commercial and privately owned sites. Be assured that I am NOT associated with any cruise or shipping companies or travel/cruise agencies or any other organisations! The author has been in the passenger shipping industry since May 1960 and is now semi-retired, but continues to write article on classic liners and cruise ships in order to better to inform cruise and ship enthusiasts for their pleasure!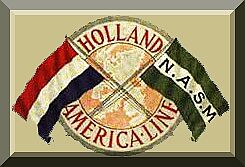 The "Spotless Fleet"
S.S. Nieuw Amsterdam
PLEASE NOTE:
This feature will be completely updated in the near future with brand new photographic
and & exciting artistic material never seen before, as well as additional historic information!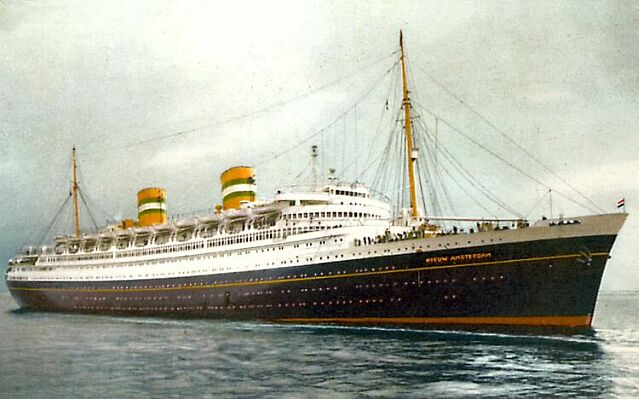 PLEASE NOTE: Photographs and postcards on this feature are from the author's private collection, unless mentioned otherwise
To this day SS Nieuw Amsterdam is still regarded as one of the most beautiful ships to be built. With her stunning silhouette she was a well-balanced ship. Her elegant lines were highlighted with her black hull, as well as her two perfectly proportioned funnels and two tall masts. At the time, she was also the largest Dutch ship to be built.
Originally she was to be named Prinsendam, however during construction, Holland America Line (HAL) decided to name their new flagship Nieuw Amsterdam, in honour the settlement of the Dutch in Nieuw Amsterdam, today's City of New York. Nieuw Amsterdam was also given the honour of being the Dutch "Ship of State." Unlike other ships of her time being built (especially British and American ships) her design did not include any military ingredient, despite the threatening political situation of the day. SS Nieuw Amsterdam was launched by HRH Queen Wilhelmina on April 10, 1937 and was completed on March 21, 1938.
<![if !vml]>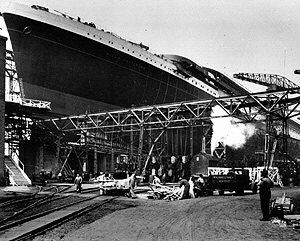 <![endif]>
<![if !vml]>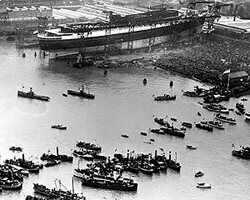 <![endif]>
-Left: Nieuw Amsterdam under construction – Right: Ready for launching
Nieuw Amsterdam was delivered to HAL on April 15 and on May 10, 1938; she departed Rotterdam for her maiden voyage to New York, sailing via Boulogne and Southampton.
As built the forward funnel contained a set of vertical vents, designed to aid smoke uptake. However these were deemed not require at a later date and were removed prior the War.
-----------------------------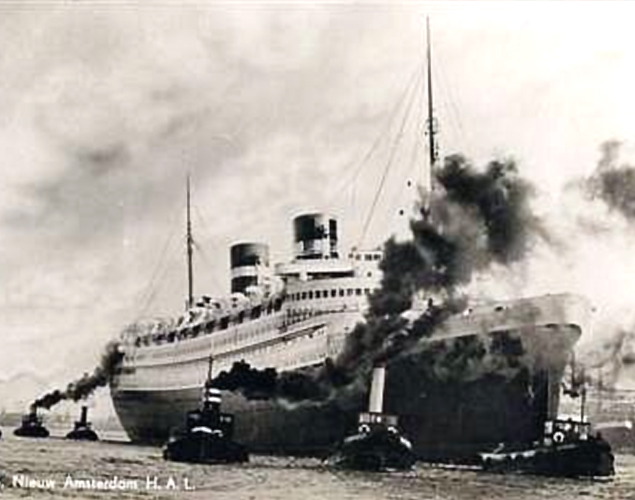 Left: A Good view of the ship during her fit out and her forward funnel with the vents that were soon removed
Right: A fine photo of the SS Nieuw Amsterdam departing Rotterdam on her maiden voyage for New York
Nieuw Amsterdam quickly became famed for new standards being set, with her interior design and magnificent Art Deco décor was far superior to anything seen before. Her interiors were decorated in pastel colours and although she had spacious public rooms, the colour scheme used gave her an even larger feel. Her first class restaurant was her most celebrated room, having a Moroccan leather ceiling and Murano-glass lighting fixtures, columns overlaid in gold leaf, her walls were in Ivory, all this and with tinted mirrors, and superb satinwood furniture, this was one of the finest Art Deco restaurants afloat. Located on Promenade Deck immediately aft of the Smoking Room was the delightful Stuyvesant Café, a popular venue indeed. There were two swimming pools onboard, one outdoor and the other indoors on E-deck. It featured an expensive Delft tiled which was an impressive sight.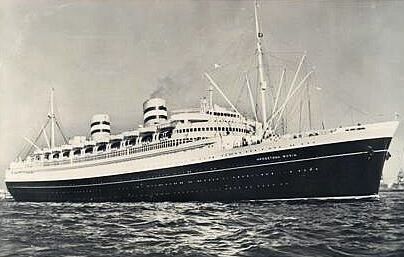 She is seen here with the addition of the famed HAL gold band around her hull
Nieuw Amsterdam was one of the most modern, contemporary liners of her day she set the standard for HAL next major liner, SS Rotterdam, built twenty years later, a ship that is still with us to this day! Holland America Line was known as the "Spotless Fleet, famed for it meticulous maintenance and cleanliness.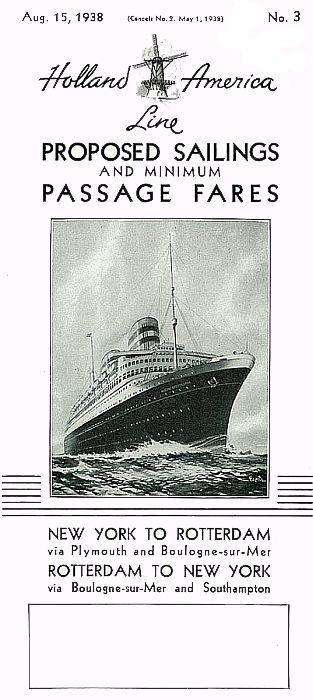 Fares and schedules from 1938/39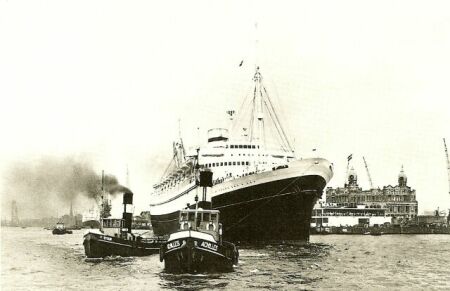 SS Nieuw Amsterdam heads off for the USA
Specifications
Built by:     Rotterdam Dry-dock Company, the Netherlands.
Yard No:                                200.
Launched:                              April 10, 1937.
Tonnage:     36,287 GRT (Gross Registered-Tons).
Length:     758ft - 231.2m.
Beam:     87.9ft – 26.8m.
Draught:     31.6ft.
Engines:     Parsons geared turbines – De Schelde.
Screws:     Twin.
Service speed:                        20.5 – Max 22.8.
Passenger decks:                     11 - accessible by lifts.
Passengers as built:                 556 First Class.
                                             455 Tourist.
                                             209 Third.
Crew:                                    694.
                                             Partially air-conditioned – 1957 fully air-conditioned.
                                             Denny Brown stabilisers.
SS Nieuw Amsterdam goes to war
Having made 17 ½ Trans-Atlantic voyages she was laid up in New York's Hoboken Pier in September 1939 due to the commencement of World War II. However, she did manage to undertake several cruises out of New York to Bermuda, Kingston and Havana. After the Nazi invasion of the Netherlands in 1940, the exiled Dutch Government placed Nieuw Amsterdam at the disposal of the British Ministry of Transport and was dry-docked in Brooklyn and again in Halifax. Only upon reaching Singapore were her luxurious interiors removed, much of it being shipped to Australia and later transferred to San Francisco. As a full time troop ship, operated under the management of Cunard Line, she was able to accommodate up to 8,000 troops.
<![if !vml]>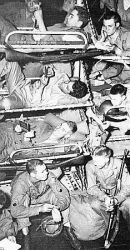 <![endif]><![if !vml]>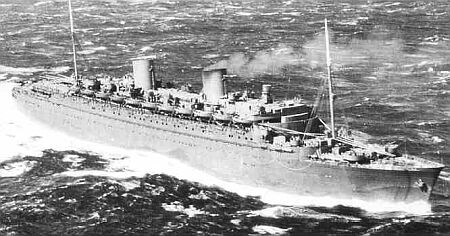 <![endif]>
SS Nieuw Amsterdam painted in Military grey – bunks stacked three high in the first class dining room
Photographer unknown – *Please see the photo notes at the bottom of the page
During the next six years she carried over 378,631 troops, sailing some 530,452 miles, being the equivalent of 21 times around the world. In July 1941, she was used to transport the Greek Royal Family into Wartime exile in Durban.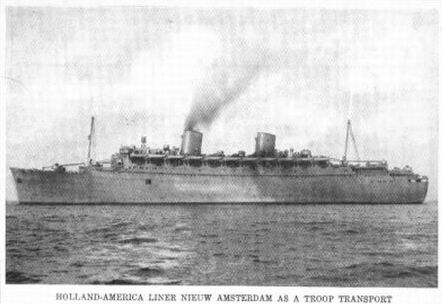 Postcard from the author's private collection
In May 1944, while Nieuw Amsterdam was berthed in Hoboken, HRH Princess Juliana, daughter of HRH Queen Wilhelmina, boarded the ship for a tour and a buffet lunch with ships officers and crew, which was an inspiring moment for the ships crew. Luckily this magnificent liner came through War unscathed.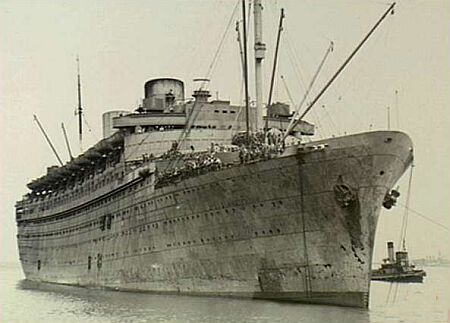 She is seen here toward the end of the war
Photographer unknown – *Please see the photo notes at the bottom of the page
The "Darling of The Netherlands," having had her funnels repainted in their HAL colours, the otherwise drab military grey ship sailed into her homeport of Rotterdam on April 10, 1946. The city responded by the thousands with the harbour filled with spectator craft dressed with flags and sounding their horns, whist the shoreline was filled with thousands upon thousands of enthusiastic spectators. It was a remarkable day for more that one reason, it was the exact day of her eighth anniversary of her launching. Many in the Netherlands claimed this day, as being a symbolic day of their liberation.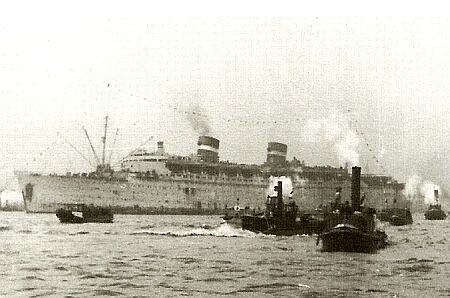 With the HAL lines returned to her funnels, SS Nieuw Amsterdam returns home in triumph on April 10, 1946
Photographer unknown – *Please see the photo notes at the bottom of the page
Refit and return to service
A massive operation began removing her wartime fittings, taking around 12 weeks she was then fully refitted, including rewiring and replacing many fittings including all the brass onboard. Some fourteen months later the refit had been completed and she had regained her original beauty. Now at 36,667 GRT, she recommenced her Trans-Atlantic service on October 29, 1947, with a complement of 552 first class, 426 cabin class, 209 tourist class.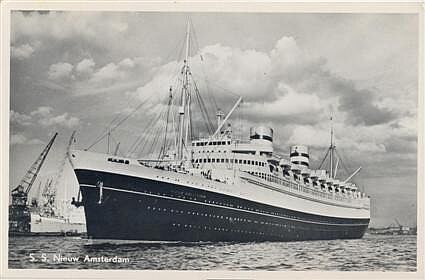 Seen after the war and refit
In 1957, HAL decided to update the companies' livery giving their ships a more modern look. Nieuw Amsterdam received a upgrade, which included her being fully air-conditioned. Externally she had her hull painted grey giving her cooler more modern look.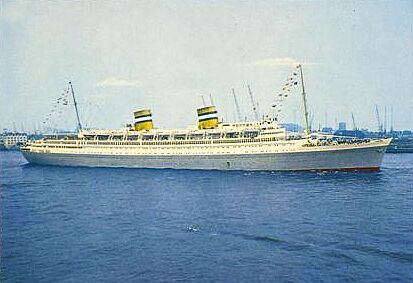 Nieuw Amsterdam's new livery in 1957
Postcard from the author's private collection
In 1961 Nieuw Amsterdam received major alterations to her accommodations, including more cabins with private facilities, and became a two class ship accommodating 574-first class and 538-tourist class, however many cabins were interchangeable. Tourist class was greatly improved, with new public rooms, a new shopping gallery and a cinemascope theatre being added. When completed she as registered at 36,982 GRT.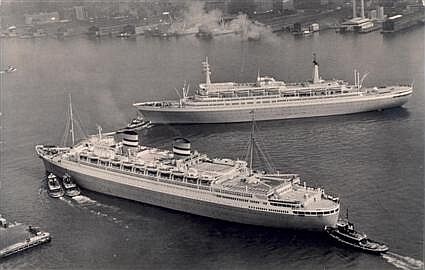 SS Nieuw Amsterdam and SS Rotterdam together in New York
Postcard from the author's private collection
She became one of the most loved ships on the Atlantic, thus many dignitaries and movie stars sailed on her. It was the place to be seen. Her name regularly appeared in the "Who's Who" columns of the New York papers.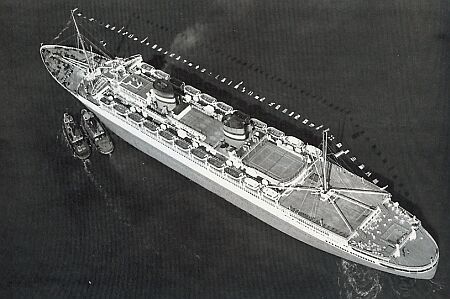 This fine aerial view shows her vast deck space
In August 1967, she suffered mechanical difficulties, which sent a shiver throughout The Netherlands being fearful that the Darling of The Netherlands was to come about her end and be sold for scrap. However, HAL found that she had a good many years in her, thus she was sent to the Wilton-Fijenoord Shipyards in Schiedam where a huge hole was cut in her starboard side in order to replace her boilers. The work was completed in December and to the joy of the Dutch, she returned to service.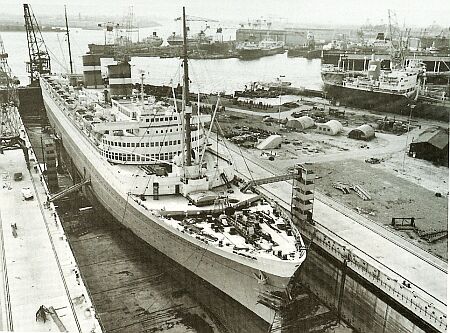 In the Schiedam dry-dock
Photographer unknown – *Please see the photo notes at the bottom of the page
Due to the Trans-Atlantic traffic rapidly declining, Nieuw Amsterdam operated Trans-Atlantic crossings during the summer months and operated cruises throughout the Caribbean, Mediterranean and other cruise destinations during the autumn and winter months. By the late sixties, Nieuw Amsterdam was the last HAL Trans-Atlantic liner crossing sailing Rotterdam to New York.
SS Nieuw Amsterdam the Cruise Ship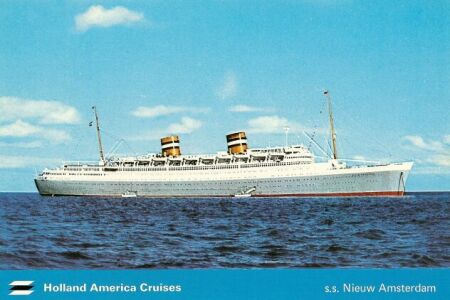 SS Nieuw Amsterdam seen here as a fulltime cruise ship – note HAL new logo
Late in 1971, she was operating with low loadings across the Atlantic, thus with her cruises having been a success it was decided she would become a fulltime cruise ship. However, with the ever rising costs, many of the Dutch service crew were replaced by Indonesian's, saving HAL millions. In order to make further savings due to the high taxes in The Netherlands, she was registered in Willemstad Curacao in 1972 for the newly created NV Nieuw Amsterdam BV.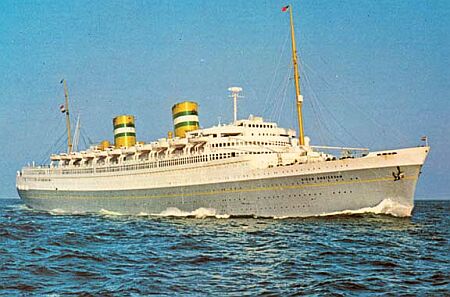 HAL released this superb postcard in the early 70's
The end is near
She continued cruising around the Caribbean until 1973, five years after the new SS Rotterdam entered into service. With fuel and staffing costs skyrocketing, HAL suffered a loss of some £12.5 million. In order to reduce costs, it was decided to sell Nieuw Amsterdam for scrap especially as she had excessive fuel costs.

A fine silhouette
There was a massive outcry in The Netherlands and it was suggested that she returned to Rotterdam for the use as a hotel and museum. However, this plan failed, unlike her newer sister SS Rotterdam, which at the time of writing is being fully restored to her original condition in Gdansk Poland. She is expected to return to her homeport, the city of Rotterdam early 2007.
In 1973, having plied the oceans for 36 years, SS Nieuw Amsterdam was sold to Taiwanese breakers. In January 1974, she departed Port Everglades, passed through the Panama Canal, called at Los Angeles for fuel, and commenced to sail across the Pacific at slow speed.
On February 25, SS Nieuw Amsterdam arrived at the Nan Fong Steel, breakers yard at Kaohsiung Taiwan. Work on breaking up commenced on March 16, 1974. Soon the "Darling of The Netherlands" had gone, as demolition work was completed on October 5, 1974.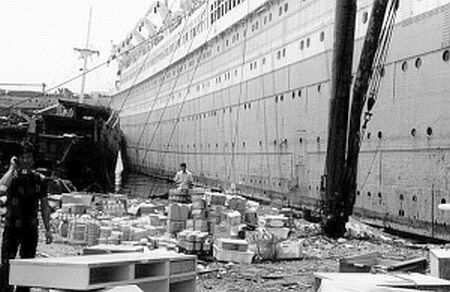 The great SS Nieuw Amsterdam at the Nan Fong Steel Yard in Kaohsiung Taiwan
Photographer unknown – *Please see the photo notes at the bottom of the page
All those who have sailed on her, and admired her from the shore, will never forget the beauty and elegance of SS Nieuw Amsterdam, a ship that that set new standards in maritime shipbuilding design!
Memories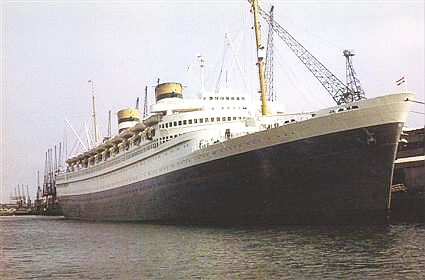 The way we love to remember her!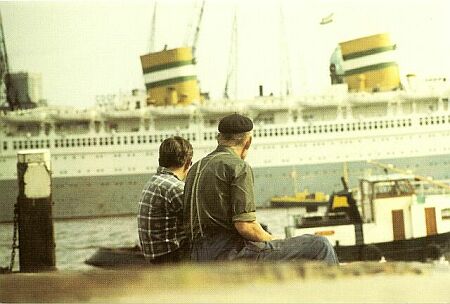 This is one of my favourite postcards of the Nieuw Amsterdam
SS Nieuw Amsterdam Index:
Page One …               The ships history 1937 to 1974 - This Page.
Photo Album …         View her fine interiors as well as exterior shots.
Photo Album …     Photographs provided by Ton van der Meer.
***********************************
Visit our
ssMaritime Main INDEX
Where you will discover well over 620 classic liners!
ssMaritime.com & ssMaritime.net
Where the ships of the past make history & the 1914 built MV Doulos Story
Also visit my
"Save The Classic Liners Campaign"
Please Note: ssmaritime and associated sites are 100% non-commercial and the author seeks no funding or favours of any shape or form, never have and never will!
Photographs on ssmaritime and associate pages are by the author or from the author's private collection. In addition there are some images that have been provided by Shipping Companies and private photographers or collectors. Credit is given to all contributors. However, there are some photographs provided to me without details regarding the photographer/owner concerned. I hereby invite if owners of these images would be so kind to make them-selves known to me (my email address may be found on www.ssmaritime.com), in order that due credit may be given.
This notice covers all pages, although, and I have done my best to ensure that all photographs are duly credited and that this notice is displaced on each page, that is, when a page is updated!
ssMaritime is owned & © Copyright by Reuben Goossens - All Rights Reserved