New Zealand Shipping Company - RMS Ruahine
Please Note: Firefox and some other search engines are not suitable – Use "Internet Explorer" for this page to load perfectly!
Click the logo above to reach the ssMaritime FrontPage for News Updates & "Ship of the Month"
With Reuben Goossens
Maritime Historian, Cruise'n'Ship Reviewer, Author & Maritime Lecturer
Please Note: All ssMaritime and other related maritime/cruise sites are 100% non-commercial and privately owned. Be assured that I am NOT associated with any shipping or cruise companies or any travel/cruise agencies or any other organisations! Although the author has been in the passenger shipping industry since 1960, although is now retired but having completed around 690 Classic Liners and Cargo-Passengers Ships features I trust these will continue to provide classic ship enthusiasts the information the are seeking, but above all a great deal of pleasure! Reuben Goossens.
New Zealand Shipping Company
RMS Ruahine
The Last Voyage Home to England
With past passenger - John Happs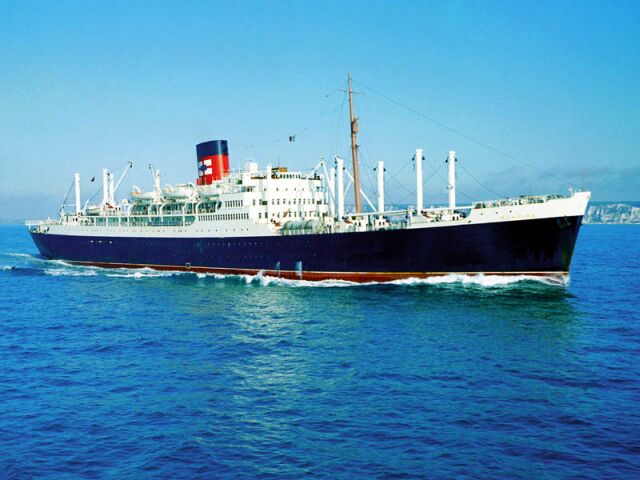 A postcard of the RMS Ruahine seen in her final days
Author's private collection
As the RMS Ruahine was ready to depart Auckland there were countless ship lovers and past passengers on the wharf and scattered at vantage points along Auckland's lengthy shoreline to view her departure and to take photographs of their much loved liner, a ship that had served the New Zealand Shipping Company and New Zealand so well over the many years. But, sadly with the new found popularity of air travel, passenger shipping worldwide was suffering and passenger loadings began to suffer, thus slowly many ships were being sold, ships from the grand Cunard Queens, as well as P&O liners, the New Zealand Shipping Company Passenger Cargo liners Rangitoto and Rangitane had already been sold and now it was time to dispose of the Ruahine. At the conclusion of the voyage, Ruahine would be laid up and placed on the market. But thankfully, the buyers of the Rangitoto and Rangitane would also buy her, and thus she still had a future as a cruise ship!
RMS Ruahine departed for Liverpool England from Auckland on June 19, 1968, at 1700 hours (5 pm) and sailed via Tahiti, the Panama Canal, Kingston, Miami and Bermuda.
As passengers had boarded in Auckland they were in good hands as Ruahine was in command of some of the companies most senior officers, including Captain R. G. Hollingdale, as well as a fine list of officers and crew for this the final voyage of RMS Ruahine.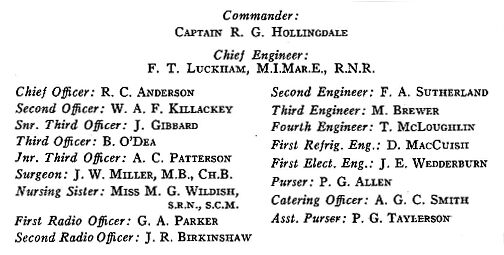 Mr. John Happs was a passenger on this final voyage and he has some very fond memories of his voyage and he shares much of it with us though the memories of the memorabilia he has retained all these years and he hopes that we will be able to somehow be able to relive his voyage, and for those who have sailed on her and any of the other NZSC ships will revive the wonderful memories!
I am most grateful to John Happs for providing the story as well as his photographs, except for those marked otherwise.
My Reflections on RMS Ruahine's Last Voyage
By John Happs
Wednesday, 19th June, 1968 was cool with some drizzle in Auckland. I boarded the Ruahine mid-afternoon and was assigned a berth in a cabin with 3 other people I had not met before. I only had one large suitcase since my visit to England would be relatively brief and this was kept in my cabin which seemed quite spacious although fairly limited compared with cabins on the modern cruise ships of today.
I can't remember how much I paid for my ticket on the Ruahine but I have an idea it was around 450 NZD which represented approximately 4 months pay as a teacher at that time and the price of a small second hand car, but it was definitely less expensive than flying to England. I had flown to New Zealand from London in 1967 by Boeing 707, which reminded me of being in a flying coffin. The Ruahine offered space and luxury by comparison and I was looking forward to a leisurely cruise to England.
I can't remember being especially aware that this was going to be the Ruahine's very last voyage. I was certainly not aware of the maritime significance of this event although I do recall Captain Hollingdale making the comment that this voyage marked the "end of an era."
The Ruahine was a relatively small passenger-cargo ship and with only about 200 passengers it was quite easy to meet everyone on board at some stage although, it was soon apparent that, in addition to the numerous young people, there were quite a few elderly passengers and family groups on board. I had just had my 25th birthday and tended to associate mainly with the younger set, many were going on their first overseas venture and hoping to work and live in England for a while.
The cool weather and mist persisted all the next day but on Friday, The Ruahine pushed out into brilliant sunshine which persisted for the remainder of the voyage and sunbathing on one of the main hatches became very popular.
The food on the Ruahine was impressive and plentiful. I was assigned to a table with a girl about my age (can't remember her name) and a retired plumber from Liverpool who was very friendly and introduced us both to art of wine tasting. I can't remember his name either but, thanks to his input, I do remember that my taste for wine persisted long after the voyage.
I was assigned to the second dinner sitting and was impressed by the menu choices, presentation and sheer quality of the food. I later learned that the Head Chef, Mick Overall was making his final voyage and, having his birthday during the voyage, arranged an impressive display of cakes and pastries which were displayed on deck one evening.
There were a number of current (at the time) movies shown on deck, including 'You only Live Twice'; 'To Sir With Love'; 'Von Ryan's Express'; 'Hombre' and 'Guess Who's Coming to Dinner'? The atmosphere at these showings was quite magical with warm evenings, usually a refreshing sea breeze and the gentle movement of the ship.
The story continues …
Experience her final voyage to Liverpool through the Ships "What's on …" Menu's & Photographs!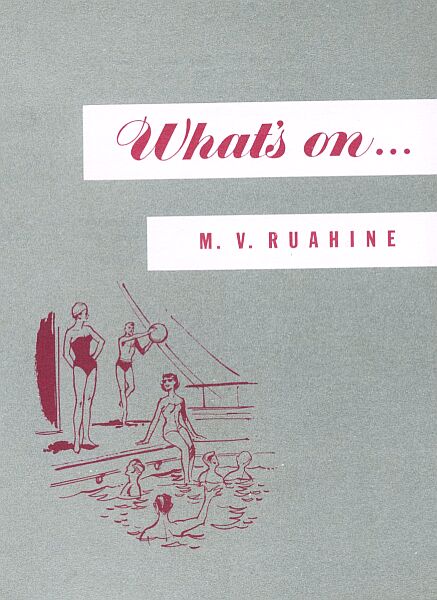 The cover of the first "What's on" as new passengers boarded in Auckland on June 19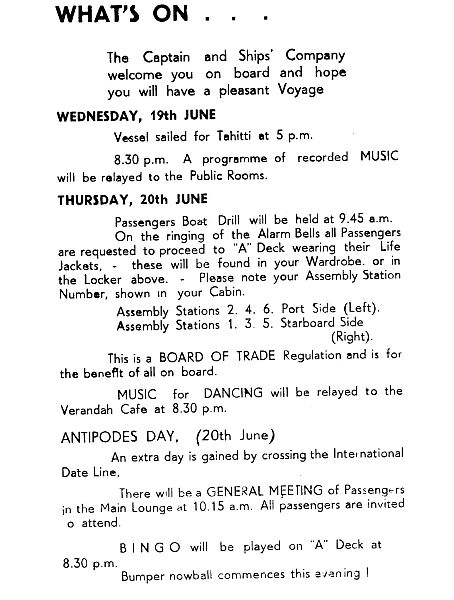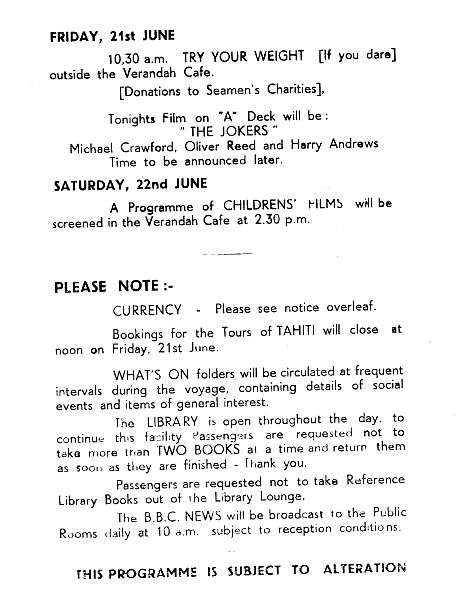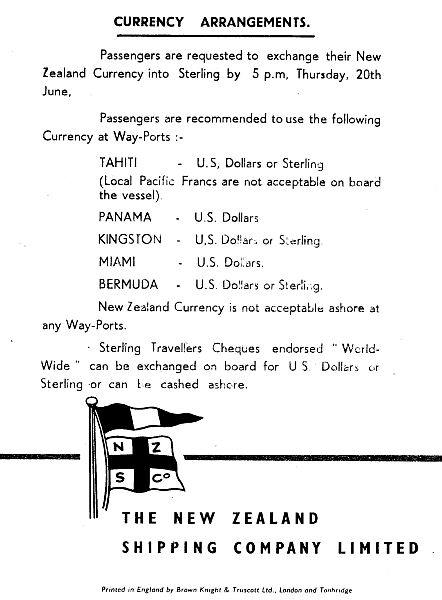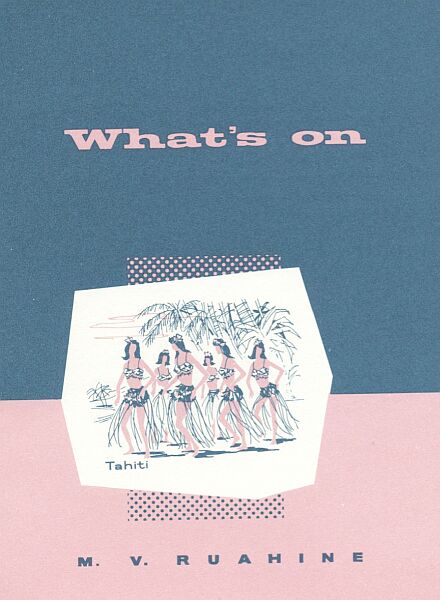 "What's on" June 23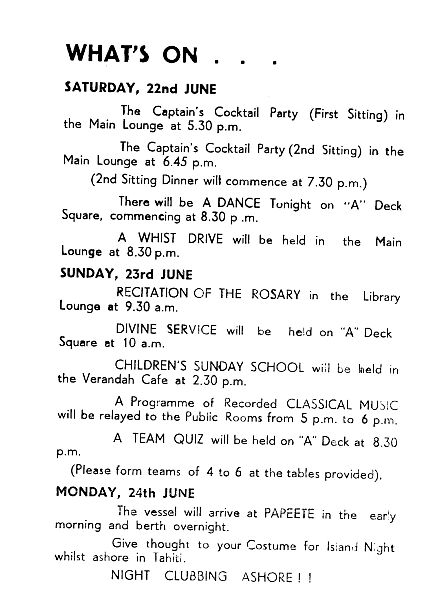 Papeete - Tahiti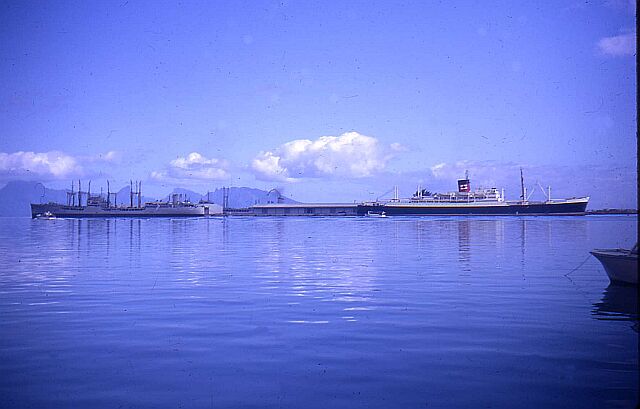 A photograph of RMS Ruahine by John Happs
Arrival at Papeete, Tahiti saw quite a few people lining up to take a tour of the island and those on our mini-bus had photographs taken at the location (Fort Venus) where Lieutenant James Cook and Charles Green, on the 3rd June, 1769, measured the time it took for the planet Venus to enter and leave the disc of the sun. This measurement enabled astronomers to determine with precision the distance between the Earth and the sun. With a keen interest in astronomy, this was one site I was determined to visit.
Interestingly, after his astronomical work was completed, Cook went on to search for the mythical southern continent and claimed New Zealand and New South Wales for Britain.
The story continues …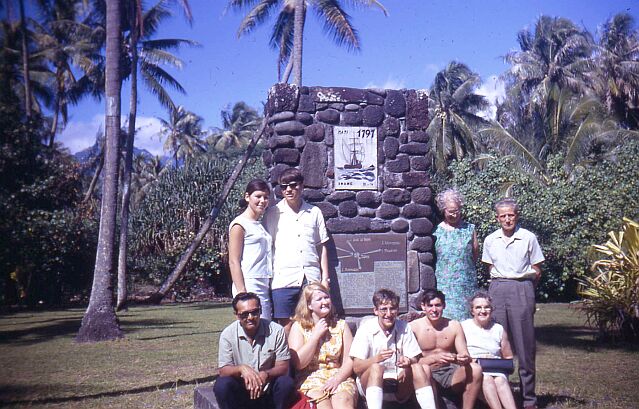 This is the James Cook Memorial in Papeete – John is seen with a group of other passengers
John is the handsome bare-chested chap seated, second from the right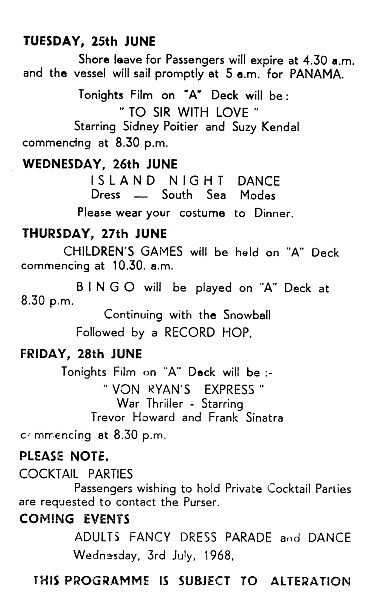 I recall a number of quiz evenings when teams of 4-6 people competed with others for a range of prizes. I had become acquainted with an interesting German gentleman with the fascinating name of Dr Karl Klecker. It transpired that he had been a major in the German army and had fought at Stalingrad. I always regretted not spending more time talking with Karl since he would have had some fascinating stories to tell. Karl was always on our quiz team and we usually did rather well and picked up a few prizes.
I think it was while we were still in the Pacific Ocean that there was an engine breakdown and the Ruahine simply drifted for the best part of a day while repairs were made. During this time, some of the ship's crew lowered a motor boat and took it for a spin around the ship.
The story continues …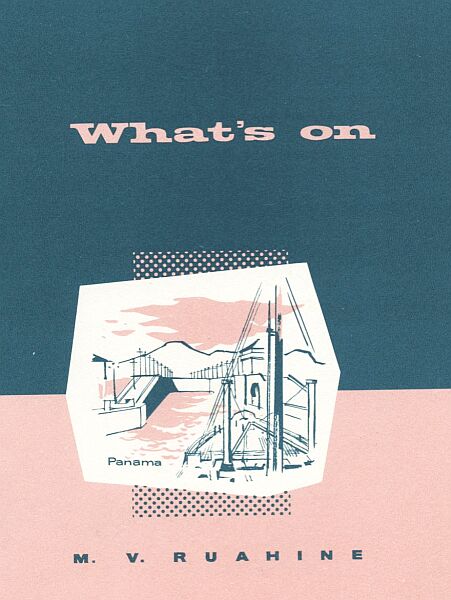 "What's on" June 29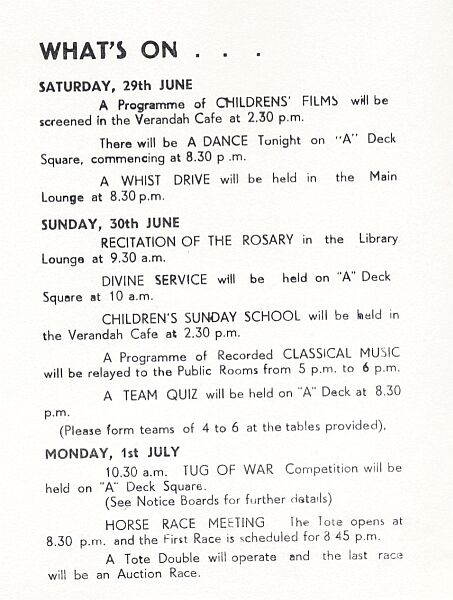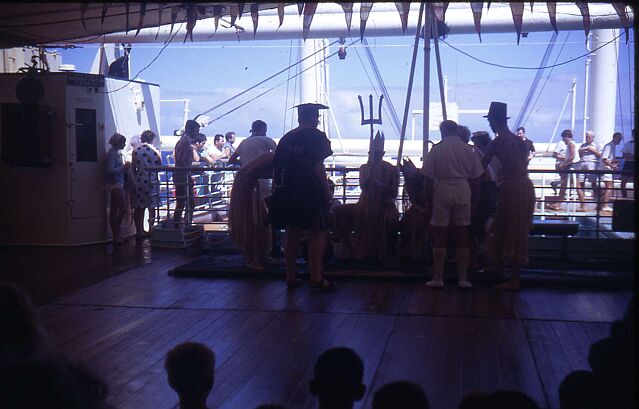 Fun and frivolity goes on at the crossing of the Equator Ceremony at the Pool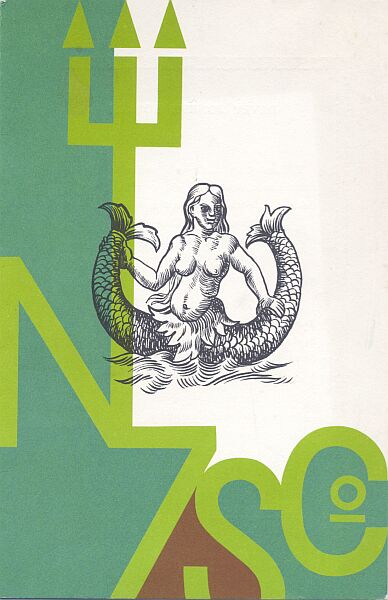 Special Menu for the Crossing of the Equator – July 2, 1968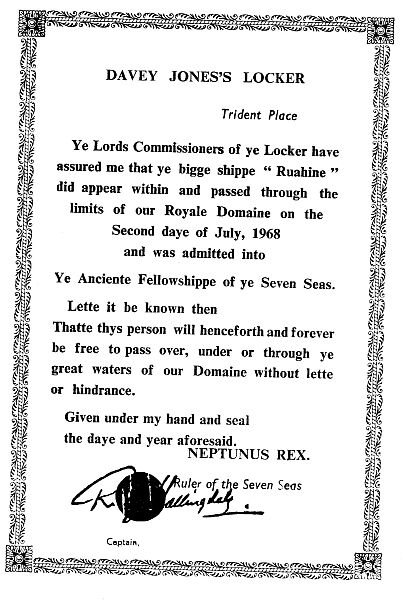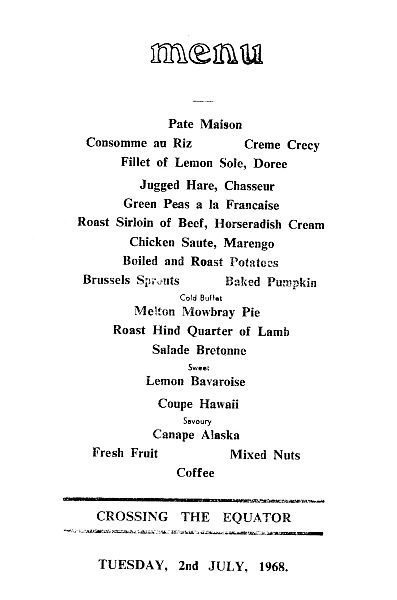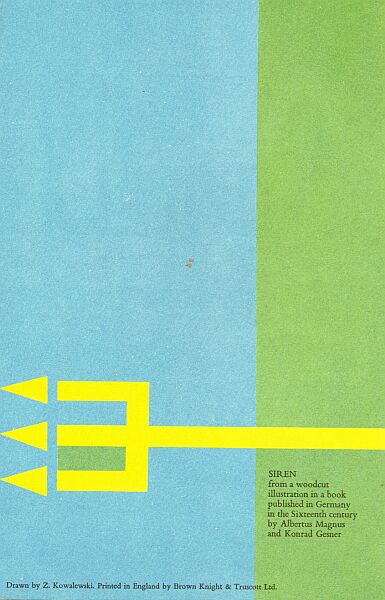 Back cover of the menu
Below - continuation of the Ships "What's on …"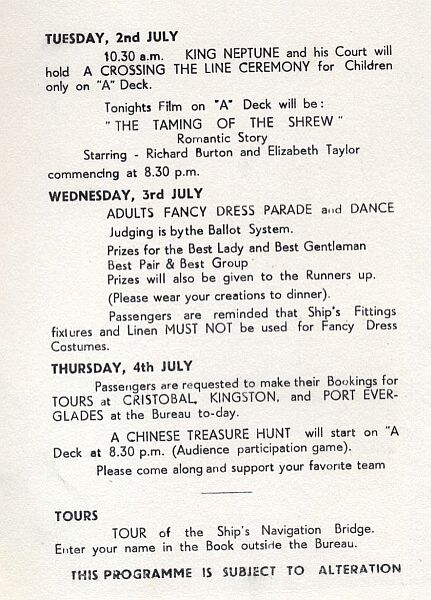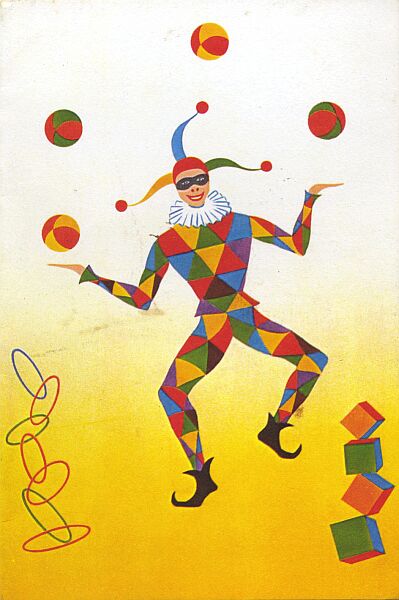 The Fancy Dress Ball Menu – July 3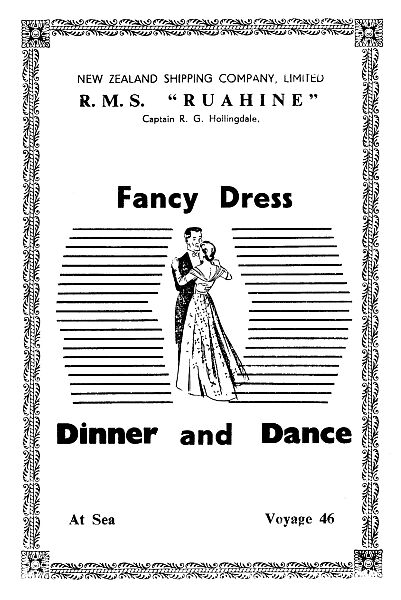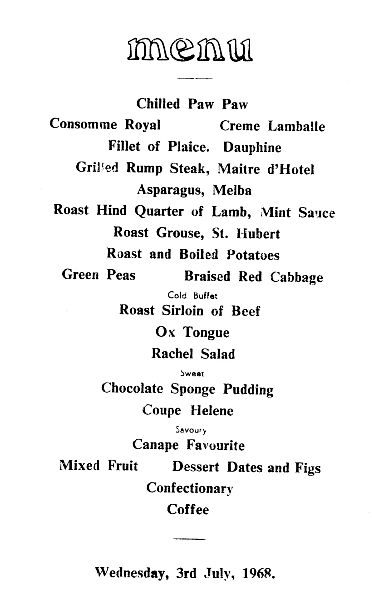 Panama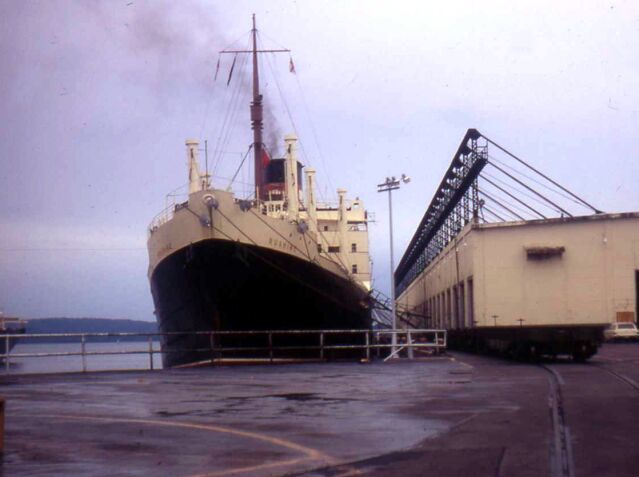 RMS Ruahine is seen here berthed in Panama
Before the Ruahine reached the Panama Canal, we were treated to a look at some of the islands which make up the Galapagos group to the west of South America. I remember seeing some beautiful coral islands and wished we could have landed on some of these. As a science teacher, I was aware of the importance of Charles Darwin's work when he visited the Galapagos in the Beagle and how this contributed to his theory of evolution by natural selection.
The slow journey through the Panama Canal was really interesting. Captain Hollingdale allowed groups of us to go to the bridge and watch as gates were closed and locks filled, allowing the Ruahine to gradually make its way from the Pacific to the Atlantic Ocean via one of the largest and challenging engineering achievements ever. I think it took us about 10 hours to move through the series of 3 locks.
It was hot and humid and many passengers slept on deck with the jungle only metres away. One of the older passengers reminded us of the harsh working conditions for the workers on the Panama project and how tens of thousands died through yellow fever and malaria.  I remember large butterflies landing on the Ruahine and animal sounds coming from the dense vegetation on either side of the ship.
The story continues …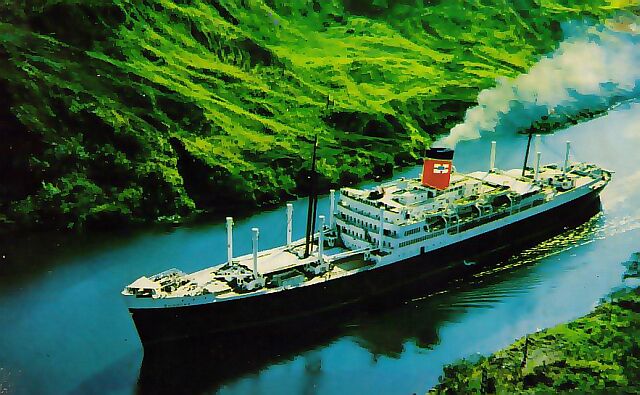 RMS Ruahine is seen here sailing trough the Culebra Cut - Panama Canal
From the author's private collection
Panama itself was less than inviting and just about the only thing I remember was hearing about the ship's printer being assaulted and robbed by some of the locals.
Once we had passed through the Panama Canal we went on to Jamaica. For some reason we moored off Kingston and passengers were taken ashore by tender although I decided to stay on board.
The story continues …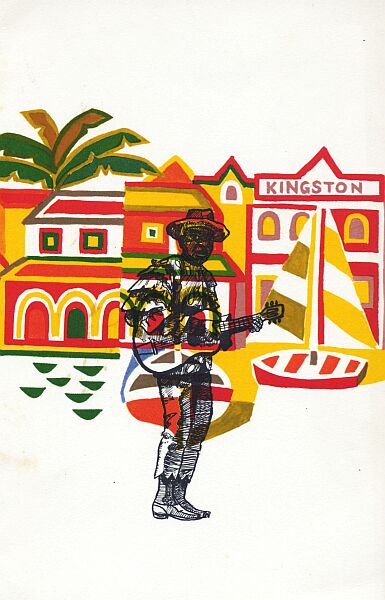 The Caribbean themed "Kingston" Menu – July 9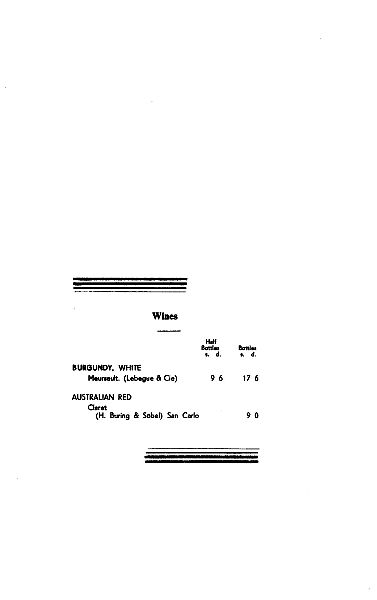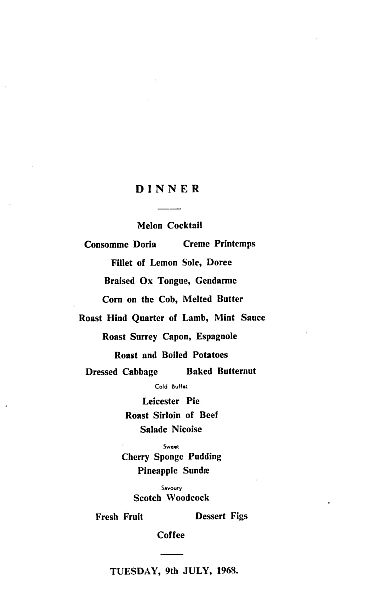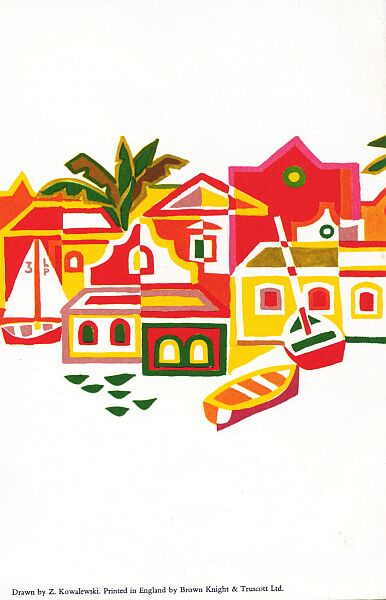 Kingston menu - Back cover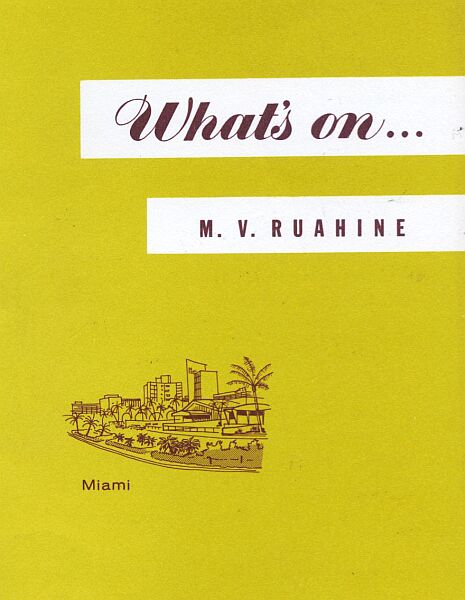 What's on – 11 July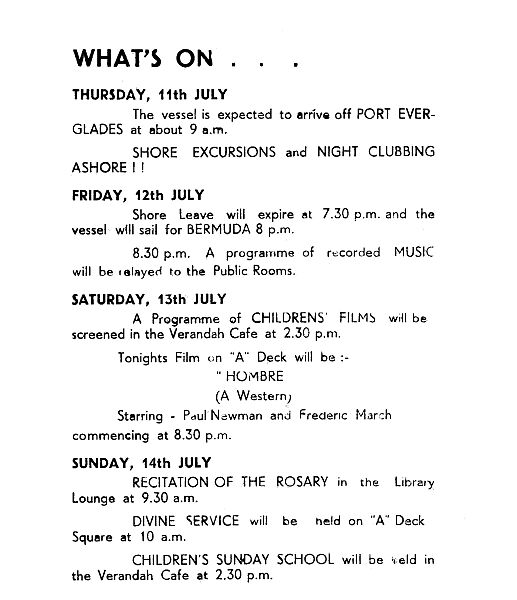 Miami – Floriada USA
The Ruahine then passed between Cuba and Haiti before turning north for Fort Lauderdale in Florida. This seemed to be a very lively place compared to the tranquillity at sea and everybody was keen to go ashore. Three of us (Francis Lipson and our Liverpool plumber friend) decided to hire a car and explore the area. This was the first time I had travelled in a large American car and I had never experienced air-conditioning in a car before. We went to the "Seaquarium" in Miami and generally had a good look around the local area.
The story continues …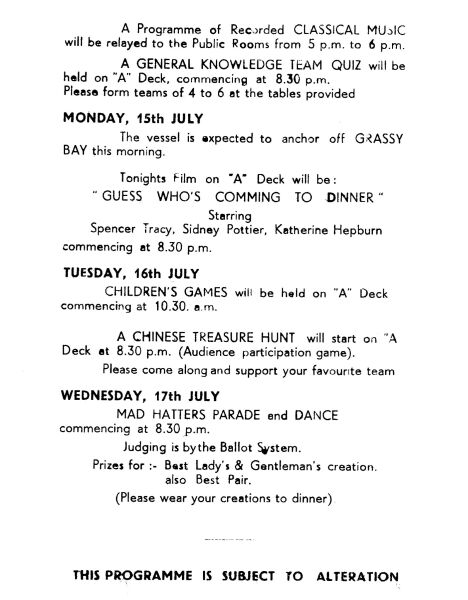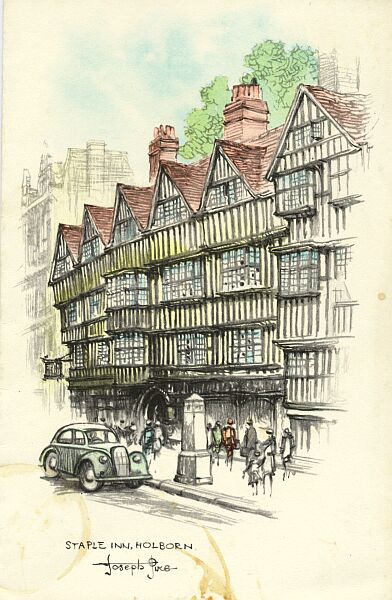 The superb "Mad Hatters Night" Menu Cover – July 17 Details of the artist on the cover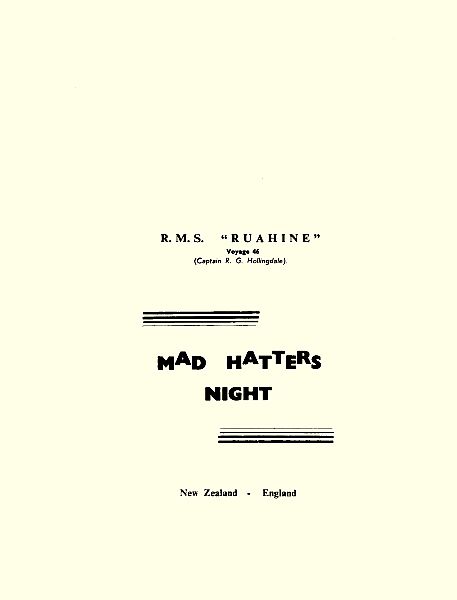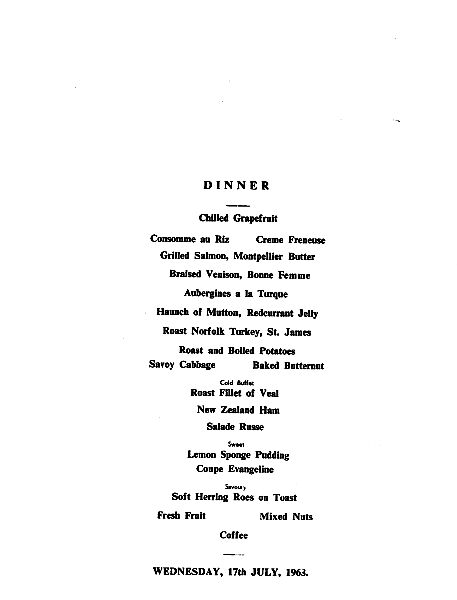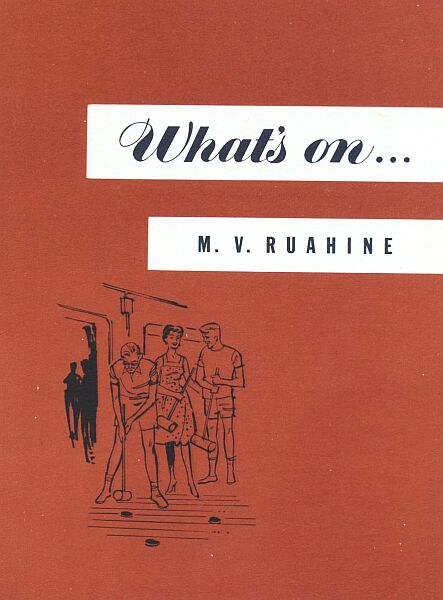 "What's on" July 18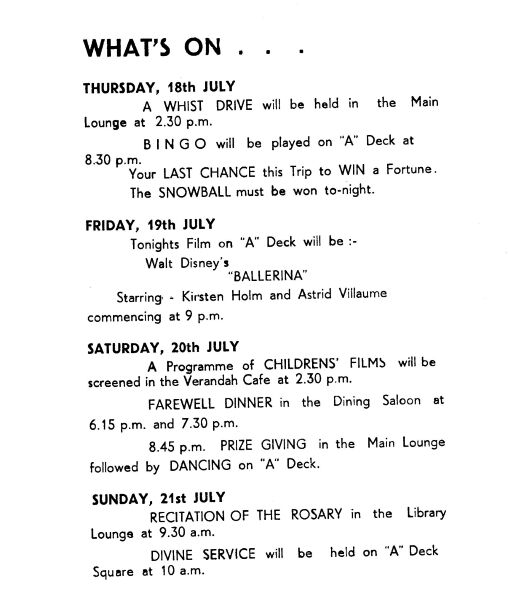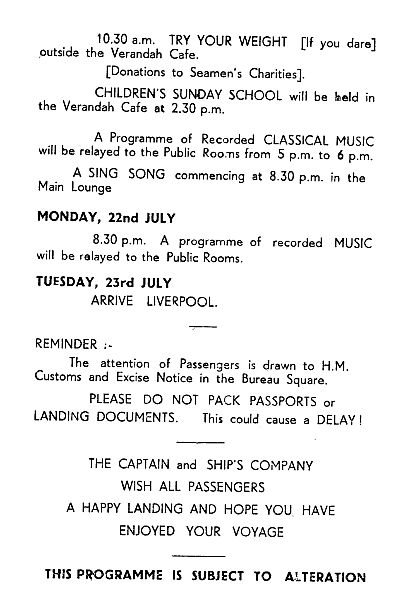 Ruahine's final crossing of the Atlantic home to England!
From Florida, the Ruahine travelled north-east to Hamilton, Bermuda and here was a further opportunity to explore what seemed to me another island paradise. Following an all too brief stay in Bermuda, we started out on the last leg of the journey, to Liverpool. Having lived in Liverpool for 4 years, this was to be an anti-climax for me, especially after having been carried to some very exotic and memorable locations by the Ruahine. But now so many years later I realise all the more that I really sailed on the final voyage of the RMS Ruahine and that it was a privilege!
John Happs – 2009
*If you were a passenger on this voyage and you would like to contact John by emailing him at; jhapps@bigpond.com.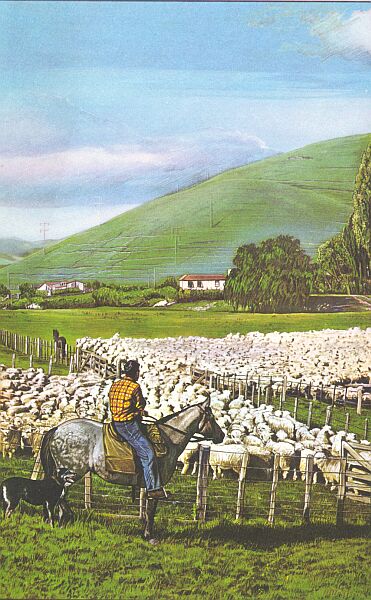 Cover of the "Last Voyage" Menu Cover – July 20, 1968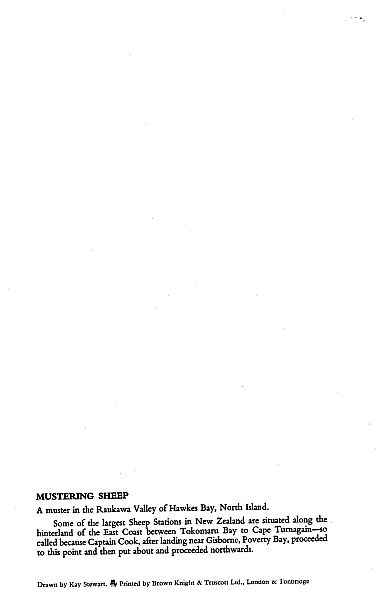 Artist's details inside cover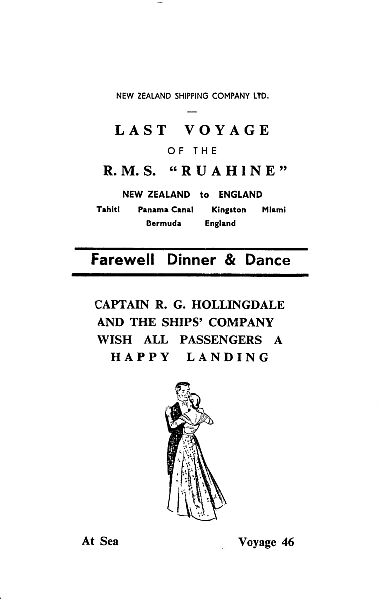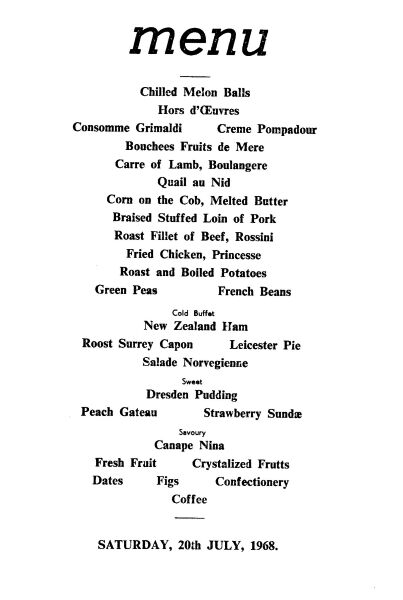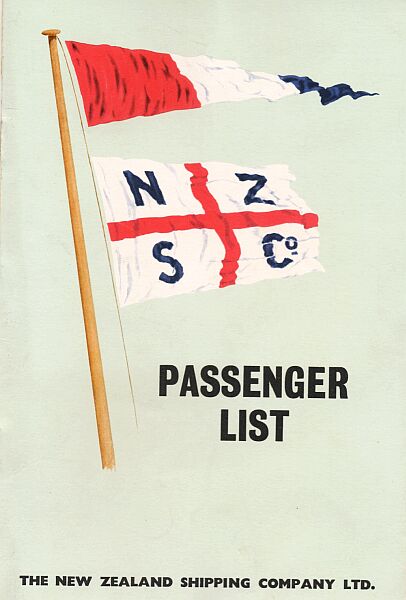 Passenger List Cover of R.M.S. Ruahine - Final Voyage – June 19 to July 23, 1968.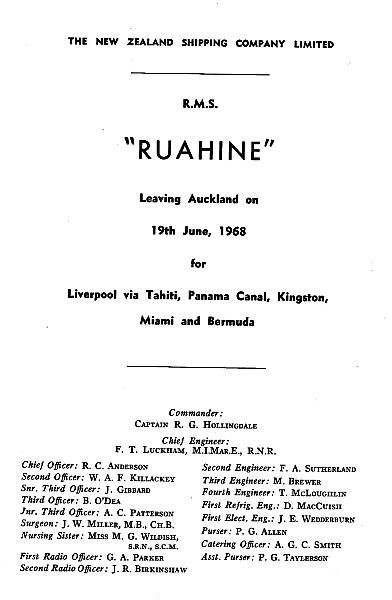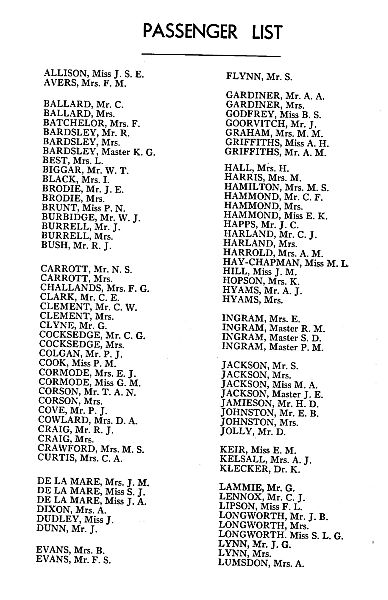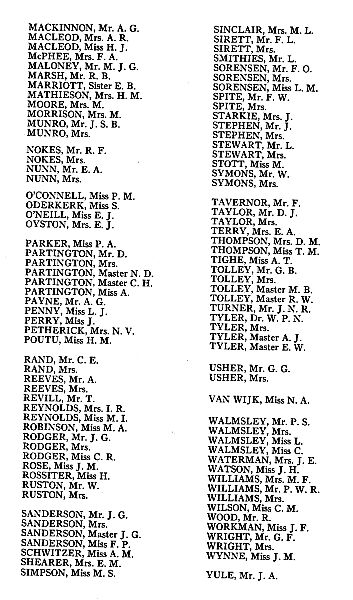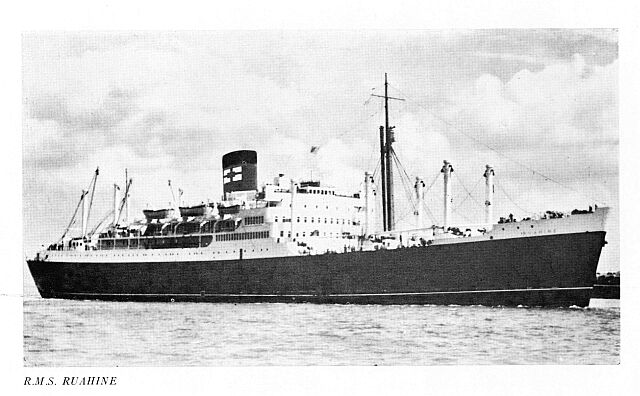 Return to

RMS Ruahine Page One

***************************

INDEX

Rangitiki - Rangitata (2) – Rangitani (1).

Auckland to Liverpool – The John Happs story.

Page Three…        Photo Album 1 … Rangitiki - Rangitata (2) – Rangitani (1).

Page Four…          Photo Album 2 … Rangitoto, Rangitane (2), Ruahine (3) and Remuera (2).

Page Five…          Photo Album 3 … Rangitoto -1947 - in Colour.

Page Six…            Photo Album 4 … Rangitane (2) - 1947 in Colour.

***************************

"Blue Water Liners sailing to the distant shores.
I watched them come, I watched them go and I watched them die."

Visit our ssMaritime Main INDEX

Where you will discover around 690 Classic Passenger & Passenger-Cargo Liners!

ssMaritime.com & ssMaritime.net

Where the ships of the past make history & the 1914 built MV Doulos Story

Please Note: ssmaritime and associated sites are 100% non-commercial and the author does not seek funding or favours and never have and never will.

Photographs on ssmaritime and associate pages are either by the author or from the author's private collection. In addition there are some images and photographs that have been provided by Shipping Companies or private photographers or collectors. Credit is given to all contributors, however, there are some photographs provided to me without details regarding the photographer or owner concerned. Therefore, I hereby invite if owners of these images would be so kind to make them-selves known to me (my email address can be found at the bottom of the page on www.ssmaritime.com), in order that due credit may be given.

ssMaritime is owned & © Copyright by Reuben Goossens - All Rights Reserved