New Zealand Shipping Company - RMS Ruahine
Please Note: Firefox and some other search engines are not suitable – Use "Internet Explorer" for this page to load perfectly!
Click the logo above to reach the ssMaritime FrontPage for News Updates & "Ship of the Month"
With Reuben Goossens
Maritime Historian, Cruise'n'Ship Reviewer, Author & Maritime Lecturer
Please Note: All ssMaritime and other related maritime/cruise sites are 100% non-commercial and privately owned. Be assured that I am NOT associated with any shipping or cruise companies or any travel/cruise agencies or any other organisations! Although the author has been in the passenger shipping industry since 1960, although is now retired but having completed around 690 Classic Liners and Cargo-Passengers Ships features I trust these will continue to provide classic ship enthusiasts the information the are seeking, but above all a great deal of pleasure! Reuben Goossens.
New Zealand Shipping Company
RMS Ruahine
The last of the Line!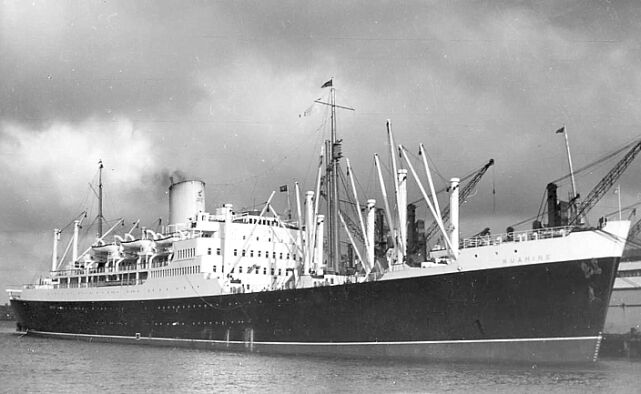 RMS Ruahine of the New Zealand Shipping Company
With the success of the RMS Rangitoto & Rangitane New Shipping Co ordered a third ship to to operate on the lucrative service, yet it was decided that she would be somewhat smaller at 17,851 GRT than her two earlier 21,000 GRT sisters. She was built by John Brown & Co at Glasgow in yard 658, and she was launched on July 27, 1950, and was named Ruahine by Mrs W. C. Dawes, the widow of NZSC Chairman from 1904 to 1920. She was the third and the last post war ship to be built for the NZSC. In addition, she would proudly bear this greatly revered name for the next twelve years. Apparently, Mrs. Dawes also officiated at the launching of Ruahine 2, some forty one years earlier.
Ruahine's outward design was very similar to her larger sisters and upon first sight she would easily be recognisable as a member of the fleet. Although there were distinctive differences, such as, Ruahine only had three lifeboats slung along on either side. Her after decks were very much shorter. Also, she had a different internal layout and accommodated less passengers than her two larger sisters. Thus although she looked part very similar to her bigger sisters, you knew at first sight that this was the Ruahine.
She was completed and ran her sea trials in May 1951 and was duly delivered to her owners. She departed for her maiden voyage London to Wellington on May 22, sailing via Curacao, Panama, Tahiti to Wellington. Later she would also visit Auckland and Lyttleton. Returning to the UK she would sail via Tahiti, Panama, Miami, Bermuda to London.

Public Rooms, accommodations and other facilities

Sports Deck - General sports facilities.

Promenade Deck - Far forward there were six deluxe cabins, these had twin beds with a bathroom. These were followed by a Lounge, a Library, the Writing and Reading Room, the Smoke Room with its ever popular Bar, followed by the main entertainment venue the Verandah Lounge with dance floor, located aft overlooking the pool. In addition Promenade Deck also had a wide and spacious walk around deck for sun baking and strolling.

Upper Deck - Was the location for the Pursers office, hair dresser and medical centre. Although this deck was mostly occupied with cabins, located far aft was the children's playroom and nursery. This deck also featured the traditional covered walk around deck, so popular with all who undertook long voyages and liked to go and "walk a mile" early in the morning!

Main Deck - A popular deck mostly because it was the location for the Dining Room. There were also cabins as well as the Galley and crew quarters than continued down to the deck below.

Cargo - Ruahine had six holds. She had a capacity of 155,857cu ft for traditional dry cargo, However, she also had had a massive 444 250 cu ft available for perishable goods in her refrigerated holds, as she and her sisters transported butter and meat (mostly Lamb) and other food items from New Zealand to the UK.

Photo Album

The photographs below have been sourced from a mid 1950's brochure, which I only recently purchased (January 2009) from an American maritime

memorabilia dealer. When it arrived, I was overjoyed, for it was far superior to anything I had seen before on the Ruahine and thus I am able to present it to you hereunder. The images have all been enlarged and improved as much as it was possible, but considering the age and the colours used at the time, I think it came up quite well!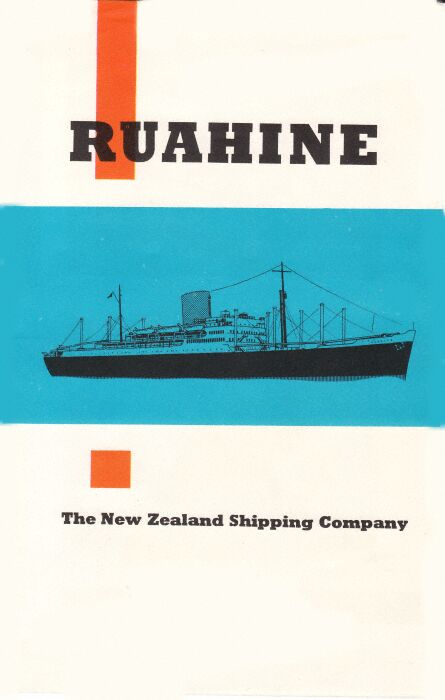 This 1950's brochure is the origin of all the photographs below
*From the author's private collection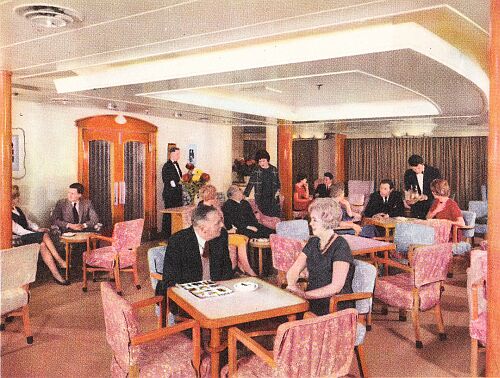 The Main Lounge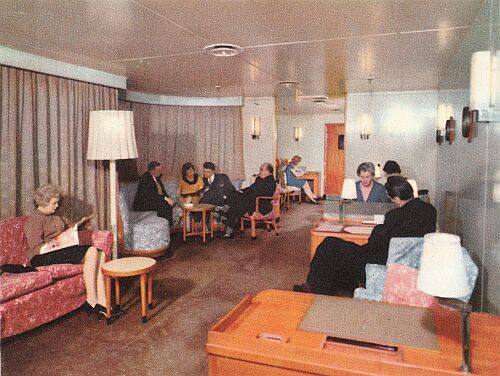 Writing and Reading Room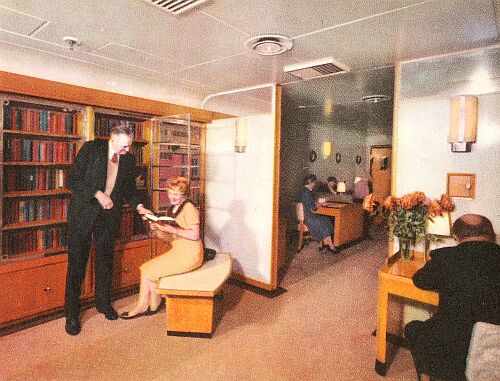 The Library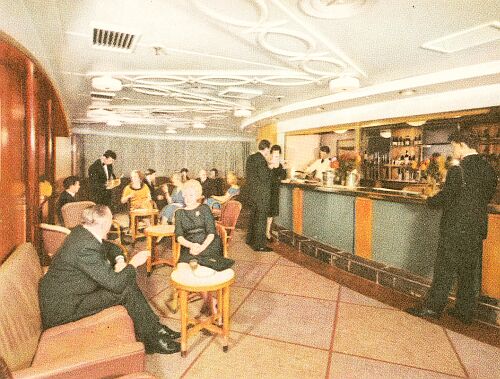 The Smoking Room and Bar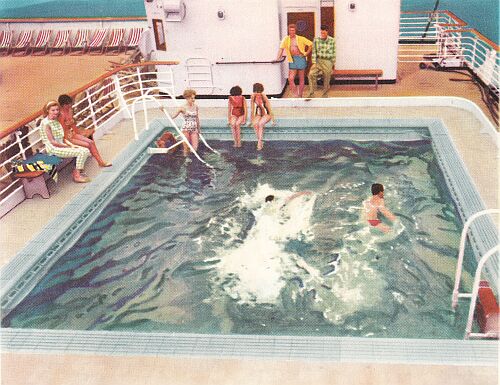 The Swimming Pool and sun deck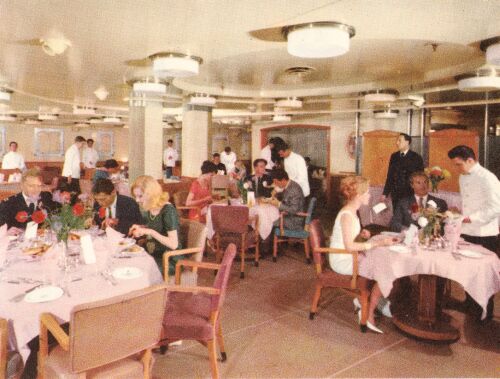 The Dining Room on Main Deck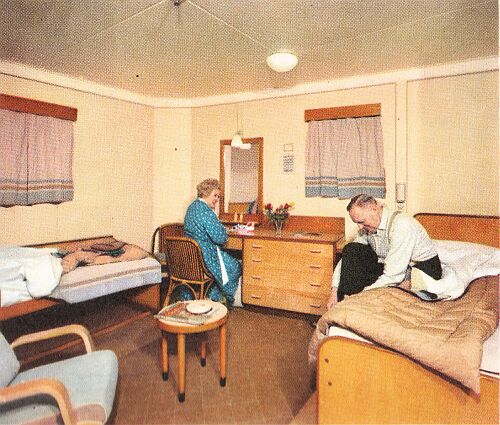 One of the six deluxe twin cabins with private facilities forward on Promenade Deck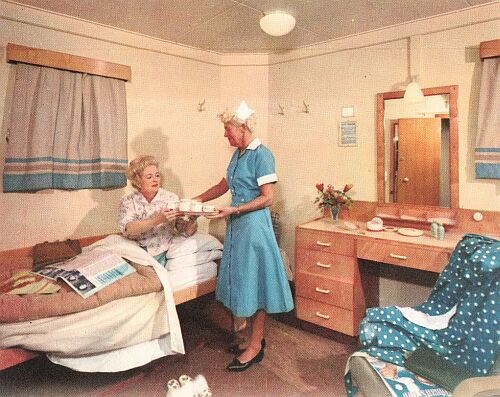 An outside single cabin with private facilities – Note that NZSC had waitresses on board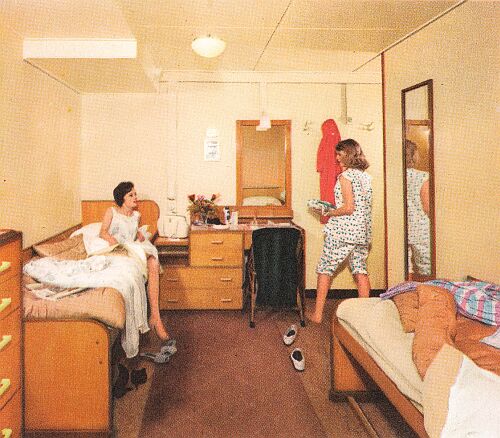 An inside twin bedded cabin with private, but some with shared facilities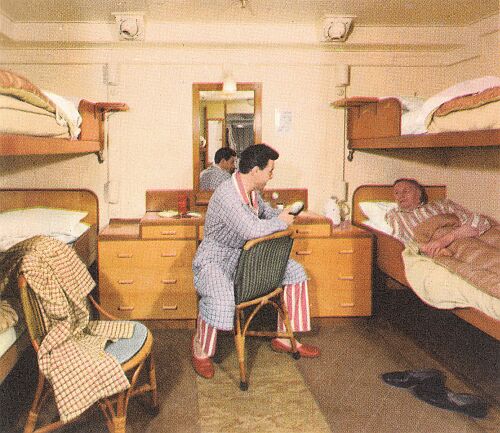 Inside four berth cabin with shared facilities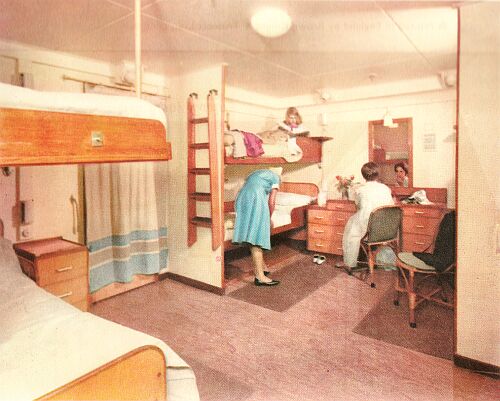 An outside six berth cabin with shared facilities – there were also several eight berth cabins
*Please Note: I obtained the above brochure from www.nautiques.net from whom I have obtained many rare and valuable maritime items at the most amazing low prices. I highly recommend that you visit their site if you are looking for that something special! You can use this LINK and reach a page that has hundreds of shipping lines listed from all around the world.
Please Note: I have NO connection with this organsation whatsoever and I am not on any kind of commission, or get paid! This is just a friendly recommendation!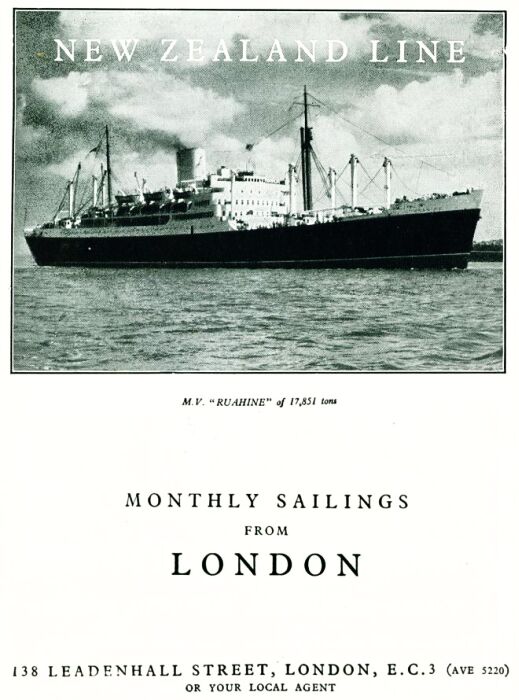 1958 UK advertisement
Dimensions (NZSC)
Built:                    John Brown and Co, Glasgow
Launched:             July 27, 1950
Tonnage:              17,851 GRT
Length:                 584ft – 178m
Width:                  75ft – 22.9m
Draft:                   30ft – 9.1m
Engines:               Doxford type diesels
Propellers:            Two
Service speed:       17 knots
Passengers:           267 One Class
Crew                    200 - including waitresses
Passenger Decks:   4
Livery:                  Black hull, white superstructure, red boot-topping & yellow funnel. In 1966 she adopted the red and black funnel with the Federal flag logo
Brief Career History
With the addition of this the third Ruahine, the New Zealand Shipping company was able to once again operate the pre-war schedule of four-weekly departures from all ports of call by its fleet of liners. Departure from London was on every fourth Friday. This well tried and popular schedule continued to operate as the ships carried their masses of cargoes and passengers to and fro from New Zealand to the UK and visa versa. American's also took a fancy to these remarkable Passenger cargo liners as their service had become quite notable! And return Pacific voyages became quite popular as were some of the Trans Atlantic sailings.
In 1965 NZSC and the Federal Steam Navigation Co merged and Ruahine's funnel was painted in her new livery, a red funnel with a black top and the company's flag, but the ships continued to be managed by the New Zealand Shipping Co. However, later that year Ruahine underwent a refit, which saw her accommodations remodelled and upgraded, but also her (aft) Main mast removed, which gave her quite a different profile as can be seen from the three photographs below.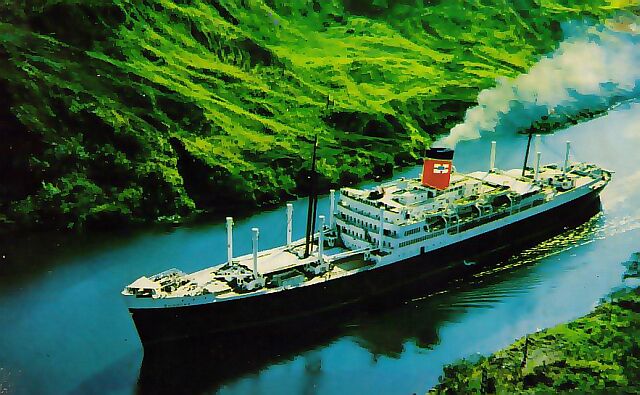 This is an early image of the RMS Ruahine with her new "Federal Steam Navigation" livery.
She is seen here sailing trough the Culebra Cut - Panama Canal
It is interesting to note that her Mainmast (aft mast) is still there, thus the photo is early 1965
From the author's private collection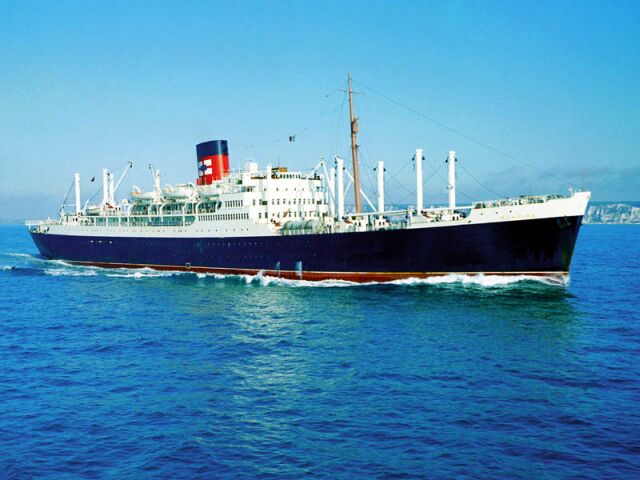 Here we see a postcard with her Mainmast removed
From the author's private collection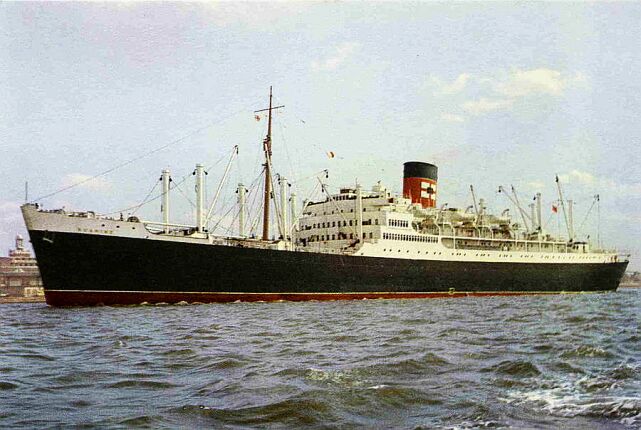 Another fine postcard of the RMS Ruahine
From the author's private collection
With the changing times, passenger numbers decreasing rapidly as they were everywhere at the time, and with new container ships being introduced, which had much faster turn-around times, decisions had to be made. NZSC decided to sell the Rangitoto and Rangitane in 1967 to the C.Y. Tung Co operator of the Orient Overseas Line.
However, like her two sisters the Ruahine was also made redundant, and the company decided to place her on the market as well. She departed Auckland on her final voyage to Liverpool on Wednesday June 18, 1968, at 1700 hours (5 pm). She sailed via Tahiti, the Panama Canal, Kingston, Miami and Bermuda, arriving at Liverpool on Tuesday July 23. Mr. John Happs was fortunate to have sailed on her on that final voyage and you will find that a special page with Menus, Daily Programs and photographs of that voyage is online, as well as his story. See the INDEX below.
After the voyage concluded RMS Ruahine, became the SS Ruahine and was laid up and placed on the market.
Soon enough C.Y. Tung purchased Ruahine to join her sisters which were obtained first. She was renamed Oriental Rio and became a cruise ship sailing the world. After a refit and comprehensive upgrade, she looked quite attractive in her new livery, a grey hull, with blood red boot topping, a bright yellow funnel with the company's floral emblem. In addition you will note that her foremast had been removed. She departed on her maiden cruise from San Diego on February 26, 1969.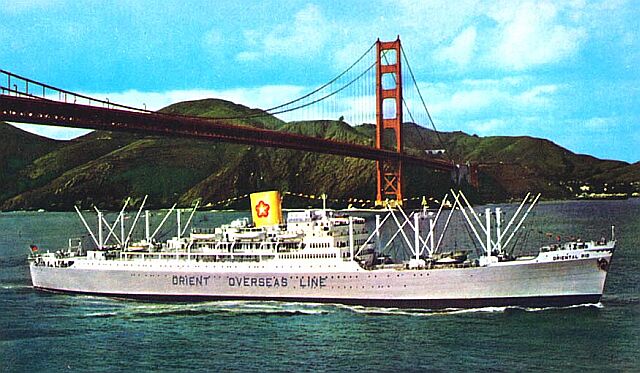 Oriental Rio, ex Ruahine, seen in San Francisco
From the author's private collection
RMS Oriental Rio, ex Ruahine operated for another three years, until she was finally sold to be broken up in Kaohsiung, Taiwan in 1973.
Reactions from a past traveller
What a pleasure to read about the New Zealand Shipping Co RMS Ruahine, a ship I and my family sailed on. We departed from Miami (Port Everglades) on July 27, 1964 to Southampton arriving on August 7th. I was just nine years old, and me as well as well as my two brothers and parents were spending a year in London, for my father was a visiting professor from the University of Florida in Gainesville where we lived.
I will always remember this amazingly cool way to travel to another country. Your website brought back great memories and the Ruahine brochure was especially enjoyable. Thanks again for taking the time to post this information. We took the P&O liners SS Oriana back to Florida August 1965, it was a much newer and nicer boat, but I loved both trips.
I forwarded the links to Mother and so did my brother in Los Angeles. They both were so happy to see the Ruahine brochure you have online and recently obtained and scanned. Below are their comments, just so you realize the great interest and good feelings your website has provided us!
My Mother's comments re the sites:
Ruahine: Well what a trip! That was a great ship. I really loved it. I remember it took 12 days to cross (the Atlantic) and when we came back on the Oriana it only took five days! the Oriana was more modern but the Ruahine was such a classic ship. I'm glad we took ships both ways. It seems no one does in a more. Everyone flies. I just read the Oriana story on ssmaritime.com. It really was a beautiful ship and the story is sad. She had so any renovations and refitting and was sold so many times (after her P&O days) and was then dismantled for junk.
My brother's comments:
Fascinating! Ruahine broken up in Taiwan ... I probably bought a piece of her in some cheap Taiwanese hand tool.
Marty, Seattle – March 5, 2009.
***************************
INDEX
Rangitiki - Rangitata (2) - Rangitani (1).
Auckland to Liverpool - The John Happs story.
Page Three…        Photo Album 1 … Rangitiki - Rangitata (2) - Rangitani (1).
Page Four…          Photo Album 2 … Rangitoto, Rangitane (2), Ruahine (3) and Remuera (2).
Page Five…          Photo Album 3 … Rangitoto -1947 - in Colour.
Page Six…            Photo Album 4 … Rangitane (2) - 1947 in Colour.
***************************
"Blue Water Liners sailing to the distant shores.
I watched them come, I watched them go and I watched them die."
Visit our ssMaritime Main INDEX
Where you will discover around 690 Classic Passenger & Passenger-Cargo Liners!
ssMaritime.com & ssMaritime.net
Where the ships of the past make history & the 1914 built MV Doulos Story
Please Note: ssmaritime and associated sites are 100% non-commercial and the author does not seek funding or favours and never have and never will.
Photographs on ssmaritime and associate pages are either by the author or from the author's private collection. In addition there are some images and photographs that have been provided by Shipping Companies or private photographers or collectors. Credit is given to all contributors, however, there are some photographs provided to me without details regarding the photographer or owner concerned. Therefore, I hereby invite if owners of these images would be so kind to make them-selves known to me (my email address can be found at the bottom of the page on www.ssmaritime.com), in order that due credit may be given.
ssMaritime is owned & © Copyright by Reuben Goossens - All Rights Reserved