ssMaritime.com & ssMaritime.net
With Reuben Goossens
Maritime Historian
SS Ocean Explorer I
Ex: Sapphire Seas, Emerald Seas, Atlantis, President Roosevelt, Leilani, LaGuardia, General W. P. Richardson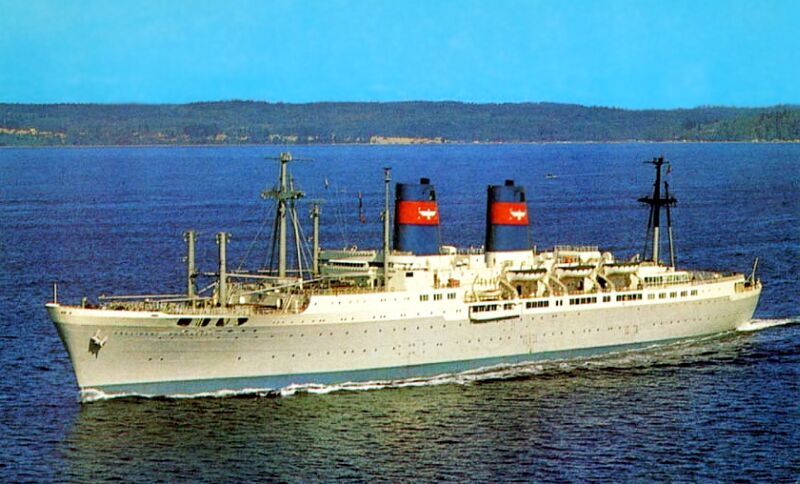 This remarkable ship is seen here under her fourth guise as the SS President Roosevelt
Postcard from the author's private collection
SS General W. P. Richardson was built as a P2 type General transport ship for the US Navy. She was constructed by the Federal Ship Building & Dry Dock Company at Kearney in New Jersey. She was one of eleven 17,000-ton, steam, D.R. Geared Turbines and having twin screw, sister ships all built towards the end of WWII. Each having a capacity for around 5,000 troops.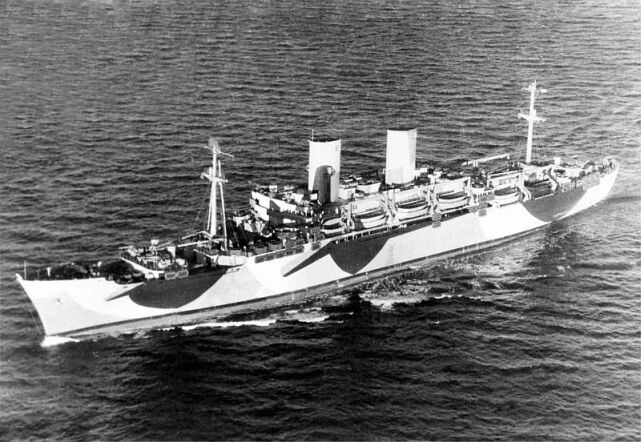 The ship seen as built – SS General W. P. Richardson
From the author's private collection
She was launched on August 6, 1944. Originally she was to be named General R.M. Blatchford, but her name was changed just prior her being launched. She was delivered on October 31 and commissioned as number AP118 on November 2. She departed on her maiden voyage from Boston to Southampton on December 10, 1944.
In February 1946, she was handed over to the US Army for a brief military operation, then on March 10, 1948, she was laid up, but was soon chartered by American Export Lines for a trial conversion as a passenger liner. She was refitted at Pascagoula and renamed LaGuardia.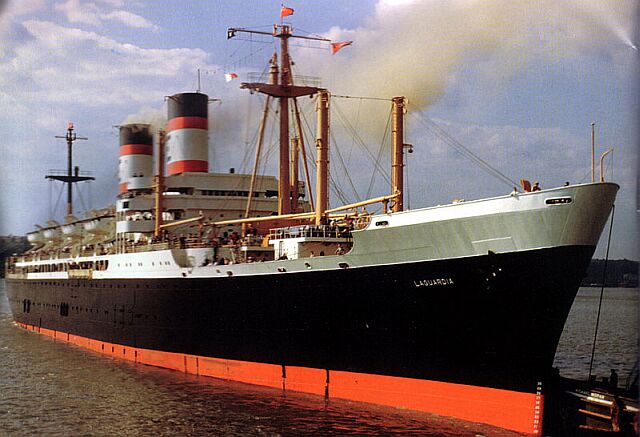 SS Laguardia
Photo from the Edward Clark collection
She had accommodations for 157 First class and 452 tourist class passengers. Her first voyage departed on May 27 1949, from New York to Genoa, then from October she sailed from the US to Haifa Israel.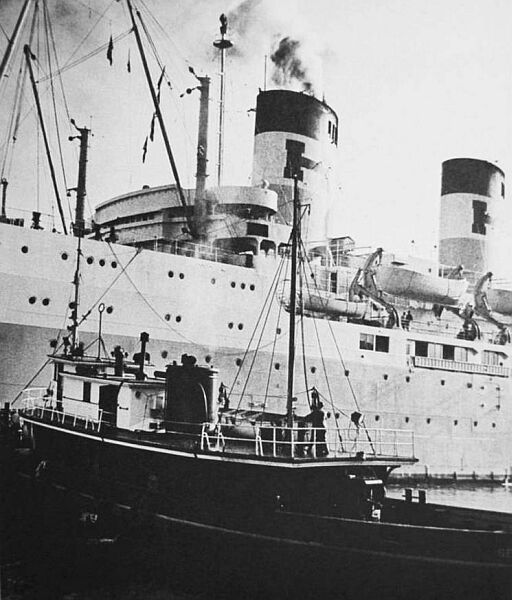 SS Leilani seen here in the port of San Francisco
From the San Francisco Port Authority
On December 13, 1951, she was handed over to the US Maritime Commission and was laid up for four years on the James River. In 1955 she was sold to the Hawaiian Steam Ship Company, Textron Inc, New York and she received another refit and was renamed Leilani.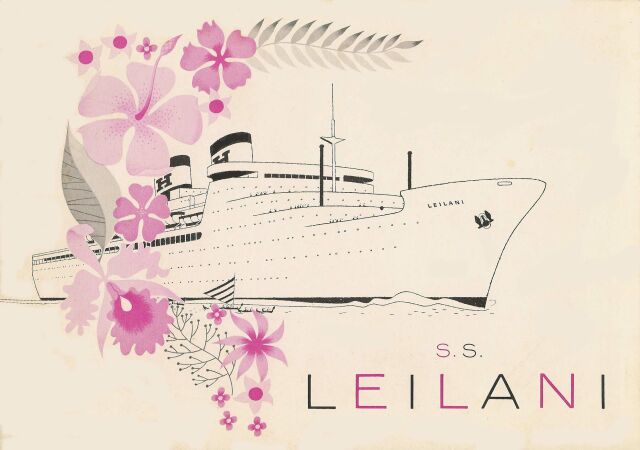 A postcard of the SS Leilani
Provided by Valeri Diamond from her Father in Laws' collection
After her refit, her tonnage was listed as 18,298 GRT. She was placed on the California to Hawaii service in July 1956. However, this service was not successful and in 1959, and Textron Inc went bankrupt.
She was again laid up until being auctioned off in 1960 by the US Maritime Administration. She was purchased by American President Lines, San Francisco. In March 1961 the Puget Sound Bridge & Dry Dock Company in Seattle commenced a US$10 million extensive rebuild program of her into a luxury passenger liner. She was renamed President Roosevelt.
Having been completed, she was delivered on April 16, 1962 and was now registered as being 18,920 GRT. She now had 186 staterooms all having private facilities, accommodating 456 first class passengers. She became most famous in this guise as many movie stars and celebrities sailed on her. There were even a number of movies made onboard. President Roosevelt commenced her new service from the US West Coast to Japan in May 1962.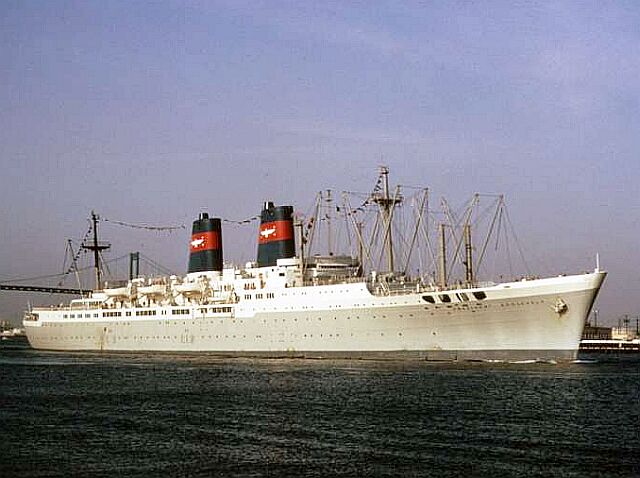 SS President Roosevelt
From the author's private collection
With the Japanese trade declining in the late sixties, she was sold in 1970 to Chandris Lines, registered for Solon Nav SA, in Piraeus. In Perama, she received a radical rebuild, after which her exterior had no resemblance of the ship in her previous guise. She was renamed Atlantis. She was completed in June 1071 at 20,458 GRT, accommodating 962 passengers in a one-class configuration.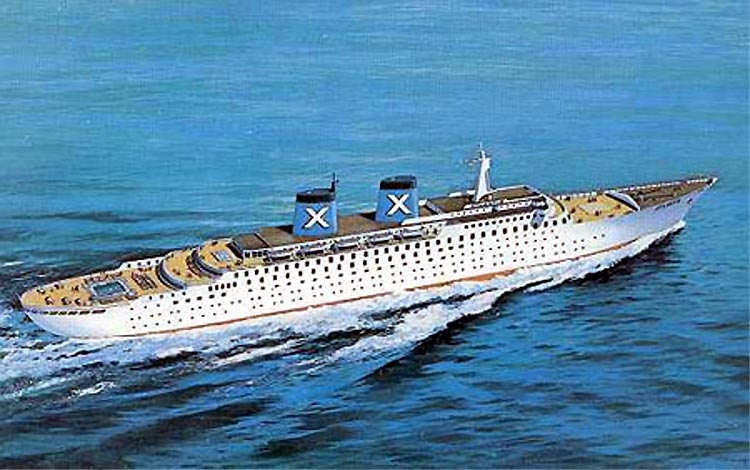 Chandris Lines postcard with an artist impression of their new SS Atlantis
From the author's private collection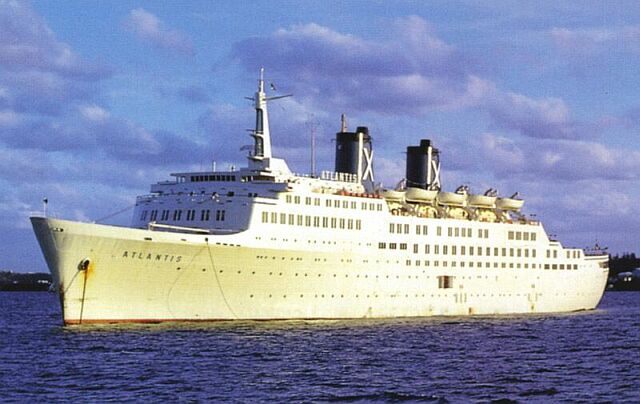 Atlantis at anchor
From the author's private collection
She headed for the US and commenced as a Caribbean cruise ship. However, her Chandris days was brief, as she was again sold in October 1972 to Ares Shipping, later Eastern Steamship Lines. Having had five rebuilds and refits, she became the Emerald Seas. Under the management of Admiral Cruises Inc, she commenced overnight cruise service between Florida and the Bahamas. She remained in service for twenty years until 1992, being the most successful service to date.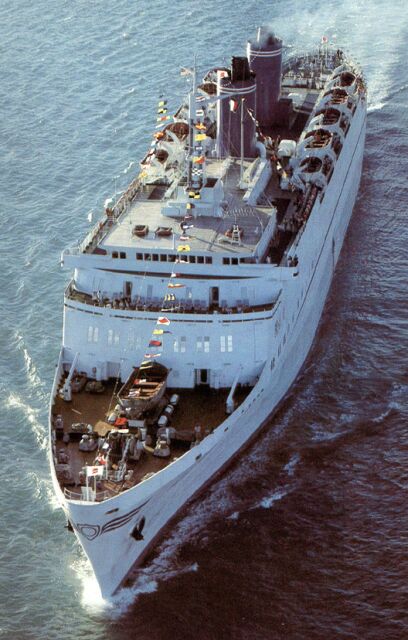 A fine photograph of the Eastern Steamship SS Emerald Seas
From the author's private collection
Having been a successful cruise ship, Festival Cruises purchased her in 1992, and was renamed Sapphire Seas. She crossed the Atlantic and headed for Europe where she commenced cruising around Egypt and Israel. In October 1994, she was laid up at Piraeus.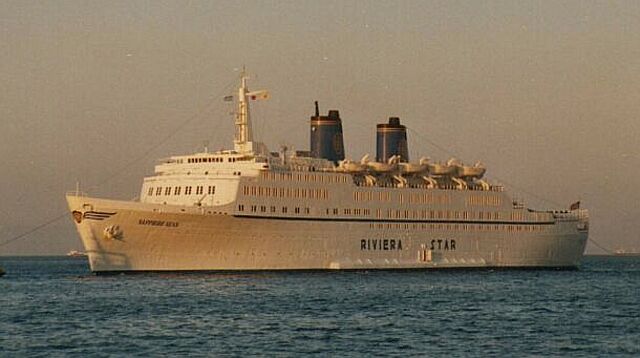 Sapphire Seas remained with Festival for two years
From the authors private collection
Mid 1998, she was renamed Ocean Explorer I and was used in Lisbon being one of three Hotel ships for Expo 98, after which, she returned for lay up at Eleusis Greece.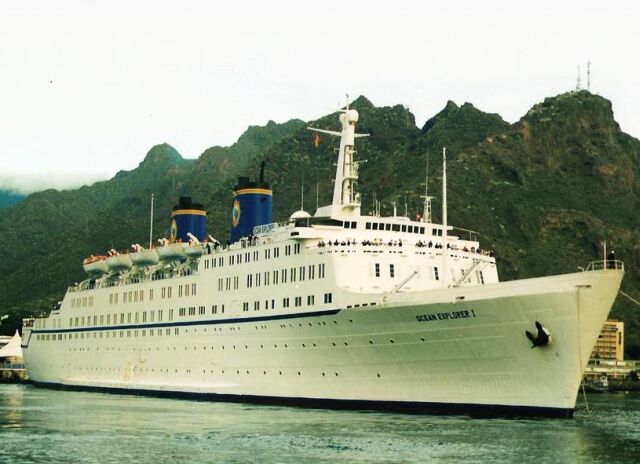 Ocean Explorer I seen during her world cruise and looking pristine at her ripe old age!
Photographer unknown – *See Photo notes at the bottom of the page
Then from November 20, 1999 to March 25, 2000, Ocean Explorer I was chartered by the World Cruise Company of Ontario Canada and she operated a four month world cruise.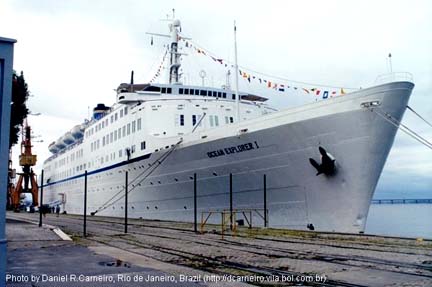 Ocean Explorer I laid up, but in a pristine condition
Daniel Carneiro - Rio de Janeiro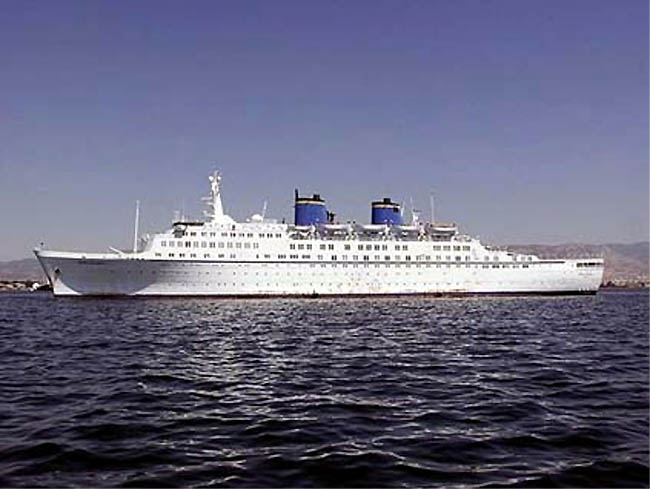 SS Ocean Explorer is seen at anchor at Eleusis Bay in June 2003
Photograph by the late Captain Yiorgos Graikos
The late Captain Graikos boarded her in Eleusis Bay on January 05 2004 and reported, "This vessel is a living treasure! Her interiors are like new. Everything is in the proper order, right down to forks and knives neatly stored in her galley. Her carpets, furniture, lounges and cabins are like new!"
Thereafter, she had been mostly laid up, but she was retained in pristine condition. However, in April 2004 Ocean Explorer I was sold to Indian breakers and soon she headed for the breakers beach and was duly broken up. Obviously, being an old steam ship with a rather deep draught, she became uneconomical for the modern cruise industry therfore her decline. It was a sad loss indeed, but she did have a good run and many people had a wonderful time on her and countless memories will remain of this rather special ands unique ship!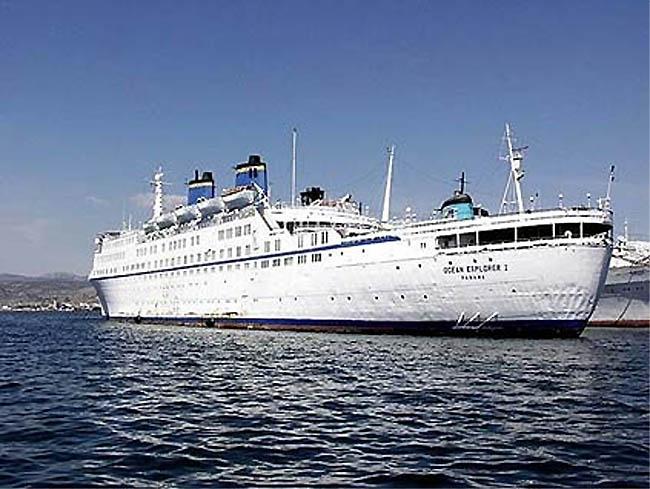 Laid up in Eleusis Bay Greece
Captain Yiorgos Graikos Eleusis Bay Greece
Specifications: Tonnage: 20,071. Length: 189.7 m. Beam: 23.2 m. Engines: 2 Delaval cross compound geared turbo. Max. Horse power: 8,500 shp each engine. Propellers: 2. Service speed: 15 knots. Accommodations: 400 cabins accommodating up to 1,000 passengers.
Enter the Ocean Explorer Photo Album
Photographs are by the late Captain Yiorgos Graikos, Mr. Daniel Carneiro, and from authors private collection and others as marked.
**************************************
Use the Back button on your browser or Close the Page to return to the previous page
or go to our INDEX
Who is the Author of ssMaritime?
Commenced in the passenger Shipping Industry in May 1960
ssMaritime.com & ssMaritime.net
Where the ships of the past make history & the 1914 built MV Doulos Story
Also visit my …
"Save The Classic Liners Campaign" & "Classic Ocean Voyages" pages
Photographs on ssmaritime and associate pages are by the author or from the author's private collection. In addition there are some images that have been provided by Shipping Companies and private photographers or collectors. Credit is given to all contributors. However, there are some photographs provided to me without details regarding the photographer/owner concerned. I hereby invite if owners of these images would be so kind to make them-selves known to me (my email address may be found on www.ssmaritime.com only), in order that due credit may be given. I know what it is like, I have seen a multitude of my own photographs on other sites, yet these individuals either refuse to provide credit or remove them when asked, knowing full well that there is no legal comeback when it comes to the net. However, let us show these charlatans up and do the right thing at all times and give credit where credit is due!
This notice covers all pages, although, and I have done my best to ensure that all photographs are duly credited and that this notice is displaced on each page, that is, when a page is updated!
ssMaritime is owned and © Copyright 2010/12 - by Reuben Goossens - All Rights Reserved