SS Ocean Explorer - previouly: Sapphire Seas, Emerald Seas, Atlantis, President Roosevelt, Leilani, LaGuardia, General W. P. Richardson
Note: iPhones, iPads, Firefox & some other Search Engines may not be suitable
Use Google Chrome for this Web Page to load perfectly!
Click the logo above to reach the ssMaritime FrontPage for News Updates & "Ship of the Month"
With Reuben Goossens
Maritime Historian, Author, Lecturer & Cruise'n'Ship Reviewer
Please Note: All ssmaritime as well as my other related maritime & cruise sites are 100% non-commercial and privately owned sites. Be assured that I am NOT associated with any shipping or cruise companies or agencies or any other organisations! The author has been in the passenger shipping industry since May 1960, but although retired and unwell, I occasionally attempt to write an article now and then, in order to bring enjoyment and pleasure to ship enthusiasts past passengers and crew.
S.S. Ocean Explorer I
Ex: Sapphire Seas, Emerald Seas, Atlantis, President Roosevelt, Leilani, LaGuardia, General W. P. Richardson
She was finally named 'Explorer' for her delivery voyage to the Alang Indian breakers yard.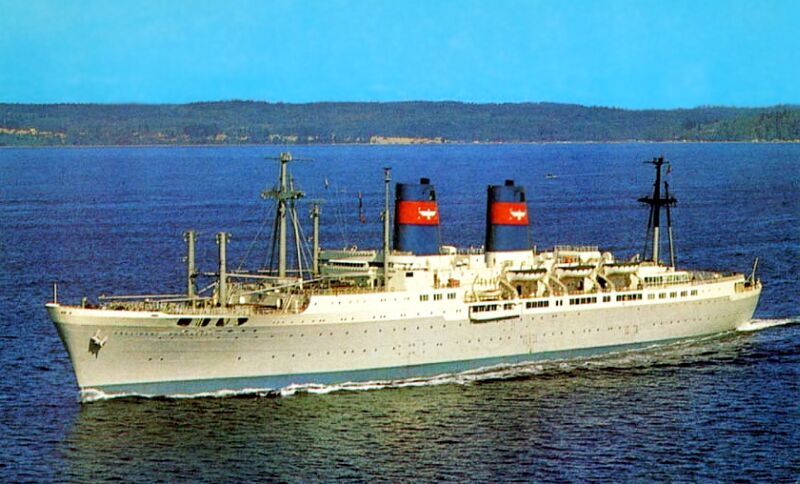 This remarkable ship is seen here under her fourth guise as the Passenger liner, SS President Roosevelt
Postcard from the author's private Collection
Please Note: Photographs & Images are on this feature from author's private maritime collection, unless as stated otherwise.
Introduction to a Ship that had a very long Life!
This feature cover the days of a ship that, 1: had a very long life, in fact a total of 60 years afloat. 2. In addition she saw many lives with a good eight names. She commenced her days as a naval transport ship, and later as a deluxe American President Lines liner, and in due course a fine cruise ship! This is her story and I trust that you will enjoy this and the next page, both having many photographs, which will do honour to a great ship!
USS General W. P. Richardson:
This ship was built as a typical "P2 type" General transport ship for the US Navy. She was constructed by the Federal Ship Building & Dry Dock Company at Kearney in New Jersey, being one of eleven 17,000 GRT (Gross Registered Tons) sister ships. These steam powered geared turbine ships were built towards the end of WWII, and each would have a capacity for around 5,300 officers and enlisted men.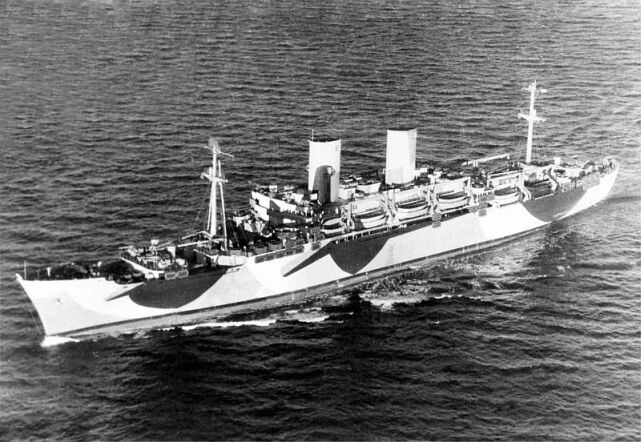 The ship seen as built - USS S General W. P. Richardson
Her hull was laid down on February 2, 1944 named the General R.M. Blatchford, however on July 1, 1944 she was renamed General W. P. Richardson. She ship was launched on August 6, 1944 and after her fit-out she was delivered to the US Navy on October 31.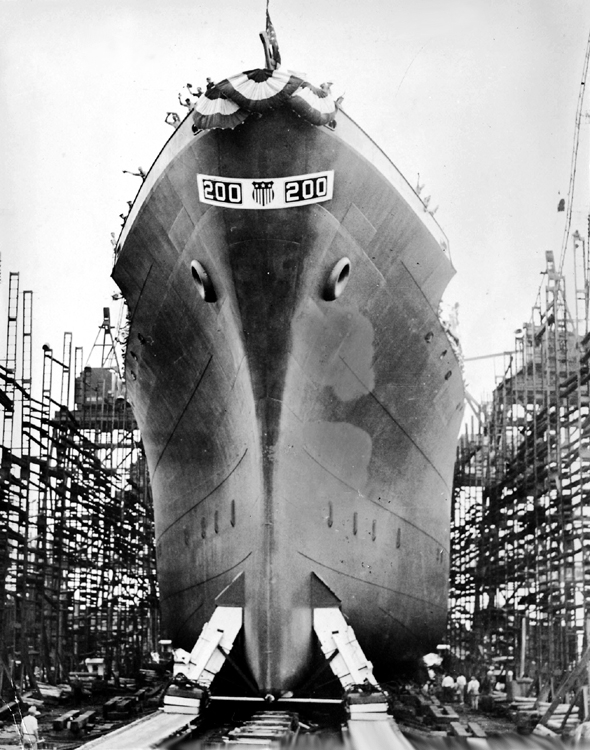 The launching of the USS General W. P. Richardson
The General W. P. Richardson was officially commissioned as number AP118 on November 2, 1944 at Bayonne, New Jersey, with Captain. Joseph S. Rosenthal USCG having been placed in command of the ship.
World War 2 & the Days Thereafter - 1944 to 1948:
The USS General W. P. Richardson departed on her maiden voyage from Boston and headed to her first port of call, Southampton UK on December 10, 1944. During World War II, the USS General W. P. Richardson operated in to Europe, Africa, the Middle East, as well as the Asiatic-Pacific Theatre of war.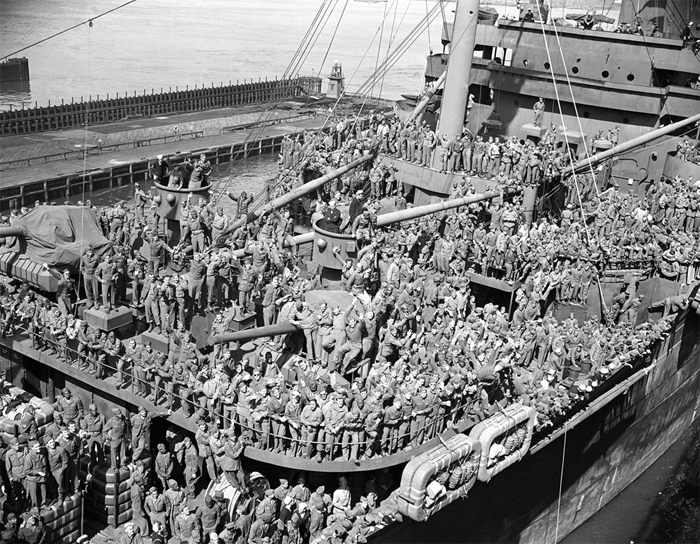 USS General W. P. Richardson (AP-118) docks at New York City, 7 June 1945, with returning GI's
Photograph provided by www.navsource.org archives
On February 14, 1946, she was officially decommissioned and she was laid up, whilst on April 12, 1946 she was struck from the Naval Register.
However, she was soon returned to the Maritime Commission and was reassigned to the US Army Transportation Service, and officially be the USAT General W. P. Richardson, upon completion of her duties; she was returned to the Maritime Commission by the Army, March 10, 1948
SS

LaGuardia:
The ship was chartered by American Export Lines on May 6, 1948 for a trial conversion to a passenger liner. She was refitted at Ingalls Shipyards at Pascagoula, which saw her superstructure extended somewhat, as well sporting a new livery, of a black hull, with a red white and black funnels, with the company logo on the white mid-section. For her new role she was renamed SS LaGuardia.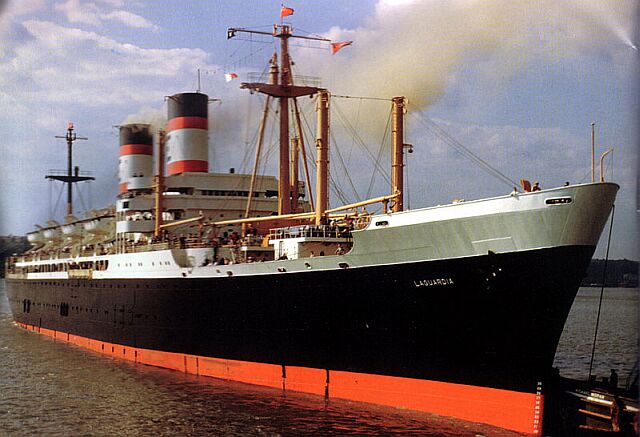 SS LaGuardia is seen with an "E" for American Export Lines on her funnels
Photo from the Edward Clark collection ©
The transformed ship had accommodations for 157 First Class and 452 Tourist Class passengers, and she departed on her first voyage on May 27, 1949, from New York to Genoa, after which she continued from Genoa to Haifa Israel.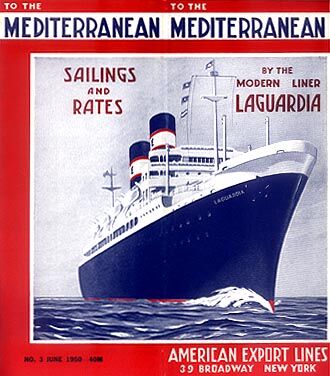 A Sailing schedule and Fares brochure for the USA to the Mediterranean and Israel service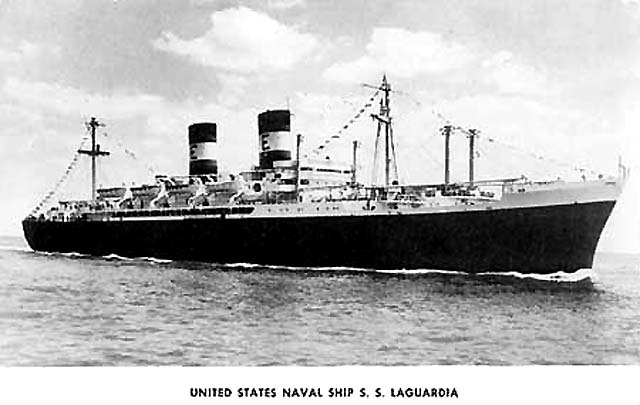 This is a S.S. LaGuardia postcard from my collection
However on December 13, 1951 the SS LaGuardia was laid-up in "National Defence Reserve Fleet," in the James River, Fort Eustis VA, a United States Army installation located near Newport News, Virginia.
SS

Leilani:
Three years later, in 1956 she was sold to the Textron Inc, of New York and she received a further refit and was renamed the Leilani. After her refit, her tonnage was listed as being 18,298 GRT. In July 1956she was taken over by the Hawaiian Steam Ship Company of New York, and placed on the California to Hawaii service.
She operated alternated voyages, and her schedule was as follows: 1; San Francisco, Honolulu, Hilo, Los Angeles. 2; Los Ángeles, Honolulu, Hilo, San Francisco.
SS Leilani Photo Album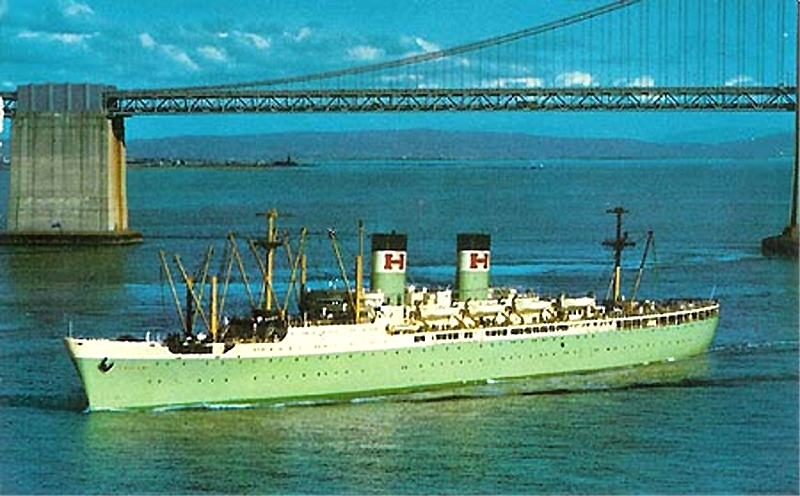 Hawaiian Steam Ship Co, Postcard of the SS Leilani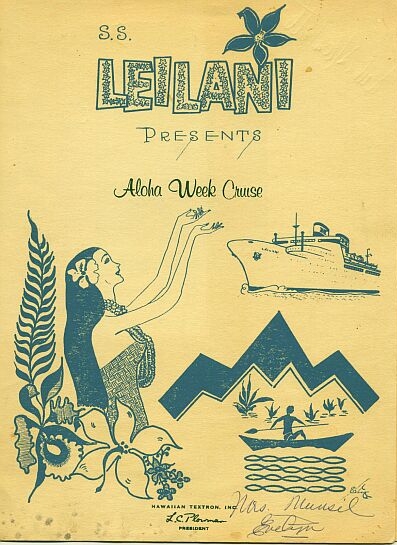 An early Hawaiian cruise release
Provided by Valeri Diamond from her Father in Laws' collection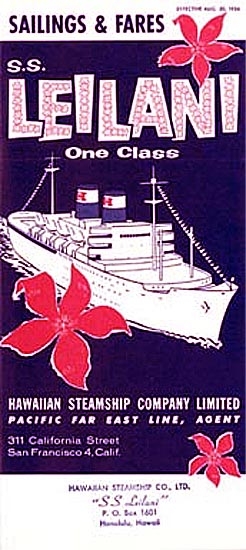 Schedule contained voyages from February to December 1956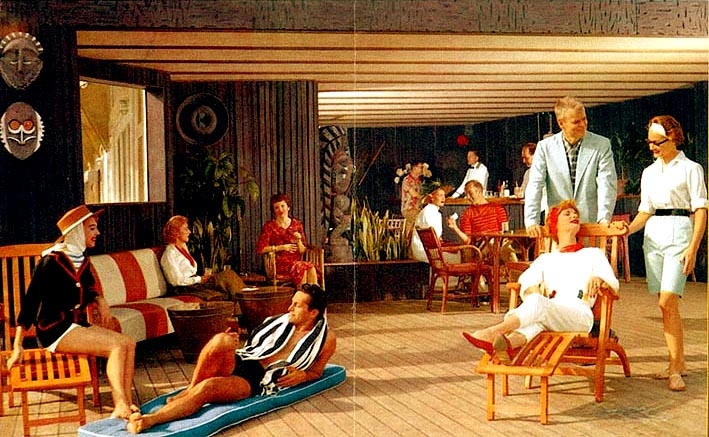 Here we see a tropical Hawaiian scene at the Lanai Lai up on Boat Deck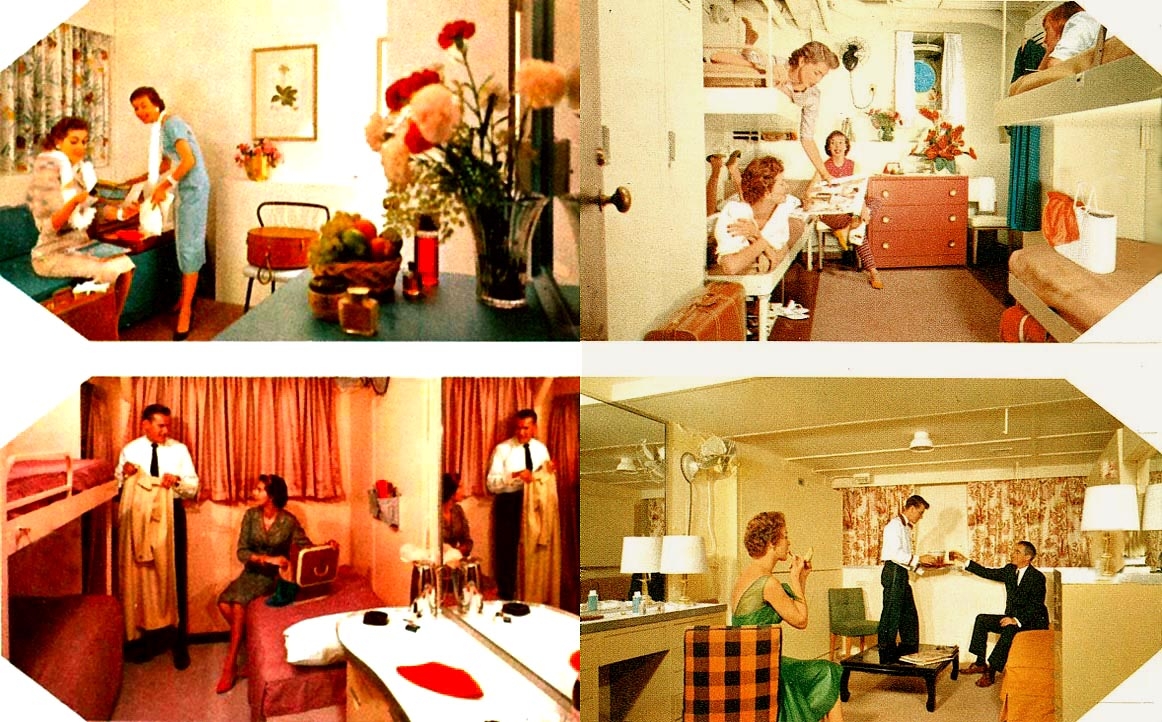 A view of four cabin styles, from a single room, a twin bedded, three-berth and a four-berth cabin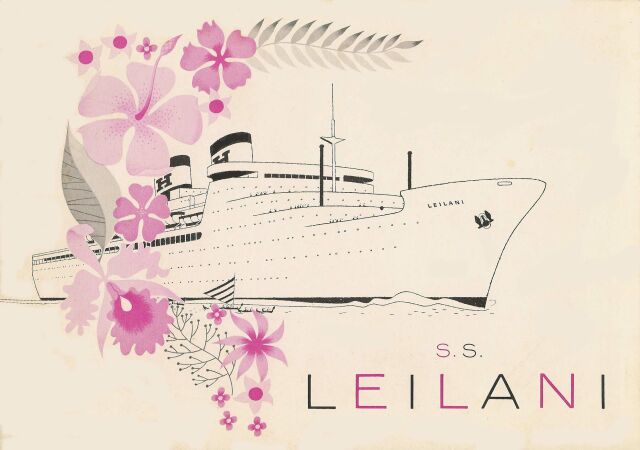 A postcard of the SS Leilani
Provided by Valeri Diamond from her Father in Laws' collection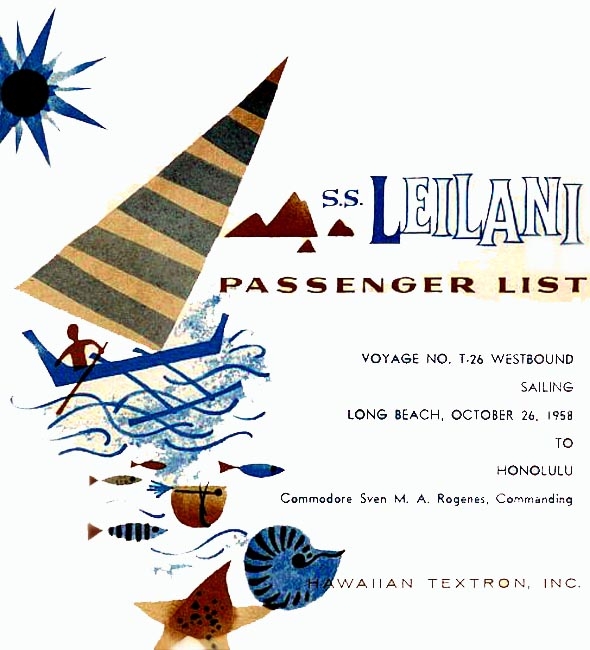 A Passenger List Voyage No T-26 Westbound dated October 26, 1958
Provided by Valeri Diamond from her Father in Laws' collection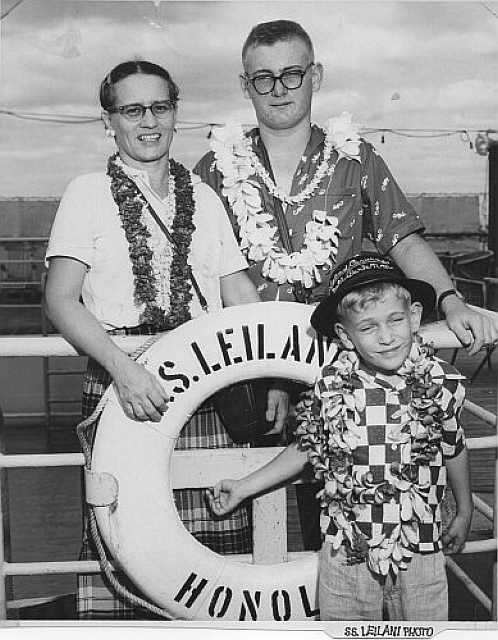 A couple and their son on a Cruise to Hawaii
Provided by Valeri Diamond from her Father in Laws' collection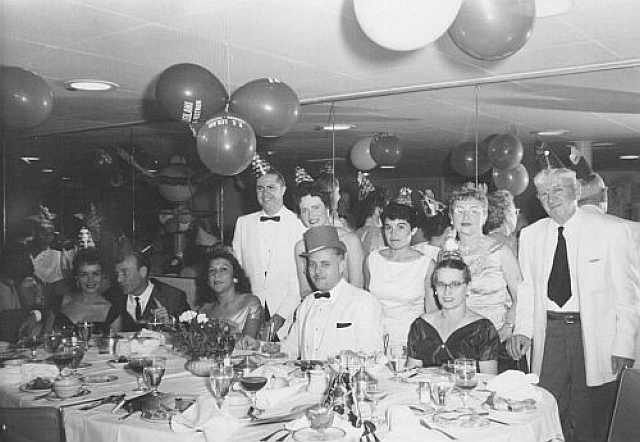 Above & below: A festive evening meal aboard the Leilani
Provided by Valeri Diamond from her Father in Laws' collection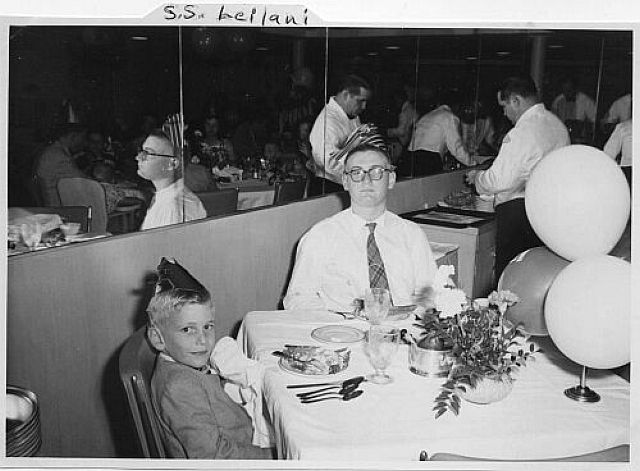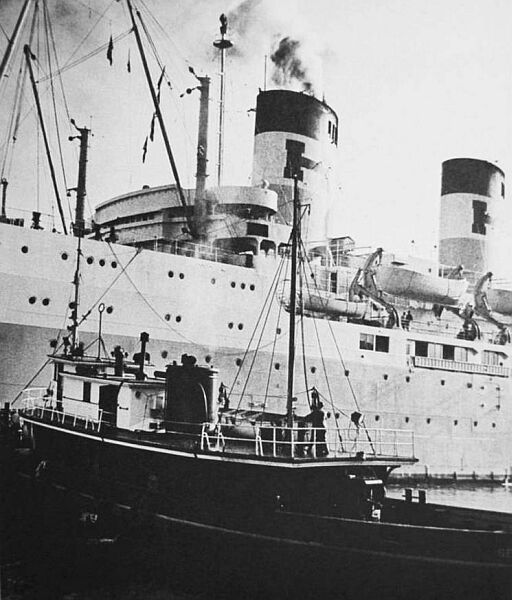 SS Leilani seen here having arrived in San Francisco
From the San Francisco Port Authority
However sadly, the Hawaiian Steam Ship Company proved to have severe financial problems, and the company went bankrupt in 1958. The Leilani was laid-up in San Francisco on December 29, 1958, and officially seized by the Federal Government on May 12, 1959 and put her up for auction in June 1959.
SS President Roosevelt:
This time, she was purchased by famed American President Lines, of San Francisco on July 25, 1960,  but it was not until March 1, 1961 that the Puget Sound Bridge & Dry Dock Company in Seattle commenced a massive US$10 million comprehensive rebuilding program of the ship, turning her into a luxury all First Class passenger liner. She was renamed President Roosevelt.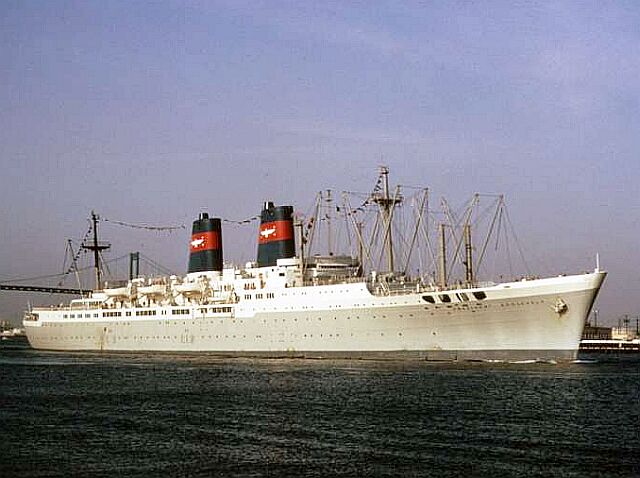 A superb looking SS President Roosevelt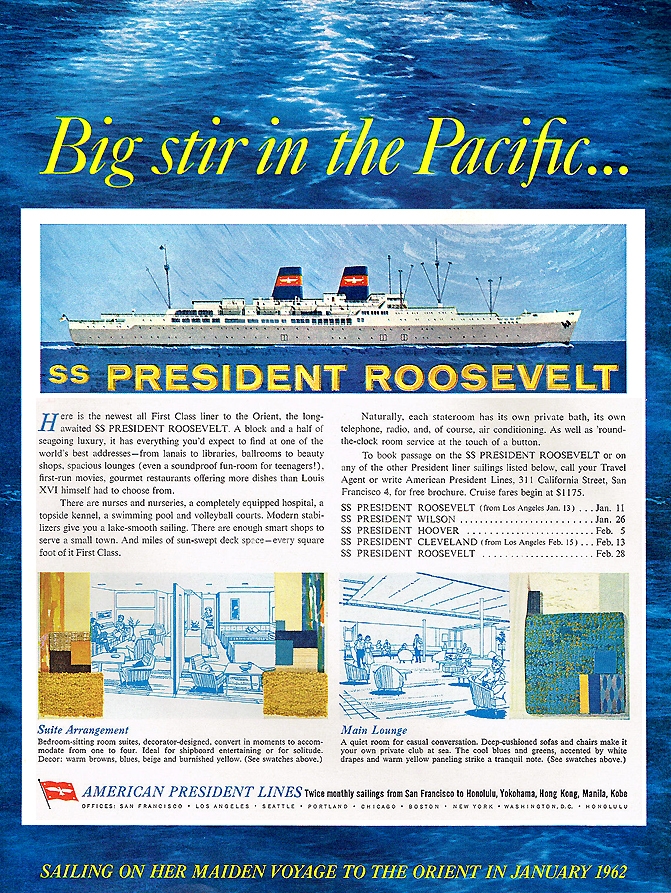 Pre completion of the SS President Roosevelt poster
Having been completed she looked simply beautiful, and she was delivered on April 16, 1962 and now being registered as 18,920 GRT. She now had 186 staterooms all having private facilities, accommodating 456 First Class passengers. She certainly became very famous in this guise, considering that many movie stars and celebrities sailed on her, in addition a good number of movies made on the SS President Roosevelt. She departed San Francisco for her first Trans-Pacific passenger service on May 11, 1962 sailing from San Francisco to Yokohama Japan and other Asian ports. In 1969 the SS General Roosevelt commenced operating a series of cruises to Alaska during the summer months.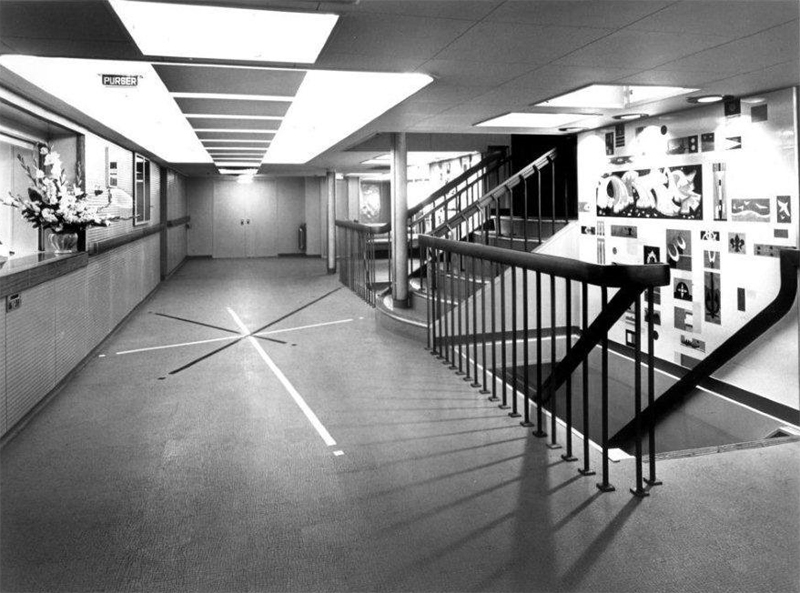 The Entrance Hall of the SS President Roosevelt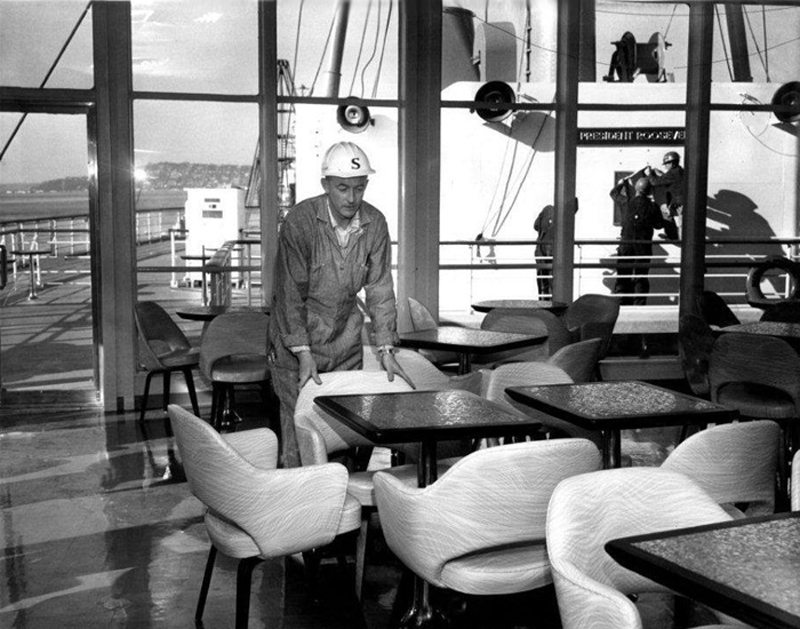 The Café is seen during the last day of her fit-out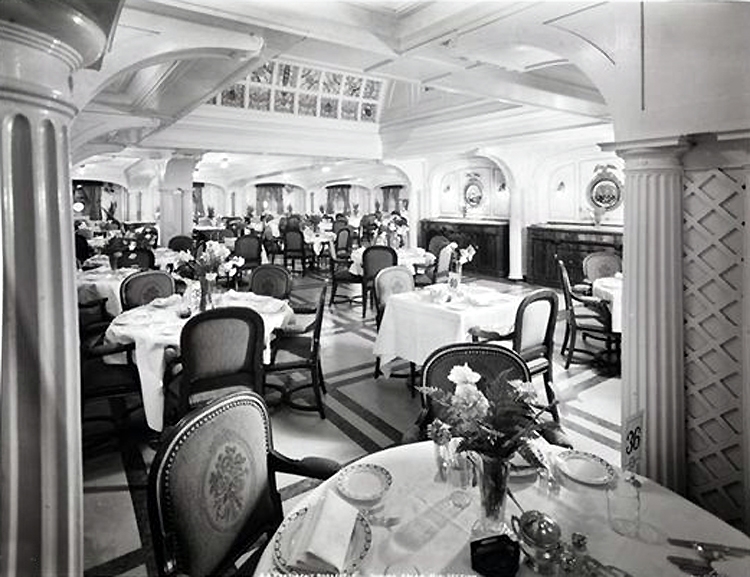 The magnificent Dining Room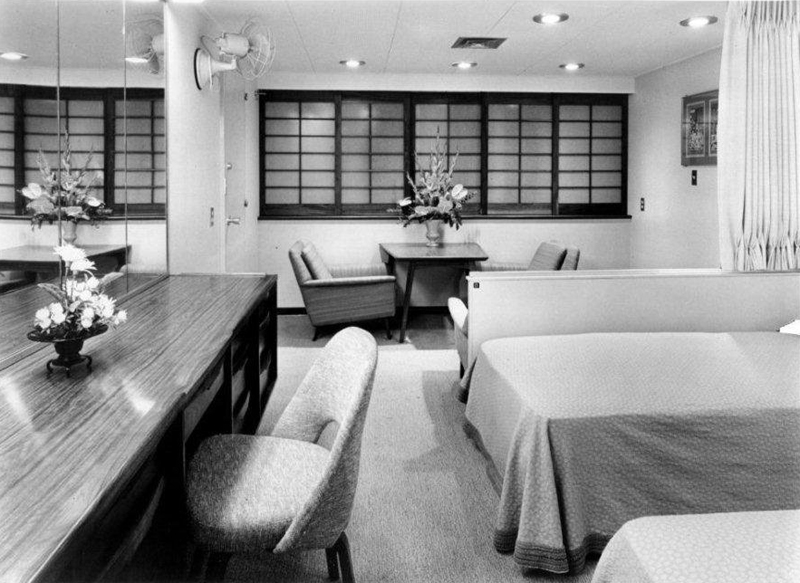 Here we see one of the wonderful Lanai Suite's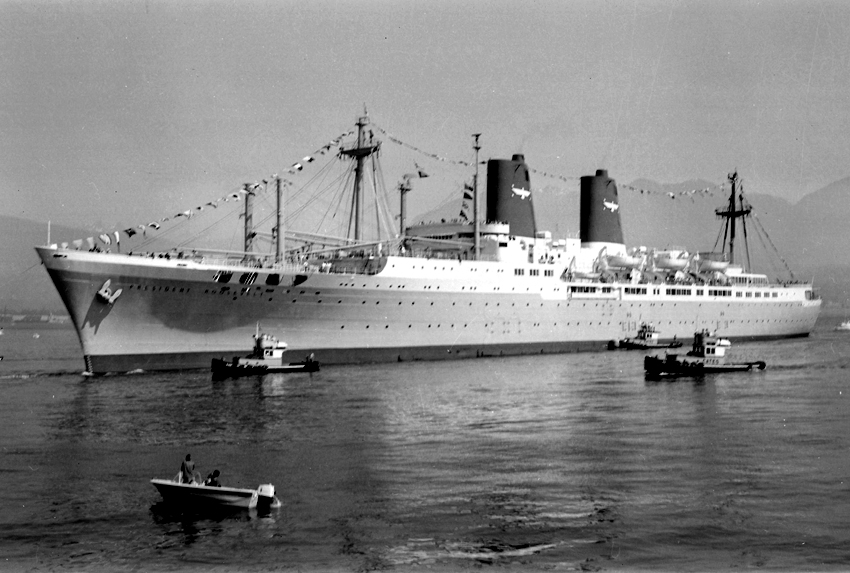 SS President Roosevelt is seen in the Port of Vancouver
Photograph by © Walter E. Frost
Eight years after commencing service American President Lines realised that loadings on the Trans-Pacific service to Japan had been rapidly declining, therefore they decided to place the SS President Roosevelt on the market in 1970.
Specifications in Brief:      Complete Specs at bottom of page.
Gross tons:                         18,920 GRT (Gross Registered Tons).
Length:                               189.77 m - 623 ft.
Breadth:                             23 m - 75.5 ft.
Draught:                             8 m - 26.3 ft.
Propulsion:                         Steam turbines.
Power:                                18,700 SHP.
Propellers:                          Twin Screw.
Passengers:                         456 First, all with private facilities.
SS Atlantis:
The SS President Roosevelt was sold for US$1.8 million dollars in 1970 to D. A. Chandris, but she was registered under Solon, Navigation SA, Piraeus. The ship underwent a complete rebuilding program and an interior refit at Perama, (Piraeus) Greece costing a massive US$8.5 million dollars. The refit was completely managed by Chandris' own in-house refit team, and she a beautifully planned and designed décor throughout the ship. Then in June 1971 the President Roosevelt emerged as a very new and a modern looking all white cruise ship, and she was renamed Atlantis.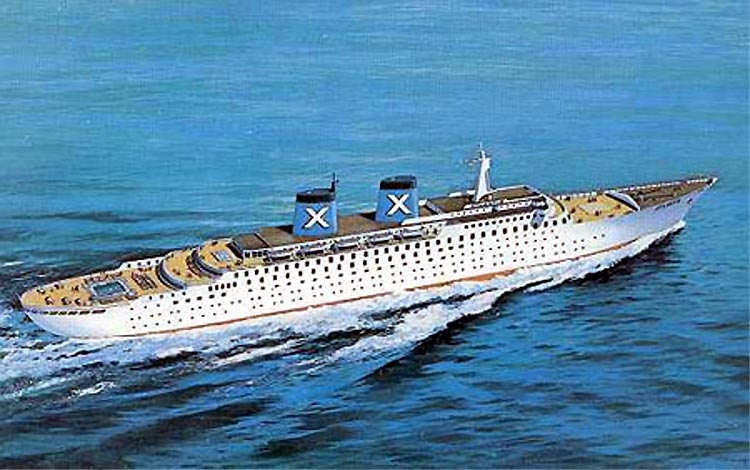 A very early postcard release by Chandris of what the rebuilt ship would look like as the SS Atlantis
This fine new ship accommodated 756 passengers based on twin accommodations, in an all One-Class configuration with a maximum capacity of 1,092 passengers utilising all berths.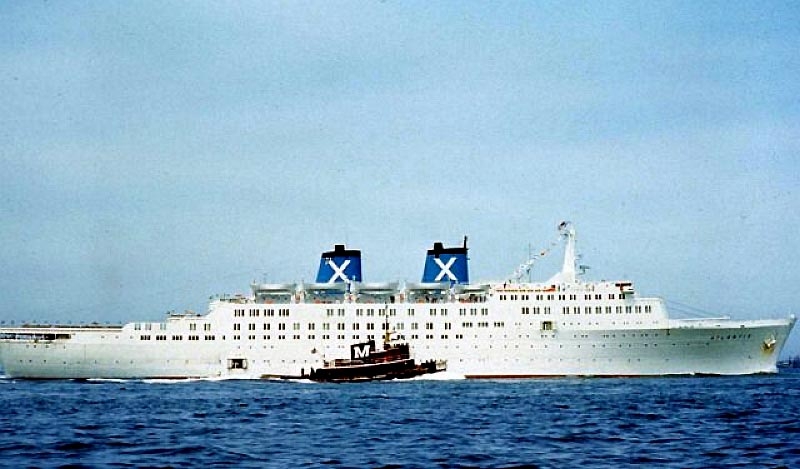 SS Atlantis looking completely different to what she was, but she was a fine cruise ship indeed!
Photograph by & © Vic-Scrivens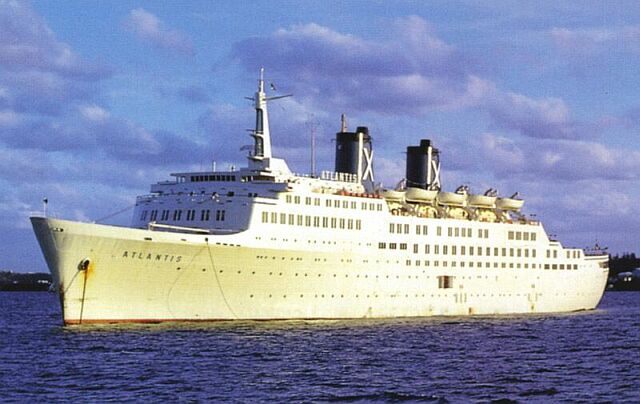 The SS Atlantis was like a brand new cruise ship and she is seen here at anchor
Upon completion she was relocated to United States where she commenced a weekly service between New York and Nassau, which saw her competing with the newer 39,000 GRT and far more luxurious Home Line's SS Oceanic on this much loved and popular cruise service. However, sadly her days with Chandris Lines were all to brief, for they decided, due to operational costs sell her in 1972.
SS Emerald Seas:
It was in October 1972 that the SS Atlantis was sold to Eastern Steamship Lines Inc, Panama, who renamed her Emerald Seas and she received some modifications, with her tonnage now officially being registered as 18,936 GRT. On December 8, 1972 she commenced the popular shorter three and four, or seven-day cruise circuit, sailing out of Miami to the Bahamas.
In 1983 she was chartered to Commodore Cruise Lines, Panama and she continued on the same service until 1986. She was then chartered to Admiral Cruises, Panama who
And the Emerald Seas had a long and prosperous service with the company she did have one sad event, for on July 31, 1986 she suffered a fire onboard whilst off Nassau, which saw 17 people injured, but thankfully no deaths. She was taken to port and repaired and she soon returned to service.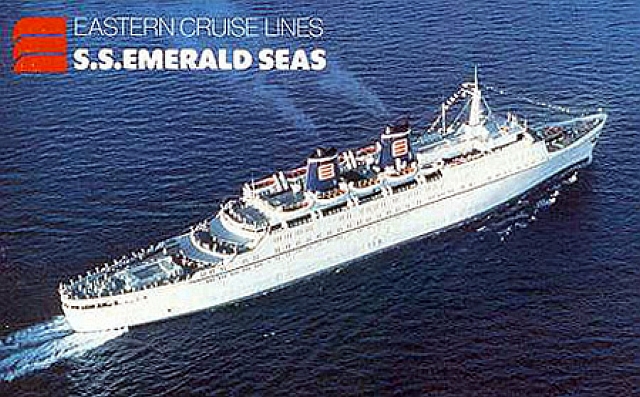 Postcard of the SS Emerald Seas
During her time with Eastern Cruise Lines, she was also chartered out, including to Admiral Cruises Inc, Panama, but in general she mostly operated her regular Miami to Nassau services. Later she also operated an overnight cruise service between Florida and the Bahamas. She remained in service for twenty years until 1992, being the most successful service to date.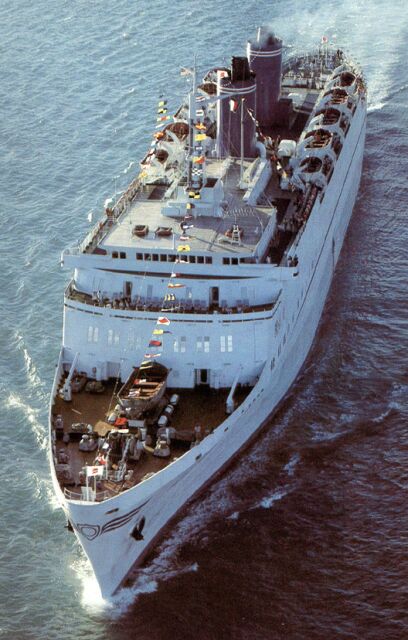 Above & below: Two fine photographs of the Eastern Steamship SS Emerald Seas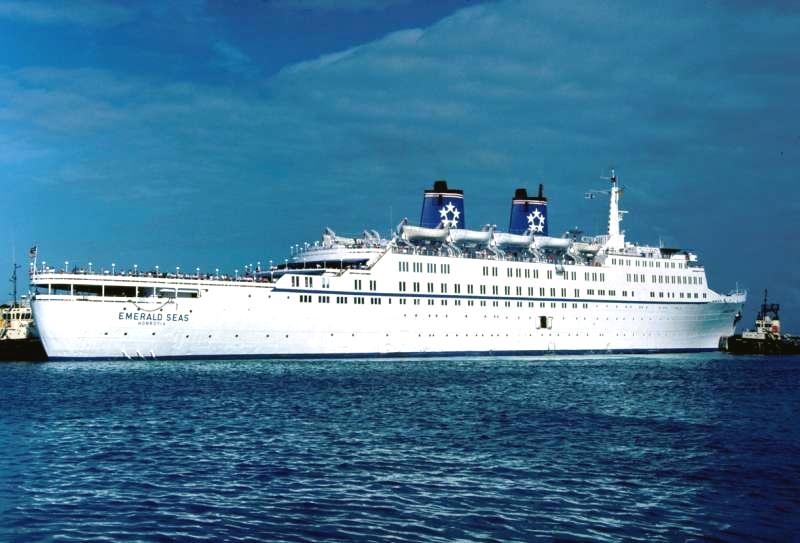 In 1992 she was Eastern Steamship Lines decided to place the aging ship on the market and during her short lay-up she was briefly renamed the "Terrifica."
SS Sapphire Seas:
Having been such a successful cruise ship, Selsdon Maritime Co, Monrovia, Liberia, or Festival Cruises of Greece decided to obtain her in 1992, and she was renamed Sapphire Seas. She operated various services, but in 1994 she was relocated in San Diego USA, for a short time to operate day cruises between San Diego and Ensenada, being a popular port at the very northern tip of Mexico, being a voyage of just 109k – 67m each way, and shipboard guests could spend some time enjoying the Mexican atmosphere.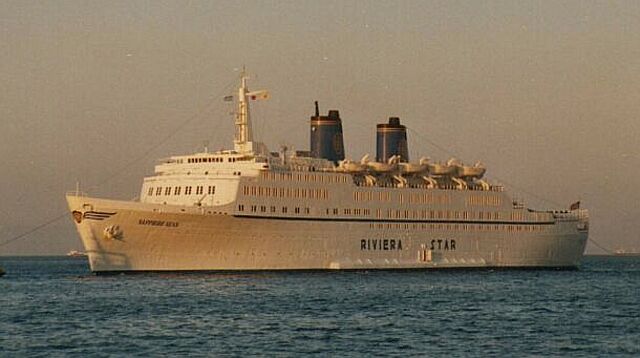 Sapphire Seas remained with Festival for two years
She crossed the Atlantic and returned to Europe where she commenced cruising around Egypt and Israel. But in October 1994, she was laid up at Eleusis Bay, Greece. Although she did operate a few summer or charter cruises around the Mediterranean and the Adriatic Sea, but she had been placed on the market and the company was hoping for a sale.
SS Ocean Explorer I:
Then, in April 1998, she was renamed Ocean Explorer I, she was sent to Lisbon Portugal, where she became a hotel ship for the Lisbon "Expo98 World Fair" and she remained there from Wednesday May 20, to Saturday October 3, 1998, after which she returned to Greece.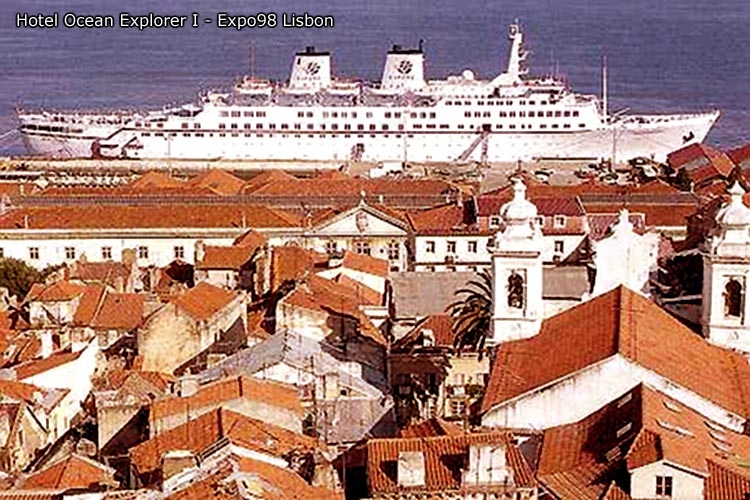 The Ocean Explorer is seen here as a floating hotel in Lisbon for Expo 1998
Upon her return to Greece she headed for Eleusis Bay (Piraeus) where she was laid up. She operated a few summer cruises under charter during 1999.
Then from November 20, 1999 to March 25, 2000, the SS Ocean Explorer I was chartered by the "World Cruise Company" of Ontario Canada and she operated a 130 Day around the World Voyage. The Ocean Explorer I, visited seven continents, twenty-three countries, and thirty-five ports.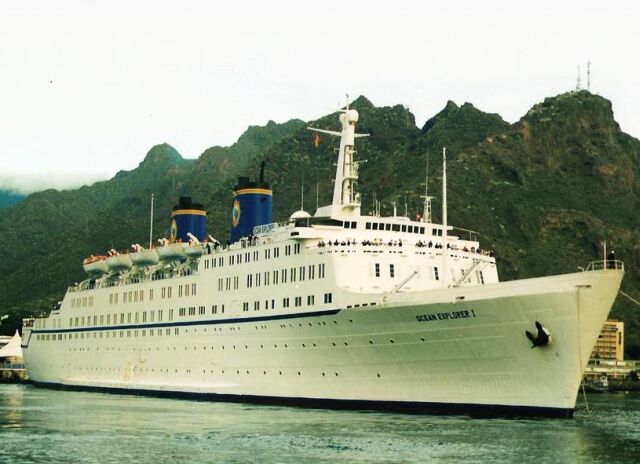 Ocean Explorer I is seen during her World Voyage and looking pristine at her ripe old age!
A special Millennium feast was celebrated whilst in Santiago, Chile, and Christmas whilst in the Antarctic where guests went ashore in zodiac landing craft's that were especially designed by Jacques Cousteau. Although the ship bunkered for fuel in Indonesia, the port ran out, and thus the Ocean Explorer 1 had to make an unscheduled stop in Singapore for additional fuel.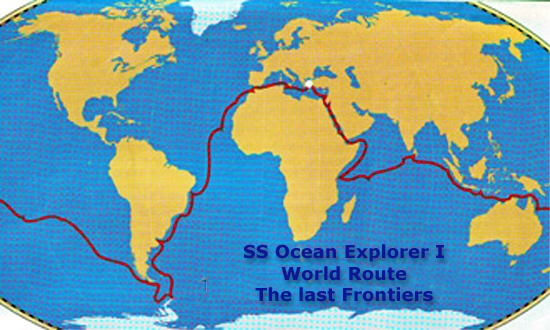 The World Cruise Company scheduled four around the World Voyages, 1; in 1999 2; 2000, 3 2001 and 4; 2002.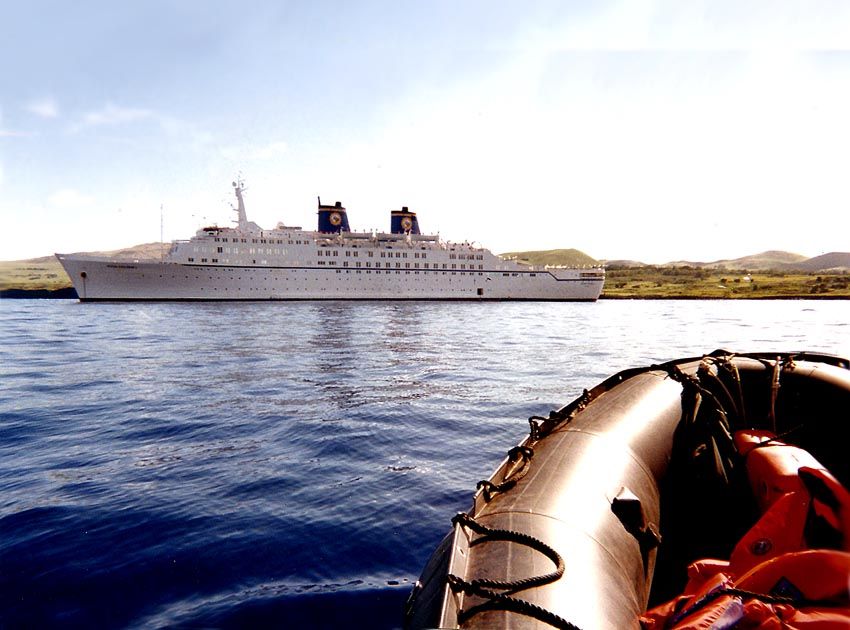 SS Ocean Explorer I is seen at anchor off Easter Island close to Hanga Piko Bay
Photograph taken from one of the ships Zodiac's by and © Juan Miguel Stachura
However, due to the ships high fuel operating costs being very high the program could not be completed as it was not a profitable operation. Due to this, the first two world voyages were completed, and final two voyages were sadly cancelled, and she was laid up and placed on the market.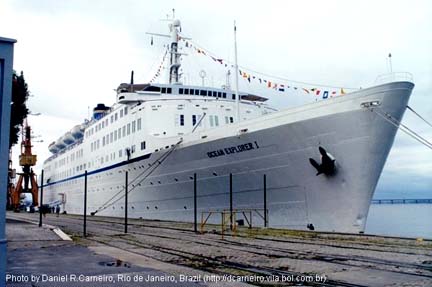 SS Ocean Explorer I is seen laid up, remained for sale in a pristine condition right to the very end!
Daniel Carneiro - Rio de Janeiro
The Ships final days:
Having been laid up berth side for a short time, but late 2000 she was again laid up in Eleusis Bay and placed at anchor mid channel, where other old ships would end their days, before heading to the breakers.
My then dear Greek friend, the now late Captain Graikos boarded her in Eleusis Bay on January 5, 2004 and he reported, "Dear Reuben, this ship is a living treasure! Her interiors are like new. Everything is in the proper order, right down to forks and knives neatly stored in her galley. Her carpets, furniture, lounges, and cabins are like new!"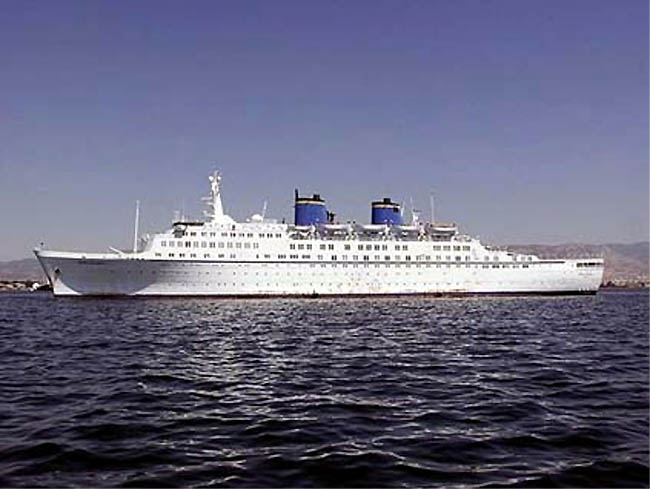 Above & below: Two photographs of the SS Ocean Explorer seen at anchor at Eleusis Bay in 2004
Photographs taken by the late Captain Yiorgos Graikos but owned by ssmaritime.com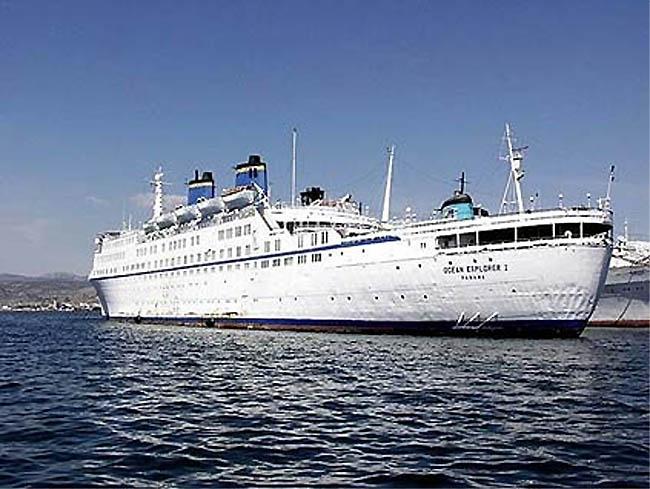 Sadly this amazing historic ship remained laid up at Eleusis Bay, but as we have read above she remained in pristine condition. Finally, in April 2004 the SS Ocean Explorer I was sold to Indian breakers who shortened her name for the delivery voyage to just "Explorer," and soon she headed for the Alang India and the breakers beach. Due to her deep draught the breakers to wait for a special high tide, which came much later in the year.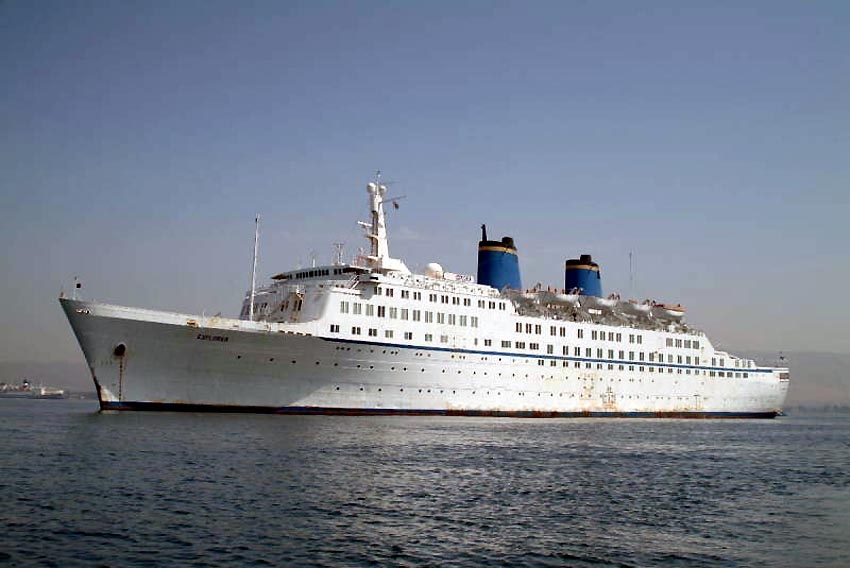 Here she is seen after the Indian breakers had obtained her
in 2004 and her name was shortened to just SS Explorer
Photographer unknown - *See Photo notes at the bottom of the page
The reason for her final demise was mainly due to her being an old steam ship with a very deep draught and being un-economical. Otherwise, she remained in perfect condition, included her De Laval geared steam turbines. But the truth is that she became uneconomical for the modern cruise industry and therefore her decline. For a historic ship it was a sad loss indeed, but she did have a good run and many people enjoyed both liner voyages as well as cruises on her over the many years. They will all retain countless memories she will remain a rather special and a unique ship in the hearts of so many
This completes the "life and times" of a wonderful all American built trooper, liner, and cruise ship, one that remained afloat for an amazing 60 long years, which is not equalled by many other ships! I trust that you will have gained much from this page, and below are her specifications covering all her changed specs during her many stages in her very long and ever changing career!
1. SS General W. P. Richardson:
Builder:                              Federal Ship Building & Dry Dock Co, Kearny, NJ, USA
Yard number:                      276.
Tonnage:                            17,811 GRT, 2,800 DWT.
Length:                               189.77m - 623ft.
Breadth:                             23m - 75.5ft.
Draught:                             8m - 26.3ft.
Engines:                             Two De Laval geared steam turbines.
Propulsion:                         Two De Laval Turbines four Foster & Wheeler D-type, 465psi 763°.
Boilers:                              Double De Laval Main Reduction Gears, four 400Kw - 120V/240V D.C. Ship's Service Generators.
Fuel Capacity:                      NSFO 19,600, Diesel 410 Bbls.
Propellers:                          Twin screws 8,500 SHP.
Speed:                               19 knots, 20.6 maximum.
Armaments:                        Four single 5"/38 cal dual-purpose gun mounts.
.                                        Four twin 40MM AA gun mounts.
.                                        Sixteen 1.1" AA gun mounts replaced by twenty single 20mm AA gun mounts
Cargo Capacity:                   2,700 DWT - non-refrigerated 145,000 Cu ft.
Max Boom Capacity:             10 tons
Complement:                       40 Officers.
                                         426 Enlisted crew.
Troop Capacity:                   393 Officers.
                                         4,876 Enlisted men.
2. As a Passenger Liner & Cruise Ship:
Tonnage                             18,920 GRT in 1956.
.                                        18,936 GRT in 1961.
.                                        24,458 GRT in 1971.
Accommodations:                 609 passengers after 1956 refit.
.                                        456 passengers after 1961 refit.
.                                        756 or 1,069 max passengers after 1971 refit.
IMO:                                  5284053.
On Page Two of this feature, you will discover a Photo Album, which is mostly related to the 20 years when she was the very popular SS Emerald Seas from 1972 to 1992. It covers most of her interiors and deck spaces, and the ship except for funnel livery, remained much as you will see it in this album until she was broken up late in 2004.
Reuben Goossens.
Maritime Historian, Author. Lecturer & Cruise'n'Ship Reviewer.
Worked & involved in the Passenger Shipping Industry over 60 years.
Enter the Ocean Explorer Photo Album
***********************************
"Blue Water Liners sailing to the distant shores.
I watched them come, I watched them go and I watched them die."
Return to the ssMaritime MAIN INDEX
ssMaritime.com& ssMaritime.net
Where you will discover over 1,350 Classic Liners & the 1914 built MV Doulos Story
The Author has been in Passenger Shipping & the Cruise Industry for over 60 years!
Also visit the …
"Save The Classic Liners Campaign"
Founded in the early 1990's - The author is the founder and president
Please Note: ssmaritime and associated sites are 100% non-commercial and the author seeks no funding or favours of any shape or form, never have and never will!
Photographs on ssmaritime and associate pages are by; the author or from the author's private collection. In addition there are some images that have been provided by Shipping Companies and private photographers or collectors. Credit is given to all contributors. However, there are some photographs provided to me without details regarding the photographer/owner concerned. I hereby invite if owners of these images would be so kind to make them-selves known to me (my email address may be found on www.ssmaritime.com only), in order that due credit may be given.
Please NO requests for Passenger-Crew lists, nor Sailing Schedules. these requests will not Be answered.
This notice covers all pages; although, and I have done my best to ensure that all photographs are duly credited and that this notice is displaced on each page, that is, when a page is updated!
ssMaritime is owned & © Copyright by Reuben Goossens - All Rights Reserved