SS Ocean Explorer - previouly: Sapphire Seas, Emerald Seas, Atlantis, President Roosevelt, Leilani, LaGuardia, General W. P. Richardson
Note: iPhones, iPads, Firefox & some other Search Engines may not be suitable
Use Google Chrome for this Web Page to load perfectly!
Click the logo above to reach the ssMaritime FrontPage for News Updates & "Ship of the Month"
With Reuben Goossens
Maritime Historian, Author, Lecturer & Cruise'n'Ship Reviewer
Please Note: All ssMaritime and other related maritime & cruise sites are 100% non-commercial and privately owned. Be assured that I am NOT associated with any shipping or cruise companies or travel or cruise agencies, etc! Although having been in the passenger shipping industry since 1960, I am now retired but having completed features on well over 1,350 Classic Liners and Cargo-Passengers Ships, I trust these will continue to provide you the classic ship enthusiast the information you are seeking, but above all a great deal of pleasure!
SS Ocean Explorer I
Ex: Sapphire Seas, Emerald Seas, Atlantis, President Roosevelt, Leilani, LaGuardia, General W. P. Richardson
SS Emerald Seas Photo Album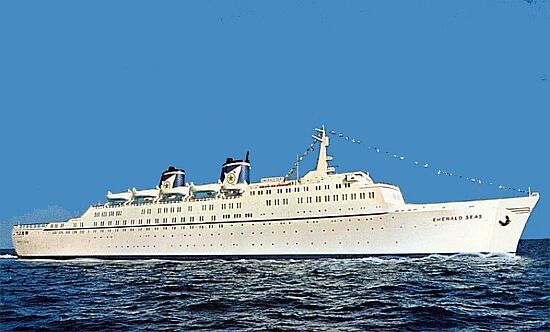 Above we see the Ocean Explorer as the Eastern Steamship Lines SS Emerald Seas

Please Note

: All images (except those marked otherwise) are from 1977 & 1978 SS Emerald Seas brochures. This fine ship operated cruises from Miami to the Bahamas for around twenty years. The Brochure is from the author's private collection.

Obviously this ships as revealed on Page One has undergone a good number of refits since the images on this page, yet she remained a beautiful and a modern, perfectly maintained cruise ship, one we would like to have seen cruising for much longer! As she was so greatly loved, being a ship for the genuine cruise lover with all the facilities one could dream about! However, being a steam ship she was a costly ship to operate, and this was the main reason for her eventual demise in 2004.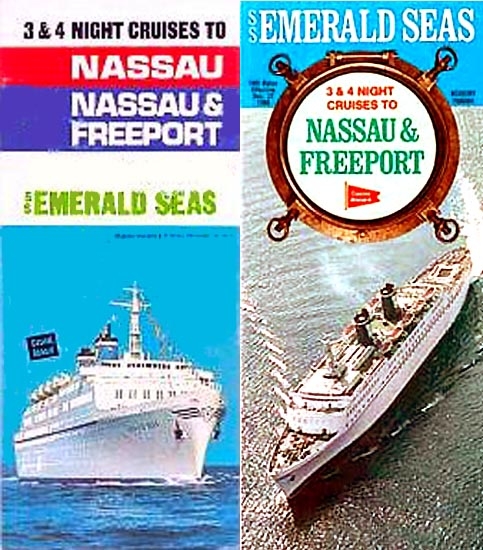 Two SS Emerald Seas Brochures containing the images below
From the author's private collection

Showtime in the Mayfair Ballroom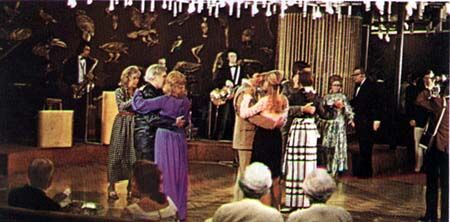 Mayfair Ballroom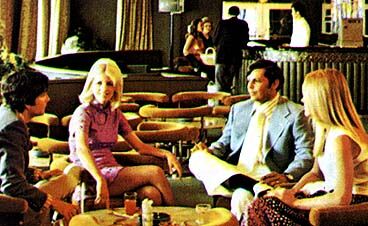 Mayfair Lounge Bar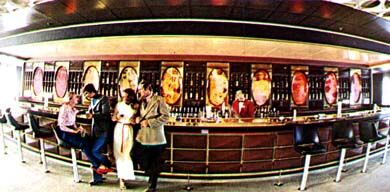 Aquarius Club Bar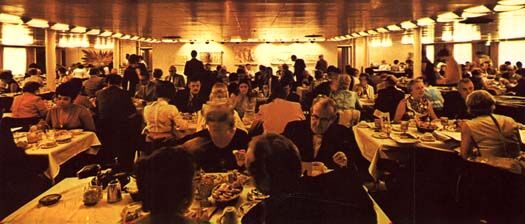 Dining Room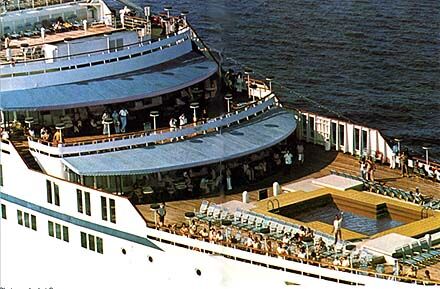 Her magnificent aft decks with the Terrace forward of the Pool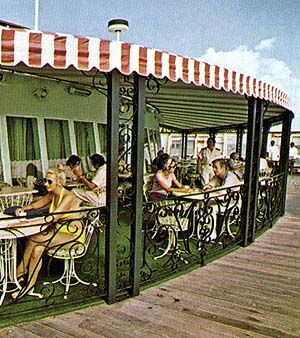 The Terrace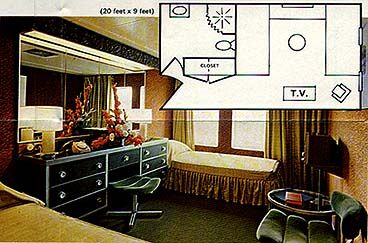 Outside Twin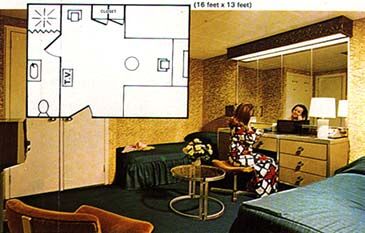 Outside Twin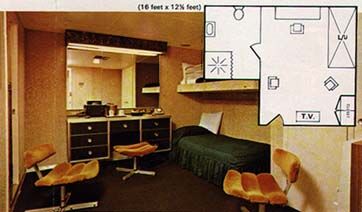 Inside Single/Two-Berth Cabin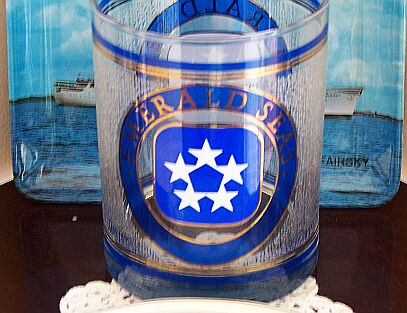 Emerald Seas Glass

From the author's private collection

We have been unable to locate any interior photographs of the Emerald Seas in her later years. If you are able to help me, it would be much appreciated!

Additional Photographs

I received an email from a Carole Revetti

; "I came across your website and noticed you were looking for pictures of the Emerald Seas. Our high school used to go on this ship for our senior cruises." (Edited).

Below are several photographs of the Emerald seas from those days. Thank you Carole!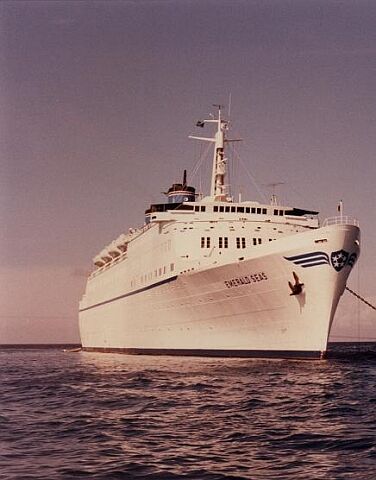 Emerald Seas at anchor
Provided by Carole Revetti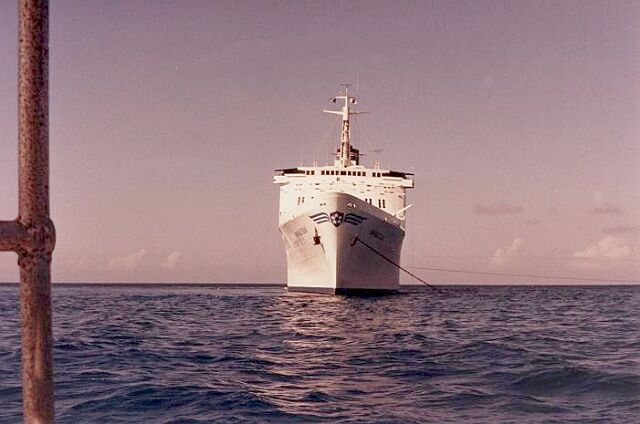 A fine bow shot
Provided by Carole Revetti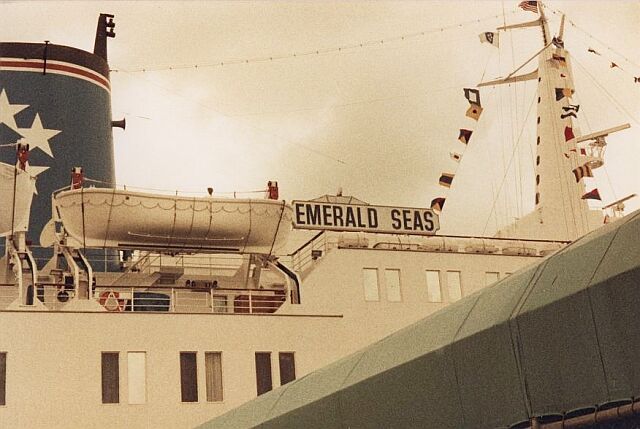 Above and below: an excellent study of her radar mast, funnels, and lifeboats. All look in superb condition!
Provided by Carole Revetti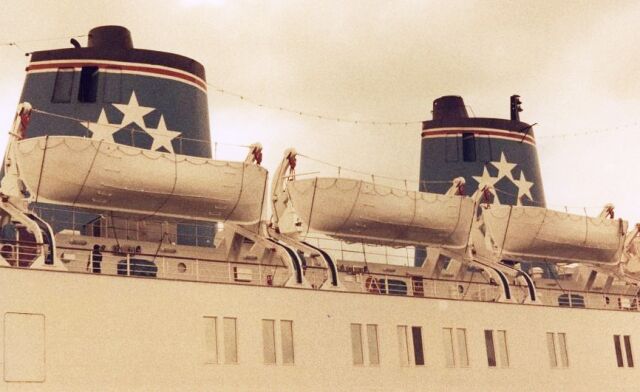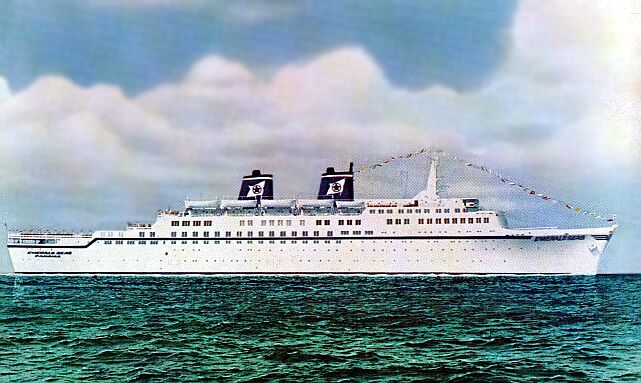 This fine postcard was provided by Harold Garwood of Jeffersonville, IN. USA, who with his family cruised on her in 1980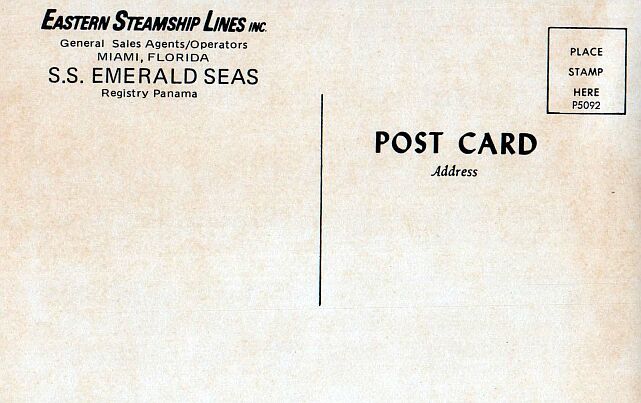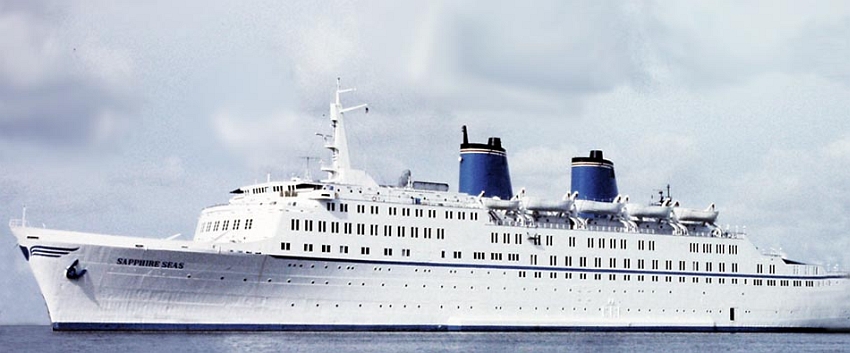 A portside view of the SS Sapphire Seas
After her days as the SS Emerald Seas, she was sold in 1992 to the Greek Festival Cruises and was renamed Sapphire Seas but she sadly remained mostly laid up, but she was retained in pristine condition. She operated various services, but in 1994 she was relocated in San Diego USA, for a short time to operate day cruises between San Diego and Ensenada, being a popular port at the very northern tip of Mexico, being a voyage of just 109k – 67m each way, and shipboard guests could spend some time enjoying the Mexican atmosphere.
In April 1998, she was renamed Ocean Explorer I, she was sent to Lisbon Portugal, where she became a hotel ship for the Lisbon "Expo98 World Fair" and she remained there from Wednesday May 20, to Saturday October 3, 1998. Upon her return to Greece she headed for Eleusis Bay (Piraeus) where she was laid up. She again operated a few summer cruises under charter during 1999.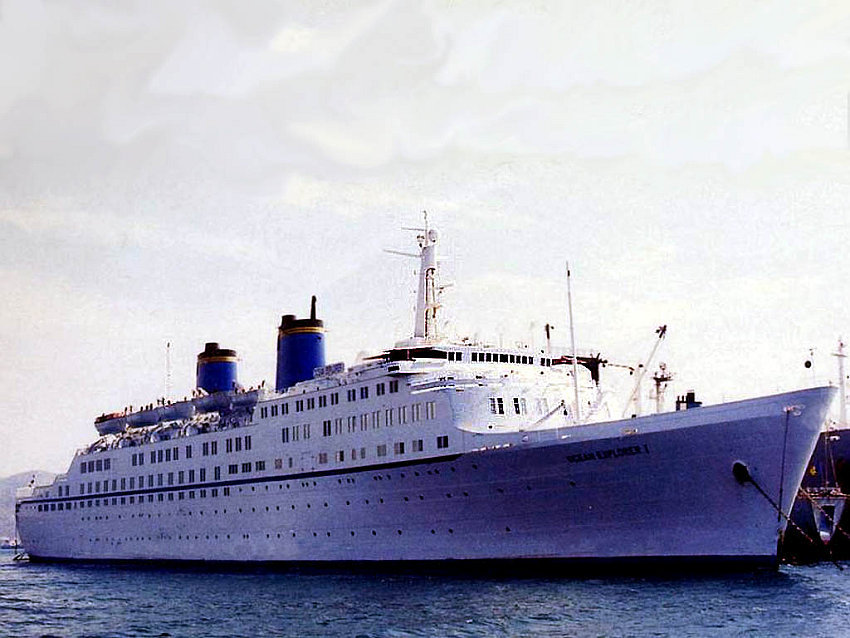 The Ocean Explorer is seen laid up with several other vessels at Eleusis Bay (Piraeus) Greece late 1998
Then from November 20, 1999 to March 25, 2000, the SS Ocean Explorer I was chartered by the "World Cruise Company" of Ontario Canada and she operated a 130 Day around the World Voyage. The Ocean Explorer I, visited seven continents, twenty-three countries, and thirty-five ports. But she proved once again too costly to operate and future world cruises were cancelled, thus she was laid up again, but she did make some seasonal cruises around the Mediterranean.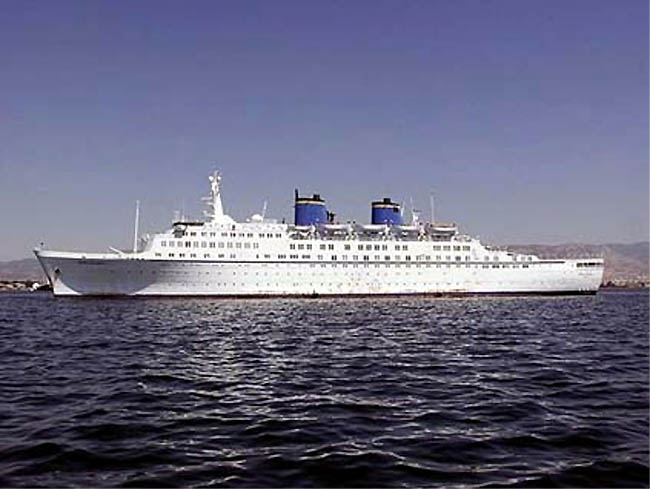 The SS Ocean Explorer is seen

laid up at Eleusis Bay in 2004

Photographs by the late Captain Yiorgos Graikos but owned by ssmaritime.com

Then in April 2004, the Ocean Explorer I was sold to Indian breakers and soon she headed for the breakers beach and was duly broken up. Obviously, being an old steam ship with a rather deep draught, she became uneconomical for the modern cruise industry therefore her decline. It was a sad loss indeed, but she did have a good run and many people had a wonderful time on her and countless memories will remain of this rather special ands unique ship!

I trust you have enjoyed these two Web pages on this remarkable and fine ship, but if you arrived at this page via a search engine head to Page One of the SS Ocean Explorer I and discover her complete history, as she is the ship that had a total of 10names, although three of these was very briefly and possibly not all mentioned.

Reuben Goossens.

Maritime Historian, Author. Lecturer & Cruise'n'Ship Reviewer.

Worked & involved in the Passenger Shipping Industry over 60 years.

Enter the Ocean Explorer Photo Album

***********************************

"Blue Water Liners sailing to the distant shores.
I watched them come, I watched them go and I watched them die."

Return to the ssMaritime MAIN INDEX

ssMaritime.com& ssMaritime.net

Where you will discover over 1,350 Classic Liners & the 1914 built MV Doulos Story

The Author has been in Passenger Shipping & the Cruise Industry for over 60 years!

Also visit the …

"Save The Classic Liners Campaign"

Founded in the early 1990's - The author is the founder and president

Please Note: ssmaritime and associated sites are 100% non-commercial and the author seeks no funding or favours of any shape or form, never have and never will!

Photographs on ssmaritime and associate pages are by; the author or from the author's private collection. In addition there are some images that have been provided by Shipping Companies and private photographers or collectors. Credit is given to all contributors. However, there are some photographs provided to me without details regarding the photographer/owner concerned. I hereby invite if owners of these images would be so kind to make them-selves known to me (my email address may be found on www.ssmaritime.com only), in order that due credit may be given.

Please NO requests for Passenger-Crew lists, nor Sailing Schedules. these requests will not Be answered.

This notice covers all pages; although, and I have done my best to ensure that all photographs are duly credited and that this notice is displaced on each page, that is, when a page is updated!

ssMaritime is owned & © Copyright by Reuben Goossens - All Rights Reserved