Home Lines - SS 'Oceanic' (1965) to Peace Boat's - SS 'The Oceanic' (2009 to 2012)
Click the logo above to reach the ssMaritime FrontPage for News Updates & "Ship of the Month"
With Reuben Goossens
Maritime Historian, Author, Lecturer & Cruise'n'Ship Reviewer
Please Note: All ssmaritime as well as my other related maritime & cruise sites are 100% non-commercial and privately owned sites. Be assured that I am NOT associated with any shipping or cruise companies or agencies or any other organisations! The author has been in the passenger shipping industry since May 1960, but although retired and unwell, I occasionally attempt to write an article now and then, in order to bring enjoyment and pleasure to ship enthusiasts past passengers and crew.
S.S. Oceanic
'Oceanic' - Home Lines (1965-1986) / 'StarShip Oceanic' then 'Big Red Boat 1' - Premier Cruises (1986-2000)
'Oceanic' - Pullmantur Cruises (2001-2012) / 'The Oceanic' – Peace Boat (2009 - 2012)

A Link to our Oceanic Photo Album is at the bottom of this page
From the author's collection
A Matter of Design:
I received the very interesting story on January 29, 2008, and felt it was worthy to add to this page as I have been unable to locate any details regarding the ships designers over the years, and this story makes total sense! I wish to thank Vandersteel for sending it to me and enlightening me and all who will be reading this article.
Question - "Who Really Designed the Oceanic"?
By William Vandersteel - Alpine, NJ – USA
Little known history behind the identity of the original designers of the SS Oceanic, steadfastly denied by the Italian shipbuilder and the CEO of Home Lines, is the true story of how it came into being. It goes back to a meeting between Aristotle Onassis, John W. Hupkus, Managing Director of the Dutch shipyard, Kon. Mij de Schelde and the writer, William Vandersteel, USA representative for de Schelde. The meeting took place in Monaco in 1957.
Ari Onassis had asked for the meeting to discuss his proposal for the De Schelde Shipyard to develop a design for two ships, specifically designed as cruise ships, and with trans Atlantic capability, to operate in the Mediterranean during the winter and the Caribbean during the summer. Onassis and Hupkes were friends and, except for specifying cruise speed and passenger capacity, Onassis left all design details to de Schelde.
In 1953, de Schelde had completed the Kungsholm II for the Swedish American Line and, during the maiden voyage to New York, which I attended, I mentioned to Hupkes that the new Kungsholm was a nice design in the traditional sense and observed that I could suggest some "improvements" to bring the design and styling into the modern age. After discussing my ideas, Hupkes was intrigued and suggested I meet with his naval architect during my next visit to Holland. In 1955, I met with de Schelde's naval architect, Pieterse to discuss my ideas. Pieterse was a young chap and, initially, less than enthusiastic with my ideas. Unfortunately, he died prematurely from cancer at age 36, shortly after completing the design for the Onassis cruise ships.
As for my background, I am an aeronautical engineer with a lot of experience as a youngster, sailing all over the globe with my family, giving me an abiding interest in ships. I also gained some styling design experience with my first job, after graduating from MIT, with the General Motors Styling Section for car design. The job lasted only 8 months when World War II broke out and I volunteered to join the US Army Air Corps to be trained as a fighter test pilot.
De Schelde's Naval Architect, Pieterse and I sat down in 1955 to discuss my ideas, briefly outlined as follows;
Change the conventional curved sheer line to a straight line, parallel with the water line. Eliminate camber to make flat decks, like floors in any building ashore. Neither sheer nor camber serve any purpose on a large ship, or any ship for that matter, and they only add to cost. At first, Pieterse was horrified at the thought of a ship without a graceful sheer line as he had designed for the Kungsholm. Pieterse tried to defend camber on structural ground but eventually conceded that the same structural integrity could be achieved without camber. To achieve proper styling, all decks must be flat and parallel with the waterline.
Next, I insisted that all promenade decks be fully glass enclosed. I knew from experience that the first thing an experienced ocean traveller does after boarding, is to run for the deck steward and reserve a deck chair on the limited space of the fantail (stern), the only place where you don't get blown away. Also, I insisted that the only promenade deck be at the very top level, also fully glassed in, with an unobstructed view of the ocean.
I also insisted that the lifeboats be stowed on a lower deck and not on the top deck so they would not detract from ship's styling. My attempt to substitute life rafts for life boats was apparently not allowed by Lloyds' rules, though they are obviously a safer and better solution. Naval ships only use life rafts even in the face of much larger risk.
Then, as a main feature of the ship, I envisaged an open space near the ship's center, with a transparent sliding roof and a swimming pool as the central attraction. The beam sides to be fully glassed in with all seating (deck chairs) facing inwards, overlooking the swimming pool. The presumption is that passengers would rather stare at Bikinis than look at the ocean which they can see from their cabins or top deck. The sliding roof would close during inclement weather. I named this the Lido deck though I do not know if this name was original at that time.
After Pieterse completed the design, he had become an enthusiastic supporter of the new configuration and conceded that eliminating sheer and amber might reduce the total construction cost by as much as 10%. I was given a ten page copy of the completed design and I was satisfied that Pieterse had faithfully followed all my suggestions.
De Schelde's proposal and drawings were presented by John Hupkes to Ari Onassis in a Paris meeting sometime late1955. I was not present and do not know what transpired. Hupkes did indicate to me that Onassis was not ready to proceed with his plans. Though I have no first hand knowledge, I surmise that Onassis conveyed the drawings to his friend Eugen Eugenides, owner of the Home Lines. The Home Lines eventually contracted with the Italian shipbuilder Cantieri Reuniti del Adriatico of Monfalcone, Italy to build the Oceanic and it was delivered in 1963.
The significant fact is that every cruise liner, without exception as far as I know, built since the completion of the Oceanic has followed every feature and configuration which led to the Oceanic's original design. That neither the Italian builder or the Home Lines, as far as I know, has ever claimed credit for introducing a wholly new design concept for cruise ships, probably stems from their concern that such a claim could lead to the revelation that the original design was made by Mr. Pieterse, Naval Architect for the Kon. Mij. De Schelde of Vlissingen, Holland.
William Vandersteel.
Her History:
SS Oceanic was built by Cantieri Riuniti dell'Adriatico, Monfalcone in 1962, and she was launched on January 15, 1963. Then after what was nothing short of a lengthy fitting out process she was finally delivered to Home Lines over two years later on March 1, 1965.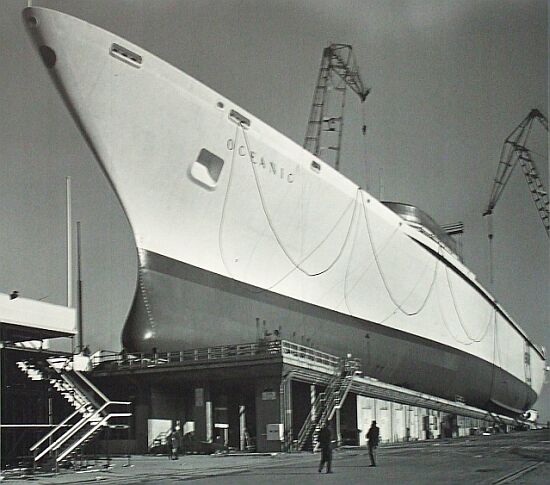 The super sleek looking SS Oceanic on the building slip and ready to be launched January in 1963
From the Paolo Baldazzi collection
SS Oceanic was the first purpose-built Trans Atlantic liner for Home Lines and she was designed as a two-class liner to operate in summer on the Homes Lines Canadian route from Cuxhaven, Le Havre, and Southampton.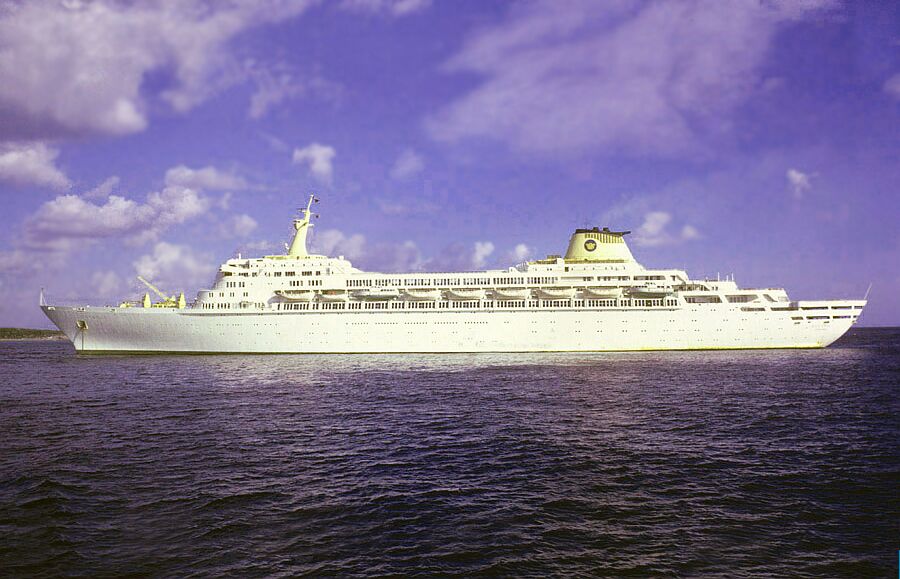 The elegant looking SS Oceanic seen in the mid 60's!
From the author's collection
As built, Oceanic accommodated up to 1,600, configured as follows. 230 first class and 1,370 tourist class. First class had 8 major deluxe suites, 58 mini suites, 58 deluxe cabins, all having a lounge or lounge area. In addition, there were 20 single cabins. All of the 500 tourist class cabins had two lower beds and two upper Pullmans, accommodating 2, 3, or 4 passengers. All lower beds converted during the day to become a sofa. All cabins had private facilities. However, for cruise duties her capacity was lowered to 1,200 One Class passengers.
Other onboard features:
Closed circuit TV screens in public rooms, apartments and deluxe cabins. TV cameras for recording cruise activities and or transmitting films to the theatre. One of the finest Swimming pool "Lido" areas of any ships at the time of 10,350 sq. feet, with two adjoining pools each of 360 sq. feet each. Total deck space of 66,350 sq feet. There is a two level Cinema seating 420. The public rooms totalled 54,000 sq feet, with one lounge being 7,920 sq feet for shows and dances. It is provided with a screen for cinema projection. The spacious dining salon is famed for not having any pillars to obstruct views. Even for her day she was equipped with the most advanced safety and navigational equipment.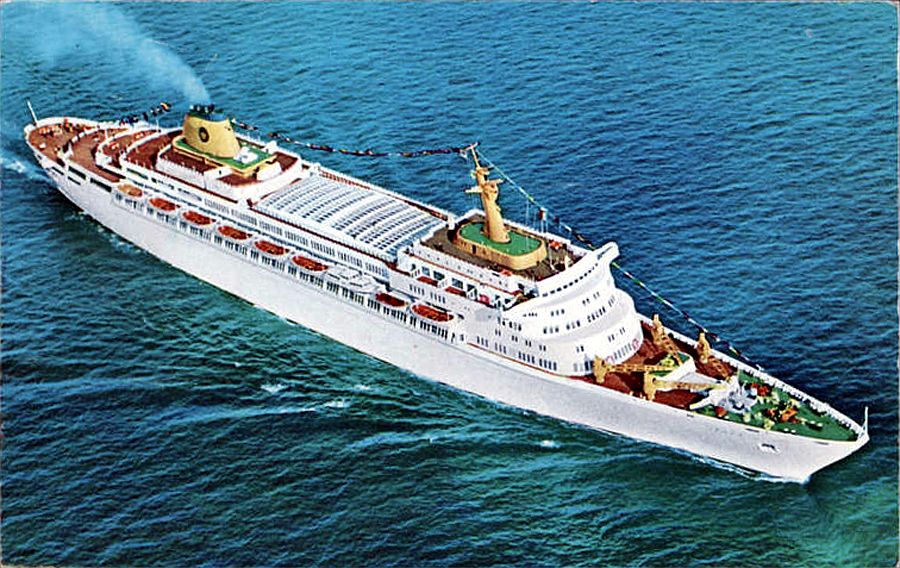 A Home Lines postcard
From the author's collection
SS Oceanic 1965 specifications:
Builders:                    Cantieri Riunti dell'Adriatico, Montefalcone.
Yard:                         1876.
Keel Laid down:          October 29, 1961.
Launched:                  January 15, 1963.
Completed:                 March 1, 1965.
Maiden Voyage:           April 3, 1965.
Tonnage:                    39,241 GRT (Gross Registered Tons).
Engines:                     DeLavel DR Geared Turbines - 60,500 SHP.
Screws:                      twin.
Top Speed:                 26 – max 27.30 knots.
Length Overall:           772ft – 238.5m.
Beam:                        97ft – 29.4m.
Draught:                    28.5 feet – 8,589m.
Passengers:                230 First Class.
                                 1,370 Tourist Class.
                                 1,200 One Class when cruising.
Crew:                        560
                                 Fully Air-Conditioned
.                                Denny Brown stabilizers
However, by the time of her delivery travel Trans Atlantic by seal had become the less favoured option due to the increased popularity of air travel, thus the company decided to cease their regular Trans-Atlantic line voyages almost immediately. Thus the Oceanic headed for New York where quite soon she commenced to operate regular seven day cruises to Nassau throughout the summer, whilst during the winter she operated extended cruises throughout the Caribbean, which proved to be very popular.
Maiden Voyage:
The SS Oceanic departed on her maiden voyage to New York on April 3 1965. Then after several Trans-Atlantic voyages having returned to New York she departed on April 24 bound for the Bahamas commenced her first series of regular cruise duties.
Two Personal Stories:
Gerry

Gilbert

:
Jerry Gilbert of Toronto, Canada wrote; Home lines flew my wife and I to Halifax to meet SS Oceanic on her Maiden Voyage. We then sailed on her from Halifax to New York. An interesting incident occurred when we arrived in NYC. The stevedores happened to be on strike and thus would not accept the ropes required for docking. They were there on the wharves, but they just kept throwing them back in the river. However, the captain docked the Oceanic just the same. Being a good customer of Home Lines, later Home Lines presented me with a framed print of the ship, which I have kept to this day.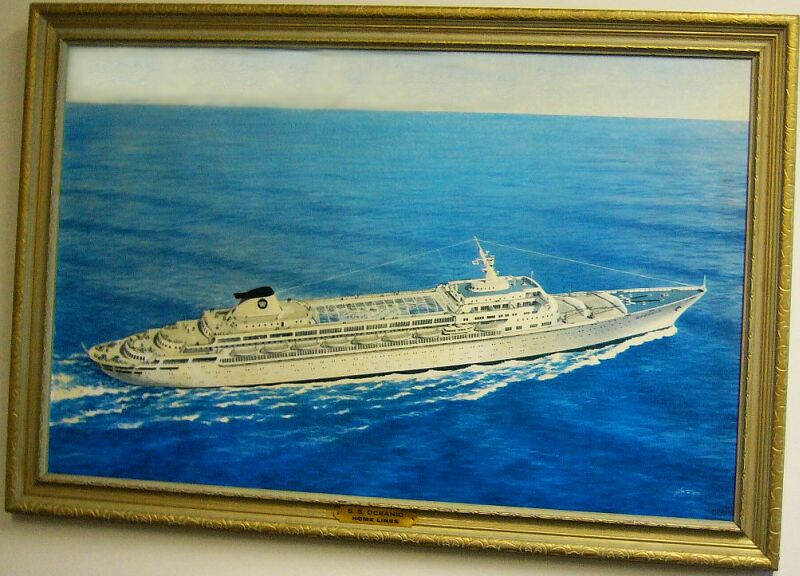 A painting (print) of the SS Oceanic presented to Mr & Gilbert
Courtesy of Jerry Gilbert
Debora Alba:
Apart from her Atlantic services she was also a popular cruise ship and I received an email from Debora Alba who stated: "I just located your site, loved to see these classic liners and their photographs and I have never forgotten one of the best experiences of my life. I have been on three ocean liner cruises with the being the first being on the SS Oceanic. I am sending to you a photograph I have taken of a lighter that I purchased aboard the ship during the cruise. If you are interested I have further photographs as well as memorabilia and I happy to scan these with the exact dates. Just as a note of interest, this cruise was so exciting we (the many fabulous people we met aboard) were able to, as a first, get the staff to open the disco all night for the two week duration."

This is the lighter Debora obtained on board the SS Oceanic
Image provided by Debora Alba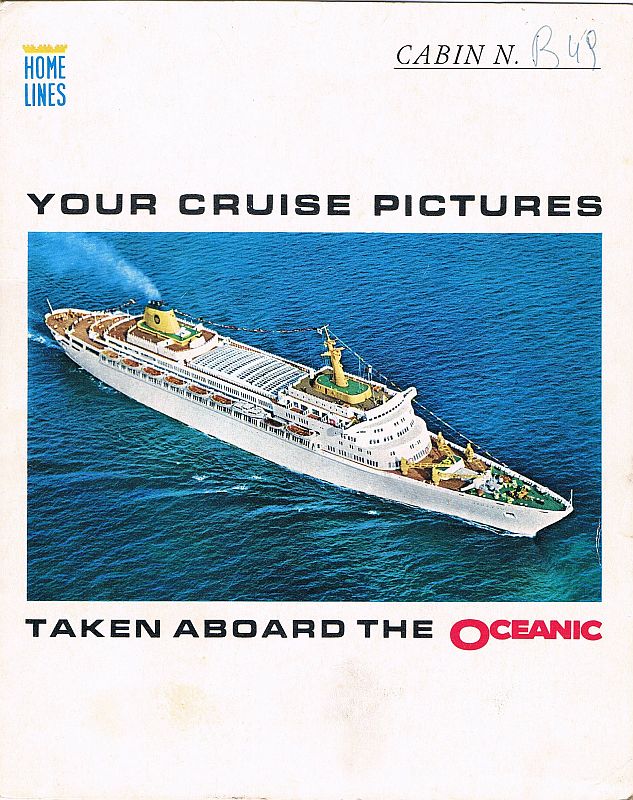 This is a Home Lines official ships photographer photo cover with the traditional image of this fine ship!
Image provided by Debora Alba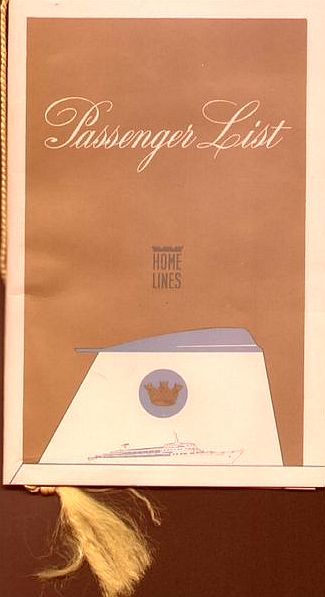 And here is the Passenger List!
The Ship is sold:
Premier Cruise Line:
After 21 years of service and with the ever increasing fuel costs and the arrival of newer ships, Home Line decided to sell the Oceanic, and she was sold to Premier Cruise Line in 1985.
After an extensive refit, she was renamed StarShip Oceanic and commenced cruising for Premier in 1986. Departing from Port Canaveral she undertook mostly three and four night cruises to Nassau and Salt Cay.
Renamed Big Red Boat I, she became known for offering the best cruise value to the Bahamas, which could be combined with a Walt Disney World vacation. Premier added to their fleet, however, it soon became apparent that the company was in severe financial trouble and they finally folded in 2000, leaving a fleet of fine classic liners laid up.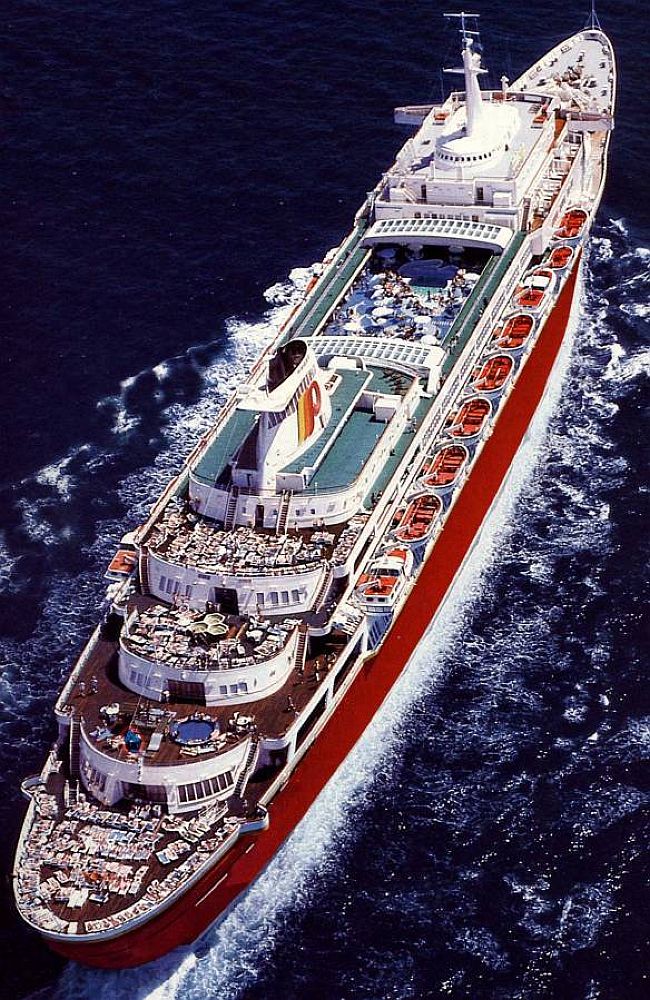 Premier Cruises SS Starship Oceanic seen from the air
Premiers Cruises publicity photo
From the author's collection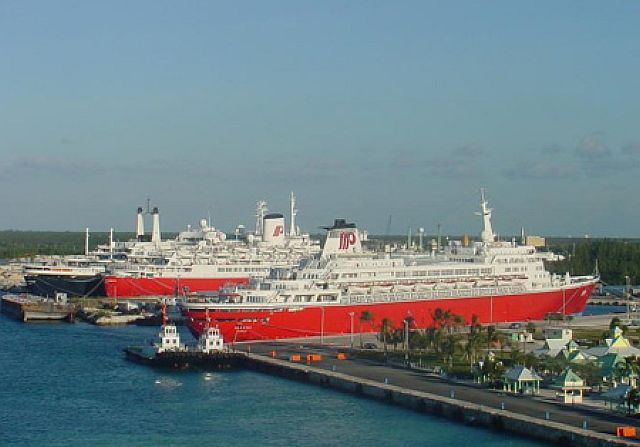 Photograph Above: After Premier went into bankruptcy we see their ships laid up at Freeport in the Bahamas. First we see the Big Red Boat I (ex Oceanic). She is followed by the Big Red Boat III (ex Transvaal Castle), and the Dutch liner SS Rotterdam, which has been restored and is now a successful hotel in Rotterdam - Photographer unknown – Please see photo notes at bottom of page!
Oceanic goes Spanish:
Pullmantur Cruises:
Following the collapse of Premier, Oceanic was acquired by a new Spanish Cruise Company, Pullmantur Cruises who renamed her 'Oceanic' once again. She successfully cruised for this company to the point they have now acquired a good number of other excellent second hand ships.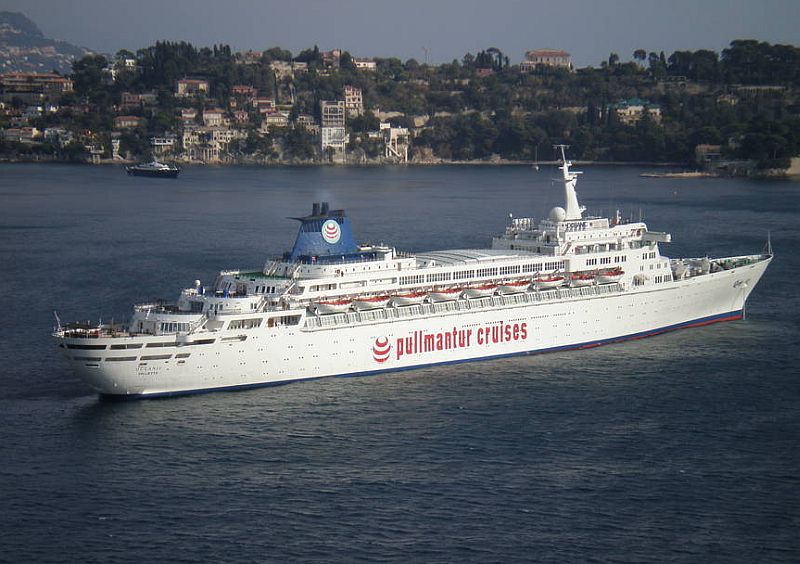 Oceanic with her new bold "Pullmantur Cruises" livery
Photographer unknown – Please see photo notes at bottom of page!
Since entering service with Pullmantur, the Oceanic has been constantly upgraded and refitted with all flammable materials having been removed and thus she was able to pass the 2010 SOLAS regulations. However as stated above, the Oceanic was in superb condition and although due to be sold, she still underwent a dry docking in Gibraltar in January 2009, thus obviously, even Pullmantur believes that she had some life in her yet as a cruise ship. Thus Pullmantur hoped to sell her to another cruise operator, as long it is not their rival Spanish operator. Despite her age and being steam powered ship, she was remarkably fuel efficient. I was told by a Scandinavian engineer who has worked on her a good number of times during her refits, that she burns 6.3 tons of fuel per hour when she sails at a maximum speed of 21 knots, which gives her a daily fuel consumption of around 150 tons. However she normally cruises at 18 knots. We know from the specifications above that when built her max speed was 27.5 knots, but this came at a hefty fuel cost, but her current cruise speed which makes her very economical to run. As a result she was a very popular and successful cruise ship indeed and a viable proposition of a company as this ship was able to sail on with any company well past 2010!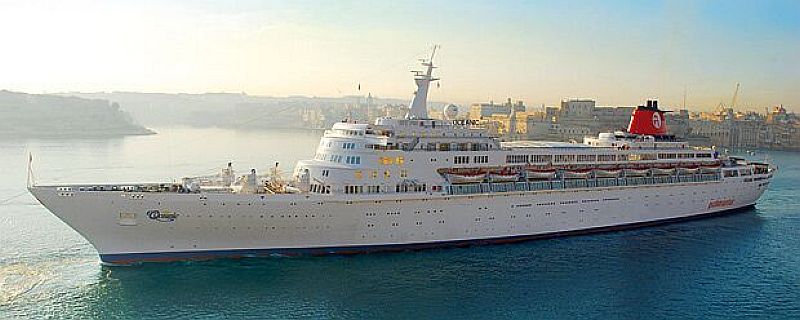 SS Oceanic seen in 2008 with her new low key Pullmantur livery and red funnel
Photograph provided Pullmantur Cruises
Oceanic now Goes Japanese:
Peace Boat:
In February/March 2009 Pullmantur Cruises negotiated a bareboat charter of the superb SS Oceanic to the well known Japanese Peace Boat organization. She was destored in Barcelona before she headed for Japan and to her new operators in April, where Peace Boat took delivery of her. Thankfully they decided to retain her original name. Thus the name Oceanic has been on her hull since the day of her launching, which is very rare indeed, although she was the Big Red Boat I for a short time, but they never removed the Oceanic from her hull completely. Usually most ships are renamed when they join a new company. However, Peace Boat did make a very minor alteration; they added "The" before her name "Oceanic." See a close up of her name high on the ship close to the Bridge and the radar mast above.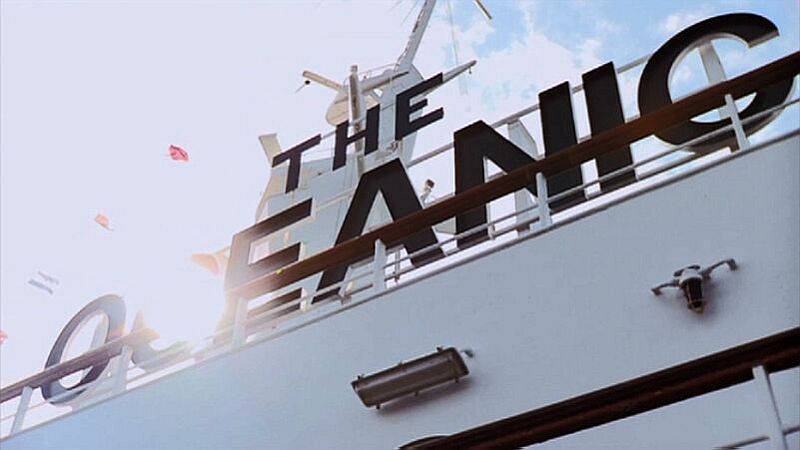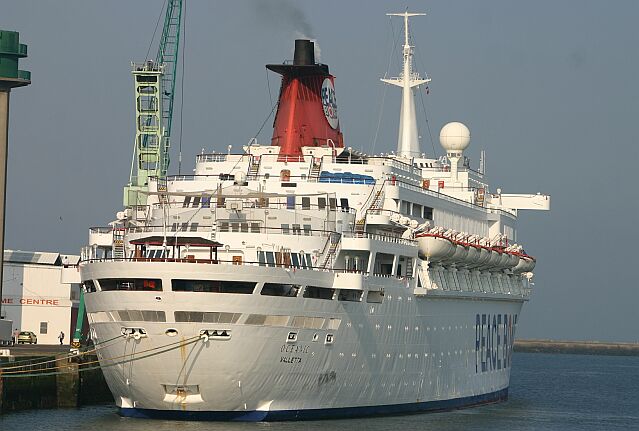 SS Oceanic seen in Le Havre France on 1 June 2009 - Note: she has been registered at Valetta
Photograph © Philippe Brebant France
"The Oceanic" Certifications:
As I have full details of her last survey and dry-docking were undertaken, it became obvious that she would be able sail on for a considerable time as yet! Thus, it is important to understand that Peace Boat has had her fully certified in November, and she is not due for her next full certification until November 4, 2014. But as we now know that was not going to happen!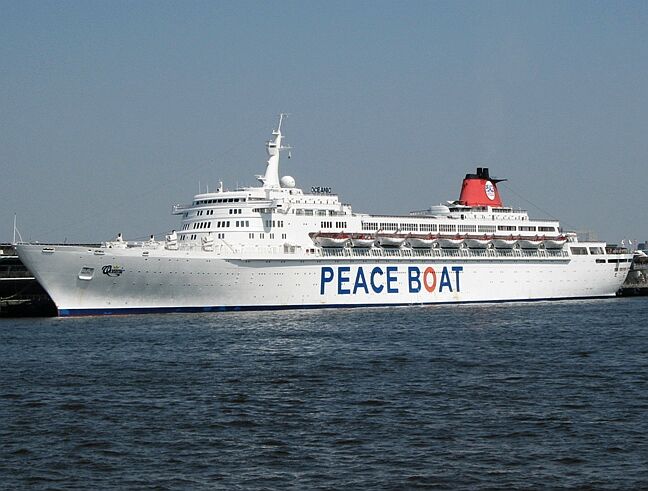 SS Oceanic seen in her busy role at Yokohama
Photograph © Copyright Ken Murayama, Japan
The Next Peace Boat:
News came about early in 2012 that Peace Boat had obtained the ex Carnival cruise ship, which was built as the MV Tropicale, which was their very first newly built Carnival ship in 1981. Later she became the Italian Costa Tropicale. Then in 2005 she became P&O Cruises Australia Pacific Star, however she was sold after some ongoing mechanical problems, which were fixed prior to her sale to Pullmantur Cruises in 2008 and she was renamed Ocean Dream. She was renamed 'Pacific Dream' whilst under charter to the South American-based "Viagens CVC" until April 2012 and she joined Peace Boat soon thereafter!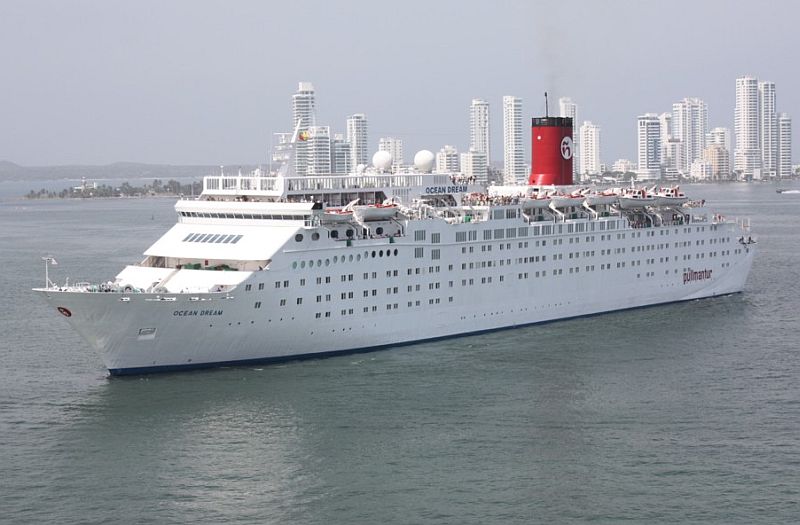 Pullmantur's MV Ocean Dream the new Peace Boat!
A Pullmantur Image
Whilst on its final Peace Boat voyage, the SS Oceanic sailed back into Yakohama on Friday May 5, 2012. Peace Boat returned the ship to her owners Pullmantur Cruises, which they had arranged in exchange for the MV Ocean Dream and she became the new Peace Boat.
The SS Oceanic was sold to a Chinese breaker, and she headed for Zhoushan, China in July 2012 and this still fine ship was sadly broken up,
At that time we did look for buyers, but sadly there was little to no interest in her and there were just no buyers out there for her in those financially tight days.
Remembering a Beautifully Designed Ship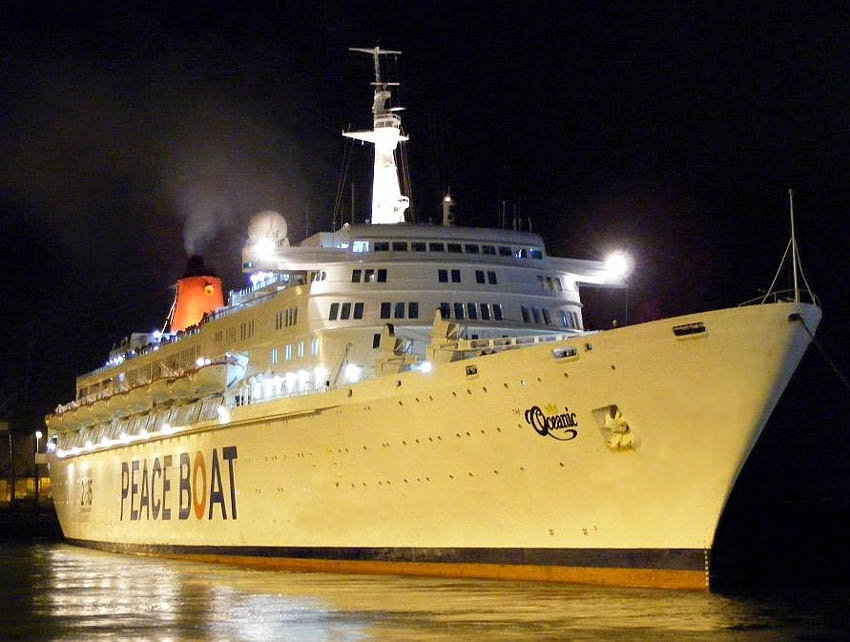 Now named SS "The Oceanic" and she is registered in Panama once again
Photograph kindly provided by P. Massey
View the
Oceanic Photo Album One & Photo Album Two
The two pages above are to be updated
***********************************
"Blue Water Liners sailing to the distant shores.
I watched them come, I watched them go and I watched them die."
Return to the ssMaritime MAIN INDEX
ssMaritime.com & ssMaritime.net
Where you will discover over 1,270 Classic Liners & the 1914 built MV Doulos Story
The Author has been in Passenger Shipping & the Cruise Industry for some 60 years!
Also visit the …
"Save The Classic Liners Campaign"
Founded in the early 1990's - The author is the founder and president
Please Note: ssmaritime and associated sites are 100% non-commercial and the author seeks no funding or favours of any shape or form, never have and never will!
Photographs on ssmaritime and associate pages are by; the author or from the author's private collection. In addition there are some images that have been provided by Shipping Companies and private photographers or collectors. Credit is given to all contributors. However, there are some photographs provided to me without details regarding the photographer/owner concerned. I hereby invite if owners of these images would be so kind to make them-selves known to me (my email address may be found on www.ssmaritime.com only), in order that due credit may be given.
This notice covers all pages; although, and I have done my best to ensure that all photographs are duly credited and that this notice is displaced on each page, that is, when a page is updated!
ssMaritime is owned & © Copyright by Reuben Goossens - All Rights Reserved