Click the logo above to reach the ssMaritime FrontPage for News Updates & "Ship of the Month"
With Reuben Goossens
Maritime Historian, Cruise'n'Ship Reviewer & Author
TSS Olympia
Although now Lost – This was The Save the
TSS Olympia Campaign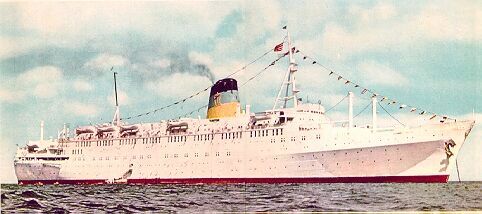 TSS Olympia (currently Regal Empress) was built in 1953
by Alex. Stephen & Sons, Glasgow for the Greek Line
Author's private collection
It had been my sincere hope that some enterprising company would have considered this superbly built ship, which was in top condition as a possible floating Hotel, Tourist, Convention Centre and Maritime Museum. My choice would have been first home to Greece as it was originally planned and we thought that this was set in concrete, but we were massively let down by Rhode Island State Senator Leonidas Raptakis.
Then our second choice was to see her in Glasgow Scotland where she was built, but, it was not to be as, 1. My successor to the "Save The Classic Liners campaign" proved to be, well – "Sterile." And 2; Due to the poor behaviour of the new directors if the cruise company who at first asked a massive price for the ship, she was eventually sold to Alang breakers in India. Details of her final voyage below.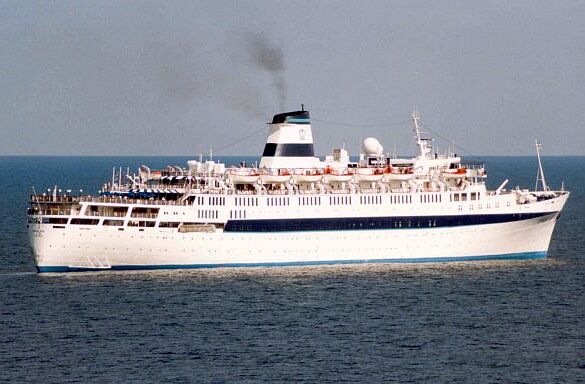 MS Regal Empress with a new livery, and a more suitable funnel Forward on Promenade Deck
six balcony suites were added. Forward there are another four suites with enclosed verandah's
*Photographer unknown – *See note at bottom of page
The tragic end of the …
MV Regal Empress – TSS Olympia
Sadly the ex Greek Line TSS Olympia / Regal Empress has ended her long and proud reign of the sea when she arrived at Alang India on June 18, 2009 and breaking up has commenced and I assume will be by now almost completed.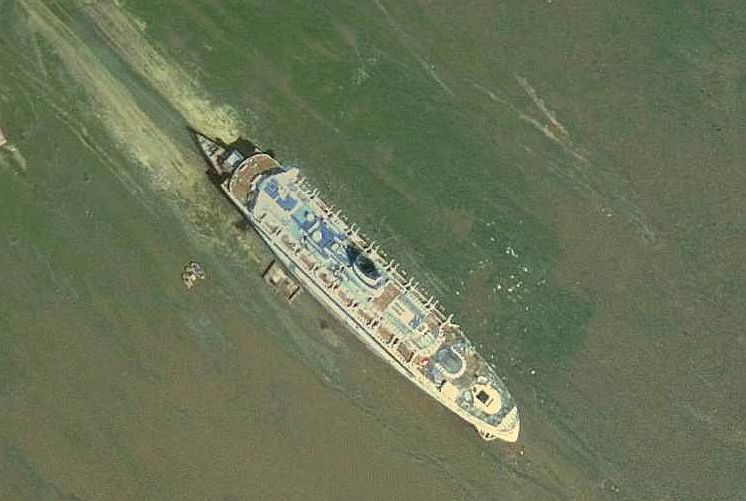 Mid July 2009: The Regal Tmpress is seen here at Alang with 3 small boats on her portside and 1 further forward
They are taking her furnishings and other items from the ship. She is berthed still a long way from the beach at
this time. But at the next high tide (late July) they will winch her closer and closer in order to start cutting her up!
We certainly had a long and difficult campaign to save this fine liner, but after we were let down by that abhorrent American State Senator Leonidas Raptakis it became close to impossible to save her! I wrote the following on the "Save the Classic Liners Campaign" News Updates page.
"Senator Leonidas Raptakis is the ultimate betrayer of the TSS Olympia!
In years past State Senator Leonidas Raptakis made a FIRM commitment, as he made it public in the USA and promised me and thousands of others via my website to save the Regal Empress, the ex TSS Olympia and return her to Greece. In order to do so he did commence some negotiations on it and spoke with her owners even to a point of having an agreement drawn up. I have all the paperwork and all the promises that he made on file. However, for some unknown reason, he decided to drop this great ship without telling me, a ship that would have meant everything to Greece, and instead he commenced a brand new campaign to save an American Liberty ship the Arthur M Huddell, a ship that is currently has been stripped of toxic waste and has headed for Greece. However, this ship has no real value or genuine connection with Greece whatsoever, except for a weak link that some Liberty ships were given to Greece after the war to rebuild their then depleted cargo fleets, but they were never a significant part of their second hand fleet. However all of these ships have been broken up for they meant nothing to Greece, but mere transport. All of Greece's passenger liners were also old tonnage, except for the historic TSS Olympia which was the only Greek Trans Atlantic passenger liner to be ever newly built especially for the country!
Please Note: I am a strong supporter of the preservation of Liberty, Victory and C3 ships, as they indeed have a significant place in history, but, they need to be in the right place. Many naval and merchant marines in America were greatly angered when Leonidas wanted to take the Arthur M Huddell to Greece for she belongs in the USA, and I wholly agree with them, for he stole an American ship from them!"
Farewell TSS Olympia for she has been a fine Greek liner and a superb cruise ship for so many years. She will be sorely missed by all who have sailed on her and those who have admired her from ashore!
PAST NEWS UPDATES
October 2009: MV Regal Empress commenced her way from the Caribbean towards India in April 2009 and she has now been broken up.
This is her end of the line timeline.
April 2      Sails from Freeport, Bahamas. Re-registered in St. Kitts as the Regal Tmpress
April 6      Arrives at Port of Spain, Trinidad
April 16     Departs Trinidad for final transatlantic voyage
April 26     Arrive at Las Palmas . Depart Las Palmas 11 PM for Gibraltar
April 29     Arrives Gibraltar
April 30     Leaves Gibraltar at - destined for Port Said. 13.9 knots
May 9      During her transit she reduces speed
- Flies the "Restricted Manoeuvrability" flag (possible mechanical problems?)
- Enters Greek anchorage near Kalamata
May 11     Departed Greek Anchorage near Kalamata, Greece at travelling at 12.6 knots.
May 14     Arrived at Port Said around
May 15     Transited Suez Canal in the 1st southbound convoy at and exited canal at .
May 19     Passed Port Sudan in the Red Sea
June 18    Anchors off Mumbai (Bombay)
July 23     She was beached today
October    Breaking up commenced
Mar 2010  Breaking up of the Regal Empress has been completed
May 1: MV Regal Tmpress arrived off Gibraltar for supplies and bunkering at on April 29 2009. Having allowed MV Queen Victoria to anchor, Regal Empress dropped anchored around 3 p.m. I have been advised that her port of registration has been changed to St Kitts/Nevis. Currently she has a crew of 24 on board. She departed at on the 30thjfor Port Said and is expected to arrive there on May 6. Currently she is sailing around 14 knots. This news update was sent in by Neil Whitmore.
April 3: The latest news on Regal Tmpress is that she has departed Freeport on April 2 and is bound for India.
March 5: Although it has originally announced that MV Regal Empress was going to depart for her final cruise on February 25, and that the new ship, Bahamas Celebration would arrive in Ft Lauderdale on Feb 24, take over her services in he next week, it seems that there has been a change of heart. Yesterday on Wednesday March 5, Regal Empress departed Ft Lauderdale on her 2 night cruise to the Bahamas fully laden. Good friend, Neil Whitmore, ex Maitre D' on SS Oriana told me that he watched her depart on the Port webcam and said that "She looks full."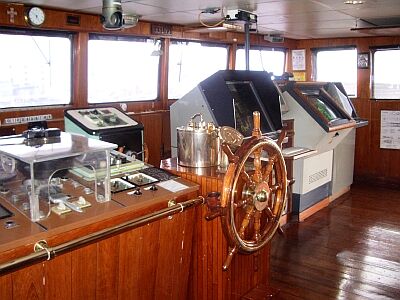 This was her bridge today to the very last day and it was as magnificent as ever
Photo by & © Michael Barnes
Comments:
As can be seen above, her bridge may have been updated with the latest safety and navigation devices, but she certainly had not lost any of her original charm with the abundant fine timber work and original steering wheel, etc.
Regal Empress' past Captain, Captain Sotos lovingly cared for his beloved ship and I know through a friend Michael Barnes, that it was also his great desire to see his baby back home in Greece and become a testament of Greek maritime history, for she is the only ship to be newly built for the Greece to New York service. All other Greek ships were old tonnage that were rebuilt and refitted into good looking ships for the Atlantic or the round the world service to Australia, such as those for Chandris Lines, But, TSS Olympia is one of a kind, a ship than should NOT have been LOST!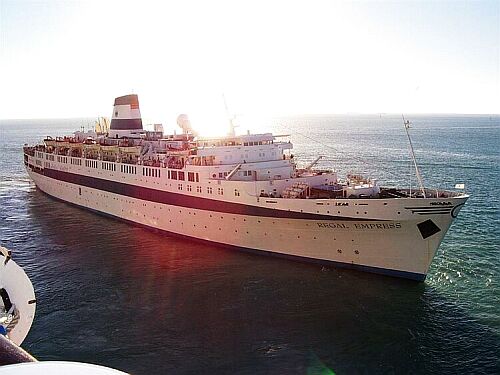 MS Regal Empress retains so much of her original beauty.
Promenade forward, Suites with balconies are located forward of those glazed windows.
The top of her original tripod mast that stood on her bridge can now be seen on her bow
*Photographer unknown – *See note at bottom of page
TSS Olympia INDEX – Note new feature - # 8.
1…      TSS Olympia - The only Greek Trans Atlantic Liner ever to be built. Sold to become the Caribe and Regal Empress
2…      Caribe refit photographs - photos and story by ex crew member Michael Goldsby
4…      Photo Album Two - photos by an Australian passenger, Michael Barnes
6…      The ex Save the TSS Olympia Campaign – The Complete History of the Campaign – With a photo from the air of her at Alang!
7…      Read the Memorandum of Agreement - Proof of how USA Senator Leonidas Raptakis turned TRAITOR and deserted the TSS Olympia!
8…      Birth at Sea – The fascinating story of how Jim (Olympios) Bournelis was born mid Atlantic!
**************************************************
Use the Back button on your browser or Close the Page to return to the previous page
or go to our
INDEX
Who is the Author of ssMaritime?
Commenced in the passenger Shipping Industry in May 1960
ssMaritime.com & ssMaritime.net
Where the ships of the past make history & the 1914 built MV Doulos Story
Also visit my …
"Save The Classic Liners Campaign" & "Classic Ocean Voyages" pages
Photographs on ssmaritime and associate pages are by the author or from the author's private collection. In addition there are some images that have been provided by Shipping Companies and private photographers or collectors. Credit is given to all contributors. However, there are some photographs provided to me without details regarding the photographer/owner concerned. I hereby invite if owners of these images would be so kind to make them-selves known to me (my email address may be found on www.ssmaritime.com only), in order that due credit may be given. I know what it is like, I have seen a multitude of my own photographs on other sites, yet these individuals either refuse to provide credit or remove them when asked, knowing full well that there is no legal comeback when it comes to the net. However, let us show these charlatans up and do the right thing at all times and give credit where credit is due!
This notice covers all pages, although, and I have done my best to ensure that all photographs are duly credited and that this notice is displaced on each page, that is, when a page is updated!
ssMaritime is owned and © Copyright by Reuben Goossens - All Rights Reserved