Click the logo above to reach the ssMaritime FrontPage for News Updates & "Ship of the Month"
With Reuben Goossens
Maritime Historian, Cruise'n'Ship Reviewer & Author
T.S.S. Olympia
Sold to become Caribe, Caribe I, Regal Empress
Sold for scrap in March 2009 and sailed for India as the MV Regal Tmpress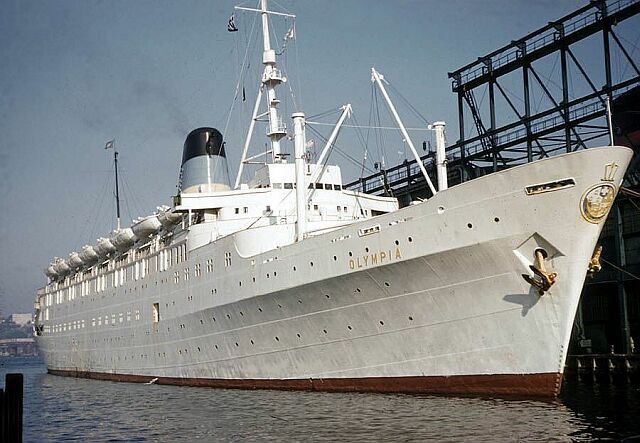 TSS Olympia seen docked in New York City on October 20, 1961
Photograph taken by Victor Srivens - From the Rich Turnwald collection
Regal Empress was built as the TSS Olympia in Glasgow, Scotland in 1953. She was the first and only ship ever to be built for the Greek Line, as well as being the largest built for Greek interests at the time. Olympia was designed to operate regular transatlantic voyages, between Piraeus and New York, but also became a seasonal cruise ship as of 1961.
Olympia was built to accommodate at total of 1,356 passengers, most of these travelling in Tourist Class, carrying only a small number in First Class. She had a number of interchangeable cabins for 146 passengers. The reason she was built as a predominantly Tourist class ship was in response of a demand for cheaper travel during the post-war years. Olympia has eight passenger decks, Sports (Boat) Deck, Sun Deck, Promenade Deck, Upper Deck, Main Deck, A Deck, B Deck, and C Decks.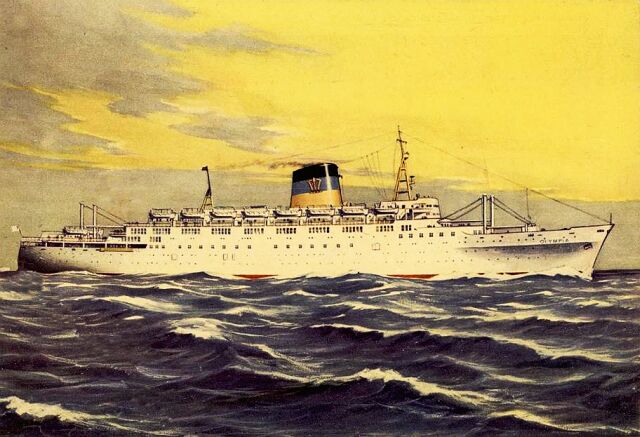 This was the very first postcard of Greece's only ever new build passenger liner … TSS Olympia
Sadly the artist is unknown, but the postcard was a company release
Author's private collection
Each ship in the Greek Line fleet was owned by a separate subsidiary company, the registered owners of the Olympia were the Transatlantic Shipping Corporation.
This fine ship was built by the famed Scottish ship builder Alex-Stephen & Sons in Glasgow in Yard 636. During the time of construction of the Olympia a Mr. C, Philippou was studying at Glasgow University where he worked for his apprenticeship at the Alexander Stephens and Sons ship yards and was given a job on the ship number 636 for which he designed the "Emergency Rudder Arrangements." She was launched on April 16, 1953, although she as Philippou, who is now a Naval Architect & Marine Engineer, advised me that the launching proved to be difficult as the hull would not slip down its blocks. After heating and a great deal of pushing she eventually slipped down and upon entering the water she came very close to the opposite side of the Clyde. Thus, it was a rather eventful launching to say the least!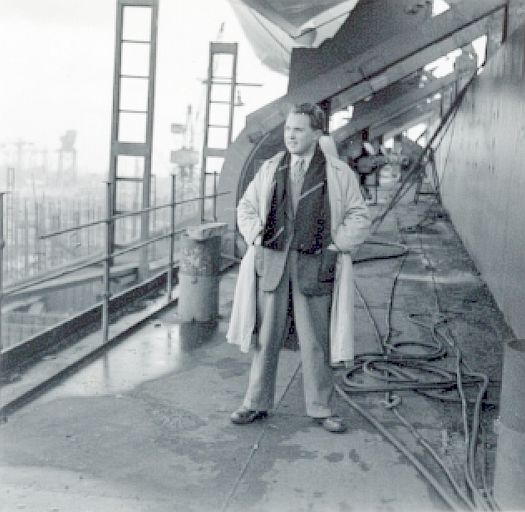 C. Philippou on deck just prior the launching
Photograph © Mr. C. Philippou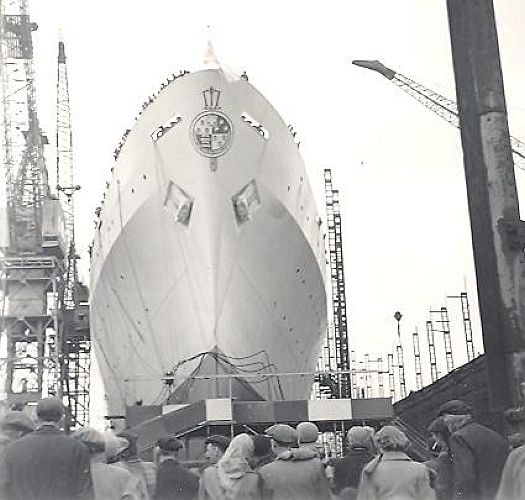 A superb viev of Ship 636's bow during the launching ceremony
Photograph by & © Mr. C. Philippou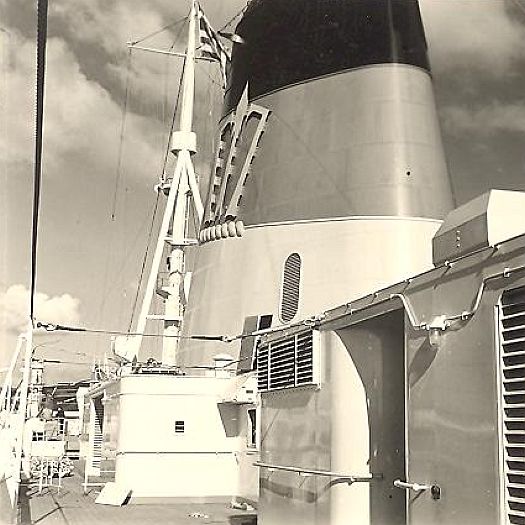 TSS Olympia completed with her funnel looking superb and her decks still needing a clean up!
This photo was taken during her sea trials off Greenock on October 4, 1953.
Photograph by & © Mr. C. Philippou
Ship 636 was still unnamed, which did not occur until October 12, 1953, when she was delivered to the Greek Line and she was then officially named Olympia. She departed on the same day for a voyage from Glasgow sailing via Belfast, Liverpool, Dublin to Southampton. This was a special coastal cruise to introduce the ship to the British. She then departed Southampton for her maiden voyage for New York on the 15th, 1953 with a full complement of passengers.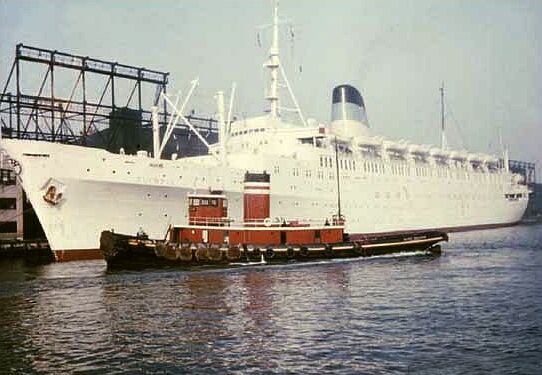 A fine view of the TSS Olympic seen at New York
*Photographer unknown – See photo notes at bottom of page
On November 17 of that year she departed from Bremerhaven and sailed to New York, then, finally on March 26, 1955, the first ever newly built Greek passenger liner, departed New York and sailed for her home port Piraeus. At that time she was re-registered at 17,362 GRT (Greek measurement). In 1961 her service was extended to Limassol and Haifa.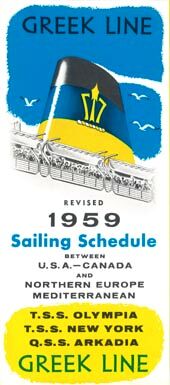 This image of a 1959 Greek Line Sailing Schedule cover was provided by
www.timetableimages.com/maritime/images/shiplist.htm
In the early and mid sixties her ports of call are listed as follows, although they did vary at times: Piraeus, Messina, Naples, Genoa or Lisbon, Halifax, New York. Lisbon, Naples, Messina, Piraeus, Limassol, Haifa, Piraeus. In addition she operated cruises during the winter.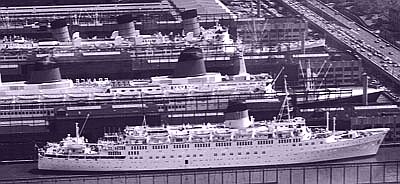 Olympia seen with SS France and RMS Queen Mary in New York
Author's private collection
"The Birth of Olympios"
Obviously, like most ships all have many personal stories to tell and TSS Olympia also has them. I received an interesting email in January 2009 with the following information.
When Olympia departed Greece on April 12, 1960 Mr and Bournelis were passengers bound for New York. Although Bounelis was expecting at the time she was not due until after her arrival in the USA. However on April 19 she gave birth to a baby boy who was duly named Olympios Demetrios. His first name is the ships name and the second the Captain's name, who also became his Godfather during the voyage. They arrived in New York on April 24 with mother and child well! Thank you Jim (Olympios Demetrios) Bournelis for sending us your interesting story! The full details with photographs are on another page – see the link on the index at bottom of page.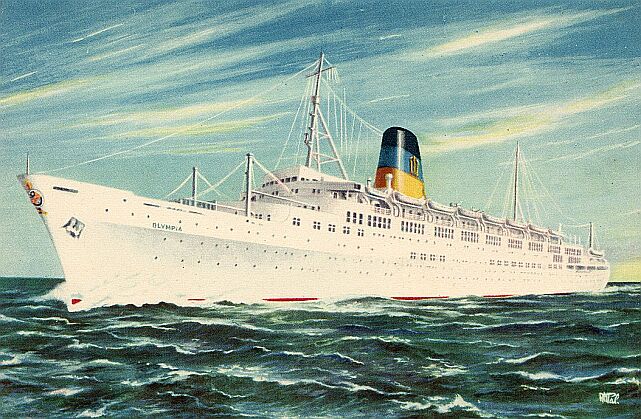 Another artist impression of the impressive TSS Olympia
Postcard provided by Jim Bournelis who was born on the Olympia on April 19, 1960.
TSS Olympia's Specifications
Built:                           1953 Alex. Stephen & Sons Glasgow - Yard 636
Tonnage:                     22,640 GRT (Gross Registered Tons)
Length:                       186.5 m (611ft)
Beam:                         24.1m (79ft)
Draft:                          8.6m (28ft)
Engines:                      Pametrada Steam DR Geared Turbines geared turbines – producing 25,000 shaft horsepower
Screws:                       Two
Speed:                        21 knots (Service Speed)
Passengers:                  Min. 50, max 169 First Class
                                  Min 1,160, max 1,306 Tourist
Stabilizers:                   Flume Stabilizers
Air-conditioning:            Fully air-conditioned
Postcards & Photo's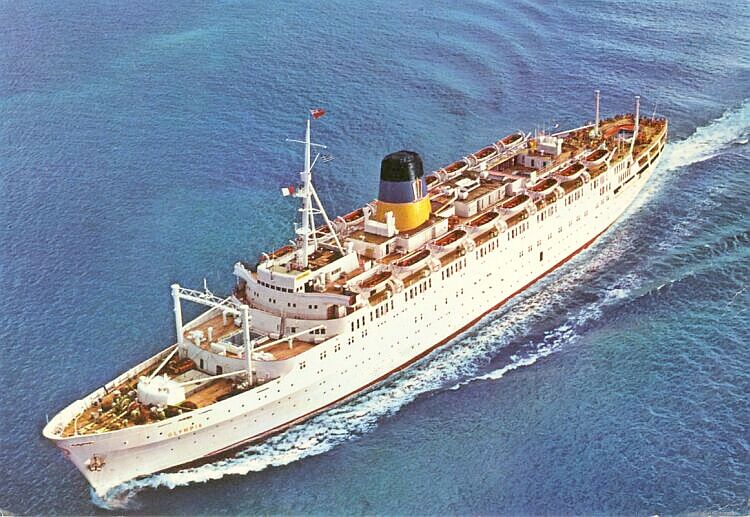 A superb aerial view of the Greek Lines magnificent TSS Olympia
Postcard from the author's private collection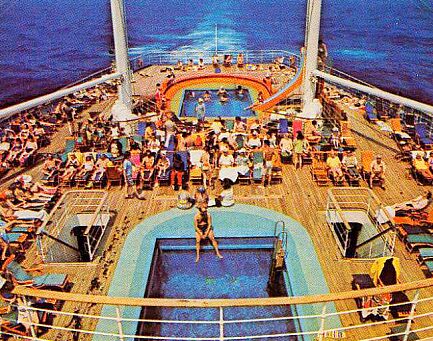 First and Tourist Class Pools
Author's private collection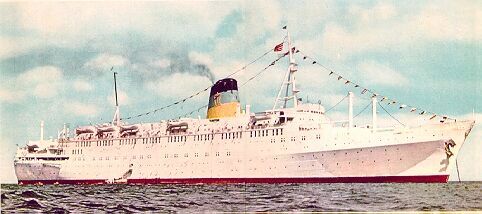 TSS Olympia seen at anchor during a winter cruise
Author's private collection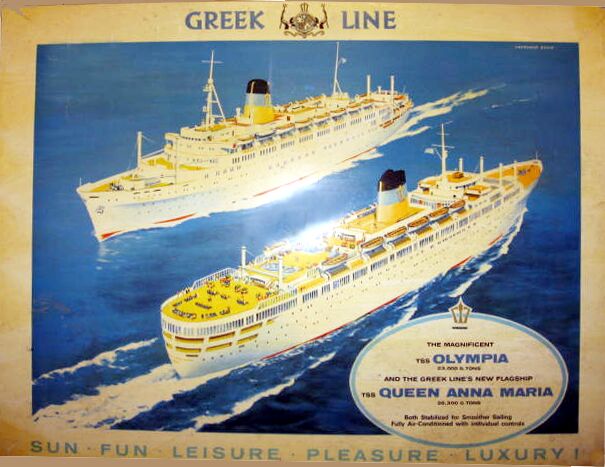 Brochure cover, for the TSS Olympia and her running mate the TSS Queen Anna Maria
Provided by Scotty Helms
In 1961 her service was extended to Haifa Israel, then in 1968, Olympia was re-registered at Andros, under the Greek Flag. Her tonnage was now listed as 17,434 GRT (Greek measurement). By 1970, with the Trans Atlantic traffic declining, she became a one-class cruise ship accommodating 1,030 passengers. However, this proved to be unprofitable, thus in 1974 it was decided to cease operations and Olympia was laid up at Piraeus, where she remained for the next seven years.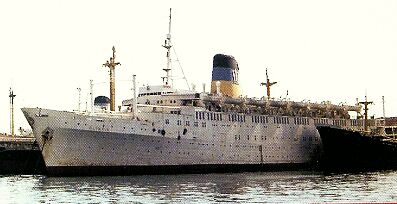 This is a small colour image I have of the TSS Olympia seen laid up in Greece
Photograph by © Nick Hall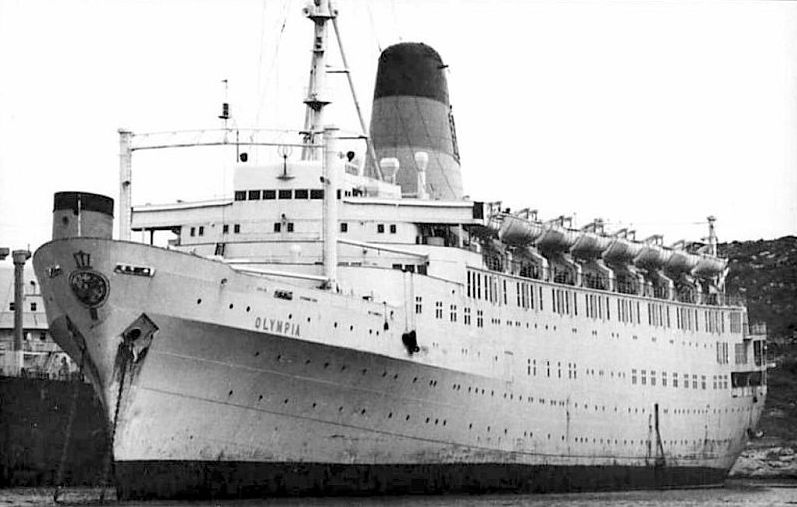 Another photo of her during layup in Greece at an another location
Photographer unknown - * Please see photo notes at bottom of page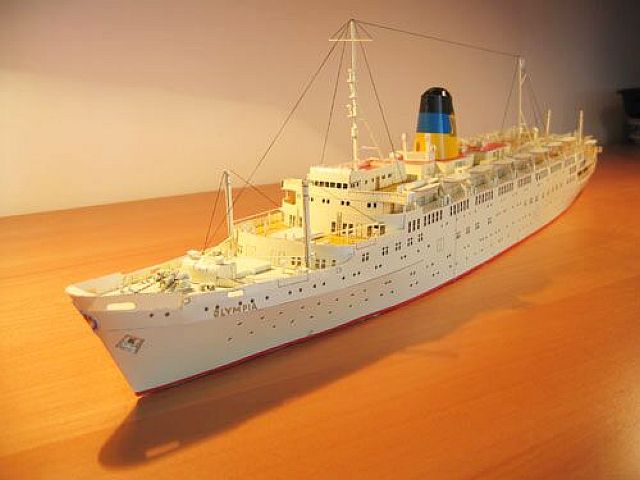 Asuperbly built ship model of the TSS Olympia
Builder and photographer unknown – Please see photo notes at bottom of page
A New Life for Olympia

Caribe with her new 1983 "modern" profile. Also, her original tripod mast was replaced with a new one
But what about that funnel???
Photograph Copyright © Michael Goldsby
With the growing Caribbean cruise industry, Olympia was sold to Sally Shipping GmbH, Bad Schwartau, Germany in 1981, but she remained laid up in Piraeus for another year, but under a German flag. She was towed by the Wotan to Hamburg where she arrived on March 11, 1983, and she received an extensive internal refit readying her for fulltime cruise duties. In addition she received an external makeover, which saw the removal of her funnel, her tripod mast replaced by a modern mast, and her forward and aft kingposts removed in order to turn her into a "modern" streamlined ship. With work complete she received a slight name change and became Caribe I. However, they also replaced her steam turbine engines with new and efficient Klockner-Humbolt-Deutz diesels that would provide 20,270 BHP, giving her a comfortable cruising speed of 18 knots.
Next came a big shock for all those who had sailed on her in the past and dearly loved this fine liner, for a new constructed curved, grilled what you may call a "stylised" funnel was fitted, just aft of where her original funnel had been. It looked hideous!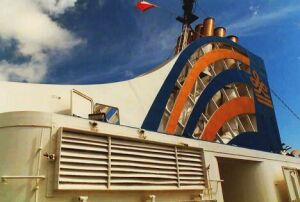 This hideous funnel was fitted to Caribe I
Thankfully it was soon removed and replaced!
Photograph Copyright © Peter Knego
With a new livery, she had been given THE "modern" look and she departed Hamburg on June 29, 1983, joining the 1968 built Boheme in Caribbean and commenced cruising under the management of Commodore Cruise Line Pty Ltd. With Caribe I operating seven night Caribbean cruises from Miami, she soon became a much sought after cruise ship, which much due to her elegant old world atmosphere, something that new ships lacked.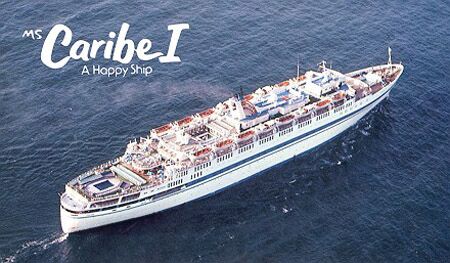 Caribe I postcard
Author's private collection
In 1985 the owners name changed to Olympia Caribbean Shipping Co, Inc, Panama. She was now listed as 14,533 GRT.
In 1988, Caribe I received another refit, which (thankfully) included the removal of that unsightly funnel, and a more conventional funnel was fitted, giving her a more pleasing profile.
Due to strong competition of the larger and more up market cruise ships, Commodore Cruises, decided to sell their ships in 1993. Caribe was sold to the newly formed Regal Cruise Line, who renamed her Regal Empress.
In 1996, Regal Empress was given a new "bolder" livery, with a broad navy blue band on both sides of the ship. In addition her anchor well was pained dark blue and the size of her name on her bow was greatly increased, making her quite distinctive to look at. She was unmistakably the Regal Empress, even from afar.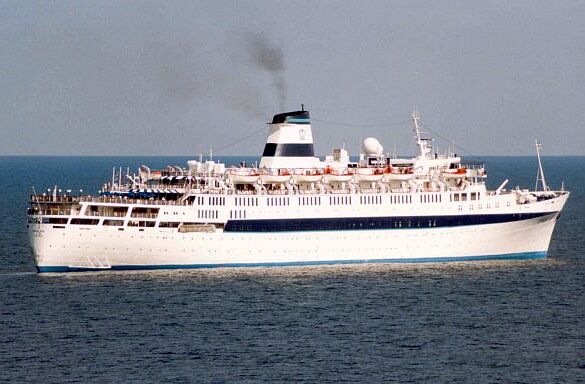 MS Regal Empress with a new livery, and a more suitable funnel Forward on Promenade Deck
six balcony suites were added. Forward there are another four suites with enclosed verandah's
*Photographer unknown – *See note at bottom of page
In 1997 the Regal Empress sailed to Mobile, Alabama for another refit, which included adding balconies to six suites, some with their own Jacuzzis and the forward suites received attractive enclosed Lanai's over looking the bow.
After the sad demise of Regal Cruises, Regal Empress was auctioned off mid 2004, and was sold for what is known in the industry as a "giveaway price." The successful bidder was "Celebration World Cruises" of the Bahamas, who purchased her for Imperial Majesty Cruises (IMC) who had been operating two night cruises to Nassau using the classic SS OceanBreeze, ex Southern Cross. Like her forerunner, Regal Empress became a success story, sailing mostly to capacity, and she has proven to be one of the most profitable ships operating in the Caribbean.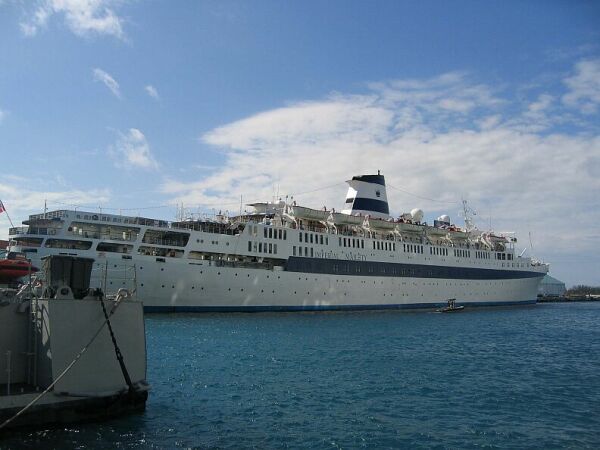 Imperial Cruises MS Regal Empress looks pristine
Photograph Copyright © 2004 Juan A. Figueroa
There is no doubt, Regal Empress has served her all her owners well, however, very soon in 2009 it is said that she will be retired around March/April and will be sold for scrap as IMC had apparently obtained a newer ship. Although no date for her demise has been officially set. Details and updates are located below!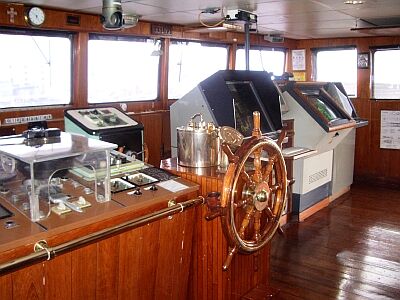 The superbly kept Bridge
Photograph Copyright © 2005 Michael Barnes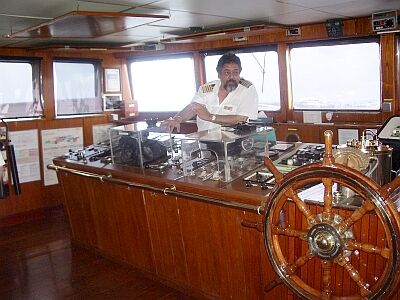 The popular Captain Sottos has been master of the Regal Empress for many Years
Photograph Copyright © 2005 Michael Barnes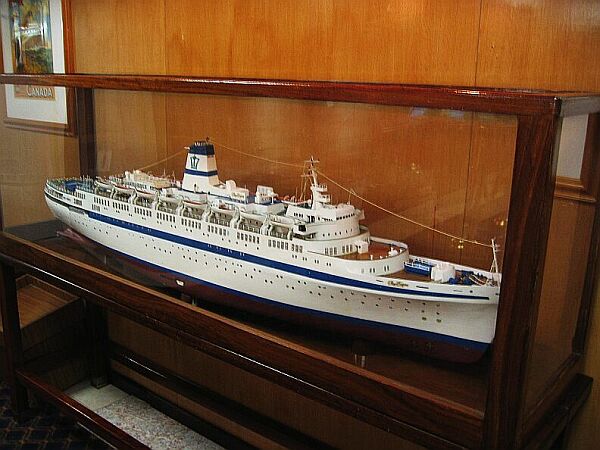 A model of the MV Regal Empress located in the main lobby
Photograph © Copyright 2004 - Juan A. Figueroa (USA)
The tragic end of the …
MV Regal Empress ex TSS Olympia
Update: Sadly the ex Greek Line TSS Olympia / Regal Empress has ended her long and proud reign of the sea when she departed Freeport early in April 2009 sailing towards her final destination of Alang India where she will be broken up. Her voyage took over three months to complete. During her long three month voyage, she was renamed Regal Tmpress. She arrived at Alang India on June 18 and was beached on 24 July 2009. Then in October torches commenced cutting off the bow of the ship. The demolition was finally completed early in 2010.
We had a long and difficult campaign to save this fine liner, but after we were let down by American State Senator Leonidas Raptakis it became close to impossible to save her! I wrote the following on my "Save a Classic Liner" news updates page.
"Senator Leonidas Raptakis is the ultimate betrayer of the TSS Olympia!
In years past State Senator Leonidas Raptakis made a FIRM commitment, as he made it public in the USA and promised me and thousands of others via my website to save the Regal Empress, the ex TSS Olympia and return her to Greece. In order to do so he did commence some negotiations on it and spoke with her owners even to a point of having an agreement drawn up. I have all the paperwork and all the promises that he made on file. However, for some unknown reason, he decided to drop this great ship without telling me, a ship that would have meant everything to Greece, and instead he commenced a brand new campaign to save an American Liberty ship the Arthur M Huddell, a ship that is currently has been stripped of toxic waste and has headed for Greece. However, this ship has no real value or genuine connection with Greece whatsoever, except for a weak link that some Liberty ships were given to Greece after the war to rebuild their then depleted cargo fleets, but they were never a significant part of their second hand fleet. However all of these ships have been broken up for they meant nothing to Greece, but mere transport. All of Greece's passenger liners were also old tonnage, except for the historic TSS Olympia which was the only Greek Trans Atlantic passenger liner to be ever newly built especially for the country!
Please Note: I am a strong supporter of the preservation of Liberty, Victory and C3 ships, as they indeed have a significant place in history, but, they need to be in the right place. Many naval and merchant marines in America were greatly angered when Leonidas wanted to take the Arthur M Huddell to Greece for she belongs in the USA, and I wholly agree with them, for he stole an American ship from them!"
2011 - Late addition: By this date I have received countless emails from people in Greece who are all against the American ship off-loaded on them, and all would have loved the Olympia to have been returned, and they can see that this so-called Greek-American politician was only looking out for his own interests!
Farewell TSS Olympia, she has been a fine Greek liner and a superb cruise ship for so many years. She will be sorely missed by all who have sailed on her and those who have admired her from ashore!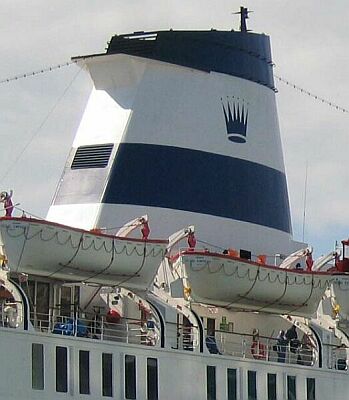 MV Regal Empress was one of the best run and superbly maintained ships anywhere
If only she could be saved for another use!
Photograph Copyright © 2004 Juan A. Figueroa
TSS Olympia INDEX – Note new feature - # 8.
1…      TSS Olympia - The only Greek Trans Atlantic Liner ever to be built. Sold to become the Caribe and Regal Empress
2…      Caribe refit photographs - Photos and story by ex crew member Michael Goldsby
4…      Photo Album Two - Photos by an Australian passenger, Michael Barnes
6…      The ex Save the TSS Olympia Campaign – The History of the Campaign
7…      Read the Memorandum of Agreement - Proof of how Senator Leonidas Raptakis turned TRAITOR and deserted TSS Olympia!
8…      Birth at Sea – The fascinating story of how Jim (Olympios) Bournelis was born mid Atlantic!
**************************************************
Use the Back button on your browser or Close the Page to return to the previous page
or go to our INDEX
Who is the Author of ssMaritime?
Commenced in the passenger Shipping Industry in May 1960
ssMaritime.com & ssMaritime.net
Where the ships of the past make history & the 1914 built MV Doulos Story
Also visit my …
"Save The Classic Liners Campaign" & "Classic Ocean Voyages" pages
Photographs on ssmaritime and associate pages are by the author or from the author's private collection. In addition there are some images that have been provided by Shipping Companies and private photographers or collectors. Credit is given to all contributors. However, there are some photographs provided to me without details regarding the photographer/owner concerned. I hereby invite if owners of these images would be so kind to make them-selves known to me (my email address may be found on www.ssmaritime.com only), in order that due credit may be given. I know what it is like, I have seen a multitude of my own photographs on other sites, yet these individuals either refuse to provide credit or remove them when asked, knowing full well that there is no legal comeback when it comes to the net. However, let us show these charlatans up and do the right thing at all times and give credit where credit is due!
This notice covers all pages, although, and I have done my best to ensure that all photographs are duly credited and that this notice is displaced on each page, that is, when a page is updated!
ssMaritime is owned and © Copyright by Reuben Goossens - All Rights Reserved