The Dutch Liner MS Orange rebuilt to become the Flotta Lauro MS Angelina Lauro 1964/65
Please Note: Firefox and some other search engines are not suitable – Use "Internet Explorer" for this page to load perfectly!

Click the logo above to reach the Cruise-Australia FrontPage for News Updates & "Ship of the Month"
With Reuben Goossens
Maritime Historian, Cruise'n'Ship Reviewer, Author & Lecturer
Please Note: All ssmaritime and my other related ssmaritime sites are 100% non-commercial and privately owned sites. Be assured that I am NOT associated with any cruise or shipping companies or travel/cruise agencies or any other organisations! The author has been in the passenger shipping industry since May 1960 and is now semi-retired, but continues to write article on classic liners and cruise ships in order to better inform cruise and ship enthusiasts for their pleasure!
Flotta Lauro

Lines
MS
Angelina Lauro
Page Two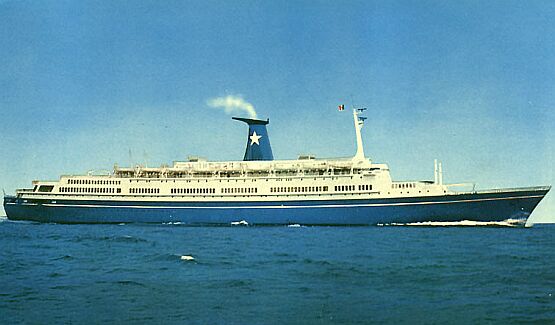 The ex MS Oranje became a modern liner with long sleek lines and a new tall streamlined funnel
Please Note: Photographs and images on this page are from the Author's private collection, unless otherwise mentioned
As a Dutch liner, the MS Oranje served the Netherland Line well for 25 years, however, with passenger numbers dropping for both the Netherland Line and Royal Rotterdam Lloyd (Royal Dutch Mails) they decided to place still beautiful MS Oranje on the market. However, on September 4, 1964 both she and the still in service MS Willem Ruys were both sold to Italian company Flotta Lauro Lines. This company was already well known in Australia having operated a number of ships to and from Australia, and at that time the delightful and popular SS Roma and Sydney were still on the Australian run, but obviously Flotta Lauro decided to obtain two larger and more updated and luxurious ships for their long haul service, as well as for cruise duties.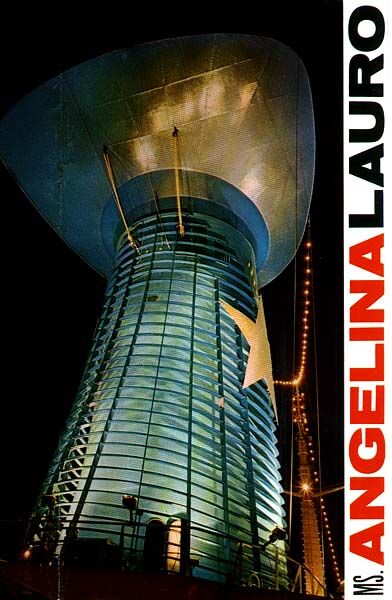 Her new ultra modern finned funnel was futuristic for her day
Oranje was sent to Genoa to be extensively rebuilt at the Cant del Tirreno shipyards. The rebuild would see her Promenade Deck extended forward and deck her decks extended aft, in addition the Promenade deck was fully glazed in. Externally, she was given a sharply raked bow extending her length by 16ft - 4.9m. Another outstanding feature was her tall funnel that was louvered on the aft and sides and topped by a large smoke deflector wing, reminiscent of the two grand Italian liners, the Michelangelo and Raffaello. Whilst her interiors were transformed with typical luxuriant Italian flair, giving her a feel of a brand new ship! Her hull was painted the same blue colour as the funnel and it was adorned with a thin white band. The renamed Angelina Lauro now had a modern, long sleek line and she looked almost yacht like. She was without a doubt one of the more attractive rebuilds of her time. However, she would always reveal her famed Dutch heritage by that famed "tumblehome hull."
However, as she was almost completed, on August 24 and 25, 1965, a fire broke had broken out and it raged onboard and tragically six precious lives were lost onboard the ship. When the fire was quenched and work was able to recommence, but it delayed her completion by a good six months.
She was now listed as 24,377 GRT (Gross Registered Tons), 205.5m - 672.4ft long, 25.50m - 83.6ft wide. Her new passenger configuration allowed for interchange cabins between First and Tourist Class. First Class could accommodate between 180 and 377 passengers and Tourist Class between 946 to 1050 passengers, making a total of 1,230 passengers.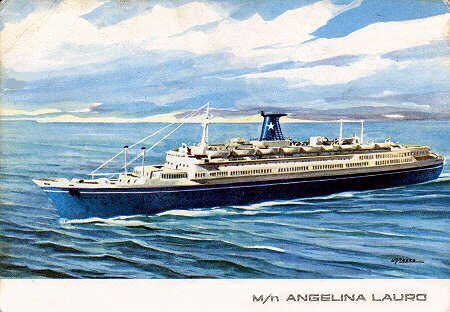 This postcard was release by Flotta Lauro prior her completion
Finally it was on March 6, 1966 when the Angelina Lauro departed on her maiden voyage from Bremerhaven, sailing via the Suez Canal for Fremantle, Melbourne and arriving in Sydney on April 5, 1966. She continued to Wellington New Zealand to off load her passengers there as well as to collect them, She then headed back to Europe via Australia once more and the Suez Canal. Due to the 1967 Middle East crisis like all ships she would have to sail around South Africa as the Suez Canal was closed.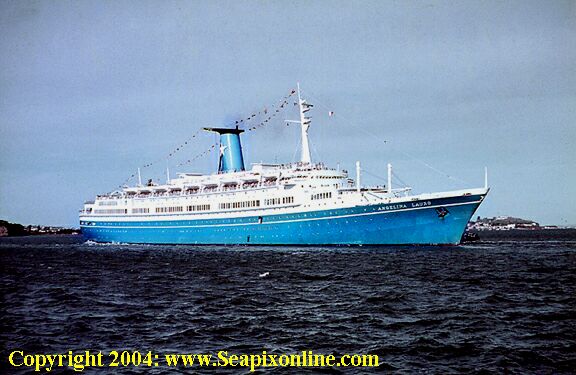 Angelina Lauro is seen departing Auckland New Zealand in the early 70's
Thank you www.seapixonline.com
However, she continued sailing to and from Australia, but due to poor passenger loadings, which is something that all companies were suffering at that time due to the charter flights on the new Jumbo Jets (Boeing 747's) that offered cheap fares and short journeys, Flotta Lauro decided that they would redeploy their ships in 1972, from the Australian service and use them elsewhere as cruise ships.
Thus, the Angelina Lauro departed Southampton in May 1972 and she headed for Australia and having visited Melbourne, she arrived in Sydney on May 16 1972 and remained overnight and departed with another farewell, but it was nothing like it was as when she departed when she was the Oranje, but there were still a good number of people lining the foreshore watching her leave. Amazingly, I have never been able to locate a single photograph of her final departure from Sydney, but at least I have one of her arrival as seen below. Tag Heuer Replica Watches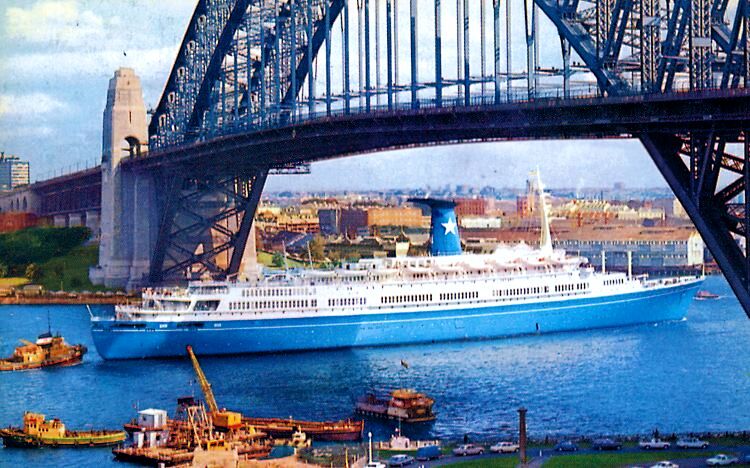 The MS Angelina Lauro is seen here arriving for the very last time to Sydney on May 16, 1972
Upon her return to Italy she received an extensive refit to make her ready her for a new role as a full time cruise ship for she would now accommodate just 800 passengers in a one-class configuration. She was relocated to San Juan from where she operated regular cruises of the Caribbean, but would be managed by another long established Italian shipping company Costa Line and she proved to be very successful.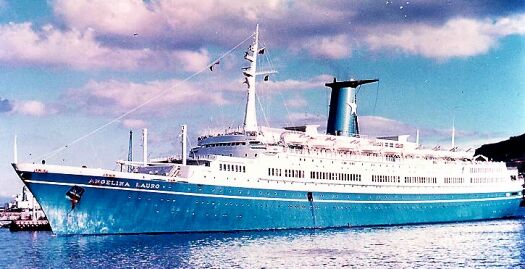 Angelina Lauro seen as a cruise ship
However Costa Line decided that they would charter the Angelina Lauro from Flotta Lauro for 3 years, and they took delivery on October 10, 1977. She was relocated to Port Everglades and commenced cruise duties to the Caribbean. For new role as a Costa Line cruise ship her funnel was been painted yellow, and the Costa logo "C" was placed on the funnel, but her name remained the same. Costa Lines according to their custom of using Christian (first) names, marketed the Angelina Lauro simply as "Angelina." Swiss Replica Watches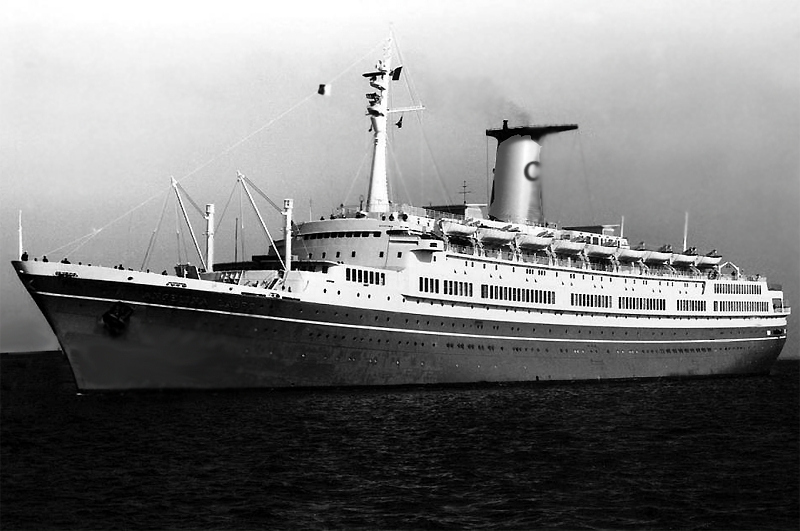 She is seen here in 1977 with her "C." Costa Lines logo on her funnel
As Costa would also operate seasonal cruises in Europe the Angelina Lauro would have to operate a line voyage across the Atlantic from the USA to Italy and for these voyages she would revert to being a two-class configuration.
But there was no doubt that the Angelina Lauro (Angelina) was a very popular cruise ship in the Caribbean, but all that ended on that fateful day on March 30, 1979 when tragedy struck this remarkable and beautiful 40 year old ship.
Below at the INDEX go to Page Three
MS Angelina Lauro was a greatly loved ship in both her guises, as the Dutch liner from the Netherlands to Batavia, her remarkable war duties as the famed Australia Hospital Ship, and a liner bringing thousands of immigrants from the UK and Europe to Australia and New Zealand. Then as the glamorous and modern liner MS Angelina Lauro as she operated to Australia and finally as a popular Italian cruise ship. There was no doubt that this ship had endeared herself to countless thousands, civilians and soldiers alike worldwide!
INDEX:
Page One:??????????? The Oranje Story From shipyard, Wartime until her sale to Italy in 1964.
Page One b:???????? MS Oranje The Walter von Stockhausen Story - "From Stowaway to Naval Cadet."
Page Two:?????????? The Angelina Lauro Story Transformation into an modern Italian liner.
Page Three:???????? Angelina Lauro Photo Page
Page Four:?????????? Angelina Lauro's demise A Tragic Day on March 30, 1979.
Page Five:?????????? Angelina Lauro Deck Plan
Page Six:???????????? MS Orange Passenger list of her very first voyage/cruise 4 Aug 1939 Provided by
.????????????????????????? passenger Dieuwertje Goedkoop. Note: This is the ONLY Passenger List Have!
****************************************
Return to the
ssMaritime Main INDEX
ssMaritime.com & ssMaritime.net
Where the ships of the past make history & the 1914 built MV Doulos Story
Please Note: ssmaritime and associated sites are 100% non-commercial and the author seeks no funding or favours of any shape or form, never have and never will!
Photographs on ssmaritime and associate pages are by the author or from the author's private collection. In addition there are some images that have been provided by Shipping Companies and private photographers or collectors. Credit is given to all contributors. However, there are some photographs provided to me without details regarding the photographer/owner concerned. I hereby invite if owners of these images would be so kind to make them-selves known to me (my email address may be found on www.ssmaritime.com only), in order that due credit may be given.
This notice covers all pages, although, and I have done my best to ensure that all photographs are duly credited and that this notice is displaced on each page, that is, when a page is updated!
ssMaritime is owned & ? Copyright by Reuben Goossens - All Rights Reserved