Flotta Lauro MS Angelina Lauro 1964/65 - Photo Album
Please Note: Firefox and some other search engines are not suitable – Use "Internet Explorer" for this page to load perfectly!

Click the logo above to reach the Cruise-Australia FrontPage for News Updates & "Ship of the Month"
With Reuben Goossens
Maritime Historian, Cruise'n'Ship Reviewer, Author & Lecturer
Please Note: All ssmaritime and my other related ssmaritime sites are 100% non-commercial and privately owned sites. Be assured that I am NOT associated with any cruise or shipping companies or travel/cruise agencies or any other organisations! The author has been in the passenger shipping industry since May 1960 and is now semi-retired, but continues to write article on classic liners and cruise ships in order to better inform cruise and ship enthusiasts for their pleasure!
Flotta Lauro Lines
MS
Angelina Lauro
Page Three - Photo Album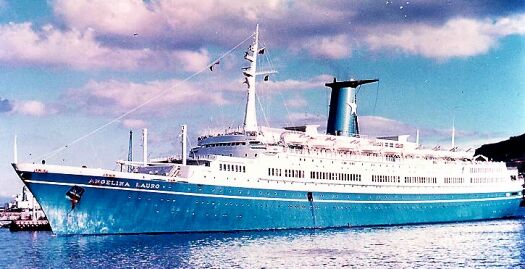 Please Note: All photographs on this page have been lifted from a Flotta Lauro brochure from my private collection. This brochure was issued in the mid sixties when she was still a two-class liner. In addition several images have been lifted from a later brochure that I have of the ship during her early cruising days. I trust that you will enjoy going down memory lane of this fine liner and cruiser ship that received a bright new modern interior. Flotta Lauro stated in this brochure that she was … "A masterpiece of modern interior design"? and she certainly was, and I mean, both her interiors and her sleek exterior!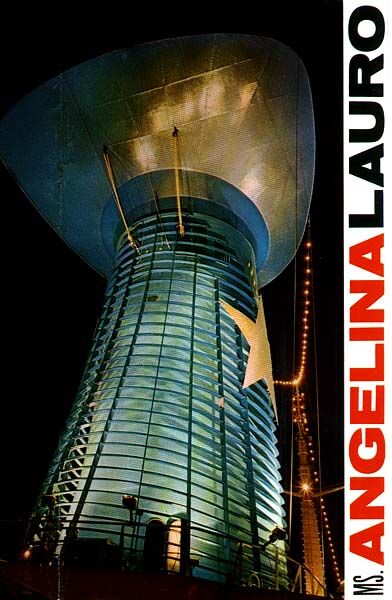 The front cover features that stunning funnel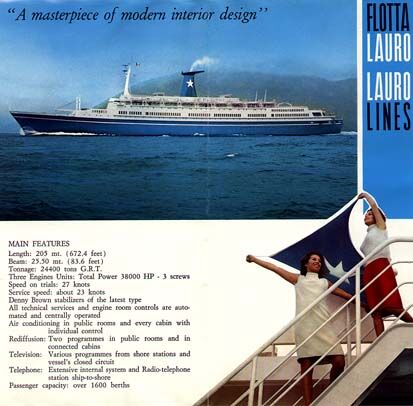 As we open up, this is the inside of the cover Audemars Piguet Replica Watches
First Class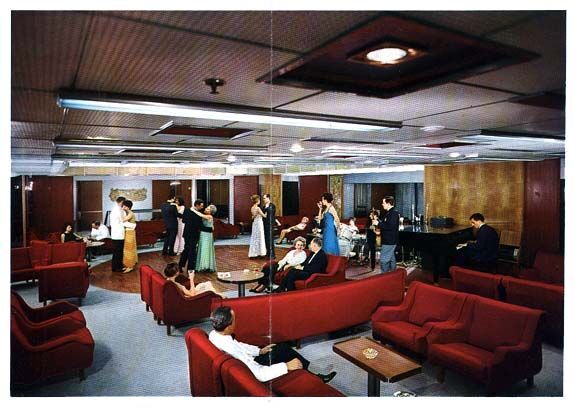 The luxurious Main Lounge and Ballroom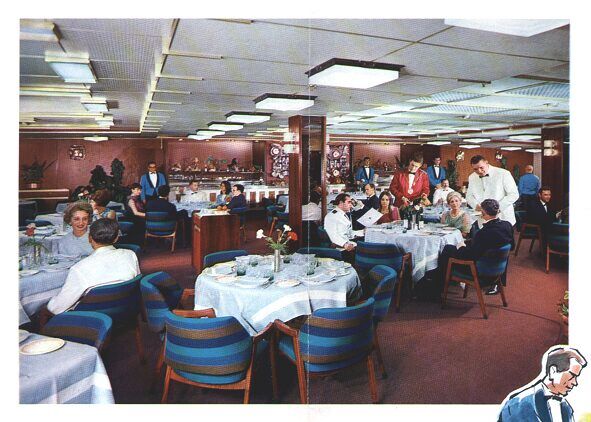 The Dinning Room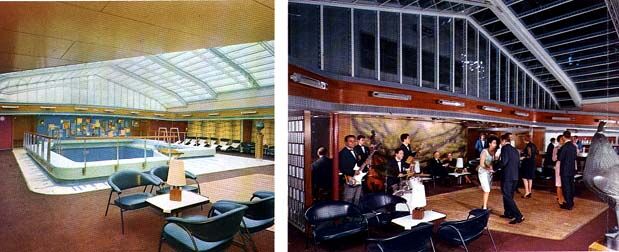 The Swimming Pool that had a unique Night Club with a glass sliding roof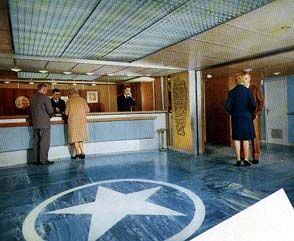 The Lobby and Pursers Office Rolex Replica Watches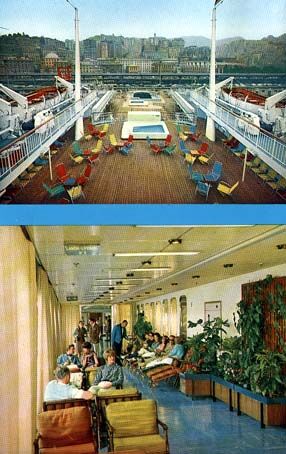 Top: The spacious aft Decks and the pools
Bottom: A fully glass enclosed & air-conditioned Promenade Deck was very popular

Left: Outside Twin bedded cabin - Right: The lounge of one of the luxury Suites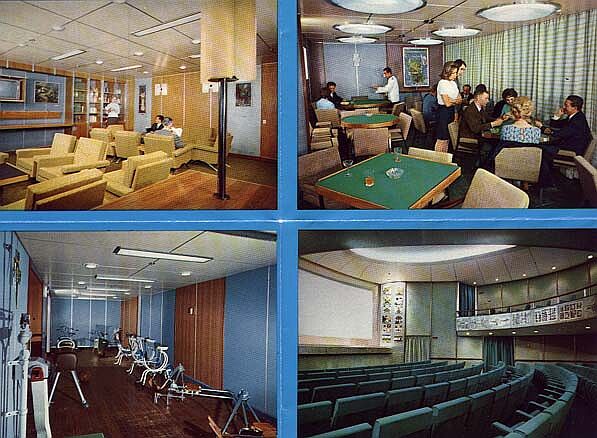 Top Left: The library – Top Right: Card Room
Bottom Left: The Gym – Bottom Right: Cinema/Theatre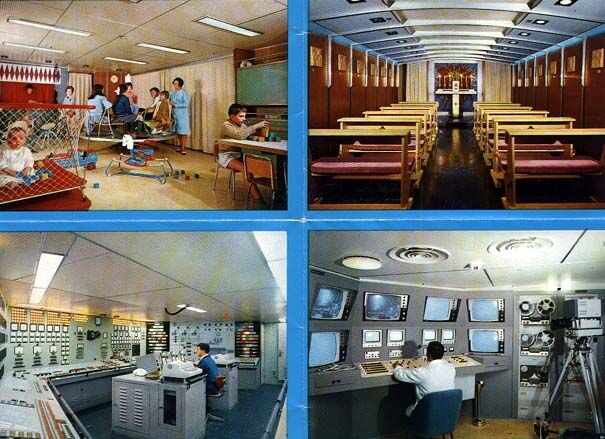 Top Left: Children's Play Room & Nursery – Top Right: Chapel
Bottom Left: Engine control room – Bottom Right: Media & Television control room
Tourist Class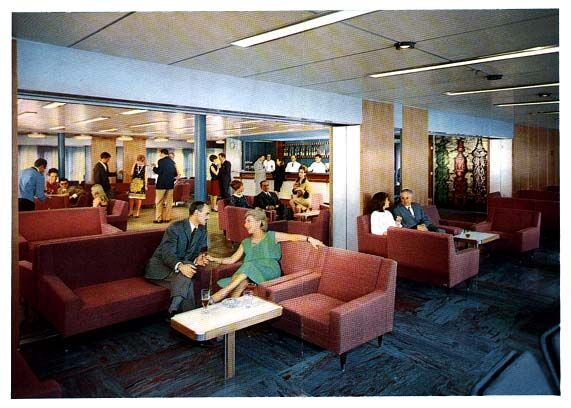 A delightful Main Lounge and Bar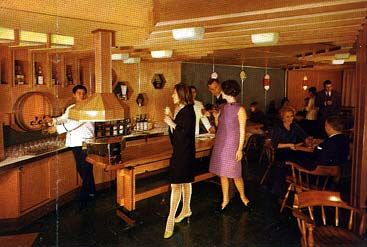 The beautifully timbered Tavern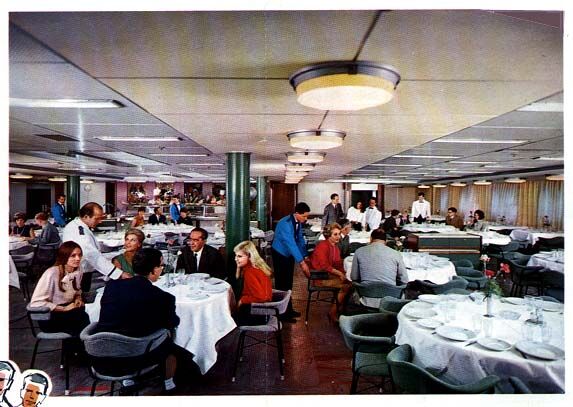 Dinning Room

Left: Outside Double-bedded cabin – Right: Inside Two berth cabin
Click Here to see a large MS Angelina Lauro Interiors Poster
Angelina Lauro the Cruise Ship
The following photographs are from a Flotta Lauro brochure of the cruise ship Angelina Lauro. Although she retained her original funnel markings, she was marketed by Costa Lines who later chartered her outright and gave her the traditional Costa funnel, yellow with a large blue C for Costa.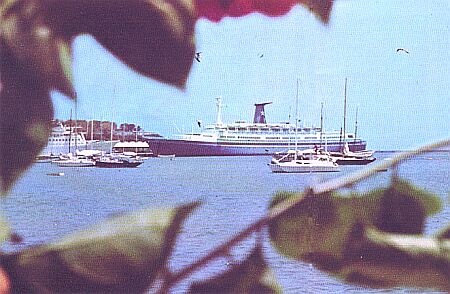 Angelina Lauro in a tranquil port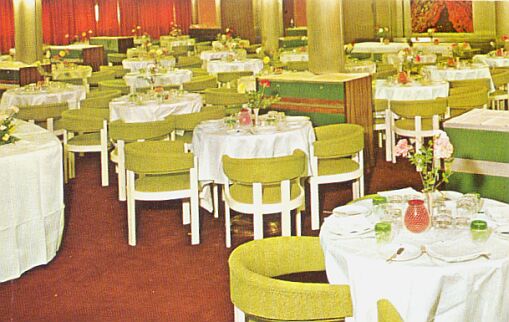 Southern Cross Restaurant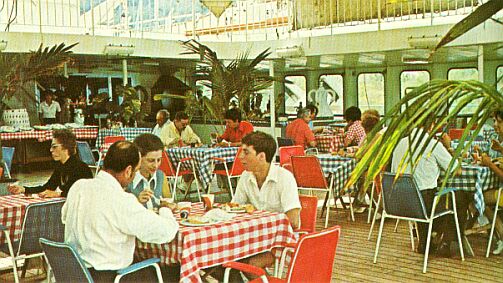 Buffet out on deck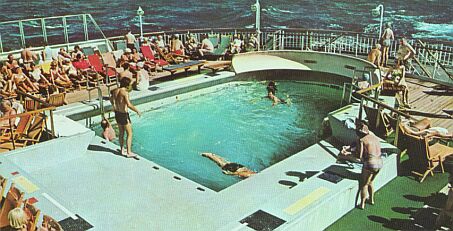 The far Aft Pool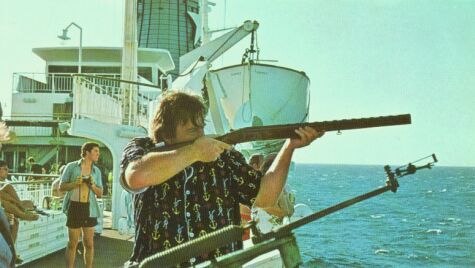 Trap shooting was a popular pastime at sea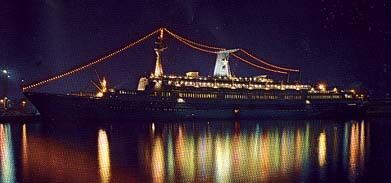 A shimmering beauty!
Below at the INDEX go to Page Four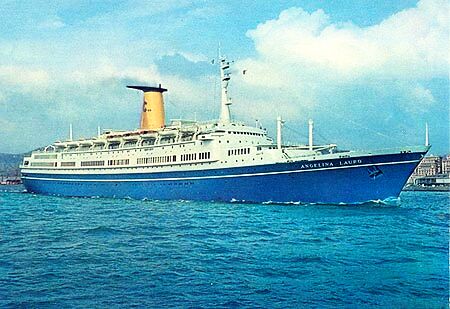 Angelina Lauro under charter to Costa Lines, featuring her new funnel markings
INDEX:
Page One:??????????? The Oranje Story From shipyard, Wartime until her sale to Italy in 1964.
Page One b:???????? MS Oranje The Walter von Stockhausen Story - "From Stowaway to Naval Cadet."
Page Two:?????????? The Angelina Lauro Story Transformation into an modern Italian liner.
Page Three:???????? Angelina Lauro Photo Page
Page Four:?????????? Angelina Lauro's demise A Tragic Day on March 30, 1979.
Page Five:?????????? Angelina Lauro Deck Plan
Page Six:???????????? MS Orange Passenger list of her very first voyage/cruise 4 Aug 1939 Provided by
.????????????????????????? passenger Dieuwertje Goedkoop. Note: This is the ONLY Passenger List Have!
Visit our Main Index for features on other Dutch liners, such as the MS Johan van Oldenbarnevelt, Sibajak, Willem Ruys (Achille Lauro), the TSS Rijndam and her sister the TSS Maasdam, as well as the then Flagship of Holland America Line, the grand SS Rotterdam and the magnificent SS Nieuw Amsterdam, as well as the three simple migrant ships; the SS Waterman, Groote Beer and Zuiderkruis, as well as the famous small, but the "Elegant White Yachts" of Royal Interocean Lines as well as a number of other excellent Dutch Passenger/Cargo ships. All of these can be found on my ssMaritime Main Index below.
****************************************
Return to the
ssMaritime Main INDEX
ssMaritime.com & ssMaritime.net
Where the ships of the past make history & the 1914 built MV Doulos Story
Please Note: ssmaritime and associated sites are 100% non-commercial and the author seeks no funding or favours of any shape or form, never have and never will!
Photographs on ssmaritime and associate pages are by the author or from the author's private collection. In addition there are some images that have been provided by Shipping Companies and private photographers or collectors. Credit is given to all contributors. However, there are some photographs provided to me without details regarding the photographer/owner concerned. I hereby invite if owners of these images would be so kind to make them-selves known to me (my email address may be found on www.ssmaritime.com only), in order that due credit may be given.
This notice covers all pages, although, and I have done my best to ensure that all photographs are duly credited and that this notice is displaced on each page, that is, when a page is updated!
ssMaritime is owned & ? Copyright by Reuben Goossens - All Rights Reserved