Flotta Lauro MS Angelina Lauro 1964/65 - Deck Plan
Please Note: Firefox and some other search engines are not suitable – Use "Internet Explorer" for this page to load perfectly!

Click the logo above to reach the Cruise-Australia FrontPage for News Updates & "Ship of the Month"
With Reuben Goossens
Maritime Historian, Cruise'n'Ship Reviewer, Author & Lecturer
Please Note: All ssmaritime and my other related ssmaritime sites are 100% non-commercial and privately owned sites. Be assured that I am NOT associated with any cruise or shipping companies or travel/cruise agencies or any other organisations! The author has been in the passenger shipping industry since May 1960 and is now semi-retired, but continues to write article on classic liners and cruise ships in order to better inform cruise and ship enthusiasts for their pleasure!
Flotta Lauro

Lines
MS Angelina Lauro
Page Four
--The Tragic end of the ex MS Oranje--
When Fire broke out on March 30, 1979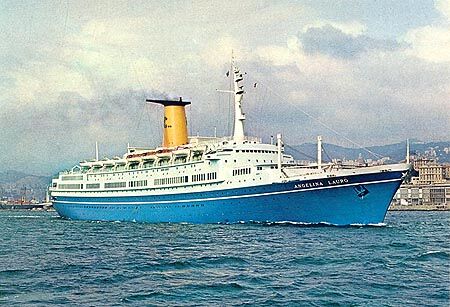 The Costa Lines "Angelina"

seen in her last days

Please Note

: All Photographs (except for postcards above and at bottom of page) of the burning ship were taken bymy dear friend Neil Whitmore, Maitre d'hotel on MV Sun Princess. They were taken between 4.30 & 11.30pm on March 30, 1979, and the final ones of the listing wreck one week later after the Sun Princess had returned to St Thomas as well as the arrival of the Island Princess taken from the stern of the Sun Princess.

On March 30, 1979, whilst on a cruise, Angelina Lauro was berthed at St. Thomas, U.S. Virgin Islands, a fire broke out suddenly in her aft galley and it rapidly spread. It travelled forward through the restaurants as well as a good number of passenger cabins. Although the ship has a well-trained crew and they certainly did everything possible to contain the fire, however the task was simply too great and very soon flames roared high from her top decks. Thankfully, the vast majority of her passengers and crew were ashore when the fire broke out and all those who were onboard did manage to disembark safely.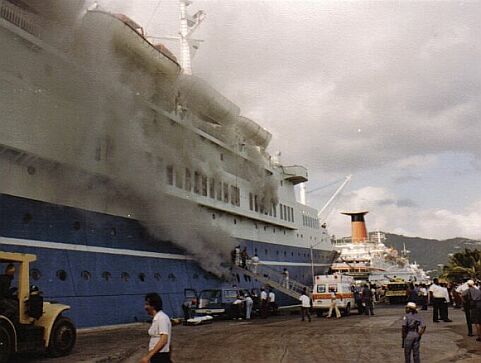 Fire has forged its way forward. Note activity still taking place on the gangplank
Although a number of attempts were made to tow her away from the wharf; but this failed, which was mostly due to the massive weight of the water that had been pumped into the ship, thus she ended up sitting on the shallow bottom, with a list to port. But thankfully there was no loss of life or any major casualties!
My dear friend, Neil Whitmore, the Maitre d'hotel on Sun Princess added the following in regard to the tragic story …
"Most of the ships in port that day were on the final day of their seven day Caribbean cruise having commenced from San Juan. As a result, passengers from the Angelina Lauro were divided into groups between the various ships in port taken aboard for an overnight voyage back to San Juan.
Most of Angelina's passengers had been ashore in shorts and tops and had lost all their belongings in the fire thus some of our passengers gave them items of clothing. Sun Princess took 400 of Angelina's passengers and provided them with a substantial self-service buffet dinner and a continental breakfast the next morning before they disembarked in San Juan where they were flown home to the mainland of the USA. But it certainly stretched our catering facilities."
The Angelina Lauro was declared to be a total loss and she remained dockside for a long three months. Eventually a German salvage company, Eckhardt & Company of Hamburg was awarded the contract to raise her from the bottom and have her refloated. This was achieved in a good time on July 2, 1979.
Photo Gallery of the Tragedy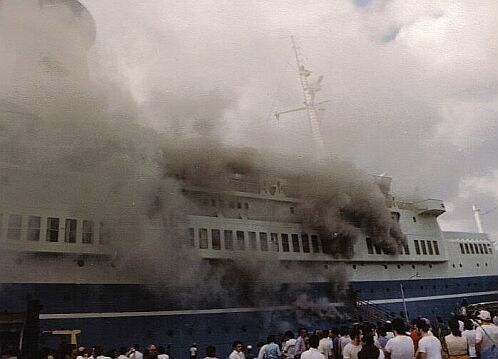 Passengers and locals watch dockside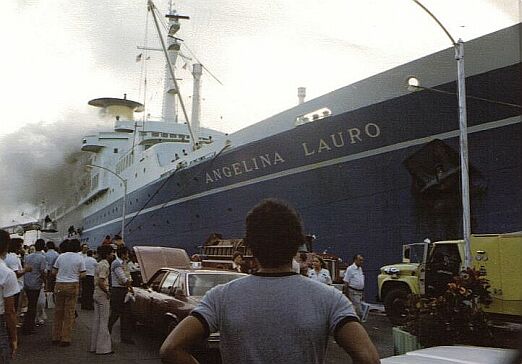 A proud ex Classic Dutch Liner nears her end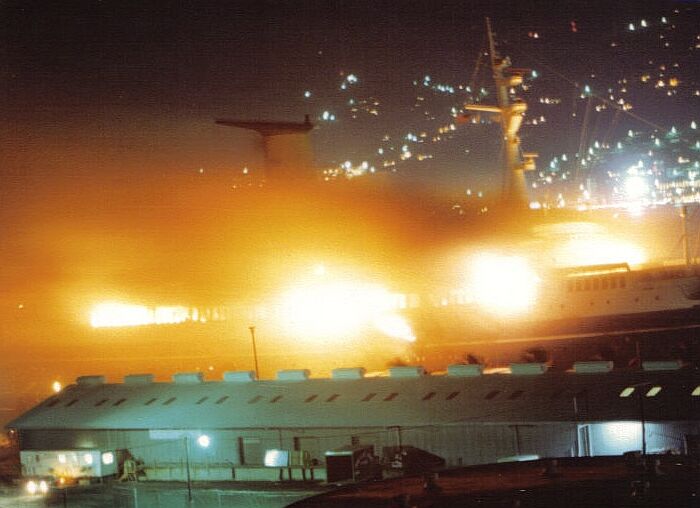 At 11.30pm, although tragic, Angelina Lauro provides St Thomas with a massive light show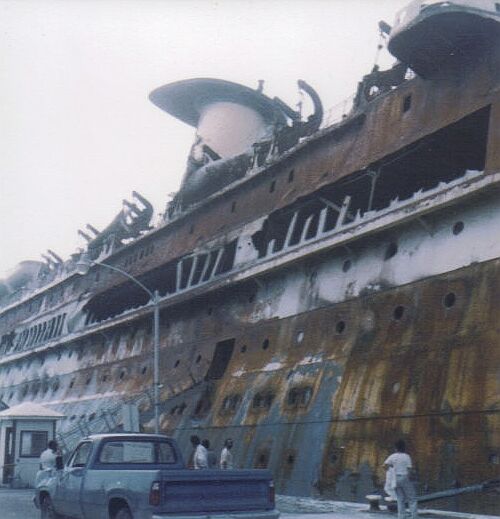 One week later she has burned herself out and now this once magnificent looking ship is just a tragic sight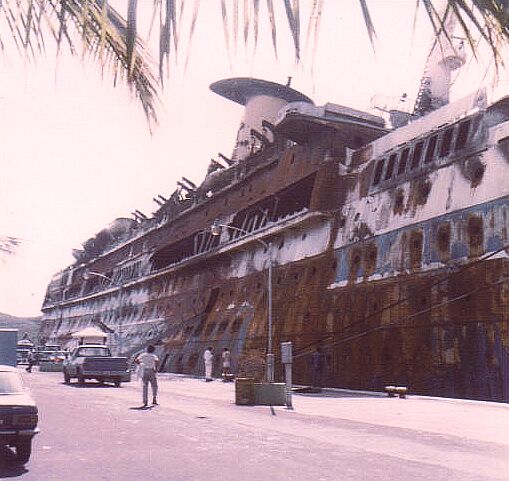 To look at her here, it is so hard to believe this fine liner has given so many people "A voyage of a lifetime!"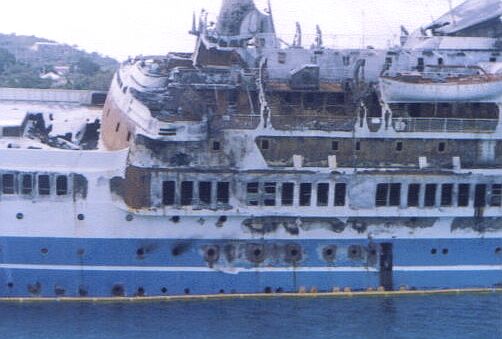 Note the oil slick protector that surrounds the ship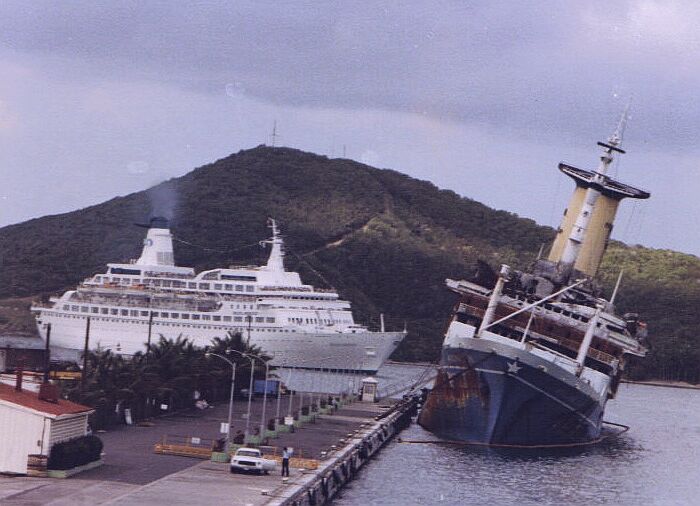 A dramatic photograph of the Angelina Lauro, whilst the Island Princess enters the port
The wreck of the Angelina Lauro had been sold for scrap to Taiwanese ship breakers and thus she departed under-tow on July 30. She successfully navigated the Panama Canal and headed across the Pacific towards Asia.
However, on September 21, being mid Pacific, Angelina Lauro's fire affected warped hull plates she began to take on water, which saw her slowly listing. Even though her list increased, she remained afloat for three days, but, by the evening of the 23rd.she was almost fully on her side. It was not until early the next morning of September 24, 1979 just before sunrise that the Angelina Lauro the ex 1939-built MS Oranje slowly slipped under beneath the waves and sank.
Considering that the Oranje departed on her maiden voyage on September 4, 1939, it was twenty days after her fortieth year milestone that she passed beneath the waves. Amazingly, her previous running mate the MS Willem Ruys, that became the Achille Lauro, which became well known for the terrorist attack in Egypt, she continued cruising until November 1994, when she caught fire and sank on December 2, 1994, thus both ships ended the same way in Italian hands!
Below at the INDEX go to Page Five
Memories
This fine ship gave 40 years of excellent service to both the Netherland line as MS Oranje, then Flotta Lauro Line as MS Angelina Lauro! To this day, past passengers email me with stories of their voyage on the Dutch liner or the Italian Liner and later a cruise ship. All had joyful memories and simply loved to talk about her features, experiences and not to forget the many love stories. No doubt, they, and all who sailed on her as a passenger or crew member, will always fondly remember her.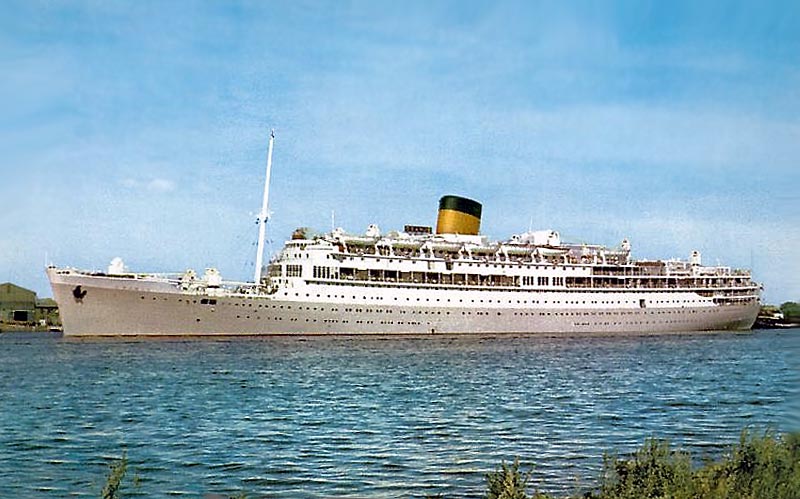 MS Oranje seen in the very early 1960s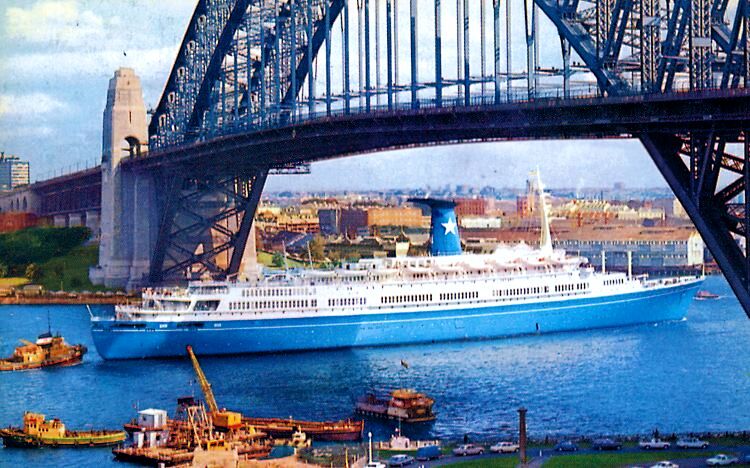 The MS Angelina Lauro is seen here arriving for the very last time to Sydney on May 16, 1972
INDEX:
Page One:            The Oranje Story From shipyard, Wartime until her sale to Italy in 1964.
Page One b:         MS Oranje The Walter von Stockhausen Story - "From Stowaway to Naval Cadet."
Page Two:           The Angelina Lauro Story Transformation into an modern Italian liner.
Page Three:         Angelina Lauro Photo Page
Page Four:           Angelina Lauro's demise A Tragic Day on March 30, 1979.
Page Five:           Angelina Lauro Deck Plan
Page Six:             MS Orange Passenger list of her very first voyage/cruise 4 Aug 1939 Provided by
.                          passenger Dieuwertje Goedkoop. Note: This is the ONLY Passenger List Have!
Visit our Main Index for features on other Dutch liners, such as the MS Johan van Oldenbarnevelt, Sibajak, Willem Ruys (Achille Lauro), the TSS Rijndam and her sister the TSS Maasdam, as well as the then Flagship of Holland America Line, the grand SS Rotterdam and the magnificent SS Nieuw Amsterdam, as well as the three simple migrant ships; the SS Waterman, Groote Beer and Zuiderkruis, as well as the famous small, but the "Elegant White Yachts" of Royal Interocean Lines as well as a number of other excellent Dutch Passenger/Cargo ships. All of these can be found on my ssMaritime Main Index below.
****************************************
Return to the
ssMaritime Main INDEX
ssMaritime.com & ssMaritime.net
Where the ships of the past make history & the 1914 built MV Doulos Story
Please Note: ssmaritime and associated sites are 100% non-commercial and the author seeks no funding or favours of any shape or form, never have and never will!
Photographs on ssmaritime and associate pages are by the author or from the author's private collection. In addition there are some images that have been provided by Shipping Companies and private photographers or collectors. Credit is given to all contributors. However, there are some photographs provided to me without details regarding the photographer/owner concerned. I hereby invite if owners of these images would be so kind to make them-selves known to me (my email address may be found on www.ssmaritime.com only), in order that due credit may be given.
This notice covers all pages, although, and I have done my best to ensure that all photographs are duly credited and that this notice is displaced on each page, that is, when a page is updated!
ssMaritime is owned & © Copyright by Reuben Goossens - All Rights Reserved