Please Note: Firefox and some other search engines are not suitable – Use "Internet Explorer" for this page to load perfectly!
Click the logo above to reach the ssMaritime FrontPage for News Updates & "Ship of the Month"
With Reuben Goossens
Maritime Historian, Cruise'n'Ship Reviewer, Author & Lecturer
Please Note: All ssMaritime and my other related ssMaritime sites are 100% non-commercial and privately owned sites. Be assured that my sites have never been associated with any cruise or shipping companies or travel/cruise agencies or any other organisations! The author commenced working in the Passenger Shipping Industry back in 1960 but is now very much retired and I hope that the well over 625 articles on classic liners and cruise ships that I have written will continue to inform and also bring much joy to ship enthusiasts for many more years to come!
"Orient Steam Navigation Company"
Orient Lines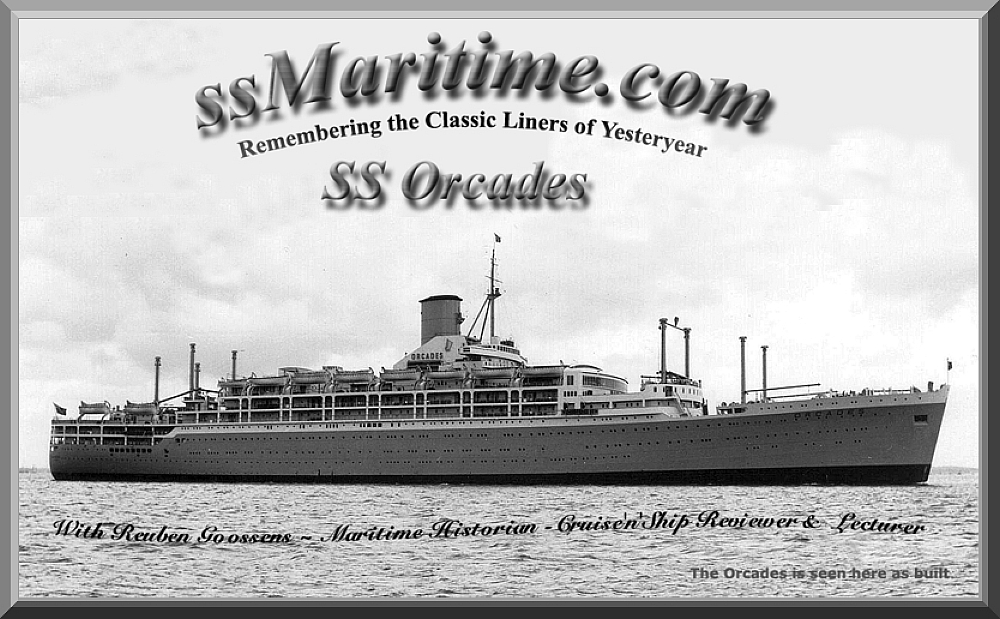 Photographs and images on this page are from the Author's private collection, unless marked otherwise
Introduction - The first SS & RMS Orcades' of 1921 & 1937.
SS Orcades (I):
In 1914 Orient Line was the proud owner of a fleet some eight fine liners that operated on their Australian service. However, by 1919 they were left with just three as well as the new RMS Ormonde, thus they were in need of further ships urgently! In order to re-establish Orient Line to their full strength they needed to obtain some suitable ships and to so three surrendered German liners were obtained to fill the gap. The SS Orcades (I) was the second of these.
Thus obviously the 9,764 GRT (Gross Registered Ton) SS Orcades (I) was not built for Orient Steam Navigation Company, but she was built in 1903 at the Bremen Vulkan Ship Yard at Vegesack for the North German Lloyd. She was launched as the SS Prinz Ludwig on May 12, 1906. She was operated on Germany to South American services until she was laid up in Germany from 1914 through to 1918 due to the World War I.
At the conclusion of the War, as part of the war reparations the SS Prinz Ludwig like other German ships came under control of the British Shipping Controller in 1919 and she was managed for the British Government by P&O. As the War had concluded there were countless thousands of Australian soldiers to be repatriations from Europe and she made several voyages to Australia in this role. Late in 1920 the Prinz Ludwig was laid up awaiting her next role, which came quickly for Orient Line was looking for ships.
In 1921 the Prinz Ludwig was purchased outright by the Orient Steam Navigation Company (Orient Line) when she was given an extensive refit and was became SS Orcades (I).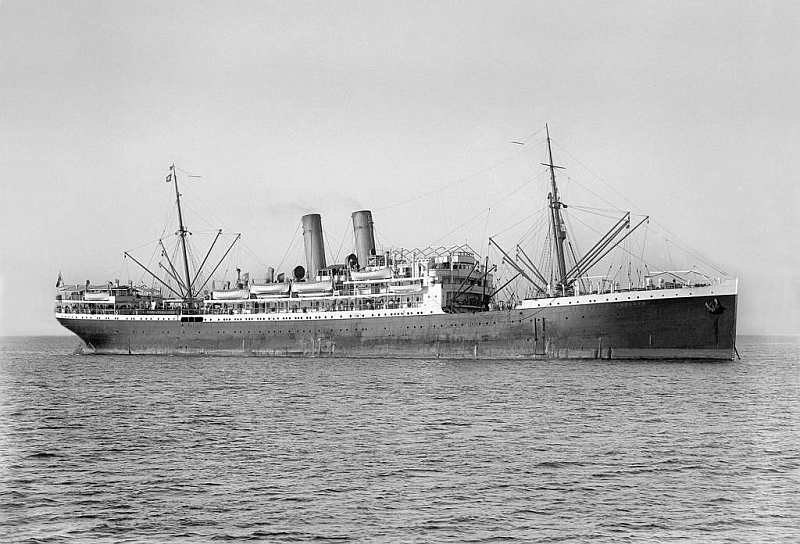 SS Orcades (I)
After her refit she accommodated a comfortable 599 passengers, 123 First Class and 476 Third Class, and she commenced on that very busy Australian service on October 21, 1921. Due to her slower speed she operated on a secondary service, which was separate from the "mail service" thus she being prefixed SS and never RMS. Although she was never the best arrangement for Orient Line, but she was a stop gap until Orient Line could built their new fleet of ships, the first being to be scheduled to come into service in 1924, the next in 1925 and then the SS Orcades could be withdrawn.
She departed London for her final voyage for Orient Line on September 20, 1924 upon her return she was placed on the market and the Orcades was laid up but was sold in due course and broken up at Bremerhaven Germany in 1925.
Specifications: Length: 492ft - 150m, Width: 58ft - 17.7m, Draught: 26.9ft - 8.2m. Motive Power: Quadruple Steam Expansion Engines. Screws: Two, Speed: 15 Knots.
********************************************
RMS Orcades (II):
The 23, 456 GRT - RMS Orcades (II) was a fine British liner built by Vickers Armstrong Ltd, at Barrow-in-Furness, England. She was launched by Mrs. I. C. Geddes, being the wife of an Orient Line executive, on Tuesday December 1, 1936. She was handed over to her owners in July 1937 and in the following month she undertook her maiden voyage, being a 26 day Mediterranean cruise.
Although the main reason she was built was to operate on the UK to Australia service as a Royal Mail Ship and she did so from 1937. RMS Orcades accommodation 463 First Class and 605 Second (Tourist) Class passengers and her single-reduction Parsons steam turbines drove twin screws, which gave her an excellent service speed of 21 knots. During her two years of service prior to the outbreak of World War II, she became a very popular liner, both for her line voyages between England and New Zealand and Australia as well as on cruises from London and Southampton.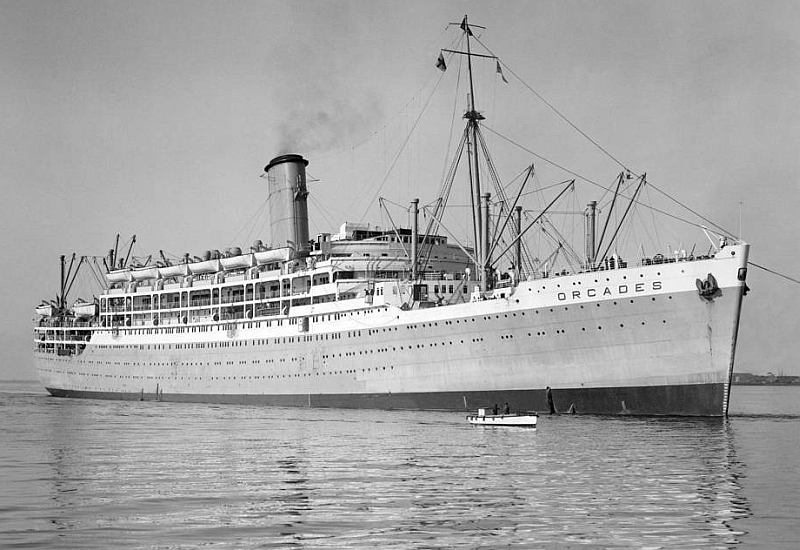 RMS Orcades (II) - 1937-1942
She was an improved version of her earlier sister the RMS Orion
For interest, Orcades (II) as well as her sister ship, RMS Orion's interior décor and fittings had been designed by New Zealand born modernist architect Mr. Brian O'Rorke.
But, with the war having commenced, in 1939, she was requisitioned by the British Government to be refitted to become a troopship and she was given the prefix of HMT (His Majesty Trooper) in that same year. She served valiantly however tragically disaster awaited this superb liner/trooper within a short few years.
During 1940, 41 and 42 the HMT Orcades carried troops to the various theatres of war, and wherever they were needed.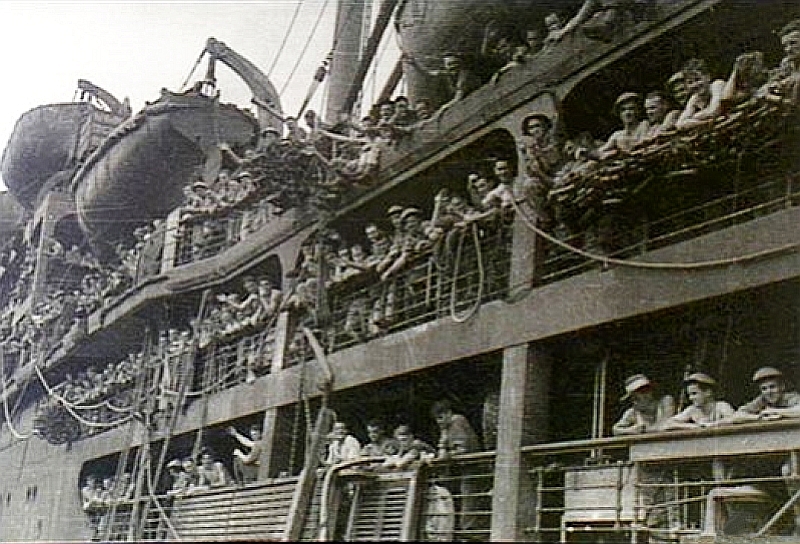 Here we see Australian and British troops on board the Orcades (II) in 1941
Australian War archives
HMT Orcades under the commanded of Captain Charles Fox departed Liverpool on a grey day in the early autumn of 1942 for a voyage to South Africa and sadly it was to be her last voyage. Having arrived safely, Captain Fox was unaware that late in August that four German U-Boats, including the U-172 had left their home ports bound for the busy sea lanes off Cape Town. Their mission was code named "Operation Polar Bear" and the idea was to create total havoc for all Allied shipping to and from the Cape, and they had orders that they were not to engage in action before October 8th, 1942.
Sadly the Orcades departed Cape Town on October 9, 1942, then on the next day the 10th at about 11:30 in the morning she was suddenly hit by 2 torpedoes from the German U-Boat - U-172, however Orcades was not badly damaged and did not sink. Then came a third torpedo, but it missed, a fourth torpedo soon followed and that one was a direct hit and on target doing a great deal of damage, which meant a call from the Bridge to "abandon ship." She commenced to sink rapidly and she settled beneath the waves around 14:00.
The Orcades had a complement of 1,067 on board, after the sinking there was a loss of 45 lives, but thankfully there were a good 1,022 survivors who were picked up by the SS Narvik being a Polish steamship of 7,000-tons. Apparently the U-172 was a 9C type submarine, commanded by Captain Carl Emmerman was born in Hamburg in March 1915.
For comprehensive details of the attack and sinking of the HMT Orcades (II) please visit: www.uboat.net/allies/merchants/2258.html.
********************************************
RMS Orcades (III):
Orient Steam Navigation Company (Orient Line) 1948-1966.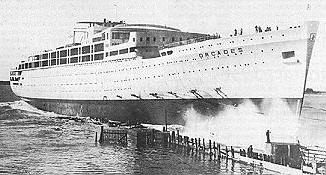 With the tragic loss of Orcades (II) Orient Line decided to build a new and a larger ship of the same name. They decided to take the best of the original design, but vastly modernise this new ship and the outcome became the new template for the next two new Orient Line ships, being the Oronsay (1951) and the last of the trio, the much improved version the Orsova (1954).
Here we the Launching of the Orcades on October 14, 1947.
The order to build the new Orcades was given once more to the builder who had constructed Orcades (II), which had been completed in 1937 being Vickers Armstrong Ltd at Barrow-in-Furness and her hull was laid down in yard 950.
She was launched in October 1947 and was completed just over a year later on November 14, 1948. She underwent her deep sea trials that same month and achieved a respectable 24.74 knots. The cost to build the RMS Orcades was £3,418,000.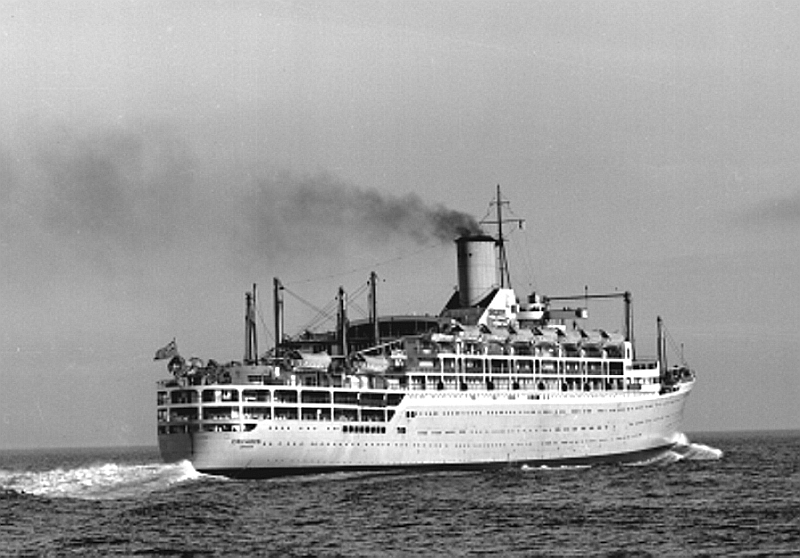 Orcades seen during her sea trails
The Orcades was the very first post war passenger liner built for Orient Lines and it should be known that she shared her hull with the P&O Lines Himalaya (1949), however Orcades' superstructure was quite different indeed, for this ship commenced had a commenced a totally new look for Orient Line liners, considering that now the bridge had been located almost amidships and it was crowned by a tripod mast with an upright funnel, that had just a slight angle that sat up high directly aft of the tripod mast.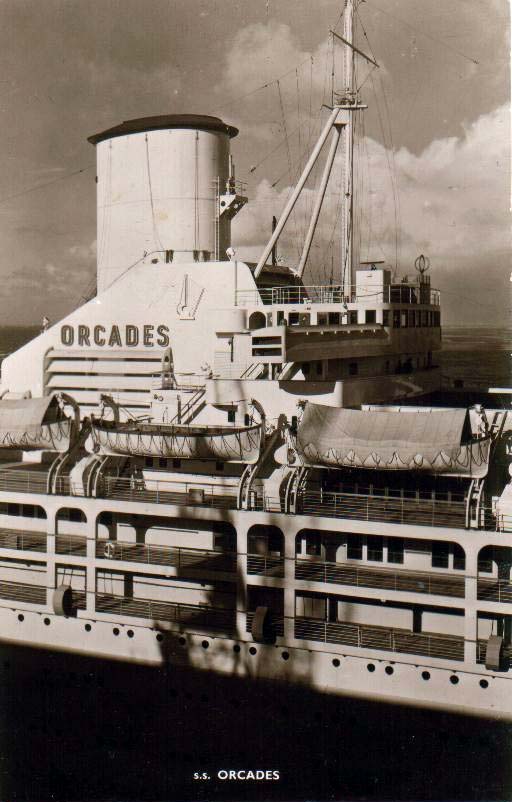 A view of her amidships Bridge, the tripod mast and funnel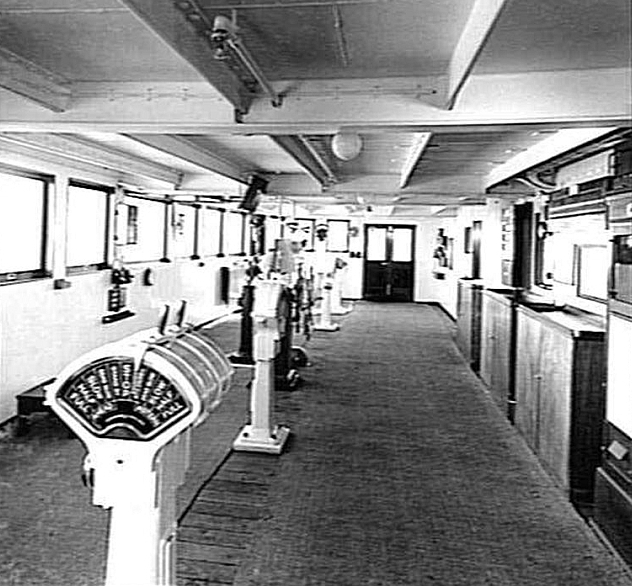 The vital part of the ship located amidships is Orcades' Bridge
In addition the traditional two tall (main) masts were also been done away with, instead there were four king posts forward and aft with their respective derricks to handle cargo. All this combined with a new glazed in first class Stadium Look-out forward of the Stadium sports deck, and this gave her that unique look of the new Orient liners of the 50s!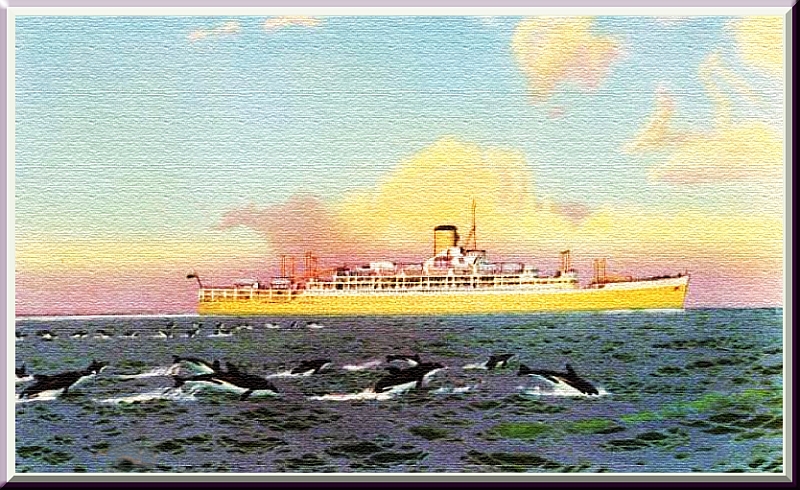 This is the first artist impression released of Orient Lines new liner RMS Orcades revealing
A new look of the Orient Line liners without their traditional tall masts
There was no doubt that the Orcades set a new standard in style externally at the time, but also she offered high standards in her facilities and accommodations. She offered many fine lounges as well as other facilities such as shops, hair saloons, hospital, swimming pool, and a vast range of cabin choices.
Countless immigrants sailed to Australia ton the Orcades and they have emailed the author regarding her delightful style and that feeling of "old world style of luxury" that they experienced whilst they were on board, regardless if they where in First or Tourist, or even later when she had become a One Class ship! But as built she was a Two Class ship and offered accommodations for 773 First Class, and 772 Tourist Class passengers.
Before we continue with her history and even with her maiden voyage, let us go on board and discover this understated, yet elegant liner!
Orcades Photo Album 1948 including the 1959 refit
Please Note: all exterior images of the ship are of her prior to the 1959 refit & the funnel extension!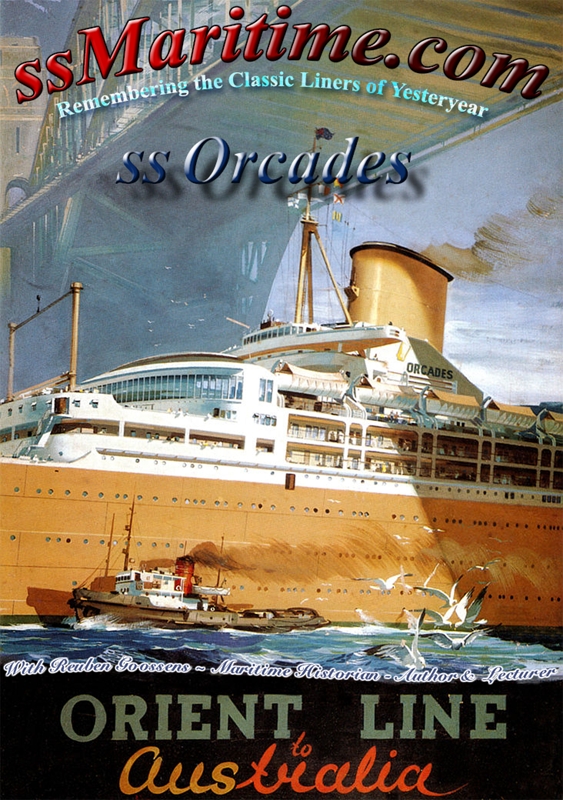 Minus the ssMaritime data, which the author added … this was the Original poster promoting Orient Lines and their two new liners
The … RMS Orcades and the soon to arrive RMS Oronsay new services to Australia
First Class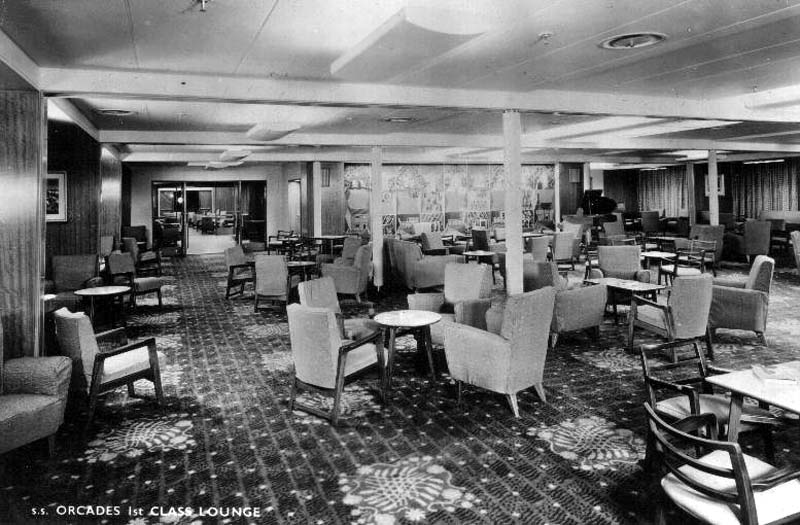 Main Lounge - looking aft to the Lobby and Galleries on both sides leading into the Ballroom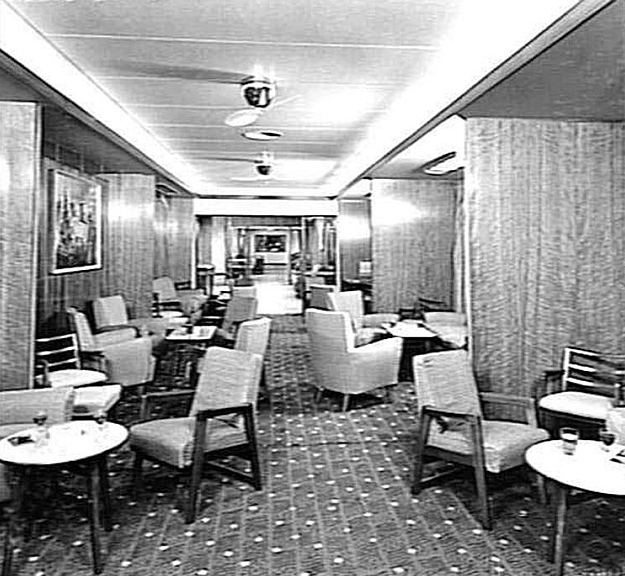 The Gallery between the Main Lounge and the Ballroom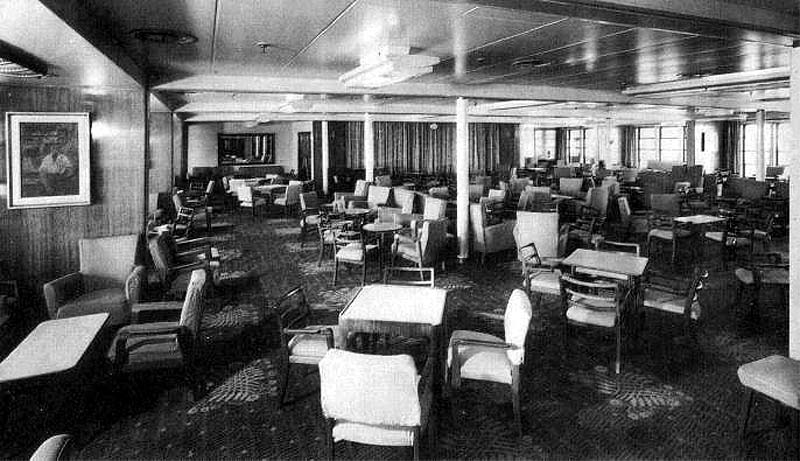 Main Lounge – looking forward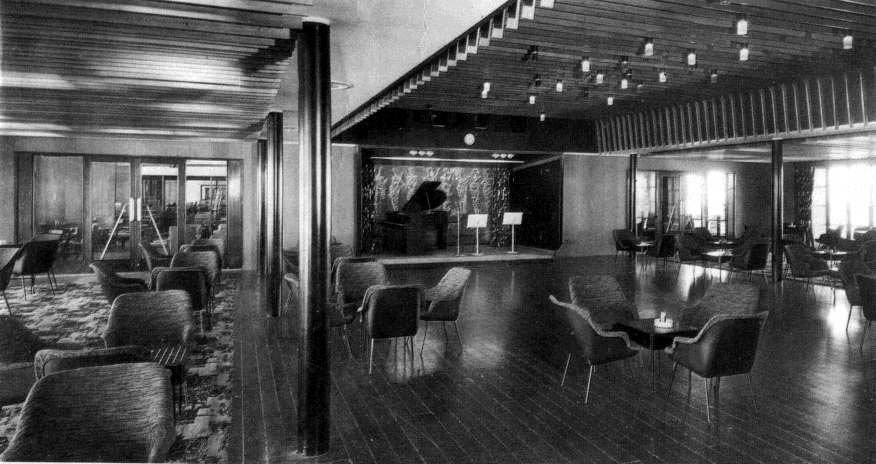 The Ballroom – looking forward in the Galleries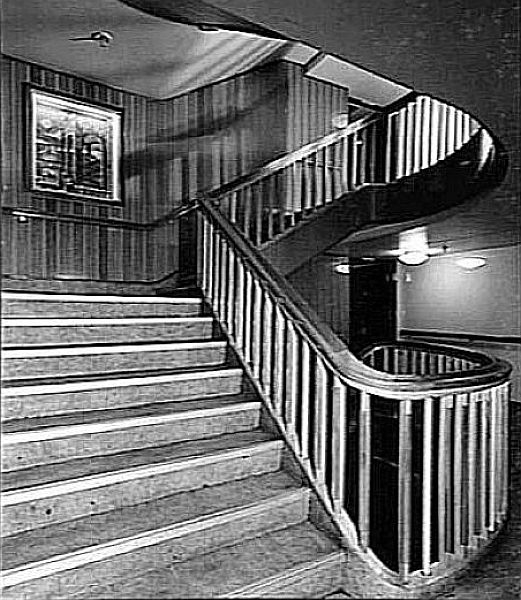 Aft stairwell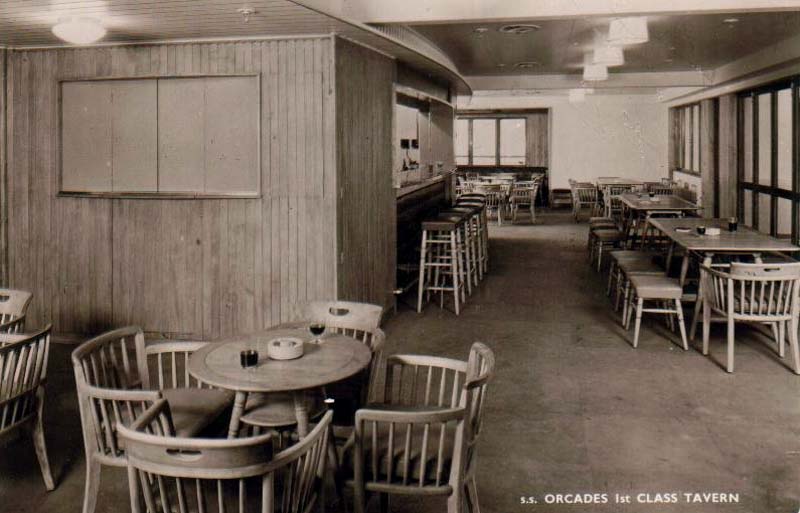 Further aft is the Tavern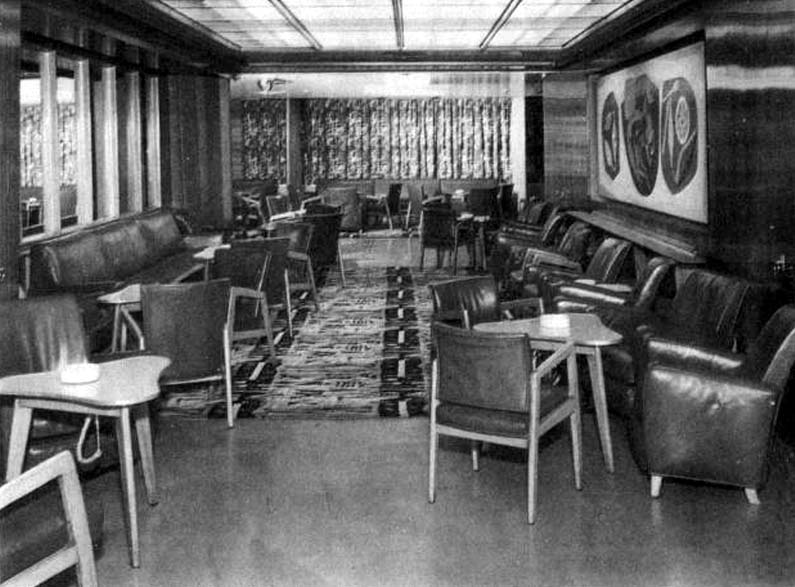 The ever popular Bamboo Room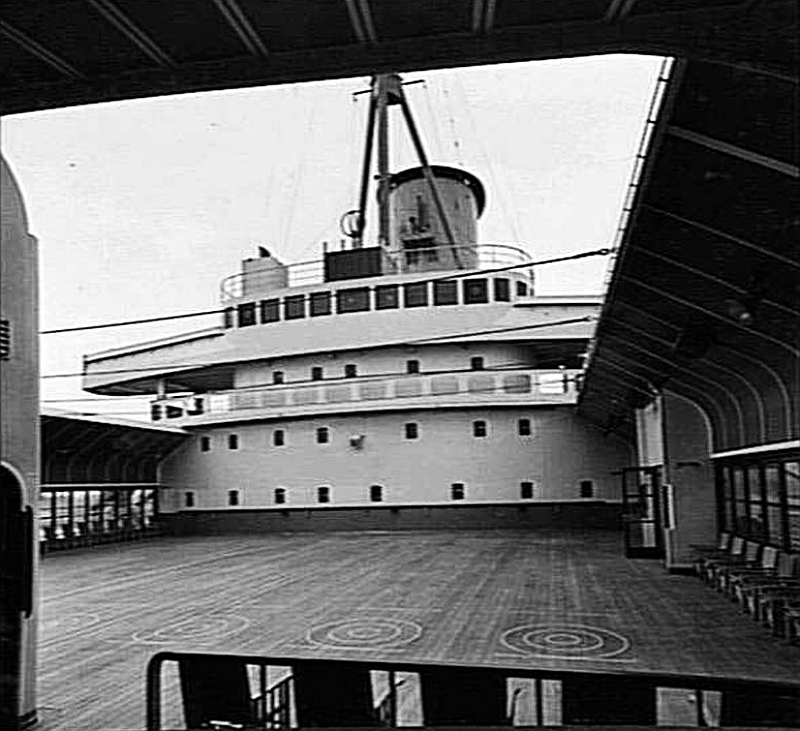 Far forward is the Stadium and the glazed Look-out far forward, which in later ships became the "Crows Nest"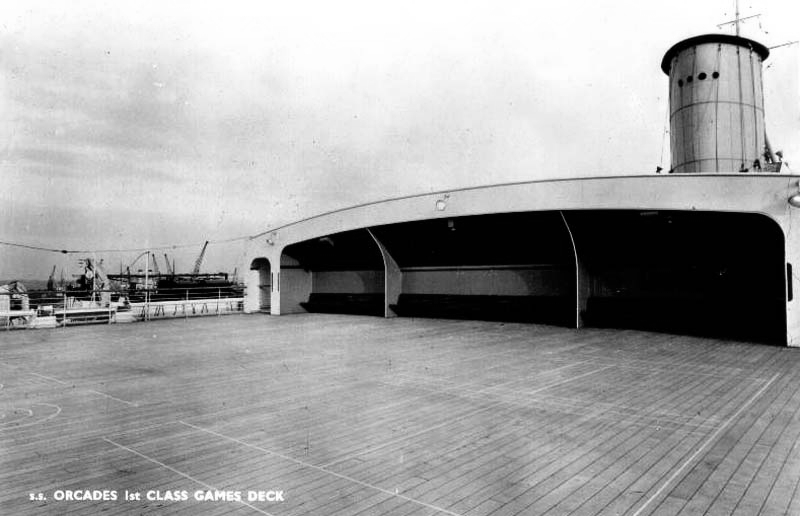 Games deck was very spacious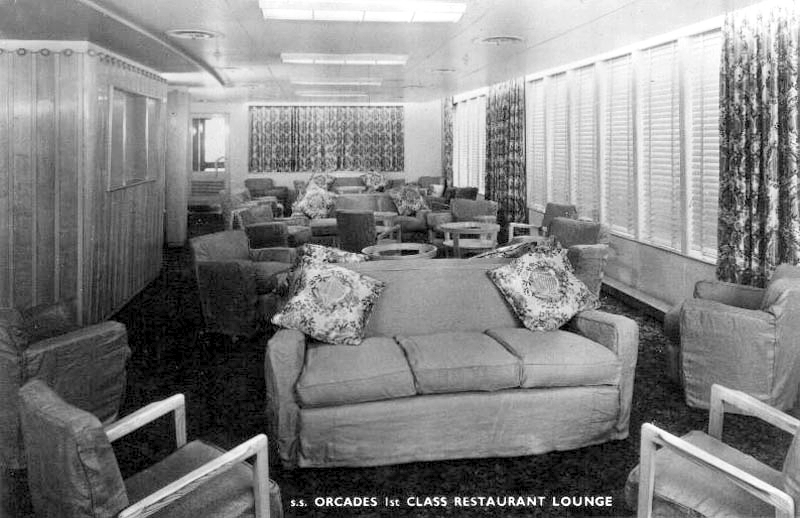 Up on Stadium Deck the Grill Restaurant and its special Lounge was located far aft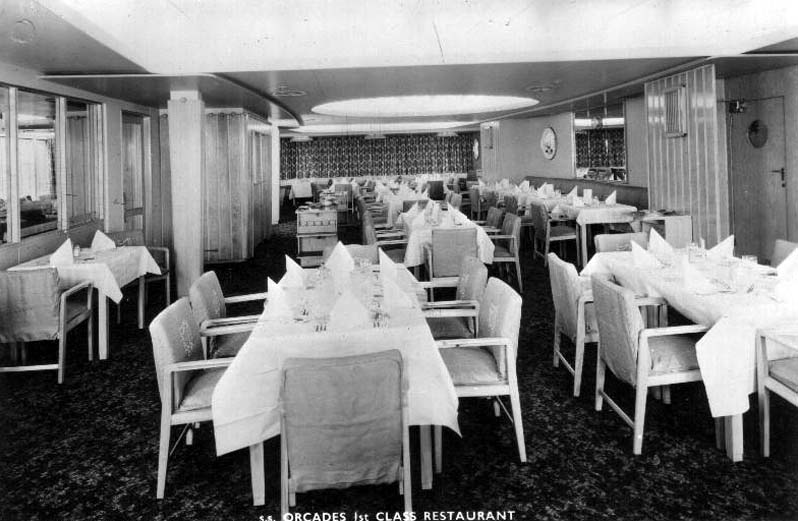 The Grill Restaurant overlooked the aft decks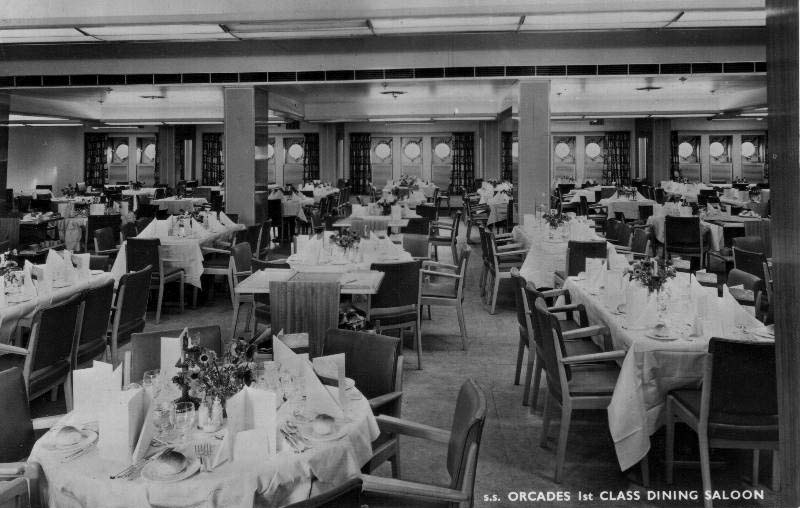 The Main Dining Saloon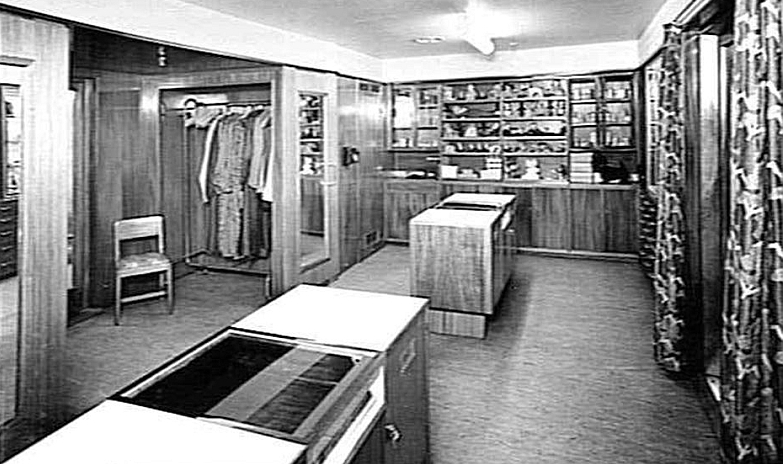 The Shop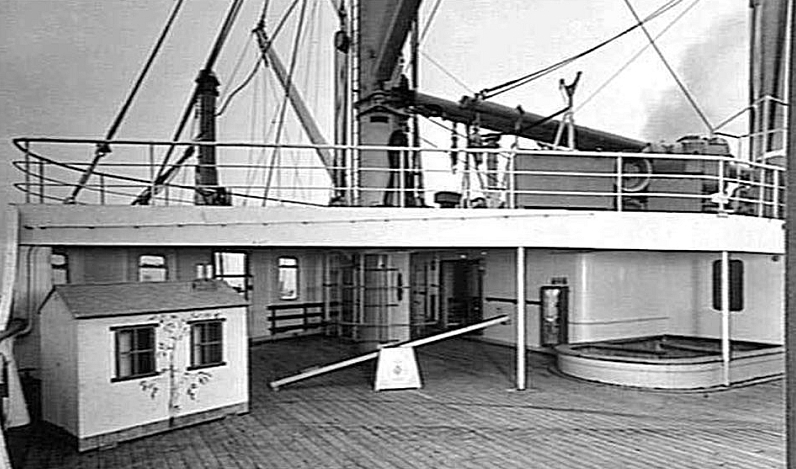 Children's Playground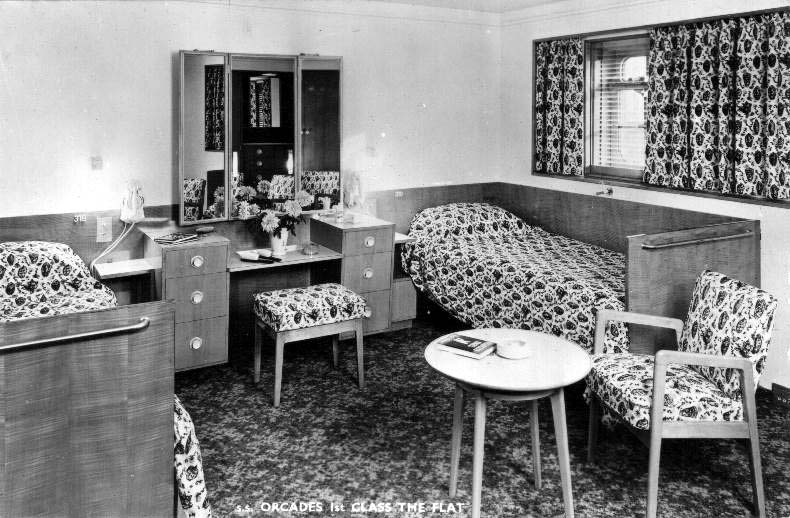 The Flat is one of the deluxe suites, this is just the bed room, and there is also a spacious lounge as well as a lobby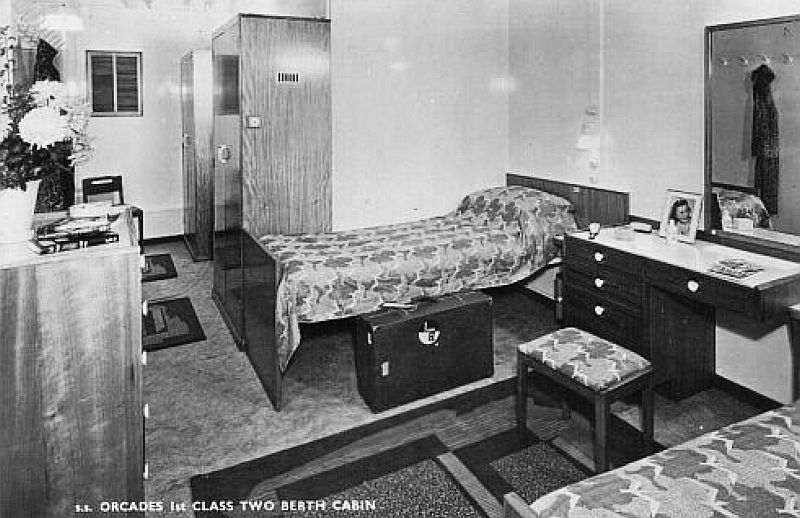 An outside twin bedded cabin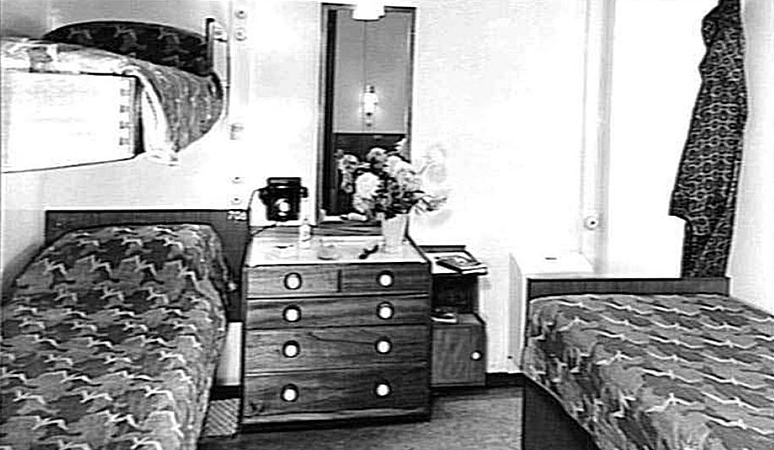 Inside twin or three berth cabin
Tourist Class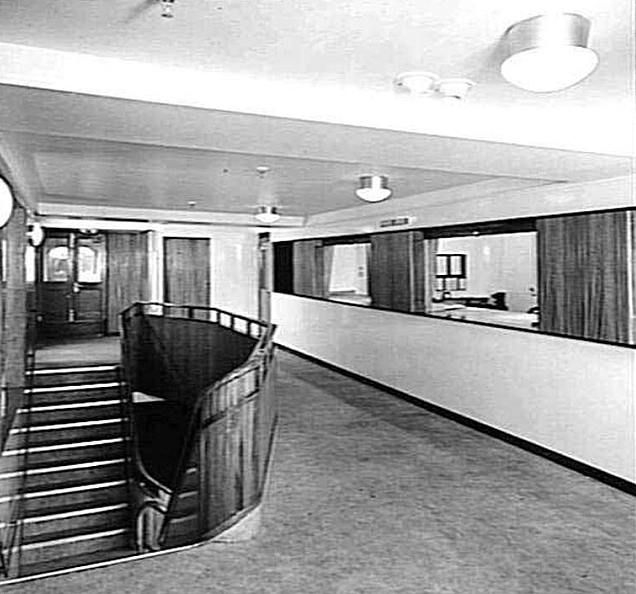 The Tourist main entrance and the Pursers Office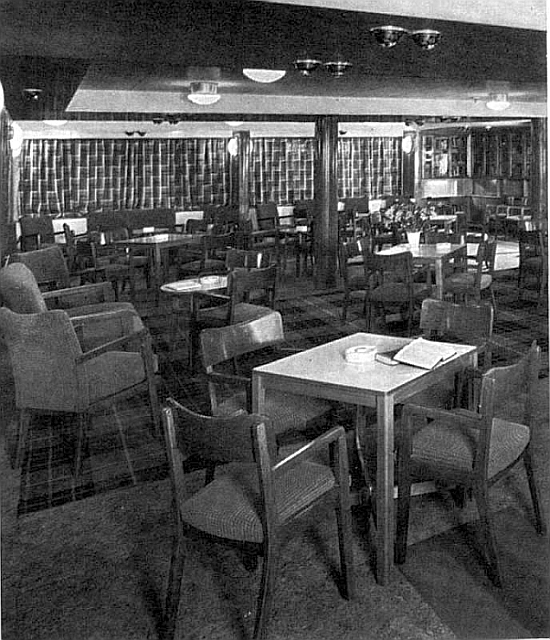 Main Lounge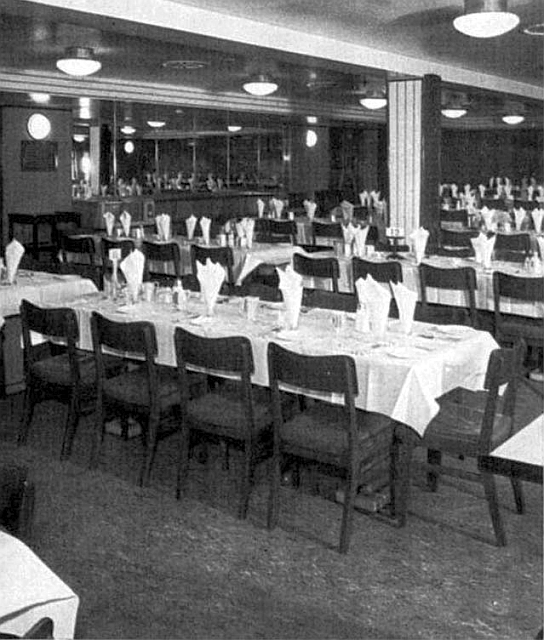 Dining Room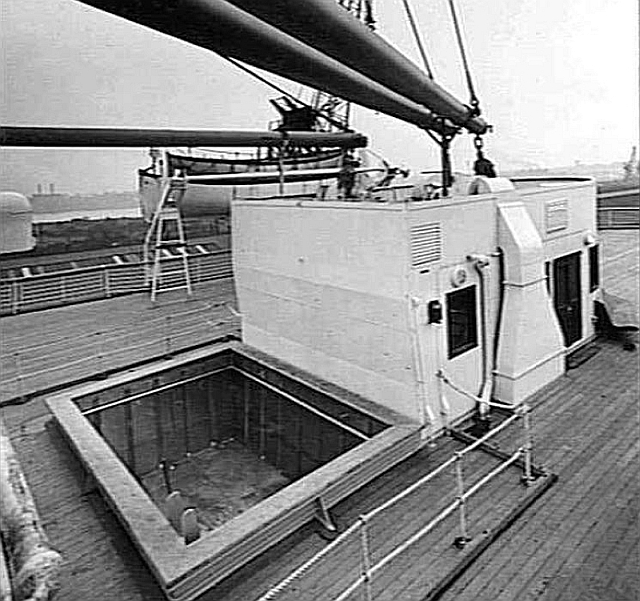 The pool was originally the first class pool until the 1959 refit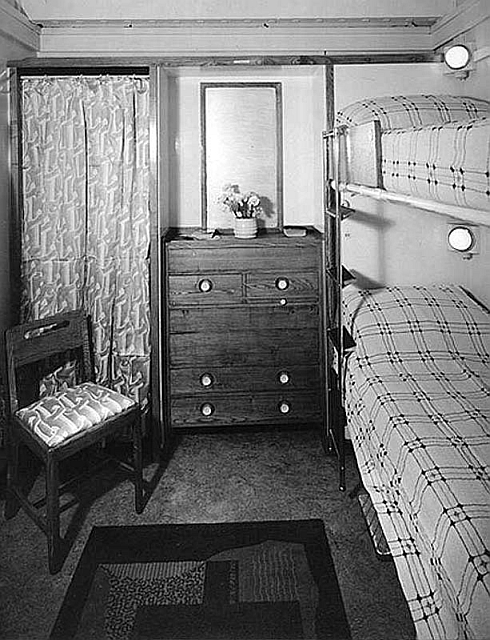 Inside/outside single/two berth cabin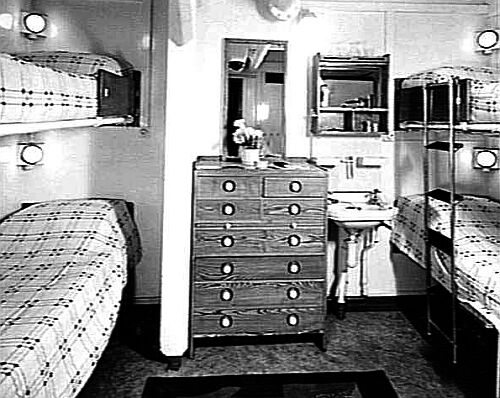 Inside/outside twin/three or four berth cabin
The RMS Orcades was certainly a powerful ship as she was fitted with powerful steam geared turbines, built by the ship builders, which combined with the twin screws gave her an excellent speed of 24.74 knots, but she operated at a comfortable service speed of 22 knots when in service.
She departed on her maiden voyage from Tilbury on December 14, 1948, being her first voyage, sailing to Australia and Auckland New Zealand via Gibraltar, Naples, Port Said, Aden, Colombo, Fremantle, Adelaide, Melbourne and Sydney where she arrived on January 13, 1949, and then continued to Auckland New Zealand, where she would turn around and head back to the UK.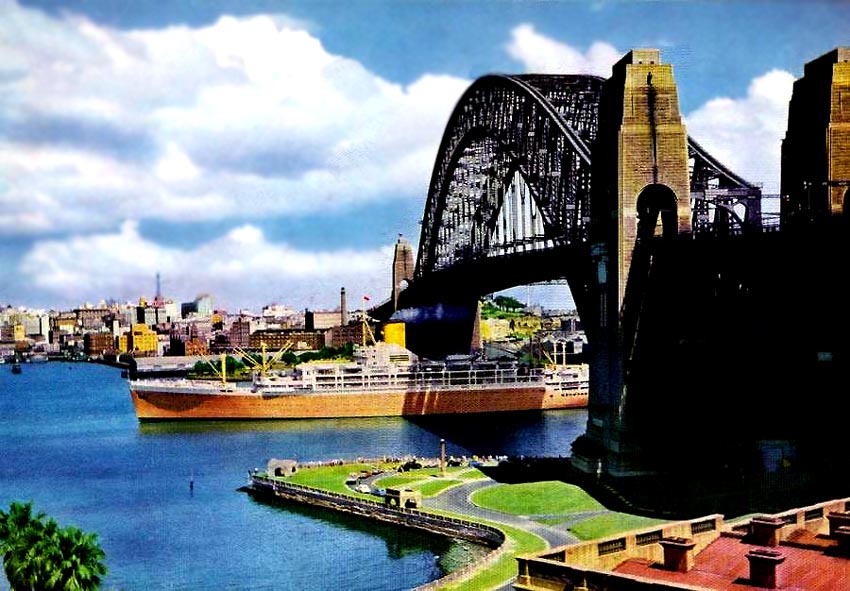 An Orient Lines Postcard of the Orcades departing Sydney whilst on her maiden voyage in January 1949
Amazingly the Orcades was the very first brand new liner to reach Australia after the war. She continued on this service for the next six years and continued to gain more and more popularity amongst Australian's and New Zealanders!
You will have noticed that the Orcades was prefixed RMS, thus obviously she was employed on the mail service between Britain and Australia, in addition she would carry government, business and general full fare paying passengers who were either on vacation or visiting friends or relatives in Australia or New Zealand. Being a British ship she also had a contract to operate as an immigrant transport ship, with most of these passengers being accommodated in Tourist Class, either in the larger cabins, or at least four berth cabins. She carried immigrants from her very first (maiden) voyage.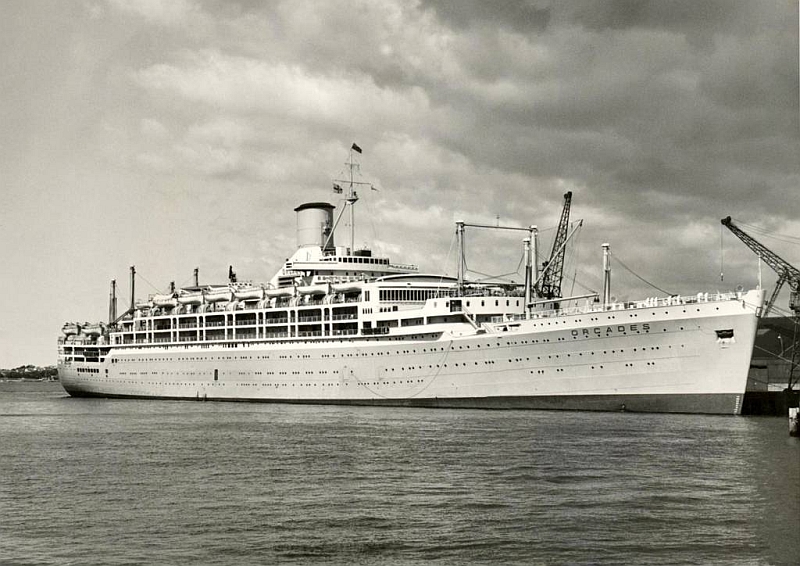 Orcades is seen in Auckland in 1952
During her time on this service sailing via the Suez Canal to Australia, the only incident to mar her perfect record occurred on May 7, 1952 when she ran aground in Port Philip Bay, Melbourne, however, she was soon pulled free by four tugs and there was no damage whatsoever and she continued her voyage!
But in 1954 both Orient Line and P&O introduced new services having some of their ships sailing across the Pacific. Thus with Orcades having arrived in Sydney from the UK, she departed Sydney on December 17, 1954 and operated a "Circle Pacific Voyage," cruising via a variety of ports to San Francisco where she arrived on January 6, 1955. She then returned to Sydney after which she then returned to the UK via the Suez as per usual.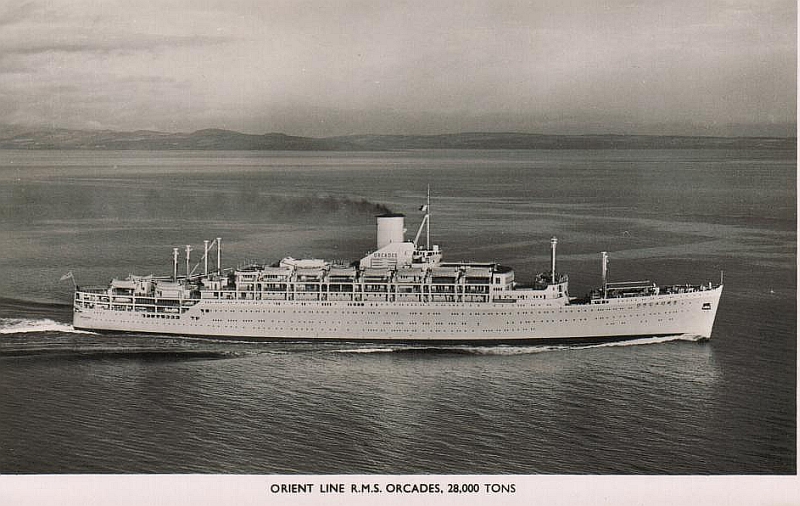 An Orient postcard showing her prior to her upcoming refit, minus the new funnel fitting
Then in 1955 Orient Line decided to change her service altogether and operate the Orcades on an around the world service westwards, thus she departed London for her very first sailing to New Zealand and Australia via the Panama Canal on August 22, 1955 and having arrived in Australia she would then return to the UK sailing via the Suez Canal. During the Olympic Games in Melbourne in November 1956 the Orcades remained for the duration as an accommodation ship, and thousands of people from all over the world enjoyed her many comforts.
1959 Refit:
During her 1959 refit she went to the Harland & Wolff shipyards in Belfast where the ship was fitted with a "Stovepipe" atop her funnel, something that also became known as a "Top Hat" that would improve the dispersion of smoke from her aft decks. Considering her funnel being very high on the ship, now with this new "Stovepipe" the funnel looked even taller than it did before.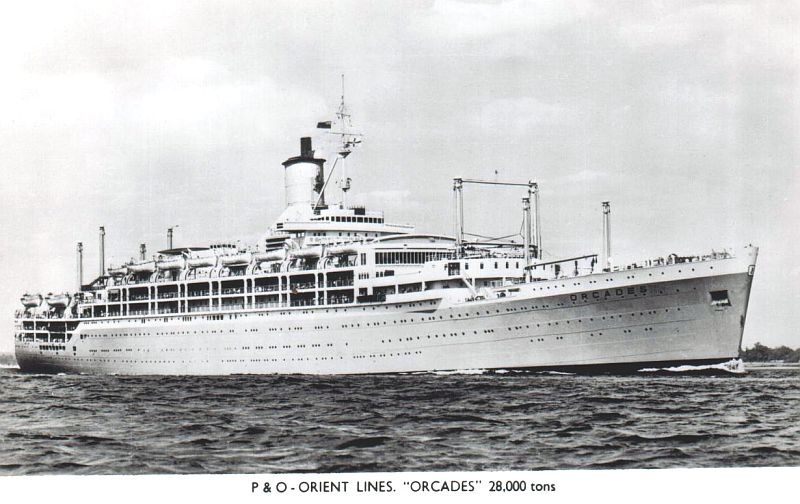 First black and white postcard of the Orcades showing her "Stovepipe" "Top-Hat"
Internally air-conditioning was extended throughout the entire ship, which was a massive improvement to the comfort to all passengers, considering the time she spent in tropical waters. In addition a brand new First Class Tavern and a new swimming pool were built, whilst the former ones were now allocated to Tourist Class. Upon completion her new tonnage was now officially registered as being 28,399 GRT.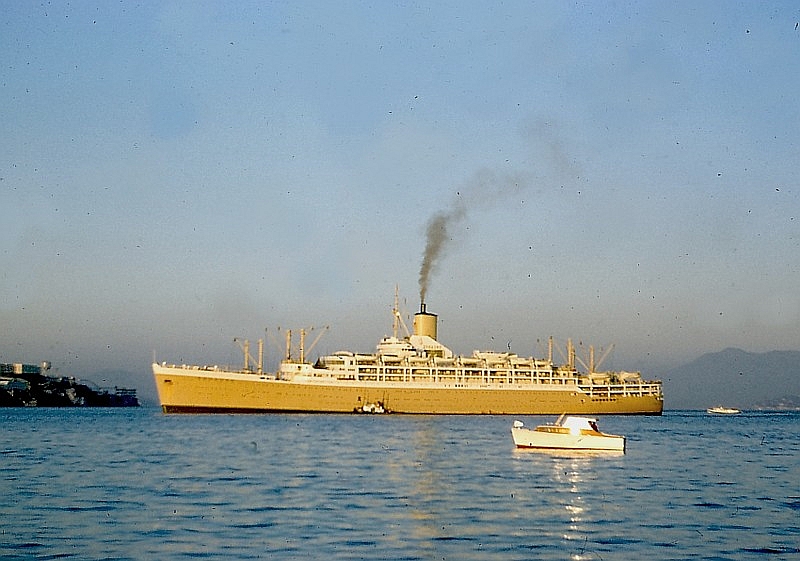 SS Orcades seen at San Francisco
Peninsular and Oriental Steam Navigation Company (P&O) 1960-1972.
The Orcades and she returned to her regular around the around the world services, but in 1960 Orient Line came into the ownership of P&O Line after they had taken over the balance of the Orient Line shareholding. The order came that all Orient Line ships were to change their livery to all white as soon as possible, but somehow the now designated SS Orcades managed to hold out for a good four years, thus retaining her original Orient Line corn coloured hull until 1964, being her next refit.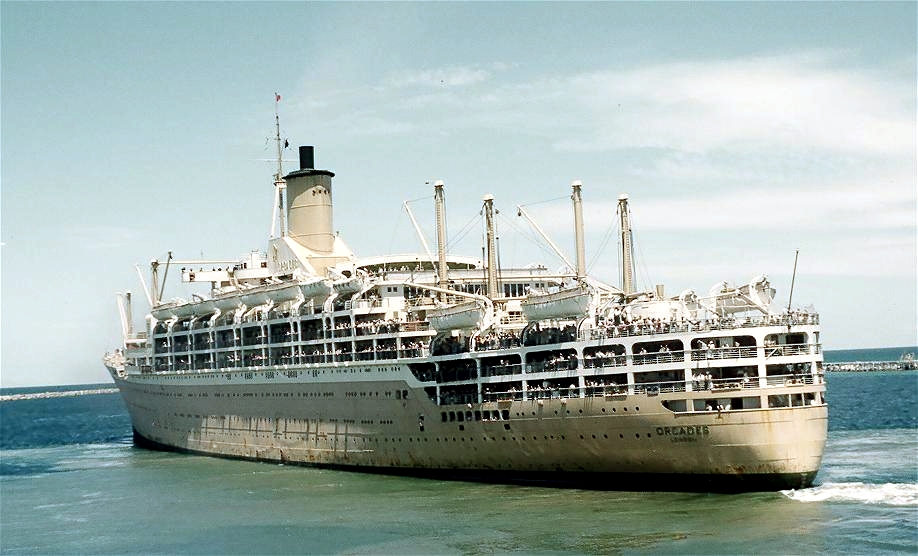 This photograph shows the many sheltered decks available to passengers on a real ship
something that is missing on the modern floating cruise (square) apartment/resort vessels/boxes!
Photographer unknown – Please photo notes below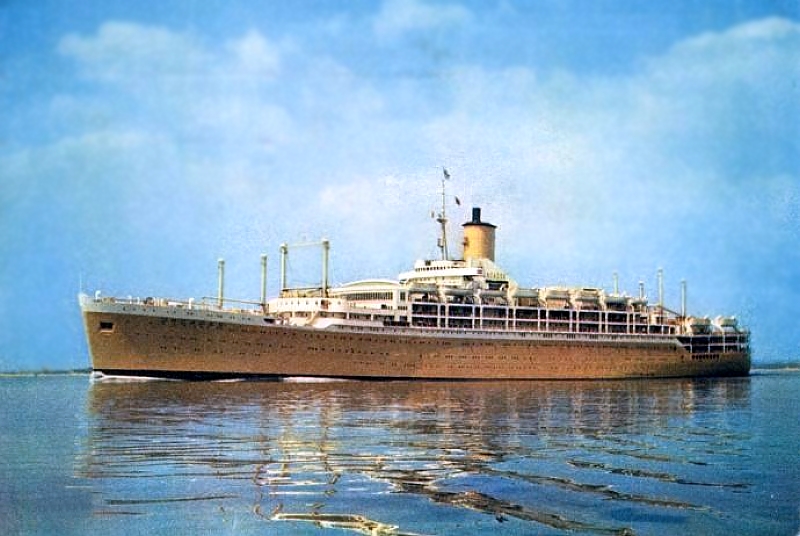 P&O colour postcard of the SS Orcades available on board
1964 Refit:
During this refit the idea was to change her two class configuration and change her into a One Class ship with accommodations for 1,635 passengers. In addition her former First Class Grill Lounge was rebuilt into a Cinema with 157 seats and the actual Grill became the Cinema Lounge with a view over the aft decks. The First Class Main Lounge was renamed the "Riverina Room" only other changes would be minor, such as soft furnishings, etc.
The most obvious external change would be her external livery, for Orcades traditional Orient Lines corn hull would disappear and become the typical P&O all white hull and superstructure with red boot topping, but thankfully the corn/yellow funnel with its black cover and "top-hat" remained!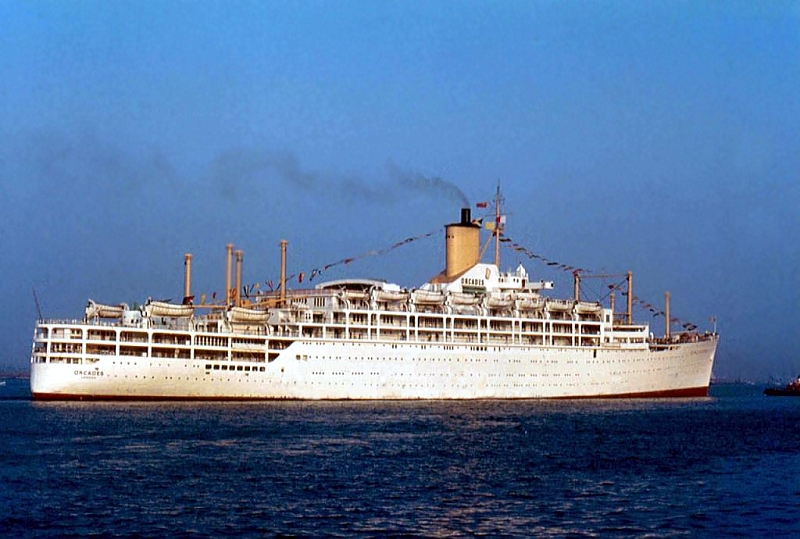 The new look cruise ship SS Orcades
Having been completed, the all white SS Orcades departed Tilbury on her first voyage in May 1964 and continued on her regular Australian Line voyages sailing westward. However, with the airlines taking over the migrant trade it became obvious that line voyages were suffering and that it was the cruises that were making the most money for the big shipping companies, thus the SS Orcades soon became better known as a happy and an excellent cruise ship, rather than having been a traditional liner. Hough she still operated the occasional voyage to and from the UK and Australia, but they were more like relocation voyages for upon arrival at her destination she would commence a series of summer cruises out of Sydney, then 4 months or so later return to the UK and operate further cruises from there, as well as out of the USA.
The End is

Near

:
Her Australian cruises proved to be very popular, be they those to the South Pacific or the longer Asian cruises. However on April 17, 1972 during one of these cruises whilst Orcades was in Hong Kong, sadly there was a fire in her boiler room. Although this did not affect the rest of the ship, but vital parts were required for her to continue. As it turned out the P&O's SS Iberia had already been laid up at Southampton, thus they took the badly needed parts from her and they were flown to Hong Kong and she was repaired and continued her voyage.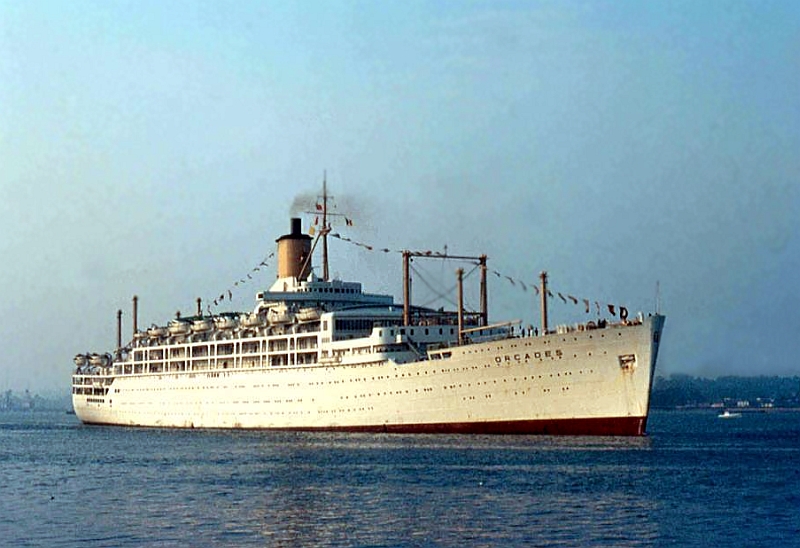 Here we see the Orcades heading towards the end of her days
However, it turned out that this fine ship was heading towards her final days and although she did operate further cruises, she departed Sydney for the final time on June 3, 1972 and she sailed for England. Upon arrival in Southampton she made a good number of summer cruises with the last one returning on October 13, and P&O decided to take her out of service and place her in lay up and on the market.
The RMS Orcades, the ship that was considered to be a ship of the future during her day, had been taken over by far superior ships such as the great and ultra modern SS Oriana and elegant and super sleek SS Canberra. All too soon the still beautiful Orcades was sold to "Nan Feng Steel Enterprises" being Taiwanese ship-breakers.
SS Orcades departed on December 28, 1972 with just a skeleton crew on board bound for the ship breakers in Taiwan. She arrived in Kaohsiung on February 6, 1973. Breaking-up of this the Orcades, once great liner and cruise ship, commenced on March 15, 1973.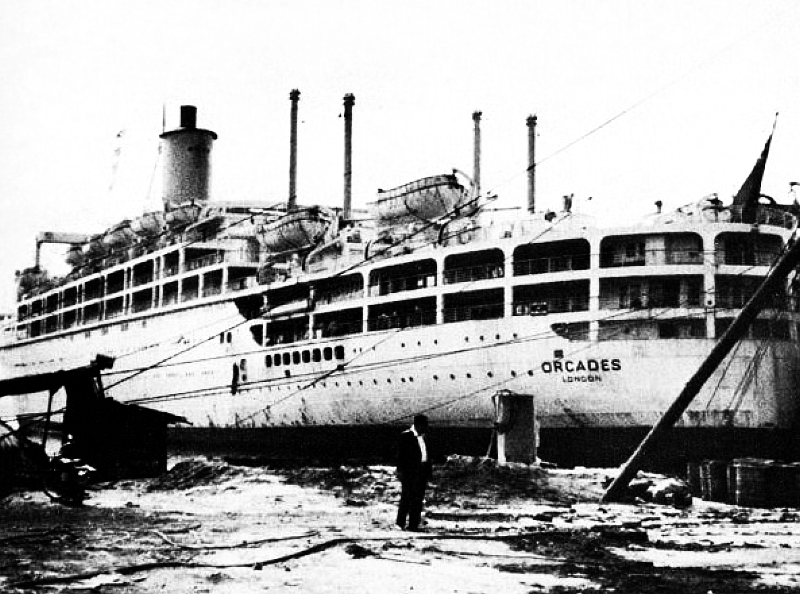 Orcades is seen here at the breakers yards as they are dismantling her interiors
But soon the blow torches will cut her up and she will be no more
Photographer unknown – Please photo notes below
SS Orcades (III) Specifications:
Built by: Vickers Armstrong Ltd, at Barrow-in-Furness.
Yard: 950
Launched: October 14, 1947
Tonnage: 28,164 GRT / 1959 - 28,399 GRT (Gross Registered Tons).
Dead Weight: 11.140 d.w.
Length: 709ft – 216m.
Width: 64ft – 27.6m.
Draught: 30.5ft – 9.4m.
Motive power: 6 x single reduction steam gear turbine engines by her builders.
Screws: Twin – 24,000 BHP.
Speed: 22 Knots – Max 24.74 at trails.
Passengers: 1948 - 773 First Class & 772 Tourist Class / 1964 - 1,635 One Class.
1948 - Partial Air-conditioned / 1959 - Fully Air-conditioned.
Fully Stabilized.
In Conclusion
Memories!
I trust that this RMS/SS Orcades feature will have provided you with some good memories, regardless if you sailed on her or not. She was a wonderful sight to behold whenever she was in port, be it in Australian, New Zealand, the UK or some port around the globe. For frequently locals would often go the wharves and look at the great liners and dream, thinking "One days maybe I might be on a ship like this." And often, many did at a later time! As a small child I recall looking at a particular ship that I loved for some reason and had that very same wish "One day", etc. Well, I ended up sailing on that very ship from Rotterdam to Wellington New Zealand departing on May 17, 1958 and thus my dream came true within one year! Others may have sailed although much later on a newer and more modern ship, but looking at one of these fine liners may have started the idea of taking a cruise vacation!
But for those who sailed on her, I am sure you will have enjoyed looking at some of those original interior photographs of her lounges and other venues, which were taken during the days she was still a two class liner. Sadly I do not have much of her after her refit in 1964, except for the exterior images.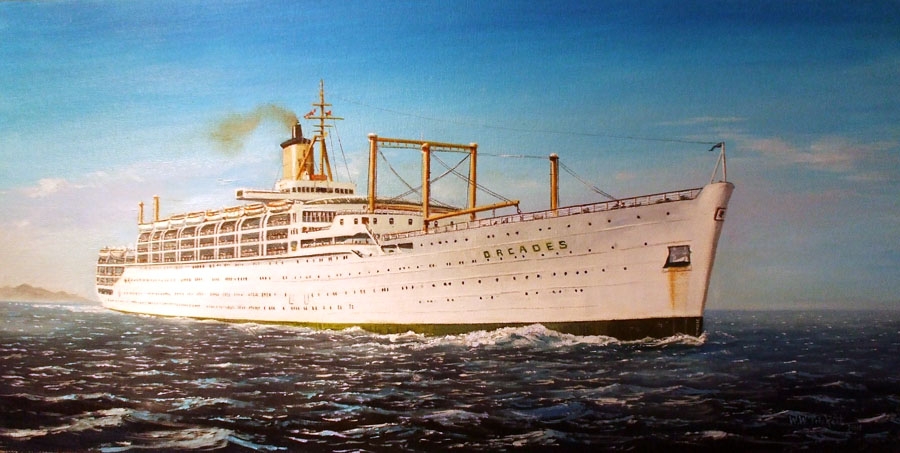 A superb painting by a dear New Zealand friend Wallace Trickett
Visit Wallace Trickett's website - Email Wallace at: wallace.t@paradise.net.nz
SS Orcades (III) made countless voyages to Australia between 1948 and 1972, first sailing via the Suez Canal. Then from 1955 she commenced her world voyage by first sailing via the Panama Canal and returning to the UK via the Suez Canal. During the Olympic Games of November 1956, Orcades spent two weeks berthed in Melbourne and was used as a floating hotel which was extremely successful for during this time she accommodated thousands of visitors to Australia from all over the world. In addition, as from 1964 she proved to be a greatly loved and a popular cruise ship by Australian's, New Zealander's, American's and of course the British, all of whom the Orcades served so well!
SS Orcades (III) was a ship that is still greatly loved by so many and she will be remembered as Britain's very first post war new liner to be built especially for the Australian service!
****************************
Use the Back button on your browser or Close the Page to return to the previous page
or go to our INDEX
Also Visit our Features on the following Orient Lines/P&O Ships
Orient Lines: RMS Orcades – SS Oronsay - SS Oriana - RMS Orion
P&O: RMS Strathaird - SS Iberia - SS Canberra
There May be more since this page was created – See our MAIN INDEX
****************************
Visit our ssMaritime Main INDEX
Where you will discover more than 627 Classic Passenger & Passenger-Cargo Liners!
ssMaritime.com & ssMaritime.net
Where the ships of the past make history & the 1914 built MV Doulos Story
Also visit my
"Save The Classic Liners Campaign"
Please Note: ssmaritime and associated sites are 100% non-commercial and the author seeks no funding or favours of any shape or form, never have and never will!
Photographs on ssmaritime and associate pages are by the author or from the author's private collection. In addition there are some images that have been provided by Shipping Companies and private photographers or collectors. Credit is given to all contributors. However, there are some photographs provided to me without details regarding the photographer/owner concerned. I hereby invite if owners of these images would be so kind to make them-selves known to me (my email address may be found on www.ssmaritime.com only), in order that due credit may be given.
ssMaritime is owned & © Copyright by Reuben Goossens - All Rights Reserved.