The Cruise Ship SS Oriana's Maitre d'Hotel Neil Whitmore writes about his beloved ship
Please Note: Firefox and some other search engines may not suitable
Please use Google Chrome for this page to load perfectly!
Click the logo above to reach the ssMaritime FrontPage for News Updates & "Ship of the Month"
With Reuben Goossens
Maritime Historian, Author and Lecturer & Cruise'n'Ship Reviewer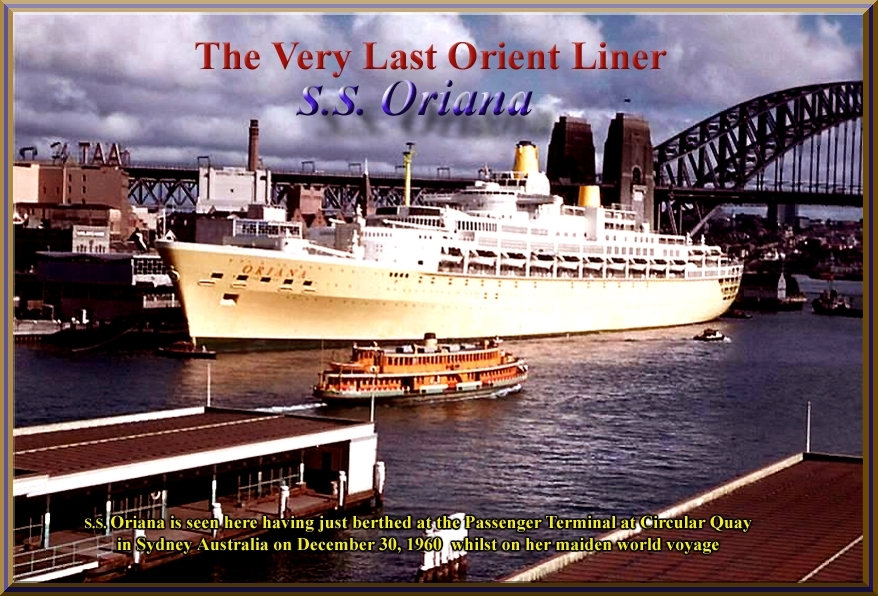 Page Five
1st Lady of the Sea
By Neil Whitmore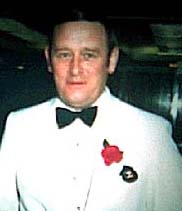 Neil (Bob) Whitmore, Oriana's Maitre d'Hotel (1976 to 86)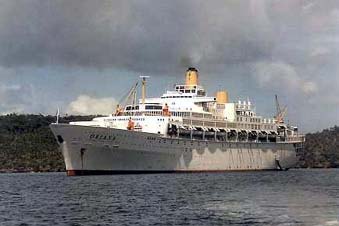 Oriana at anchor during a South Pacific Cruise
"1st.Lady  the Sea" was the title given to the Oriana when she was cruising from Australia, as a result of a song written about the ship, by ' Deuce,' a New Zealand group who entertained our passengers when we were at sea. This was a fitting title for what was a much-loved ship. She was also the fastest ship in the P&O (Orient Lines) fleet, and above her bridge, she proudly displayed a brass cockerel, having made the fastest crossings of both the Pacific and Indian oceans.
After passenger numbers declined, due to air travel, Oriana commenced a new career as a cruise ship. She proved to be very popular with Australians, and she mostly departed Sydney with a full capacity of 1500 passengers.
Dry-docking in Singapore
Please Note: All photographs by & © Neil Whitmore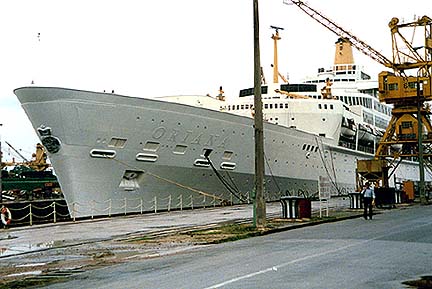 Oriana in a Singapore Dry dock:
Every March and September, she made a Far East cruise, while the rest of the year was spent cruising around the Pacific Islands. The September Far East cruise was planned to include the yearly visit to the dry docks at Sembawang in Singapore. One year she would have about nine days in dry dock and the following year 14 days. General maintenance was carried out on her engines, and the hull was cleaned and re-painted. The rudder, propellers, stabilizers, and side thrusters units were also checked and any repairs required were carried out. Various other equipment, had safety checks including anchor chains and the davits, from which the lifeboats were hung. The passenger accommodation also received a face-lift with new carpets and furnishings being fitted, service areas were constantly improved, and a lot of painting was carried out. With work completed she would sail back to Sydney with some of the passengers who had sailed to Singapore and others joining for the return trip.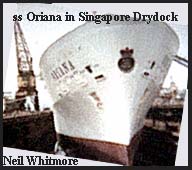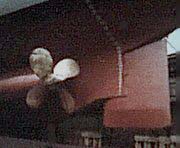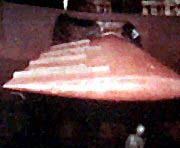 From Top: ss Oriana in a Singapore dry-dock - One of her screws and the rudder -Starboard Stabiliser fin
"Child of Bounty"
In the pictures on this page are two pictures of the exact replica of the longboat (built in New Zealand & called ' Child of Bounty'), in which Captain Bligh, and 18 of his crew were cast adrift on April 28th 1789. The replica and its crew were taken from Sydney to Tonga by Oriana, arriving in Nuku'alofa on the 5th April 1983. It was then planned to sail the boat, leaving Tonga on the 28th April, over 3,000 miles to Jakarta. Filming was planned to take place during the voyage.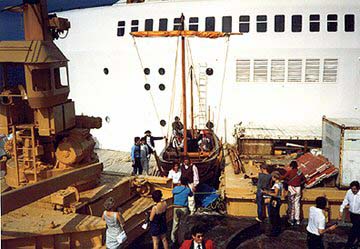 Child of Bounty onboard Oriana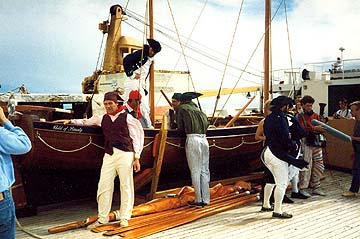 A Tongan Fun Run
Many of Oriana's crew, including the captain, took part in fancy dress charity fun runs and other events, raising money for the island charities. Pictures from one of the fun runs, held in Nuku'alofa, are shown here.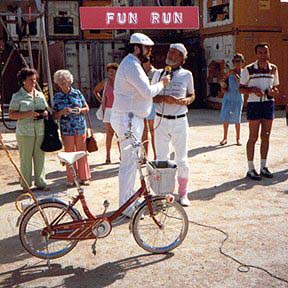 Robin Mason Interviews Captain Phillip Jackson dockside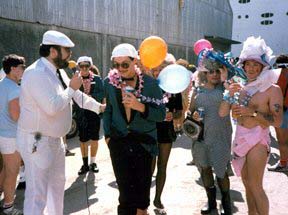 Fun Run Participants dressed to kill – literally!
Interior shots
Other pictures show one of the foyers with items presented to the ship by officials at ports of call and also the Midships Bar, which, in the evenings featured a popular sing along group 'nostalgia' who also did the luncheon show at the plough tavern.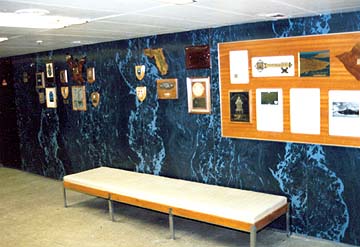 Oriana's "Hall of Fame"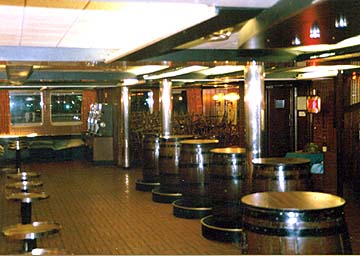 The Midships Bar
Conclusion
I worked on Oriana, where I was known as Bob, from September 1976 until she was withdrawn from service in March 1986. I also sailed on many of the other P&O ships having joined the company in 1951. Should anyone wish to contact me, my e-mail address is neil.whitmore@ntlworld.com.
Neil Whitmore.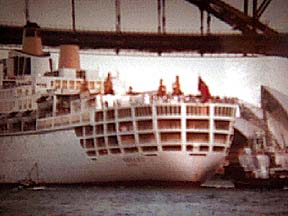 Tuesday June 24, 1986

A tragic sight, as Oriana's passes under Sydney Harbour Bridge for the last time

***********************************

SS Oriana - Main Index

:

PART ONE …

Designing & Building the Oriana - ONLY available to ssmaritime.com:

Images from the naval architect & designer of the SS Oriana:

Page 1:       The building of SS Oriana

Page 2:       The launching and fitting out of SS Oriana

Page 3:       Sea trials and Oriana's maiden voyage

Page 4:       Deck Plan, Rare Photographs and other Images

Page 5:       Countless Specifications & Oriana Facts (NEW)

                                                                                                                      

PART TWO …                                  

Oriana's General History Pages:

Page 1:       History and Images of the Oriana

Page 2:       Oriana Postcards issued in 1960

Page 3:       Oriana Photo Album - Page 1

Page 4:       Oriana Photo Album - Page 2

Page 5:       Oriana "Lady of the Sea" by Neil Whitmore

Page 6:       The Paul Oliver & Colin Pursehouse Collection

Page 6b:       Paul Oliver Story

Page 7:       Dalian - See the sad photographs of SS Oriana damaged during a storm

Page 7b:       Oriana at Zhangiagang shipyard in China - Taken 29 July & 9 September 2005, the demolition of a liner

***********************************

This is recommended reading!

"Orient Line – A Fleet History"

Is available for £23.50 plus p&p from "Ships in Focus"

email: sales@shipsinfocus.co.uk

***********************************

Also Visit our Features on the following Orient Lines/P&O Ships

Orient Lines: RMS Orcades – SS Oronsay - SS Oriana - RMS Orion

P&O: RMS Strathaird - SS Iberia - SS Canberra

********************************

Use the Back button on your browser or Close the Page to return to the previous page
or go to our INDEX

ssMaritime.com & ssMaritime.net

Where you will discover over 1,358 Classic Liners & the 1914 built MV Doulos Feature

                                    

Photographs on ssmaritime.com, & .net and associate sites are: 1. By the author. 2. From the author's private collection. 3. Or as provided by Shipping Companies and their Publicity Companies as well as by private photographers or collectors. Credit is given to all contributors whenever possible.

ssMaritime is owned and © Copyright - Reuben Goossens - All Rights Reserved