SS Oriana Photographs laid uo in Sydney between March to May 1986, before heading to Japan
Please Note: Firefox and some other search engines may not suitable
Please use Google Chrome for this page to load perfectly!
Click the logo above to reach the ssMaritime FrontPage for News Updates & "Ship of the Month"
With Reuben Goossens
Maritime Historian, Author and Lecturer & Cruise'n'Ship Reviewer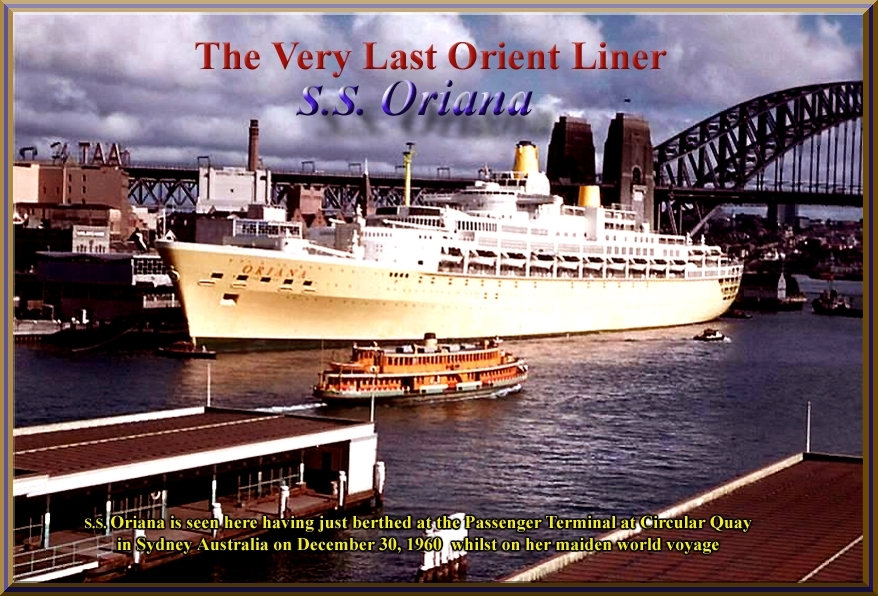 Page Six
 

"The Paul Oliver & Colin Pursehouse
SS Oriana Photo Collection"
All photographs of the SS Oriana on this page were provided to me by ex P&O crew member Paul Oliver. The first photograph shows the Oriana at Dubrovnik during a cruise, and it is certainly one of the finest photographs of this amazing ship I have seen, bar one when she was in the Suez Canal.
However all other photographs thereafter, including those that show the Oriana when P&O had laid her up at Pyrmont Wharf 21 in Sydney, were taken by Paul's good friend, who was also an ex P&O crew member, Colin Pursehouse.
The Details:
SS Oriana returned to Sydney from her very last ever cruise on March 27 1986, sailing majestically through Sydney Heads, up the harbour and under Sydney Harbour Bridge, and she slowly docked at the Pyrmont Passenger Terminal. The ships master for the final cruise was Captain Philip Jackson. By this time the Oriana had sailed a good 3,430,900 nautical miles, and she achieved amazing speeds of 29.21 knots.
The next very next day, on March 28, the Oriana was moved to Pyrmont wharf 21, were she remained laid up until May 29, 1986. It was on that day she headed for Japan where she would become a floating hotel, museum and restaurant facility, which was never a success and she was in due course sold to Chinese interests, where she spent some time in Shanghai and then in Dalian, where a typhoon sadly damaged her so badly she had to be broken up in 2005.
These detailed photographs below prove that these two ex P&O crew members loved this magnificent liner greatly, for she was lovingly known as SS Oriana the "Queen of the Sea"!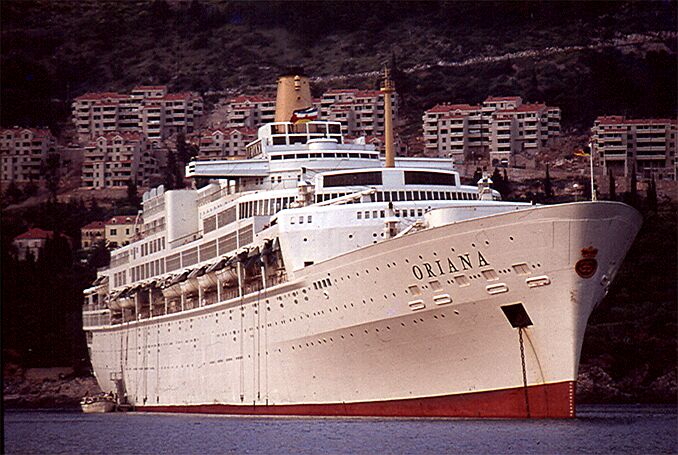 One of the finest photographs of the SS Oriana seen at anchor in Dubrovnik
Photograph by & © by Paul Oliver
All photographs by & © by Colin Pursehouse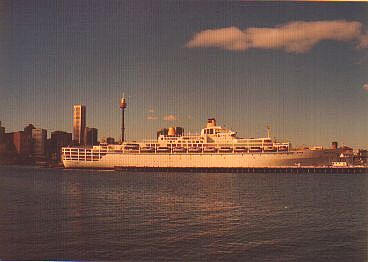 The great SS Oriana's career with P&O had sadly come to an end
Enjoy the following close-up photographs of SS Oriana sadly laid up at Pyrmont wharf 21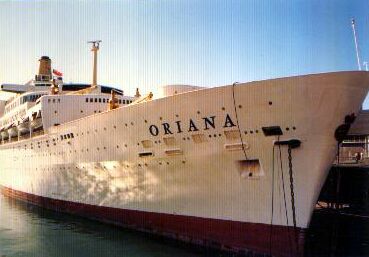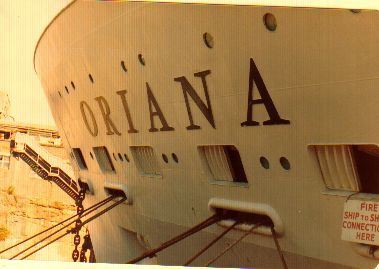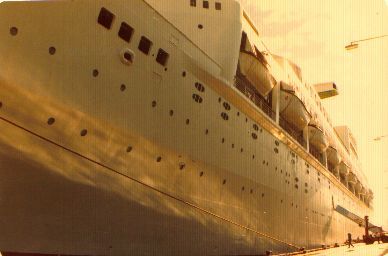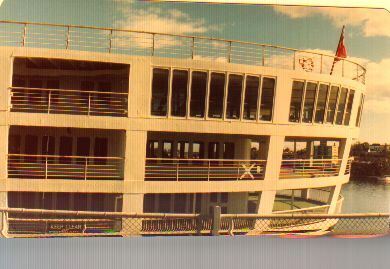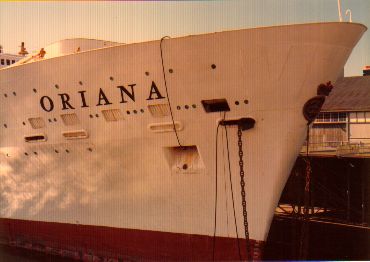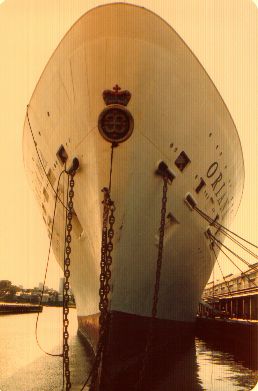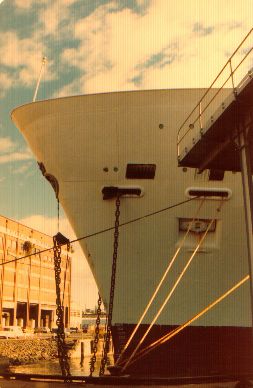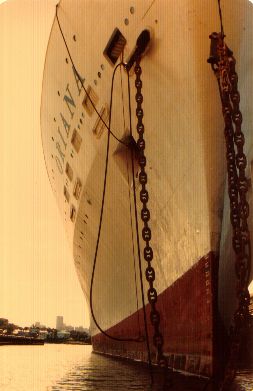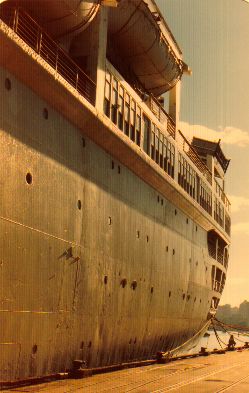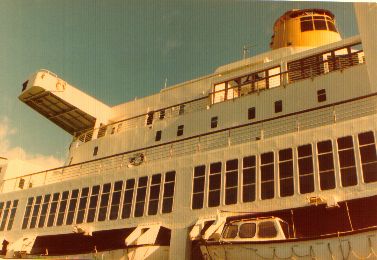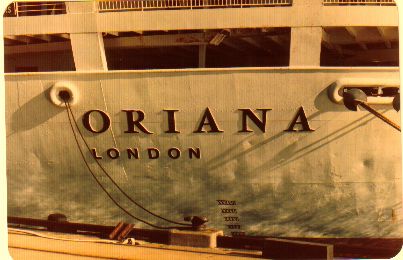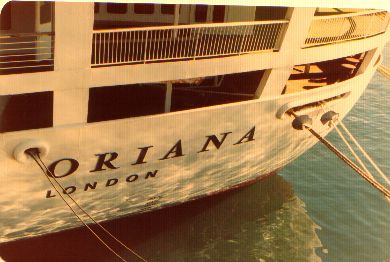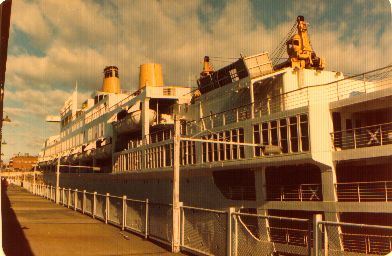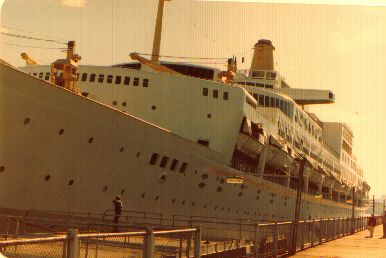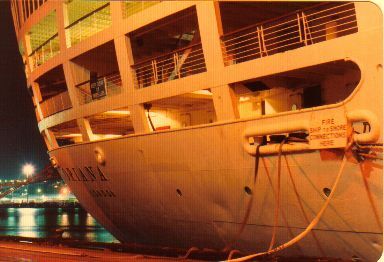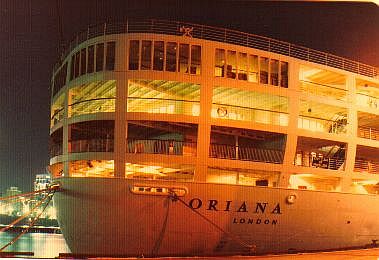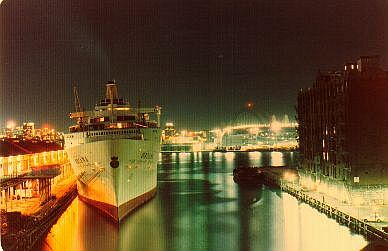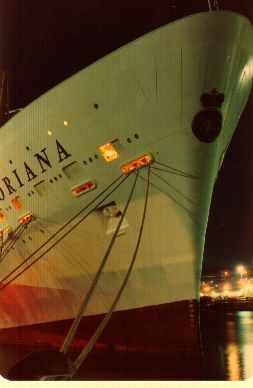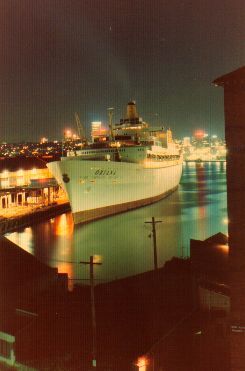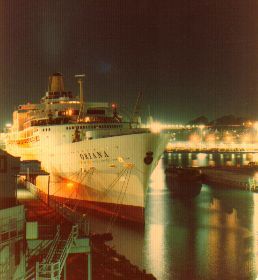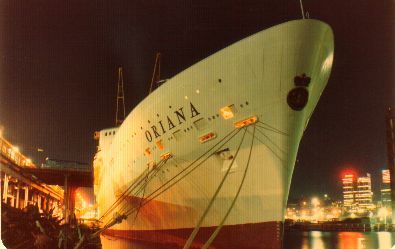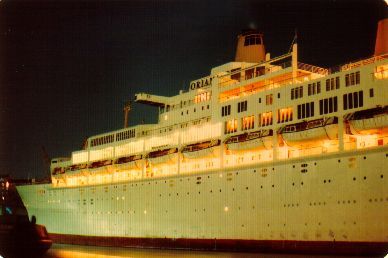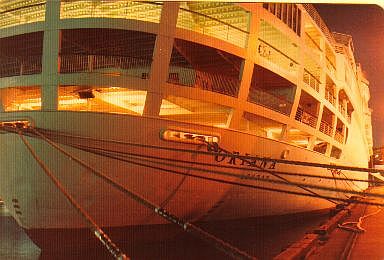 I wish to thank Paul Oliver for making these photographs available to ssMaritime. If you wish to contact him as an ex crew member you can email him at poliver@tac.com.au. Also a very special thank you to Colin Pursehouse for what is a rather sad sight of a lonely looking ship, yet a poignant reminder of what a great ship the SS Oriana really was!
Reuben Goossens.
SS Oriana - Main Index:
PART ONE …
Designing & Building the Oriana - ONLY available to ssmaritime.com:
Images from the naval architect & designer of the SS Oriana:
Page 1:       The building of SS Oriana
Page 2:       The launching and fitting out of SS Oriana
Page 3:       Sea trials and Oriana's maiden voyage
Page 4:       Deck Plan, Rare Photographs and other Images
Page 5:       Countless Specifications & Oriana Facts (NEW)
PART TWO …                                  
Oriana's General History Pages:
Page 1:       History and Images of the Oriana
Page 2:       Oriana Postcards issued in 1960
Page 3:       Oriana Photo Album - Page 1
Page 4:       Oriana Photo Album - Page 2
Page 5:       Oriana "Lady of the Sea" by Neil Whitmore
Page 6:       The Paul Oliver & Colin Pursehouse Collection
Page 6b:       Paul Oliver Story
Page 7:       Dalian - See the sad photographs of SS Oriana damaged during a storm
Page 7b:       Oriana at Zhangiagang shipyard in China - Taken 29 July & 9 September 2005, the demolition of a liner
***********************************
This is recommended reading!
"Orient Line – A Fleet History"
Is available for £23.50 plus p&p from "Ships in Focus"
email: sales@shipsinfocus.co.uk
***************************************************
Also Visit our Features on the following Orient Lines/P&O Ships
Orient Lines: RMS Orcades – SS Oronsay - SS Oriana - RMS Orion
P&O: RMS Strathaird - SS Iberia - SS Canberra
********************************
Use the Back button on your browser or Close the Page to return to the previous page
or go to our INDEX
ssMaritime.com & ssMaritime.net
Where you will discover over 1,358 Classic Liners & the 1914 built MV Doulos Feature
Photographs on ssmaritime.com, & .net and associate sites are: 1. By the author. 2. From the author's private collection. 3. Or as provided by Shipping Companies and their Publicity Companies as well as by private photographers or collectors. Credit is given to all contributors whenever possible.
ssMaritime is owned and © Copyright - Reuben Goossens - All Rights Reserved