The very Last Orient Liner built, SS Oriana (1960 to 1986) she was then sold to Japan to be come a floating hotel
Please Note: Firefox and some other search engines may not suitable
Please use Google Chrome for this page to load perfectly!
Click the logo above to reach the ssMaritime FrontPage for News Updates & "Ship of the Month"
With Reuben Goossens
Maritime Historian, Author and Lecturer & Cruise'n'Ship Reviewer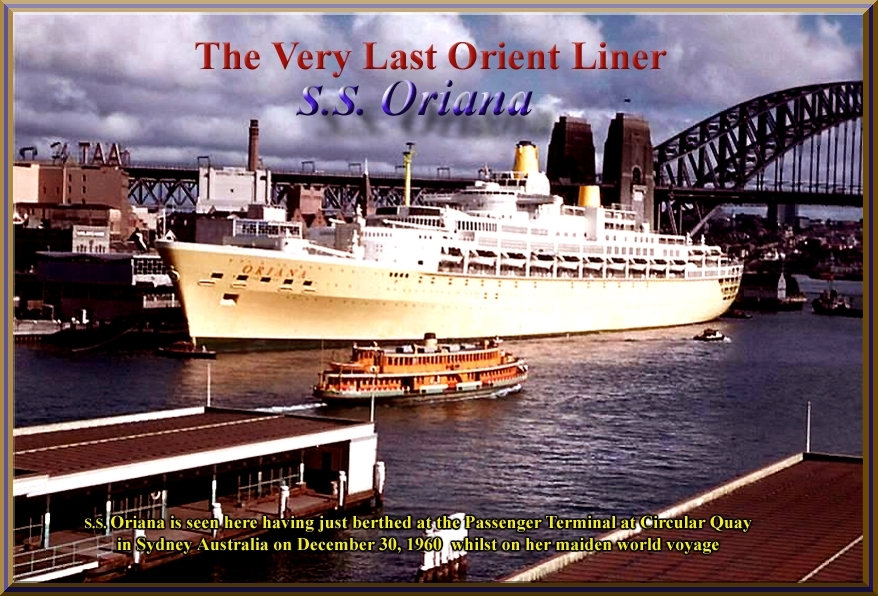 Page Six
The Paul Oliver Story
Ex Oriana crewmember, Paul Oliver has spent years on the Oriana, and he has kindly provided us with his story. Earlier, Paul sent us an excellent series of photographs of Oriana berthed at Pyrmont which were taken by his ex P&O crew member & friend Colin Pursehouse, which shows a lonely ship awaiting her departure for Japan in 1986, as well as a fine shot of her by Paul at anchor in Dubrovnik.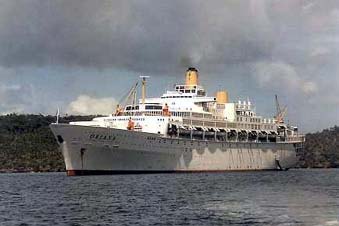 Oriana at anchor during a South Pacific Cruise
I joined the SS Oriana, as a Seaman, on 8th November 1976 at Southampton. It was my second merchant ship after spending over 4 years in the Royal Navy. I can remember looking up from the dockyard and thinking how superb she looked. My brother Ray and a good friend, Bob Knowles were onboard working as Bedroom Stewards so I got Ray to show me around.
My first job was in the 'Boat and Hatch Gang' where we would maintain all the lifeboats, keeping them clean and tidy, painting, and keeping them in good order whilst at sea. We also had to check on the rations that were stowed in the lifeboat lockers. When the ship was in harbour, we would prepare the deck cranes and open hatches for the dockworkers. Our first task when the ship sailed was to check the lifeboats for stowaways. On future voyages, I worked as a Bridge Seaman, Fire Gang crewman, and finally the Night Gang.
We had great times in the 'Pig' (Pig and Whistle crew bar) with Band nights, Disco nights and Sods Operas (the crew put on a show). Even though passengers were barred from crews' accommodation, it did not stop them from coming along to the 'Pig'. Some of the crew organized clubs on these nights and got a variety of crewmembers to join in. Basically, they sat together in groups with different themes and enjoyed the entertainment in the 'Pig'. There was the 'Al Bacardi Club' (entrance to this club was the consumption of a pint of Bacardi rum), the 'Junk yard' and 'Club Gorilla' plus a few others that I can't remember. I was a member of 'Club Gorilla'. Invitation cards were made so that we could invite any female passengers we met.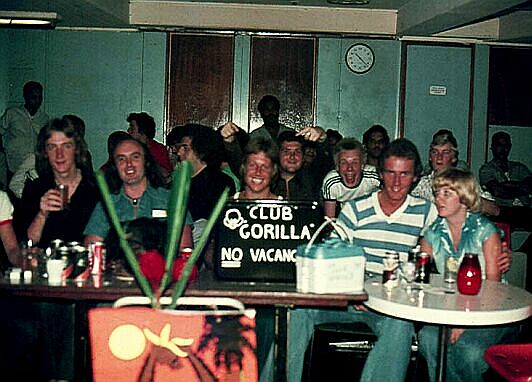 Paul Oliver sitting directly behind the "Club Gorilla" sign
The crew had a few strange characters amongst crew, and 'Roman John' was one of them. When he wasn't working, he would get dressed up in a Roman toga, sandals, and laurels on his head and carried a large silver goblet. John liked to think that he lived in the Byzantine period of the Roman Empire. A normal greeting from other crewmembers was 'Hail John'. He even used to go ashore like it.
We called at several ports of call en route to Sydney, Australia. Bermuda was the first port of call then the Bahamas, Florida, through the Panama Canal, Acapulco, Los Angeles, San Francisco, Vancouver, Hawaii, Fiji and New Zealand. We arrived just after Christmas and cruised the Pacific for 3 months before sailing back to UK.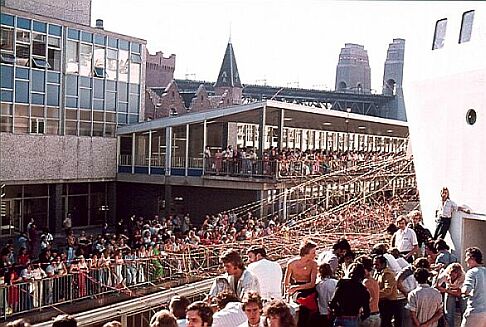 Above and Below: 1977, Oriana departs Sydney for another cruise.
Above: the ships crew enjoy the departure from on the fo'c'sle.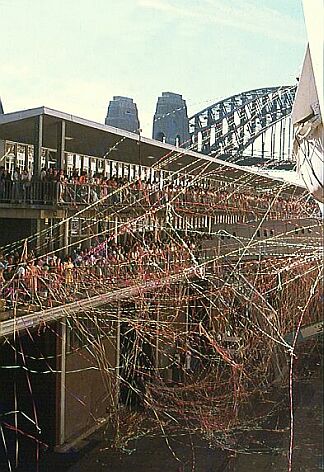 I did the Mediterranean Cruising after 3 days leave returned for one month on 17 Sept. 1977. I flew out to Sydney in January 1979 for three months cruising to the Pacific Islands and did the same again the following year. I also worked on several other ships including three months on the QE2. After my last cruise on the Oriana, I did not fly back to UK but instead stayed in Sydney.
I managed to get a Deckhand job with Sydney Harbour Ferries in June 1980 and two years later, I sat for my Masters certificate. I have been working as a Ferry Master ever since.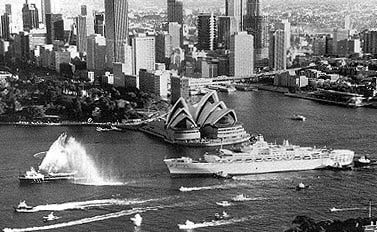 Sydney Farewell's SS Oriana

I was working on the harbour on 28th May 1986 when Oriana departed Sydney undertow for the Hitachi Zozen shipyard where she was refitted for her new role as a resort near Beppo, Japan. That was a sad day for me and other Sydneysiders.

Paul Oliver.

***********************************

SS Oriana - Main Index

:

PART ONE …

Designing & Building the Oriana - ONLY available to ssmaritime.com:

Images from the naval architect & designer of the SS Oriana:

Page 1:       The building of SS Oriana

Page 2:       The launching and fitting out of SS Oriana

Page 3:       Sea trials and Oriana's maiden voyage

Page 4:       Deck Plan, Rare Photographs and other Images

Page 5:       Countless Specifications & Oriana Facts (NEW)

PART TWO …                                  

Oriana's General History Pages:

Page 1:       History and Images of the Oriana

Page 2:       Oriana Postcards issued in 1960

Page 3:       Oriana Photo Album - Page 1

Page 4:       Oriana Photo Album - Page 2

Page 5:       Oriana "Lady of the Sea" by Neil Whitmore

Page 6:       The Paul Oliver & Colin Pursehouse Collection

Page 6b:       Paul Oliver Story

Page 7:       Dalian - See the sad photographs of SS Oriana damaged during a storm

Page 7b:       Oriana at Zhangiagang shipyard in China - Taken 29 July & 9 September 2005, the demolition of a liner

***********************************

\

This is recommended reading!

"Orient Line – A Fleet History"

Is available for £23.50 plus p&p from "Ships in Focus"

email: sales@shipsinfocus.co.uk

***********************************

Also Visit our Features on the following Orient Lines/P&O Ships

Orient Lines: RMS Orcades – SS Oronsay - SS Oriana - RMS Orion

P&O: RMS Strathaird - SS Iberia - SS Canberra

********************************

Use the Back button on your browser or Close the Page to return to the previous page
or go to our INDEX

ssMaritime.com & ssMaritime.net

Where you will discover over 1,358 Classic Liners & the 1914 built MV Doulos Feature

                                    

Photographs on ssmaritime.com, & .net and associate sites are: 1. By the author. 2. From the author's private collection. 3. Or as provided by Shipping Companies and their Publicity Companies as well as by private photographers or collectors. Credit is given to all contributors whenever possible.

ssMaritime is owned and © Copyright - Reuben Goossens - All Rights Reserved