The very Last Orient Liner built, SS Oriana (1960 to 1986) she was then sold to Japan to be come a floating hotel
Please Note: Firefox and some other search engines may not suitable
Please use Google Chrome for this page to load perfectly!
Click the logo above to reach the ssMaritime FrontPage for News Updates & "Ship of the Month"
With Reuben Goossens
Maritime Historian, Author and Lecturer & Cruise'n'Ship Reviewer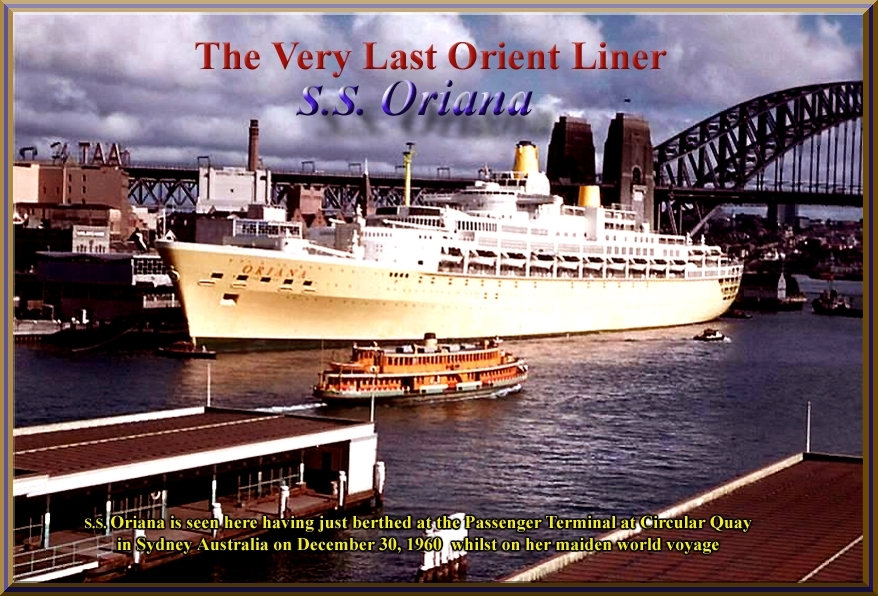 Page One
From Birth to Breakers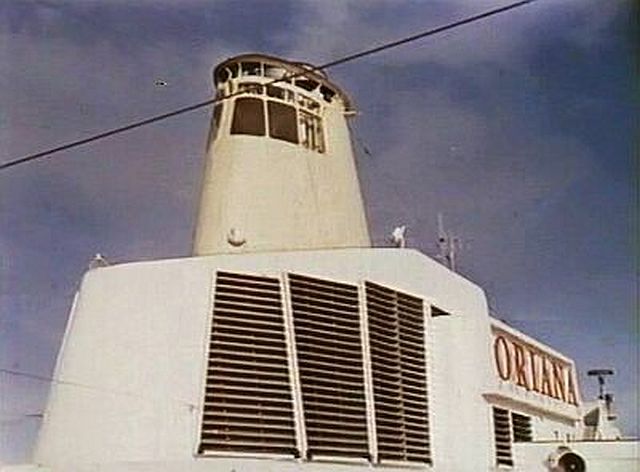 The Oriana had the most recognised funnel in maritime history!
Please Note: The SS Oriana feature has 14 Pages, has one brand new page just added.
All of the Oriana pages have all been updated, But I am sure you will find the new page
located in Part One, "Building the Oriana" and it is Page 5, containing the most amazing range of
"Specifications, & Facts" regarding the construction of the Oriana, you may never have heard about!
Introduction:
This fourteen page feature will cover the remarkable history of the SS Oriana, which was a great liner and popular cruise ship she ended her final days as a tourist attraction in Japan and China. These pages also include various experiences by me, as well as those provided to me by past crew members and it makes for interesting reading. In addition this feature is packed with photographs for to reminisce of the days you may have spent on her or stood quayside admiring her.

Although this page covers Oriana from her conception in 1954 to being broken up in 2005, I have a separate three page feature entirely related to her design, building, launching, fitting out, sea trials and maiden voyage which I have received from the wife from one of the ships famous designers the late. Charles F Morris. The link to this feature can be found in the SS Oriana INDEX at the bottom of this page along with all other pages.

Building Orient Lines largest Liner:

In 1954 Orient Line began planning to build a new liner, a ship that would be the grandest and largest Orient liner ever to be built; however, it was not until 1956 that Orient Lines made the final decision to build a new ship for the Australian trade. With the added costs of fuel consumption, as well as maintenance of their older ships, it was decided that a larger, fast and a more efficient liner would provide a profitable and a far superior facilities.

After two years of careful planning, Oriana's keel was laid on September 18 1957. This new ship built for Orient Lines, would soon join their already sizable fleet. However, unknown at this stage, the Oriana would be the final great liner to be built for Orient Lines.

Since the Orion, built in 1935, each Orient Line ship's name commenced with the letter 'O'. As Orient Lines searched for a new name, an Australian P&O employee jokingly suggested naming the new ship 'Orstralia.' Thankfully, a unique name was decided on, one that was given to Queen Elizabeth I, by the poets of her era – "Oriana". Orient Line ships all had their own distinctive emblem, and now a suitable emblem was required for the Oriana, the new super liner.

Milner Grey created an exciting new emblem for the Oriana, in the form of an 'O' topped with a crown made of pearls, and containing a double 'E' inside the 'O' representing Queen Elizabeth I, and the coronation of Queen Elizabeth II.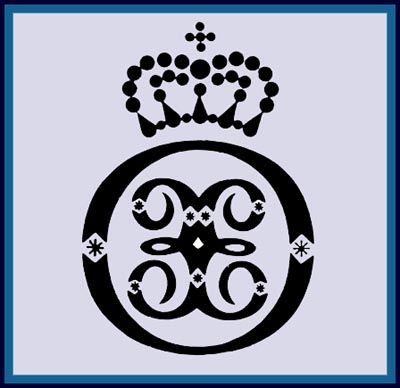 The contract to build the Oriana was awarded to Vickers Armstrong Ltd of Barrow-in-Furness. Construction work commenced 18 September 1956. Slowly the unique design of the Oriana became obvious, a new concept yet she retained design similarities of other Orient Lines ships, such as the Orcades, Oronsay, and the newer Orsova. Location of her lifeboats was the most obvious modification. SS Oriana was the largest ship to built at the Barrow yard and as we know, it would also be the last ship they constructed for the Orient Steam Navigation Company.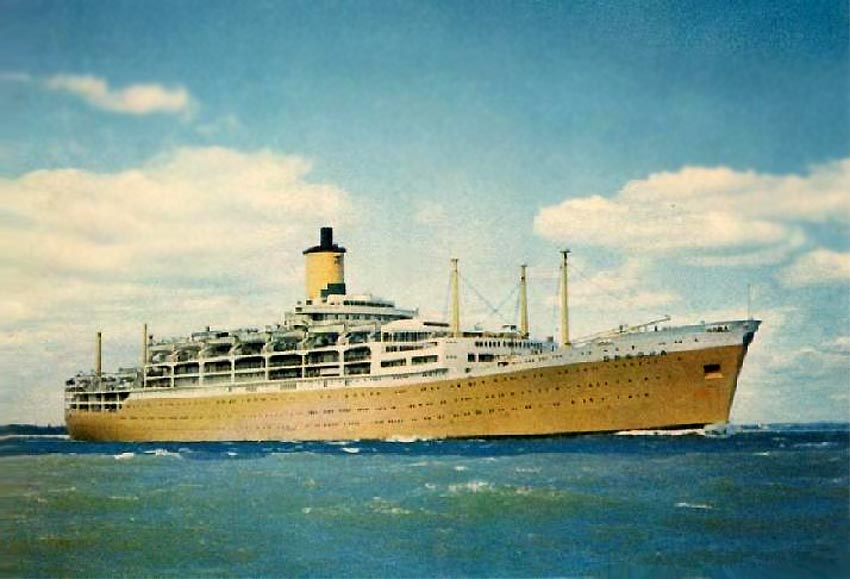 SS Orsova is the proud predecessor to the SS Oriana
The contract for the £14 million "Oriana" was placed on May 12, 1954, but work on her did not commence until September 18, 1957. The official hull laying plate was numbered, 1061, which many jokingly claimed was her "Maiden Name."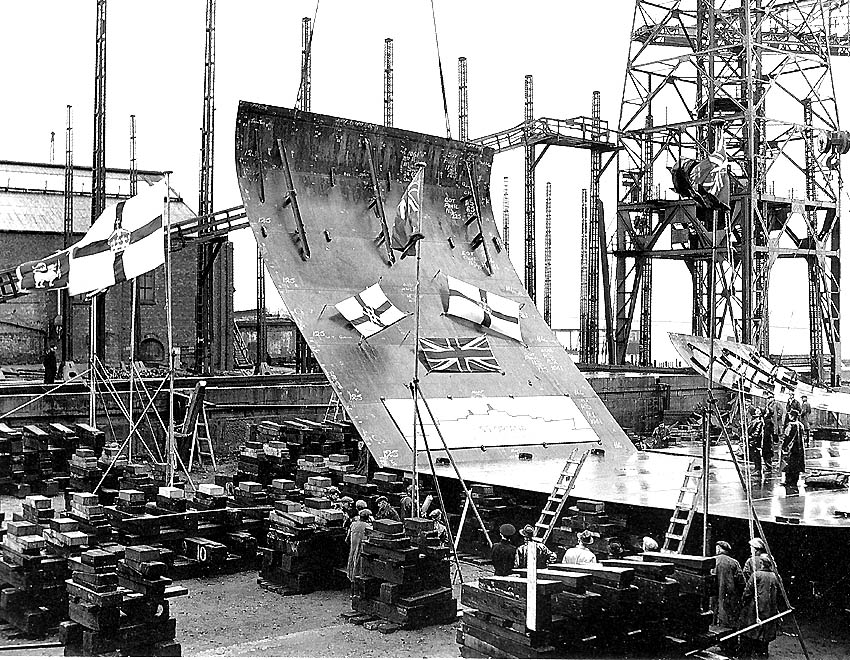 The laying of the 24½ ton section of the keel. It was decorated with the
Union jack, the Orient Line House Flag as well as a silhouette of the ship
Photograph by Vickers Armstrong Ltd
Then came the big day for on Tuesday November 3, 1959, Princess Alexandra officiated at the launching of Orient Lines super liner - SS Oriana. Countless of thousands attended the launching, including the many proud men who worked so tirelessly on her.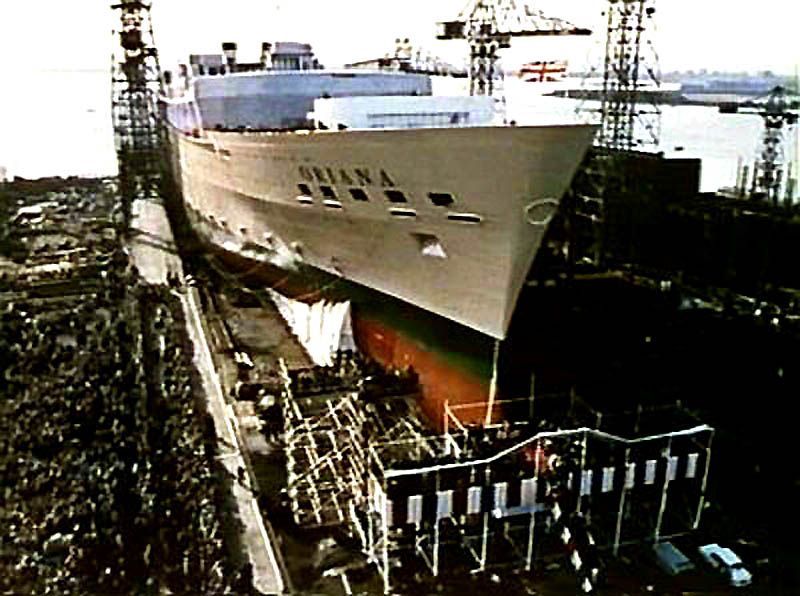 The Oriana seen during the launching ceremony, soon she will glide into the water for the very first time

Photograph provided by

Pauline Wakefield wife of the late Charles F. Morris

After the launching and she was majestically afloat, the Oriana was taken in tow and she proceeded to her fitting out dock in Buccleuth to complete her aluminium superstructure and her interior fit-out which were done to amazingly high standards and setting new trends for the Australasian service.

The next twelve months saw her turn into a fine ultra modern passenger liner ready for service. Located forward atop the Crows Nest, there was a short radar mast for it is well known that the Orient Line usually did not have a conventional mast atop of their Bridge of their liners. The Oriana had the usual high, but a somewhat more streamlined, central funnel, however, aft there was a strange new somewhat new feature, a rather small dummy funnel.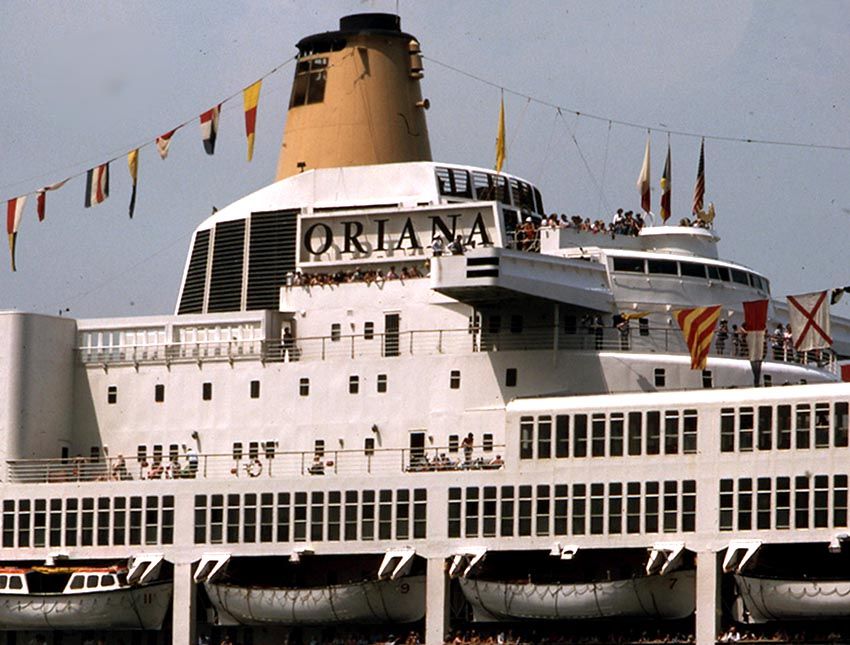 A perfect view of her unusual upper superstructure and funnel configuration
At 41,915 tonnes SS Oriana was the largest passenger liner to be placed on the Australia / New Zealand service. Her dimensions was, 804ft - 245.1m long, and 97ft - 30.48m wide, having 730 cabins, 17 public rooms, and 11 passenger decks. And she accommodated 2,000 passengers, in two classes with a crew of around 980.
During her speed trials carried out on the Clyde, between 13 and 16 November 1960, she achieved a maximum speed of a remarkable 30.64 knots, and this was during woeful weather conditions. With two sets of Amerada double-reduction geared steam turbines, which generated 80,000 horsepower, were geared to twin screws, giving her a comfortable cruising speed of 27.5 knots. Upon completion of her last trial, she wasdelivered to the Orient Line.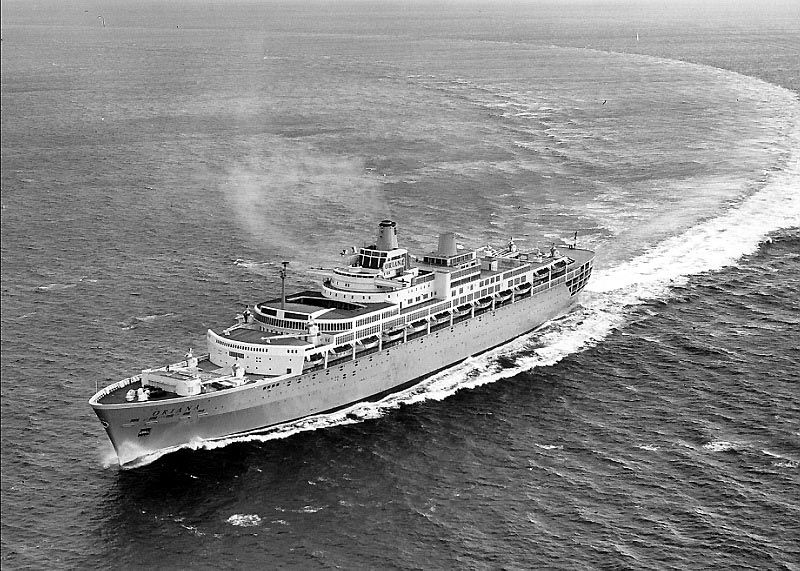 SS Oriana seen during her sea trials on November 16, 1960

See details regarding photo notes below

Please Note: The photograph of the SS Oriana on her deep sea trials (and others above as noted) was provided to myself to use on ssMaritime.com by Pauline Wakefield. a wonderful lady and the wife of the late Mr. Charles F. Morris who was one of the finest Orient Line Naval Architect's, who designed this, the last ever Orient Liner to be constructed, the much beloved - SS Oriana. Many will remember

Morris' magnificent book, "Origins, Orient and Oriana" and I have a very special edition of this book in my private collection, having been provided to me by Pauline Wakefield.
SS

Oriana
's

Maiden Voyage:

SS Oriana departed on her maiden voyage from Southampton on Saturday December 3, 1960 and headed for Sydney sailing via the Suez Canal, and she did this voyage in 27 days. She returned to Southampton via New Zealand and the United States. She was without a doubt the fastest liner on the UK to Australia service!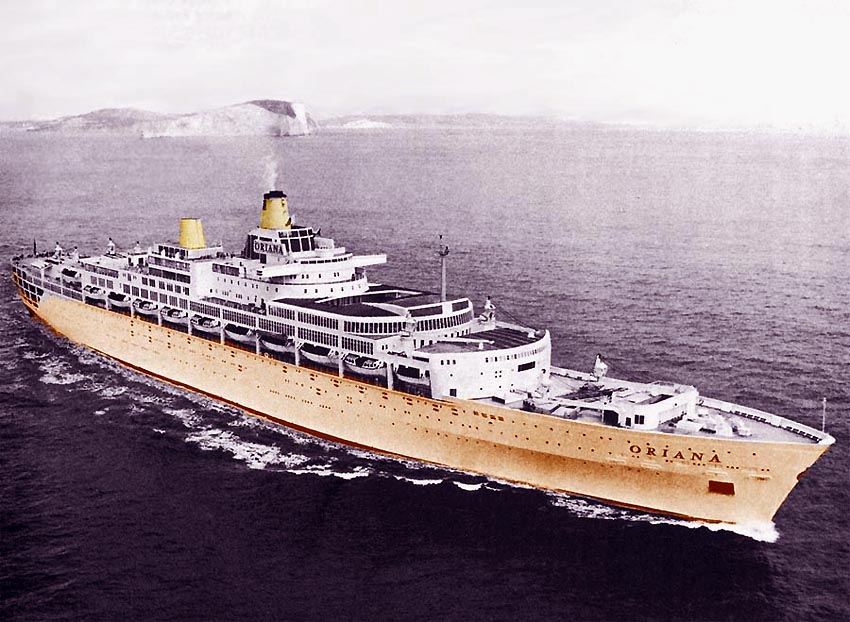 The ship simply looks utterly modern, yet still somewhat traditional Orient Line in style
Here we see SS Oriana "The Queen of the Sea" departing Britain and bound for Australia
As can be seen above, SS Oriana retained that distinctive (yet a modern) Orient Lines profile, for which the company was renowned for, yet they were now leaders in overall ship design, for the SS Oriana was unique in so many ways, for she stood out as she was very different to any other ship in the world, yet amazingly beautiful.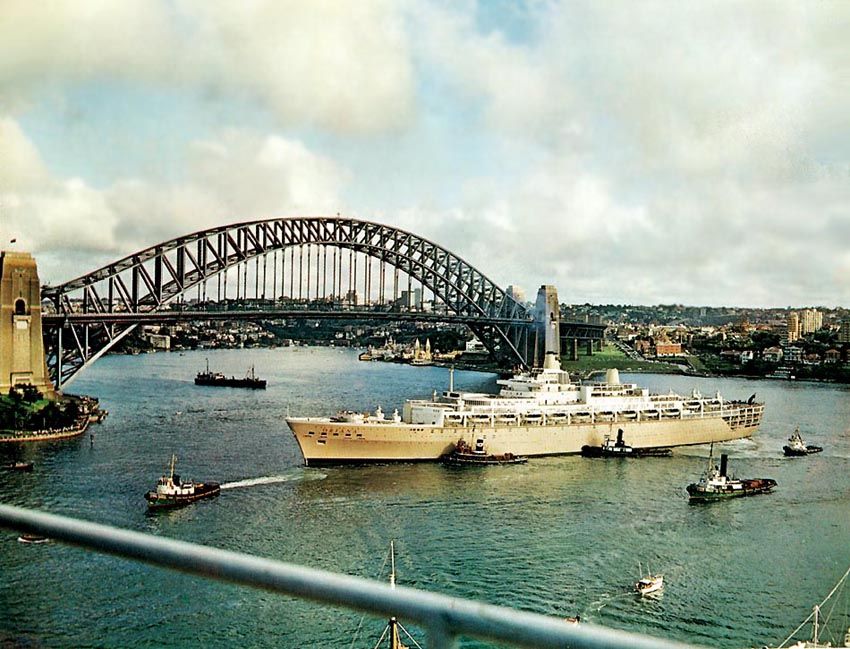 SS Oriana arrived in Sydney Friday December 30, 1960, for her very first call
and she would be a regular until her final departure in 1986
Mid 1961, SS Oriana was joined by the P&O Peninsular's new 45,733 GRT, SS Canberra, which became the largest liner to be placed on the Australian service. Rapidly, Canberra became the ship that received the most publicity. Undoubtedly SS Canberra was an imposing sight, being all white ship, with long sleek lines, and the author enjoyed his voyages on her a good number of times. However, the Oriana soon gained a vast following, with past passengers returning to sail on her many times - 'Take a ship, back to the home country" was the popular statement in the early days. And it seemed that the Oriana was the choice of many a seasoned traveller!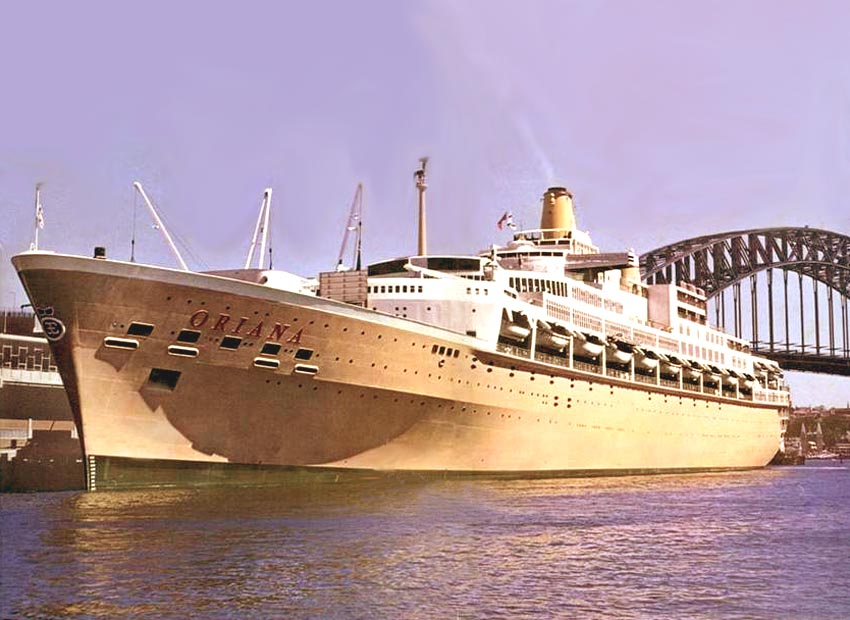 With the Oriana finally completed she headed for New Zealand & Australia and she is seen here in Sydney
The author sailed on the Oriana from Auckland, via Sydney to Melbourne in the mid 1960's then I had a single first class cabin on the starboard side of A Deck just aft of the lobby.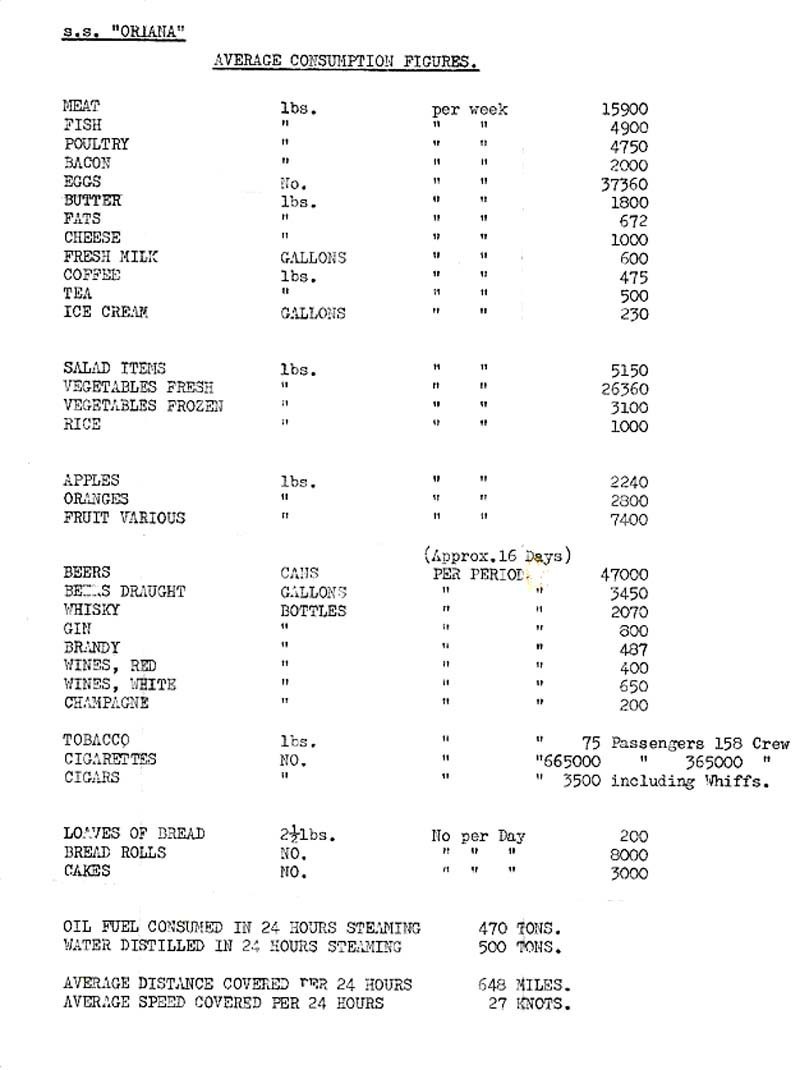 I received the above SS Oriana consumption figures from a relative of an ex cabin steward
Myself and my dear, (sadly now late wife) Betty enjoyed a wonderful South Pacific cruise on the Oriana in 1973, those were the days she operated cruises from Sydney Australia as a cruise ship and, of course at that time she still had a buff hull. We had First Class cabin, in the very first portside "Court" just forward of the first class main lobby on C Deck. It was a great cruise experience and a fine ship.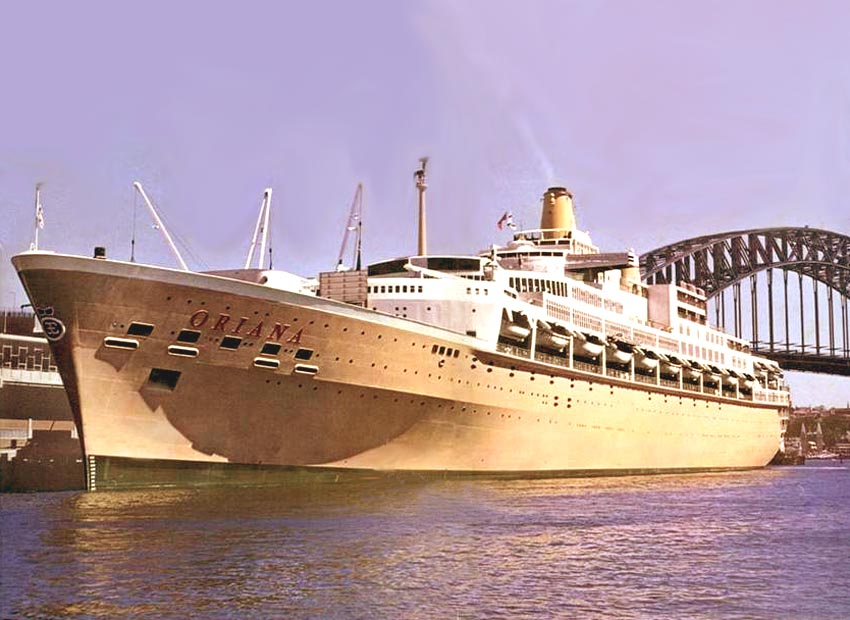 With the Oriana finally completed she headed for New Zealand & Australia and she is seen here in Sydney
Sadly, in 1966, what I call the unbelievable happened, for the wonderful and historical name of "Orient Line" or "Orient Steam Navigation Company" hails back to 1870s, but it now this great company would disappear when they merged and together they simply became the "P&O Line".
The great and much loved SS Oriana had sailed around the world for almost fourteen years. Bus as it was happening with ships worldwide the late sixties proved to serve up difficult times. The truth is that the round the world service started to become unprofitable with a decline of passengers, being due of course to flights to London, or Europe which were being offered at heavily discounted fares, as well as special super cheap charter flights being arranged. Thus P&O had to make a decision on how to handle this new handicap that came about due to declining bookings.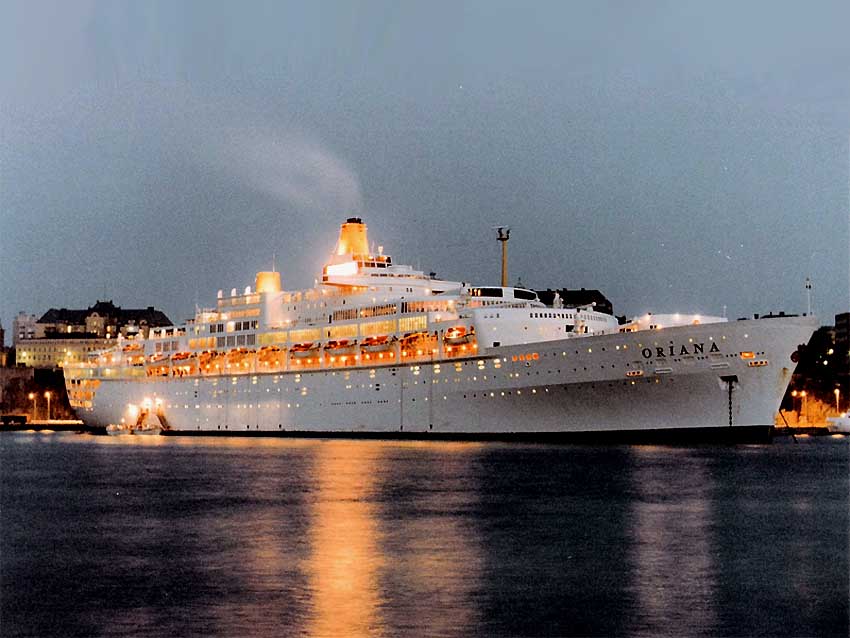 Oriana the superb looking Cruise Ship seen berthed in an unknown port
Sent by a supporter, but the photographer is unknown, Please see Photo Notes at the bottom of the page
With the Oriana having already served as a part time cruise ship, in 1973 P&O announced that she would now become a full time cruise ship. At first, she remained a two-class ship, however, in 1974, P&O decided that the class barrier would be dropped and the Oriana would become, like other P&O ships a one-class cruise ship.
A number of onboard changes were made with the removal on the Silver Grill on A deck, which was replaced with additional cabins, as well as name changes for some lounges. As a cruise ship, both the SS Oriana and SS Canberra were a remarkable success story.
On Thursday November 12, 1981 SS Oriana departed Southampton for the very last time, and she headed for her new homeport, Sydney. From Sydney she commenced a full time cruise programme, and she very rapidly became the toast of Australian cruise lovers, and better still, theOriana became a great success story for P&O!
She cruised the South Pacific, as well as an occasional Asian itinerary's. Over all, SS Oriana enjoyed an eighty per cent occupancy rate. Her success had other shipping companies enter the market, placing their ships on full and part time cruise duties from Australia. There were Russian, Italian, Greek even a Chinese company who based their ships in the Southern Hemisphere, all vying for that ever increasing cruise dollar.
Sitmar, P&O and CTC cruise Companies were the most successful these cruise operators. After successfully cruising out of Australia, came a shock announcement on 22 July, 1985. P&O announced that the Oriana might be withdrawn from service. The reason obviously being, the competition from Russian and other cruise companies, all offered heavily discounted fares, effecting P&O's profits.
However their major competitor was Sitmar Cruises which operated the extremely popular TSS Fairstar, and she had become a major player in the Australian cruise market.
Then on August 7, 1985 it became official; SS Oriana would conclude her official cruise duties on March 27 1986. Although at the time, no decision had been made regarding her future.
SS Oriana departed Sydney on Friday March 14, 1986 for her final 14 day cruise; the ships master for this somewhat sad cruise for cruise was Captain Philip Jackson. The Oriana was packed to the brim with 'Oriana' enthusiasts, who had cruised on her many times. The great SS Oriana returned to Sydney on Thursday March 27, sailing majestically through Sydney Heads, with countless ship lovers and those who admired her standing up on the north and south heads, watching her pass, all cheering and waving! She looked so very beautiful as she slowly sailed up the harbour and then past "Sydney Opera House" followed by sailing under the "Sydney Harbour Bridge". Finally she gently docked at the Pyrmont Passenger Terminal and the Cruise Director gave a special farewell speech, as her very last passengers disembarked, having had a most enjoyable cruise, but at the same time very sad, for they knew it would be no longer possible! The Oriana had by now sailed some 3,430,902 nautical miles visiting 108 ports during her career, and she achieved a record cruising speed of 29.21 knots.
It had been announced that SS Oriana would be replaced by the 20,000 GRT Island Princess. She would cruise from Australian ports six months of the year.
However, with the massive popularity of Sitmar Cruises in the UDA as well here in Australia, in 1988, P&O Princess Cruises decided to purchase Sitmar Cruises and their four ships currently in operation, three from US ports and the Fairstar in Australia. P&O decided to use the popular Fairstar as their permanent Australian based cruise ship and she was yhe only ship not to be renamed, whilst ships in the US others were transferred to Princess, as well as three ships that were still being built, which became the MV Star, Regal and Crown Princess.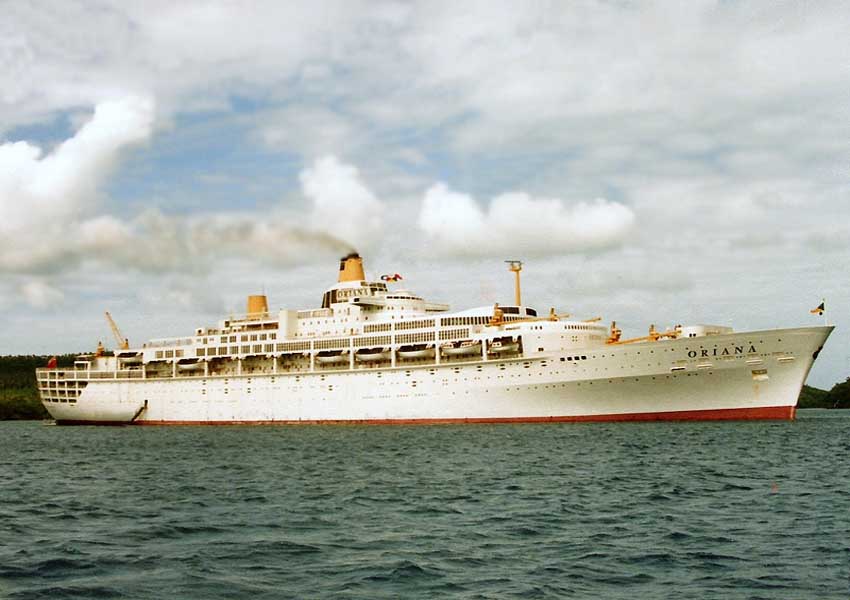 Oriana at anchor during a Pacific cruise
The next day after her return from her final cruise, Friday March 28, Oriana was moved to Pyrmont wharf 21, were she remained laid up for two months. Then on May 7, it was announced that the Oriana had been sold to Japanese interests for the use as a floating hotel, museum, and as a restaurant venue.
Oriana is bound for Japan a One Way Voyage:
Oriana's final departure from Sydney was hampered by strikes; however she finally departed Sydney on the afternoon of Thursday May 29, 1986. Her departure from Sydney became a sombre event, as thousands of past passengers and those who had come to know her distinctive profile whilst in port, looked on with great sadness. A tug sailed ahead of her, spouting her fire hoses, as many small vessels accompanied this great ex Orient Line Passenger Liner to Sydney Heads. The great lady of the sea looked such a sad sight, for her decks were devoid of passengers, and there was no sign of life to be seen anywhere except on her Bridge.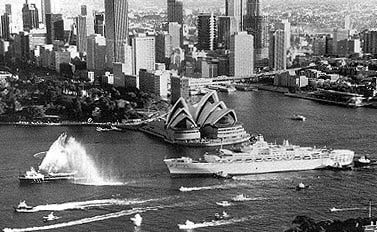 The much loved SS Oriana says goodbye to Australia
Rather than sailing by her own, four tugs moved her to Sydney Heads … "the tug leading the ship in the photo taken off the Opera House was attached via a towing bridle made up of Oriana's starboard anchor cable that was secured inboard and led forward through the fore most fairleads. In harbour the bridle was shortened but at the Heads it was lengthened to its catenary length and the 'Lady Lorraine' towed the Oriana to Japan." Provided by ex P&O crew member and Sydney Ferry man Colin Pursehouse. The ship that was so lovingly known as "The Queen of the Sea" arrived at Osaka, Japan three weeks later.
The Oriana arrived in Japan at 3.00 pm on Tuesday June 24, 1986. She docked at the Hitachi Zosen Shipyards Repair Works at Sakai in Osaka where she was refitted for her new role.
At the Hitachi Zosen Shipyards her propellers as well as her rudder were removed and they were placed on the fore deck by the past crew's swimming pool. When the renovations were completed she was towed to Beppu Bay.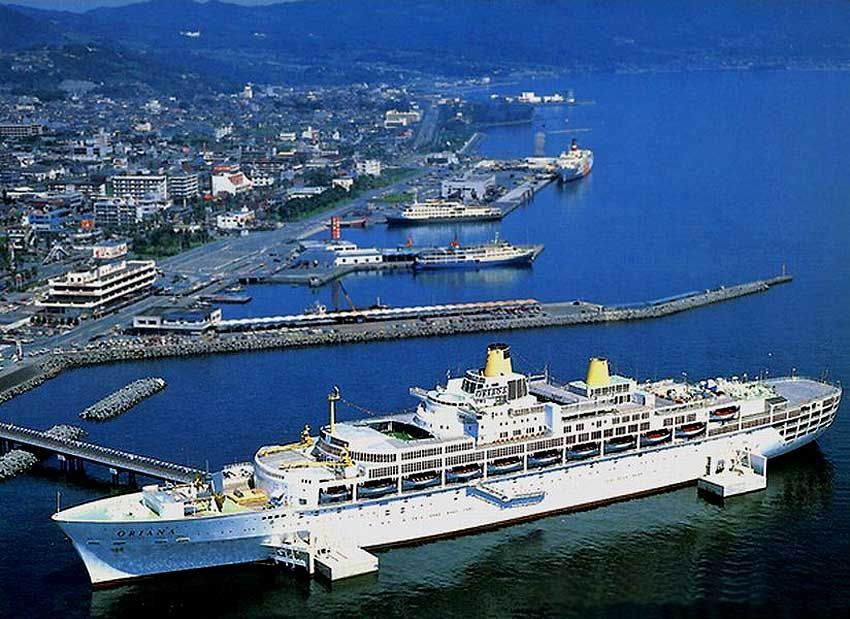 Official postcard of the Oriana is seen here at Beppu bay, Japan
Although the Oriana as a well built ship, she would obviously have remained afloat, but her new role certainly would not! Soon she became a sad sight, especially when the Japanese owners painted her funnels pink a little later, to Jazz her up. It soon became obvious that the hotel venture failed.
Heading for Shanghai:
In 1995 the Oriana was sold to a Chinese company "Hangzhou Jiebai Group Co Ltd", and she was towed to Chinwangtao (Qinhuangdao) in China where she served as an accommodation centre for the Chinese Government as well as a general hotel.
Then in November 1998, the "Hangzhou West Lake International Tourism Culture Development Co Ltd." purchased the ship for US$6 million from Qinhuangdao with the latter retaining an 85% stake.
On November 15, she was towed by five tugs from the Qinhuangdao to Shanghai. The refit would take place iat Zing Hua Harbour for the Oriana to once again to become a British style floating tourist Centre. The subsequent US$3.63 million restoration project included new elevators, alarm systems, and climate control throughout the ship. After a media tour on board, a press release stated the following
"the ship will maintain the traditional British style and elegance of its earlier years. Original furniture, ornamental objects, and even old newspapers will be maintained in the cabins".
She was taken once again undertow and she arrived and was placed along the Huangpu River at Shanghai (Pudung District) in early 1999. The all new Oriana was opened to the public on February 16, 1999 with hotel accommodation, a swimming pool, a miniature golf course, a wedding chapel, and a 20,000 square metre exhibition hall. The pubic was most enthusiastic, for it even had a Museum of World-Famous Ship Models. During her early days she received an average of 3,000 visitors per day.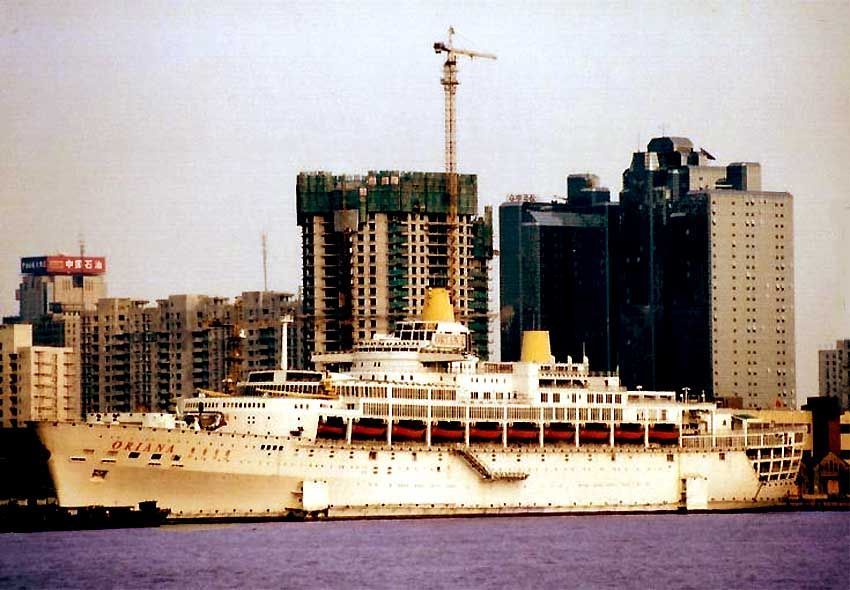 Oriana seen in 2001 as a floating tourist attraction now located in Shanghai
She was attached to her moorings, as can be seen in this photograph
Holding a 85% stake in the ship (15% was held by Hangzhou Jiebai Group Co Ltd), Hangzhou West Lake International Tourism Culture Development Co Ltd announced on August 15, 2000, that they would auction its holdings in the Oriana. Even though Oriana had more than 500,000 visitors, somehow she was not making the profits originally anticipated. Thus finally it was decided to sell their shares at auction, which took place on September 28, 2000.
Hangzhou based Song Dynasty Town Group succeeded to net an 85% stake for a price of US$7.25 million from one of the liner's major shareholders at the said auction. Huang Qiaoling who was a member of the board of directors, revealed that the future operation of the liner will focus on its features as a "British culture and a palace at sea."
Oriana's

Final Port Dalian China:

In December 2001 we heard that she would be bound for Dalian in China and that she would be refitted to turn her into a floating theme park, a maritime museum, with banquet halls and restaurants and cafes, perfect for tourists and locals alike.

But then I had heard that the "Hangzhou Songcheng Group", a company from east China's Zhejiang Province had invested almost 300 million Yuan, being US$ 375,000 to purchase the ship in 2001 and refit her.

Oriana was towed to the port of Dalian, arriving there on June 30, 2002 and she was placed at a permanent berth at Xinghai Bay. With her new internal and external refit completed, all the observers clearly stated that the Oriana now looked better than she had for a very long time, being freshly painted and bedecked with flags. She looked more like the Oriana the people knew. The event was covered on television, and she became the talking point in Dalian. She soon opened to the public in her new popular resort role and she was a huge hit with the locals and International tourists alike.

A press release stated that: "Visitors will be able to see the ship's original bridge, VIP hall, post office, hospital and museums, and enjoy films and artistic performances." The Oriana was finally a actual,  and I do mean a real success! "May she have many more great years" was our wish for her! BUT.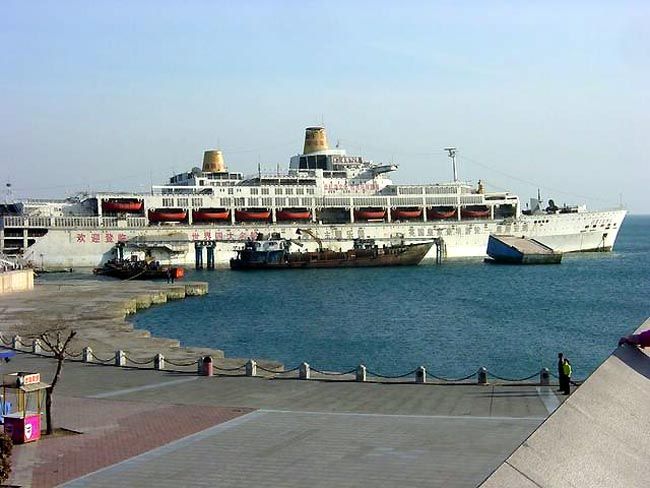 The Oriana at Dalian was certainly magnificent, I only did not like the red lifeboats, but the ship was a Chinese Masterpiece!
But as I said, sadly just two years later a tragic end came to Oriana's newfound success!
On Wednesday June 16, 2004 the region of Dalian and of course the Oriana was struck by the one of the most vicious and powerful typhoons and she was badly damaged. She took on a great deal of water due to her being holed at bow that saw her lower decks flooded, and very soon she was listing to port.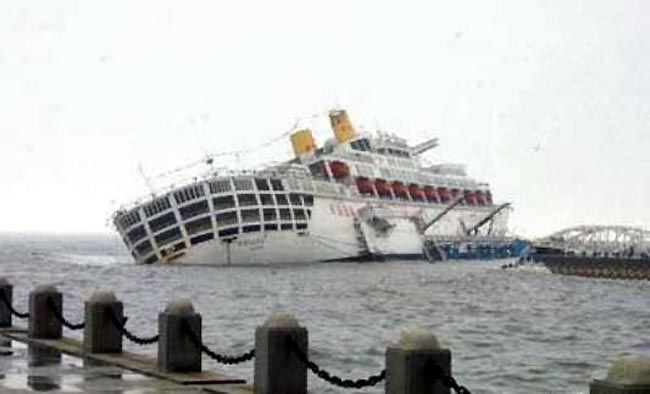 Although attempts were made to right her and the owners even considered restoring her, however the cost proved to be far too great.  All that could be done is temporarily concrete the holes and stop the water entering and pump out as much water as possible, which they did. It could only have happened on Friday the 13th.of May, 2005 … SS Oriana departed Dalian and undertow to "Wayou Breakers" scrap yard at Zhangiagang China, where our beloved SS Oriana the ship that was once "The Queen of The Sea" was sadly broken up, aged 45 years since her maiden voyage.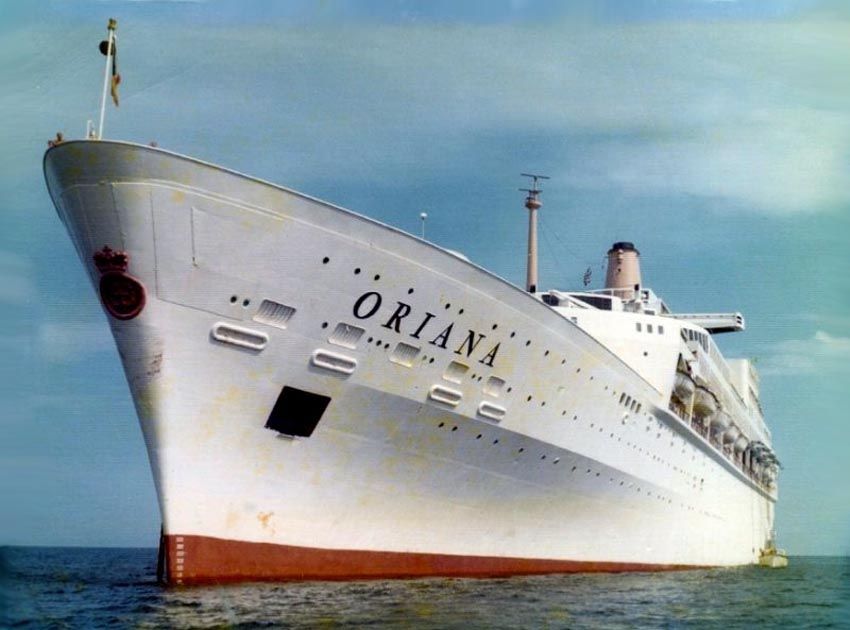 ex Crew member, Simon Lockyer, provided us with this excellent photograph of the Oriana
For this is how we like to remember her as a popular cruise ship
Photograph by & © Simon Lockyer
***********************************
SS Oriana - Main Index:
PART ONE …
Designing & Building the Oriana - ONLY available to ssmaritime.com:
Images from the naval architect & designer of the SS Oriana:
Page 1:       The building of SS Oriana
Page 2:       The launching and fitting out of SS Oriana
Page 3:       Sea trials and Oriana's maiden voyage
Page 4:       Deck Plan, Rare Photographs and other Images
Page 5:       Countless Specifications & Oriana Facts (NEW)
PART TWO …                                  
Oriana's General History Pages:
Page 1:       History and Images of the Oriana
Page 2:       Oriana Postcards issued in 1960
Page 3:       Oriana Photo Album - Page 1
Page 4:       Oriana Photo Album - Page 2
Page 5:       Oriana "Lady of the Sea" by Neil Whitmore
Page 6:       The Paul Oliver & Colin Pursehouse Collection
Page 6b:       Paul Oliver Story
Page 7:       Dalian - See the sad photographs of SS Oriana damaged during a storm
Page 7b:       Oriana at Zhangiagang shipyard in China - Taken 29 July & 9 September 2005, the demolition of a liner
***********************************
This is recommended reading!
"Orient Line – A Fleet History"
Is available for £23.50 plus p&p from "Ships in Focus"
email: sales@shipsinfocus.co.uk
***********************************
Also Visit our Features on the following Orient Lines/P&O Ships
Orient Lines: RMS Orcades – SS Oronsay - SS Oriana - RMS Orion
P&O: RMS Strathaird - SS Iberia - SS Canberra
********************************
Use the Back button on your browser or Close the Page to return to the previous page
or go to our INDEX
ssMaritime.com & ssMaritime.net
Where you will discover over 1,358 Classic Liners & the 1914 built MV Doulos Feature
Photographs on ssmaritime.com, & .net and associate sites are: 1. By the author. 2. From the author's private collection. 3. Or as provided by Shipping Companies and their Publicity Companies as well as by private photographers or collectors. Credit is given to all contributors whenever possible.
ssMaritime is owned and © Copyright - Reuben Goossens - All Rights Reserved