Orient Steam Navigation Company - RMS/SS Orion - 1935 to 1963
Please Note: Firefox and some other search engines are not suitable – Use "Internet Explorer" for this page to load perfectly!

Click the logo above to reach the ssMaritime FrontPage for News Updates & "Ship of the Month"
With Reuben Goossens
Maritime Historian, Cruise'n'Ship Reviewer & Author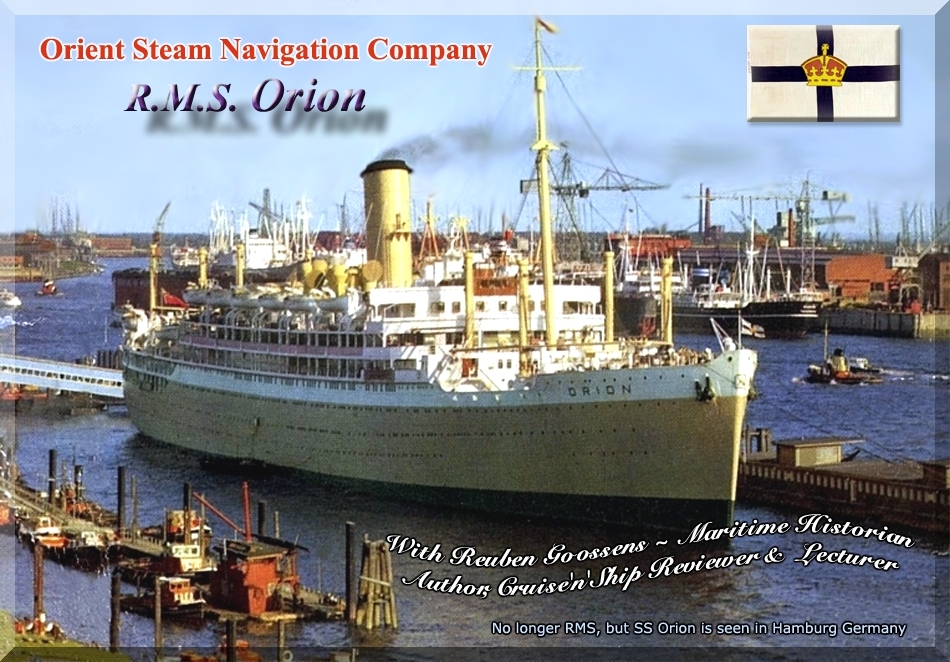 RMS Orion (later the SS Orion) is still considered to be one of the most famous ships on the Australian immigrant run, as she introduced a new standard in ocean travel. Orion was the first British liner with air conditioning in all her public rooms. Built by Vickers-Armstrong in Barrow, Furness, England, she was launched on December 7, 1934 and completed in August 1935.
However her launching stands apart in British maritime history, for was an event, which no British ship had ever experienced.  RMS Orion was launched by remote control via wireless all the way from Brisbane Australia. The Duke of Gloucester, whilst he was Down Under, officiated and pressed a button that transmitted a radio signal to Barrow where the launching took place. The idea was actually copied from the launching of a Holland-Africa liner when radio waves were used for the first time. Due to this launch, she immediately has a special affiliation with Australia.
Specifications:
Tonnage:                              23,371 GRT (gross registered tonnes)
Length:                                665ft (202.7m)
Beam:                                  82ft (25.6m)
Draught:                               30ft (9.1m)
Engines:                               Six Parsons SRG Steam Turbines (24,100 SHP)
Screws:                                Two
Service speed:                       21 knots.
Passenger Decks:                   Seven
Passengers:                          708 Cabin Class, 700 Tourist Class. Later 1,691 One Class (Tourist)
Crew:                                   466, later 565
When built, Orion was the largest Orient liner and as can be seen above, she was originally built as a two class ship. By 1961, she was converted to a One Class liner. Orion was the first Orient liner to be painted in that much loved Orient Line livery with a corn coloured hull. She paved the way for all Orient / P&O liners that succeeded her.
Her interiors had an extensive use of chromium and bakelite, which set her apart from all previous Orient liners. The reason for the use of these surfaces was that these materials offered resistance to the effects of the sea air. Her décor was certainly original for the time.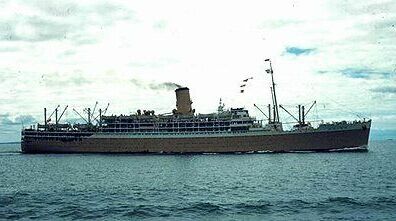 Orion - full steam ahead at sea
Photograph taken by & © Alan Judge (UK)
When delivered to Orient Lines in August 1935, she undertook several short cruises from London. Then on September 28, she departed Tilbury for her maiden voyage to Australia. Until the war broke out in 1939, Orion operated main line voyages to Australia with occasional cruises from the UK.
She was acquired by the British government as a trooper seeing her sail to Egypt and Wellington, New Zealand where she took on troops for Europe. She left Wellington on January 6, 1940 and joined with other ships in convoy for Sydney Australia to rendezvous with her sister ship Orcades. The convoy then left Australia for Egypt.
The Orion departed Liverpool on August 15, 1941 as part of a convoy (WS10X) carrying Australian troops from the UK back to Singapore sailing via Freetown, where they arrived on August 28 and departed again on September 1. However, as Orion was sailing directly astern of the HMS Revenge in the South Atlantic apparently the steering gear onboard the HMS Revenge malfunctioned and Orion being unable to come to a full stop quickly rammed the Revenge. The impact caused considerable damage to Orion's bow, but although badly damaged she managed to continue to Cape Townwith this convoy and upon arrival temporary repairs were mad. In October she departed and joined a new convoy bound for Bombay (WS11X). Although Orion continued her voyage to Singapore where she remained for 55 days in dry-dock for her repairs to be completed. Some believe that the Orion was bound for Egypt, but this was never the case, she only joined the first convoy for safety sake and was always due to sail as far as Cape Town and then she joined another convoy sailing across the Indian Ocean and then continued to Singapore.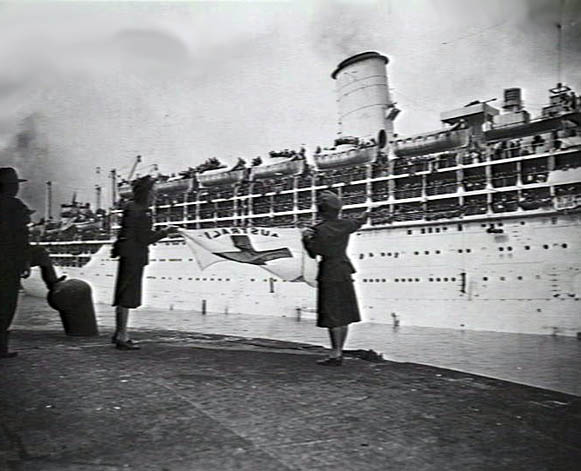 The Orion serving as a troop ship is seen arriving in Sydney, Australia obviously having some wounded onboard
It was about this time the Japanese were closing in on Singapore and thus Orion was again enlisted, but this time it was to evacuate civilians to the safety of Australia. She remained an essential troop carrier during the war years doing all that was required of her. In October 1942 she was one of many acquired liners which participated in "Operation Torch" and made two trips to North Africa carrying over 5,000 troops each time. In 1943 her troop carrying capacity was increased to 7,000 which, along with other vessels such as USS West Point (SS America) played a huge role in the positioning of the Western Allied Forces. Her role as a troop carrier tapered off in the Pacific there after, but she continued moving troops some 5,000 per voyage. When she was finally released from active duties, Orion had carried over 175,000 soldiers and civilians and according to her log, she steamed over 380,000 miles.
Orion was returned to the shipyard at Barrow on May 1, 1946, where she received a complete refit, which took almost a year, but this included a redesign of all passenger accommodation. At completion she could now carry 546 First Class and 706 in Tourist. She finally departed from Tilbury on February 25, 1947 for Australia.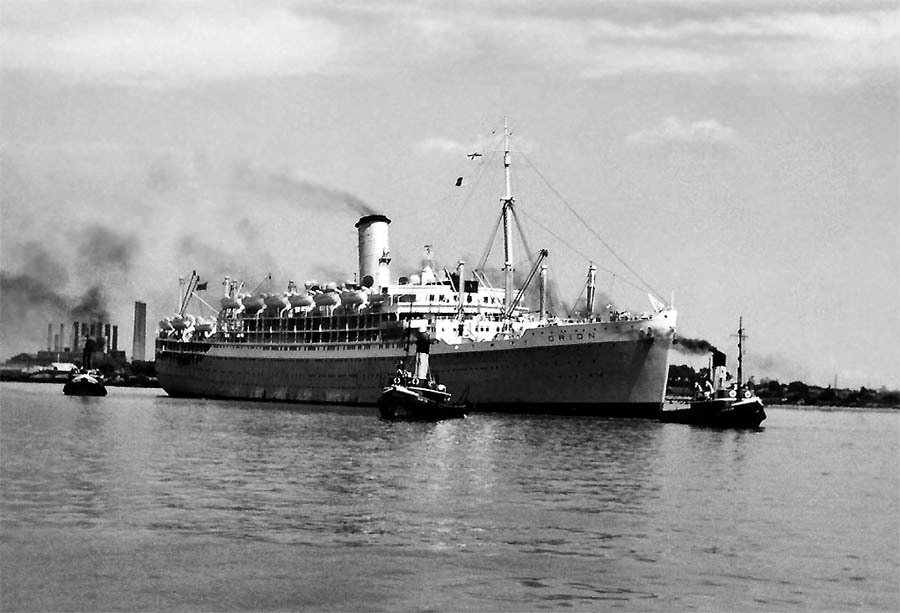 The Orion is seen on the Thames whilst under tow on July 5, 1955
Photograph taken by the late Mr. George Page who was a tug crewmember
Photograph was provided & is © by great grandson Mr. Andrew Pargeter
Beside her main line voyages to Australia and New Zealand she also made three cruises to the West coast of America. Then in 1958 she received further changes to her accommodations and when completed she then accommodated 342 Cabin Class and 722 Tourist Class passengers. However, in 1961 she was converted to become a One-Class Liner and then accommodating a total of 1,691 passengers.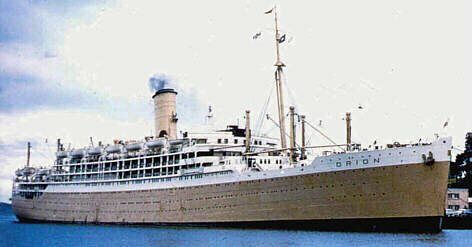 Orion in port
Sadly her days were rapidly coming to an end as new and superior ships had been built and passenger's numbers had declined on line voyages and thus P&O decided to retire her in 1963.  
For her final voyage to Australia, she departed Tilbury on February 28, 1963, sailing via the Suez for Sydney. With great fanfare, she departed Sydney with great fanfare on April 8 and set sail for Fremantle via Melbourne. Flying an 85-foot paying-off pennant from her mast she departed Fremantle and Australia on April 15. SS Orion arrived at Tilbury on May 15, 1963 with her future unsure.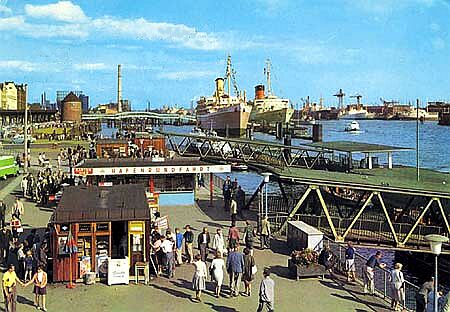 Seen as a floating hotel in Hamburg
She was chartered for four months as a floating hotel at the "International Horticultural Exhibition in Hamburg, where she arrived on May 23, 1963. She offered accommodation for 1150 guests. At the conclusion of the exhibition on September 30, she darted the next day she for Antwerp where she was broken up by the Jos Boel et Fils scrap yard.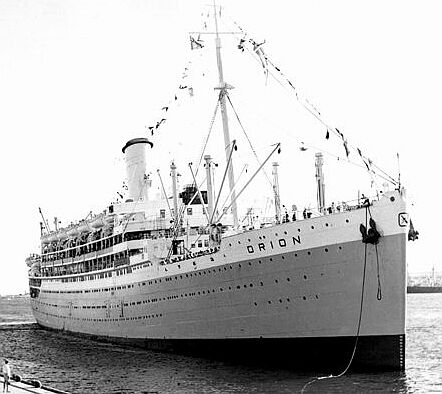 Orion looking festive as she is casting off during her popular cruises
RMS/SS Orion Index
RMS Orion …                                  Orion - History Page.
Photo Album …                             Orion - Interior and exterior photographs.
Passenger Contribution - 1 …        Ben Zuber heads for Australia in 1961.
Passenger Contribution - 2 …        Jack Abbott - a Soldiers Tale - "Orion Oracle" No 20.
Passenger Contribution - 3 …        Jack Abbott - a Soldiers Tale - "Orion Oracle" No 29.
Passenger Contribution - 4 …        William Rishton sails for Australia in 1956.
Passenger Contribution - 5 …        Anne Lee UK to Sydney Australia in 1958.
**********************************
Also Visit our Features on the following Orient Lines/P&O Ships
Orient Lines: RMS Orcades – SS Oronsay - SS Oriana - RMS Orion
P&O: RMS Strathaird - SS Himalaya - SS Iberia - RMS Kaisar-i-Hind - SS Canberra
***********************************
Return to the ssMaritime MAIN INDEX
ssMaritime.com & ssMaritime.net
Where the ships of the past make history & the 1914 built MV Doulos Story
Please Note: ssmaritime and associated sites are 100% non-commercial and the author seeks no funding or favours of any shape or form, never have and never will!
Photographs on ssmaritime and associate pages are by the author or from the author's private collection. In addition there are some images that have been provided by Shipping Companies and private photographers or collectors. Credit is given to all contributors. However, there are some photographs provided to me without details regarding the photographer/owner concerned. I hereby invite if owners of these images would be so kind to make them-selves known to me (my email address may be found on www.ssmaritime.com only), in order that due credit may be given.
This notice covers all pages, although, and I have done my best to ensure that all photographs are duly credited and that this notice is displaced on each page, that is, when a page is updated!
ssMaritime is owned & © Copyright by Reuben Goossens - All Rights Reserved