Bibby Line HMT Oxfordshire 1957 to 1953 sold to become the TSS Fairstar
Please Note: Firefox and some other search engines are not suitable – Use "Internet Explorer" for this page to load perfectly!
Click the logo above to reach the ssMaritime FrontPage for News Updates & "Ship of the Month"
With Reuben Goossens
Maritime Historian, Cruise'n'Ship Reviewer, Author & Maritime Lecturer
Please Note: All ssMaritime and other related maritime/cruise sites are 100% non-commercial and privately owned. Be assured that I am NOT associated with any shipping or cruise companies or any travel/cruise agencies or any other organisations! Although the author has been in the passenger shipping industry since 1960, although is now retired but having completed around 680 Classic Liners and Cargo-Passengers Ships features I trust these will continue to provide classic ship enthusiasts the information the are seeking, but above all a great deal of pleasure! Reuben Goossens.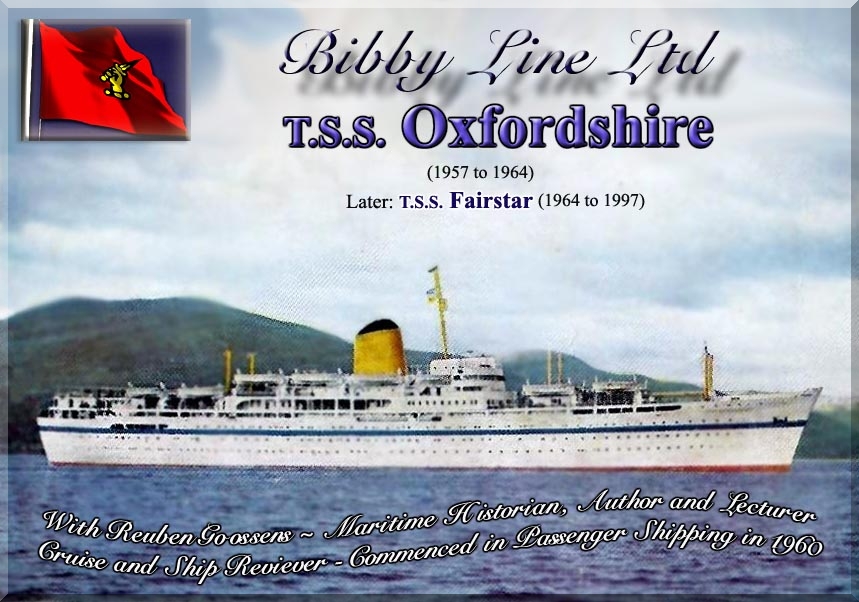 HMT Oxfordshire the Troop ship that would become TSS Fairstar the "Funship"
Introduction:
ssMaritime.com is delighted to present a feature on what is a remarkable ship, a ship that has become an icon to countless of thousands of travellers, be it those who sailed on her as servicemen, as well as those who left their homeland and ventured far across the sea, settling "Downunder" in Australia or in New Zealand!
HMT (Her Majesty Transport) Oxfordshire was built as a Bibby Line troop and passenger ship. Later she became the greatly loved Sitmar Liner the TSS Fairstar sailing between Europe and Australia and New Zealand, until the Jet Age came in the 1970s, which saw migrants being transported faster as well as it turned out more cost affectively per Jumbo Jet.
Thus Fairstar was given a new guise and she became a full time cruise ship and soon Sitmar Line realised that it was financially worthwhile to homeport her in Sydney and to operate her year-round as a South Pacific cruise ship, as well as operating cruises to New Zealand, with occasional extended cruises to South East Asia. She became Australia's most famous cruise ship and became lovingly known as the "FunShip" and sailed on until 1997 having spent a good 40 years at sea!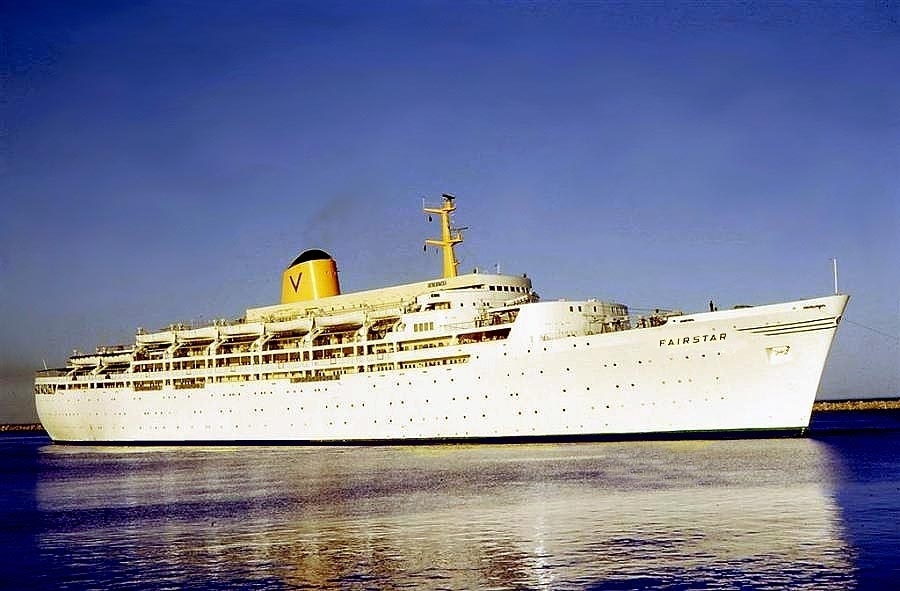 A fine Sitmar Line photograph of the TSS Fairstar
From the author's private collection
The name Fairstar conjures up joyful memories for 1.1 million people, for those Aussies and Kiwis, who ventured on the many cruises between 1974 and 1997. The HMT Oxfordshire certainly had a varied and an interesting career … from a proud British Troop Ship to a popular Italian Passenger Liner and full time Australian Cruise Ship!
Part One - Bibby Line
A Short History of Bibby Line Ltd:
The Bibby Line has a long and a proud history, for it was commenced by Mr. John Bibby who was born at Eccleston in Lancashire in 1775. He moved to Liverpool to work for a ship's iron merchant who also produced anchors and chains. However, at the age of 27, in 1801 he decided to commence a new shipbuilding company named "Bibby & Hall." By 1805 he had set up "John Bibby & C, together with John Highfield, and they invested in sailing ships. By 1807 John was operating a packet service between Parkgate on The Wirral to Dublin. He was no longer associated with "Hall" and John Bibby had shares in 7 vessels. Although the ships were relatively small but had a reputation of excellent seaworthiness and above-average passenger accommodations!
The Bibby Company started services to the Baltic in 1814 and to Livorno in 1817. However, the partnership with John Highfield was dissolved in 1821. The business expanded gradually and by 1836 the company owned 18 ships and was trading to Lisbon, the Mediterranean, South America as well as Bombay with the occasional voyage to Canton, the only Chinese port that was open to them, during the "tea season."
Tragically Mr. John Bibby was murdered by a street robber in 1840 and his sons took over the company, which was renamed "John Bibby & Sons." The fleet continued to expand and the company decided to take on and invest in the new steam propulsion and their first steamship the SS Rattler was completed in 1850. In 1854 a joint service commenced to the Levant, Constantinople and Beirut in association with James Moss for which the Levant Screw Steam Shipping Company was formed. Bibby's SS Albanian and SS Corinthian with their then yellow funnels were deployed alongside the steamships of James Moss on the service.
Then the Crimean War, Bibby Line's steamers and some of their older sailing ships were requisitioned by the Government for use operating between Liverpool and Varna. But business in the East was adversely affected by the opening of the Suez Canal in 1859.
Later, after passing control of the Bibby Line to F.R. Leyland for a period of time, the Bibby family returned to the shipping business in 1889 when they started "Bibby Bros. Ltd." later to become the "Bibby Steamship Company." It worked in partnership with Paddy Henderson's British & Burmese S N Co providing passenger services to Burma and ran cruises in the Mediterranean. They also provided services transporting troops. The name changed once again to the "Bibby Line Ltd" in 1931,Omega Replica but their traditional yellow funnel remained!
Despite being in the troopship business, Bibby Line lost one ship during WW1 and two ships in WW2, which thankfully was an astonishingly low number considering the high loss of ships in both wars! After WW2, services to India and Burma declined, partly due to Burmese Independence and then with the Suez crisis being the final straw.
A great company that had its roots back to 1805, with an established troop transportation services that sadly ended in 1962, which occurred when they disposed of the companies newest ship the TSS Oxfordshire, whilst the TSS Nevasa being just one year older was transferred to British India Navigation to operate as a liner and a cruise ship, but she had a short life as she was broken up in 1974, after a few years of cruising.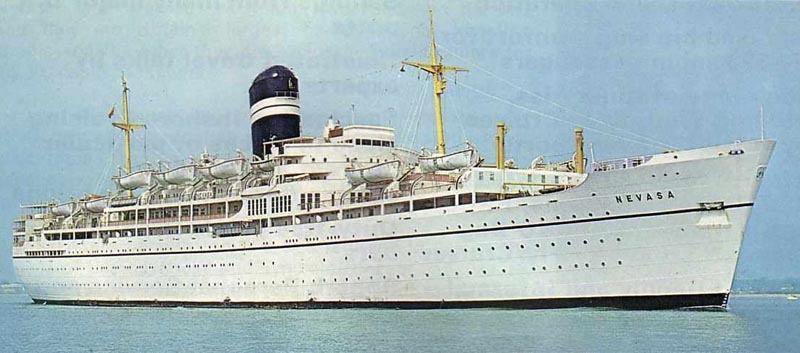 The TSS Nevasa seen after her Cruise refit in 1963, with her heightened funnel
From the author's private collection
However the Bibby Line continues to operate to this very day; but it has greatly diversified, as they now operate bulk carriers and are involved in the transport of LPG, etc,.
T.S.S. (HMT) Oxfordshire:
Designated hull 755, the ship was built by Glasgow's Fairfield S.B. & Eng Co. Ltd, in the Govan yard. Somehow, the builders name foretold part of her future name. She was ordered by Bibby Line, a company long involved in transportation of troops for the British Government. She was launched as the Oxfordshire on December 15, 1955 by Mrs Dorothea Head, wife of the Minister of Defence.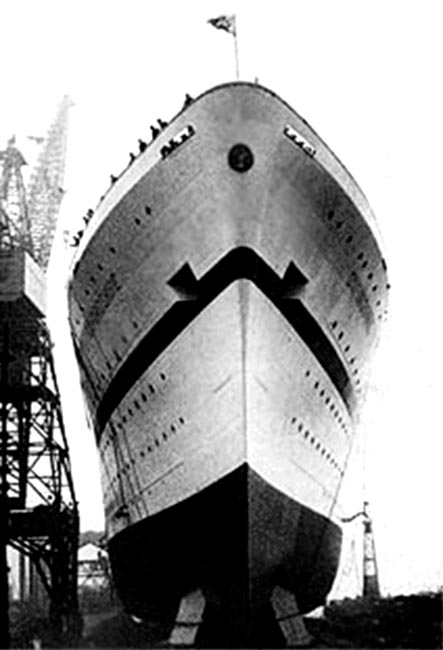 HMS Oxfordshire is launched and slips into the Clyde
From the author's private collection
During her sea trials on January 29, 1957, the Oxfordshire built for an intended service speed of around 17 knots, actually achieved an average speed of a good 19.78 knots. She was handed over to her owners the Bibby Line on February 13, 1957.

A beautiful Painting of the Oxfordshire
Painted by & ? R. H. Hughes
Oxfordshire had accommodations for 1000 troops in frugal troop dormitories, however she also accommodated up to 500 dependants in reasonably comfortable cabins. Whenever she carried fare-paying passengers, her accommodations were arranged as follows, 220 First Class, 100-Second Class and 180-Third Class and her First Class accommodations were excellent, Second Class were also very good, whilst Third Class were reasonably comfortable!
A postcard of her interiors; 1st.Class Lounge, Cabin & Dining Room and the 2nd.Class Nursery (top right)
From the author's private collection
On February 28, 1957 the HMT Oxfordshire entered service at Liverpool as she had been placed on a fifteen year charter to the Ministry of Transport as a troopship under the command of Captain Norman F. Fitch. She departed Liverpool on her maiden voyage bound for Hong Kong,Rolex Replica sailing via Cape Town, calling at Dakar, Durban, and Singapore.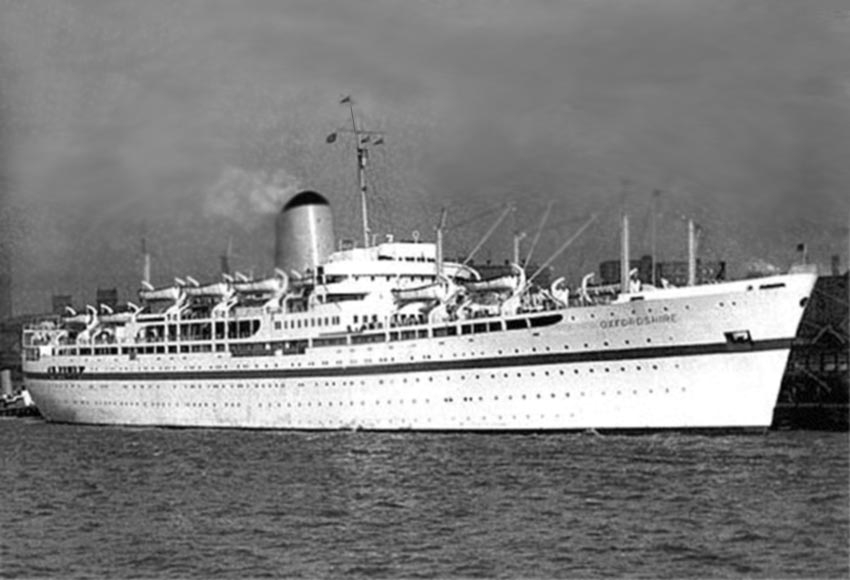 HMT Oxfordshire seen in Liverpool, looking very smart!
Victor Young & Len Sawyer Wellington
In May 1958 the Oxfordshire departed Liverpool for the last time as she was being transferred to Southampton which had now become the sole trooping port.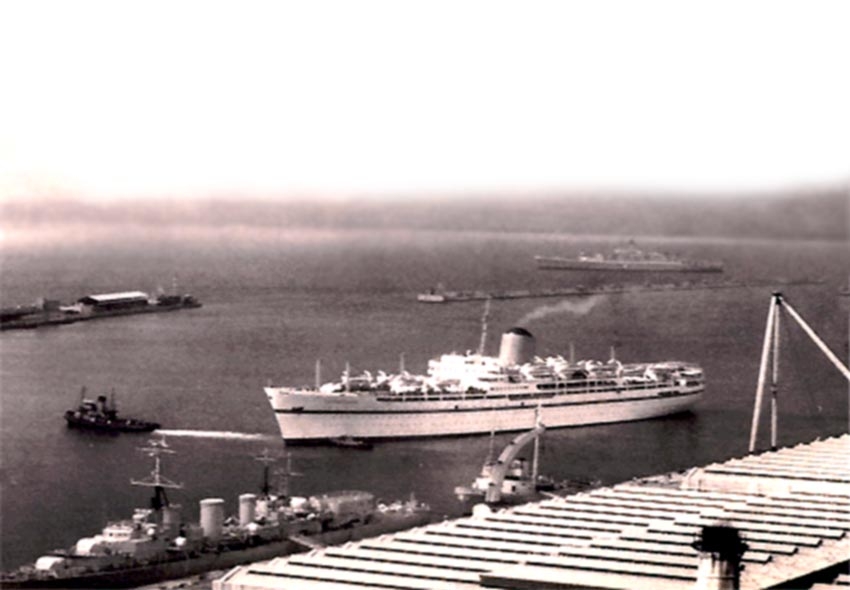 The HMT Oxfordshire is seen entering the Suez Canal
She remained on trooping duties together with her almost identical sister ship the Nevasa, which was built a year earlier in 1956. However, Oxfordshire's career as a troop ship sadly lasted for just five short years, during which time she had visited many ports of call.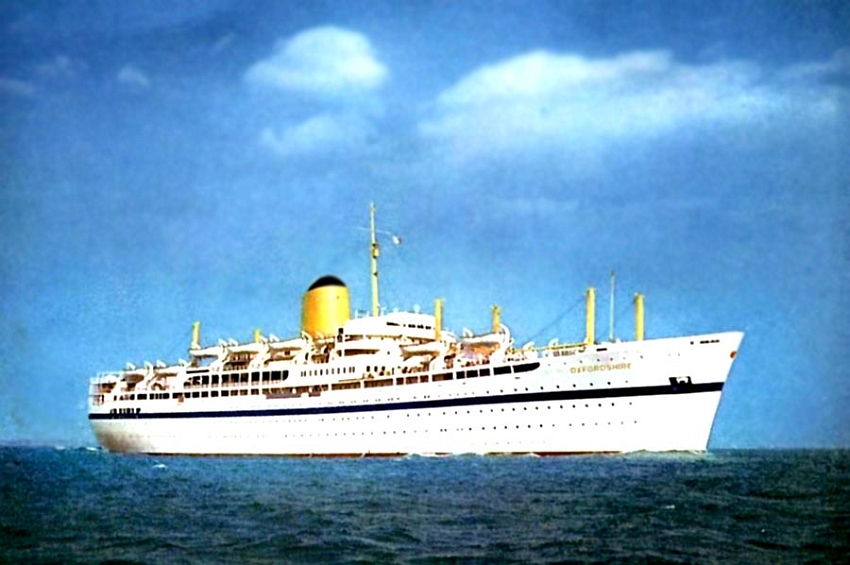 An excellent Bibby Line postcard of the HMT Oxfordshire, which was sold on board
From the author's private collection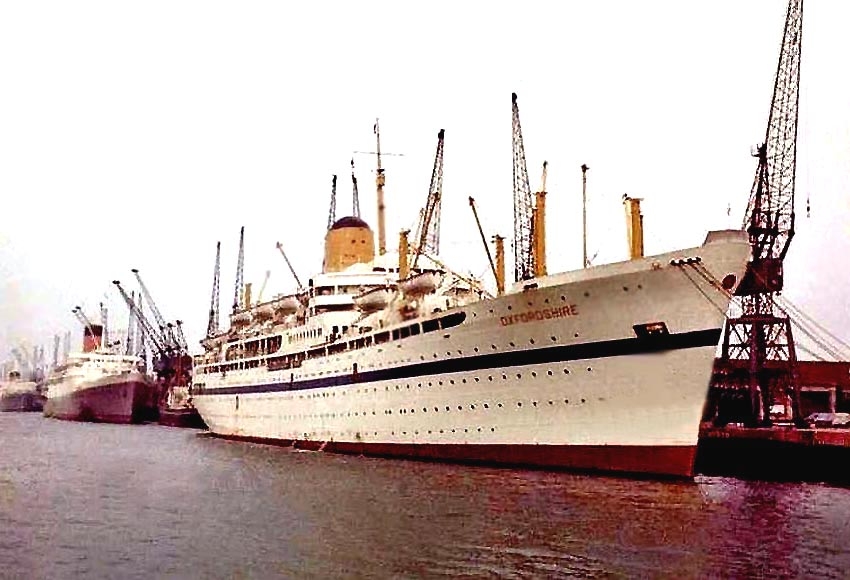 The HMT Oxfordshire at Southampton with the RMS Pendennis Castle
and another ship are seen berthed at the Union Castle Line Terminals
Photographer unknown – Please see the photo notes at bottom of the page
On January 10, 2006, I received the following email from William Davis, who shared the following interesting item with me …
"While researching my National Service story, I was delighted to find your website on the HMT Oxfordshire. It has been many years since, but I was easily floated back to those six weeks early in 1960, when Oxfordshire took this Clerk Gunner, and the 17th/21st Lancers from UK to Hong Kong. Later I had the good fortune to return home on this splendid ship.
May I share the following anecdote?
… bedtimes were comfortable, full of good-humoured camaraderie. Washing, brushing teeth, cleaning and towel-fights, finally simmer down to random laughter and low-key conversation. Before lights-out and sleep, efforts were concentrated on reading a few pages, or letter replies. The general lighting went out around eleven-ish, I think, but soft blue security lights stayed on and guys who couldn't sleep could still read. In the night, below the atonal chorus of snoring combined with the hiss from the ventilation blower's, the deep reverberation from Oxfordshire's powerful engines was reassuring. I so enjoyed those quiet moments, but then I enjoyed the whole voyage."
From; "7278 My National Service."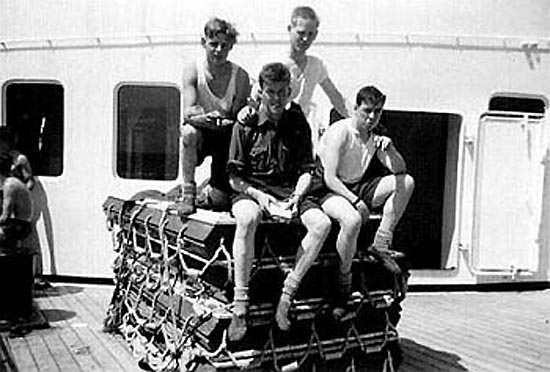 Above & Below: Service men relaxing and having fun out on deck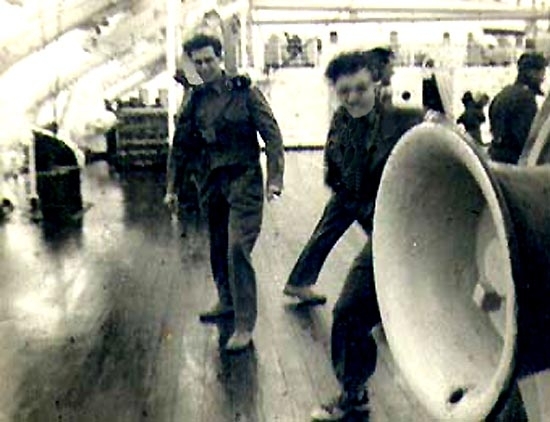 HMT Oxfordshire transported countless service men and woman to and from the UK to a range of ports. However, her decline came about due to the rapidly changing political scene. Thus, both the HMT Nevasa and the Oxfordshire were withdrawn in October and December 1962 respectively.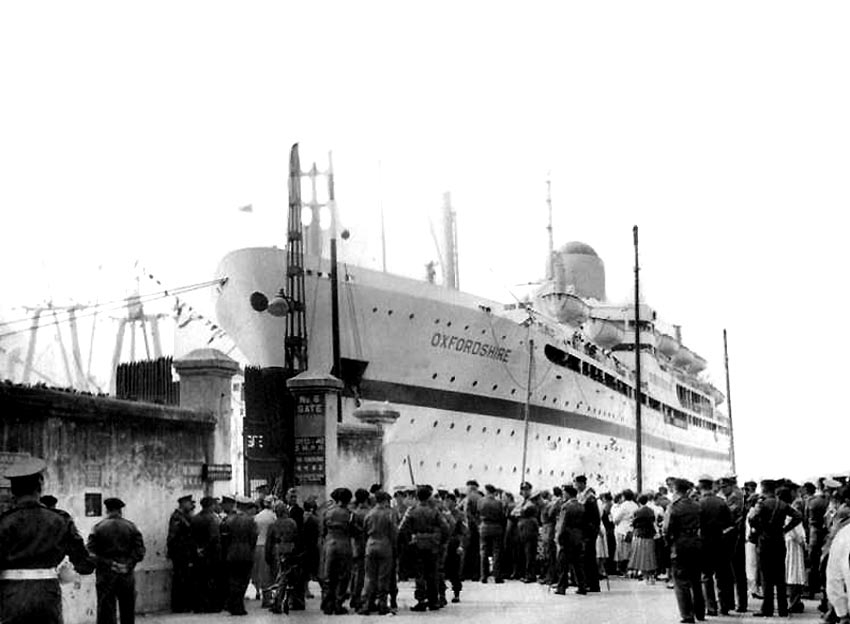 A Photograph of the Oxfordshire berthing with troops awaiting her
Part Two - Captain N. F. Fitch
The Master of the Oxfordshire
I received the following information regarding the Master f the HMT Oxfordshire, Captain Norman F. Fitch from his grandson Nick Camilleri. He told me that sadly, Captain Fitch passed away on February 12, 1981 and that he is survived by his wife Peggy and their two children, Doreen and Bob. A daughter was born to Captain Norman and Peggy in 1940 and she was named Doreen and she became was Nick Camilleri's mother. In addition a son, Bob, was born several years later.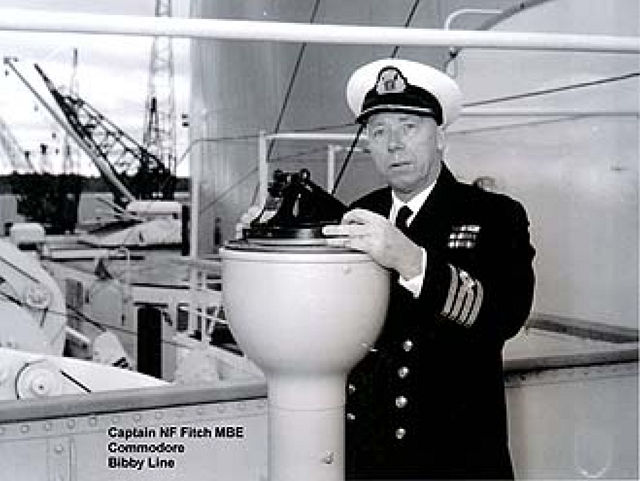 Captain Norman F. Fitch, master of Oxfordshire
Provided by Nick Camilleri
Doreen was a physiotherapist in the Royal Navy and she met her Maltese husband whilst stationed in Malta. Doreen went on to pioneer physiotherapy in Malta. Bob, like his father became a ships Master. He was Master of the Stena Seaspread during the Falklands conflict in 1982 and his ship was the first support vessel to go to the aid of the Atlantic Conveyor after she had been hit. He now owns his own ship that conducts radar surveys of shipping lanes etc.
**************************************
Please Note: Photographs, Letters & Telegrams on this and Page 2 have been graciously provided Nick Camilleri's grandmother, Mrs. Peggy L Fitch, who at the time of providing resided in West End, Southampton, UK.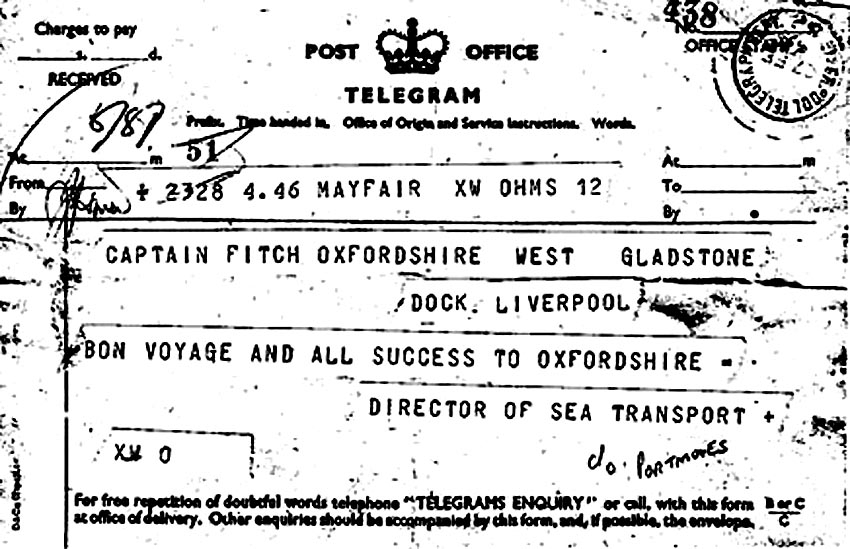 Above is a Telegram sent to Captain Fitch on the occasion of the ships maiden voyage
Provided by Nick Camilleri on behalf of his Grandmother, Mrs. Peggy L Fitch
Below are two letters that makes clear the delight of those who sailed on Oxfordshire, be they soldiers and their families or full fare passengers.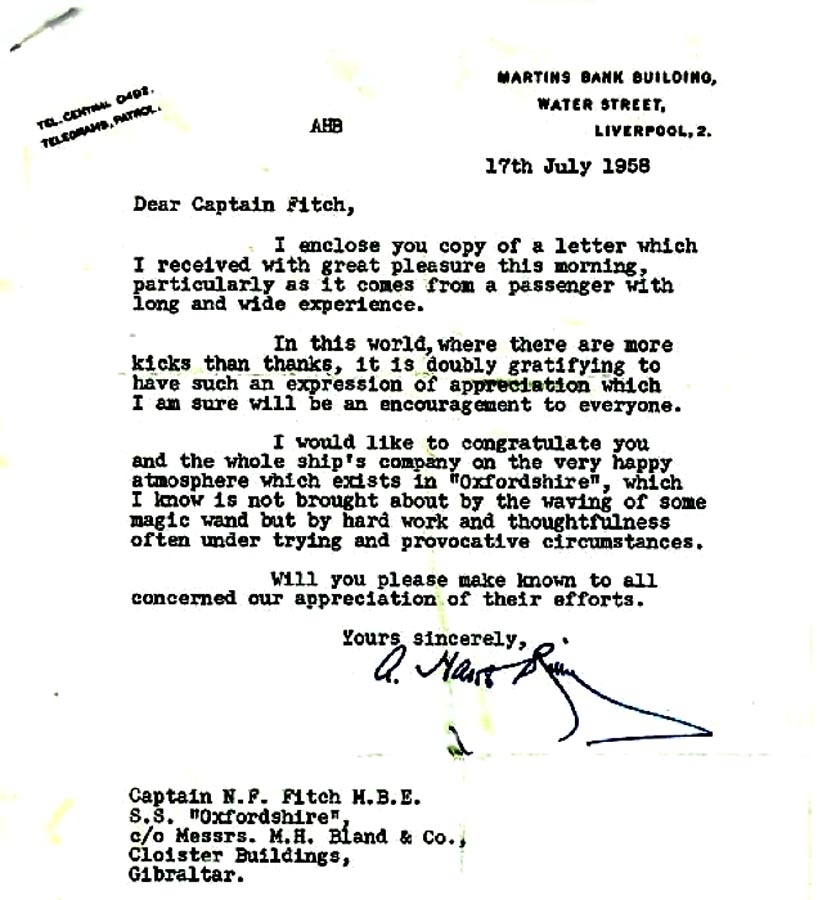 Provided by Nick Camilleri on behalf of his Grandmother, Mrs. Peggy L Fitch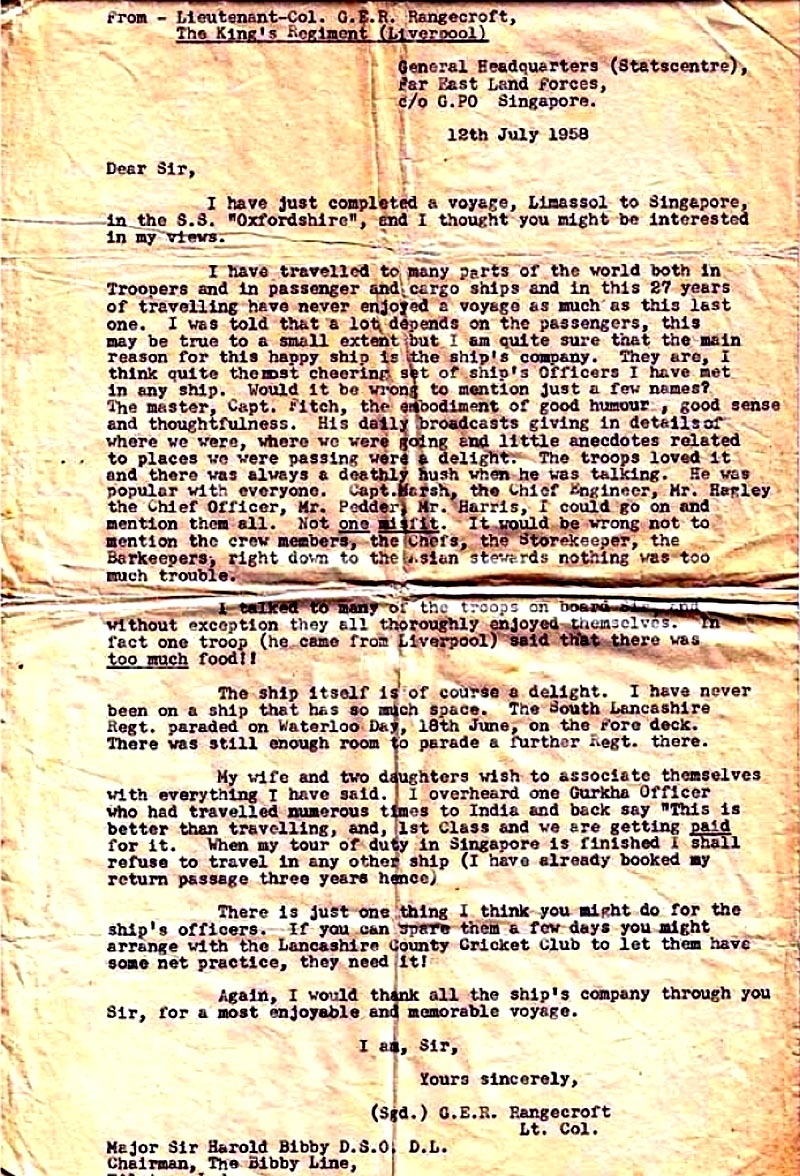 Provided by Nick Camilleri on behalf of his Grandmother, Mrs. Peggy L Fitch
The second page on the Oxfordshire will cover her final voyage to the UK from Malta. Nick Camilleri, son of Capt Fitch, sent me a number of excellent photos, company letters to the Captain and newspaper cuttings all related to her final voyage.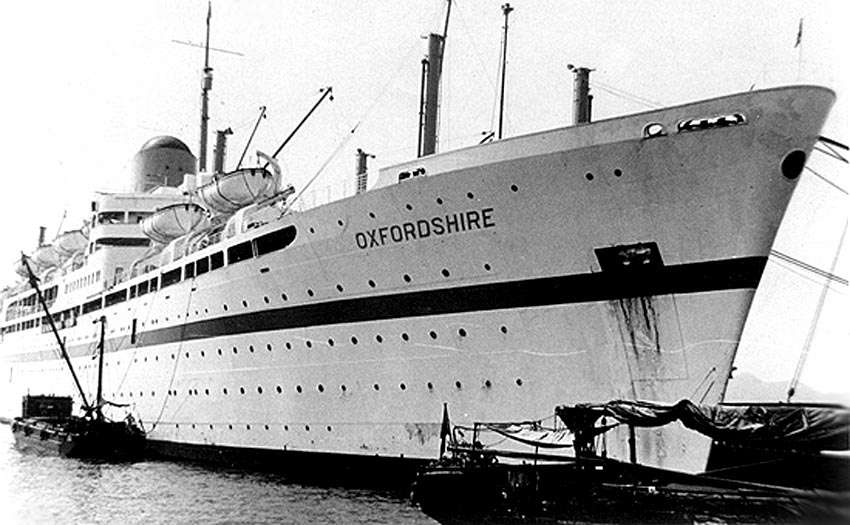 HMT Oxfordshire is seen in an Asian port
From the author's private collection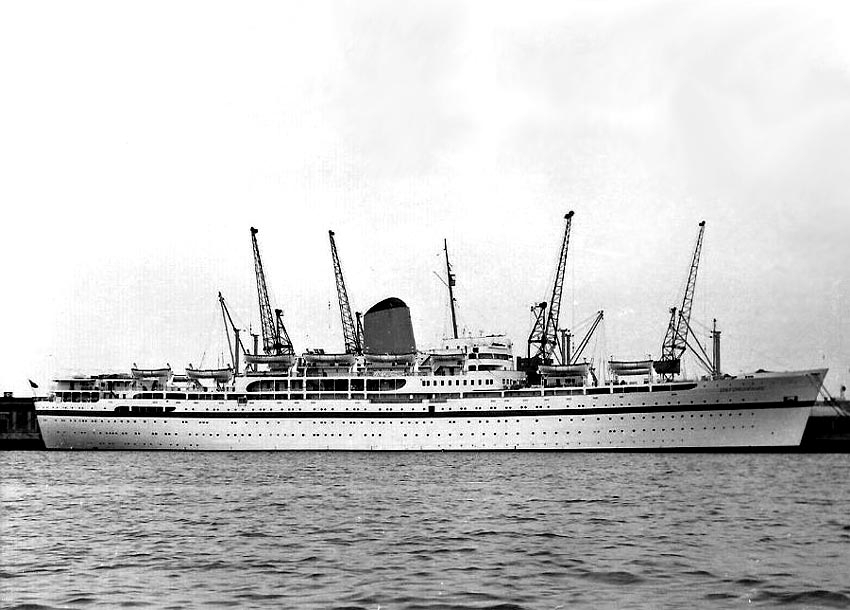 And we conclude this page with two wonderful views of the HMT Oxfordshire berthed at Southampton
From the author's private collection - Below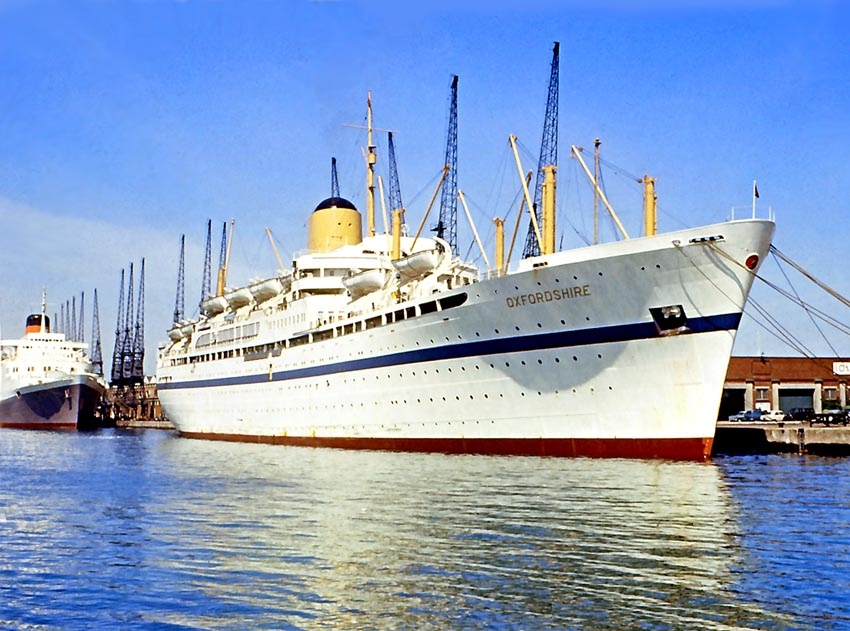 This photograph was taken by the late Mr. Peter Holmes & sent by his son & ? David Holmes
The above photograph: Here we see the HMT Oxfordshire during her concluding years looking pristine! Astern of her is the new RMS Windsor Castle, which departed on her maiden voyage on August 18, 1960 and HMT Oxfordshire returned from her very last voyage from Valetta, Malta late December 1962. Having arrived in Southampton, several days later she headed to and was laid up at the River Fal awaiting a buyer, as she had already been placed on the market.
Oxfordshire is

Sold

:
In February 1963, Bibby Line and Vlasov subsidiary, Fairlane Shipping Corporation signed a six year charter agreement, with option to purchase her at a later date. She departed on May 17 for the Netherlands where she would be extensively be rebuilt into a passenger liner at the Wilton-Fijenoord shipbuilding Yard in Schiedam. However, the final fitting out was completed at Harland & Wolff.
In February, whist the Oxfordshire was still being rebuilt, she was officially purchased by Fairline Shipping Corp, of Monrovia being part of SITMAR, which is a shortened version of Societa Italiana Trasporti Marittimi and who renamed her TSS Fairstar.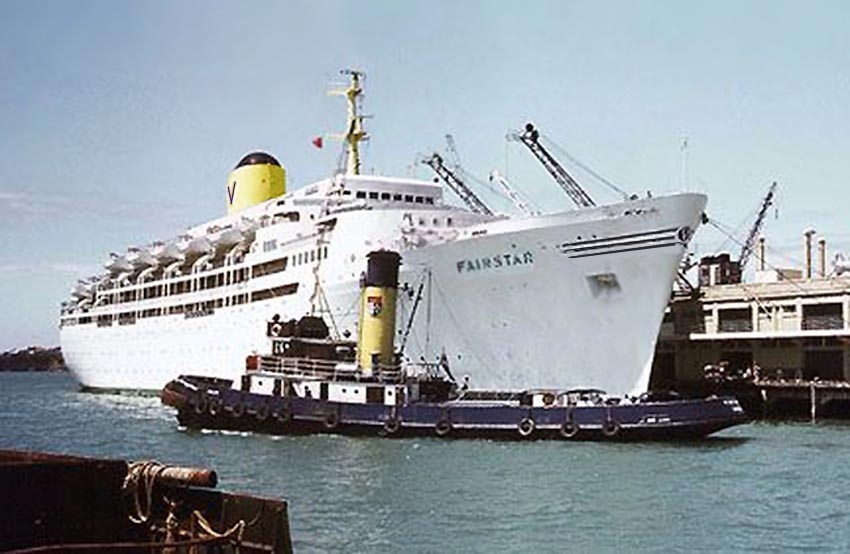 The substantially rebuilt HMT Oxfordshire became the Sitmar Liner, TSS Fairstar
Photograph by William C. Daldy
TSS Fairstar Main INDEX
Part 1 … Oxfordshire - History. The troop ship that became a loved liner & cruise ship!
Part 2 … Oxfordshire Her Final Voyage.
Part 3 … Fairstar History & Page One.
Part 4 … Fairstar Photo Album Photographs taken during her final years.
Part 5 … Fairstar Deck Plans Her original 1964 Plan and a 1995 Plan.
Also Read … Fair Princess Story From their Cunard days to Sitmar & P&O ships.
Read… The Sitmar Ships covering all the other Sitmar ships.
"Blue Water Liners sailing to the distant shores.
I watched them come, I watched them go and I watched them die."
****************************
Visit our ssMaritime Main INDEX
Where you will discover around 690 Classic Passenger & Passenger-Cargo Liners!
ssMaritime.com & ssMaritime.net
Where the ships of the past make history & the 1914 built MV Doulos Story
Please Note: ssmaritime and associated sites are 100% non-commercial and the author does not seek funding or favours and never have and never will.
Photographs on ssmaritime and associate pages are either by the author or from the author's private collection. In addition there are some images and photographs that have been provided by Shipping Companies or private photographers or collectors. Credit is given to all contributors, however, there are some photographs provided to me without details regarding the photographer or owner concerned. Therefore, I hereby invite if owners of these images would be so kind to make them-selves known to me (my email address can be found at the bottom of the page on www.ssmaritime.com), in order that due credit may be given.
ssMaritime is owned & ? Copyright by Reuben Goossens - All Rights Reserved