Bibby Line HMT Oxfordshire 1957 to 1953 sold to become the TSS Fairstar
Please Note: Firefox and some other search engines are not suitable – Use "Internet Explorer" for this page to load perfectly!
Click the logo above to reach the Cruise-Australia FrontPage for News Updates & "Ship of the Month"
With Reuben Goossens
Maritime Historian, Cruise'n'Ship Reviewer, Author & Lecturer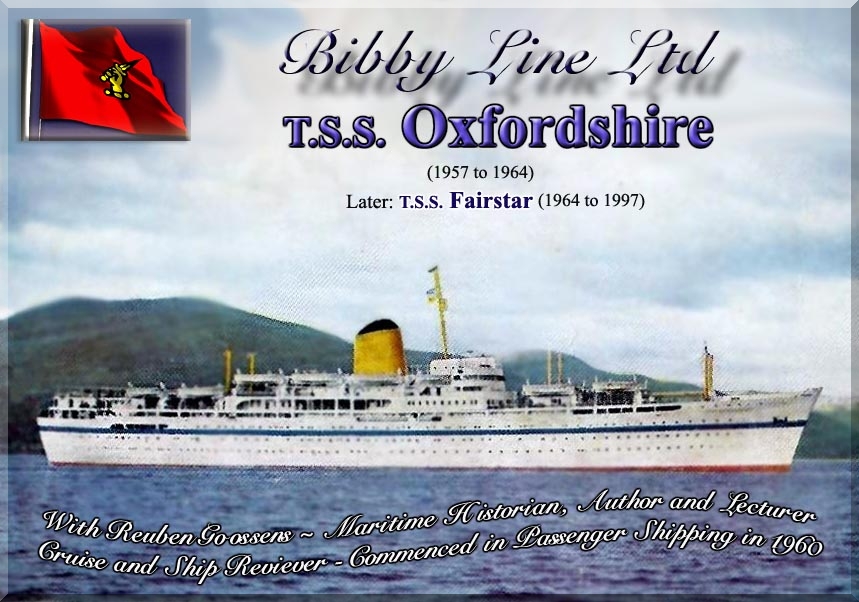 HMT Oxfordshire the Troop ship that would become TSS Fairstar the "Funship"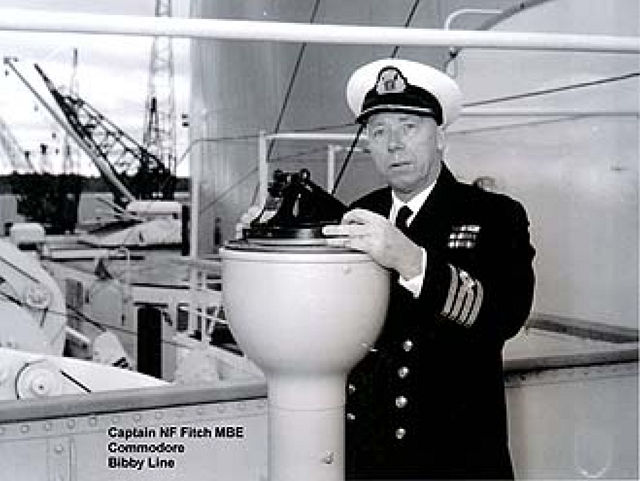 Captain Norman F. Fitch, master of Oxfordshire
Provided by Nick Camilleri
Captain Norman Fitch served on the Oxfordshire from her maiden voyage until her final voyage and decommissioning in the River Fal. Letters, photos and clippings on this page (except those marked otherwise) were provided by the late Captains wife Mrs. Peggy L Fitch and his grandson Nick Camilleri. We are grateful to them for their kind assistance.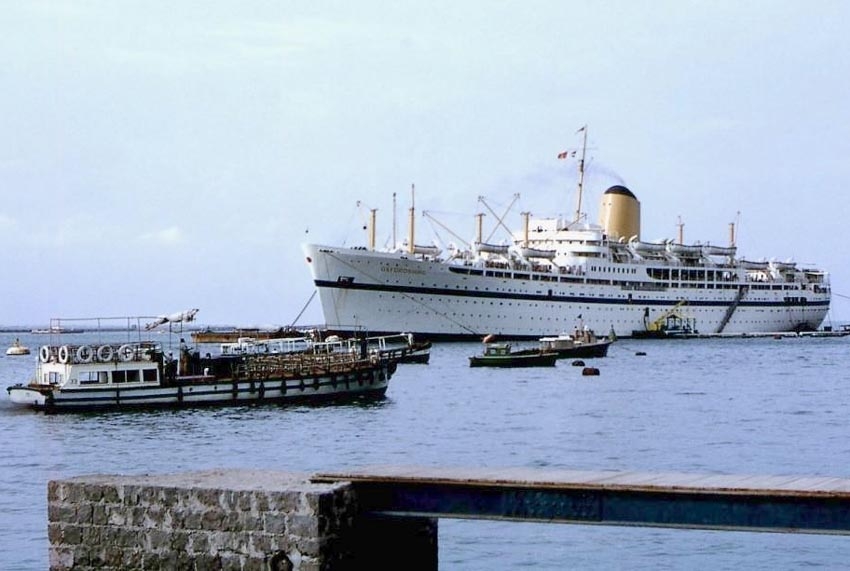 Oxfordshire seen anchored in Aden
Al though HMT Oxfordshire was to be withdrawn from service after her final voyage to Malta, she had a busy year. But, all too soon the time came for her final departure. She departed Southampton on December 3, 1962, heading for Valetta Malta, sailing via Gibraltar.
One soldier on that voyage wrote "On the 3rd December 1962, the battalion embarked at Southampton on the ageing troopship, HMT Oxfordshire, for service in Malta. This was an historic occasion as it was the last unit to leave the United Kingdom in a Troopship for service overseas. The journey lasted a week, included in it a stop at Gibraltar to replenish the ship's beer stocks."
His remark "the ageing Troopship" was rather strange, considering that the Oxfordshire was only five years young! But having offloaded her complement in Malta, more servicemen boarded and she undertook an historic voyage, being her very last ever trooping voyage homeward to Southampton as the HMT Oxfordshire. She departed Malta at 1500 hours for her final voyage to Southampton on December 13, 1962. As can be seen by the letter sent by Lieutenant Commander J. P. Donovan to Captain Fitch, HMT Oxfordshire had a complement of 965 servicemen, including the 1st Battalion, Royal Highland Fusiliers.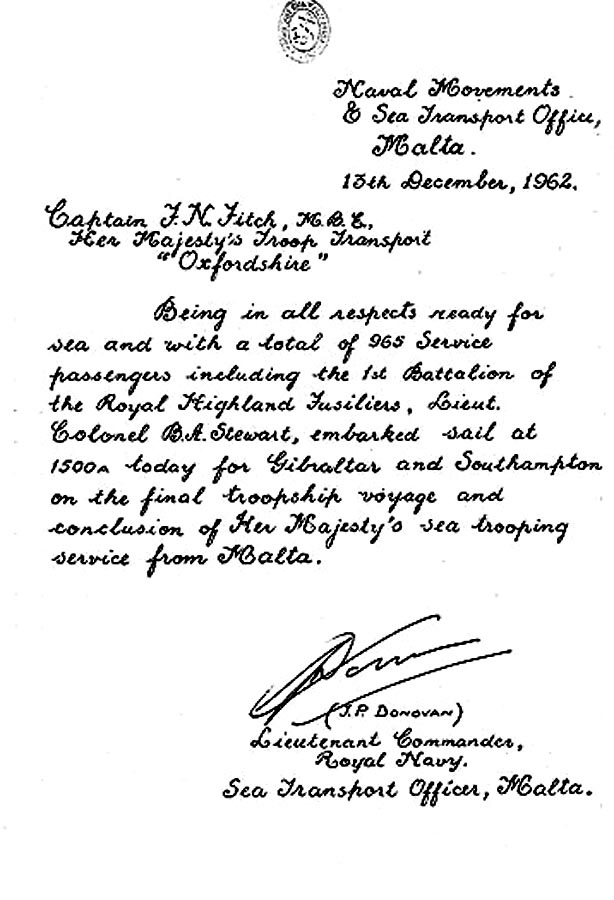 Provided by Nick Camilleri on behalf of his Grandmother, Mrs. Peggy L Fitch
Below are a number of photographs and a newspaper article of Oxfordshire's final departure from Valetta Malta, for it was obviously a major occasion for the people in Malta! The photographs show the Oxfordshire sail out of Valetta with a flotilla of small vessels accompanying her to the harbour's entrance and she sails out to sea and homeward. The images provide their own commentary, thus, I will not any further commentary.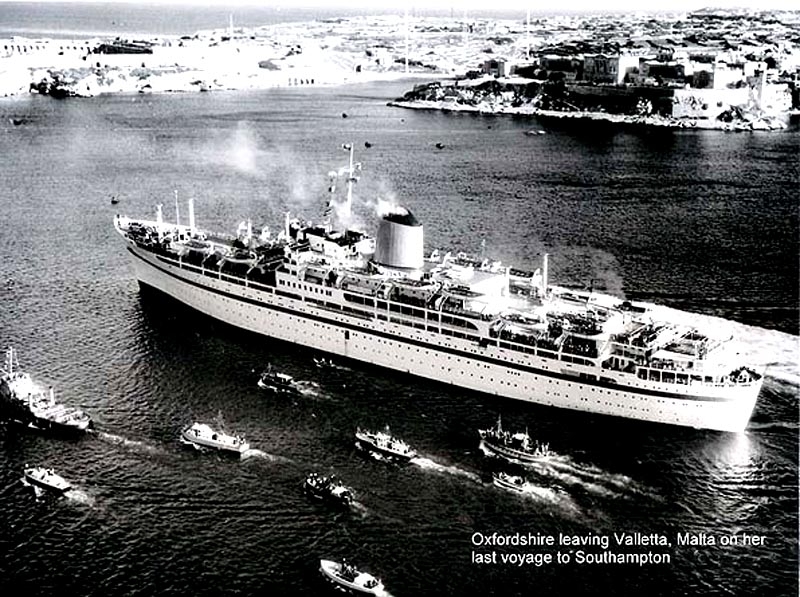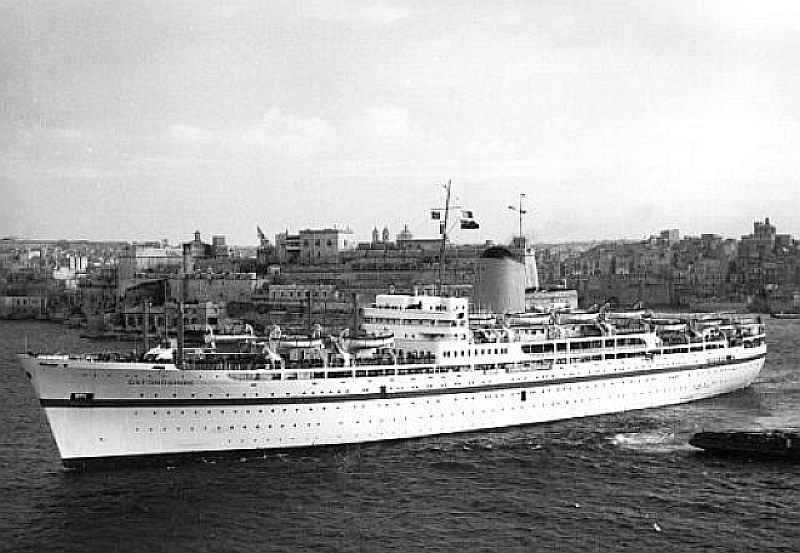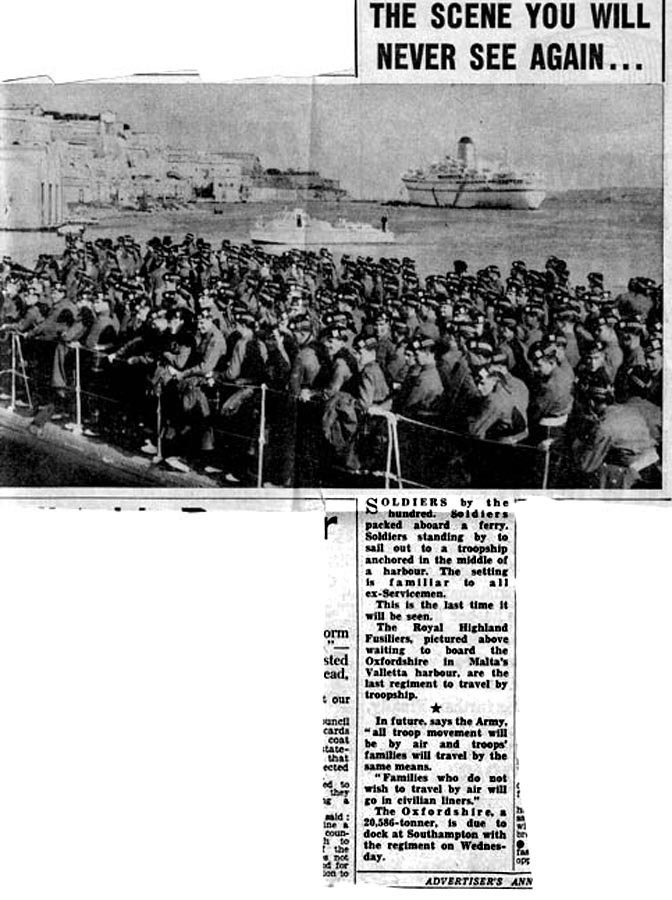 Provided by Nick Camilleri on behalf of his Grandmother, Mrs. Peggy L Fitch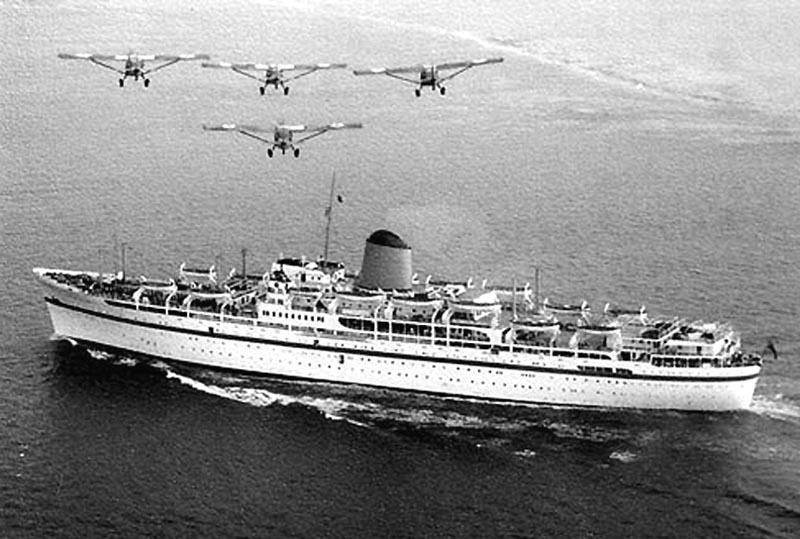 She obviously received a suitable send off!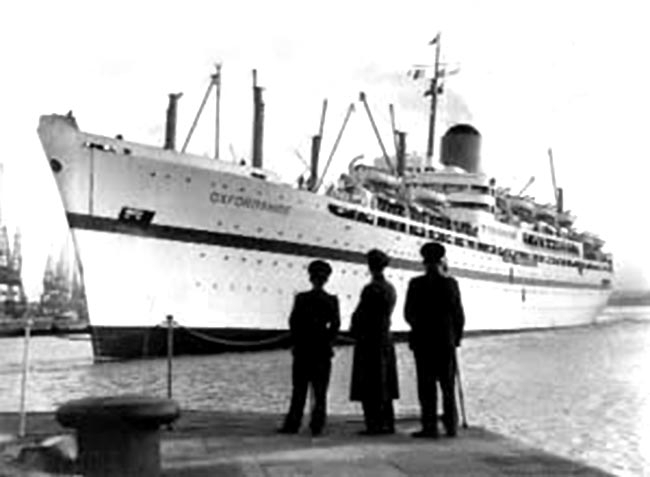 HMT Oxfordshire arrives home to Southampton
She arrives home a week later and she disembarks her very last complement of troops. Having done this, soon the TSS Oxfordshire headed for the River Fall where she was laid up and placed on the market. However the TSS Nevasa was transferred to British India Navigation and was used as a passenger and cruise ship, but her life was very short lived considering she was broken up in 1974.
She is Sold:
As I already stated on Part one, on February 1963, she was taken over by "Fairlane Shipping Corporation" based on a six year charter agreement, but soon she was purchased outright. She departed on May 17 for the Netherlands where she was completely rebuilt into a passenger liner at the Wilton-Fijenoord shipbuilding Yard in Schiedam. But her fitting out was completed at Harland & Wolff.
For interest, "Fairline Shipping Corporation," of Monrovia is part of SITMAR Line and a shortened version of Societa Italiana Trasporti Marittimi and who renamed her the TSS "Fairstar."
The sale of the Oxfordshire was reported in a letter (shown below) to her faithful Captain, Norman F. Fitch, M.B.E.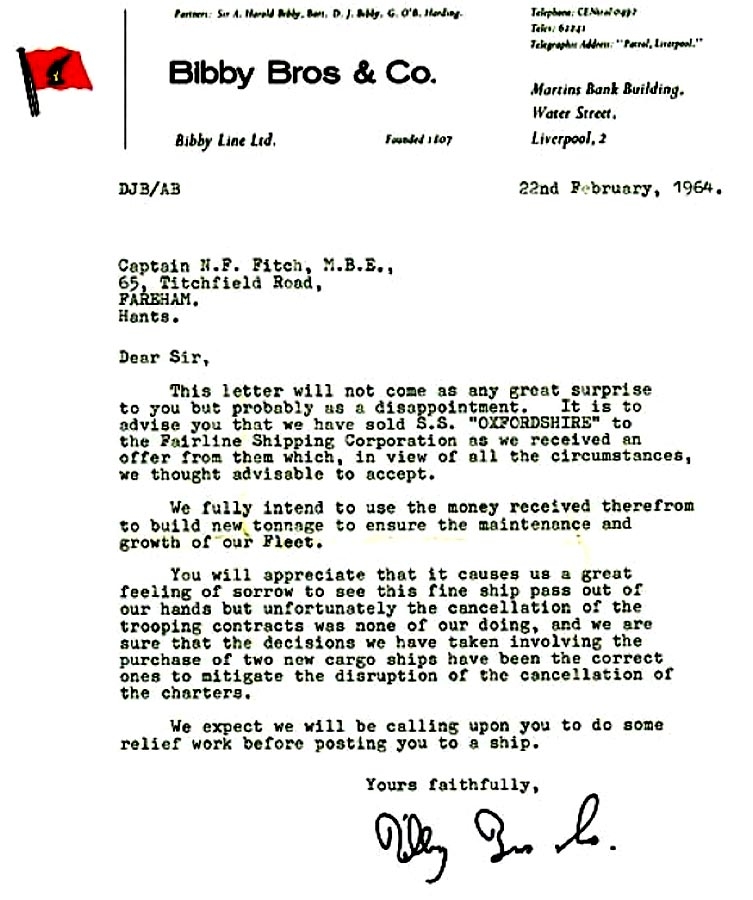 Provided by Nick Camilleri on behalf of his Grandmother, Mrs. Peggy L Fitch
Continue to Part 3 being the Fairstar History & Page One, on the Fairstar Main Index below.
TSS Fairstar Main INDEX
Part 1 …                   Oxfordshire - History. The troop ship that became a loved liner & cruise ship!
Part 2 …                   Oxfordshire Her Final Voyage.
Part 3 …                   Fairstar History & Page One.
Part 4 …                   Fairstar Photo Album Photographs taken during her final years.
Part 5 …                   Fairstar Deck Plans. Her original 1964 Plan and a 1995 Plan.
Also Read …             Fair Princess Story From their Cunard days to Sitmar & P&O ships.
Read…                      The Sitmar Ships covering all the other Sitmar ships.
"Blue Water Liners sailing to the distant shores.
I watched them come, I watched them go and I watched them die."
****************************
Visit our ssMaritime Main INDEX
Where you will discover around 690 Classic Passenger & Passenger-Cargo Liners!
ssMaritime.com & ssMaritime.net
Where the ships of the past make history & the 1914 built MV Doulos Story
Please Note: ssmaritime and associated sites are 100% non-commercial and the author does not seek funding or favours and never have and never will.
Photographs on ssmaritime and associate pages are either by the author or from the author's private collection. In addition there are some images and photographs that have been provided by Shipping Companies or private photographers or collectors. Credit is given to all contributors, however, there are some photographs provided to me without details regarding the photographer or owner concerned. Therefore, I hereby invite if owners of these images would be so kind to make them-selves known to me (my email address can be found at the bottom of the page on www.ssmaritime.com), in order that due credit may be given.
ssMaritime is owned & © Copyright by Reuben Goossens - All Rights Reserved