RHMS Patris - Robert Mills' Cruise on the Patris to New Zealland in 1970
Please Note: Firefox, iPhones, iPads & some other Search Engines may not be suitable
Use Internet Google Chrome for this Web Page to load perfectly!
Click the logo above to reach the ssMaritime FrontPage for Ships of the Month & News Updates
With Reuben Goossens
Maritime Historian, Cruise'n'Ship Reviewer, Author & Lecturer
Please Note: All ssmaritime as well as my other related maritime & cruise sites are 100% non-commercial and privately owned sites. Be assured that I am NOT associated with any shipping or cruise companies or agencies or any other organisations! The author has been in the passenger shipping industry since May 1960, but although retired and unwell, I occasionally attempt to write an article now and then, in order to bring enjoyment and pleasure to ship enthusiasts past passengers and crew
Chandris Lines
RHMS
Patris
ex Union Castle Line RMS Bloemfontein Castle
Later, Mediterranean Island / Mediterranean Star 1980-1987
Terra for breakers delivery voyage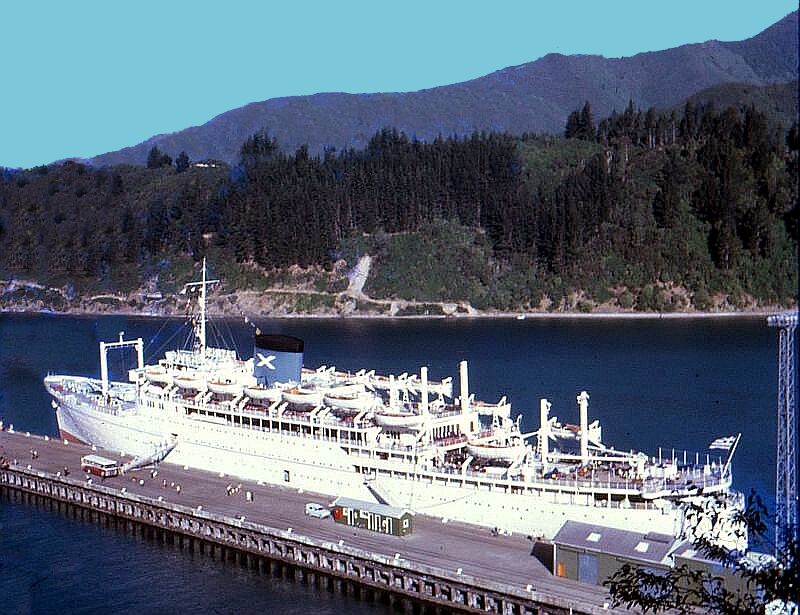 MS Patris seen in Picton New Zealand, with her Greek flag flying in a brisk breeze

Photograph © Robert Mills

Please Note: All photographs on this page are © Copyright and were taken and provided to ssMaritime by Robert Mills who also provided his interesting story of his families cruise on the Chandris Lines MS Patris.

Robert Mills' Cruise around New Zealand in 1970

My Mum, Shirley Mills, as well as my Grandmother,

Nora Brinkman, decided to take me on a two week Christmas & New Year cruise on the Chandris liner Patris sailing from Sydney on December 20, 1970 returning on January 3, 1971. The cruise Itinerary was: Sydney, Melbourne, Milford Sound, Timaru, Picton, Wellington and Auckland. Then sailing via the Bay of Islands back to Sydney, where a final, but an unexpected, adventure awaited all aboard!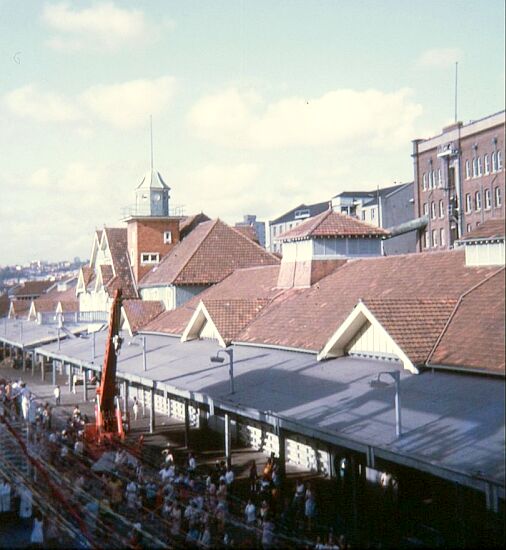 Departing Sydney on our two week cruise around New Zealand
We were due to depart on Sunday December 20, and I recall that we arrived at Darling Harbour wharves 1a -1b (these old wharves have now all been demolished) where the Patris was berthed and we boarded the ship. Having boarded we headed out on deck when the ship was ready to depart and the ships band was there playing a variety of items. However, as the ship was ready to loosen her last lines they played "Never on Sunday" (the title song from the movie of the same name) as MS Patris departed Sydney for our two week cruise adventure to New Zealand.
Like most on board, we all looked up as we passed under the Sydney Harbour Bridge and enjoyed seeing the Opera House. Then having sailed through Sydney Heads the Patris first sailed down the coast as our first port of call was Melbourne. Having spent the day there, we then were ready to cross the Tasman Sea bound for New Zealand.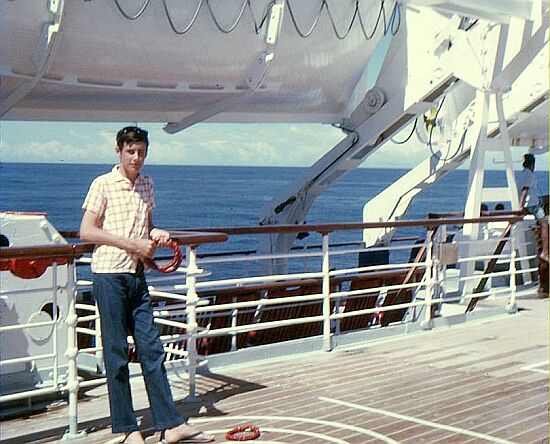 Robert seen up on Games Deck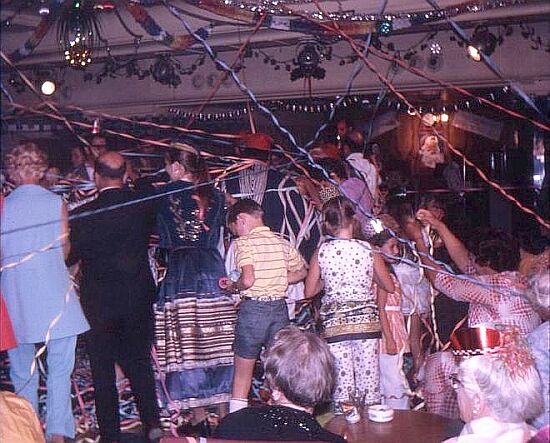 Christmas Eve party in the Ball Room
Having enjoyed our shipboard days and on board parties up in the lounge with the band playing at night, soon enough we arrived at the South Island and Milford Sound. This day was made memorable as we had rather choppy seas upon arrival at Milford Sound. Well to be truthful it seemed more like if a mini hurricane was blowing at times and the captain waited for some time before being able to enter the Sound. Winds were so strong that many of the streams were turning around in a U shape as they cascaded down the rock-face. I think we took about 25 minutes to actually go into the Sounds and only about 10 to get out, but it was a memorable day just the same!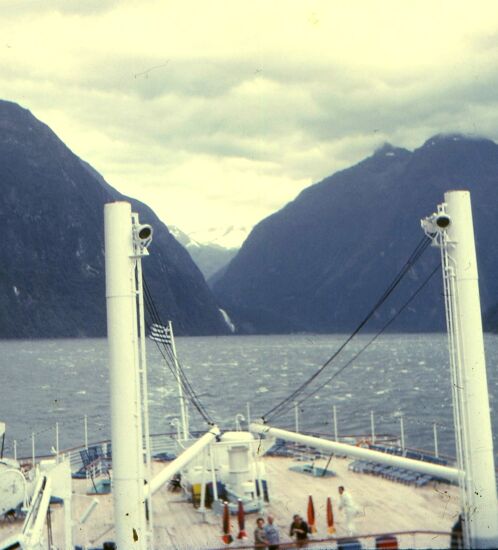 A choppy Milford Sound, with ice capped mountains high up in the distance as well as a waterfall
I noted as we rounded the southern tip of New Zealand that there was a lot of kelp in the sea. We headed for Timaru and thankfully we arrived in bright sunshine. From there we took an optional excursion on a coach to Mt Cook. This was another unusual adventure as the coach driver was somewhat tipsy to say the least, for most of the journey.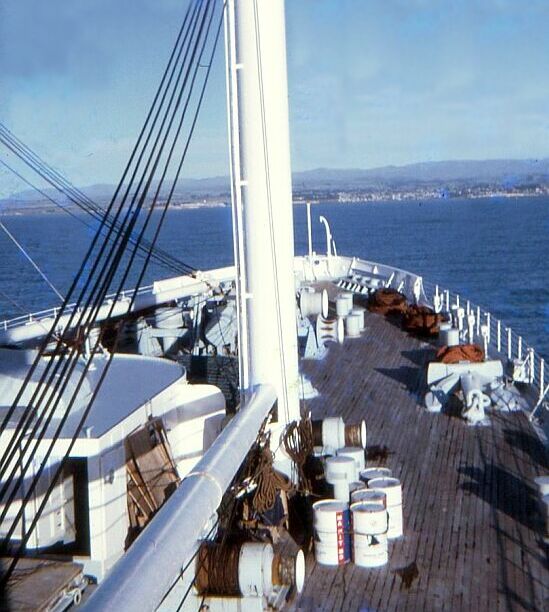 Over looking the ships bow as we arrive in Timaru
The next day we arrived at the northern tip of the South Island and sailed through the beautiful Charlotte Sounds and arrived in Picton. Here we took another short coach trip around the sounds and made a visit to a local farm, where some horse riding and sheep demonstrations took place.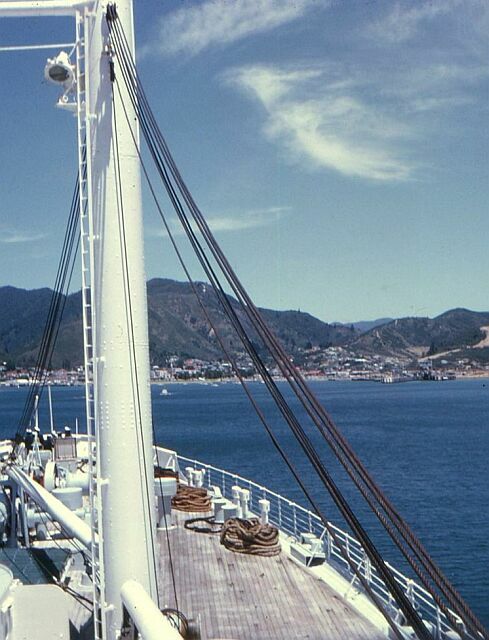 Another bow shot, this time arriving in beautiful Picton
From Picton we made the short crossing to the North Island and New Zealand's Capital City, Wellington. Here we toured this hilly city that has a beautiful harbour. We were reminded of the tragedy of the Wahine Inter-Island Ferry that had sunk only two years earlier in April 1968, for part of the bow of the ship had been recovered and was displayed on one of the wharfs.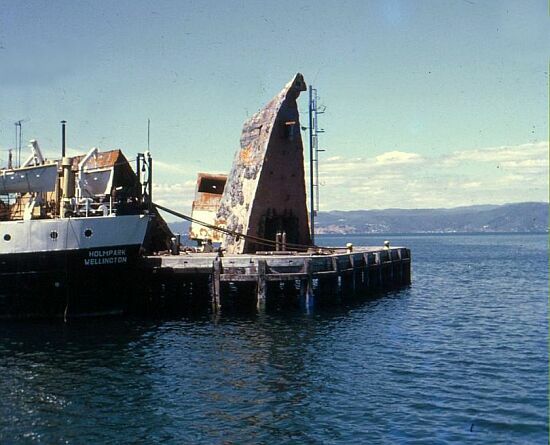 Here we see part of the Wahine bow, a tragic reminder of what happened in Wellington harbour
Next and final port was New Zealand largest city, Auckland. Here we took a coach tour to Rotorua and examined the thermal activity and the Maori Village, etc, but sadly it was rather a grey day. After Auckland the Patris sailed further north to the Bay of Islands and then returned to Sydney.
As for the experience on board I recall the fellow passengers, the parties and the never ending food. The pool was always fun especially when the ship was moving through a swell. Also I enjoyed playing ping pong during our sea days, but this was not always easy whilst the seas were choppy, but made it a whole lot more fun for me!
Upon boarding I recall my Mother, or Grandmother making a comment about the condition of the bathrooms, as it appeared that they had not been properly cleaned by the time the ship was ready to depart Sydney, and I recall that the ship did appear to be a little worn and perhaps she was showing her age a little by 1970. But the cruise was most memorable for so many reasons, including the fact that we made some fine new friends on this cruise, friends that we still keep contact with forty years later.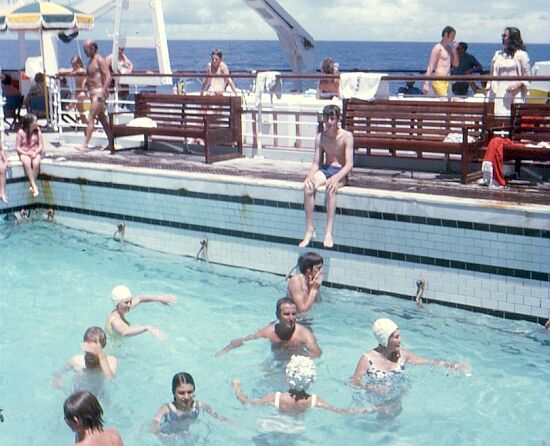 That's me sitting poolside about to go in; obviously we loved the pool, especially when there were waves!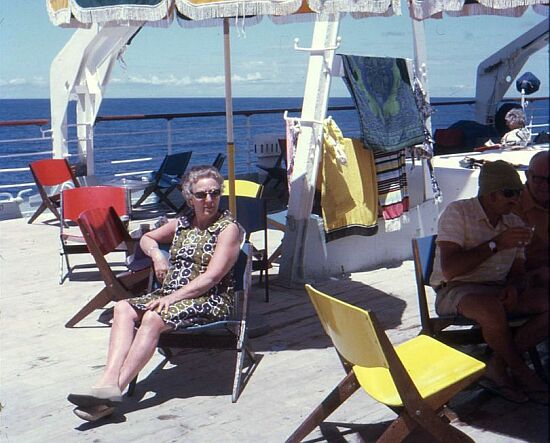 My Grandmother Nora enjoying life up on deck near the pool
I clearly recall the farewell party was held the night before arriving back in Sydney. However, the Captain made no comment about what was going to happen the following day, but I suspect that he knew what was in store for the passengers. He made a point of greeting passengers as they arrived for their final main meal. The waiter at our table was a good young man, named Con.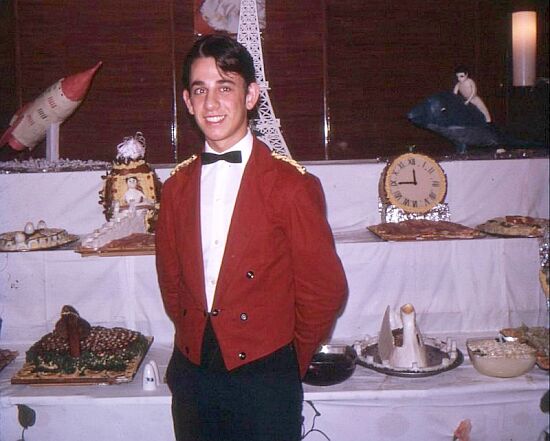 This is our waiter Con, besides serving great food he as a person made our cruise!

The next day we arrived in Sydney and seeing the heads at dawn is certainly very colourful it and has far more impact than arriving at Mascot Airport go on strike, thus the ship could not be berthed and had to remain at anchor in the harbour. All at dawn!

But, there was something awaiting every passenger, something none of us know about, but very soon would! It turned out that the wharfies had decided to passengers were slowly offloaded together with their luggage onto the ships lifeboats and taken to Woolloomooloo Wharf. This exercise took most of the day. It made the newspapers and I still have experience, but it added in a strange way to our cruise, although not every one would agree with me! But no matter what, even with her shortcomings, I still remember the Patris fondly, and this cruise to New Zealand impressed me so much that I have been back there many times since 1970, ten times the clippings. Unfortunately by then I had run out of film thus I was unable to record this amazing in fact.

Robert Mills.

Return to Page One -

MS Patris - her History Page

***********************************

S.S. America

& Australis INDEX:

Page One ……………….S.S. America History Page 1940 to 1967.

Page Two ……………….Photo Page.

Page Three …………….1940 Deck Plans.

S.S. Australis INDEX:

Page Four ……………….S.S. Australis History Page from 1964 to her sad end in 1994.

Page Five ……………….Brochure & Photo & Page One.

Page Six ………………….Brochure & Photo Page Two.

Page Seven …………….Deck Plans.

Other Chandris Ships INDEX:

SS Patris …………………Ex Union Castle Lines RMS Bloemfontein Castle.

SS Ellinis ………………..Ex Matson Lines liner SS Lurline.

SS Britanis ……………..Ex Matson Lines SS Monterey, but renamed Lurline & Matsonia.

Please Note: Not all pages have been updated and completed as yet.

***********************************

 "Blue Water Liners sailing to the distant shores.
I watched them come, I watched them go and I watched them die."

Return to the ssMaritime MAIN INDEX

The Autor has been in Passenger Shipping and the Cruise Industry for 60 years

ssMaritime.com & ssMaritime.net

Where you will discover over 1,350 Classic Liners & the 1914 built MV Doulos Story

Please Note: ssmaritime and associated sites are 100% non-commercial and the author seeks no funding or favours of any shape or form, never have and never will!

Photographs on ssmaritime and associate pages are by the author or from the author's private collection. In addition there are some images that have been provided by Shipping Companies and private photographers or collectors. Credit is given to all contributors. However, there are some photographs provided to me without details regarding the photographer/owner concerned. I hereby invite if owners of these images would be so kind to make them-selves known to me (my email address may be found on www.ssmaritime.com only), in order that due credit may be given.

This notice covers all pages, although, and I have done my best to ensure that all photographs are duly credited and that this notice is displaced on each page, that is, when a page is updated!

ssMaritime is owned & © Copyright by Reuben Goossens - All Rights Reserved