RMS Bloemfontein Castle 1950-59 sold to become the Chandris Lines - RHMS Patris 1958-1980
Please Note: Firefox, iPhones, iPads & some other Search Engines may not be suitable
Use Internet Explorer & Google Chrome for this Web Page to load perfectly!

Click the logo above to reach the ssMaritime FrontPage for Ships of the Month & News Updates
With Reuben Goossens
Maritime Historian, Cruise'n'Ship Reviewer, Author & Lecturer
Please Note: All ssmaritime as well as my other related maritime & cruise sites are 100% non-commercial and privately owned sites. Be assured that I am NOT associated with any shipping or cruise companies or agencies or any other organisations! The author has been in the passenger shipping industry since May 1960, but although retired and unwell, I occasionally attempt to write an article now and then, in order to bring enjoyment and pleasure to ship enthusiasts past passengers and crew
Chandris Lines
RHMS Patris
ex Union Castle Line RMS Bloemfontein Castle
Later, Mediterranean Island / Mediterranean Star 1980-1987
Terra for breakers delivery voyage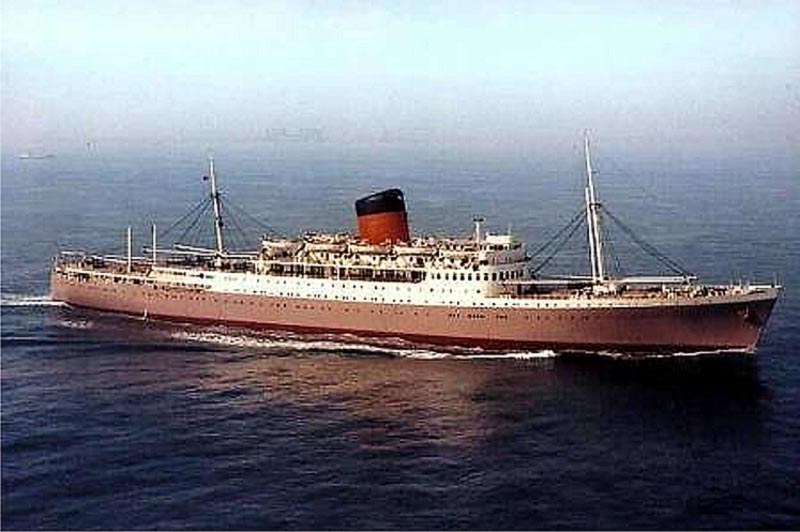 A Union Castle Line released postcard of the RMS Bloemfontein Castle
Please Note: Postcards & photographs from the author's private maritime collection, unless mentioned otherwise
Part One - RMS Bloemfontein Castle
The Bloemfontein Castle the first of an identical quartet, and was built by Harland & Wolff at Belfast. Her duties were to take emigrants from England to Rhodesia. However, due to the cancellation of assisted passages, it was decided to complete her, but changed her design.
On August 25, 1949, Bloemfontein Castle was launched by Leif England being the wife of the High Commissioner for the Union of South Africa in London. She was completed in March 25, 1950. Although based on pre war Union Castle Liners having identical hulls and similar superstructures, such as the Dunnottar Castle, there were differences between her and past Union Castle Liners, one being that she was the first one class liner to be built for Union Castle. Also, her original design had two masts, which was changed to a single mast located directly aft of the bridge, in additions she was given a flush foredeck. She had five hatches, two forward and three aft, served by six 10 ton and four 5 ton derricks. Her cargo spaces were insulated to transport fruit, and general cargo. However, other compartments were refrigerated for frozen produce.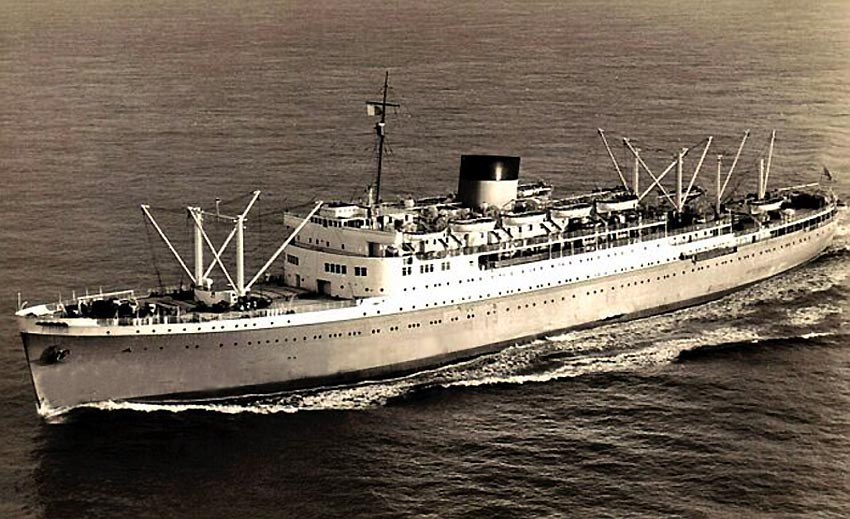 Aerial photograph of the RMS Bloemfontein Castle at sea
Her main public rooms were located on promenade deck. The Main Lounge was located forward and occupied the full width of the ship, making it a particularly spacious room. Next was the library and writing room, which was connected by a gallery to a large smoking room. The Dining Room was located on Upper deck, with seating for 386 passengers, thus requiring two seating's to accommodate her complement of 730 passengers. It was considered that her standard appointments were better than first class on many of her pre war sisters, and she became a popular ship I her early days.
Bloemfontein Castle departed London on April 6, 1950 for her maiden voyage from London to Rotterdam, Las Palmas, Ascension Island, St. Helena, and Walvis Bay concluding in Cape Town. She returned via Port Elizabeth, East London, Durban, Maputo and Beira,after which she undertook a series of sailings and cruises, but never successfully.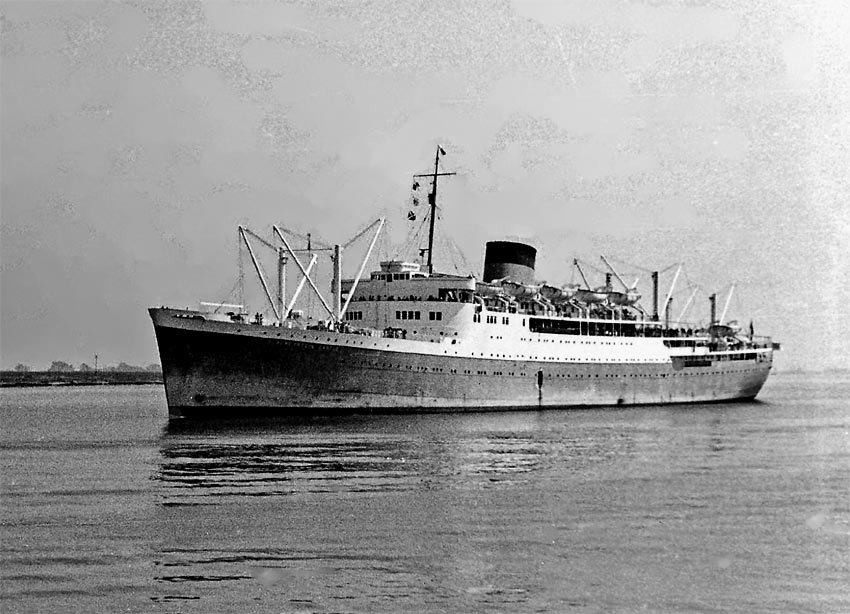 Here we see the RMS Bloemfontein Castle returning to London from her maiden voyage to Africa on June 10, 1950
Photograph provided by a ssmaritime supporter, but photographer is unknown …
Please see my Photo Notes at the bottom of this page
Bloemfontein Castle uneventful service with Union Castle would be remembered for just one incident. On January 8, 1955 she received a distress call from the Dutch liner Klipfontein, which was located off Mozambique. She rescued her 116 passengers and 118 crew.
In 1959, due to the ever declining loadings, Union Castle decided having a number of smaller ships, to consolidate their operations and decided to place several ships including the Bloemfontein up for sale. She was soon purchased and she returned to Southampton on November 9, and she was handed over to her new owners.
Specifications RMS Bloemfontein Castle:
Builder:                                   Harland & Wolff, Belfast
Tonnage:                                 18,400 GRT (Gross Registered Tons)
Length:                                    594.6ft – 181m
Beam:                                     76ft - 23.1m
Draught:                                  29ft – 8.8m
Propulsion:                               Two Burmeister & Wain Diesels – 20,000 BHP
Screws:                                   Two
Speed:                                     18 knots.
Decks:                                     5
Passengers:                              730 one class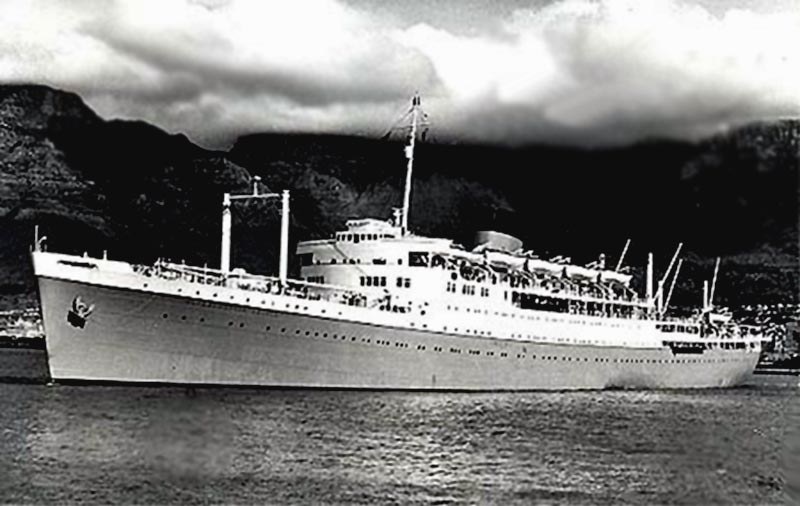 RMS Bloemfontein Castle seen in Cape Town
Part Two - RHMS Patris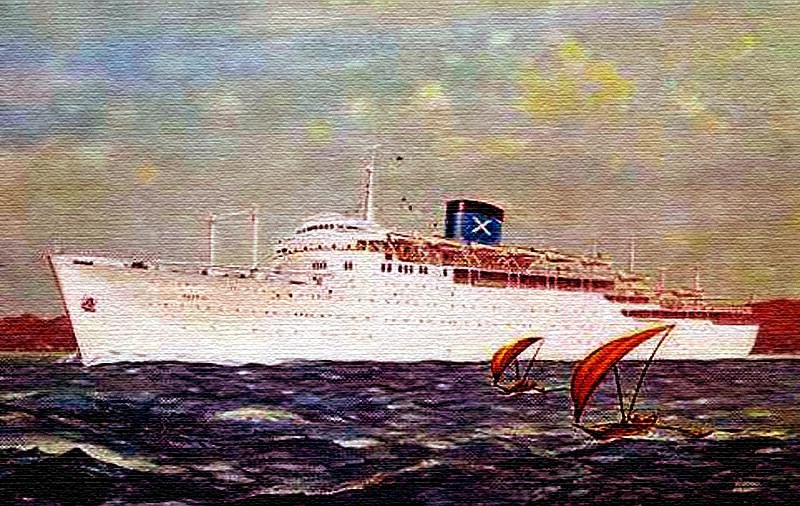 An early Chandris postcard of the all white RHMS Patris
The Greek Chandris Lines (England) purchased her for their Australian service. Chandris renamed her Patris (Mother Country or Homeland in Greek); she was taken to North Shields where she was given a three week refit, for her new role sailing from Greece to Australia. Cabins were built and others were extensively remodelled, now able to accommodate some 1000 Tourist Class and 36 First Class passengers. In order to accomplish this, extra cabins were built down on D (Doric) Deck. In addition a second dinning room was built. She received a new all white livery with red boot topping. Her funnel was blue with a black top and a large white X, being the company's insignia. X is 'Ch' in the Greek alphabet and obviously stood for 'Chandris.'
Upon completion, her ownership was changed to the National Greek Australia Line and she headed for Piraeus.
Her decks were now named from the top, Aegean, Mediterranean, Ionian, Corinthic, Cretan and Doric.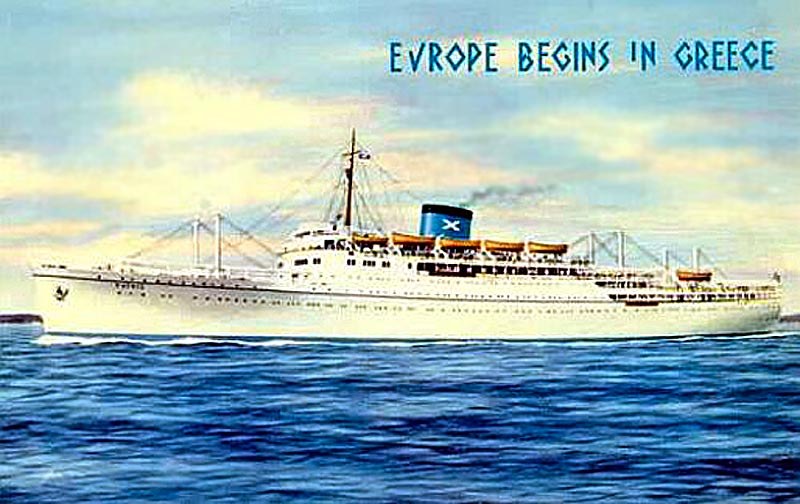 Here we see another postcard of the Patris but with a blue ribbon added
She departed Piraeus on December 14, 1959 for her maiden voyage to Australia, sailing via the Suez Canal to Fremantle, Melbourne, and Sydney, where she arrived on January 9, 1960. After several voyages, later that year, Patris ran aground in the Suez but was soon pulled off the sand bank and she continued on her voyage.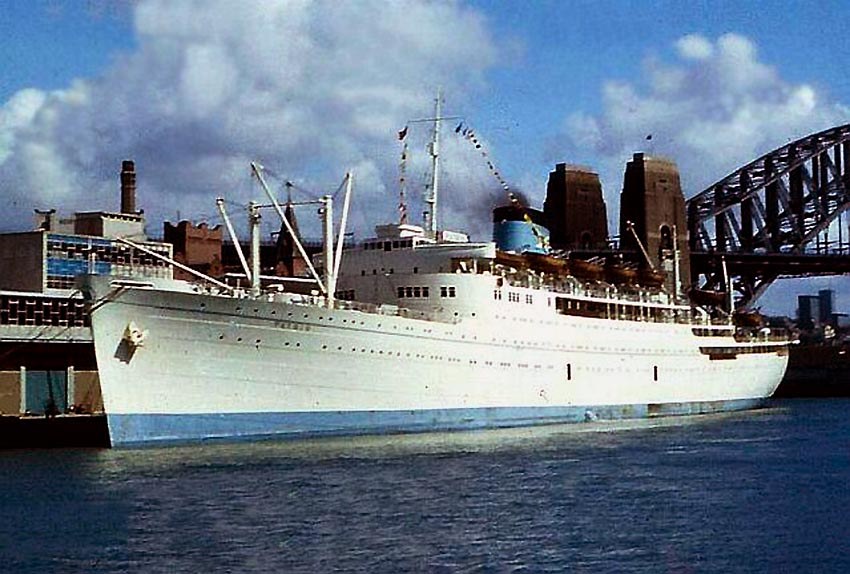 A superb photograph of the Patris in Sydney ready for a cruise
Patris seen during her Australian cruise duties
Due to the closure of the Suez Canal between 1967 and 1972, she sailed to Australia via Cape Town, returning via the Panama Canal. During the late sixties and early seventies, Patris operated a number of cruises out of Sydney, as well as Trans Tasman voyages. RHMS Patris made a total of 91 voyages to Australia between 1959 and 1975, bringing countless thousands of Greek Migrants to Australia to start a new life Down Under.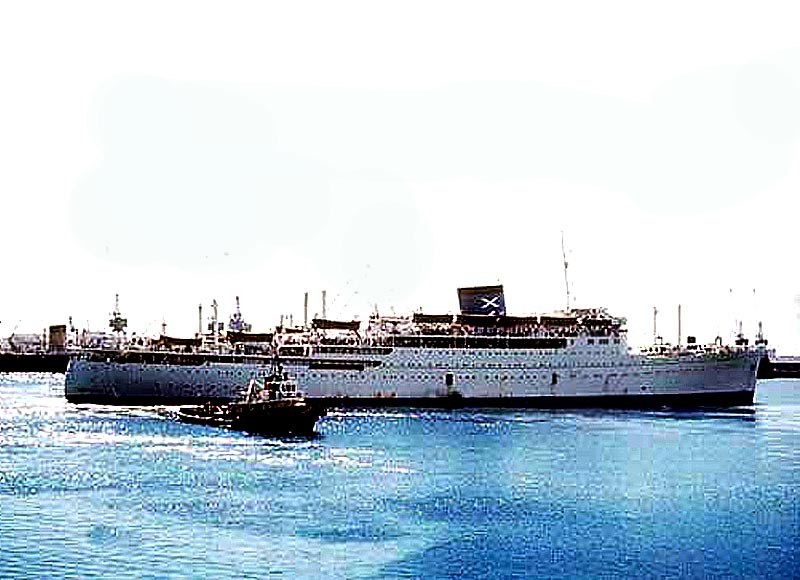 The Patris is seen departing Sydney for another cruise
Like most shipping companies of the day, Patris suffered low loadings, thus alternative routes were sought. Chandris decided on a new idea on a Fremantle to Singapore service, as a cruise ship, and due to the cheap airfares available from Singapore, Patris would operate an inexpensive Fly/Cruise operation to and from the UK and Europe. Sadly the popularity of this venture soon declined and two years later in 1974 she was laid up in Singapore for a short time, but Chandris decided to try again and gave her another refit and recommenced their Fremantle, Singapore services. Then cyclone Tracy hit and mostly destroyed the Australian Northern Territory city of Darwin on Christmas day 1974. Chandris offered to charter the Patris to the Australian Government for her to be used as a floating hostel, for the many that lost their homes. She arrived in Darwin on February 14, 1975 and concluded her hostel duties in November 1975. After departing Darwin in November, Patris said goodbye to Australia as she never returned to our shores.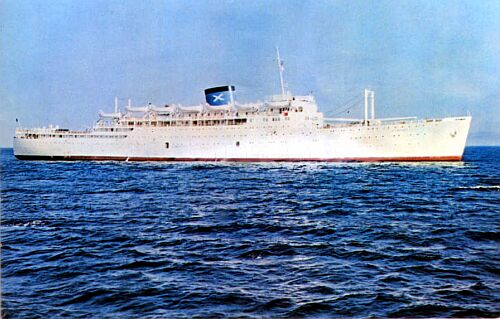 A nice view of a well built ship at sea
Altered specifications for RHMS Patris
Tonnage:                                 16,259 GRT
Passengers:                              36 First & 1000 Tourist, then 1,550 One Class
Mediterranean Star                    750
Crew:                                      325 (Patris)
After her time in Darwin, Patris was in a poor state, thus Chandris sent her to Greece and refitted her to become a passenger car ferry. She could carry 260 cars in garage space in what was Doric deck, which had all her cabins and service areas ripped out. Cars were loaded through large side-loading doors cut into her hull. Patris commenced her new service early 1977, under the joint operation of Chandris & Karageorgis Lines on the Venice, Ancona to Patras service. She operated some cruises, but these were not successful.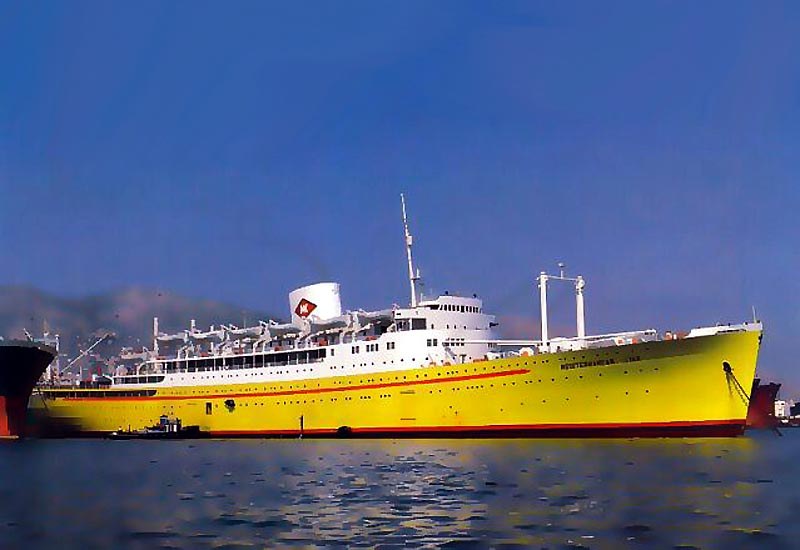 Looking very attractive in her new livery as the Karageorgis Lines Mediterranean Star
Photographer unknown – Please see the Photo Note at bottom of page
Two years later, in 1980, Chandris Lines sold her outright to Karageorgis Line who renamed her Mediterranean Island. In 1981 Karageorgis changed her name to Mediterranean Star and placed her on the Piraeus-Alexandria run. Although still under the ownership of Karageorgis Line, she was registered under the Star Navigation Corp banner and later she transferred within the Karageorgis group of companies, Consolidated Ocean Transports. In 1982 she suffered a major fire in her engine room fire, causing all passengers and most of her crew to abandon ship. With a reduced crew, she was sent to Perama for repairs, yet she remained laid up.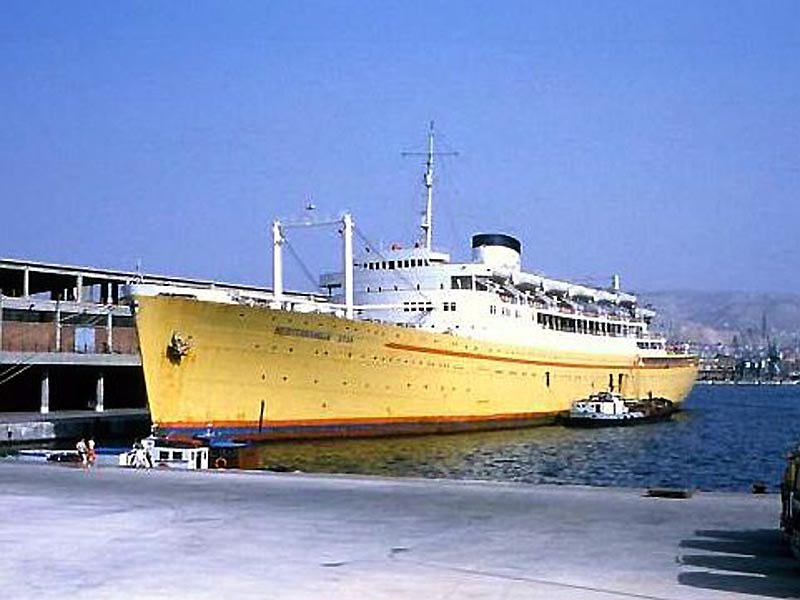 Above and below: We see her still as the Mediterranean Star but her days were coming to an end!
Photographer unknown – Please see the Photo Note at bottom of page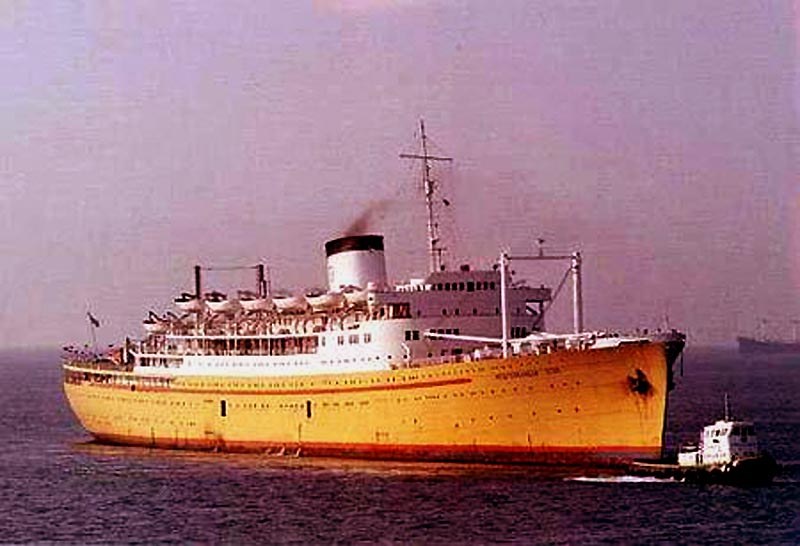 Finally in 1987, this once proud Union Castle and Chandris liner was sold was sold to a St Vincent owner for breaking up. They renamed re-named her "Terra" for her voyage to Karachi in Pakistan, where she was duly broken up.
Page 1a RHMS Patris Deck Plan and interior & exterior photographs
Enter RHMS Patris Page Two
Robert Mills' 14 night Cruise to Melbourne & New Zealand - December 1970
*************************
Also Online …
                                                                 …S.S. America & Australis INDEX:
Page One ………….. ….S.S. America History Page 1940 to 1967.
Page Two ………….…….Photo Page.
Page Three …………….1940 Deck Plans.
………………………………….S.S. Australis INDEX:
Page Four ……………….S.S. Australis History Page from 1964 to her sad end in 1994.
Page Five ……………….Brochure & Photo & Page One.
Page Six ………………….Brochure & Photo Page Two.
Page Seven ………….Deck Plans.
                                                                 ..Other Chandris Ships INDEX:
SS Patris …………………Ex Union Castle Lines RMS Bloemfontein Castle.
SS Ellinis ………………..Ex Matson Lines liner SS Lurline.
SS Britanis ……………..Ex Matson Lines SS Monterey, but renamed Lurline & Matsonia.
Please Note: Not all pages may not have been updated and completed as yet.
***********************************
 "Blue Water Liners sailing to the distant shores.
I watched them come, I watched them go and I watched them die."
Return to the ssMaritime MAIN INDEX
ssMaritime.com & ssMaritime.net
Where the ships of the past make history & the 1914 built MV Doulos Story
Also visit the …
"Save The Classic Liners Campaign"
Please Note: ssmaritime and associated sites are 100% non-commercial and the author seeks no funding or favours of any shape or form, never have and never will! Photographs on ssmaritime and associate pages are by the author or from the author's private collection. In addition there are some images that have been provided by Shipping Companies and private photographers or collectors. Credit is given to all contributors. However, there are some photographs provided to me without details regarding the photographer/owner concerned. I hereby invite if owners of these images would be so kind to make them-selves known to me (my email address may be found on www.ssmaritime.com only), in order that due credit may be given.
This notice covers all pages, although, and I have done my best to ensure that all photographs are duly credited and that this notice is displaced on each page, that is, when a page is updated!
ssMaritime is owned & © Copyright by Reuben Goossens - All Rights Reserved