Union Castle Line; RMS Pendennis Castle
Please Note: Firefox and some other search engines are not suitable – Use "Internet Explorer" for this page to load perfectly!

Click the logo above to reach the ssMaritime FrontPage for News Updates & "Ship of the Month"
With Reuben Goossens
Maritime Historian, Cruise'n'Ship Reviewer, Author & Maritime Lecturer
Please Note: All ssMaritime and other related maritime/cruise sites are 100% non-commercial and privately owned. Be assured that I am NOT associated with any shipping or cruise companies or any travel/cruise agencies or any other organisations! Although the author has been in the passenger shipping industry since 1960, although is now retired but having completed around 680 Classic Liners and Cargo-Passengers Ships features I trust these will continue to provide classic ship enthusiasts the information the are seeking, but above all a great deal of pleasure! Reuben Goossens.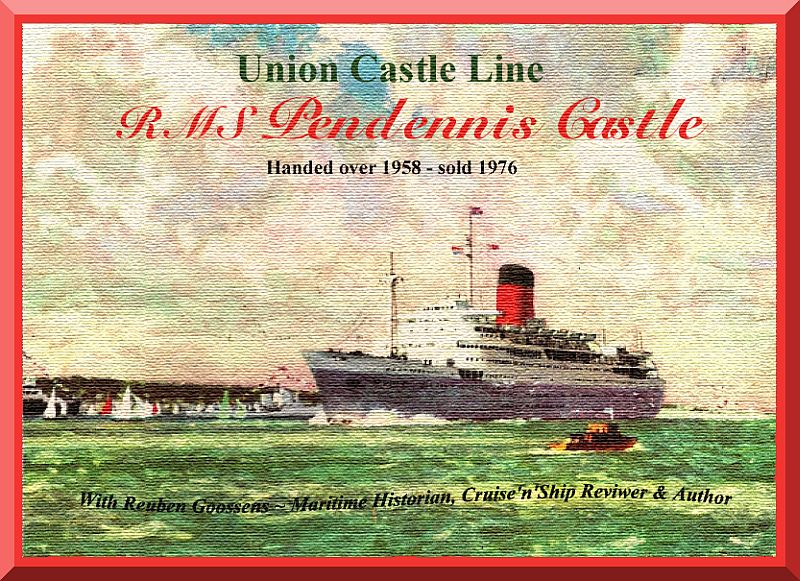 It was decided to replace the aging 1921 built *RMS Arundel Castle thus an order was placed with Harland and Wolff, Belfast to build RMS Pendennis Castle. Her keel was laid in November 1955, just before the Clan/Union Castle merger in January 1956. This merger saw the company going back to the drawing board resulting in a number of changes to her design.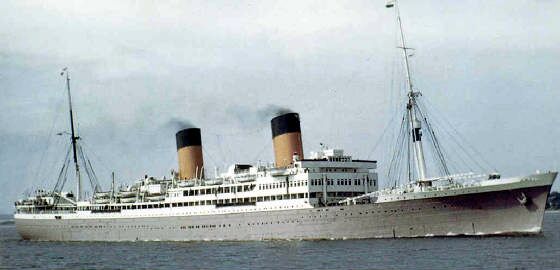 The elegant 19,118 GRT RMS Arundel Castle
Provided by Ian Shiffman of …
http://home.worldonline.co.za/~snai/launch - Email Ian at ShiffmanI@sundaytimes.co.za
The Arundel Castle was also built by Harland & Wolff in 1921 and she completed a grand total of 211 voyages to and from the Cape. Then with the arrival of the new Pendennis Castle in 1959, she was decommissioned and headed for the breakers in the Far East that very same year.
Pendennis Castle was to become the finest traditional mail-ships to be built for Union-Castle and nothing built after her, regardless that the newer ships were more modern and streamlined, but they did not surpass this magnificent ship! In addition, she was also certainly the fastest of the fleet as the company had decided to vastly to upgrade her machinery to H&W built Parsons geared turbines with twin screws operating at an excellent 22.5 service speed. She was also the very first of the mail-ships to have stabilizers, which required a lengthening of her hull from 748 to 764 feet whilst still on the stocks.
RMS Pendennis Castle (named after an ancient Cornish castle) was named on December 10, 1957, however, due to a strike she was not launched until December 24. She was completed and handed over on November 14, 1958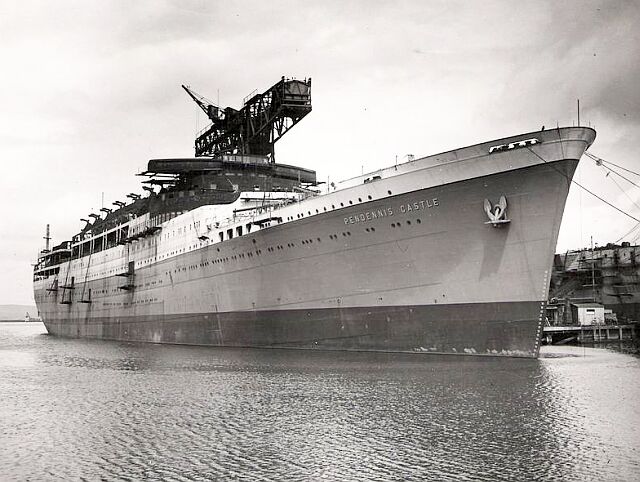 Above and below: The Pendennis Castle is seen just having been launched on November 4, 1958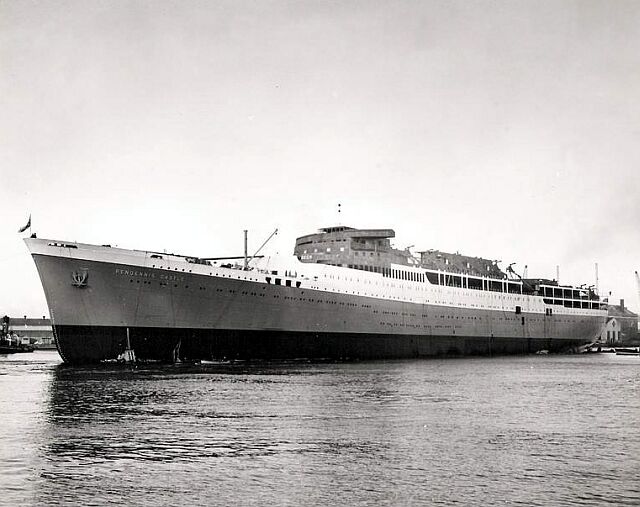 She departed on her maiden voyage on January 1, 1959, under the command of Commodore George Mayhew. Ports of call were as follows: Southampton, Las Palmas, Port Elizabeth, East London, Durban (with occasional calls to Madeira) to Cape Town.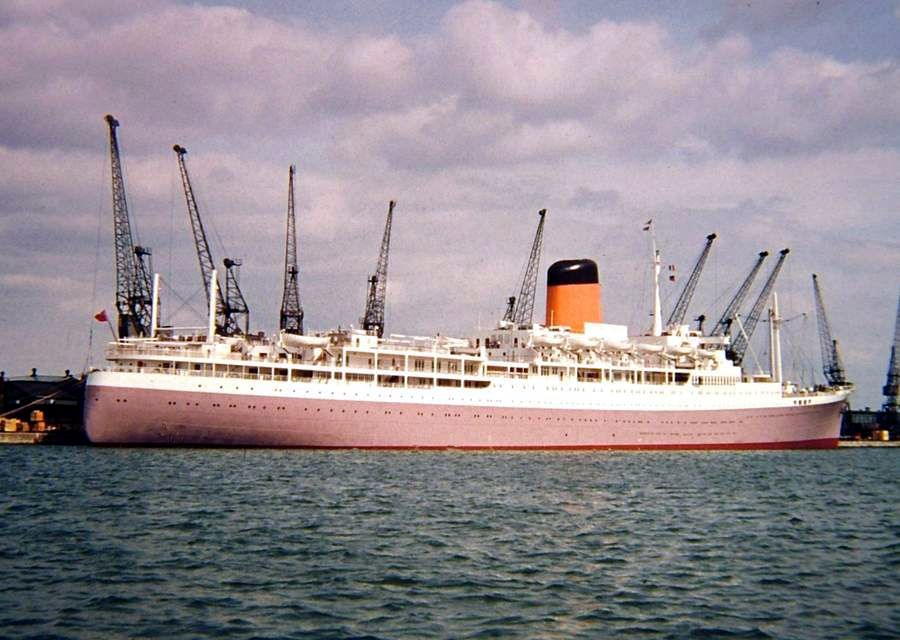 A fine stern view of the ship whilst berthed at Southampton, soon she would set sail for Cape Town!
In 1960 the greatly built up and more modern looking RMS Windsor Castle commenced services followed by the RMS Transvaal Castle in 1962 which became famed for being the first British liner to carry waitresses, known as "stewardettes" in the dinning rooms, eventually the Pendennis Castle and other ships in the fleet also carried some "stewardettes."
An early Union-Castle Line postcard
Union-Castle Line announced in July 1964 that air-conditioning would be extended to include all first class cabins. In addition a further 21 cabins had showers fitted. She became known as the fun-ship of the Union-Castle fleet, as the company introduced additional amusements and upgraded all recreational facilities, thus, she became a far more attractive proposition to younger passengers.
Then in May 1968, whilst she was berthed in Southampton, sadly a fire broke out that damaged some of the accommodations amidships, however, she damaged cabins were sealed and was able to sail on having taken some Harland and Wolf workers onboard who continued to repair the affected rooms, but very quietly. She continued and did quite well, but due to the ever-changing conditions it was decided in 1976 to withdraw her and place her on the market, considering Union Castle had more modern ships in service!
The very last of the Union Castle Line traditional Mail Ships, the RMS Pendennis Castle departed on her final return voyage to Cape Town, from Southampton on April 23, 1976, and was withdrawn from service and placed on the market upon her return and having been de-stored on June 14, 1976.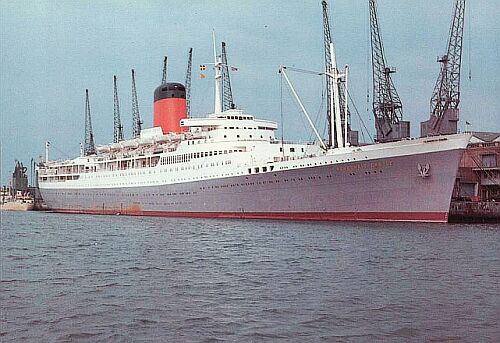 RMS Pendennis Castle seen looking magnificent as ever at Southampton
Specifications as built:
Builder:       Harland and Wolf – Belfast – 1958.
Tonnage:       28,582 GRT - 15,976 dw - (28,453 GRT 1968).
Length:       764ft - 232.5m.
Breadth:       83ft - 25.3m.
Draught:       32ft - 9.8m.
Engines:       Steam: Parsons Geared Turbines, 46,000 SHP.
Screws:       Twin.
Service speed:       22.5 knots.
Air-conditioning:       Partial.
Passengers:       670 total - 197 first class - 473 tourist class.
Her Final Few Years:
She was sold to Filipino owned "Ocean Queen Navigation Corp" and renamed and she departed Southampton on July 7, 1976, arriving at her destination, Hong Kong on August 9. She received a completely new look with an all white hull and superstructure and a gold-brown funnel. The intention was to use her as a cruise ship, but sadly this venture never eventuated and she remained laid up for the next eleven years. We do not know if and how she may have been used during this time.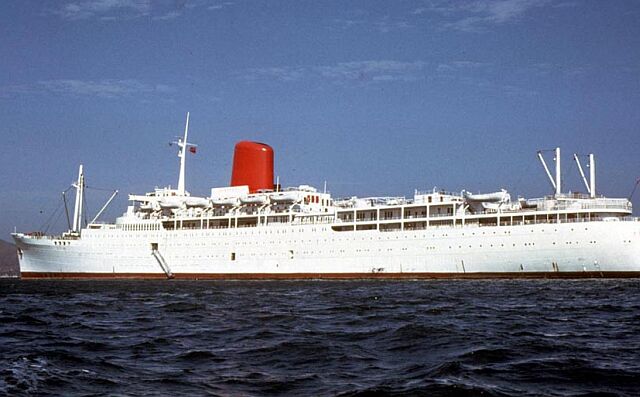 The spotless SS Sinbad I - is seen here still in lay up
The Ocean Queen remained laid up in Hong Kong until 1977, when she sold to a Liberian Company, Kinvarra Bay Shipping who renamed her Sinbad, but, later renamed her Sinbad I, yet once again she remained laid up yet she always looked well card for, and it seemed that she may have been in use for parties or accommodations, but there is no information available. Then in April 1980, she departed Hong Kong bound for Kaohsiung, Taiwan where she was duly scrapped.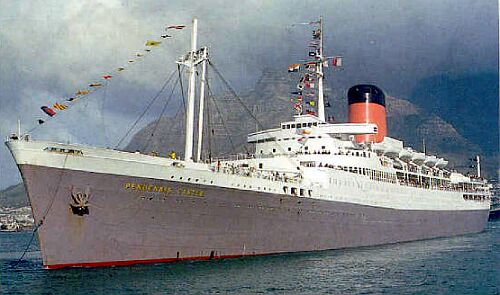 A fine view of a magnificent ship!
Provided by Ian Shiffman of …
http://home.worldonline.co.za/~snai/launch - Email Ian at ShiffmanI@sundaytimes.co.za
This sublimely perfect Royal Mail Liner, the RMS Pendennis Castle saw just 17 years of dignified service as a mail-ship, after which she was laid up for four years. However, to see such a great passenger liner that was still in perfecr and a fully operational condition, being broken up being just 21 years old was just a tragic crime!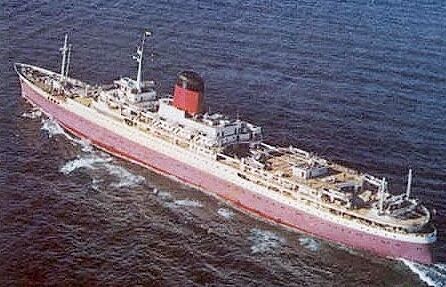 RMS Pendennis Castle seen Africa bound
Enter our Pendennis Castle Photo Album
Also Visit Paul Williams Sails to Durban in 1975
Thank you Ian Shiffman for the use of some of your photographs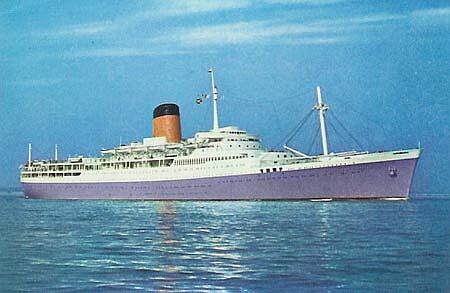 Memories of this fine Liner will long remain!
"Blue Water Liners sailing to the distant shores.
I watched them come, I watched them go and I watched them die."
****************************
Visit our ssMaritime Main INDEX
Where you will discover around 680 Classic Passenger & Passenger-Cargo Liners!
ssMaritime.com & ssMaritime.net
Where the ships of the past make history & the 1914 built MV Doulos Story
Please Note: ssmaritime and associated sites are 100% non-commercial and the author does not seek funding or favours and never have and never will.
Photographs on ssmaritime and associate pages are either by the author or from the author's private collection. In addition there are some images and photographs that have been provided by Shipping Companies or private photographers or collectors. Credit is given to all contributors, however, there are some photographs provided to me without details regarding the photographer or owner concerned. Therefore, I hereby invite if owners of these images would be so kind to make them-selves known to me (my email address can be found at the bottom of the page on www.ssmaritime.com), in order that due credit may be given.
ssMaritime is owned & © Copyright by Reuben Goossens - All Rights Reserved