Messageries Maritimes - MS Polynesie 1955 to 1976

Please Note: Firefox, iPhones, iPads & some other Search Engines may not be suitable

Use

Internet Explorer & Google Chrome for this Web Page to load perfectly!

Click the logo above to reach the ssMaritime FrontPage for News Updates
With Reuben Goossens
Maritime Historian, Cruise'n'Ship Reviewer, Author & Lecturer
Please Note: All ssmaritime and my other related ssmaritime sites are 100% non-commercial and privately owned sites. Be assured that I am NOT associated with any cruise or shipping companies or travel/cruise agencies or any other organisations! The author has been in the passenger shipping industry since May 1960 and is now semi-retired, but continues to write article on classic liners and cruise ships in order to better to inform cruise and ship enthusiasts for their pleasure!
Messageries Maritimes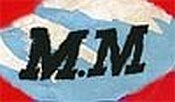 M.S POLYNESIE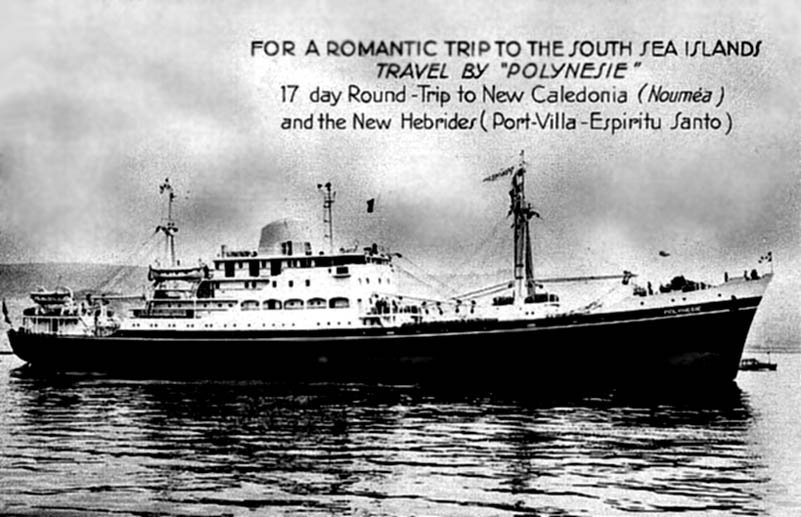 The M.S. Polynesie was an attractive looking ship; here she is seen in her early days
3. Image from a Messageries Maritimes brochure
Please Note: Photographs and images on this page are by, or have been provided by:
1. Charles Trotobas, 2. Alain de Bressy, 3. The Author's private collection
Messageries Maritimes has had a long history operating ships between Sydney and Nouméa, going back to 1882. Ships used were mostly small and older vessels. In 1938 a 1,422-ton ship was purchased and was named Polynesian, but she laid idle during the war and returning to service in 1947. This small ship offered only a few berths, but soon it became obvious that a more substantial vessel with a greater capacity was needed.
In 1953 Messageries Maritimes ordered a fine small 3,700-ton ship to be built by S.A. des Anciens Chantiers Dubigion, Nantes France. She would be the last ship of the Messageries Maritimes post war rebuilding programme.
The MS Polynesie was launched in a fine ceremony on September 17, 1954, and after having been fully completed and fitted out she headed out for her speed trials and was officially delivered early in June 1955.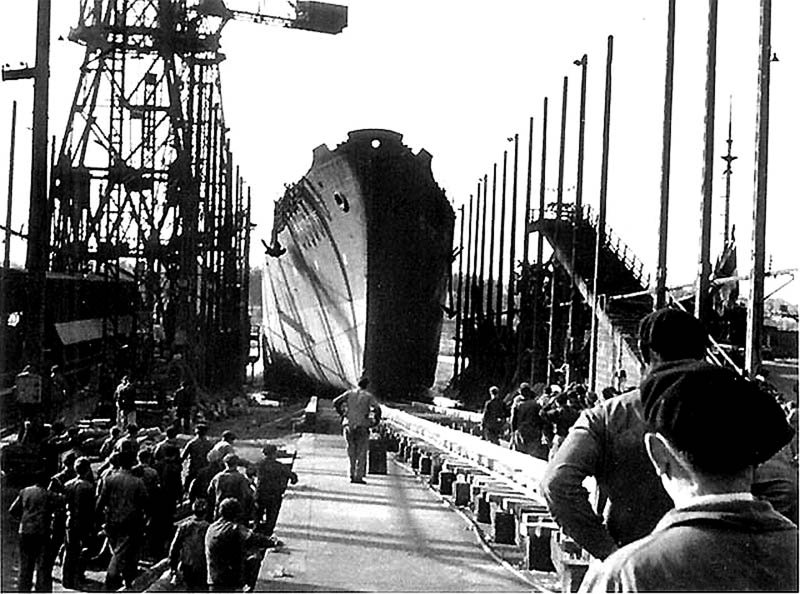 3. The Polynesie is seen having been named and officially launched and is heading down the slipway into the water for the first time
MS Polynesie was a small ship, however she was and a beautifully designed and a well built passenger-cargo ship. She looked very smart with her black hull with a white ribbon, and as she departed Marseilles for Nouméa, sailing via the Suez, making calls at Colombo, and Singapore before arriving in Nouméa on July 15. After five days in port she commenced her maiden Pacific voyage to Sydney where she arrived on July 25.
Having been purposely designed for the Sydney Australia, Nouméa New Caledonia service, she offered limited but excellent facilities. The Lounge, Bar and passenger promenade was located forward and along portside of D (Boat) Deck. The Dining Room was located in the forward part of B (Bridge) Deck. She had twenty cabins accommodating thirty six passengers in single or twin bedded cabins, some having an upper Pullman Berth. Accommodations were located over three decks, most on C and D Decks, with others topside on E Deck just behind the Bridge. All cabins were outside and had a private bathroom. She had three cargo holds and tween decks.
Although Polynesie operated the Sydney to Nouméa service, but very soon the New Hebrides (today's Vanuatu) was added to her schedule, thus she now also visited Port Vila and Espiritu Santo. In due course her hull and funnel was painted white giving her a more pleasing and tropical appearance.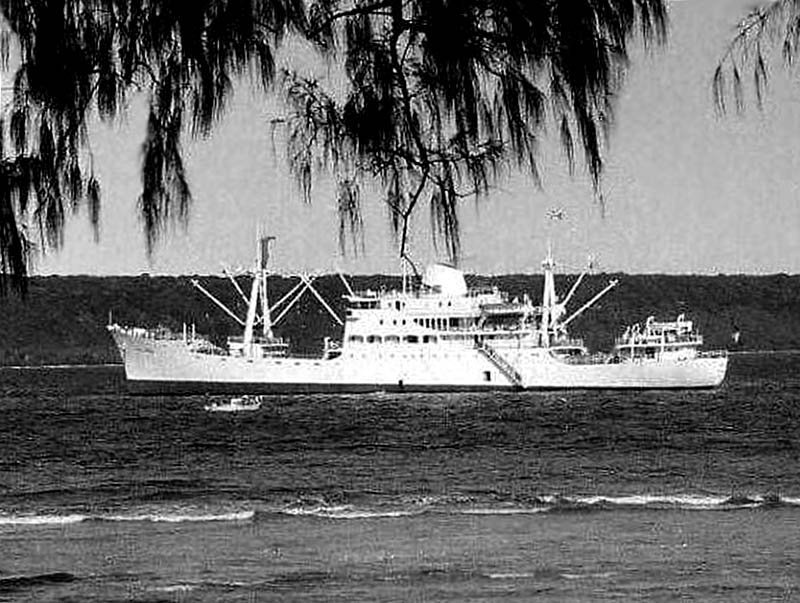 1. Here we see the Polynesie at anchor in the mid sixties looking splendid with her tropical white livery
Polynesie became a popular little ship; especially with those who were looking for a different experience and many Australians enjoyed a seventeen day round voyage on her, or those of French origin would take one way journeys to visit family or friends in Nouméa or the New Hebrides (Vanuatu). Polynesie served on this route for twenty good years.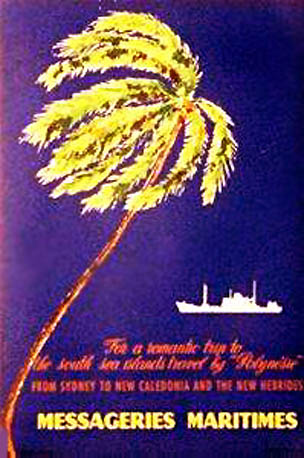 3. A Messageries Maritimes brochure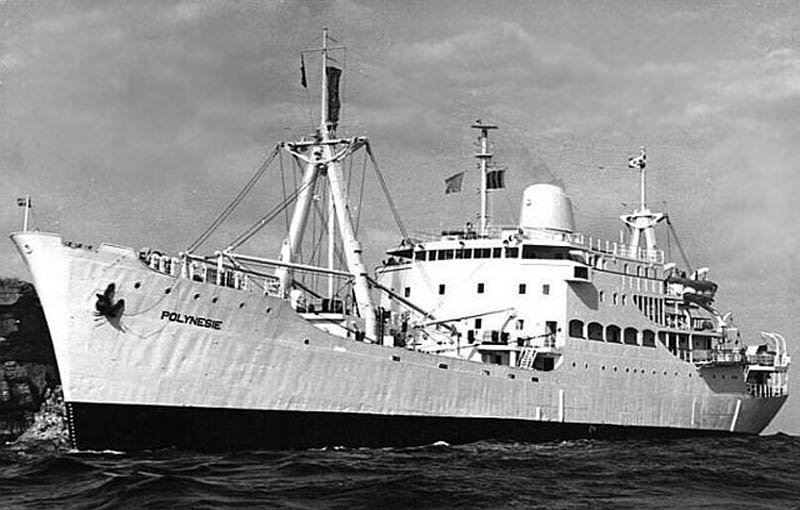 3. Postcard of the Polynesie
By the mid seventies passenger numbers were declining worldwide, for this reason Messageries Maritimes had been slowly dispensing with all passenger services. Polynesie became Messageries Maritimes very last passenger ship, and it had been decided in 1975 it was time to also withdraw her from service. The much loved MS Polynesie departed Sydney for her very last ever voyage final voyage on Wednesday October 22, 1975, and she sailed first to Port Vila and then turned back to Nouméa where she was laid up and placed on the market. Her cargo services was immediately taken over by a chartered cargo ship as passengers would no longer be carried by Messageries Maritimes, those days had now ended, a sad day for such a outstanding well established French Passenger-cargo company.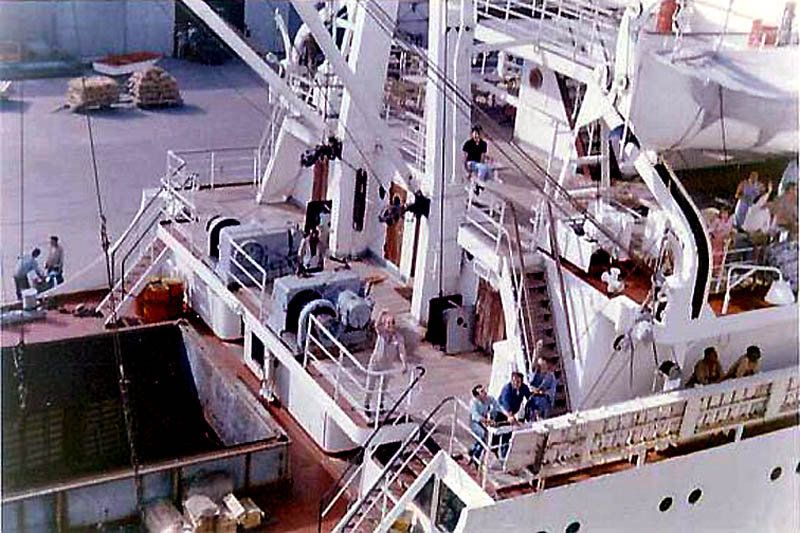 1. Seen with her aft hold open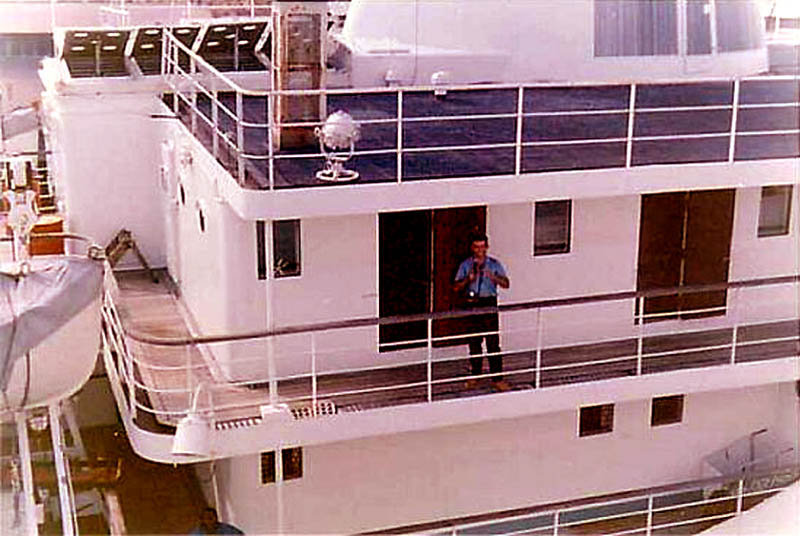 . An excellent photo of her aft superstructure's aft decks. Out on deck is Alain de Bressy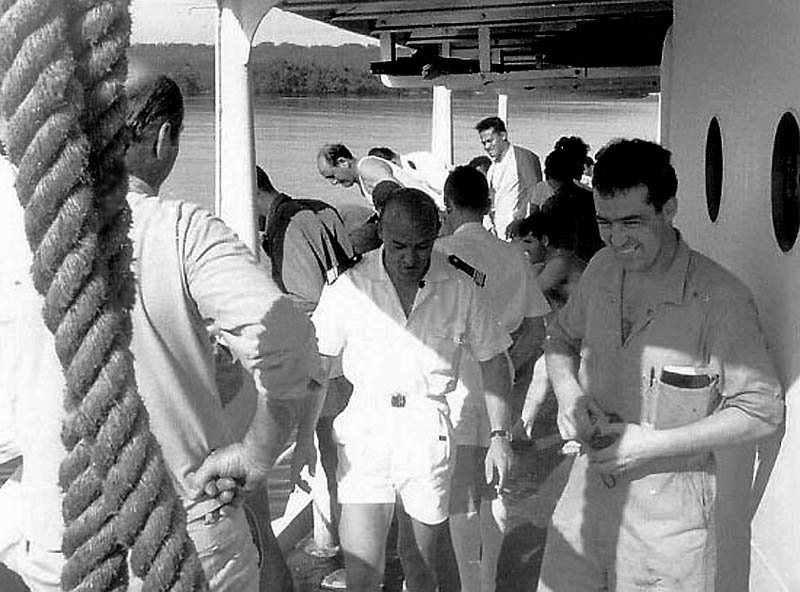 1

. Officers and crew seen aft of the ship upon arrival at Port Vila ready to feed the ropes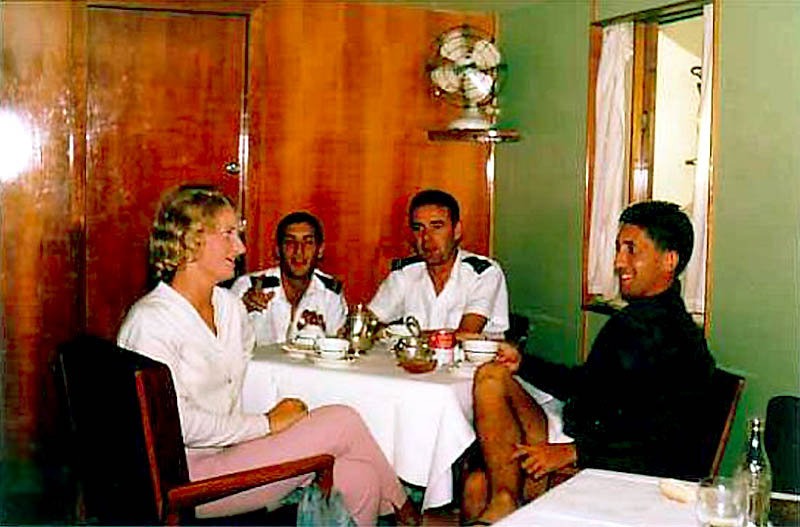 1

. Officers enjoying afternoon coffee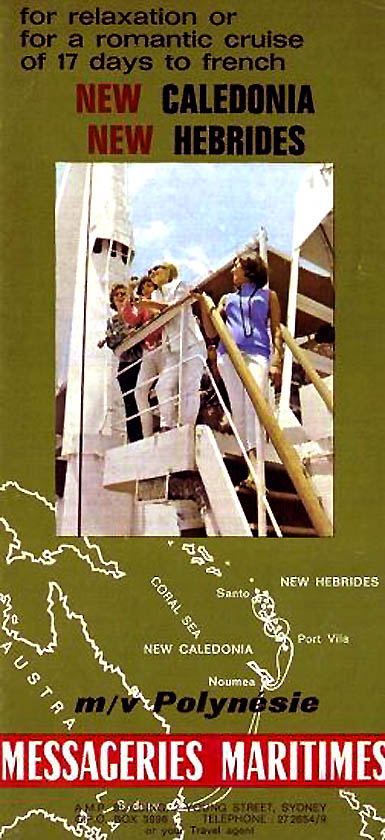 2

. Promotional brochure for a 17 day round voyage on the MS Polynesie

Four promotional on board photographs are seen down the page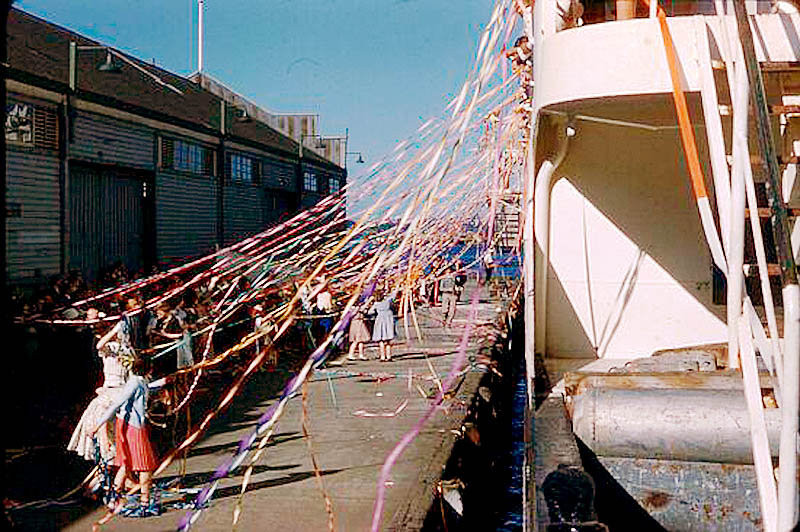 2

. Departure time in Sydney, with streamers, for this was the Good Old days!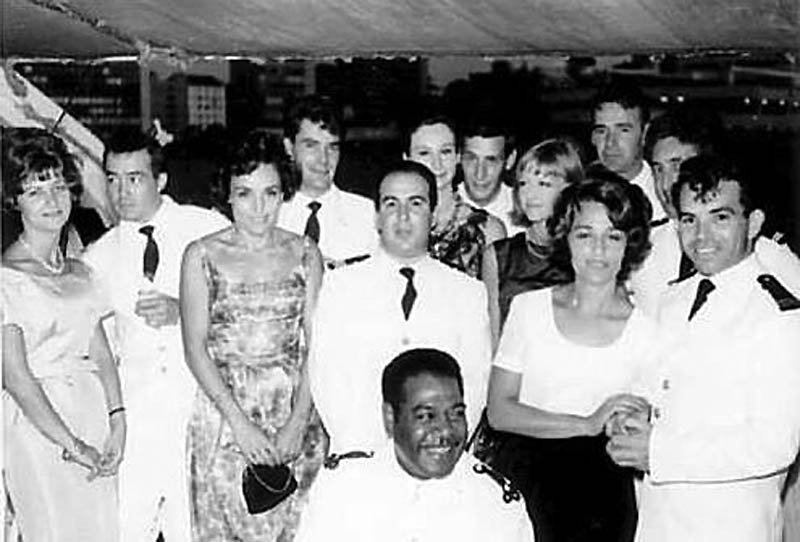 2. A group photograph of some passengers, officers and other staff members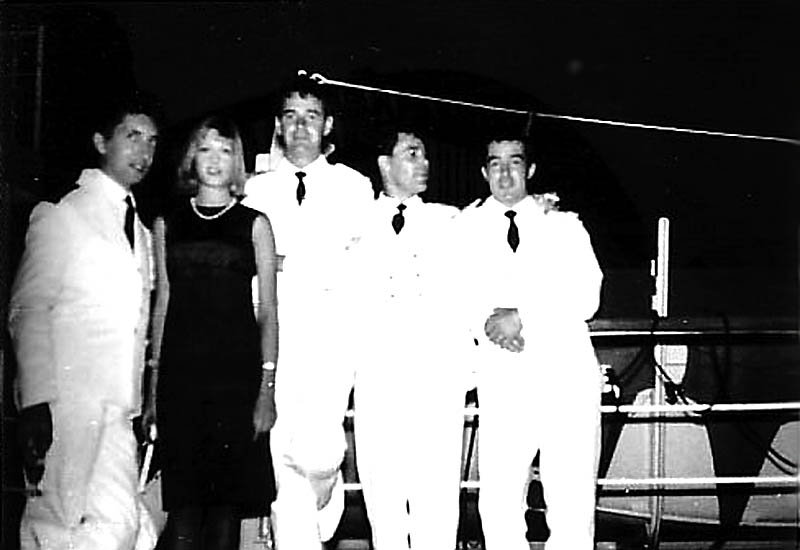 2

. Jnr officers and a passenger out on deck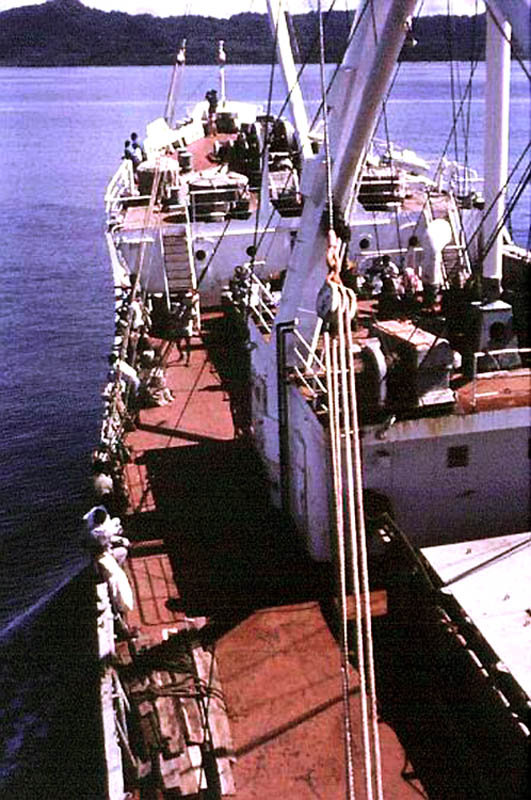 2. A fine view of her forward section and her foc's'le as she arrives in Port Vila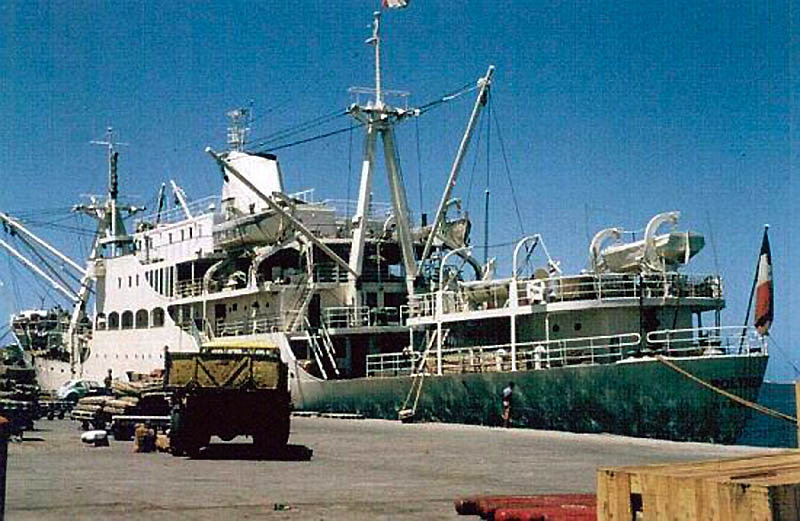 2

. Polynesie is seen berthed at Nouméa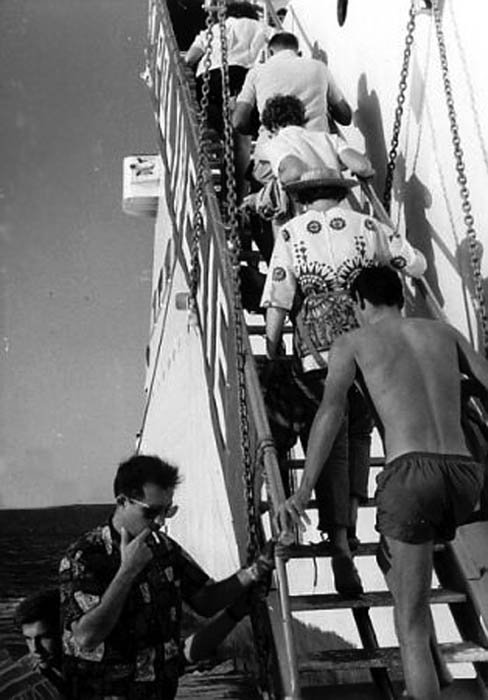 2

. Passengers and some crew returning to the ship in Nouméa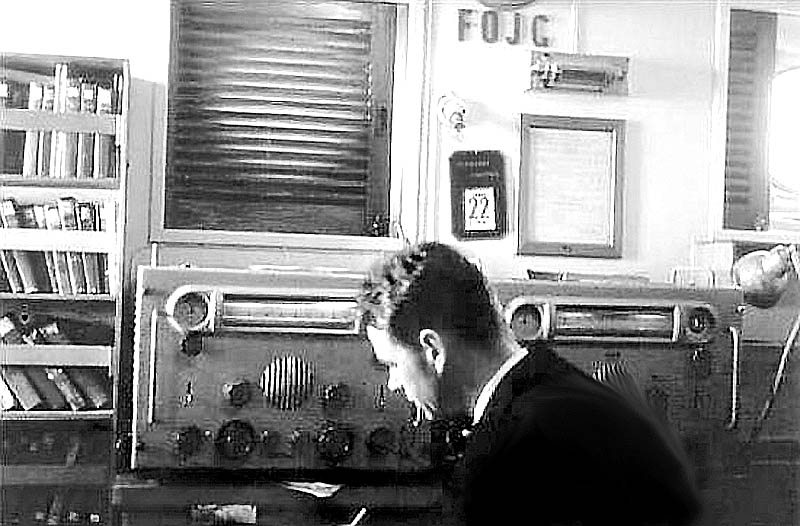 2

. The Radio Room and its Radio officer at work
2

. A typical two berth cabin, with an additional upper Pullman berth folded open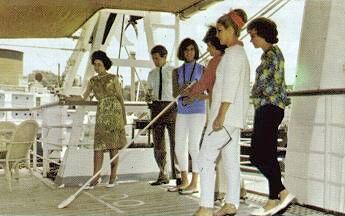 2. Above & below: four images from a M.M. Brochure showing passengers enjoying deck activities,
At their evening meal, and in the lounge and enjoying a dance to recorded or someone playing the piano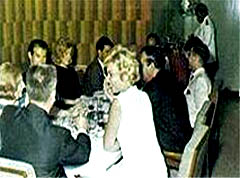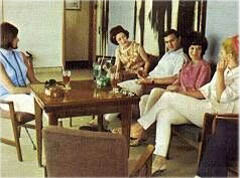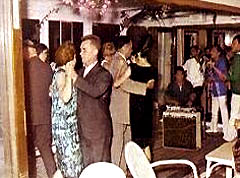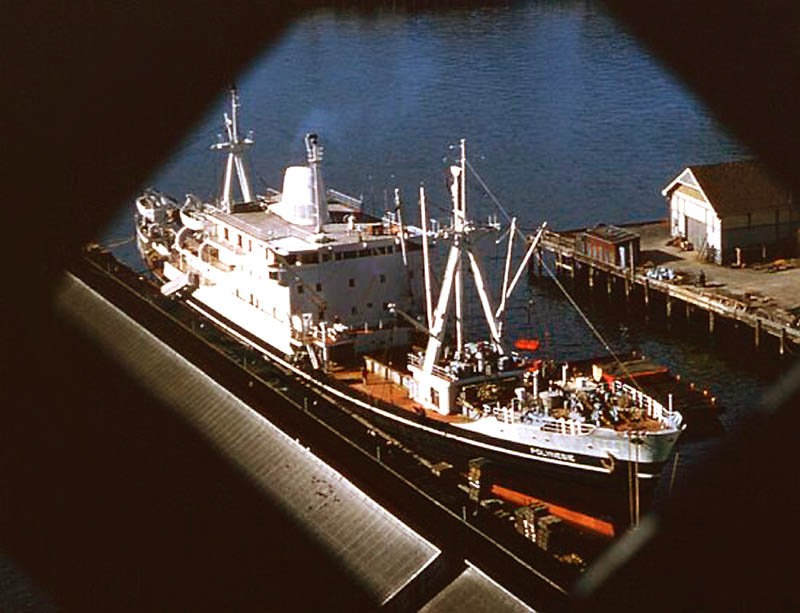 2

. M.S. Polynesie has returned to Sydney and the voyage is over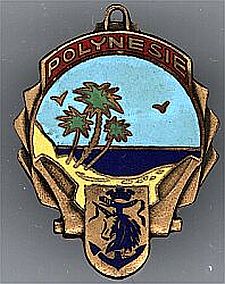 2. A small medallion from the ship
Fourteen months later, on August 1, 1976, she was finally purchased by the Singaporean Company Guan Shipping Ltd., and was renamed Golden Glory. However after arrival in Singapore she was placed at anchor and remained idle until she was sold to a Taiwanese breaker three years later. She arrived at the "Gi Yuen Steel Enterprises" shipyard in Kaohsiung on June 14, 1979 and was duly broken up.
MS Polynesie's Specifications:
Built by: S.A. des Anciens Chantiers Dubigeon, Nantes.
Launched: September 17, 1954.
Maiden Voyage: June 13, 1955.
Tonnage: 3.700 GRT, 2.400 DW.
Length: 104.5 m.
Width: 15 m.
Draught:
Engine: 1 two-stroke engine 6 cylinders Burmeister & Wain fuel oil power: 3600 HP.
Screws: 1 propeller.
Speed: 15 knots.
Passengers: 36 One Class passengers.
1. Polynesie seen in the harbour of Port Vila in 1965
Enter the MS Caledonien and Tahitien two page feature
There two 12,712 GRT passenger-cargo liners operated between France the Pacific Islands & Australia
Also Enter the two page MS Atalante (ex Tahitian) feature
"Blue Water Liners sailing to the distant shores.
I watched them come, I watched them go and I watched them die."
********************************
Use the Back button on your browser or Close the Page to return to the previous page
or go to our INDEX
ssMaritime.com & ssMaritime.net
Where the ships of the past make history & the 1914 built MV Doulos Story
Also visit the …
"Save The Classic Liners Campaign"
Photographs on ssmaritime.com, & .net and associate sites are by: 1. By the author. 2. From the author's private collection. 3. Or as provided by Shipping Companies and their Publicity Companies as well as by private photographers or collectors. Credit is given to all contributors. However, there are some photographs provided without details regarding the photographer concerned., therefore I hereby invite if owners of those images to be so kind and make them-selves known to me per email at rg@ssmaritime.com in order that due credit may be given
ssMaritime is owned and © Copyright - Reuben Goossens - All Rights Reserved