Please Note: Firefox, iPhones, iPads & some other Search Engines may not be suitable
Use Internet Explorer or Google for this Web Page to load Perfectly!
Click the logo above to reach the ssMaritime FrontPage for News Updates & "Ship of the Month"
Please Note: All ssmaritime and my other related ssmaritime sites are 100% non-commercial and privately owned sites. Be assured that I am NOT associated with any cruise or shipping companies or travel/cruise agencies or any other organisations! The author has been in the passenger shipping industry since May 1960 and is now semi-retired, but continues to write article on classic liners and cruise ships in order to better to inform cruise and ship enthusiasts for their pleasure!
With Reuben Goossens
Maritime Historian, Cruise'n'Ship Reviewer & Author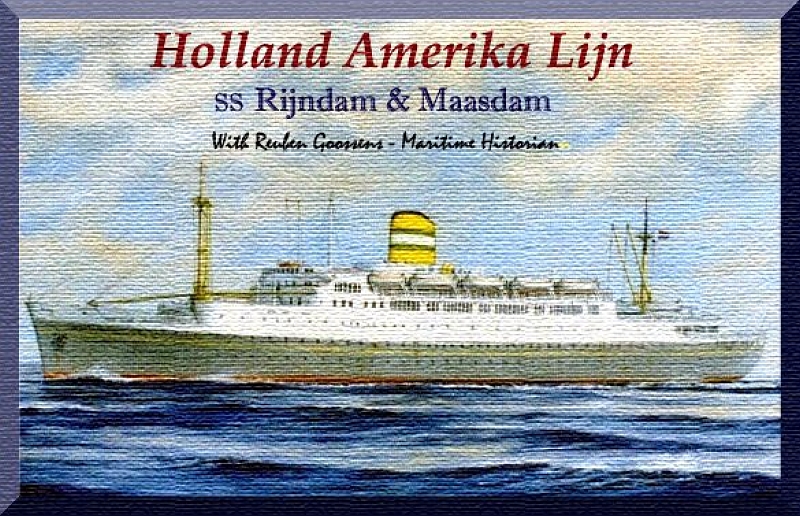 TSS Ryndam II 1951 – 1972 / TSS Maasdam IV 1952 - 1968
Please Note: At this time, this feature is incomplete and unedited.
Early 1949, NASM - Holland America Line (HAL), ordered two freighters, the Dinteldyk and Diemerdyk. On December 17, 1949 Dinteldyk was laid down at Schiedam as Yard #733. Whilst construction was underway, Holland America Line's Director Mr. Willem H. de Monchy decided to redesign both ships into medium sized passenger liners. Dinteldyk was launched as the Ryndam one year later, on December 19, 1950, whereas Maasdam was launched on April 5, 1952.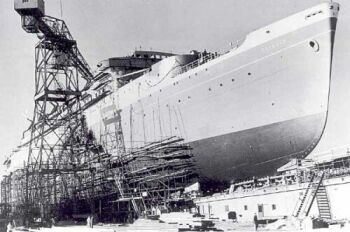 The Launching of the Ryndam
Holland America Line had announced that these new sisters would introduce company's new livery, with the hull painted dove grey and a white superstructure. Her fitting-out was well ahead of schedule and in May 1951 it was decided to put forward her maiden voyage to July 16, instead of August 16. After her trials in the English Channel, TSS Ryndam was officially handed over to Holland America Line on July 10, 1951. Six days latter she departed Rotterdam bound for New York, sailing via Le Havre and Southampton.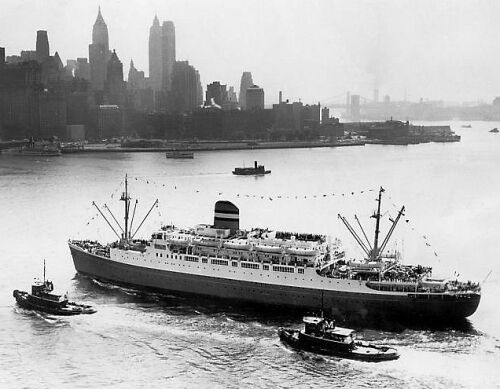 TSS Ryndam arrives in New York City on her Maiden voyage
TSS Maasdam was handed over to HAL on August 10, 1952. Like her sister she was delivered early and departed for her maiden voyage more than a month earlier than planned. She departed on her maiden voyage from Rotterdam on August 11, to New York, sailing via Le Havre and Southampton calling at Montreal on the 20th. She continued to New York via the Cape Cod Canal; being one of the largest ships to transit the waterway. Maasdam arrived in New York on August 27th.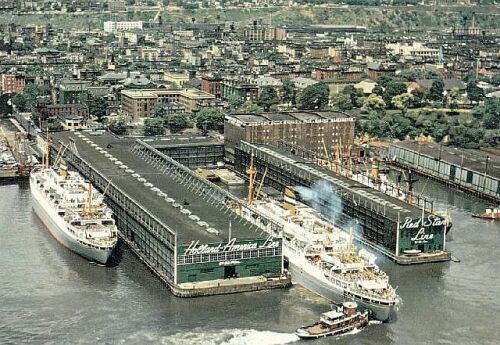 TSS Maasdam and Ryndam at the Holland America Pier in New York
Designed as freighter's the machinery planned for them remained, these comprised of two cross-compound General Electric steam turbines, which we built in 1945. They developed 8,500shp double-reduction geared to a single screw. Service speed was slow compared with other ships sailing at jus 16.5 knots, the crossing from Britain to New York took eight days; however the daily fuel consumption was just 53 tons, making these ships exceptionally economic to operate.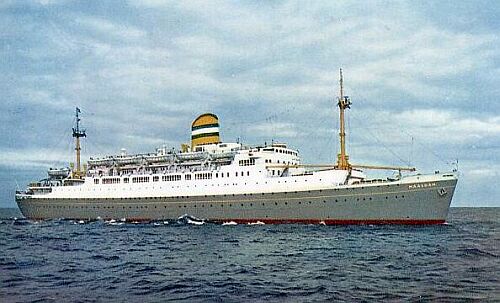 TSS Maasdam, one of the successful "Economy Twins"
Although built with a two-class layout, TSS Ryndam and Maasdam were revolutionary ships for their day, as they were essentially built as Tourist class liners. Tourist Class passengers basically had the run of the ship, except Boat Deck, what was known as the "Exclusive First Class Penthouse section" of the ship.
First Class
First Class offered fifteen twin bedded cabins, some with an upper Pullman, accommodating a maximum 39 passengers. All cabins had had private facilities, and a large window. Located forward on Boat Deck was the Main Lounge. On both sides of the Lounge was a partial glass enclosed promenade deck, followed by spacious open decks on both sides of the ship. Located aft was the opulent Verandah Café. Two decks up, on Sun Deck, just aft of the unique "slim-line" funnel was the spacious First Class Sports Deck.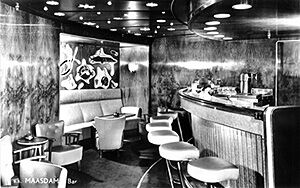 TSS Maasdam – This First Class Bar was added in 1961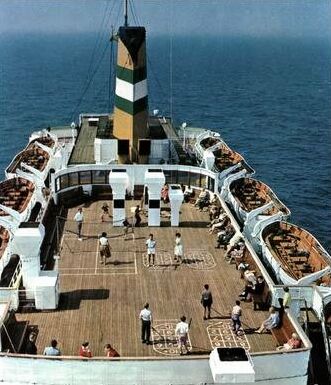 Sun Deck - First Class Sports Deck – Note the slender aero-dynamic funnel
Tourist Class
All Tourist Class public rooms were located on Promenade Deck. The delightful Palm Court was located forward. This large room was decorated in light woods, masses of bamboo and greenery. Directly aft was the main lobby and stairwell, which led to the Card Room and Library, and the delightful American Bar. The Smoking Room located aft. The Dining Room was located amidships on 'A' Deck. Although the decor was attractive, the innovation of the décor was it gave this room a spacious feel.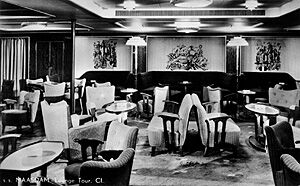 TSS Maasdam's Main Lounge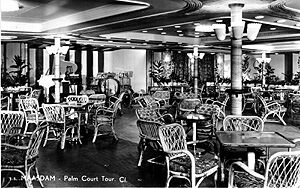 And her friendly Palm Court
Maasdam's excellent Dinning Room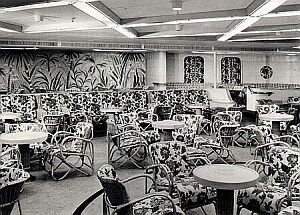 TSS Ryndam's had a rather more floral style Palm Court
854 Tourist passengers were accommodated in smart single-berth, two-berth triples, and four-berth cabins. Many British and American passengers commented, "Everything is so Dutch; neat, pleasant and practical." 893 passengers were taken care of by 228 stewards.
The successful "Economy Twins," operated between Rotterdam, Le Havre, Southampton (with occasional calls to Cobh), en route to New York, as well as occasional cruises in the Caribbean. Over the first years they managed 85% occupancy on Atlantic voyages, and an incredible 98% on cruises.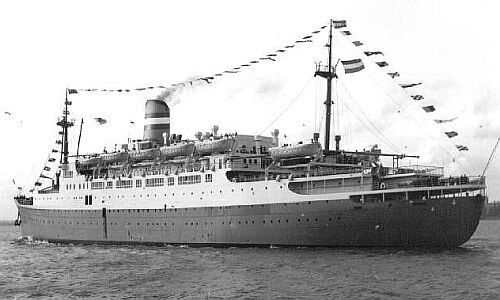 TSS Maasdam seen bedecked with flags during a Cruise
Ryndam and Maasdam developed a 'Friendly Ship' reputation, making them appealing to students, emigrants, and cultural groups. First Class attracted the elite, who enjoyed sitting high above Tourist Class, in their Penthouse style accommodations. We may call this the "snob effect." The appeal of these ships was emulated by the 24,300 GRT, 1957 built Statendam, which also carried a small number of First Class passengers.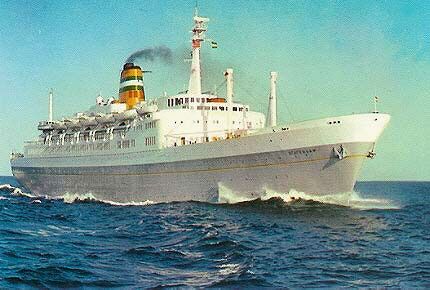 The grand TSS Statendam
TSS Maasdam had a number of altercations with other ships, such as, on December 10, 1952, just four months after her maiden voyage, Maasdam collided with and sank the 268-ton German tanker Ellen, whilst sailing in fog in the canal that links Rotterdam to Hook of Holland. Six of tanker's crew were lost, although the Maasdam was undamaged. Two years later, whilst sailing eastbound on October 3, 1954, she struck the freighter Tofevo in thick fog off Rhode Island. Maasdam's bow was damaged, and both ships returned to New York. In the mid-fifties a ship hit the Holland America wharf, damaging Maasdam's bow above the waterline.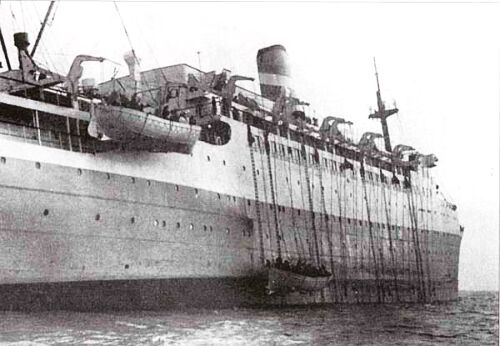 Here we see one of Maasdam's mishaps
One of the main problems with both ships was the freighter hull design, which meant that in a little, or rough weather, they would pitch and roll, causing some discomfort to say the least. Thus, in 1955 the Maasdam was fitted with Denny Brown stabilizer fins, with the Ryndam following one year later.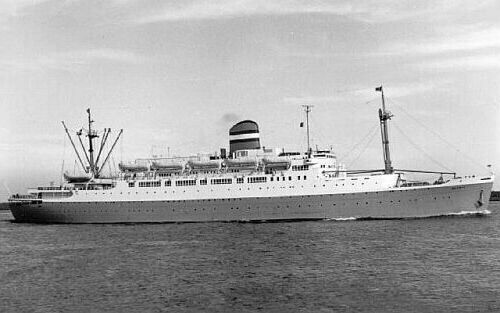 In 1961 both ships had a number of amidships twenty four Tourist Class cabins on Main Deck rebuilt and were fitted with private facilities, reducing Tourist capacity to 822 berths. In addition the First Class Lounge was extended, adding a delightful Bar located in an alcove on the starboard side.
By 1964, passenger numbers declined, thus Holland America embarked on a series of changes for 'The Economy Twins'. At that time the Round the World service to Australia and New Zealand, operated by the Dutch Mail ships (Royal Rotterdam Lloyd – Nederland Line), Willem Ruys and Oranje was withdrawn. Holland America decided to operate a one-class service during the European winter months. The Ryndam was the first to undertake this voyage, departing from Rotterdam on November 7, 1964, sailing via Southampton, Suez, Fremantle, Melbourne, Sydney, Wellington, returning to Rotterdam on January 30, 1965, having sailed via the Pacific coast and the Panama Canal. This extended voyage visiting many ports in both directions was met with some success, thus, the next year, on October 20, 1965, Maasdam departed Rotterdam, sailing via Southampton, Port Said, Colombo, Fremantle –Melbourne, Sydney, Wellington, Papeete, Los Angeles, Acapulco, Balboa, Cristobal, Kingston, New York, Cobh, Southampton to Rotterdam.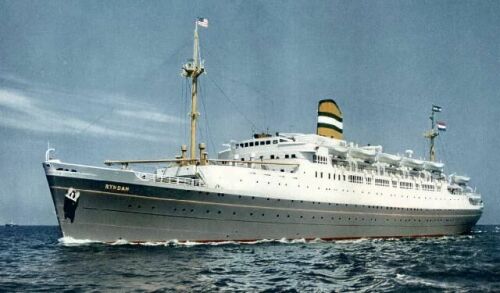 TSS Ryndam and Maasdam were suitable small liners for the around the world service
With the success of these voyages, Holland America decided to refit the Ryndam at Norddeutschen Lloyd Werft in Bremerhaven, arriving there on December 3, 1965, for a two month refit. A 280 seat cinema-theatre added on D Deck in what was originally the forward hold, a launderette. Public rooms received some refurbishments, including a new bar in the Lounge. On February 6, 1966, she departed Rotterdam on which sadly became her last world voyage. However, Maasdam continued the service for another two more years.
Europa-Canada Line:
Early 1966 Holland America decided to transfer the Ryndam to their German flagged subsidiary, the "Europa-Kanada Linie," in order that she could operate on the Canada service. However, she operated her last voyage to Montreal for 1966 was on August 20.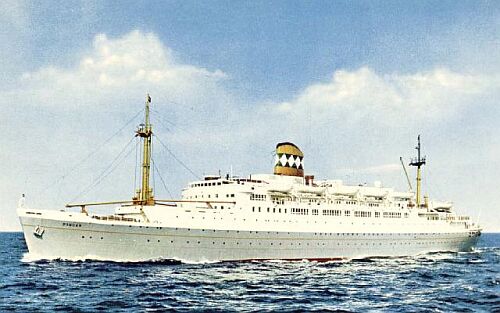 TSS Ryndam showing her new Europa-Canada Line funnel
She was re-registered in Bremen and her yellow funnel was given a green band with large white diamonds. Her new role was to be a low cost student voyages. The crew was replaced by the lower salaried German crew. TSS Ryndam departed on October 8, for her first student voyage from Bremerhaven to New York.
However, on October 20, she commenced her first round-the-world Student "Campus" Cruise, as she had been chartered by the "Chapman College" of Orange, California.
Whilst previously she was a two class liners with a very small First Class section f the ship, now she was operated as a one-class ship offering mostly buffet style, self-service in the dining room. Between her extended 'floating university' cruises, she also made Atlantic crossings for a number of student organisations. The Maasdam was also transferred to this service in October, 1966.
Ryndam's career under the German flag was short-lived as Holland America was not satisfied with the new management and poor maintenance, considering there had been some damage incurred to a boiler, as well as low profits.
On August 28, 1967 she was transferred yet again to another affiliated company, the Dutch flag "Trans-Ocean Steamship Company". Like Europa-Canada, Trans-Ocean specialised in student as well as migrant traffic, with the three austere Dutch migrant ships, the SS Zuiderkruis, Waterman and the Groote Beer.
She departed Bremerhaven on September 29, 1967, arriving in New York on October 9. She now was given the Trans-Ocean's official funnel livery of narrow red-white-blue funnel bands and was again fully manned by Dutch officers and crew. She did undertake another "Chapman College" world campus cruise on October 11, 1967.
TSS Ryndam, renamed TSS Waterman:
On 24th May 1968 the TSS Rijndam still under charter to "Trans-Ocean Steamship Company", they decided to rename her "Waterman." She was then placed on the Trans-Atlantic service commencing the next day, May 25, and this continued until to October 10, 1968.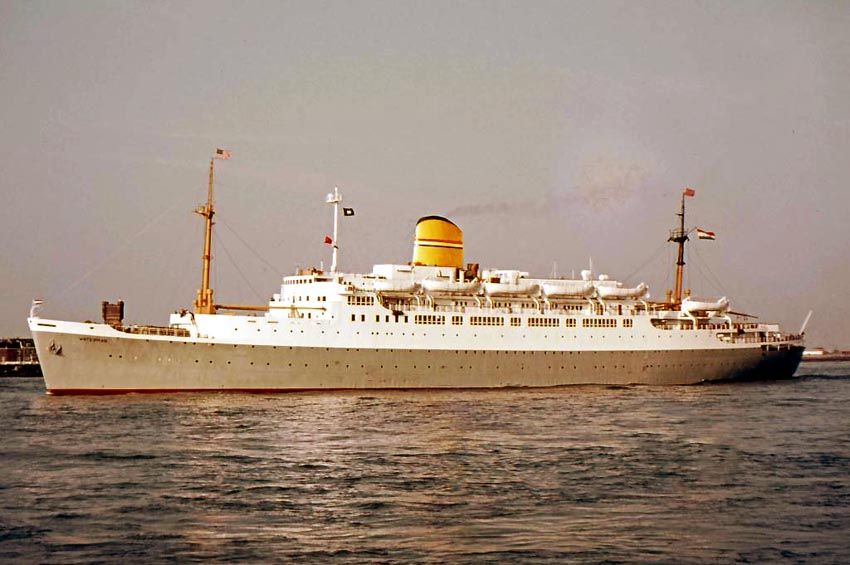 TSS Waterman (ex Ryndam) is seen above with the Trans-Ocean funnel livery
The TSS Waterman, revealing her new funnel marking, departed New York on October 25 for the first of seven voyages to Southampton and Rotterdam. Upon completion of the charter, Holland America again took control of the Ryndam on October 10, and she reverted to her original name and livery, but she continued the student cruises, as there was such a great demand for them in those days.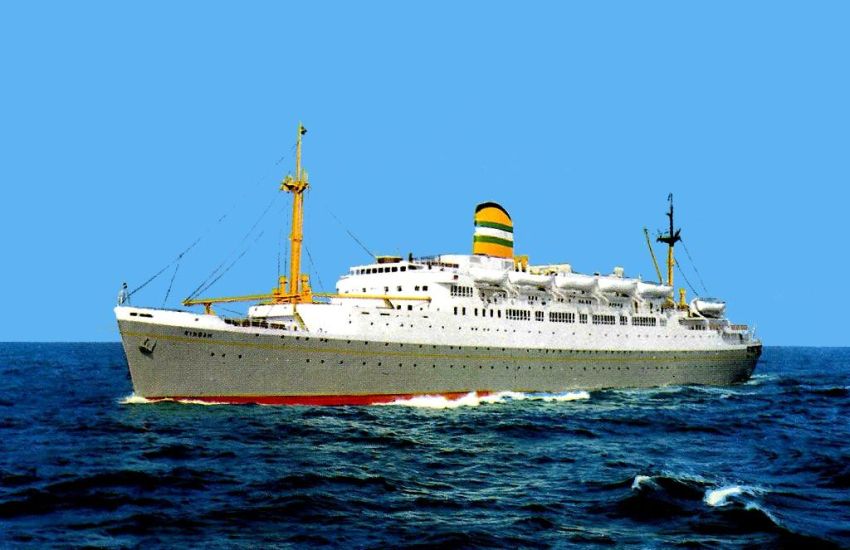 A Holland America Line postcard of the TSS Ryndam
The next section will cover the TSS Ryndam, and then the TSS Maasdam concluding days.
********************
TSS Atlas:
Finally in 1973, the Ryndam was sold to a Panamanian subsidiary of a Greek shipping interest Epirotiki Lines & Cruises, and she was radically rebuilt with her bow line changed as well as many internal changes, and massive alterations to her superstructure. This was done to give her a ultra modern look for the day, what could be called a 1970's design and was renamed SS Atlas.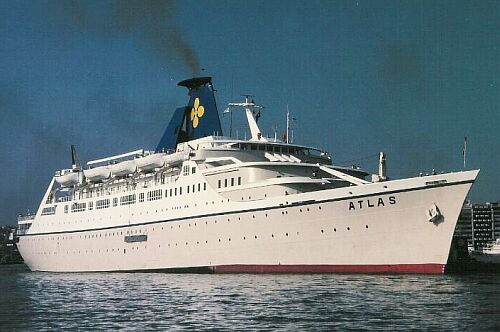 TSS Ryndam is seen here after her radical rebuilding to become the SS Atlas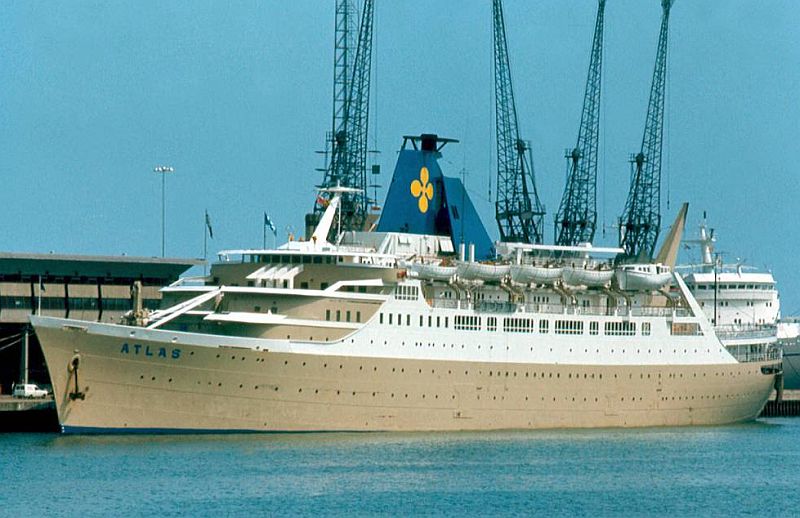 The Atlas is seen here at Southampton in mid 1970s
TSS Pride of Mississippi:
However, in 1988 she was sold to Casino Company and she commenced short cruises in the Gulf of Mexico under the name Pride of Mississippi, but in 1991 was renamed once again as the Pride of Galveston.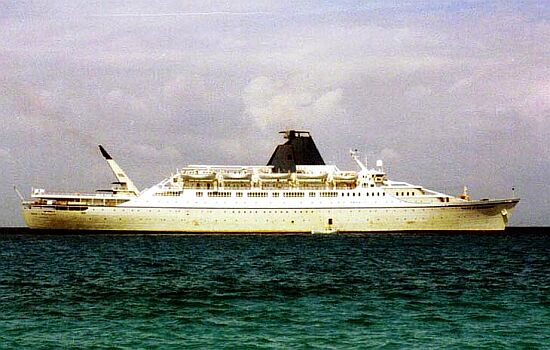 Casino Ship SS Pride of Mississippi is seen here around 1989
In 1993, as the ship was no longer mechanically seaworthy, it was decided to have her permanently berthed at Biloxi, Mississippi and she was renamed - Copa Casino. But, the company neglected badly so many ways for externally she looked terrible, nothing line the beautiful ships she had been. Now it was just Casino style glitz and glamour internally. In addition, they continually added more and more structures atop of the ship, making her an eyesore, and eventually the port authorities were forced to make her owners to get rid of her. Her owners decided that she would be unsalable to private investors and therefore it was best to sell her to the breakers.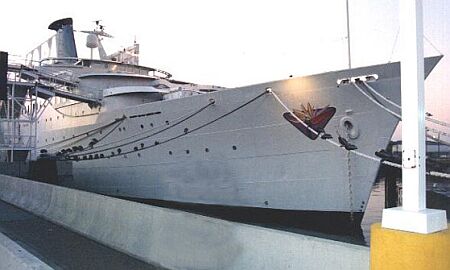 Copa Casino at Biloxi, Mississippi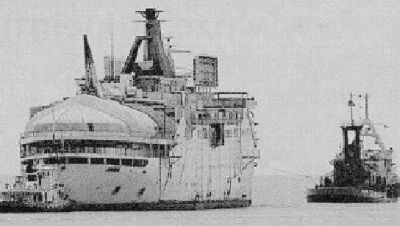 The tragic looking Copa, ex TSS Ryndam seen under tow to Alang, or better still, her watery grave
She was sold to Indian breakers at Alang in 2003. However, whilst under tow to Alang India she took on water and sadly sunk. There were many at the time who said, and it was stated in the news, "How convenient!" Personally I would not like to comment, I only quoted what the news of the day actually said!
Memories of the TSS Ryndam!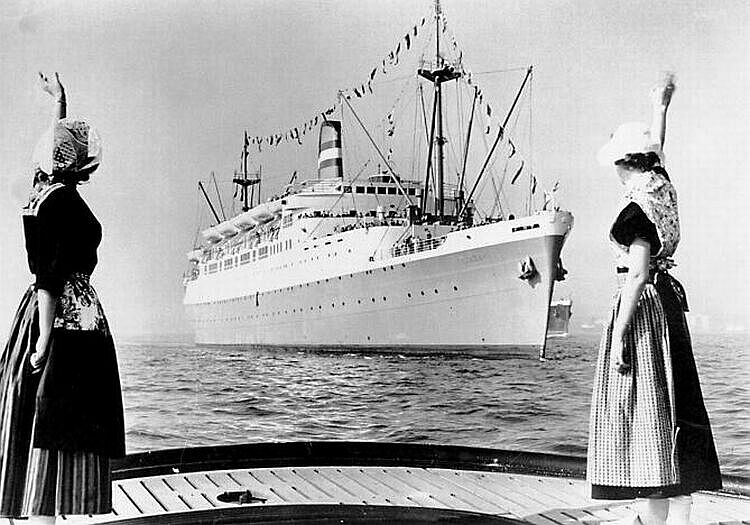 Holland America Line promotional photograph of the TSS Ryndam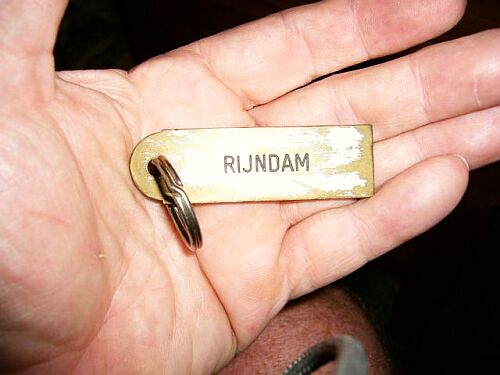 Above and below: Cabin key – Main Deck Cabin 211
Provided by Bibb Edwards USA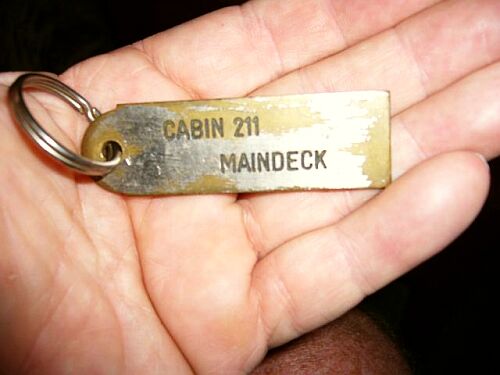 ***********************************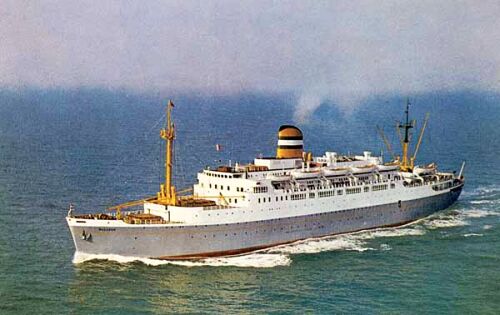 TSS Maasdam
TSS Maasdam's Final Days:
Maasdam's final world voyage was from January 7 to April 3, 1968. Upon her return to Rotterdam she was placed on the Canada service. On May 15 a shock announcement was made that Maasdam had been sold to "Polish Ocean Lines," and she would be handed over at the completion of her Canada service. On September 20 Maasdam departed Montreal on her last Atlantic crossing under Holland America's Dutch colours, and she was paid-off at Rotterdam on September 29, 1968. Soon she headed for Gdansk in Poland where she had a comprehensive refit and headed into a new and a successful career as the Stefan Batory. She proved to be a most successful Trans-Atlantic Liner and a cruise ship. however in 1988 her owners decided to lay her up and find other work for her. This would be in Gothenburg, Sweden where she became a hostel for asylum seekers. She remained there offering the best of accommodations from 1990 to 2000. In 2000, with the hostel having closed there was no further use for this fine old ship, the Stefan Batory, thus it was decided to sell her to Turkish breaker and soon she was on the way to Aliaga where she was duly broken up.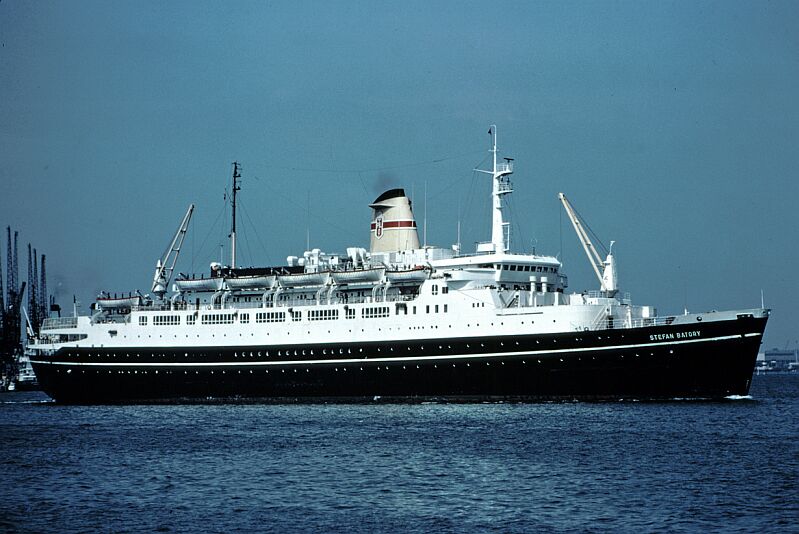 TSS Maasdam seen here in her new guise as the Polish liner, SS Stefan Batory

************************

"Blue Water Liners sailing to the distant shores.
I watched them come, I watched them go, and I watched them die."

****************************

Visit our ssMaritime Main INDEX

Where you will discover well over 750 classic liners!

Where the ships of the past make history & the 1914 built MV Doulos Story

Also visit my

"Save The Classic Liners Campaign"

Please Note: ssmaritime and associated sites are 100% non-commercial and the author seeks no funding or favours of any shape or form, never have and never will!

Photographs on ssmaritime and associate pages are by the author or from the author's private collection. In addition there are some images that have been provided by Shipping Companies and private photographers or collectors. Credit is given to all contributors. However, there are some photographs provided to me without details regarding the photographer/owner concerned. I hereby invite if owners of these images would be so kind to make them-selves known to me (my email address may be found on www.ssmaritime.com only), in order that due credit may be given.

This notice covers all pages, although, and I have done my best to ensure that all photographs are duly credited and that this notice is displaced on each page, that is, when a page is updated!

ssMaritime is owned & © Copyright by Reuben Goossens - All Rights Reserved