Flotta Lauro Lines: TN Sydney & Roma - C3 cargo ships rebuilt into passenger liners in 1950 & 1951
Please Note: Firefox & Google Chrome are not suitable Use Internet Explorer or old Google for this page to load correctly!

Click the logo above to reach the ssMaritime FrontPage for News Updates & "Ship of the Month"
With Reuben Goossens
Maritime Historian, Cruise'n'Ship Reviewer, Author & Maritime Lecturer
Please Note: All ssMaritime and other related maritime/cruise sites are 100% non-commercial and privately owned. Be assured that I am NOT associated with any shipping or cruise companies or any travel/cruise agencies or any other organisations! Although the author has been in the passenger shipping industry since 1960, although is now retired but having completed around 680 Classic Liners and Cargo-Passengers Ships features I trust these will continue to provide classic ship enthusiasts the information the are seeking, but above all a great deal of pleasure! Reuben Goossens.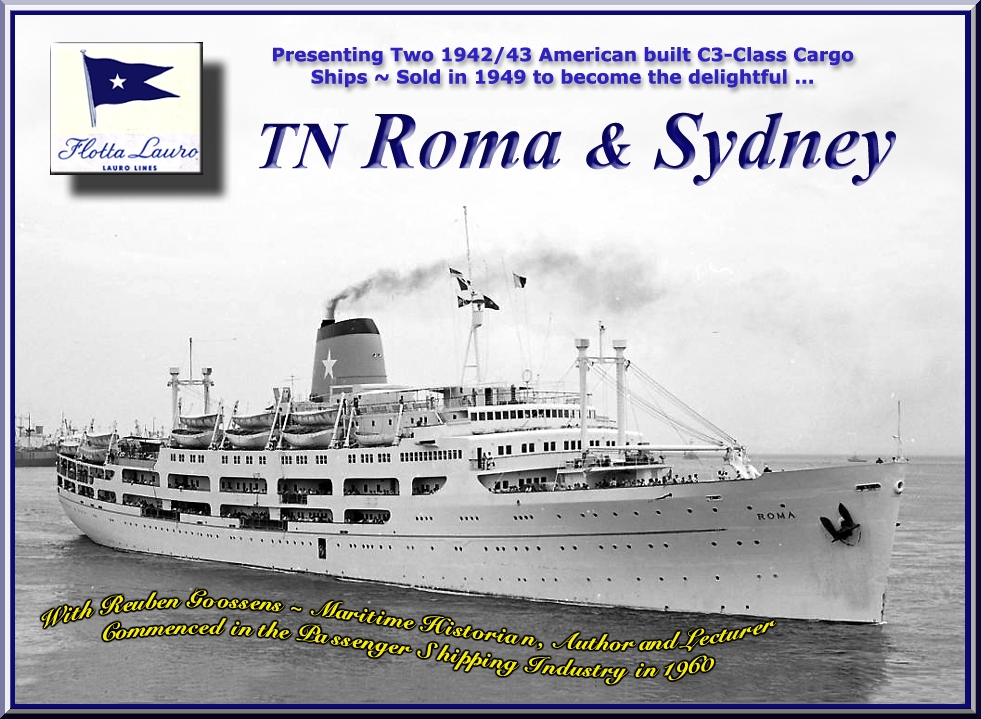 History Page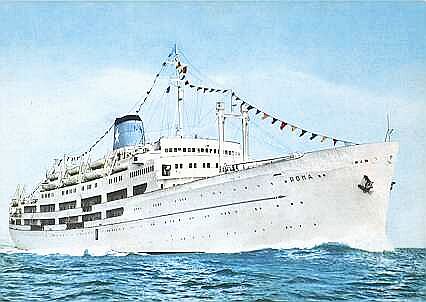 Two rebuilt C3-Class ships became the delightful TN Roma and Sydney
These two ships entered the Italy - Australian service in 1951 and managed to set a whole new standard in migrant transportation, as they offered superior surroundings. All Flotta Lauro liners had that something extra. It is called a touch of "Italian Flair!"
SS Sydney laid down in San Francisco at the Western Pipe & Steel Co as a C3 class as a cargo ship to be named "Croatan" and just like her sister SS Roma they were both completed as an Auxiliary Aircraft Carriers. She was launched named HMS Fencer on April 9, 1942 and she was officially commissioned by the Royal navy on February 27, 1943.
SS Roma was laid down in 1942 at the Tacoma at the Seattle-Tacoma SB Corp. She was launched named "Glacier" on September 7, 1942. Then on July 31, 1943, she was officially commissioned by the Royal Navy and she served in the British Navy having been renamed HMS Atheling.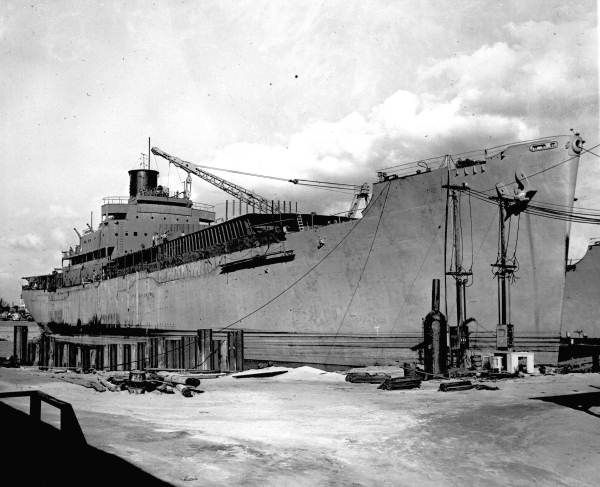 The SS Atheling (later the Roma) being rebuilt into an aircraft carrier
Like quite a few ships, it was during their building as C3 cargo ships, both ships were transferred under the "Lend Lease Agreement" to the British Royal Navy and they were thus completely redesigned and built to become escort aircraft carriers.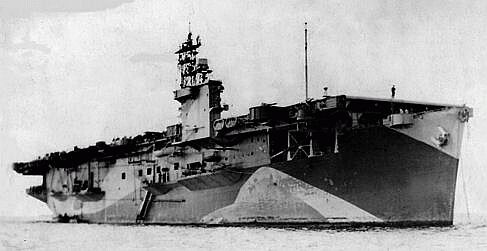 These ships did change in appearance during the war as their usage altered
Above we see the H.M.S. Fencer, which became the TN Sydney
After a successful tour of duty, both HMS Fencer and HMS Atheling were both returned to the US Navy in December 1946 and they were laid up in the Reserve Fleet at Jacksonville in Florida. There they languished for years together with countless other Victory/C3 & C4 and other redundant war weary ships all rusting away all awaiting a buyer.
In due course many of these sturdy ships were purchased by European Countries and were converted into migrant ships, taking their human cargoes to the US, Canada, South Africa & America, as well as Australia and New Zealand. Many of these ships were austere in the extreme, whilst others became handsome liners with excellent facilities such as the Roma and Sydney which offered the ultimate in comfort!
Both Atheling and Fencer were purchased by Lauro Lines to be rebuilt as modern passenger liners. Unlike other C3 ships, both Sydney (Fencer) and Roma (Atheling) were rebuilt as classy looking two class liners.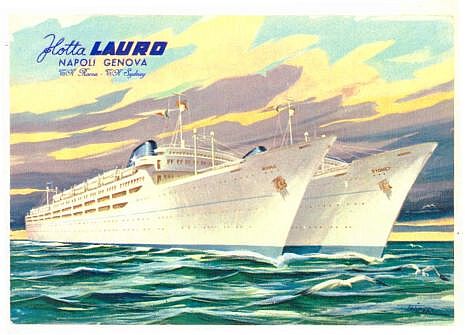 Early artist impression of the new Lauro ships
Author's private collection
Specifications - Sydney & Roma
Rebuilt in:                              Naples Italy 1950/51.
Tonnage:                                Sydney 14,708 – Roma 14,687.
Length:                                  150m (493ft).
Width:                                   21m (69ft).
Draft:                                    2.7m (29ft).
Engines:                                 D.R.G. Steam Turbine (9350 SHP).
Screws:                                  Single.
Service speed:                        17 knots.
Home Port:                             Naples - Italian registration.
Passenger decks:                     6.
Passengers:                            1951 - 92 First - 680 Tourist Class.
                                             1960 – 119 First – 994 Tourist Class.
Crew:                                    276.
Livery:                                   White Hull and Superstructure. Black topped blue funnel with the Flotta Lauro white star logo. Blue line on the upper hull and blue boot-topping.
First class occupied two of the superstructure decks, whilst Tourist had three decks below. Both classes had a large range of public rooms featuring décor and furnishings that had that touch of Italian flair and style. Each had their own pool and open-air cinemas. First class accommodations had single and two berth cabins, some with private facilities. Tourist had mostly two, three or four berth cabins, a few having six to eight berths. Both ships had two holds forward and one aft.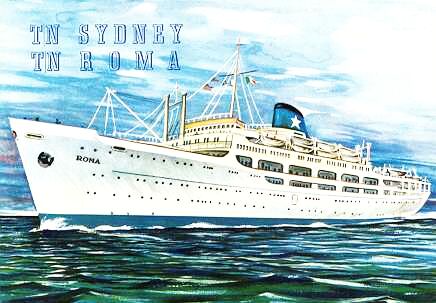 This popular postcard was sold onboard
TN Roma departed on her maiden voyage from Genoa for Australia in August 1951 arriving in Fremantle on October 1, continuing to Melbourne and arriving in Sydney on the 17th. She then went north to Brisbane before returning home.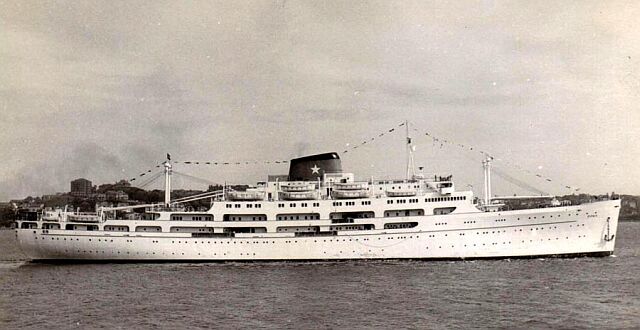 TN Roma arriving in Sydney on her Maiden voyage - October 14, 1951
Photograph by L.J. Baee
TN Sydney departed from Genoa on her maiden voyage just 14 days later in September and arrived in Fremantle on October 17, then continued to Melbourne, Sydney and Brisbane.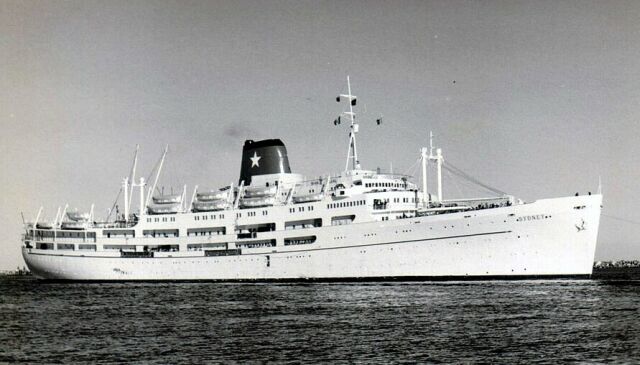 A superb photo of the TN Sydney
Photograph by and © T. Y. Freeman
Her *main duties to Australia continued until 1963 when her service was taken over by the Surriento, however she also operated a number of Trans-Atlantic voyages from Genoa to New York in the latter part of 1953.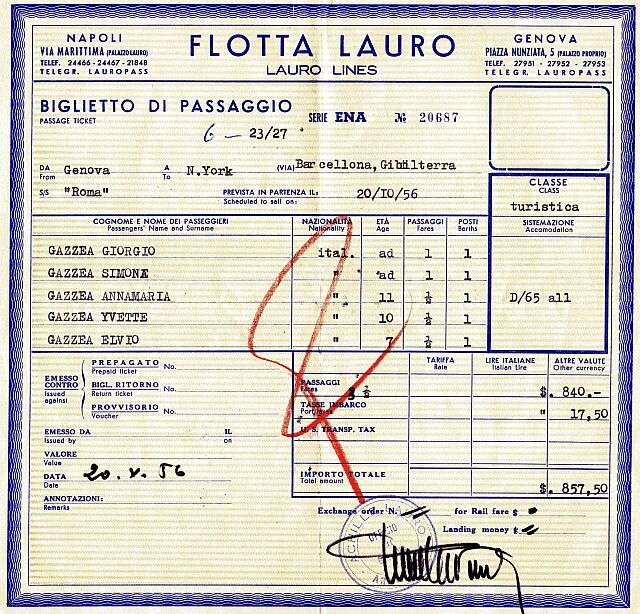 The Giorgio Gazzea family sailed on the SS Roma from Genoa to New York on October 10, 1956
Kindly provided by Dennis Gazzea (born in the US) travelling were his Father, Mother, two sisters and brother Elvio
From July to September 1953 the SS Sydney operated four voyages from Liverpool to Canada, after which she returned to her regular Australian service.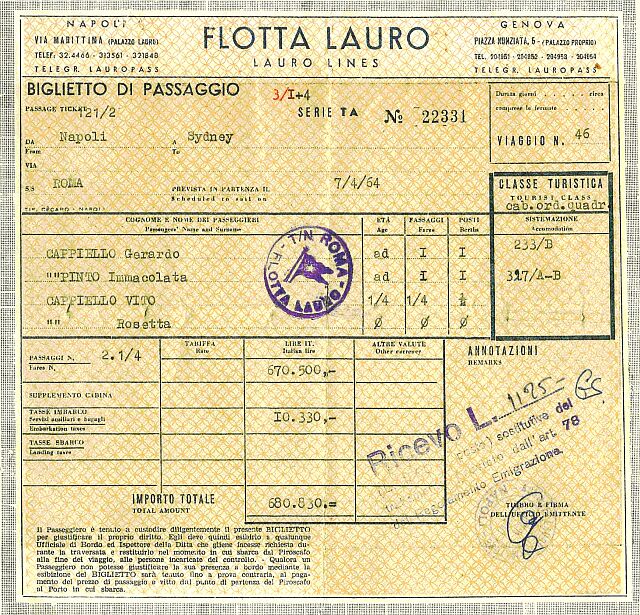 Above: A Passage Ticket for the Gappiello Family, who sailed on the Roma, departing Naples on April 7, 1964 to New York
Provided by Mr. Gappiello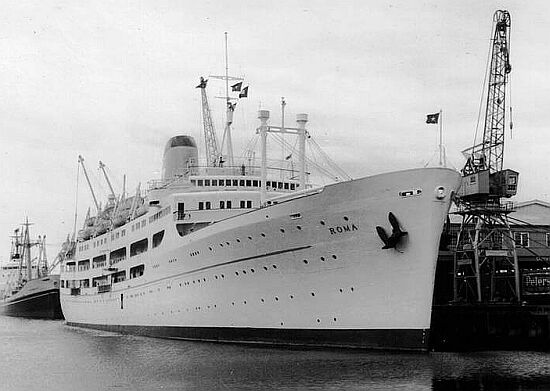 SS Roma seen at Nr. 7 Station Pier Melbourne
Photographer unknown - *Please photo notes at bottom of page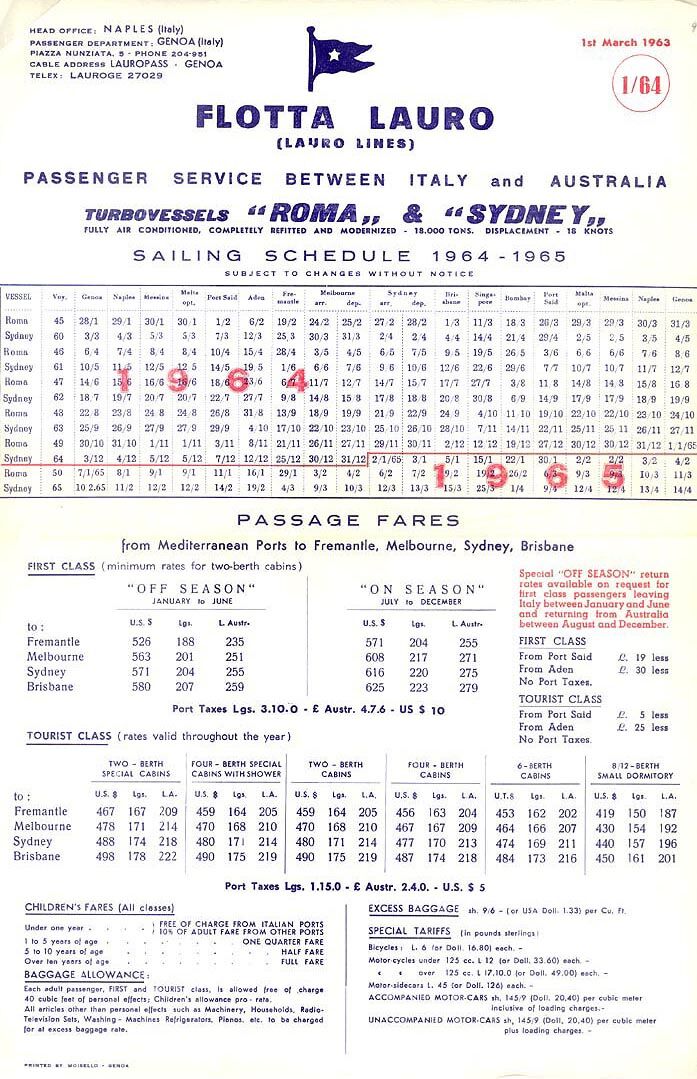 A 1964/65 fares and sailing schedule
Provided by past Roma passenger, Mr. Gappiello
In June 1965 the SS Roma was once again employed for a number of months on the North American service, sailing mostly to Canada, a service which either ship would undertake occasionally over the years. But, they would always return to their regular duties on the Australian run!
SS Roma returned to the Australian service in December 1956. During sailings southward their Tourist Class was mostly filled with assisted emigrants Down Under, but also having some full fare paying holidaymakers in both First and Tourist classes. Whilst sailing Northward these ships were popular as tourist liners filled with Italian and other nationalities heading home visiting their families or Australian's visiting the "Mother Country" England and those heading for adventure to tour the UK and Europe.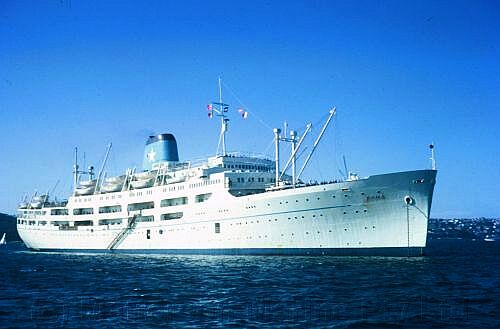 A fine view of SS Roma
Photographer unknown - *Please photo notes at bottom of page
Ports of Call
Generally: Genoa/Naples Messina, Port Said, Aden, Fremantle, Melbourne, Sydney, Brisbane, Singapore, Bombay, Port Said, Messina, Naples/Genoa.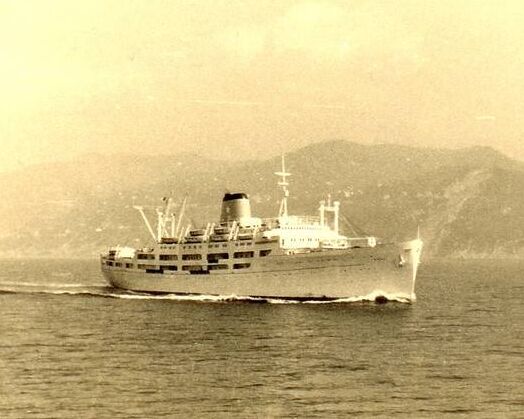 SS Roma off the coast of New South Wales Australia
Photographer unknown - *Please photo notes at bottom of page
In 1963, Roma and Sydney was already in competition with a multitude of ships, including the very popular the Royal Dutch Mail liners, the MS Johan van Oldenbarnevelt (JVO), MS Oranje and the MS Willem Ruys, then with the JVO sold, but the latter two having been totally rebuilt into the modern Angelina Lauro and Achille Lauro the Roma was placed on a three year service from Naples to New York.
Then in 1966 both Roma and Sydney were redeployed on the Naples to LaGuaira, Venezuela service. However, just a year later, due to poor passenger loadings the SS Roma was taken of this service and sold late in 1966 to "Vado Ligure" Italian ship breakers and she headed for Savona on November 1, 1967 where she was duly broken up. Whilst the SS Sydney had more life in her.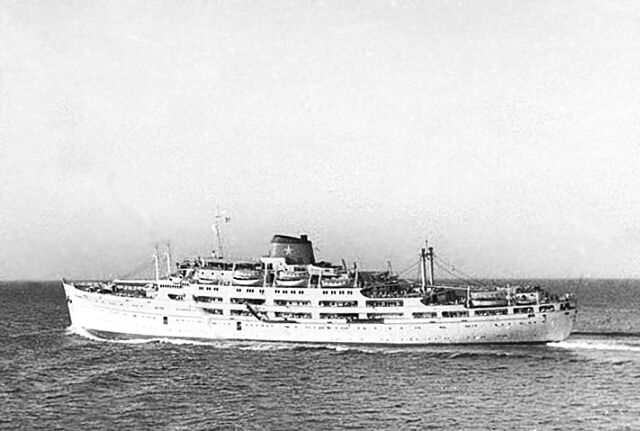 The Sydney is seen off the coast of Australia before she became a fulltime cruise ship
Photographer unknown - *Please photo notes at bottom of page
With the demise of the Roma the Sydney was redeployed as a fulltime cruise ship operating in the Mediterranean, but sadly she did not enjoy a great deal of success Thus Flotta Lauro decided to dispose of her and soon found a buyer, but amazingly she changed hands almost every year thereafter. SS Sydney was sold late in 1969 to "Aretusa SpA di Nav" but all they seemed to do is place her in lay up well into 1970, and she was sold again that same year to "Sovereign Cruises," and they did operate a number of charter cruises,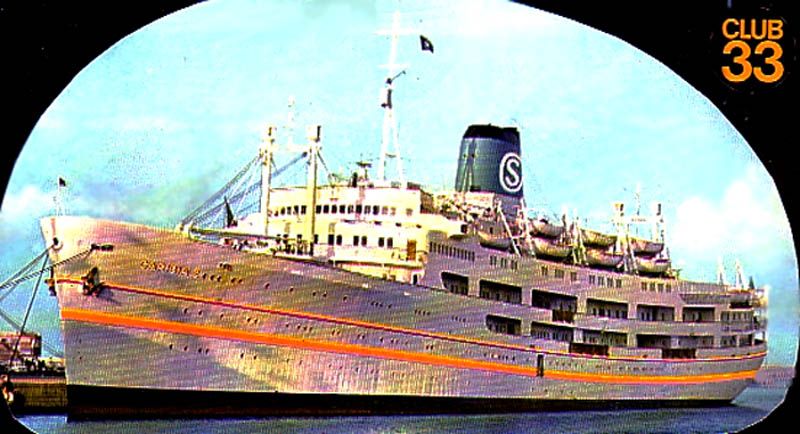 SS Sydney is seen owned by Sovereign Cruises, but chartered to Club 33, it was a poor mock
up of the livery they intended to use on the ship, I am not sure if the charter really eventuated
but sold her again in 1971 to "Mediterranean Cruises" and she was renamed Galaxy Queen. In 1972 she was sold "G Koszovillis" who renamed her Lady Dina, and finally in 1973 she was sold to "Marimina Shipping Co Sa" who renamed her Caribia 2.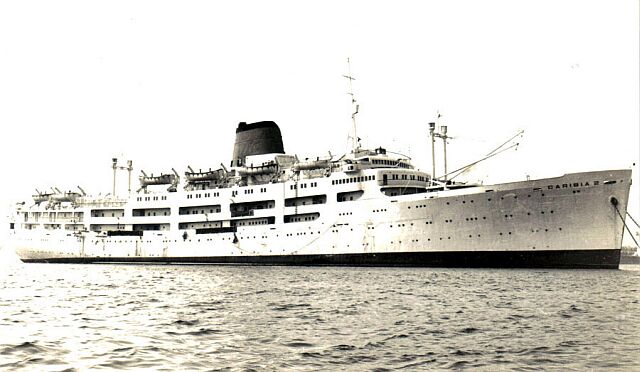 The ex seen as the SS Caribia 2 is seen laid up La Spezia in 1974 at the conclusion of a long and varied career
Then finally in 1974 the once superb liner the ex SS Sydney was sold to Italian ship breakers "Terrestre Marittima," La Spezia who began breaking Caribia 2 up in September 1975 at the age of 33 years.
Both the SS Sydney and the SS Roma had served countless thousands well and both ships are lovingly remembered as is testified by the multitude of emails that the author receives from so many Italian's and other Europeans, as well as the British and not to forget the Australian tourist's who just loved these rather luxurious intimate liners as they headed for the UK and Europe for their extended vacations or visiting their relatives!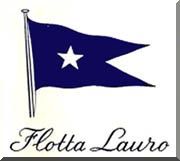 Memories of Two Fine Italian Liners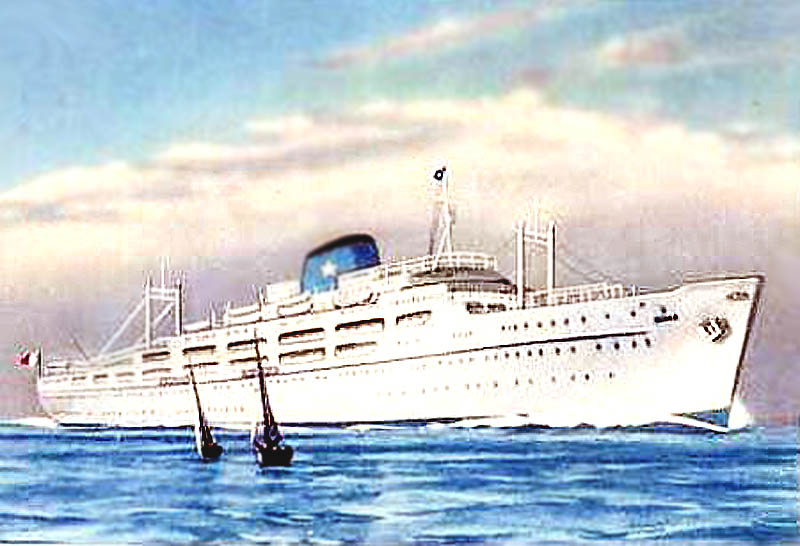 Artist impressions of ships were quite common in the 50's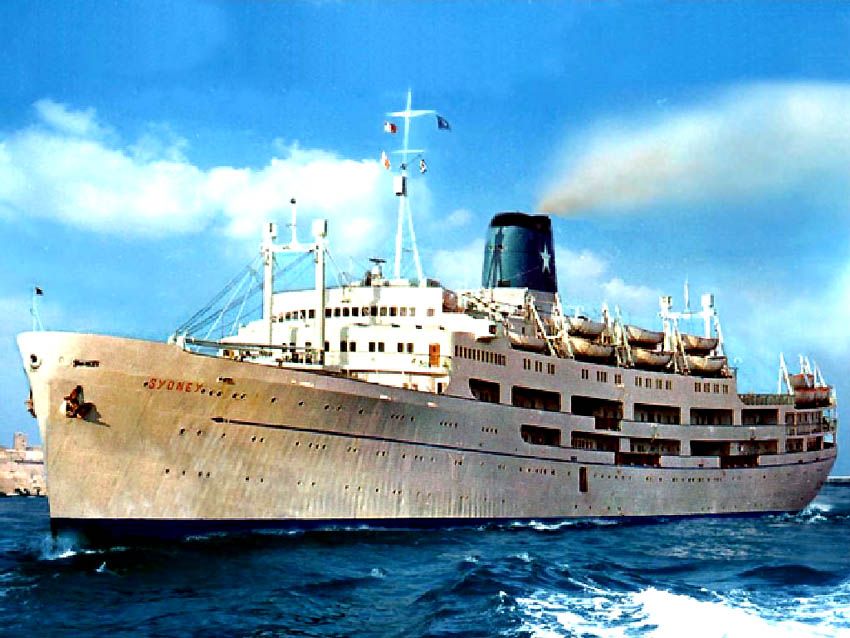 These were two fine conversions of C3 class as a cargo ships, having been converted into aircraft carriers
Then Flotta Lauro rebuilt these two ships into rather elegant passenger liners and they became much loved!
TN Sydney & Roma INDEX:
Main Page …        TN Sydney & Roma history page.
Page One …         First Class photo album.
Page Two …         Tourist Class Photo album.
Page Three …       Deck Plans.
Page Four …         A Voyage description - Australia to Naples in 1962 on the Roma.
Page Five …         Mr. Uma Shankar Jaiswal sails from Bombay to Naples in 1962.
Also Read about the larger ex Dutch liners MS Willem Ruys & MS Oranje that became ...
The became Flotta Lauro's ... MS Achille Lauro & Angelina Lauro
"Blue Water Liners sailing to the distant shores.
I watched them come, I watched them go and I watched them die."
****************************
Visit our ssMaritime Main INDEX
Where you will discover around 750 Classic Passenger & Passenger-Cargo Liners!
ssMaritime.com & ssMaritime.net
Where the ships of the past make history & the 1914 built MV Doulos Story
Please Note: ssmaritime and associated sites are 100% non-commercial and the author does not seek funding or favours and never have and never will.
Photographs on ssmaritime and associate pages are either by the author or from the author's private collection. In addition there are some images and photographs that have been provided by Shipping Companies or private photographers or collectors. Credit is given to all contributors, however, there are some photographs provided to me without details regarding the photographer or owner concerned. Therefore, I hereby invite if owners of these images would be so kind to make them-selves known to me (my email address can be found at the bottom of the page on www.ssmaritime.com), in order that due credit may be given.
ssMaritime is owned & © Copyright by Reuben Goossens - All Rights Reserved