Adriatica Line - from  MS Dan Giorgio to MV Royal Star & Ocean Mist

Click the logo above to reach the ssMaritime FrontPage for News Updates & "Ship of the Month"
With Reuben Goossens
Maritime Historian, Cruise'n'Ship Reviewer, Author & Maritime Lecturer
Please Note: All ssMaritime and other related maritime/cruise sites are 100% non-commercial and privately owned. Be assured that I am NOT associated with any shipping or cruise companies or any travel/cruise agencies or any other organisations! Although the author has been in the passenger shipping industry since 1960, although is now retired but having completed around 680 Classic Liners and Cargo-Passengers Ships features I trust these will continue to provide classic ship enthusiasts the information the are seeking, but above all a great deal of pleasure! Reuben Goossens.
Adriatica Line
"Adriatica" S.p.A. di Navigazione
MS San Giorgio
Later: City of Andros, Ocean Islander, Royal Star
Her last name being; PV Ocean Mist
Photo Page & Deck Plan

MS Royal Star at anchor
On this page I will give you an idea of the quality of this fine classic cruise ship! She has been operated by African Safari Club to an international market and she cruised out of Mombasa to the "Paradise Islands" of the Indian Ocean, but she has been recently been laid up and under arrest due to non payment of her crew and she is to be auctioned at the end of February 2009.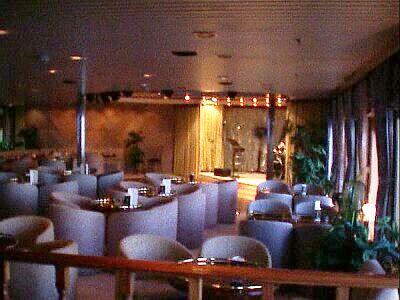 Marco Polo Lounge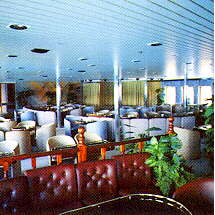 Marco Polo Lounge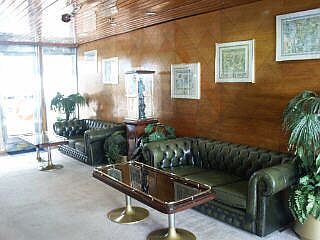 Another corner of the Marco Polo Lounge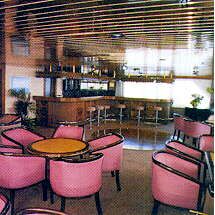 Starlight Lounge and Bar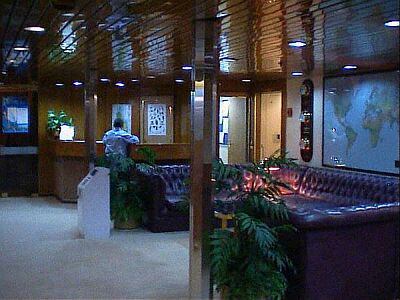 The Main Lobby and Reception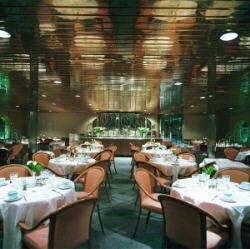 Restaurant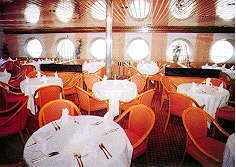 The Restaurant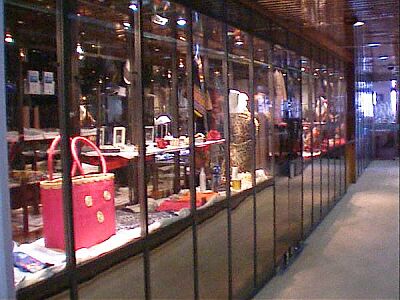 Shopping Gallery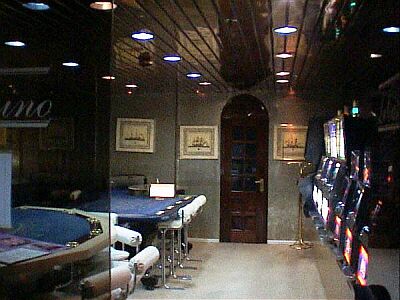 Casino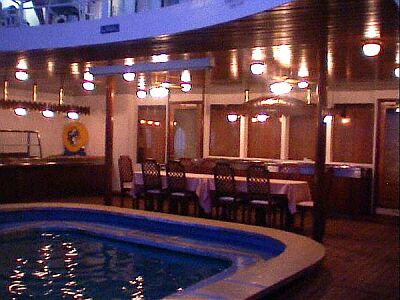 Lido Buffet and Pool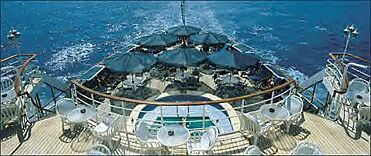 Aft Decks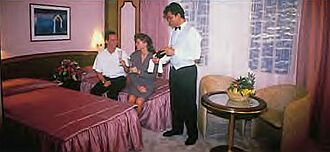 Twin bedded suite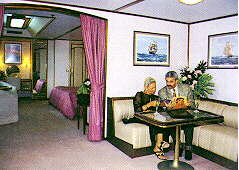 Presidential Suite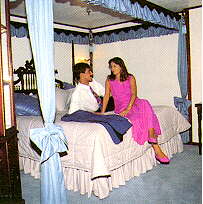 Honeymoon Suite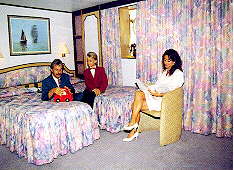 Honeymoon Suite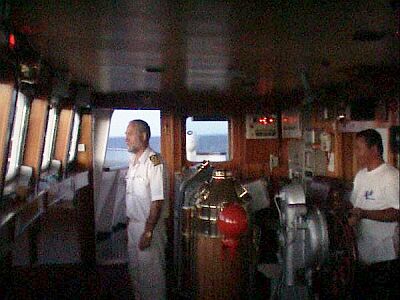 The Bridge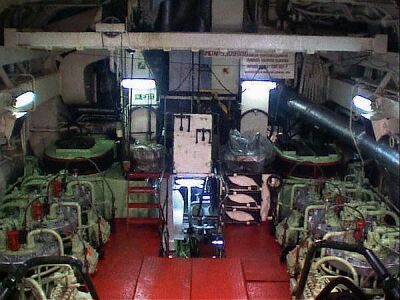 Engine Room
Royal Sun Deck Plan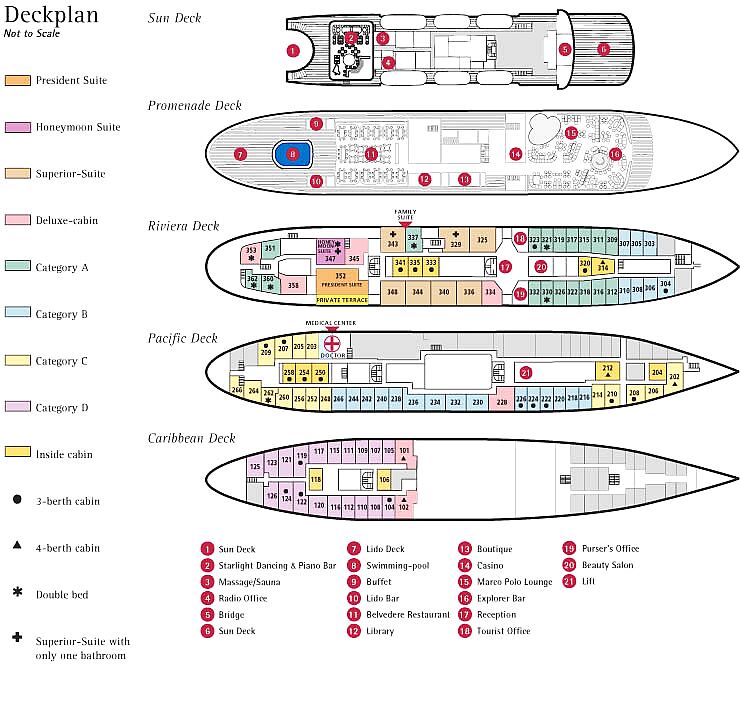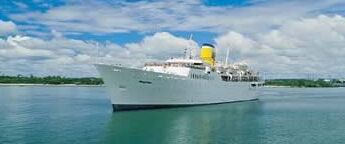 Above she is seen as the MV Royal Star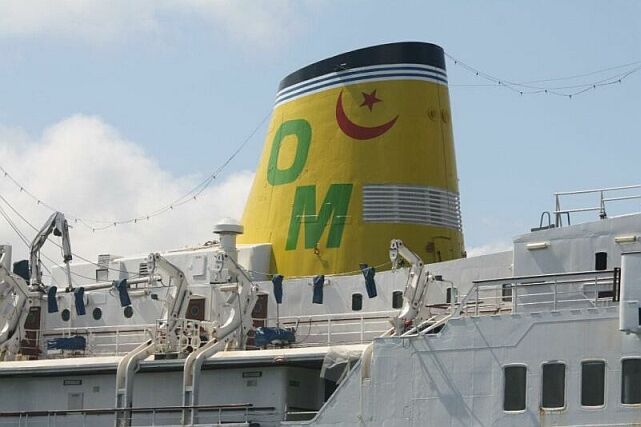 MV Ocean Mist is seen here without her lifeboats and tenders and her new funnel markings
Photograph © provided by Prakash Rodrigues of "PV Ocean Mist Cruises"
The company that purchased her is a multi national company, but they formed new company by the name of "PV Ocean Mist Cruises" and they renamed her PV Ocean Mist and had her effectively repaired and comprehensively refitted most of which was completed by the end of 2009. When all the main work had been completed she undertook her deep sea trails, which proved to be a great success and Ocean Mist having already had a shakedown cruise is now ready for her maiden commercial cruise at the end of April 2010. But troubled times were ahead!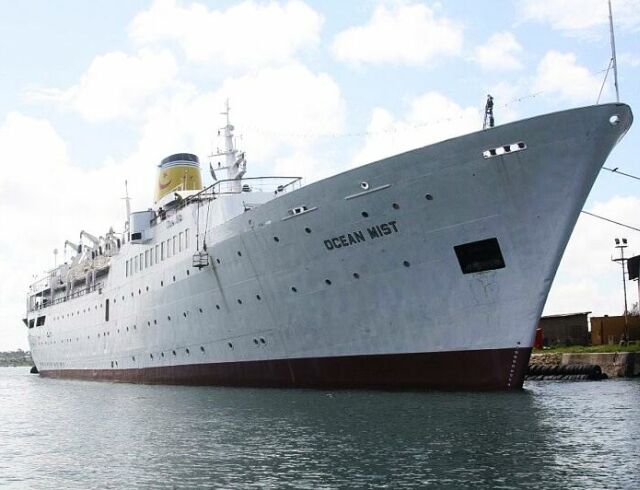 MV Ocean Mist seen during her refurbishment and refit in Mombasa
Photograph © provided by Prakash Rodrigues of "PV Ocean Mist Cruises"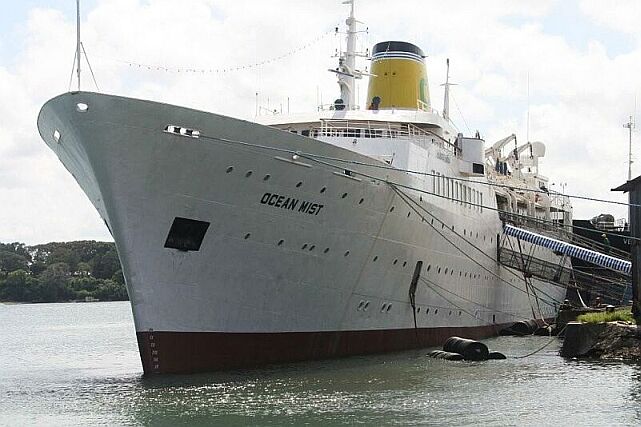 This fine classic, yet modern cruise ship will soon be ready to cruise again!
Photograph © provided by Prakash Rodrigues of "PV Ocean Mist Cruises"
The ship was sold in March 2012 to be broken up at Alang India and was on the beach in April that year!
INDEX
Page 1…           MS San Giorgio                                   Her history as well as that of her sister MS San Marco
.                                                                       to her end as the PV Ocean Mist
Page 2…           Royal Star Photo Page               A series of photographs of San Giorgio's later incarnation
                                                                        As the Royal Star, including her Deck Plan
Page 3…           Royal Star's Final Crew List Provided by The African Safari crew members
Page 4….          Royal Star Photos                     Provided by David Harrison
"Blue Water Liners sailing to the distant shores.
I watched them come, I watched them go and I watched them die."
****************************
Visit our ssMaritime Main INDEX
Where you will discover around 680 Classic Passenger & Passenger-Cargo Liners!
ssMaritime.com & ssMaritime.net
Where the ships of the past make history & the 1914 built MV Doulos Story
Please Note: ssmaritime and associated sites are 100% non-commercial and the author does not seek funding or favours and never have and never will.
Photographs on ssmaritime and associate pages are either by the author or from the author's private collection. In addition there are some images and photographs that have been provided by Shipping Companies or private photographers or collectors. Credit is given to all contributors, however, there are some photographs provided to me without details regarding the photographer or owner concerned. Therefore, I hereby invite if owners of these images would be so kind to make them-selves known to me (my email address can be found at the bottom of the page on www.ssmaritime.com), in order that due credit may be given.
ssMaritime is owned & © Copyright by Reuben Goossens - All Rights Reserved