ssMaritime.com & ssMaritime.net
With Reuben Goossens
Maritime Historian
Fair Princess
Photo Album Page One
Exteriors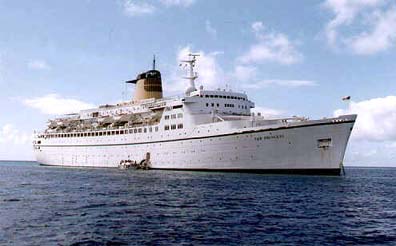 Fair Princess at anchor off Mystery Island Vanuatu
Page two contains her interiors. Page three has photographs of the China Sea Discovery. Links are located at the bottom of each Album page.
Photographs on this page are by: 1) the Author (A), or 2) from the Author's Private Collection (AC) and 3), several photographs were supplied by the Ships Photographer (SP). These are used with the photographer's kind permission!
We trust these images will bring back many happy memories to those who have cruised on this fine ship in and around the United States, and later in the South Pacific with Sydney as her homeport.
The Fair Princess is currently called the China Sea Discovery, but she is due to head for Iraq to be used as an international workers floating hotel.
These photographic pages covers her interiors and exteriors, thus if you have sailed on her, I am sure these pages will have you reliving your days at sea on this classic liner. Currently, the TSS Albatros is the only one out of the four Saxonia Class liners that is still cruising full time around the world. This is the wonderful Albatros (image hereunder).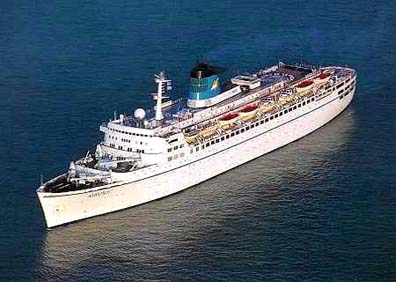 T.S.S Albartos
Visit Raoul Fiebig's Das Ruderhaus Picture Gallery of the T/S "Albatros"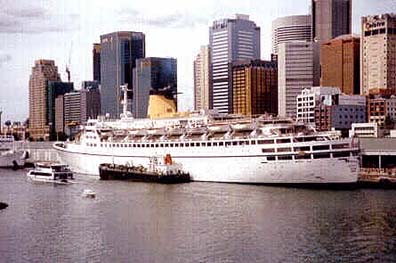 Fair Princess at Darling Harbour #10 ready for her maiden cruise ex Sydney for P&O
The following images were taken on Fair Princess' final New Zealand cruise, ex Sydney 31 January 2000. On 8 February, the author gave a Maritime Lecture to a packed Seaward Lounge. Those attending included, Captain Philip Pickford, Chief Engineer Domenico Magilio, Purser John Nicoli, and Food & Beverage Manager Carlos Melo. The Lecture was entitled, "The Saxonia Class Liners," which is the subject of a story on MaritimeWorldOnline.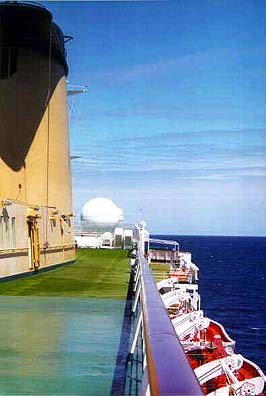 Full Steam Ahead, as we cross the Tasman Sea towards New Zealand's South Island!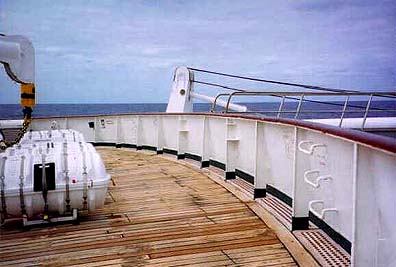 Promenade Deck (forward).
This delightfully quiet area can only be reached via a stairwell from Caribe Deck below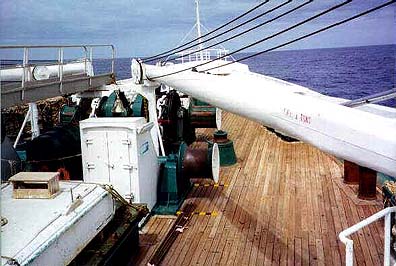 At the bow area she is showing her age, but at least she feels like a ship. Note the ships Bell!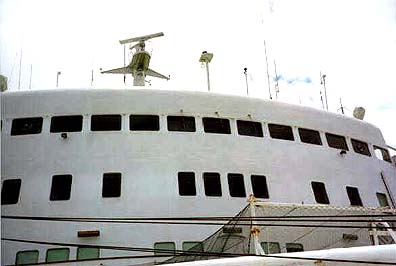 Looking up to the Bridge from Promenade Deck Forward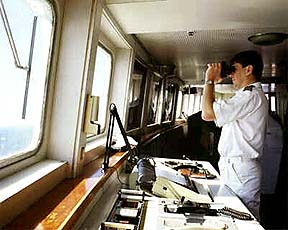 "Officer of the Watch" on the Bridge. (Supplied by P&O)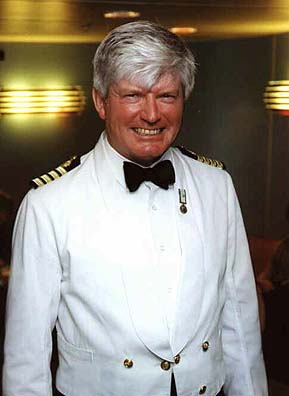 Captain Philip Pickford, a very popular Master of the Ship, in Australia & Great Britain!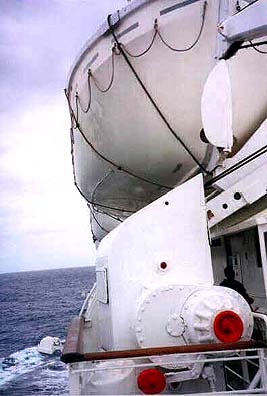 Baja (Boat) Deck  – port looking forward.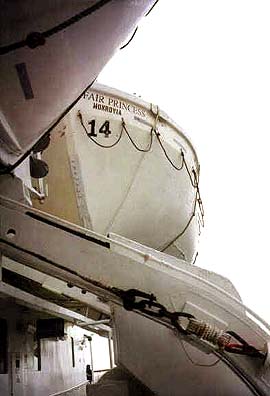 Baja (Boat) Deck– starboard looking forward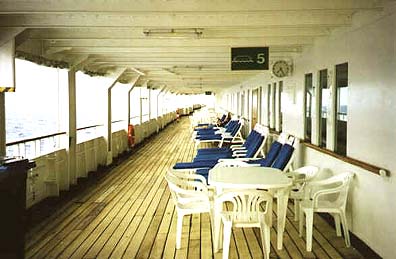 Promenade Deck – starboard looking aft.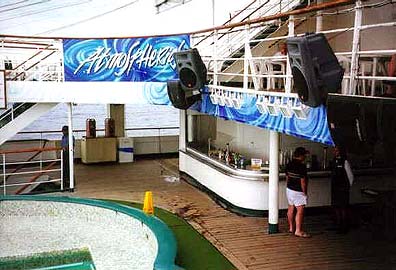 Promenade Pool & Bar – looking to port.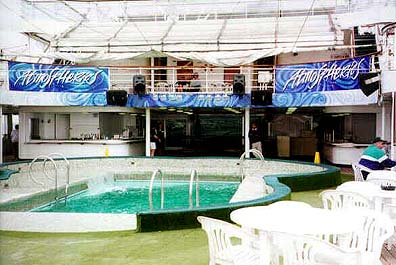 Promenade Deck Pool, Bar & Buffet area – looking forward.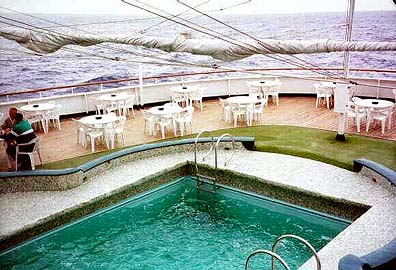 Promenade Deck Pool – looking aft to starboard.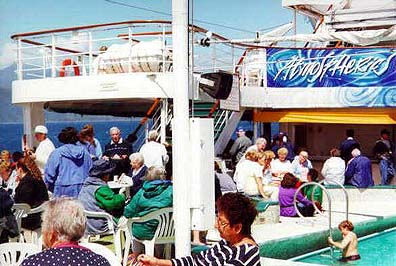 Promenade Deck aft. First glance of New Zealand's beautiful West Coast – portside.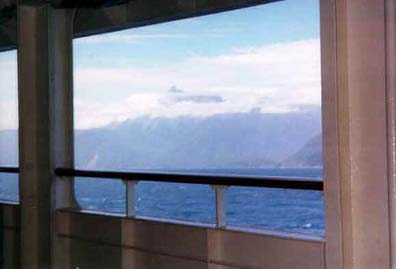 Promenade Deck, picture perfect! – portside.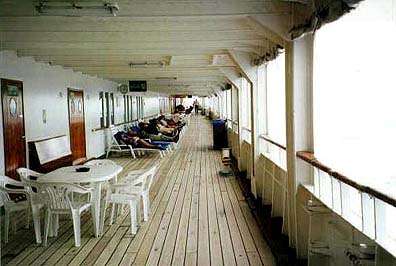 Promenade Deck – port looking aft.
A real Promenade, something missing on many ships today!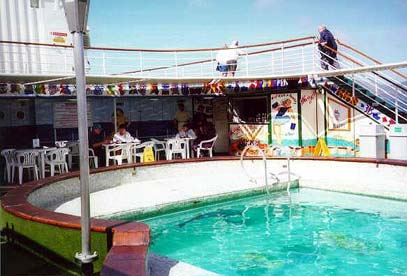 Lido Pool, Café and Ice-cream Parlour
Go to photo Page Two - Interiors
Index
Page 1
– Foreword – Construction
Page 2 – Sitmar buys Carinthia and Ivernia – Sisters go Russian
Page 3
- Fairwind / Fairsea – Sitmar sold to P&O Princess Cruises
Page 4 – The Fairstar the Australian connection
Page 5 – Fair Princess becomes an Aussie
Page 6 – Passenger list images
Page 7 – Albatros ex Dawn Princess / Fairwind / Sylvania / Ivernia /
Saxonia – Passenger list images
Fair Princess Photo Album – Exteriors
Fair Princess Photo Album - Interiors
Fedor Shalyapin - ex Franconia / Ivernia
China Sea Discovery – ex Fair Princess / Fairsea / Fairland / Carinthia
China Sea Discovery Photo Album
Use the Back button on your browser or Close the Page to return to the previous page
or go to our INDEX
***********************************
Who is the Author of ssMaritime?
Commenced in the passenger Shipping Industry in May 1960
ssMaritime.com & ssMaritime.net
Where the ships of the past make history & the 1914 built MV Doulos Story
Also visit my …
"Save The Classic Liners Campaign" & "Classic Ocean Voyages" pages
Photographs on ssmaritime and associate pages are by the author or from the author's private collection. In addition there are some images that have been provided by Shipping Companies and private photographers or collectors. Credit is given to all contributors. However, there are some photographs provided to me without details regarding the photographer/owner concerned. I hereby invite if owners of these images would be so kind to make them-selves known to me (my email address may be found on www.ssmaritime.com only), in order that due credit may be given. I know what it is like, I have seen a multitude of my own photographs on other sites, yet these individuals either refuse to provide credit or remove them when asked, knowing full well that there is no legal comeback when it comes to the net. However, let us show these charlatans up and do the right thing at all times and give credit where credit is due!
This notice covers all pages, although, and I have done my best to ensure that all photographs are duly credited and that this notice is displaced on each page, that is, when a page is updated!
ssMaritime is owned and © Copyright 2010/12 - by Reuben Goossens - All Rights Reserved