Please Note: Firefox and some other search engines are not suitable – Use "Internet Explorer" for this page to load perfectly!
Click the logo above to reach the ssMaritime FrontPage for News Updates & "Ship of the Month"
With Reuben Goossens
Maritime Historian, Cruise'n'Ship Reviewer & Author
"Saxonia Class Liners"
Page 2
Carinthia and Sylvania sold to Sitmar Line
Also on this page - Older Sisters go Russian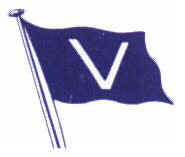 The much loved Sitmar Flag
Carinthia and Sylvania were sold to "Fairland Shipping Corp," of Monrovia, company that became well known as Sitmar Line, or Societa Italiana Transporti MARritimi and renamed them, Fairland and Fairwind respectively. It was intended to place them on the Australia, New Zealand migrant run. However, due to the Greek shipping company, Chandris Lines having won the migrant contract from the Australian Government, both ships were laid up years in Southampton until 1970.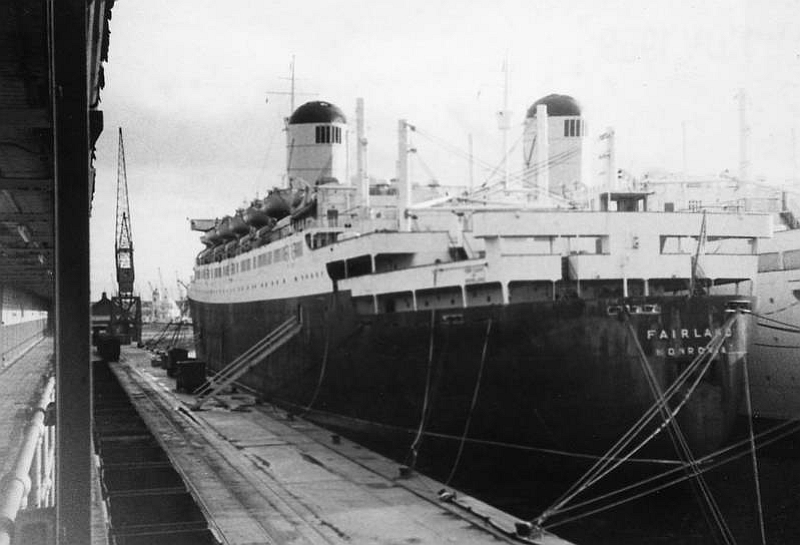 Fairland (left) and Fairwind (right) laid up for rebuilding. We can clearly see that prior departing Britain both sips had
been renamed and reregistered by Sitmar Lines as well as having a temporary V placed on their funnels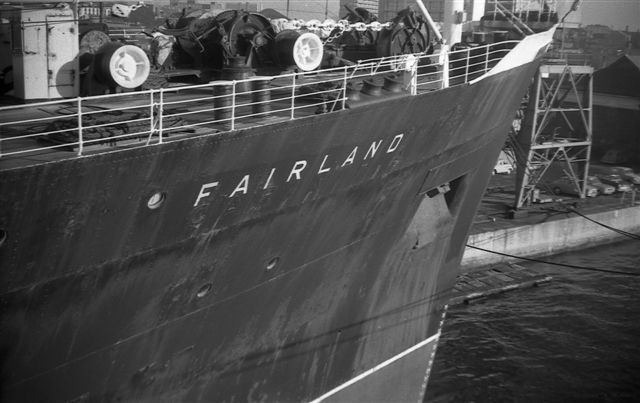 Here we see the RMS Carinthia, renamed Fairland, she would eventually become the much loved Fair Princess,
before being sold as a failed Asian Casino ship. However, she was the last of the four sisters to be broken up!
Having come out of dry-dock and ready for duties, the just renamed and splendid looking TSS Sitmar Fairwind departs San Francisco in May, 1988.
She is showing off her brand new Sitmar Cruises livery, however, just just four months later everything would change,
as she and her sister become part of the Princess fleet, and she was renamed the Fair Princess and thus she received a new livery
Photograph was obtained from Sitmar Cruises Australia – from the author's private collection
Older sisters go Russian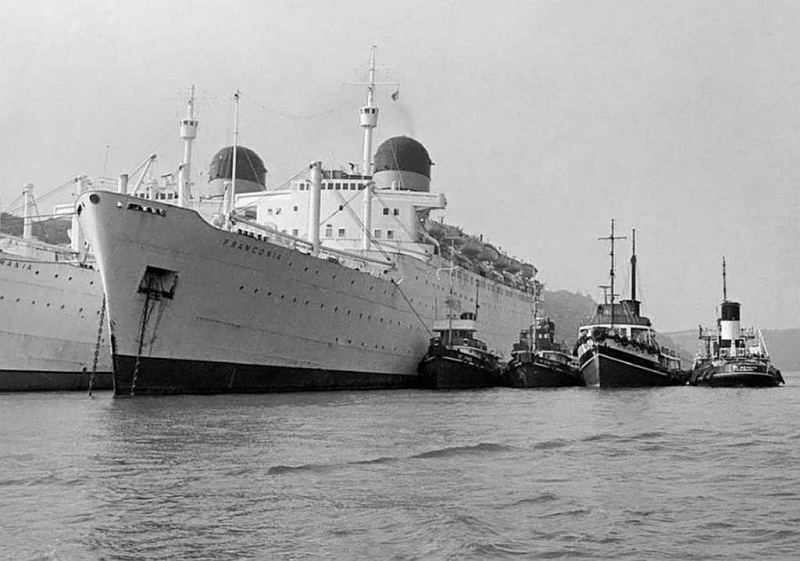 Above and below: Here we see both the Franconia and the Carmania in lay up and on the market, just before being sold to the Russians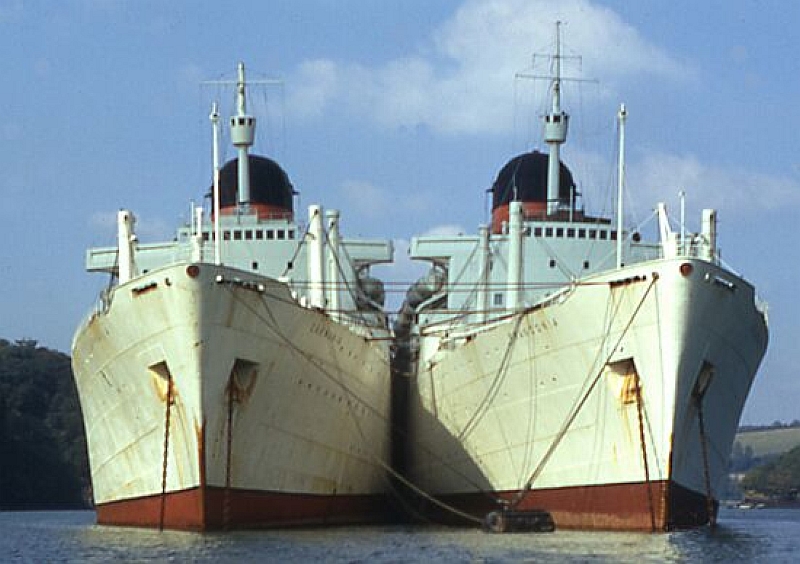 The laid up Carmania and Franconia were sold to Nikreis Maritime Group, acting for the Soviet State (& Black Sea) Shipping Co in 1973. They became the popular budget cruise ships, Leonid Sobinov and the much loved Fedor Shalyapin respectively. The author's Company, Atlantic & Pacific International / Shaw Savill Holidays chartered the Fedor, and operated cruises out of Sydney and Auckland, marketing the cruise venture as "Celebrity Club Cruises" Each cruise featured the very best Australian Artists, who mingled with passengers, also being the featured acts on Show nights. Two fine names, who cruised with the author, was the brilliant Jimmy Hannan, and the incomparable, Stuart Wagstaff.
Both ships cruised extensively for many years. Sadly, the proud Leonid Sobinov was scrapped in 1999, whereas the Fedor is still afloat, but currently laid up in ll'ichyovsk, she may be scrapped at anytime soon. This will be sad end for many, who love "Ships that are real ships!"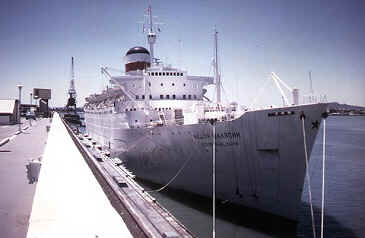 TSS Fedor Shalyapin under charter to Shaw Savill Holidays and operated by the author under the banner of …
Celebrity Club Cruises in 1975 & 1976 Read the author's TSS Fedor Shalyapin Story
Photograph by the author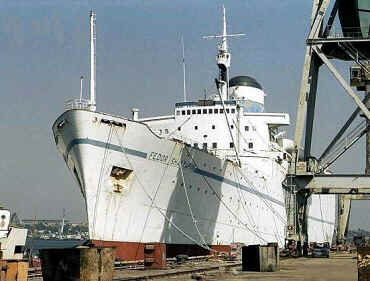 Fedor Shalyapin in 1999, laid up in the Ukrainian port of llichyovsk
© Photograph - Nikolay Prikhodko / Patrick Wetter

Index

Please Note

- Each page has a link to the next chapter
Page 1
–
Foreword – Construction –
NEW
-
RMS Carinthia's
Inaugural Brochure
Page 2
– Sitmar buys Carinthia and Ivernia – Sisters go Russian
Page 3

-

Fairwind

/

Fairsea

– Sitmar sold to P&O Princess Cruises
Page 4 – The Fairstar the Australian connection
Page 5 – Fair Princess becomes an Aussie
Page 6 – Passenger list images
Page 7 – Albatros ex Dawn Princess / Fairwind / Sylvania / Ivernia
Saxonia – Passenger list images
Fair Princess Photo Album – Exteriors
Fair Princess Photo Album - Interiors
Fedor Shalyapin - ex Franconia / Ivernia
China Sea Discovery – ex Fair Princess / Fairsea / Fairland / Carinthia
China Sea Discovery Photo Album
All photographs are by the author, or from the author's private collection, unless mentioned otherwise ~ Fairsea in Juneau Alaska - Luca Ferrerio ~ Fair Princess (Princess Cruises) - Marvin Jensen ~ Pacific Sky – Marion Carter ~ China Sea Discovery - Kiwi Marine Consultants Ltd, Hong Kong ~ Photographer of Fedor Shalyapin laid up, and other '*unknown' photographers, please see photo notes below.
Use the Back button on your browser or Close the Page to return to the previous page
or go to our INDEX
***********************************
Who is the Author of ssMaritime?
Commenced in the passenger Shipping Industry in May 1960
ssMaritime.com & ssMaritime.net
Where the ships of the past make history & the 1914 built MV Doulos Story
Also visit my …
"Save The Classic Liners Campaign" & "Classic Ocean Voyages" pages
Photographs on ssmaritime and associate pages are by the author or from the author's private collection. In addition there are some images that have been provided by Shipping Companies and private photographers or collectors. Credit is given to all contributors. However, there are some photographs provided to me without details regarding the photographer/owner concerned. I hereby invite if owners of these images would be so kind to make them-selves known to me, in order that due credit may be given. I know what it is like, I have seen a multitude of my own photographs on other sites, yet these individuals either refuse to provide credit or remove them when asked, knowing full well that there is no legal comeback when it comes to the net. However, let us show these charlatans up and do the right thing at all times and give credit where credit is due!
This notice covers all pages, although, and I have done my best to ensure that all photographs are duly credited and that this notice is displaced on each page, that is, when a page is updated!
ssMaritime is owned and © Copyright by Reuben Goossens - All Rights Reserved